June, 21, 2011
6/21/11
1:52
PM ET
ESPN.com's NFL writers rank the top 10 up-and-coming assistant coaches in the league today. Next week: Top players overall.
Seven NFL teams named new head coaches after last season, tapping into a pool that included experienced coordinators and relatively unknown assistants alike. The class of 2011 featured longtime candidates (Leslie Frazier, Ron Rivera). It also included a trusted position coach in Mike Munchak (
Tennessee Titans
) and a couple of relative hotshots in Hue Jackson (
Oakland Raiders
) and Pat Shurmur (
Cleveland Browns
).
Who will comprise the NFL's next batch of head-coaching candidates? That was the question ESPN.com hoped to answer in this week's edition of the offseason Power Rankings. We established one ground rule by eliminating any assistant who has already had a permanent head-coaching job. The idea was to develop a list that focused on the "next wave" of coaching candidates.
No less than 24 NFL assistants received at least one vote, a reflection of both the variables involved in head-coaching searches and the relative lack of national name recognition for all but the most highly regarded assistants.
So in that vein, it was no surprise to see four well-known assistants at the top of our list, headed by
New York Giants
defensive coordinator Perry Fewell -- who placed first or second on six of the eight ballots.
Dallas Cowboys
defensive coordinator Rob Ryan finished second, followed by
New York Jets
offensive coordinator Brian Schottenheimer and Arizona offensive line coach Russ Grimm.
Fewell is an ideal candidate in many ways, having spent time as the
Buffalo Bills
' interim coach in 2009 and leading a substantial turnaround of the Giants' defense last season. Fewell interviewed for four head-coaching jobs last winter, and NFC East blogger Dan Graziano suggested that experience, along with a high profile afforded to coaches in New York, make him "the most likely guy on the list to be a head coach soon."
Just don't bother forwarding his name to AFC South colleague Paul Kuharsky, who couldn't find room for Fewell on his 10-man ballot. Kuharsky noted the Giants' poor performance in Week 2 last season against the
Indianapolis Colts
, during which quarterback
Peyton Manning
threw three touchdowns and cruised to an easy 38-14 victory.
"Certainly I'm letting one game overinfluence my ballot," Kuharsky muttered. "But Fewell's plan for the Giants against the Colts last season was so bad that I could not help but score him down for it. Was he not familiar with how Peyton Manning and Indianapolis operate?"
We can't cover every coach who received votes in this exercise, but let's hit some of the more interesting names that received attention.
Another Ryan?
Deserved or not, Ryan has long been considered a loose cannon. There is little doubt about his schematic prowess, but hiring him would require a confident owner ready to make a leap of faith.
The success of twin brother Rex Ryan with the Jets might have softened the perception of that risk, and collectively we see Rob Ryan on the doorstep of a job.
"Similar to Rex, Rob Ryan is good with X's and O's and has the type of outgoing personality players want to be around," AFC North blogger James Walker said. "I think both are equally important in today's NFL. Both brothers say exactly what's on their mind, and before that scared off a lot of teams. But Rex broke the ice with his success in New York and that could help Rob in the future."
The next generation:
Schottenheimer has turned down more opportunities to interview for head-coaching jobs than he has actually submitted to. He has nixed requests from the
Miami Dolphins
and Bills in recent years, but he did interview for the Jets' job that ultimately went to Ryan. I placed him atop my ballot (he finished No. 3 overall) because I think NFL people have made up their mind that he is the kind of young and innovative assistant who can turn around their franchise. (Think: Cowboys coach Jason Garrett.)
Schottenheimer's pedigree doesn't hurt -- he's the son of longtime NFL coach Marty Schottenheimer -- and I'm not sure how closely teams will dissect the specifics of the Jets' offensive performance. Graziano, on the other hand, thinks Schottenheimer is close to coaching his way out of the golden-child image he cultivated and left him off his ballot.
"Having spent a good amount of time around that team the past couple of years, I just feel like defensive coordinator Mike Pettine is the more likely guy to end up a head coach," Graziano said. "Schottenheimer's under a ton of pressure as Ryan defers the offensive responsibilities to him. I feel like, if the offense has a bad year, he could end up in trouble or even out of a job. And given their youth at quarterback and running back and the uncertainty of their receiver situation, a bad year for the Jets' offense is possible.
"Now, he could be a genius, make chicken salad and be the next hot name eight months from now. But I think there's the potential that he may have already peaked as a hot coaching prospect and that he might not be set up to succeed in New York."
The big fella:
Four years ago, Grimm thought he would be the next
Pittsburgh Steelers
coach. He moved to Arizona after the Steelers selected Mike Tomlin instead, and we view his status as a head-coaching candidate with wide disparity.
AFC West blogger Bill Williamson put Grimm atop his ballot, and AFC East blogger Tim Graham had him No. 2. Kuharsky and I left him off.
Williamson thinks Grimm has moved to "the top of the food chain" largely because most of his "hot-name" contemporaries have already gotten jobs. As well, Graham suggested that it will soon be Grimm's turn because he is still well-regarded throughout the league.
Personally, I couldn't get past Grimm's well-publicized gaffe after interviewing with the
Chicago Bears
, after which he referred to the team owners as the "McClaskey" family. I also agree with NFC West blogger Mike Sando, who ranked Grimm No. 8 and wondered: "Is he still ascending? Grimm seems content coaching the line in Arizona. He has plateaued and doesn't seem to be losing any sleep over it."
Welcome back:
Unless you're a college football fan, you might not have heard of
Jacksonville Jaguars
offensive coordinator Dirk Koetter. He spent six years as the head coach at Arizona State, but has drawn some quiet acclaim for his work with the Jaguars and made a strong impression while interviewing with the
Denver Broncos
last winter.
"In a setting where he won't have to deal with boosters and can shine for being a smart X's and O's guy with strong coaching DNA," Kuharsky said, "I think he'd do far better. He's smart and will interview quite well. He really impressed John Elway and the Broncos before losing out to John Fox's experience. St. Louis wanted him as coordinator, but Jacksonville wouldn't let him go. He's heading into the final year of his contract. How
Blaine Gabbert
develops early on will have a big bearing on Koetter's future."
Secret weapon:
In two years, the
Tampa Bay Buccaneers
have developed quarterback
Josh Freeman
into one of the better starters in the league. The man largely responsible is offensive coordinator Greg Olson, who navigated a disastrous 2009 preseason -- coach Raheem Morris promoted him in the middle of training camp after firing Jeff Jagodzinski -- and NFL teams often seek out coaches with success developing young quarterbacks.
"I think Olson deserves a ton of credit for developing Freeman so quickly," said NFC South blogger Pat Yasinskas. "Freeman threw for 25 touchdowns and six interceptions in his first full season as a starter and carried an incredibly young team to a 10-6 record. I also think people need to look at what Olson did last year with rookie running back
LeGarrette Blount
and rookie receiver
Mike Williams
. He helped make them into instant stars."
Super Bowl entitlement:
The
Green Bay Packers
were the only team to place more than one name in the top 10, as would be expected from a championship team. Assistant head coach/inside linebackers Winston Moss is at No. 6, while safeties coach Darren Perry finished No. 10. I also voted for receivers coach Edgar Bennett, who has moved over from running backs coach and is clearly being groomed for bigger things.
I'll detail my ranking of the Packers' assistants, including why I think so highly of Perry, in a future post for NFC North readers. But we'll say this for now: Moss is a strong leader who has drawn interest from the Raiders, while Perry is a disciple of Packers defensive coordinator Dom Capers and his coveted 3-4 scheme.
May, 25, 2011
5/25/11
9:23
AM ET

Jim Thomas of the St. Louis Post-Dispatch
checks in with former Rams receiver Torry Holt, who is helping out at player-organized practices. Holt says he hasn't retired, but isn't sure whether he'll have another opportunity to sign with a team. Holt, on the Rams' receivers: "They want to learn. They want to be challenged. And that's what I was trying to do to them in these past couple days. I thought (Brandon) Gibson looked really good. (Danny) Amendola looked good. Plays really fast. Runs good routes. Austin Pettis, for a big guy, can really transition in and out of his breaks. He's a big target. I think he'll be an excellent target for Sam (Bradford). Greg Salas looked good. He's got some quick-twitch fibers. He's got to change some of his running motion. The tight end, (Lance) Kendricks, man, he is put together. He looks good. Very athletic."
Also from Thomas
: He says during a chat that longtime team employees are on edge after coach Steve Spagnuolo and general manager Billy Devaney dismissed multiple employees with ties to the team's distant past. Thomas: "In my opinion, it's not a good situation. A lot of the rank-and-file here at Rams Park feel if they worked with the team in L.A., or were part of the move to St. Louis, etc., that there's a bull's eye on their back. It's not good for morale."
Bill Coats of the St. Louis Post-Dispatch
says Rams receiver Danario Alexander is looking healthier. Bradford: "Watching him go through wide receiver drills and just getting off the line, he looks much quicker, looks much faster, much more explosive than he did in the (2010) season."

Eric D. Williams of the Tacoma News Tribune
explains why he thinks the Seahawks could be leaning toward going with Charlie Whitehurst as their starter in 2010. Williams: "While Matt Hasselbeck possesses more playmaking ability and would allow Seattle to do more in new offensive coordinator Darrell Bevell's scheme because of his quick thinking at the line of scrimmage, I think Pete Carroll could be leaning toward handing over the reins to Whitehurst for a couple reasons. First, Whitehurst will not take as many risks, can move a little better outside the pocket, and still possesses a strong enough arm to keep defenses honest with the deep ball. He's basically the game manager that Carroll is looking for, allowing the Seahawks to become more run-oriented offensively and to play from a defensive mindset by limiting turnovers and controlling field position -- something all defensive-minded head coaches want to do." The longer the lockout drags on, the easier it becomes for organizations to take the bigger-picture view. In this case, the bigger-picture view does not include Hasselbeck. I suspect the team would have re-signed Hasselbeck by now if there had been no lockout. The team could still bring him back, but making a clean break with the past becomes more likely as the lockout continues.
Brady Henderson of 710ESPN Seattle
passes along thoughts from Seahawks receiver Mike Williams, who had this to say about Whitehurst: "I think Charlie has a big-time arm, he can make all the throws. I think people were very critical of him this year but I don't think people take into consideration what repetitions do in this league and the looks and the more time that you have under center in practice and how it carries over to the game. So, I still think the judgment on Charlie definitely has to be out until he's had a full year of work under his belt to really assess where he's at."
Sam Wyche of NFL.com
says longtime line coach Larry Beightol's endorsement played some role in the Seahawks' decision to draft Alabama tackle James Carpenter. Beightol, who helped train Carpenter before the draft, was the Packers' offensive line coach from 1999 to 2005. Wyche: "Carpenter trains where roughly 30 Raiders players will be training for three days this week as part of a 'minicamp' organized by veteran defensive end Richard Seymour. Carpenter said he'll be asking those players about Tom Cable, his style and gathering any information that could help him make the transition to the NFL quicker."
Dave Boling of the Tacoma News Tribune
offers thoughts on Seahawks owner Paul Allen after reading Allen's memoir. Boling: "One of the early surprises in the recently published book is that Allen's love of sports initially arose as a participant. Well, sort of a participant. He said he sat on the end of the bench for his peewee church league basketball team. At Washington State, he played hours of H-O-R-S-E in the frat house driveway where his 'notorious matador' shot was hard to beat.' He claims he rarely dropped a pass on his frat intramural football team."
Clare Farnsworth of seahawks.com
looks back at 1985, one of the more disappointing seasons in team history. Seattle was coming off a 12-4 season that suggested even better things ahead. Farnsworth: "What the Seahawks did, however, was finish 8-8. And not just any old 8-8, mind you. There was a sinister symmetry to their .500-ness, as they won two games, lost two games, won two games and so on from promising start to disappointing finish. They never lost more than two in a row, nor won more than two in a row."
Matt Maiocco of CSNBayArea.com
expects Aldon Smith and Kendall Hunter to have the greatest immediate impact among the 49ers' 2011 draft choices. Maiocco: "Aldon Smith will be asked to rush the passer, first and foremost. During his two college seasons, Smith showed an ability to get to the quarterback. It's a skill that transitions well to the NFL, as I wrote about over the weekend. A good pass-rusher can step into the professional ranks and immediately begin harassing quarterbacks."

Matt Barrows of the Sacramento Bee
says the 49ers' player-organized practices have not been as extensive as those being put together by the Rams and some other teams. Barrows: "One of the obstacles is that the Bay Area is an expensive place to live and that many of the players choose to live elsewhere in the offseason. Another is that the two players in the most prominent leadership positions -- the starting quarterback and the players' representative -- technically aren't part of the team. Alex Smith and Takeo Spikes are both likely to re-sign with the 49ers when the lockout is lifted, but both are currently unrestricted free agents. Furthermore, Spikes lives in the Atlanta area."
Daniel Brown of the San Jose Mercury News
says 49ers veterans will have to pick up the slack after the NFL canceled its rookie symposium.
Kevin Lynch of Niner Insider
says it's possible players could form bad habits during coach-free practices, according to general manager Trent Baalke.
Eric Branch of the Santa Rosa Press-Democrat
explains why Dom Capers' meticulous approach could influence the 49ers' current coaches.

Mark Gaughan of the Buffalo News
says Bills quarterback Ryan Fitzpatrick valued Arizona workout sessions and a chance to train with Cardinals receiver Larry Fitzgerald. Fitzpatrick: "The Arizona workouts were awesome. Everybody was willing and ready to work. It was basically a business trip. We had some fun. But when we were on the field, it was just us guys from the Bills. There was a lot of grinding out there. ... The good thing too was the very last day we were able to go work out with the Cardinals. Comparing yourself to some of those guys, I know our receivers like looking at that. And even just learning some stuff from Larry Fitzgerald, a guy like that. We got a lot of good stuff out of that."
May, 20, 2011
5/20/11
9:51
AM ET

Clare Farnsworth of seahawks.com
asks whether the team has had a free-agent signing better than the one that landed linebacker Chad Brown, who went to two Pro Bowls over an eight-season span with the organization. Brown was an outstanding linebacker. But the franchise often struggled during his tenure, never winning a playoff game. Other players the team signed through free agency weren't as physically talented, but they played key roles for teams that enjoyed postseason success. Center Robbie Tobeck and receiver Bobby Engram would have to rank high on the list. Brown was, at his best, a better player. But Tobeck and Engram made significant impacts as well, helping the team enjoy sustained success that included a Super Bowl appearance.
Also from Farnsworth
: a look back at the Seahawks' 1984 season. The team went 12-4 despite losing running back Curt Warner to injury.
Michael Kanellos of greentechmedia.com
says the solar panels Seahawks owner Paul Allen has approved for facilities associated with his sports franchises have stirred controversy within the industry. Kanellos: "Solyndra is easily the most controversial company in solar and rivals Better Place and Bloom Energy for the overall title in green technology. Critics contend that its CIGS solar panels will never economically compete with crystalline panels and that the DOE loan guarantee and over $1 billion in equity investments will go swirling down the S-bend. Solyndra, on the other hand, says its products will dramatically decrease in price over the next few years. ... To top it off, the IRS has ruled that companies that install Solyndra solar systems can also get a tax credit for a new roof. Maybe Paul Allen's tax lawyer is sharper than yours."

Matt Maiocco of CSNBayArea.com
says it's fair to question whether Michael Crabtree could be doing more to prepare this offseason. Crabtree has not been participating in player-organized practices sessions. Maiocco: "There are about a dozen players who are taking part regularly in the workouts. How much benefit are the players getting from meeting four days a week? It's difficult to gauge. But I understand the fans' concerns about Crabtree. After all, he has yet to play in an exhibition game with the 49ers. With it now apparent that Alex Smith will be back at quarterback, both Crabtree and Smith have a lot to gain from spending more time together and talking about the new playbook." Would this be yet another item leading with or featuring the 49ers? Yes, it would. This makes it eight blog entries in a row. Look, I tried to break the streak and mix it up a little, but at this precise point in the NFL lockout, we're reduced to stories about solar panels and clothing lines. On Crabtree, he's become an enigmatic figure. Smith's expected return adds another layer to the story.
Matt Barrows of the Sacramento Bee
checks in with former 49ers running back Glen Coffee. Coffee on the gun that was discovered in his car: "In Tuscaloosa, I had two instances where pretty much -- in one instance, a guy pretended he had a gun and in another instance, a guy attempted to rob me. That happened my sophomore year in college. So I purchased a gun. I put it in my car for safety reasons. So then we go ahead on the timeline: I find Christ, but it's almost like, I already had the gun in my car. I'm already riding around with a gun in my car. And just because I found Christ, I didn't think in my head, 'Ok, I don't need to have a gun in my car anymore.' You know what I'm saying? It's almost it wasn't as a big of a deal. It didn't cross my mind to say, 'I need to take the gun out of my car.' If I had it in my car, I didn't feel I needed to take it out of my car."
Eric Branch of the Santa Rosa Press-Democrat
says 49ers offensive coordinator Greg Roman worked extensively with quarterback David Carr in Houston under then-coach Dom Capers. This profile is more about Roman than about Carr, who is not expected back with the team. Barrows: "In two seasons with Roman as his quarterbacks coach, Carr had 30 touchdowns, 25 interceptions and an 80.5 passer rating. In his three other seasons as Houston's starter, Carr had 29 touchdowns, 40 interceptions and a 71.7 rating." Capers: "He understood the total concept so well that I ended up making him the quarterbacks coach. That was just because I felt he was the best guy for the job and he understood defense. He understood how to attack things. He not only knew the protections in the pass game, but he knew the route concepts."

Darren Urban of azcardinals.com
profiles team administrator Justin Casey. Urban: "He helps negotiate contracts. He's the go-to man in the organization when it comes to rules – be it about the collective bargaining agreement, player personnel or salary cap. He's the liaison for rookies when they first come to the Cardinals, lining up their new NFL lives. During the draft, he's one of the few who stays in the war room, organizing all the information flowing around the league. On game days, the 35-year-old Casey helps out in the coaches' booth in the press box. And in his spare time -- infrequent as it is -- he watches video, of both pro players and potential college draftees."

Mark Clayton of the St. Louis Rams
is promoting his faith-based clothing line during the lockout. Says the promotional release: "Clayton's perseverance and faith have played a large role in his career and in his life. While this talented wide receiver has set and broken records time after time, his focus has always been on a higher purpose: his relationship with God. Now, Clayton is using his entrepreneurial skills to bring spirituality into the fashion world, creating a place where faith meets fashion in the form of T-shirts and a complementary online community that fosters acceptance and brings a spiritual message to a new audience."
April, 27, 2011
4/27/11
1:45
PM ET
Colleague Kevin Seifert showed
some daring
by sending TCU quarterback
Andy Dalton
to the
Minnesota Vikings
at No. 12 in a recent
ESPN.com mock draft
.
He wasn't arguing for Dalton's value so much as saying the Vikings' need for a quarterback might compel them to take one there.
[+] Enlarge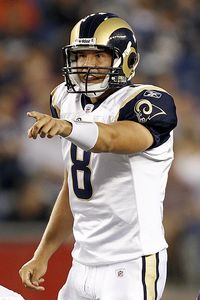 AP Photo/Winslow TownsonDid the Rams "reach" to get quarterback Sam Bradford in the first round last year?
"To me,"
Seifert later wrote
with first-year Vikings coach Leslie Frazier in mind, "there is no better time to jump to the other side than in a coach's first year, giving him a building block for the rest of his program."
The key, of course, is not mistaking anchors for building blocks.
Steve Mariucci was the
San Francisco 49ers
' first-year coach when the team used a 1997 first-rounder for
Jim Druckenmiller
, a blunder softened only by
Steve Young
's presence on the roster. That experience should not directly influence the 49ers' thinking as they consider first-round quarterbacks for new coach Jim Harbaugh, but it's a reference point.
With Harbaugh and the 49ers in mind, I went through recent drafts to see which teams with first-year head coaches used first-round selections for quarterbacks. More precisely, I looked at all first-round quarterbacks since 2000 to see which ones had first-year head coaches.
Six of the last eight first-round quarterbacks --
Matthew Stafford
,
Mark Sanchez
,
Josh Freeman
,
Matt Ryan
,
Joe Flacco
and
JaMarcus Russell
-- joined teams with first-year head coaches. All but Russell remain franchise quarterbacks in their teams' eyes. All but Russell are still playing for their original head coaches. Four of the six had winning records in 2010.
For most of those franchises, value and need lined up pretty well, and first-year coaches benefited.
"If you don't have a quarterback, you're drafting maybe a different kind of running back, maybe a different kind of offensive lineman, than if you have somebody," Lions coach Jim Schwartz told reporters at the scouting combine. "We had
Calvin Johnson
, but our ability to get
Jahvid Best
,
Nate Burleson
in free agency, to draft
Brandon Pettigrew
-- those pieces were because of the quarterback that we have."
We could also argue that the
St. Louis Rams
were better off building their offensive line and other areas of their roster before making
Sam Bradford
the first overall choice in 2010. They could have drafted Sanchez or Freeman instead of defensive end
Chris Long
in 2009, then spent subsequent selections on players to build around one of those quarterbacks.
Bradford and Denver's
Tim Tebow
were the "other" first-round quarterbacks in the eight-man group featuring Stafford, Sanchez, Freeman, Ryan, Flacco and Russell.
In general, getting the right quarterback for a first-year head coach puts a franchise in strong position for the long term. There's no sense forcing the issue, however, because the wrong quarterback can drag down any coach, regardless of tenure.
A coach such as the Vikings' Frazier might have a harder time waiting. His contract runs only three seasons and ownership expects quick results. Harbaugh has a five-year deal with the 49ers. Expectations are high, but there's less urgency for immediate results.
The first chart shows the 14 first-round quarterbacks since 2000 that landed with returning head coaches.
The second chart shows the 14 first-round quarterbacks since 2000 that landed with first-year head coaches.
February, 21, 2011
2/21/11
8:42
AM ET
By
ESPN.com staff
| ESPN.com
February, 7, 2011
2/07/11
12:50
AM ET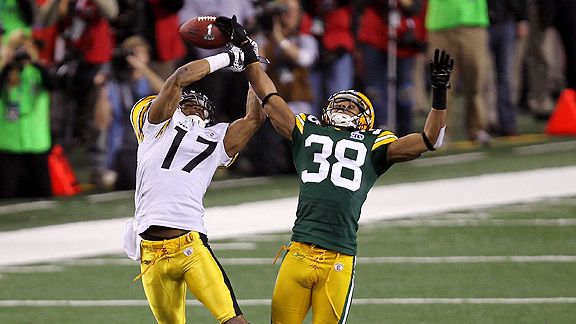 Mike Ehrmann/Getty ImagesTramon Williams broke up a pass intended for Mike Wallace on the Steelers' final offensive play.
ARLINGTON, Texas -- Needing one stop on fourth-and-5 to win the Super Bowl, the
Green Bay Packers
knew history was not on their side.
They hadn't been able to stop
Pittsburgh Steelers
quarterback
Ben Roethlisberger
on fourth-and-7 or third-and-10 on a decisive final drive last season. They also knew Roethlisberger had beaten the
Arizona Cardinals
with a touchdown pass in the final minute of the Super Bowl two seasons ago.
What to do?
Defensive coordinator Dom Capers knew this: The Packers would play to win, and he would stay true to his zone-blitzing self.
"We ran fire zones those last two calls and fire zones are actually going to pass the inside receivers [from one underneath defender to another] and hopefully you don't give Ben enough time to sit there and let the routes develop," Capers said.
Tramon Williams
, arguably the Packers' best cornerback this season, found himself in coverage when Roethlisberger targeted wide receiver
Mike Wallace
on the fourth-and-5 play with 56 seconds remaining and Green Bay leading, 31-25.
"My job is to stop the guy from catching the ball and that is pretty much what happened," Williams said.
Williams broke up the pass, which was thrown high.
"Breathtaking," he said. "It was an amazing feeling."
Not so much for Wallace. The Steelers' big-play receiver thought Williams arrived early.
"Yeah, the guy kind of ran into me before the ball got there," said Wallace, who caught nine passes for 89 yards, including one for a 25-yard score. "The referee was about to throw his flag and he kind of took his hand off his hip, and it is what it is."
There would be no sympathy from the Packers. They had lost cornerbacks
Charles Woodson
and
Sam Shields
to injuries. The fourth-down play was about doing whatever it took.
"Everybody was just praying," Shields said.
Roethlisberger, who had found
Santonio Holmes
for a 32-yard gain on the fourth-and-7 play with 1:14 left against Green Bay last season, said he liked his chances. But the Steelers had no timeouts left and they were short-handed, too, having lost receiver
Emmanuel Sanders
. Green Bay picked off Roethlisberger twice and held him to a 77.4 rating.
"They did a great job of taking away deep things and taking away the outside," Roethlisberger said. "You're kind of stuck with very limited options there with that much time and no timeouts left."
Roethlisberger hasn't put up good numbers overall in Super Bowls, but his 6-yard scoring pass with 42 seconds left against Arizona two years ago delivered a sixth championship to Pittsburgh. The Packers knew what they were up against with this game in the balance.
"I knew it was going to come down to fourth down," Packers nose tackle
B.J. Raji
said. "Ben Roethlisberger has won two Super Bowls. The fact that our guys made a play, I'm just so proud of them."
Capers, a two-time head coach of expansion teams, had never won a championship. He came to the Packers as defensive coordinator last season after one year as a consultant in New England. The last time Capers had been a defensive coordinator, for Miami in 2007, his team had posted a 1-15 record.
Think Williams' fourth-and-5 breakup felt good for him?
"You knew that you had to win and keep them from scoring a touchdown in the two-minute drill," Capers said. "A year ago, when we played them up there, we had the same situation and they scored on the last play of the game to beat us. It's a great feeling to see the play get made. That is the best feeling in the world."
Woodson, 34, hadn't missed a game since 2007. He was the NFL's defensive player of the year for 2009 and the Packers' undisputed leader on defense. He watched the final play with a broken collarbone, his arm in a sling. Watching Williams break up Roethlisberger's final pass had to ease some of the pain.
"At that exact moment, I was a champion -- that is exactly what I was thinking," Woodson said. "A guy who had an unbelievable season for us came up with a big play there at the end and all I thought was, 'Thanks, Tramon, I'm a champion.' "
February, 1, 2011
2/01/11
3:56
PM ET
ARLINGTON, Texas --
Green Bay Packers
defensive coordinator Dom Capers kept coming back to intelligence as a trait he associates with the
San Francisco 49ers
' new defensive coordinator, Vic Fangio.
The two worked together with Carolina from 1995-98 and with Houston from 2002-05. Capers was head coach. Fangio was defensive coordinator.
"I've got so much respect for him," Capers said during Super Bowl Media Day. "He is so intelligent. He knows what he is doing. He understands the game."
The 49ers already had coaches who understood the game, of course, but I think former coach Mike Singletary's strengths -- leadership and the ability to motivate -- would have proved more sustainable had he been more authoritative as a tactician. New coach Jim Harbaugh appears better qualified in that regard, but his expertise is on offense. Fangio inherits a defense stronger against the run than pass. His style could pack less emotion than the 49ers are accustomed to seeing.
"(Fangio) is very matter-of-fact," Capers said. "He is very competent. In this game, my experience with players, if they know you can help them have success and win, they are going to listen to every word you say."
February, 1, 2011
2/01/11
1:43
PM ET
ARLINGTON, Texas -- A few subjects I'll be expanding upon following Super Bowl media day at Cowboys Stadium:
The Steelers' media session is ongoing. I'm going to head back out there. Just wanted to check in on Butler in particular.
January, 14, 2011
1/14/11
7:04
PM ET
The
San Francisco 49ers
' offseason continues to follow a logical progression with news that new coach
Jim Harbaugh
has hired
Vic Fangio (defense)
and
Greg Roman (offense)
as coordinators.
That means the 49ers' plan is falling into place.
We cannot yet know whether the plan will succeed, but at least the team is delivering on it.
Fangio and Roman worked under Harbaugh at Stanford. They were natural choices to become his coordinators. Losing one of them unexpectedly -- either to Stanford, which was hiring a head coach, or to opportunities elsewhere -- could have qualified as a setback.
Fangio's hiring is the 49ers' most significant move of the day and the one Harbaugh must get right.
That seems odd for a 49ers team that has gone through so many offensive coordinators in recent seasons. But with Harbaugh as the head coach, the team's offensive identity is set. Losing Roman to another opportunity -- think Mike McCarthy after the 2005 season and Norv Turner a year later -- would not force a philosophical change upon the team.
What does Fangio bring? Lots of experience at the college and NFL level, familiarity with Harbaugh and a background in the 3-4 defense.
Fangio worked under Dom Capers in Carolina and Houston. In between, he served under the elder Jim Mora with Indianapolis.
The elder Mora's refusal to fire Fangio
precipitated his own firing
from the Colts.
The situation was unfortunate for all involved. Mora and Fangio wanted veteran players to run a relatively complicated defense, but the Colts were funneling their resources toward the offensive side as they built around
Peyton Manning
. Colts management thought the team needed to change its defensive approach -- and its coordinator -- to accommodate personnel shortcomings on that side of the ball.
Fangio was out. His time with the Texans
also ended poorly
.
Under Fangio, the Colts posted respective rankings of 15th, 21st and 29th in yards allowed. The Texans were 16th, 31st, 23rd and 31st with Fangio.
Neither team had strong defensive talent. The Texans were an expansion franchise.
Fangio spent the 2006 through 2008 seasons in Baltimore as special assistant to the head coach amid some thought that
he might succeed Rex Ryan
as coordinator. Fangio coached the Ravens' linebackers in 2009, drawing
praise
from
Brendon Ayanbadejo
, before joining Harbaugh at Stanford last season.
March, 5, 2010
3/05/10
2:13
PM ET
I've counted 43 unrestricted free agents with Pro Bowls on their résumés.
Four are in their 40s, 15 others are at least 35, 21 more are at least 30 and the other three -- specialist
Kassim Osgood
, safety Roy Williams and running back
Willie Parker
-- are 29.
Some of them broke into the league under head coaches Dan Henning, Tom Flores, Bruce Coslet, George Seifert, Lindy Infante, Dom Capers, Pete Carroll (the first time), Ray Rhodes (in Philadelphia), Mike Holmgren (in Green Bay) and Dick Vermeil.
Great crop.
The restricted market could be more interesting, but even then, it's tough to justify parting with first- or second-round choices for players seeking lucrative long-term contracts.
November, 18, 2009
11/18/09
2:27
PM ET


Two potentially lopsided matchups add intrigue to the 49ers-Packers game at Lambeau Field in Week 11.
Matt Williamson of Scouts Inc. joined me to discuss them Wednesday.
Beyond the matchups, this game is huge for the 49ers as they try to keep pace with Arizona and the wild-card challengers in the NFC.
49ers front seven vs. shaky Packers pass protection
Matt Williamson:
Aaron Rodgers
is going to get hit, going to get sacked. There might not be any one area of any team in the league that is worse than the Packers' pass protection. Rodgers just gets crushed every week, but they still make plays in the passing game. He is really tough, he keeps coming back, he is really competitive, he is throwing the ball really well -- but they cannot protect.
Mike Sando:
One hit from the 49ers'
Patrick Willis
can be one too many. Ask
Matt Hasselbeck
. Will the Packers adjust?
Matt Williamson:
They are starting to wise up a little bit by calling fewer 7- and 5-step drops. They are getting it out quicker and their wide receivers are very good after the catch, which is what they were two years ago. Last year, the Packers were very vertical and they cannot do that as much any more. They have everything but the protection.
Mike Sando:
Do you see any problems for the Packers specific to the 49ers' front?
Matt Williamson:
Not really. A team like Minnesota just crushes them with
Jared Allen
and
Kevin Williams
. I don't see any great angle making the 49ers different from other teams. Detroit sacked Rodgers five times. It happens every week no matter who they play. Even guys like
Manny Lawson
should give Green Bay's protection all they can handle.
January, 20, 2009
1/20/09
2:46
PM ET
Posted by ESPN.com's Mike Sando
1. Anquan Boldin, WR, Cardinals. Though Boldin has been the epitome of a team player during his career, he left the opposite impression by feuding with offensive coordinator Todd Haley during the NFC Championship Game and then reportedly skipping the postgame celebration. The Cardinals won't feel pressure to rework Boldin's contract if these perceptions linger.
2. Mike Holmgren's Seattle staff. The Seahawks flushed out both of Holmgren's coordinators, Gil Haskell and John Marshall, plus position coaches Keith Gilbertson and Dwaine Board.
3. Mike Singletary, head coach, 49ers. Scott Linehan turned down his offer to become offensive coordinator, and it's unclear whether Singletary has a viable backup plan.
4. Jim Haslett, former interim coach, Rams. The Rams left the impression Haslett would be a serious candidate to keep the job, but they clearly wanted to hire Steve Spagnuolo or Leslie Frazier. In the meantime, the Packers hired Dom Capers over Haslett as their defensive coordinator.