February, 3, 2010
2/03/10
11:11
AM ET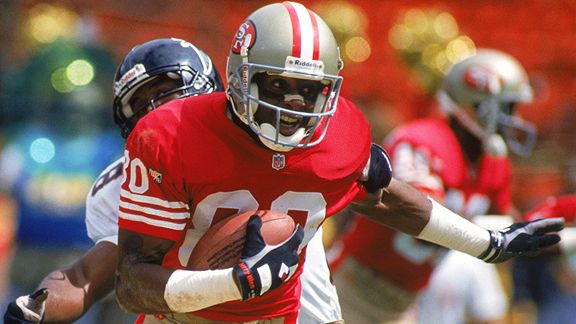 George Rose/Getty ImagesWide receiver Jerry Rice retired with his name all over the National Football League record book.
MIAMI -- Anyone advocating Jerry Rice as the greatest player in NFL history can bury the opposition in statistics.
Rice averaged 1,145 yards receiving and more than 10 total touchdowns per season -- for 20 NFL seasons.
Rice caught 69 touchdown passes -- more than the career totals for Art Monk, Michael Irvin, Charlie Joiner, John Stallworth and numerous other Hall of Fame receivers -- during a five-season span ending in 1993. Rice then caught 28 touchdown passes over the next two seasons, more than half the career total for Hall of Famer Lynn Swann.
He retired holding NFL records for:
Touchdowns (208), receiving TDs (197), receiving TDs in a season (22), consecutive games with a TD reception (13), TDs in Super Bowls (8), receiving TDs in a single Super Bowl (3) and postseason TDs (22).

Receptions (1,549), consecutive games with a reception (274), receptions in Super Bowls (33) and postseason receptions (151).

Receiving yards (22,895), receiving yards in a season (1,848), receiving yards in Super Bowls (589), receiving yards in a Super Bowl (215), postseason receiving yards (2,245) and seasons with at least 1,000 yards receiving (14).
Rice, whose selection to the Pro Football Hall of Fame is a formality Saturday, probably enjoyed the greatest NFL career. He was probably the greatest wide receiver despite some arguments for Don Hutson. But was he the greatest player, period?
"Oh, yeah," Hall of Fame defensive back Rod Woodson said almost reflexively during Super Bowl media day.
Woodson, perhaps mindful of history as a member of the NFL's 75th Anniversary team, then showed he could still backpedal a bit.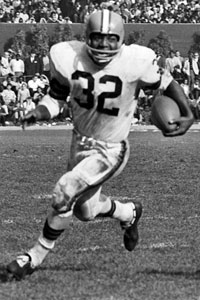 Getty ImagesWhen talking about the greatest players ever, Jim Brown needs to be in the conversation.
"I mean, he is definitely up there," he said. "I don't think one player is the greatest player ever, but he is in that water-cooler conversation. Now, if you say greatest receiver, absolutely. But the greatest player, to make him the most dominant player ever in NFL history or just say pro football history, that is a profound statement. But I can say that he will be in that argument time in and time out."
The conversation might include Otto Graham, Jim Brown, Sammy Baugh, Lawrence Taylor, Joe Montana, Johnny Unitas, Hutson, Walter Payton and Barry Sanders among players no longer active. And that list is probably shortchanging defensive greats such as Deacon Jones and Dick Butkus.
But
Ray Lewis
, arguably the greatest defensive player of the current era, didn't hesitate in singling out Rice.
"I don't know what argument you are going to make why he is not," Lewis said.
And that might be what separates Rice from the rest. There really isn't a great case against him. No one played at such a high level for as long with such grace.
"Jerry Rice doesn't
rank
in the all-time greats," said Saints safety
Darren Sharper
, a five-time Pro Bowl choice and member of the 2000s All-Decade team. "He
is
the greatest receiver and maybe the greatest football player of all time."
Maybe?
"I can't comment on eras that I didn't perform in," retired cornerback Deion Sanders said, "but the era I performed in, Jerry Rice is the best football player to play in that era."
On what grounds beyond the numbers?
"Work ethic, precision, routes, physical toughness, awareness, that hunger," Sanders said. "Jerry stayed hungry until the day he retired."