January, 12, 2013
1/12/13
6:55
PM ET
SAN FRANCISCO -- The
Green Bay Packers
have six wide receivers active for their divisional-round playoff game against San Francisco, a high number that could foreshadow a more pass-oriented strategy against the 49ers.
Green Bay has become more likely to run on first down lately, but if the Packers feel as though the 49ers' defense is too stout for such tactics, they could shift to more of a pass-oriented approach -- particularly if they think an injury to San Francisco's
Justin Smith
compromises the 49ers' pass rush.
That is one line of thinking, anyway.
Donald Driver
is among the Packers' receivers active. He was inactive last week. The Packers are healthier at receiver than they've been for most of the season. That also could explain why they have so many wideouts active.
Kicker
Billy Cundiff
is among the 49ers' inactive players. The team signed him as insurance when
David Akers
struggled. Coach Jim Harbaugh indicated during the week that Akers would serve as the kicker for this divisional-round game.
September, 14, 2012
9/14/12
9:38
AM ET
The fourth-quarter interception Green Bay's Tramon Williams made Thursday night put the Packers' offense at the Chicago 26-yard line.
This was a classic "sudden-change" situation, and we all know what was supposed to happen next. The Packers, leading 16-3, were supposed to "take a shot" at the end zone, and they did. Aaron Rodgers' 26-yard scoring pass to Donald Driver on the next play amounted to a knockout punch in the Packers' 23-10 victory.
Of course, every team has its own style. While this play typified the aggressive downfield approach Green Bay used with great success through most of last season, the San Francisco 49ers might have opted for a different approach. Case in point: how they handled a sudden-change situation against those same Packers in Week 1.

The 49ers held a 23-15 lead with 8:59 left when linebacker NaVorro Bowman picked off Rodgers, setting up San Francisco at the Green Bay 23-yard line. Instead of "taking a shot" at the end zone, the 49ers lined up with two backs and three tight ends. Two of those tight ends were actually offensive linemen (Daniel Kilgore and Leonard Davis). A power formation all the way.
Alex Smith handed off to Frank Gore, who ran around the right side for a touchdown. The 49ers were "taking a shot" in their own way. The call fit their personality.
Taylor Price of 49ers.com
takes a closer look at that run and specifically Gore's role in it. Price: "Teammates certainly appreciate the diverse play-calling from the team's second-year coordinator, but they also value everything Gore brings to the table. Exceptional vision, quick footwork, patience through running lanes and a relentless running approach make Gore one of the best backs around. Third-year running back Anthony Dixon considered Gore's 23-yard score as one of the best he's seen from San Francisco's all-time leading rusher."
Noted:
Great run, no question, but Dixon, who was in high school when Gore was a rookie in 2005, might want to go back into the archives. There's more where that one came from.
Matt Barrows of the Sacramento Bee
looks at the role backups are playing in the 49ers' success.
Also from Barrows
: Alex Boone, coming off a strong debut start at right guard, prepares for Ndamukong Suh.
Matt Maiocco of CSNBayArea.com
shares Steve Young's thoughts on Smith's success.
Nick Wagoner of stlouisrams.com
says the team always intended to bring back Kellen Clemens as its backup quarterback once its injury situation stabilized at other positions. Good line from Clemens: "The big thing we can take away here and I think one of the main reasons I'm back when I am is because of the speed that I have so that I can simulate Robert Griffin on the scout team. I think that's the point that could get lost."

Jim Thomas of the St. Louis Post-Dispatch
looks at Rodger Saffold's quick recover from a neck injury. Saffold could play Sunday. Steven Jackson: "I'm actually quite amazed. Especially the way he was taken off the field on Sunday. For him to be with us now on Thursday, especially considering he may be playing (against Washington) -- that's big for him. If he's 100 percent, I actually believe he's going to try to go. If not, we all understand."
Dan Caesar of the St. Louis Post-Dispatch
says there's a role for Jim Hanifan on Rams broadcasts.

Darren Urban of azcardinals.com
says Darnell Dockett's dominant play and disciplined approach played a leading role in the Cardinals' season-opening victory. Urban: "The stats aren't flashy, but this is what defensive coordinator Ray Horton had in mind. If he plays like that, is it any wonder linebacker Paris Lenon is getting off for a career-high two sacks? Or Daryl Washington piling up 10 tackles? And that doesn't even include the benefits Dockett delivered after the game when he spoke in support of quarterback Kevin Kolb after the game, not only going out of his way to praise the QB but also making sure to have a dose of realism in his thoughts. Dockett told Jim Trotter he's willing to back any quarterback the Cards use."
Kent Somers of the Arizona Republic
shares Bill Belichick's thoughts on Larry Fitzgerald.

Art Thiel of Sportspress Northwest
looks at the changing of the right guard in Seattle. Thiel: "Looking back on the opener, the Seahawks went a rookie too far. No, it wasn't necessarily quarterback Russell Wilson. But right guard J.R. Sweezy didn't have much business starting in an offensive line that was the most surprising disappointment in the loss at Arizona. It won't be a problem Sunday -- John Moffitt will be starting at right guard attempting to annoy the Dallas Cowboys. Sweezy was one of the best story lines in preseason, a defensive lineman chosen by the Seahawks in the seventh round to line up at guard, a position he never played."
Danny O'Neil of the Seattle Times
says the Seahawks' offensive line must do better handling blitzes. O'Neil: "Seattle had only one play of more than 20 yards in the season opener: a 27-yard completion to tight end Zach Miller. Increasing the big-play production is going to take time. Specifically, Seattle needs to give Wilson more of it in the pocket."
Clare Farnsworth of seahawks.com
says Wilson is looking for improvement on third down and in the red zone.
June, 6, 2011
6/06/11
10:58
AM ET
A few thoughts on
Plaxico Burress
' availability as NFC West teams consider potential options at wide receiver:
By my count, six current NFL receivers are older than Burress, who turns 34 in August: Terrell Owens (37), Derrick Mason (37), Donald Driver (36), Brian Finneran (35), Hines Ward (35) and Brandon Stokley (35 in June);

Thirty players have caught at least 50 passes in a season at age 34 or older, according to Pro Football Reference; Jerry Rice, Isaac Bruce and Bobby Engram accomplished the feat for current NFC West teams;

[+] Enlarge

Al Bello/Getty ImagesPlaxico Burress seems unlikely to end up in the NFC West.

Burress caught 35 passes for 454 yards and four touchdowns over 10 games for the New York Giants in 2008, his last season before serving a jail term on a weapons charge; St. Louis Rams coach Steve Spagnuolo was the Giants' defensive coordinator that year, giving the NFC West one solid connection to Burress;

Ken Whisenhunt, Russ Grimm and Ray Horton are among the Arizona Cardinals coaches who were with the Pittsburgh Steelers before Burress signed with the Giants in 2005, giving the NFC West another connection;

These types of connections can sometimes explain why teams do not pursue players; they know the bad as well as the good;

My initial feel is that Burress probably will not land in this division; Burress has played his entire career, from high school to the NFL, for teams in the East; I doubt he'll seek out a team in the West after spending two years away from his family;

Burress wore a Philadephia Phillies hat upon his release Monday, and the Eagles were the team considered most likely to sign him in a survey of ESPN.com bloggers;

The Rams' situation at receiver remains unsettled; bringing in Burress for a visit could make sense; the Cardinals' situation at receiver is more defined, and at least one Arizona-based reporter is saying there's no chance the Cardinals will sign him; I tend to agree and do not see the need, either;

Burress is five years older than any receiver on the Rams' roster and nine years older than the team's receivers on average, a potential consideration as the team decides how Burress would fit into the equation;

The Rams have previously resisted adding older receivers, passing on Owens and Moss over the last couple of seasons; Mark Clayton, who turns 29 in July, is the oldest receiver on the roster;

Seattle has been aggressive in considering unlikely options, making low-risk bets on Mike Williams, Reggie Williams, LenDale White and others; the team would ideally like to go with younger players at this stage;

Please let me know if you've seen anything, anywhere, suggesting the San Francisco 49ers would have interest; I do not see a great fit as the team establishes a new program under a first-year coach.
Would you want Burress on your favorite team?
March, 10, 2011
3/10/11
11:30
AM ET
We're still getting comments on the
wide receiver power rankings
from Tuesday.
The
Houston Texans
'
Andre Johnson
prevailed over the
Arizona Cardinals
'
Larry Fitzgerald
for the top spot. I've gone through Pro Football Reference to find which active receivers have given NFC West teams the most trouble, as defined by single-game receiving performances featuring at least 150 yards.
In a surprise, Johnson has as many of these 150-yard games against NFC West teams as Fitzgerald -- three. Fitzgerald cannot play against his own team, but he's still obviously played far more games against NFC West teams than Johnson.
This isn't the only way to measure receivers' performances, but it's one way. Note, too, that San Francisco and St. Louis have each allowed seven of these games, while the Cardinals have allowed only one.
The second chart breaks down these performances by which opponents allowed them.
January, 31, 2011
1/31/11
12:40
PM ET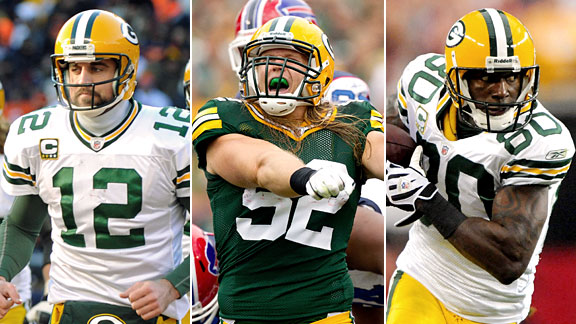 US PresswireGreen Bay's Aaron Rodgers, Clay Matthews and Donald Driver are all playing in Super Bowl XLV, but how might they have fit into the NFC West's draft plans?
DALLAS -- Every
Aaron Rodgers
touchdown pass and playoff victory makes the
San Francisco 49ers
look worse for drafting
Alex Smith
over Rodgers back in 2005.
A victory for Rodgers and the
Green Bay Packers
in Super Bowl 45 would only sanction additional mutilation of this rotting equine carcass.
Some criticism is justified, obviously, but with Rodgers and key Packers scheduled to make their Super Bowl media debuts Monday afternoon, another line of thinking occurred to me. The 49ers weren't the only ones to bypass Rodgers and other key players in this Super Bowl. Why should they absorb such a disproportionate amount of the blame?
The Green Bay players making Super Bowl media appearances Monday -- Rodgers,
Donald Driver
,
A.J. Hawk
,
Greg Jennings
,
Clay Matthews
and
Charles Woodson
-- all qualify for analysis and reflection.
Let's take a look at them through NFC West lenses, beginning in chronological order:
1998 Draft: Charles Woodson, CB, Michigan
Round:
First (fourth overall, by Oakland)
NFC West spin:
The Cardinals passed over Woodson to select defensive end
Andre Wadsworth
third overall. The decision seemed defensible at the time. Wadsworth was a freakish talent at a premium position, but chronic knee injuries prevented him from approaching his potential. Wadsworth underwent microfracture knee surgery after only his third NFL season. He never played again, despite a 2007 comeback attempt.
First-round selections in the division:
Cardinals (third overall): Wadsworth, DE, Florida State

Rams (sixth overall): Grant Wistrom, DE, Nebraska

Seahawks (15th overall): Anthony Simmons, LB, Clemson

49ers (28th overall): R.W. McQuarters, CB, Oklahoma State
1999 Draft: Donald Driver, WR, Alcorn State
Round:
Seventh (213th overall, by Green Bay)
NFC West spin:
Good for the Packers. They found a steal in the seventh round. Driver developed into a full-time starter in 2002, his fourth season. He has 698 career receptions. Driver reflects well on the Packers, but not negatively on anyone in the NFC West.
Seventh-round selections in the division (Seahawks did not have a pick):
2005 Draft: Aaron Rodgers, QB, California
Round:
First (24th overall, by Green Bay)
NFC West spin:
Only the Seahawks, who held the 26th choice that year, escape second-guessing for this one. To be fair, however, the Rams'
Marc Bulger
was coming off a breakout 2004 season in which he had thrown 21 touchdown passes while leading St. Louis to the playoffs. There was no reason for the Rams to target a quarterback in the 2005 first round. Rodgers might have wilted in St. Louis while the organization crumbled around him (a fate that might have awaited him in San Francisco as well). The Cardinals could have used a young quarterback to build around, but they signed
Kurt Warner
to a free-agent contract that offseason. Warner went 2-8 as a starter in 2005, but the Cardinals eventually went to the Super Bowl with him under center. Warner even edged Rodgers in the playoffs following the 2009 season.
First-round selections in the division:
49ers (first overall): Alex Smith, QB, Utah

Cardinals (eighth overall): Antrel Rolle, DB, Miami

Rams (19th overall): Alex Barron, T, Florida State

Seahawks (26th overall): Chris Spencer, C, Mississippi
2006 Draft: A.J. Hawk, LB, Ohio State
Round:
First (fifth overall, by Green Bay)
NFC West spin:
The 49ers in particular were monitoring this choice closely. They were picking sixth overall that year and trying to find weapons for their second-year quarterback. Tight end
Vernon Davis
, chosen sixth overall, is becoming a perennial Pro Bowl choice. Hawk was an all-rookie selection, but he has not played well enough overall to cause much second-guessing in NFC West circles. The Cardinals ultimately whiffed on a quarterback that year, but no one is telling them they should have drafted Hawk instead.
First-round selections in the division:
49ers (sixth overall): Davis, TE, Maryland

Cardinals (10th overall): Matt Leinart, QB, USC

Rams (15th overall): Tye Hill, CB, Clemson

49ers (22nd overall): Manny Lawson, OLB, North Carolina State

Seahawks (31st overall): Kelly Jennings, CB, Miami
2006 Draft: Greg Jennings, WR, Western Michigan
Round:
Second (52nd overall, by Green Bay)
NFC West spin:
The Cardinals and Rams passed on Jennings in the second round, but that was understandable. Both teams were already strong at receiver. Looking back, however, the Rams certainly would have gone in another direction. They whiffed on tight end
Joe Klopfenstein
six spots before the Packers took Jennings.
Second-round selections in the division (49ers traded their pick):
Cardinals (41st overall): Deuce Lutui, G, USC

Rams (46th overall): Klopfenstein, TE, Colorado

Seahawks (63rd overall): Darryl Tapp, DE, Virginia Tech
2009 Draft: Clay Matthews, OLB, USC
Round:
First (26th overall, to Green Bay)
NFC West spin:
This draft hurts. Surely the Seahawks and Rams could have put Matthews' pass-rush ability to use even if he didn't fit their schemes precisely at the time. Both teams passed on him. Worse, the Packers used an additional 2009 first-round choice, this one ninth overall, for another key contributor,
B.J. Raji
.
First-round selections in the division:
Hope you enjoyed the exercise. I'll be heading to the
Pittsburgh Steelers
' media session in the not-too-distant future, with plans to check back at the next opportunity.
December, 9, 2010
12/09/10
5:17
PM ET
Fifteen little things I noticed while watching NFC West teams play in Week 13:
Rams defensive end James Hall pushing Cardinals tackle Levi Brown back far enough to affect Arizona quarterback Derek Anderson. Anderson's hurried pass bounced off Beanie Wells' shoulder, setting up third-and-11.
Sam Bradford having plenty of time to complete a 15-yard pass to Brandon Gibson. Left tackle Rodger Saffold handled Joey Porter. Right tackle Jason Smith scrapped with someone on the Cardinals after the play. That's what the Rams want from their tackles: solid pass protection on the left side and a nasty attitude on the right side. Later, Smith ran over to Steven Jackson when it appeared the running back might be in danger following a play.
Cardinals tight end Ben Patrick making a couple key blocks on successful running plays. He moved out Rams linebacker Na'il Diggs on Wells' 16-yard run. He did enough to turn Rams defensive end Chris Long inside during Tim Hightower's 23-yard run.
Porter celebrating Kerry Rhodes' sack on Bradford. Rams center Jason Brown had decked Porter with a left jab moments earlier. Porter flopped as if trying to draw a penalty. Are players trying to take advantage of heightened awareness over personal fouls? The Packers' Desmond Bishop raised my suspicions when he went cartwheeling after 49ers guard Chilo Rachal shoved him as a play was winding down.
Dockett practically taking the snap from Bradford after knifing into the backfield past Rams right guard Adam Goldberg on second-and-goal from the 2. A similar breakdown led to an intercepted shovel pass against Atlanta.
Seattle's Matt Hasselbeck and Marshawn Lynch colliding in the backfield. Tight end Cameron Morrah couldn't hold his block, creating a logjam in the backfield.
Carolina defensive end Charles Johnson giving another NFC West right tackle problems. Johnson was the one who knocked out 49ers quarterback Alex Smith this season. He threatened Hasselbeck a few times Sunday.
Hasselbeck getting hit before throwing an interception on a deep pass intended for Ben Obomanu. This play might have resulted in a touchdown if the Panthers hadn't hit Hasselbeck. Left guard Mike Gibson had problems on this play.
Hasselbeck completing a 36-yard pass to Morrah right after the team honored retired left tackle Walter Jones. Inspiration?
Seahawks left tackle Russell Okung blasting the Panthers' Captain Munnerlyn following an interception. Okung likes hitting people. A week earlier, against Kansas City, Okung had nothing to do as a play neared its end. He turned and decked Chiefs linebacker Mike Vrabel with a violent shove.
The 49ers failing to fool the Packers with a pass play on third-and-1. San Francisco and Alex Smith in particular have made big plays by throwing in these situations, often to a tight end. Troy Smith could not connect with Michael Crabtree. Will these plays work as well without Frank Gore in the backfield?
Troy Smith making a play Alex Smith would never make, in my view, when he threw to Vernon Davis for a 25-yard gain while two defenders were about to sack him. Davis made an acrobatic catch. There was nothing textbook about this play. It was a sandlot play.
Troy Smith holding the ball too long and taking sacks in the red zone on consecutive plays soon after the strike to Davis. Alex Smith has been better in the red zone. Might the 49ers have gotten a touchdown here instead of a field goal? Troy Smith missed a red-zone throw to Crabtree late rin the game.
49ers linebacker Patrick Willis forcing and incomplete pass with pressure up the middle. Willis could be a concern for Seattle in this manner Sunday.
49ers safety Reggie Smith missing a tackle on Packers receiver Donald Driver at the San Francisco 27, then coasting while Driver eluded another tackle and ran to the end zone. Ahmad Brooks and Nate Clements hustled their way into the play. Smith never factored after his initial whiff.
I also watched (and charted) the
San Francisco 49ers
' game against Green Bay, but my notes weren't as good (had some time constraints).
December, 6, 2010
12/06/10
10:09
AM ET

Taylor Price
of 49ers.com says the 26-degree weather in Green Bay wasn't as cold as the team's offense in the red zone. Quarterback
Troy Smith
has completed 2 of 7 passes for 20 yards, one touchdown, no interceptions and a 79.2 rating on passes thrown from inside opponents' 20-yard lines. Former starter
Alex Smith
completed 21 of 28 passes for 136 yards with eight touchdowns, no interceptions and a 124.4 rating in that area of the field. Troy Smith has given the 49ers a much greater big-play ability, but the offense can be less efficient with him under center. I'm not sure which quarterback I would rather have on the field at this point. Troy Smith completed only 40 percent Sunday.
Matt Barrows of the Sacramento Bee
checks in with 49ers president Jed York, who says the team still has playoff aspirations. York: "Our guys can't give up."
Also from Barrows
: "Linebacker
Patrick Willis
said he thought the key play in the game came on a third-and-one situation in the second quarter when outside linebacker
Ahmad Brooks
, who started ahead of injured
Parys Haralson
, jumped offside. That gave (Aaron) Rodgers a free play, and he took advantage of it with an aggressive throw to receiver
Greg Jennings
deep down the sideline. Jennings caught the ball over cornerback
Shawntae Spencer
and then plowed through a tackle attempt by
Reggie Smith
for a 57-yard touchdown. The Packers never trailed again."
More from Barrows
: The 49ers held up against Rodgers for all of one quarter.
David White of the San Francisco Chronicle
says the 49ers found a kicker, only to use him too frequently. White: "Consider the job all but officially his for the rest of the season. The 49ers plan to place kicker
Joe Nedney
on the season-ending injured reserve list as soon as today, according to a team source, with a right knee injury that hasn't gotten better after three weeks off."
Also from White
: The 49ers got a first-hand look at a playoff team. Willis: "We had the mind-set of showing the world what we're capable of doing against a very good football team. We just found a way to lose it, kind of like we've done the whole year."
More from White
: a 49ers report card noting that Green Bay converted all five times on third-and-1.
Matt Maiocco of CSNBayArea.com
says the 49ers played without Parys Haralson and then lost nose tackle
Aubrayo Franklin
to a groin injury.
Also from Maiocco
: He did not see much fight from the 49ers against the Packers.
Eric Branch of the Santa Rosa Press-Democrat
says the 49ers were no match for Rodgers. Branch: "In his past four games, Rodgers has thrown 11 touchdowns and no interceptions and has averaged 308 yards. He actually hasn't thrown an interception since Oct. 24, a span of 177 attempts. San Francisco's ravaged defense was sufficiently impressed."
Also from Branch
: He thought the 49ers were too conservative during their defeat at Green Bay. Not that the 49ers were going to win a shootout with Rodgers.
More from Branch
: additional thoughts on the 49ers' philosophy against the Packers. Branch: "It might be more tolerable to lose while acknowledging, for example, that (Brian) Westbrook isn't
Frank Gore
. Westbrook had nine carries. And, on the play-by-play sheet, seven of those runs were up the middle and one was over left guard. Westbrook did run outside on one occasion ... when San Francisco was trailing 34-16 with three minutes remaining. Last week, the Falcons beat the Packers 20-17 in a game in which running back
Michael Turner
(23 carries, 110 yards) attacked Green Bay on the outside."
More yet from Branch
: a 49ers report card with a "D" grade for Troy Smith.
Mark Purdy of the San Jose Mercury News
sees little from the 49ers suggesting the team would finish the season strong. Purdy: "The 49ers did absolutely nothing Sunday to make any sane human think this team is capable of winning three or four more games. To be sure, the Packers were the better team. Heavy favorites. But you'd like to say that the 49ers, even in defeat, showed enough moxie and spunk to give them semi-momentum going into next weekend's must-win against Seattle."
Daniel Brown of the San Jose Mercury News
offers a 49ers report card featuring a C-minus grade for the passing offense.
Also from Brown
: "If the 49ers are going to seize their playoff hopes, they will have to hold on tighter than they did against the Packers. A sensational catch-and-run by
Donald Driver
typified the 49ers' defensive frustrations. Driver shook off repeated tackle attempts on his way to a 61-yard touchdown."
July, 20, 2010
7/20/10
12:48
PM ET
ESPN fantasy guru Matthew Berry is all over
Frank Gore
specifically and the 2010
San Francisco 49ers
in general.
"Gore, (Michael) Crabtree, (Vernon) Davis,
Josh Morgan
and (Alex) Smith are all on my love list this year,"
Berry proclaims
. "I think Davis might regress a little bit, but he'll still be an elite tight end."
Berry ranks Gore fourth overall among all NFL fantasy prospects. He likes the other San Francisco players largely in relation to where he thinks others will value them in fantasy drafts. Berry likes the
Seattle Seahawks
'
Justin Forsett
in the later rounds, but he doesn't like the team in general from a fantasy standpoint because too much remains unknown.
One thing I'm not sure about regarding the 49ers is to what degree Crabtree will get into the touchdown mix. Gore and Davis were the primary scorers for San Francisco last season. Crabtree scored only two receiving touchdowns. That number should climb, but by how much?
I'll be organizing a fantasy league on the blog again this season. It'll likely be a
Gridiron Challenge
league again. We'll have a hard salary cap and the ability to change rosters from week to week, with players' prices changing based on how they perform.
Back to Gore. He was a solid producer last season in terms of final numbers, but his week-to-week production was sporadic. The chart shows the top 30 touchdown scorers in the NFL -- make that the NFC -- last season. Three of the top four were in the
mighty NFC West
.
January, 6, 2010
1/06/10
10:07
PM ET
The Cardinals' struggles in the deep passing game stands in the back of my mind as something that could hurt them in the playoffs.
As noted Sunday
,
Larry Fitzgerald
and
Anquan Boldin
have combined for one reception covering 40 yards or longer this season, down from eight during the 2008 regular season and six during the playoffs.
The Packers'
Greg Jennings
and
Donald Driver
have combined for 11 such plays this season.
January, 3, 2010
1/03/10
10:50
PM ET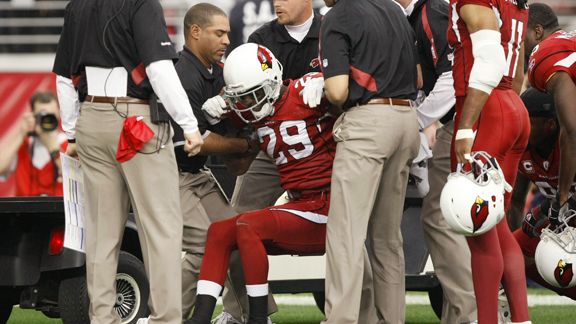 AP Photo/Matt YorkAn injury to Dominique Rodgers-Cromartie worried the Cardinals more than Sunday's result.
GLENDALE, Ariz. -- Sly grins bordering on smirks flashed across Ken Whisenhunt's face more than once during his postgame news conference Sunday.
The
Arizona Cardinals
' coach seemed to know something the scoreboard failed to reveal at University of Phoenix Stadium.
Whisenhunt dismissed suggestions a
33-7
defeat to Green Bay would mean anything when the teams meet again in the wild-card round.
"I think our team is ready to play in the playoffs," Whisenhunt said.
The Cardinals were not ready to play Sunday even before Whisenhunt removed key starters. Green Bay led 14-0 when Cardinals quarterback
Kurt Warner
played his final snap late in the first quarter. Back in August, the Packers led the Cardinals 38-10 at halftime when both teams played their starters in the third exhibition game.
"We're not worried about that," receiver
Larry Fitzgerald
said. "When we come to play and are playing on all cylinders, we can play with anybody. I'm confident of that and I know everybody else in this locker room feels the same way."
As in August, Arizona didn't do much game planning. The Packers presumably didn't do much, either, but they left QB
Aaron Rodgers
in the game through their final possession of the third quarter. The Cardinals played vanilla defense and failed to get much pressure. They never sacked Rodgers.
"That was difficult," Whisenhunt said, "but our hope is that will pay off for us next week."
It should.
The Cardinals rely heavily on scheming to succeed with a 38-year-old quarterback and a defense without a dominant outside pass-rusher. Warner sets up opponents and beats them by anticipating throws. Few quarterbacks look better when everything is working. Few look as bad on a rough day.
Warner didn't play long enough Sunday for anyone to say anything meaningful about how he might perform in a week. He completed 4 of 6 passes for 31 yards.
On defense, 13 players contributed to the Cardinals' 42-sack total during the regular season. Those are the marks of a team that must prepare well to win.
Unlike last season, when the unproven Cardinals limped into the playoffs after a rough December, this team entered Week 17 with three victories in its past four games and a Super Bowl experience on its résumé. The Packers were the upstart team looking to keep their momentum.
"I'm not going to say we didn't try to win," nose tackle
Bryan Robinson
said, "but we are looking at the big picture. If this happens next week, then bring that same question to me and I will try to dissect it for you."
Watching Pro Bowl CB
Dominique Rodgers-Cromartie
leave the field on a cart less than 2 minutes into the game surely didn't help the Cardinals' mindset. By then, Arizona already knew the Vikings had beaten the Giants, ending Arizona's outside shot at securing the No. 2 seed and a first-round bye in the NFC playoffs.
"We didn't give our best effort today and that probably had something to do with it," Warner said.
Injuries worried the Cardinals more than their performance.
Rodgers-Cromartie suffered a bruised kneecap. Receiver
Anquan Boldin
suffered knee and ankle injuries after surpassing 1,000 yards for the fifth time in his career. Defensive end
Calais Campbell
suffered a thumb injury.
The Cardinals did not yet know the status of any of the players for the playoffs. They need all three.
Rodgers-Cromartie gives them a chance against
Donald Driver
,
Greg Jennings
and the Packers' explosive passing attack. Boldin gives Arizona the best chance to target Packers nickelback
Jarrett Bush
, who has struggled. Campbell, tied for the team lead with 7.0 sacks, gives Arizona its best chance at pressuring Rodgers.
Take away any one of those players and the Cardinals could have problems. They could have problems anyway.
Green Bay has won seven of its final eight games. Rodgers has played at a higher level than Warner, throwing four more touchdown passes and seven fewer interceptions. Driver and Jennings have combined for 11 receptions covering at least 40 yards, 10 more than Boldin and Larry Fitzgerald.
Unlike Fitzgerald, who stayed in the game to pad his stats, Boldin said he wanted out of the game one series earlier. Such was the conflicted nature of this performance all the way around.
"We were impressed with their team," Cardinals defensive tackle
Darnell Dockett
said. "Hopefully, we can keep up with them this weekend and hopefully we do a lot of studying and a lot of things so we can try to keep the game close."
Those final eight words told us Dockett was facetious. Like Whisenhunt, he wasn't reading anything into what happened Sunday.
Were the Cardinals disappointed?
"I guess, a tad bit," Dockett said. "But the game didn't really mean anything. I think they played their starters a little more than intended. At the end of the day, if they want to celebrate it, they can go ahead. We know we have some work to do and our main focus is [wild-card] weekend."
Drawing hard conclusions from any single Cardinals performance has proven futile in the recent past.
The Cardinals made it through the 2009 season without suffering back-to-back defeats, a first for the organization since 1975.
Expect this Arizona team to bounce back.
September, 30, 2009
9/30/09
8:44
AM ET

Posted by ESPN.com's Mike Sando

Brian Stull of 101ESPN St. Louis
says David Vobora could sue the manufacturer of a supplement containing the banned ingredient behind the linebacker's four-game suspension. Stull: "In fact, the NFLPA had appealed the initial result of the test -- and the source states Vobora had properly called the 'hot line' for players to check supplements and the product was cleared as not having any banned substance in its listed contents. A different source close to the situation shares there will likely be legal action taken on Vobora's behalf against the manufacturer -- as toxicology testing revealed the supplement did contain the banned substance, despite it not being included on the product label."
Jim Thomas of the St. Louis Post-Dispatch
says during a chat that he thought the Rams would blitz more under coach Steve Spagnuolo. Thomas: "The most surprising thing to me so far, is the lack of blitzing. I realize there haven't always been ideal situations. The Rams haven't played with the lead much at all -- they've led for only 12 1/2 minutes (out of a possible 180!!) in the three games this season. They haven't had the opposition in a ton of predictable throwing situations -- third and long, etc. Still, I expected a more aggressive approach." Packers quarterback Aaron Rodgers sometimes proved dangerous when the Rams blitzed. Will Witherspoon got immediate pressure on Rodgers midway through the first quarter. Rodgers recognized the situation and threw immediately to Donald Driver for a first down at the St. Louis 26. A few plays like that can serve as a strong deterrent.

Matt Maiocco of the Santa Rosa Press-Democrat
says a potential uncapped year could give Patrick Willis and Vernon Davis incentive to bide their time before seeking long-term contract extensions. Davis' improvement stands as one of the 49ers' most important developments of the season, should he continue to improve.
Also from Maiocco
: Frank Gore's injury gives the 49ers reason to lean more heavily on quarterback Shaun Hill. Coach Mike Singletary did acknowledge that Hill "took a step" with his latest performance. I still think the 49ers will remain resolute in their commitment to the run.
Tom FitzGerald of the San Francisco Chronicle
checks in with 49ers defensive lineman Ray McDonald, whose father played receiver at Florida in the mid-1980s. That revelation makes me feel ancient.
Matt Barrows of the Sacramento Bee
says the 49ers have no immediate plans to sign Kory Sheets from the practice squad, even with Gore sidelined. The thought of trusting a rookie in pass protection probably does not appeal.
Howard Mintz of the San Jose Mercury News
updates the 49ers' efforts to secure funding for a new stadium in Santa Clara. Research for an environmental impact study is complete.

Kent Somers of the Arizona Republic
offers reasons for Cardinals fans to have optimism -- and pessimism -- about the team following a 1-2 start. Somers: "The Cardinals haven't shown yet that they learned much from last season's playoff run. Through the first few weeks, players alluded to poor practices as part of the reason for losing the opener. Defensively, the Cardinals' attention to detail seems to come and go like the wind."
Also from Somers
: Rookie Beanie Wells did not play much Sunday night because he isn't yet ready to handle all the duties associated with playing in the three- and four-receiver offense.
Mike Jurecki of XTRA910
says Wells needs to spend the bye week learning his assignments. Jurecki: "Hopefully Beanie Wells will use the bye week and some down time to get up to speed on learning his assignments on pass protection, otherwise it's going to be tough for the coaching staff to trust him on game day. All the time he missed in Flagstaff is hurting him now."
Darren Urban of azcardinals.com
says the team could be interested in re-signing Monty Beisel, released by the Chiefs.

Danny O'Neil of the Seattle Times
says the Seahawks need to target T.J. Houshmandzadeh more frequently in the passing game. Tight end John Carlson was also open several times against the Bears without getting the ball. There's a reason NFL teams prefer their quarterbacks to be taller than Seneca Wallace. Sometimes it seems as though Wallace doesn't see the field as well as a taller quarterback might. His accuracy suffered when he tried to throw over pressure up the middle.
Clare Farnsworth of seahawks.com
says the team signed running back Louis Rankin to its practice squad, releasing running back Devin Moore and linebacker William Thomas.
John Morgan of Field Gulls
says the Seahawks are a better team this season even though they have the same record through three games as in 2008. I agree. The current coaching staff has done a very good job preparing backups to perform at decent levels. David Hawthorne was dramatically better and more decisive against the Bears than he was against the 49ers, one reason the run defense didn't allow huge gains. The offensive line has weathered injuries much more effectively than when starters were sidelined in past seasons.
May, 8, 2009
5/08/09
8:05
PM ET
Posted by ESPN.com's Mike Sando
The Thursday item about potential NFC West receiving leaders for 2009 sent me back through league-wide stats for last season.
A few tidbits for those seeking ammo for future discussions:
April, 24, 2009
4/24/09
2:17
PM ET
Posted by ESPN.com's Mike Sando
A first-round scenario to consider when the NFL draft begins Saturday: The Lions draft Matthew Stafford, the Rams take a tackle, the Chiefs address their defensive line and the Seahawks draft Aaron Curry. Under that scenario, might Texas Tech receiver Michael Crabtree fall to the 49ers at No. 10? And if he did, would the 49ers take him?
The possibility came to mind as I looked at 49ers general manager Scot McCloughan and the receivers his teams have drafted since 1994. The names, listed in the chart by overall selection, shed light on McCloughan's philosophy.
| | | | | | | |
| --- | --- | --- | --- | --- | --- | --- |
| Draft | Rd. | Pick | McCloughan's Team | Receiver | College | Conference |
| 2001 | 1 | 9 | Seahawks | Koren Robinson | N.C. St. | ACC |
| 1996 | 2 | 56 | Packers | Derrick Mayes | Notre Dame | Independent |
| 2007 | 3 | 76 | 49ers | Jason Hill | Wash. St. | Pac-10 |
| 2000 | 3 | 80 | Seahawks | Darrell Jackson | Florida | SEC |
| 1999 | 3 | 82 | Seahawks | Karsten Bailey | Auburn | SEC |
| 2006 | 3 | 84 | 49ers | Brandon Williams | Wisconsin | Big Ten |
| 1995 | 3 | 90 | Packers | Antonio Freeman | Virginia Tech | ACC |
| 2001 | 5 | 140 | Seahawks | Alex Bannister | E.Kentucky | Ohio Valley (I-AA) |
| 1994 | 5 | 146 | Packer | Terry Mickens | Florida A&M | MEAC (I-AA) |
| 1998 | 5 | 150 | Packers | Corey Bradford | Jackson St. | SWAC (I-AA) |
| 2004 | 5 | 157 | Seahawks | D.J. Hackett | Colorado | Big 12 |
| 1994 | 6 | 169 | Packers | Jay Kearney | W.Virginia | Big East |
| 1995 | 6 | 173 | Packers | Charlie Simmons | Georgia Tech | ACC |
| 2008 | 6 | 174 | 49ers | Josh Morgan | Virginia Tech | ACC |
| 2005 | 5 | 174 | 49ers | Rasheed Marshall | W.Virginia | Big East |
| 2000 | 6 | 175 | Seahawks | James Williams | Marshall | C-USA |
| 1994 | 6 | 181 | Packers | Bill Schroeder | Wisc.-LaCrosse | WIAC (II) |
| 1999 | 7 | 213 | Packers | Donald Driver | Alcorn ST. | SWAC (I-AA) |
| 1997 | 7 | 213 | Packers | Chris Miller | USC | Pac-10 |
| 2005 | 7 | 223 | 49ers | Marcus Maxwell | Oregon | Pac-10 |
| 2003 | 7 | 224 | Seahawks | Taco Wallace | Kansas St. | Big 12 |
McCloughan's mentor in Green Bay, Ron Wolf, shied away from drafting receivers early. He perceived the position as a risky one.
If we look at McCloughan's history, which overlapped Wolf's tenure in Green Bay, we see his teams drafted only one receiver -- Koren Robinson at No. 9 in 2001 -- among the top 55 overall selections since 1994. McCloughan's teams have drafted five receivers between the 76th and 90th choices, zero in the fourth round and 10 between the 140th and 181st choices.
While the 49ers might be tempted to take Crabtree at No. 10, history says McCloughan might target the position in other rounds. The 49ers hold the following picks: 10, 43, 74, 111, 146, 171, 184, 219 and 244. McCloughan's history suggests he might look for a receiver at 74 and then at 146 or later. Taking Crabtree, Jeremy Maclin or another receiver at No. 10 would go against the most firmly established precedent.