December, 26, 2013
12/26/13
11:30
AM ET
TEMPE, Ariz. -- There aren't many defensive players in the NFL who can say they have stopped
San Francisco 49ers
quarterback
Colin Kaepernick
.
Kaepernick
Moch
Arizona linebacker
Dontay Moch
is one of the few. But there is a catch. Moch learned every nuance of Kaepernick during their four years together at the University of Nevada. And though Moch has been inactive for the past seven weeks, he's been using his experience against Kaepernick to help the Cardinals prepare for him.
"I can definitely add on some things," Moch said. "I know a couple of his little secrets, a couple little things that he do here and there. Definitely going to help the key for us."
But what does Moch know that no one else does?
"I ain't going to put it out there," he said with a laugh.
From 2007 to 2010, Moch and fellow defensive lineman Kevin Basped contained the edge in Reno, not letting Kaepernick, still years away from his Super Bowl fame, break loose.
"He couldn't get outside of us, but it's different when you're going against a person every day versus once a week," Moch said. "Seeing it all the time versus playing him is two different things."
Moch didn't have a stat in Arizona's first meeting against San Francisco this season, but he hopes that will change Sunday if he's given a chance to play.
Even if he's in street clothes watching Kaepernick from the sideline, it's still hard for Moch to wrap his head around everything Kaepernick has accomplished.
"I definitely saw that he had great potential and he was going to be something," Moch said. "I didn't know he was going to be this good, leading Super Bowl teams and breaking records and stuff.
"It's great to see an alum going after it, but also he's in my conference, so I get to actually get a shot at him every once in a while."
September, 30, 2013
9/30/13
11:15
AM ET
TAMPA, Fla. -- It wasn't Arizona running back
Rashard Mendenhall
's fumble, dropped carry or bobbled pass that Cardinals coach Bruce Arians was unhappy about. Arians was not pleased with Mendenhall's decision to try to run out of bounds with 1:43 left in the fourth quarter. Fortunately for the Cardinals, Mendenhall fumbled the ball out, allowing the clock to keep running and forcing Tampa Bay to call a timeout.
Mendenhall
"Rashard had a very tough day and he can't play that way," Arians said. "He can't run out of bounds. He's a veteran. And to run out of bounds at the end of the game was ridiculous. That was probably the worst mistake he made all day."
On the Cardinals' second play of the game, Mendenhall missed an easy swing pass from quarterback
Carson Palmer
in the flat. Then on the team's next drive, he dropped a ball but was ruled down. And on the very next play, Mendenhall fumbled and Tampa Bay recovered.
"It's unlike him. He's not a fumbler," Arians said. "We need to practice him a little bit harder. I think we've been too easy on him in practice because of his injuries and we need to hone him up more because he's not game ready."
Moch produces in debut:
He only saw the field for 25 plays, but recently promoted
Dontay Moch
made the most of them. Moch had a critical sack on third-and-10 with just under 3 minutes left that forced the Bucs to punt and allowed the Cardinals to hit a game-winning field goal.
"I saw it open up, I was rushing in and I kept baiting him the whole day, just showing the speed, just showing the speed and eventually it opened for me and I just took it," Moch said. "I tried to get the safety but [mostly wanted] just to get the defense out."
Arians talked all week about Moch's speed and said after the game the linebacker proved himself.
"I had him on the table for two sacks going into the game," Arians said, "and I knew he would show up."
Arians finds success in Tampa:
At least this time, the Cardinals won in Raymond James Stadium. Arians is used to leaving Tampa Bay a victor. He's won his past three appearances in the home of the Bucs, culminating with Sunday's 13-10 win as coach of the Cards.
His two previous wins in Tampa came as offensive coordinator of the
Pittsburgh Steelers
, once during the regular season in 2010 and another in Super Bowl XLIII in 2008 -- against the Cardinals.
"Wouldn't have any other ending at Raymond James Stadium," Arians said. "Kind of used to those kind [of endings]. Haven't been on the losing end yet, for a while, at this place."
September, 27, 2013
9/27/13
6:31
PM ET
SARASOTA, Fla. – The past week has been unchartered waters for the
Arizona Cardinals
' coaching staff. And it's not because their hotel in Sarasota is on a waterway.
After losing two starting outside linebackers and one backup Sunday in New Orleans, Arizona has spent the week restocking its roster, reshuffling its defensive game plan and simplifying its playbook. But an overhaul wasn't needed.
[+] Enlarge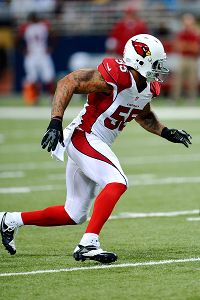 AP Photo/G. Newman LowranceJohn Abraham is expected to see more time on the edge Sunday.
Defensive coordinator Todd Bowles said the Cardinals will stay in a 3-4 as their primary defense, despite the lack of experienced linebackers to properly execute his scheme. But throughout the game, the Cardinals will continue to go to a 4-3, Bowles added.
"It's just a matter of having the right people outside doing the right things at the right time," Bowles said. "Some of the guys are inside guys. They can't play outside. It's a good mix."
This week, Bowles will mix up the defenses more often than in the first three games, while Arizona coach Bruce Arians just hopes his playbook can accommodate the new styles at outside linebacker.
But for this week at least, Arizona won't try to move their inside linebackers –
Karlos Dansby
and
Jasper Brinkley
– outside. The Cards added
Vic So'oto
and promoted
Dontay Moch
and
Kenny Demens
from the practice squad to fill in at outside linebacker.
John Abraham
entered the league as a 3-4 linebacker with the
New York Jets
, Bowles said, so he's expected to see more time on the edge this game.
Matt Shaughnessy
has been an outside rusher before, most recently with the
Oakland Raiders
, so he'll also provide some relief for Arizona.
Next week, however, may be a different story when
Daryl Washington
returns from a four-game suspension. He gives the Cardinals another option, with the possibility of Brinkley or Dansby moving outside.
It's a challenge Dansby welcomes.
"The future's bright," Dansby joked. "I know I'm up for the challenge. I had done it before, so if that's my role that's what I'll have to play. I'm able to do it. It ain't like it's new to me, so I'd be cool."
But Dansby, who was wondering who'll move over, hasn't been asked yet.
"It's such a different transition to play outside backer versus inside backer," Arians said. "I like the four guys we have right now. It's not the end of the world."
Arians would know. Last year, as the interim coach of the
Indianapolis Colts
, Arians watched two running backs go down on the same play. Not just in the same game, but on the same play. So three linebackers in one game? No problem for Arians.
But he didn't try to rally the troops with the story of last season. No one wants to hear that, he said.
"You've got to be able to adjust in this league," Arians said. "It's going to throw you curveballs all the time. You got to be able to hit the curveball."
September, 27, 2013
9/27/13
12:59
PM ET
SARASOTA, Fla. -- The
Dontay Moch
that Arizona defensive coordinator Todd Bowles knows on the Cardinals practice squad has been flying by the first-team offensive line.
Bowles hasn't had time to pay attention to Moch's underwhelming two-year stay in Cincinnati. He remembers Moch coming out of the University of Nevada as an undersized pass-rusher who made up for whatever he lacked with sheer speed. He ran a 4.44-second 40-yard dash at the 2011 NFL scouting combine and hasn't slowed down.
"He's fast. He came in fast," Bowles said. "I remember him coming out he had a lot of production in college and he can get on the edge. He's a tough kid. I haven't seen much film on him from Cincinnati. It's been about two years. I can only go by what I've seen in practice."
[+] Enlarge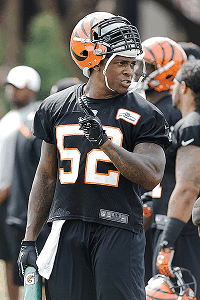 AP Photo/Al BehrmanDontay Moch mostly struggled in his two seasons with Cincinnati. Now he's starting in Arizona.
Whatever Moch has been doing behind closed doors, it's been enough to convince the Cardinals coaching staff he would be the best fit to replace
Lorenzo Alexander
as a starting outside linebacker against Tampa Bay on Sunday. Moch's two seasons as a Bengal was limited by injuries and off-field issues. According to an article in the Dayton Daily News, he missed his rookie season with a foot injury and migraines. Then in 2012, he was suspended the first four games of the season for violating the NFL's drug policy, according to that same story.
Arizona coach Bruce Arians said he talked to his counterpart in Cincinnati, Marvin Lewis, who didn't want to lose Moch. As has been a common refrain this week in the Tampa area, football is a business, and Moch gets it.
"It's tough but at the same time you got to understand it and come ready and be prepared," he said. "I got the opportunity to come home to my hometown and do something that I as blessed to do with my life and just have to go out there and prove it now."
And proving himself, he has.
Moch's long arms and speed were the reasons why Arians wanted him and they've been the reasons why he's been able to make a mark in Arizona. He's stayed in his playbook since moving back, with the goal to eventually not think when he's on the field.
"Just react and play," Moch said. "So far, so good. Just going to go out there and make no errors.
"I've been at the SAM and doing my typical rush things and just go to be a factor and really not think and just play."
For a team that's been lacking a speed rush, Moch might have found himself in the right place at the right time. The Cardinals have just five sacks this season, due largely in part to a lack of a speedy outside rush.
If Moch can use his speed to get off the edge, the inside can open up for the likes of
Darnell Dockett
and
Calais Campbell
.
And Arians is looking forward to seeing that happen.
"We had a lot of high grades on him," Arians said. "I think he's going to bring a speed asset to us, increase our team speed. I'm anxious to see him play. In practice he's been tough to block. He's earned this right."
Moch has been frustrated with how the past couple of years have unfolded. But he's turned it into motivation, working harder and longer to see the field.
He knows what his strengths are and he's been playing to those because, above all else, they'll help him see the field.
"I'm a predator out there," he said. "I'm not no prey. And that's for sure."
If Moch can stay healthy and clean in Arizona, he could find a home in his hometown. Moch grew up in Chandler and attended Hamilton High School, so returning to the Cardinals was an easy choice when they signed him to the practice squad on Sept. 2.
"It was great," Moch said. "Hometown, you can't get any better than that. You kill both things with one stone -- I get to be home with family and at the same time do my job.
"Can't get no better than that."
September, 26, 2013
9/26/13
6:57
PM ET
SARASOTA, Fla. -- Amos Jones has been around for a long time and he's seen his fair share of oddities in football.
And that includes Arizona coach Bruce Arians with hair.
But Jones, the
Arizona Cardinals
'special teams coordinator, had never seen 11 substitutions on special teams in one game, the number Arizona totaled last weekend against New Orleans because of injuries. Jones' previous high was nine.
Already down one special teams starter, rookie linebacker
Kevin Minter
(hamstring injury), Jones lost one of his special teams captains, linebacker
Lorenzo Alexander
, who ruptured his Lisfranc ligament, and another stalwart, linebacker
Sam Acho
, who broke his fibula. If that wasn't enough, backup rookie linebacker
Alex Okafor
tore his left biceps and is out for the season. He played the second-most snaps on special teams against the Saints.
"I compared it to coaching in the Canadian League or coaching in high school ball where somebody gets hurt, you gotta go," Jones said. "Same thing in the NFL when you only have 53 men. You just got to be prepared for those scenarios. Luckily our guys have accepted that from Day 1."
It didn't take long for their losses to impact the Cardinals.
Without Alexander and Acho, Arizona's punt-return defense suffered. It came into Sunday's game allowing 0.8 yards, in large part because of second-year gunner
Justin Bethel
. But without Alexander, who would command a double team, thus opening lanes for his teammates to streak down field, the Saints could focus more on Bethel and slow the downfield stampede. After their 31-7 loss to the Saints, the Cardinals are allowing eight yards per punt return, still impressive, but 10 times what they were previously giving up.
Assuming the roles vacated by Alexander, Acho and Okafor will be the Cardinals' three most recent additions:
Dontay Moch
,
Vic So'oto
and
Kenny Demens
.
Their first challenge will be a top-10 punt return unit and the third-best kickoff return team. Tampa Bay averages 7.8 yards per punt return and 31.3 per kickoff return. The Bucs have had three players return kicks this season and all averaging at least 25 yards per return.
Arizona, meanwhile, has allowed 17.3 per kick return.
"We [are] ready with the backups," Jones said. "Some of those backups will be starting this week. We went out and acquired three guys that have unique skill sets so we'll utilize them the best we can.
"So, it'll be a bunch of unselfish guys who'll step up and fill in. Some guys will get a little bit more playing time at other positions, and some of these guys we just acquired will come in and put a hand in the pile."
Alexander was the NFC's Pro Bowl special teams representative last year with the
Washington Redskins
and Acho was starting to hit a stride on special teams, but it's not their physical skills Amos will miss most.
It was their leadership, their dependability, their experience. Amos could look at Alexander and bounce ideas off him.
"Those guys had great presence in the room," Jones said. "We have other guys. We're not just about one or two guys, that's not how we're built, but it was always a pleasure."
September, 25, 2013
9/25/13
8:00
AM ET
SARASOTA, Fla. -- Handling a loss is part of the game. And waiting on a star to return from an injury also comes with the territory.
Having to rebuild an entire position because of injuries, well, that might have been coach Bruce Arians' "Welcome to the NFL" moment. And how he responds could spell out the rest of the season for the
Arizona Cardinals
.
A depth chart is built with this type of situation in mind. Both of Arizona's starting outside linebackers,
Lorenzo Alexander
(Lisfranc) and
Sam Acho
(fibula), left Sunday's 31-7 loss to the
New Orleans Saints
with season-ending injuries. It was a blow to the defense, but it's not the end of the world. Enter the backups. Rookie
Alex Okafor
filled in for Acho, but saw only five plays. Which, Arians said on national radio Tuesday night, was all he needed to tear a biceps tendon.
Okafor is out for the season, too.
Enter … well, nobody.
Teams aren't built to back up the backup. Anyone who posits otherwise simply doesn't understand the dynamics of football. With a 53-man roster, 22 spots are slotted for starters. Give each one a backup and that's 44 players, with nine openings left for special teams and specialists.
[+] Enlarge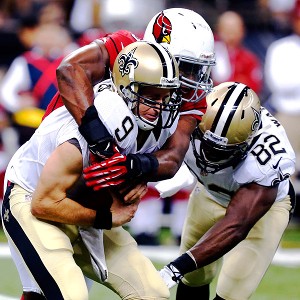 AP Photo/Bill HaberSam Acho recorded a sack of Saints QB Drew Brees before leaving with a broken fibula.
The only two outside linebackers to survive Sunday were
John Abraham
and
Matt Shaughnessy
, both of whom tend to play as outside rushers off the line, or, in Shaughnessy's case, sometimes in the middle of the line.
Losing three of a unit's five players, no matter what team it is, can bring panic. But the Cardinals have reacted swiftly, trying to piece together a competitive outside-linebacking unit.
They filled out the roster with a couple of internal promotions,
Dontay Moch
and rookie Kenny Demens, from the practice squad (the latter move according to Arians) and signed
Vic So'oto
to the active roster. It's a solid start to a process that may last the rest of the season. The outside linebackers could be liability until at least two of the injured players return next year.
Arians likes Moch's speed, which can help this defense improve its pass rush. Arizona has recorded just one sack off the edge this season, by Acho, against the Saints.
The Cardinals have three primary options at this point: Stay with the new outside linebackers, revamp the entire unit -- inside and out -- when
Daryl Washington
returns Monday or change the defense, putting more men at the line of scrimmage and keeping the inside guys at their natural position.
If Arizona stays in a 3-4 with its current players, there's a good chance the outside backers will be rotated throughout the season because of general manager Steve Keim's penchant to comb the waiver wire. If Moch produces, he can earn himself a consistent starting job because of how Arians operates. Arians works with who's in front of him, and if Moch can prove he's worthy of staying on the field, Arians will leave him there.
But if the Cardinals decide to revamp the entire unit, the new faces on the roster may be relegated to the sideline. There'd be a learning curve, however. With Washington returning, Arians and defensive coordinator Todd Bowles could play him,
Karlos Dansby
and
Jasper Brinkley
together. Herein lies the problem. All three are inside backers -- and so is rookie
Kevin Minter
, who's out with a hamstring injury and isn't expected back for a few weeks. If one is willing to convert to outside and the Cardinals want to keep their 3-4 scheme, they could move Moch or another addition to the outside until Minter returns.
If Arizona decides to change schemes, it could keep Washington, Dansby and Brinkley as the linebackers, although two would have to learn outside-LB tendencies. Then the Cardinals could bring Abraham off the edge more often, especially against pass-happy offenses -- of which the NFC West is full. According to Pro Football Focus, Abraham led Arizona with five quarterback hurries on 29 pass rushes.
There's a lot to be decided in the next couple weeks, although most of the major decisions that would affect the rest of the season won't likely happen until Washington returns.
This is the equivalent of a vacation gone wrong but you can't leave. The weather is bad. Nothing seems to go right. But the Cardinals are just trying to get through this week, miles away from home, and salvage their trip by getting back to .500.
September, 23, 2013
9/23/13
5:16
PM ET
SARASOTA, Fla. -- The Arizona Cardinals announced Monday afternoon that outside linebackers Lorenzo Alexander (foot) and Sam Acho (leg) were placed on injured reserve and will miss the rest of the season.
Later, outside linebacker Dontay Moch was promoted from the practice squad.
The Cincinnati Bengals drafted Moch in the third round in 2011, but the Arizona native played in just one game last season and was inactive for all 16 games in 2011.
This leaves the Cardinals with one open spot on the 53-man roster. GM Steve Keim and vice president of player personnel Jason Licht will likley look churn over the waiver wire, don't be surprised to hear about a few tryouts or a signing quickly.
Practice squad linebacker Kenny Rowe said Monday that he played some defensive end at the University of Oregon in a 4-3 system and could play outside linebacker if needed.
April, 29, 2011
4/29/11
9:30
AM ET

Dan Bickley of the Arizona Republic
likes the Cardinals' selection of LSU cornerback
Patrick Peterson
with the fifth overall choice. Bickley: "This was the smart play. The Cardinals didn't get the yips and trade down, as they once did with
Terrell Suggs
on the board. They selected an impact player who immediately will upgrade Arizona's defense, rewarding fans that suffered through a 5-11 debacle last season. In the process, they resisted reaching for a quarterback, a move that suggests the Cardinals must have someone in mind when hunting season finally opens in the NFL." Selecting a quarterback over arguably the best player in the draft would have carried undue risk. This looks like a solid selection for Arizona. Cleveland might have come out better at No. 6, however, thanks to the Falcons' wacky dealing for a shot at
Julio Jones
.
Kent Somers of the Arizona Republic
says the Cardinals plan to use Peterson in the return game as well. Coach Ken Whisenhunt: "I think he could line up today and be a kick returner in the NFL and be one of the best ones. As a punt returner . . . he certainly has the skill set to do it, but we obviously want to see him do it."
Also from Somers
: The Cardinals have options in the second round. Somers: "The Cardinals need a tight end, and there's Notre Dame's
Kyle Rudolph
. A quarterback? TCU's
Andy Dalton
, Nevada's
Colin Kaepernick
and Arkansas'
Ryan Mallett
weren't taken in the first round Thursday night. The Cardinals could also use a pass rusher, and outside linebackers
Akeem Ayers
of UCLA,
Bruce Carter
of North Carolina,
Brooks Reed
of Arizona and Tucson Sabino High and
Dontay Moch
of Nevada and Chandler Hamilton High are available."
Bob McManamon of the Arizona Republic
says the Cardinals could have a new starting quarterback next week.
Darren Urban of azcardinals.com
says the team expects to have players working out at the facility beginning Friday. Whisenhunt: "It will be exciting to have guys at the facility. It's nice to have contact with these guys immediately. We got a number of calls and communication from players, and that's exciting. When your players say they want to be here working out, I know they didn't miss (strength and conditioning coach) John Lott, but they say they want to work out and that's a good thing."
Also from Urban
: Cardinals general manager Rod Graves says the team had Peterson fifth on its board.

Bryan Burwell of the St. Louis Post-Dispatch
sizes up the Rams' selection of
Robert Quinn
this way: "The selection of University of North Carolina defensive end Robert Quinn sounds just like the sort of logical pick you would expect from a guy such as Spagnuolo, who likes collecting pass rushers the way Donald Trump likes collecting birth certificates. Quinn is a big, fast, strong and aggressive guy who Spags can plug into his rotation that already includes
Chris Long
,
James Hall
,
George Selvie
,
Fred Robbins
, C.J. Ah You and
Eugene Sims
."
Jim Thomas of the St. Louis Post-Dispatch
says the Rams were surprised Quinn remained available at No. 14. Thomas: "The Rams liked
Prince Amukamara
, who ended up going No. 19 to the
New York Giants
. They really liked
Corey Liuget
, who went No. 18 to the
San Diego Chargers
. As for Quinn, well, in the Rams' minds he was too good to pass. As such, Quinn became the first defensive player taken in the first round in coach Steve Spagnuolo's three-draft tenure in St. Louis."
Howard Balzer of 101ESPN St. Louis
says the Rams are taking a chance on Quinn, a player with some question marks.

Clare Farnsworth of seahawks.com
passes along Pete Carroll's thoughts on not drafting a quarterback in the first round Thursday. Carroll: "John (Schneider, the GM) and I are of the mindset that we always have to look at the quarterback position -- every year, every draft we're going to continue to do that. This year's draft,
Charlie (Whitehurst)
is our third-round pick. I don't know if you guys (reporters) realize that, but that's something we're very well aware of. We're going to continue to deal with the quarterback position. Remember last year, the first big thing we did was to go get Charlie. He's already come in and won a big game for us (the season finale against the Rams) as our pick in this year's draft. So we think we've already been paid back on that front. But by no means are we done. We've got some question marks there, obviously."
Jerry Brewer of the Seattle Times
says the Seahawks wanted to trade down and wound up taking a second-round talent in
James Carpenter
when they couldn't move back. Brewer: "Ultimately, the Seahawks were more concerned about finding a good player who fits the style they're trying to create. For them, Carpenter carried a high value because of his physical, aggressive brand of football. In Carpenter and Okung, the Seahawks now have two young bookend tackles to stabilize the offensive line. That's not a bad start. It seems they could've gotten better value out of that No. 25 pick, but they didn't. And now it's on Carpenter to make this decision pan out." Carpenter appeared at No. 31 in Rob Rang's final mock draft. That was as high as I'd seen anyone project him to go.
Christian Caple of seattlepi.com
says the Seahawks were unapologetic about their first-round selection. Schneider: "I would say to a fan that they should take reassurance in the fact that we've been busting our tail since last May covering this guy. And that we spent countless hours the last probably eight weekends in a row just evaluating this thing, and this guy's never changed."
Art Thiel of Sportspress Northwest
says the Seahawks' recent first-round struggles make it tough for fans to get too excited about Carpenter -- even if the team's current leadership wasn't responsible for past mistakes.
Eric D. Williams of the Tacoma News Tribune
says Carpenter was "shocked" to be selected in the first round.

Matt Maiocco of CSNBayArea.com
expects the 49ers to select a cornerback, then work toward securing a veteran quarterback. General manager Trent Baalke: "We understand as an organization that we need to get a quarterback. But when that takes places, how it takes place, that's all been discussed internally and that will stay internally. We've looked at every option available to us. When you look at free agency, and you look at the trade opportunities and possibilities, and you look at players still on the board. There are players out there and situations out there that will allow us to address the position. But we have to let it play itself out."
Matt Barrows of the Sacramento Bee
casts the 49ers' selection of
Aldon Smith
in the context of not selecting quarterback
Blaine Gabbert
. Barrows: "By bypassing Gabbert, the 49ers still will be eager to re-sign quarterback
Alex Smith
. Alex Smith, in turn, likely was watching carefully to see if the 49ers used their No. 7 pick on a quarterback. Gabbert was taken by the Redskins at pick No. 10. Harbaugh said he and the 49ers took a long look at Gabbert as well as every other prospect."
Also from Barrows
: Opportunities to trade down never materialized for the 49ers.
More from Barrows
: Alex Smith and the 49ers plan to get together Friday.
Lowell Cohn of the Santa Rosa Press-Democrat
likes the 49ers' decision to select a pass-rusher in the first round. Cohn: "Smith was an enviable pick because it took guts to go against the conventional wisdom. And it shows Trent Baalke and Jim Harbaugh think for themselves and act on conviction. They actually do. They knew who and what they wanted and they got him. Even after the 49ers made the selection, writers were tweeting the 49ers would trade Smith to the Eagles for
Kevin Kolb
. It's like no one believed the Niners did what they did. But they didn't trade. When writers later asked Harbaugh if he considered trading Smith, he looked dumbfounded, as if the question made no sense. It didn't." The trade talk came out of nowhere. The 49ers weren't trading a pick that high for Kolb without being convinced they could win a championship with him. I'm not convinced they're convinced enough on Kolb to make that sort of move.
Eric Branch of the Santa Rosa Press-Democrat
says Smith's toughness appealed to coach Jim Harbaugh.
Also from Branch
: The 49ers realize Smith faces a transition period.
Tim Kawakami of the San Jose Mercury News
says the 49ers appeared patient in making Smith their selection. Harbaugh does have a five-year contract. He didn't have to take a quarterback right away.
David White of the San Francisco Chronicle
describes Harbaugh as relieved to get a shot at working with players now that the lockout is ending.
Gwen Knapp of the San Francisco Chronicle
wasn't impressed with the 49ers' use of the seventh overall pick. Knapp: "They deserve credit for not allowing themselves to be seduced by one of the many overrated quarterbacks in the draft, but the two teams in front of them spun their slots into gold. By comparison, Aldon Smith, a promising but raw Missouri defensive end, seemed like a poor yield on the No. 7 pick."