NFC West:

Donte Stallworth
April, 23, 2012
4/23/12
10:51
PM ET
The
San Francisco 49ers
twice lost close games against New Orleans in the Superdome when the Saints were
allegedly eavesdropping
on visiting coaches from 2002-2004.
Coincidence? Evidence of malfeasance?
"There's something missing here,"
said Bill Polian
, the ESPN analyst and former longtime NFL executive. "I don't know what kind of competitive advantage you can get."
The report by "Outside the Lines" cites people familiar with the Saints' game-day operations as saying Mickey Loomis, the Saints' general manager, had the ability to monitor opposing coaches from his private box during home games.
NFC West teams played three games at the Superdome during the period in question.
The 49ers suffered a 35-27 defeat at New Orleans in 2002 after the Saints outscored them 22-3 in the fourth quarter. They also suffered a 30-27 defeat there in 2004 after Aaron Brooks found Donte Stallworth for a 16-yard touchdown with 1:01 remaining. Also in 2004, the
Seattle Seahawks
claimed a 21-7 victory at New Orleans.
The NFL has already suspended Loomis, a former longtime Seahawks executive, for the first eight games of the 2012 season as punishment for his handling of the Saints' bounty situation.
The allegations against Loomis are damaging whether or not the Saints realized any in-game advantages.
"Mickey would have to know the verbiage of every other opposing team in order to translate it, and then he would have to do it instantly and find some way to communicate with his coaching staff and get it down to the field in time for it to be useful," Polian said. "That would be very difficult to do, in my opinion."
The Saints have strongly denied the allegations.
Steve Mariucci (2002) and Dennis Erickson (2004) were the 49ers' head coaches for the NFC West defeats in question. Erickson and Loomis worked together in Seattle years earlier.
Another NFC West alum, Jim Haslett, was the Saints' head coach at the time.
April, 9, 2012
4/09/12
5:00
PM ET
Todd McShay set off alarms as he considered if NFL teams drafting sixth (
St. Louis Rams
) and 10th (
Buffalo Bills
) might consider selecting wide receivers with those choices.
The alarms grew louder as McShay, speaking in the video above, noted that Oklahoma State's
Justin Blackmon
, widely rated as the top receiver in the 2012 NFL draft, did not possess prototypical size.
Blackmon, though obviously talented, doesn't fit the physical mold for receivers drafted among the top three overall choices over the past 25-plus years. We
discussed the reasons
back at the combine, when the Rams held the second overall choice and Blackmon was a consideration for them.
The Rams subsequently traded the second overall choice to Washington. They now hold the sixth overall choice. Blackmon would be a more logical value there than at No. 2, except for those alarms going off.
Consider recent draft history.
First, take a look at receivers drafted among the top five overall choices since 2000, listed in the first chart below.
Three of the seven are superstars:
Calvin Johnson
,
Larry Fitzgerald
and
Andre Johnson
. Another,
A.J. Green
, is coming off an impressive rookie season.
Braylon Edwards
has enjoyed sporadic success. The other two,
Charles Rogers
and
Peter Warrick
, fell far short of expectations.
Those seven players have combined for 12 Pro Bowl appearances (Fitzgerald 5, Johnson 5, Johnson 1, Edwards 1).
The next set of receivers, listed below, were drafted sixth to 15th overall. I selected that range because three NFC West teams -- the Rams,
Seattle Seahawks
(12th) and
Arizona Cardinals
(13th) -- hold picks in that area.
The 16 players listed in the second chart have combined for two Pro Bowls, one by
Roy Williams
and the other by
Koren Robinson
as a return specialist in Minnesota, long after Robinson had bombed as a receiver.
Receivers talented enough to command selection among the top few overall choices have fared better than the ones with enough question marks to push them down into the next tier.
That is something to consider when weighing how the Rams, Seahawks and Cardinals should use their first-round selections, even if the Rams did land
Torry Holt
with the sixth overall choice in 1999.
March, 15, 2012
3/15/12
11:43
PM ET
Wide receivers
Vincent Jackson
,
Pierre Garcon
,
Reggie Wayne
,
Robert Meachem
,
Eddie Royal
,
Laurent Robinson
,
Josh Morgan
,
Eric Weems
and
Harry Douglas
have found new homes after hitting the NFL's free-agent market.
Franchise tags essentially removed from consideration
Dwayne Bowe
,
Wes Welker
and
DeSean Jackson
.
Others, such as
Marques Colston
, re-signed before free agency.
Teams still searching for help at the position -- that would be pretty much everyone but Seattle in the NFC West -- are left with a picked-over group of free agents.
Jerome Simpson
,
Plaxico Burress
,
Brandon Lloyd
,
Legedu Naanee
,
Devin Aromashodu
,
Roy Williams
,
Mario Manningham
and
Early Doucet
are the only ones remaining to have played at least half of their team's offensive snaps during the 2011 season.
As the chart shows, Burress was particularly effective in the red zone for the
New York Jets
. He converted first downs 38 times in 45 receptions for the third-highest percentage among wide receivers with at least 40 receptions, according to ESPN Stats & Information.
Burress is also up there in age. He's among 12 available wideouts already in their 30s:
Hines Ward
(36), Burress (34),
T.J. Houshmandzadeh
(34),
Kevin Curtis
(33),
Patrick Crayton
(32),
Deion Branch
(32),
Rashied Davis
(32), Donte Stallworth (31),
Jerheme Urban
(31),
Bryant Johnson
(31), Lloyd (30) and Williams (30).
Of them, Lloyd has visited the
San Francisco 49ers
.
Nine more are 29 years old:
Greg Camarillo
,
Keary Colbert
,
Mark Clayton
,
Jerricho Cotchery
,
Roscoe Parrish
,
Michael Clayton
,
Courtney Roby
, Michael Spurlock and
Braylon Edwards
.
Still interested?
OK, let's check out 18 others, all younger than 29:
David Anderson
, Legedu Naanee, Devin Aroshamodu,
Donnie Avery
,
Anthony Gonzalez
,
Maurice Stovall
,
Derek Hagan
,
Mike Sims-Walker
,
Ted Ginn
Jr.,
Andre Caldwell
,
Steve Smith
, Doucet,
Brett Swain
,
Chaz Schilens
, Simpson, Manningham,
Devin Thomas
and
Kevin Ogletree
.
Schilens visited Arizona and San Francisco. Manningham visited the 49ers and the
St. Louis Rams
.
I've also broken down the available wideouts by drafted round:
First: Williams, Burress, Ginn, Stallworth, both Claytons, Johnson, Gonzalez and Edwards
Second: Avery, Thomas, Simpson, Smith, Parrish, Branch, Colbert
Third: Roby, Doucet, Hagan, Stovall, Manningham, Caldwell, Curtis, Sims-Walker, Ward
Fourth: Cotchery, Lloyd
Fifth: Legedu Naanee
Sixth: none
Seventh: Houshmandzadeh, Crayton, Schilens, Aromashodu, Anderson, Swain
Undrafted: Davis, Urban, Camarillo, Spurlock, Ogletree
Only a handful of the available receivers project as starters. None would qualify as an outright game-breaker.
The Rams in particular need playmakers, but in looking at what is available, how many would qualify as dramatically better than what they already have?
Austin Pettis
,
Brandon Gibson
,
Danario Alexander
,
Dominique Curry
,
Greg Salas
and restricted free agent Danny Amendola are their current wideouts.
February, 17, 2010
2/17/10
7:30
AM ET

Matt Maiocco of the Santa Rosa Press-Democrat
says the 49ers could consider defensive linemen in the draft even though the team appears solid up front. Maiocco on Kentwan Balmer: "His development has been slow, and he will not be able to accomplish a lot this offseason. He's in the midst of a six-month rehabilitation from shoulder surgery. The club hopes he'll be cleared to resume on-field work in June. Balmer was the 29th overall pick in the 2008 draft. Like so many young defensive linemen, he has not been productive. He was getting onto the field about one-third of the time on base downs, and doing just OK, prior to sustaining a torn labrum in his right shoulder. It looks as if he takes his job seriously, and he works hard. But, at this point, I don't know if he has what it takes to contribute on a good defense."
Florida Danny of Niners Nation
says the 49ers had the best defense among non-playoff teams last season. He credits the team's focus on establishing a clear identity in 3-4 principles.
David Fucillo of Niners Nation
says quite a few mock drafts have the 49ers selecting offensive tackle Trent Williams in the first round.

Steve Wyche of NFL.com
says Seahawks defensive end Patrick Kerney plans to continue his career. Kerney: "I've got a couple good ones left in me. ... Gonna be in sick shape." Kerney is always in tremendous condition. The question is whether he can hold up physically over the course of a season after multiple surgeries, and to what degree his salary makes him vulnerable.
Eric D. Williams of the Tacoma News Tribune
says the screen game is one positive from the Seahawks' 2009 season and something the new coaching staff can build upon. Williams: "The Seahawks were one of the better screen teams in 2009, with nine of Seattle's 38 plays of 20-plus yards or more through the air on screen passes to a running back or receiver. The plays were either screen passes called in the huddle or an audible at the line of scrimmage (smoke screen) because of pressure coming up front. Although they struggled at times to effectively run them during Mike Holmgren's tenure, the screen game was a staple in his offense because of the ability for a big play when a team blitzed. Holmgren considered screens like a long handoff -- another way to get an elusive running back or receiver the ball in space."

Darren Urban of azcardinals.com
says linebacker Karlos Dansby has been consistent in his desire to earn the most amount of money possible, whether from the Cardinals or anyone else. Urban: "Darnell Dockett and Anquan Boldin chose to take extensions earlier in their career in part for the security, and obviously it has affected them down the road. The Cards were more leery of doing something like that with Dansby because of his injury and practice issues earlier in his career, and by the time they decided to shift gears, Dansby got it in his head he'd rather test the open market. That's been delayed because of two years with the franchise tag (and do not overlook the fact Dansby has been essentially playing for a contract for three seasons now, so we will see if anything changes when he gets a long-term deal)."
Revenge of the Birds' Andrew602
considers reasons for the Cardinals to keep Mike Gandy and reasons to let him go. I think the Cardinals should bring back Gandy if the price is right and Gandy has recovered sufficiently from the injuries that slowed him last season. The margin for error on the offensive line shrinks without Kurt Warner, who could anticipate the rush well enough to get rid of the ball quickly.

Jim Thomas of the St. Louis Post-Dispatch
passes along a few comments from Rams coach Steve Spagnuolo, who has not yet studied Nebraska defensive tackle Ndamukong Suh in detail. The Rams have so far focused on their pro personnel evaluations.
Also from Thomas
: Spagnuolo isn't saying anything meaningful about the quarterback situation in St. Louis. It's a big upset, though, if the Rams return with Marc Bulger as their starter. Spagnuolo: "There's still a long ways to go here. You know this is all in layers. Free agency. Draft. And what happens afterwards. So to make any rash decisions now, we wouldn't do that."
More from Thomas
: a chat in which he shoots down suggestions Bulger cleaned out his locker in anticipation of not returning in 2010. Thomas: "Here's a news flash for you: Ryan McKee also cleaned out his locker. So did about 65 other Rams. James Laurinaitis has less stuff in his locker than Bulger. This 'locker cleaning' all took place on Jan. 4. So, going back to early January, here's another news flash: Philadelphia and Green Bay were eliminated in the wild-card round."
Jim Rodenbush of the St. Louis Globe-Democrat
says the Rams could check out former Browns receiver Donte Stallworth, who was with Spagnuolo in Philadelphia. Spagnuolo: "I know that he has just become available, so we are looking at everybody. But I happen to know Donte personally, and I kind of like him. That is going back a little while now, three or four years ago when he was in Philadelphia." I'm not sure how eager the Rams would be to welcome a player with a DUI manslaughter conviction. Comparisons to Leonard Little's situation would be inevitable.
Howard Balzer of the St. Louis Globe-Democrat
cites a source saying prospective Rams owner Shahid Khan wants Stan Kroenke to keep his minority share in the team. The source: ""He doesn't need any money from Stan. He can handle the deal on his own if he has to. But he has a strong desire for Stan to stay in so he would have a St. Louis partner and a strong link to the community. He values that connection."
February, 8, 2010
2/08/10
8:35
PM ET
Filed while flying across the Idaho-Washington border on the way back from Super Bowl XLIV ...
Mike from Lake Charles, La., writes:
Hey Mike, I was wondering which QB you "trust more" now? To make that statement (and your Super Bowl pick) based on that criteria, you were oblivious to what actually happened during the course of the entire season. Brees set an all-time NFL passer completion % record, Saints scored the most points, Brees had more touchdown passes and less interceptions than Manning, all the while playing tougher competition. Your prediction seems SILLY now. What do you think about that?
Mike Sando:
I think you should have sent me this before the game. Hindsight is easy! No doubt, though, the Saints played great. I was most impressed with the fact that every coaching move they made seemed to pay off or at least not backfire.
Peyton Manning
had seven fourth-quarter comeback victories during the regular season while going 14-0 in the games the Colts tried to win. That was more impressive than what
Drew Brees
did, in my view, and the vast majority of MVP voters agreed.
---
Jimmy from Toronto writes:
Why do you lead with negative slander? You should consider what legacy you will leave as a journalist. Why is a retired coach
being criticized
for stating his opinion.You are not even stating an opinion. You are writing articles about other people's opinions, which is the lowest form of reporting (not journalism). How about you write an article about the great things Dungy has done? I also urge you to try to measure up to his greatness; at least try.
Mike Sando:
Whether Tony Dungy is great has nothing to do with the fact that he made a bold and unusual prediction before the game, and was spectacularly wrong. Writing what other people said about the matter is far from slander or the lowest form of anything. It's one angle among many following Super Bowl XLIV.
---
Doug from Cleveland writes:
Manning proved again why he is the greatest big-game choker in NFL history. An MVP with a QB rating of less than 90 in the Super Bowl just does not cut it. OF course, six times one-and-done in the playoffs doesn't either!!! It's time all the media bobble heads stopped making excuses for him. Regarding Dungy, that also shows again he just has no clue. Remember his famous "no chance" comment regarding the Cowboys vs New Orleans and his playoff record is not exactly one to be really proud of.
Mike Sando:
I'm not sure about Manning being bad in the clutch. He did have those seven fourth-quarter comeback victories during the regular season, an NFL record. And he did win a Super Bowl. And he has won quite a few playoff games. It is true, though, that his postseason performances have not measured up to his regular-season success. Could be because the opposition is tougher, too.
---
Nick from Waterloo, Iowa writes:
Hey Mike, always been an avid reader. I have two questions. What do you think are the chance the 49ers have of signing Donte' Stallworth? I think with Coach Singletary at the helm, Donte will be well grounded, plus with Donte being from Sacramento, it will be a great local boost. Also, what is a futures contract in the NFL? I see it alot these days, but have no idea what it is.
Mike Sando:
The 49ers are pretty strong at wide receiver. I see no need for them to pursue Stallworth. Just my opinion. On your second question, teams sign players to future contracts when they are putting together their 80-man rosters for the next season. Those players do not count against 53-man limits. Then, when the roster sizes expand to 80 players, these players come off what the league calls a "reserve/future" list. It's a reserve list, not an active list.
---
Edward from Tempe, Ariz., writes:
Sando, it is obvious that the Cardinals need to make some changes (most notably a pass-rusher and linebackers) but what concerns me most is the lack of talent in the backfield. We have
Dominique Rodgers-Cromartie
, but the rest of our DBs were picked on and pretty much torched the entire season. With the draft coming rather quickly, do you see the Cardinals possibly picking up a talented DB within the first 2-3 rounds of the draft or maybe in free-agency?
Mike Sando:
Antrel Rolle
's situation is another factor. He could be finished in Arizona, depending on whether the team can work out a new contract with him. Three-fourths of the starting secondary did get named to the Pro Bowl (Rodgers-Cromartie,
Adrian Wilson
and Rolle). I think they need to upgrade the pass rush primarily. That will help out the Cardinals on the back end.
---
Josh from Richmond, Calif., writes:
I keep hearing (and reading) rumors about
Reggie Bush
possibly landing with the 49ers or Seahawks. Is this a real possibility, or just wishful thinking? Why would Bush leave New Orleans anyway?
Mike Sando:
Bush has an $8 million salary in 2010. The question is whether the Saints will pay that salary to him. If they cut him, he could become available. If Bush hits the market, I do think the Seahawks would have interest. They don't have great talent at running back, and Pete Carroll coached Bush at USC. Bush is also only 24 years old (though he has had serious knee surgery). Seems to me the Saints should find a way to keep him.
April, 10, 2009
4/10/09
11:55
AM ET
Posted by ESPN.com's Mike Sando
Bronson from Montana writes: I've heard the Browns say that they are up to trading pretty much everyone on their roster. Considering that Shaun Rogers wants out, what do you think about the Niners making a move for him? I think this would be a big upgrade for our 3-4 scheme that will actually be a 3-4. Didn't they give up a middle to late rounds pick for him last offseason? Thanks again Mike!!
Mike Sando: Rogers wanted out of Detroit and now he wants out of Cleveland. I'm sensing a pattern here. We can pick apart the Lions in a lot of ways, but their head coach at the time, Rod Marinelli, has been one of the top defensive line coaches in the league for years. Red flags should go up when a top defensive line coach trades a talented defensive lineman.
If I were the 49ers, I wouldn't give up much for a 30-year-old defensive lineman with a history of weight problems, injuries and wanting to be traded.
---
Mr. Pickles from parts unknown writes: Hey Sando, what are your thoughts on the 49ers going after Braylon Edwards? He'd give them a receiver with true #1 potential, and would have to help spread the field more for Frank Gore. Do the 49ers have the pieces to make it happen, and if you're the GM, do you go for it?
Mike Sando: Can the Browns afford to move Edwards now that Donte Stallworth is looking at a potential prison sentence? Is it a good sign for the 49ers when multiple fans think raiding the 4-12 Browns can help upgrade the roster?
In all seriousness, Edwards would upgrade the 49ers' offense, no question. Seems to me the 49ers are emphasizing building through the draft, not trading away picks.
February, 21, 2009
2/21/09
11:58
AM ET
| | |
| --- | --- |
| | |
| | Getty Images |
| | Former first-round picks David Terrell, Charles Rogers and Donte' Stallworth haven't measured up to their lofty draft status. |
Posted by ESPN.com's Mike Sando
INDIANAPOLIS -- The last time a current NFC West general manager watched his team draft a receiver among the top five overall choices, the Arizona Cardinals emerged with Larry Fitzgerald.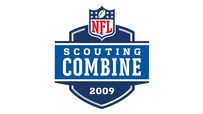 If only it were that easy every time.
The Cardinals' division rivals lack dynamic wideouts now that Torry Holt is winding down in St. Louis.
Unlike Arizona, which rode Fitzgerald to an appearance in Super Bowl XLIII, the rest of the NFC West is drafting early enough to consider the top college receivers.
The Rams, picking second, or Seattle Seahawks, picking fourth, could be in position to select the top receiver in a potentially deep 2009 class.
Even the San Francisco 49ers, with the 10th choice, could get that chance depending upon how perceptions change over the next two months.
No team drafted a receiver in the first round last year. The Rams made Donnie Avery the first receiver drafted when they selected him 33rd overall.
"There are some wide receivers certainly capable of being taken in the first round, much moreso than last year," Tennessee Titans general manager Mike Reinfeldt said.
Capable does not necessarily mean worthy. Teams consistently use first-round choices on receivers without realizing the anticipated payoff.
For every Fitzgerald, whom the Cardinals selected third overall in 2004, there's a David Boston, whom the Cardinals selected eighth overall in 1999. And a Koren Robinson, whom the Seahawks selected ninth in 2001.
Teams have more often found success selecting receivers at the very top of the draft, at least in recent seasons. The first receiver chosen generally justifies the investment: