September, 2, 2014
Sep 2
8:00
AM ET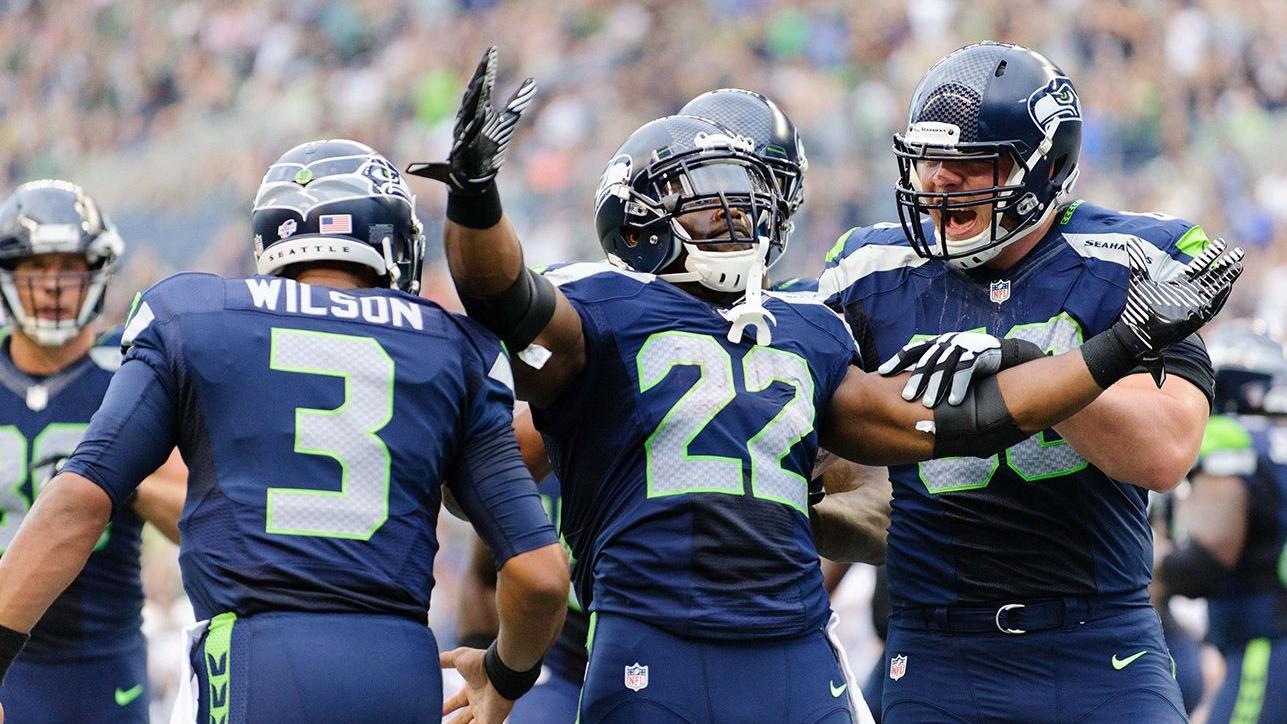 ESPN.com
Seattle Seahawks
reporter Terry Blount makes his game-by-game picks for the 2014 season.
Week 1: Green Bay Packers
All the pregame hype will center around the so-called Inaccurate Reception, the controversial Hail Mary catch by Golden Tate two years ago that won the game over the Packers at Seattle on a Monday night. Tate has moved on to Detroit, but the Seahawks now have too many weapons for the Packers to stop, no Hail Mary required. Prediction: Win
---
Week 2: at San Diego Chargers
The Chargers better hope they play a lot better than they did in the preseason game at Seattle, a 41-14 victory for the Seahawks on Aug. 15. San Diego will play better, but not good enough to beat a much better team. Prediction: Win
---
Week 3: Denver Broncos
The Broncos and their fans got a tiny bit of meaningless Super Bowl revenge in the preseason opener with a 21-16 victory over the Seahawks in Denver. Enjoy it while it lasts, boys. Repeating that outcome in Seattle is not an option. Prediction: Win
---
Week 5: at Washington Redskins
Traveling coast to coast to play on the road for a Monday night game is a tough task against any NFL opponent, and even tougher against quarterback Robert Griffin III. But the Seahawks catch a break in this one by coming off a bye week with plenty of time to prepare and be fresh for the journey. Prediction: Win
---
Week 6: Dallas Cowboys
Cowboys owner Jerry Jones gave Seattle a little bulletin-board material last month when he said the Seahawks were to blame for the increase in penalty flags during the preseason. There won't be near enough flags against Seattle for the Cowboys to win this one. Prediction: Win
---
Week 7: at St. Louis Rams
Any division game in the NFC West is a rugged battle. The Rams have a defensive line that gave the Seahawks problems a year ago. But they aren't strong enough overall to beat Seattle, even at home in their out-of-date dome. Prediction: Win
---
Week 8: at Carolina Panthers
The Seahawks were fortunate to win the season opener at Charlotte a year ago. That Panthers team was better than this one, but back-to-back road games against very physical defensive teams will end the Seattle winning streak. Prediction: Loss
---
Week 9: Oakland Raiders
Coming off their first loss of the season and returning home against an outmanned opponent, is there any doubt? Prediction: Win
---
Week 10: New York Giants
The Seahawks easily defeated the Giants 23-0 last year in New Jersey, a dress rehearsal for their Super Bowl victory at the same location -- MetLife Stadium. The Seahawks won't need a rehearsal to roll past the Giants in this one. Prediction: Win
---
Week 11: at Kansas City Chiefs
This likely will be a low-scoring game between two strong defensive teams. Odds are against any team that has to try to win by matching its defense against the Seahawks' D. Prediction: Win
---
Week 12: Arizona Cardinals
The last time the Cardinals played at CenturyLink Field was last December when they handed the Seahawks a 17-10 loss. That won't happen again unless the Seahawks get caught looking ahead to the 49ers game. The Seahawks don't look ahead. Prediction: Win
---
Week 13: at San Francisco 49ers
It's a Thanksgiving night, national TV game in the 49ers' shiny new stadium against the hated Seahawks. If San Francisco can't win this one, its time as a championship contender is over. Prediction: Loss
---
Week 14: at Philadelphia Eagles
This is the toughest part of the season for the Seahawks with back-to-back road games against likely playoff contenders. But the 10 days between games will help and be enough of a cushion to keep Seattle from losing two in a row. Prediction: Win
---
Week 15: San Francisco 49ers
This is a game that could decide which team wins the NFC West. No way the Seahawks lose to the 49ers twice in three weeks, especially not in front of a rabid full house of 12s. Prediction: Win
---
Week 16: at Arizona Cardinals
The Cardinals probably will be fighting for a playoff spot, and the Seahawks already will be in at 12-2. That difference will be just enough for Arizona to win at home in the same stadium where the Seahawks will win the Super Bowl a few weeks later. Prediction: Loss
---
Week 17: St. Louis Rams
For the second consecutive year, the Rams close the regular season in Seattle. And for the second consecutive year, the Seahawks will beat them without much trouble. Prediction: Win
---
Predicted Record: 13-3
August, 21, 2009
8/21/09
10:14
AM ET
Rams eligible for
practice squad
Pos.
Perceived Status
Marcus Brown

DB

Likely cut

Bradley Fletcher

DB
Keeper
Justin King

DB
Keeper

Cord Parks

DB
Likely cut

David Roach

DB
Likely cut

Mark Rubin

DB
Likely cut

C.J. Ah You

DL
Bubble
Ian Campbell

DL
Likely cut
Eric Moore

DL
Likely cut

Darell Scott

DL
Keeper
K.C. Asiodu

LB
Likely cut

Dominic Douglas

LB
Likely cut
Larry Grant

LB
Keeper
Jerome Johnson

LB

Likely cut
James Laurinaitis
LB
Keeper
Davd Vobora

LB
Keeper
Tim Mattran

OL
Likely cut

Daniel Sanders

OL
Likely cut
Roger Allen

OL
Bubble
Roy Schuening

OL
Keeper
Mark Setterstrom

OL
Keeper
Renardo Foster

OL
Bubble
Jason Smith
OL
Keeper
Phil Trautwein

OL
Likely cut
Eric Young

OL
Likely cut
Brock Berlin

QB
Bubble
Keith Null

QB

Bubble
Chris Ogbonnaya

RB
Bubble

Eric Butler
TE
Likely cut
Jarrett Byers

WR
Likely cut
Brooks Foster

WR
Bubble
Nate Jones

WR
Bubble
Sean Walker

WR
Bubble
Posted by ESPN.com's Mike Sando
More Rams players are eligible for the practice squad this summer after the team parted with a long list of aging veterans this offseason.
The chart shows all 33 current Rams players with eligibility, arranged by position. The team had 24 players eligible when I produced a similar list nearly one year ago.
The lists come in handy when analyzing battles for the final few roster spots. I've added loose status descriptions for eligible players based on my general expectations.
To review: NFL teams must reduce rosters from 80 to 75 players Sept. 1. They must reduce to 53 players Sept. 5. They can begin forming eight-man practice squads Sept. 6 at noon ET.
The league explains the process this way:
"After 12 noon, New York time, clubs may establish a practice squad of eight players by signing free agents who do not have an accrued season of free-agency credit or who were on the 45-player active list for less than nine regular-season games during their only accrued season(s). A player cannot participate on the practice squad for more than three seasons."
The Rams have only one running back, seventh-round choice Chris Ogbonnaya, with practice-squad eligibility. Eight other NFC West running backs have eligibility.
I'll break out corresponding lists for the rest of the division, answering a frequently posed question that follows a familiar format: "Is so-and-so eligible for the practice squad?"
April, 26, 2009
4/26/09
1:31
PM ET
Posted by ESPN.com's Mike Sando