March, 12, 2014
3/12/14
4:08
PM ET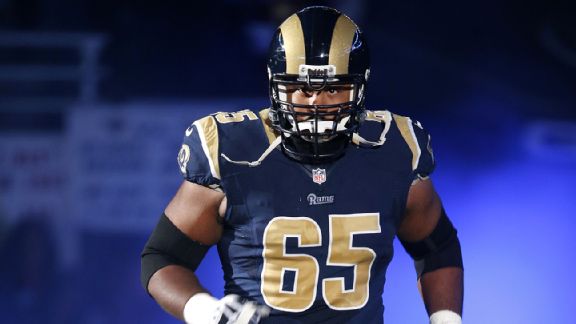 AP Photo/David SeeligWill newly acquired Chris Williams garner success on the Bills' offensive line in 2014?
The
Buffalo Bills
addressed a need along their offensive line Wednesday, signing former
St. Louis Rams
guard
Chris Williams
to a
four-year, $13.5 million deal
.
Williams, a former first-round pick, never panned out with the
Chicago Bears
. He started 16 games at left guard last season and now will have a chance to step into that same role with the Bills.
ESPN Bills reporter Mike Rodak, ESPN Rams reporter Nick Wagoner, and ESPN Chicago's Jeff Dickerson discuss the signing:
Rodak:
Nick, how did the Rams' line as a whole perform last season? Did Williams make it better or worse?
Wagoner:
As expected, the Rams had their share of injury issues on a line full of veterans. They were mostly solid, especially after the team refocused on the run game. But they also had their share of struggles, especially when they faced the dominant front sevens in the NFC West. Williams was the weakest link of the group, though he provided more durability than any of his linemates. He held up OK, but those division foes especially had a knack for getting the better of him.
Jeff, you saw Williams early in his career and when the Bears first tried to make him a guard. Did you ever envision he'd land a contract like the one he got from Buffalo?
Dickerson:
Not a chance. The Bears touted Williams as their franchise left tackle of the future when the team selected him in the first round (No. 14 overall) of the 2008 NFL draft, but he hardly lived up to expectations and is considered one of the Bears' biggest draft busts, along with
Gabe Carimi
, in the last seven or eight years. His chronic injuries and uneven play ultimately led to his release. To be fair, Williams turned out to be much better suited to play inside at guard, however, he was never viewed as one of the elite guards in the NFL, except by the Bills, apparently.
Rodak:
Jeff, Doug Marrone is a former offensive line coach and has valued size among offensive linemen early in his tenure with the Bills. Williams (6-foot-6, 326 pounds) is a load, but how effectively did he use his size with the Bears?
Dickerson:
Again, I don't want to make it sound as if Williams was a terrible guard, but he never had the reputation of being an ultra-athletic or ultra-aggressive offensive lineman. Maybe that changed when Williams went to St. Louis. Obviously, he has the requisite size to play inside. Marrone is a terrific coach. Hopefully it's a good pairing. But his size was never viewed as a negative or a positive when Williams played in Chicago.
Rodak:
Nick, what was your sense on how the Rams valued Williams? Do you think they wanted to bring him back as a starter?
Wagoner:
They had interest in bringing him back, though I think it's likely if he'd come back he would have either been a backup or, more likely, in a competition for the starting job like he was in 2013. To me, it made sense if they could get him back to serve as a swing man simply because he could play anywhere on the line except center. Having a player like that at a cheap price is pretty much ideal for a backup. But I don't think they were going to extend themselves too far to bring him back. Offensive line coach Paul Boudreau has a great reputation for taking reclamation projects and getting something out of them. Although this is another starter subtracted from the line, I believe the Rams feel they can upgrade the starter at this spot and develop someone else to fill a backup swing role he could have had.
Jeff, something that applies to the Rams and Bills, but you saw up close. The Rams look like they're going to have to do some quick work to improve the line this offseason and they may have to use the draft to do so. It seems the Bears were able to do that last year, what did you see in how they were able to turn it around so quickly?
Dickerson:
General manager Phil Emery double-dipped in free agency and the draft. He spent big bucks to land left tackle Jermon Bush and reunite him with his old
New Orleans Saints
offensive line coach Aaron Kromer, and followed that up by signing guard
Matt Slauson
. Both turned out to be major upgrades over what the Bears had in 2012. Then Emery drafted right guard
Kyle Long
in the first round and right tackle
Jordan Mills
in the fifth round to complement veteran center
Roberto Garza
. It was a stroke of pure genius.
Wagoner:
The Rams might need some of that genius in the next couple of months here though when they lean on Boudreau to be their offensive line whisperer of sorts.
Mike, obviously this is a move that has Jeff and I scratching our heads, and I know you feel that way, too. What was the need for Buffalo on the offensive line, how do you see Williams fitting in and what do the Bills hope to get from him?
Rodak:
Nick, the Bills have told Williams that they want him to be their left guard. That was a problem area for the Bills last season, as they never found someone reliable to step in for
Andy Levitre
. The Bills are big on Williams' size and if it works out, then he'll be an upgrade over
Doug Legursky
, who should ideally be their backup center. With the contract the Bills gave Williams, he should be starting at left guard on Day 1. If he's not, that's a problem. They're not paying him to be a backup, although with his versatility, he could help as a swing player at several positions. It's a signing that addresses an area of need but also comes with an element of financial risk.
January, 16, 2013
1/16/13
3:37
PM ET
NFL teams have filled six of eight head-coaching vacancies now that Chip Kelly has landed in Philadelphia as the Eagles' replacement for Andy Reid.
A quick run through
NFC West opponents for 2013
shows relatively few games against teams with first-year head coaches.
Every team in the division faces Jacksonville. That could be interesting if Jaguars general manager David Caldwell hires
San Francisco 49ers
offensive coordinator Greg Roman, his former college teammate and roommate.
Arizona faces the Eagles on the road this season. San Francisco, Seattle and St. Louis will of course face the Cardinals, who have yet to hire a replacement for Ken Whisenhunt.
Buffalo (Doug Marrone), Chicago (Marc Trestman), Cleveland (Rob Chudzinski), Kansas City (Andy Reid), Philadelphia (Kelly) and San Diego (Mike McCoy) have hired offensive-minded head coaches. I think the Cardinals have intended to do the same. And if Roman emerges as the choice in Jacksonville, there's strong potential for all eight first-year coaches coming from the offensive side of the ball.
January, 16, 2013
1/16/13
10:22
AM ET
The
Chicago Bears
' hiring of
Marc Trestman as head coach
leaves Arizona, Philadelphia and Jacksonville as the final three teams with vacancies heading toward the 2013 season.
Trestman was not a known candidate for any other job. His
rather curious hiring
should not affect the Cardinals in any way.
A quick look at the known candidates for the Cardinals, Eagles and Jaguars:
Arizona: Offensive coordinators Darell Bevell (Seattle), Jay Gruden (Cincinnati) and Todd Haley (Pittsburgh) have reportedly interviewed or will interview. Cardinals defensive coordinator Ray Horton has already interviewed and remains on staff. Andy Reid and Mike McCoy were candidates before taking jobs elsewhere.
Eagles: The Eagles have interviewed and/or pursued Seahawks defensive coordinator Gus Bradley (Seattle), former Cardinals head coach Ken Whisenhunt, Gruden, McCoy, Atlanta Falcons defensive coordinator Mike Nolan, Falcons special-teams coordinator Mike Armstrong, Falcons offensive coordinator Dirk Koetter, former Baltimore Ravens coach Brian Billick, Notre Dame coach Brian Kelly, Oregon coach Chip Kelly, Penn State coach Bill O'Brien, former Chicago Bears coach Lovie Smith, and then-Syracuse coach Doug Marrone. Did I miss anyone? Phil Sheridan of the Philadelphia Inquirer joked that the Eagles have interviewed "every living male with a visor" to this point.
Jaguars: Bradley headed from his Eagles interview to meet with the Jaguars on Wednesday. Bevell and St. Louis Rams offensive coordinator Brian Schottenheimer also interviewed. Schottenheimer was a finalist for the job one year ago, but the Jaguars hired Mike Mularkey. Jaguars defensive coordinator Mel Tucker interviewed. San Francisco offensive coordinator Greg Roman would be a logical candidate for the job given his success with the 49ers and close ties to new Jaguars general manager David Caldwell, Roman's former college teammate and roommate. The Jaguars were not yet conducting their coaching search when Roman was available for interviews during the window provided before divisional-round games. He remains off-limits during Championship Game week. Armstrong, the Falcons' special-teams coach, has also been mentioned as a candidate. AFC South blogger Paul Kuharsky sizes up the field.
The chart is an expanded version of previous ones I've produced, designed to show which openings might be most appealing from candidates' perspective. I would order them Philadelphia, Arizona and Jacksonville based on a range of factors, including quarterbacks and ownership.