NFC West:

Draft Watch 32410 NFC
September, 2, 2014
Sep 2
8:00
AM ET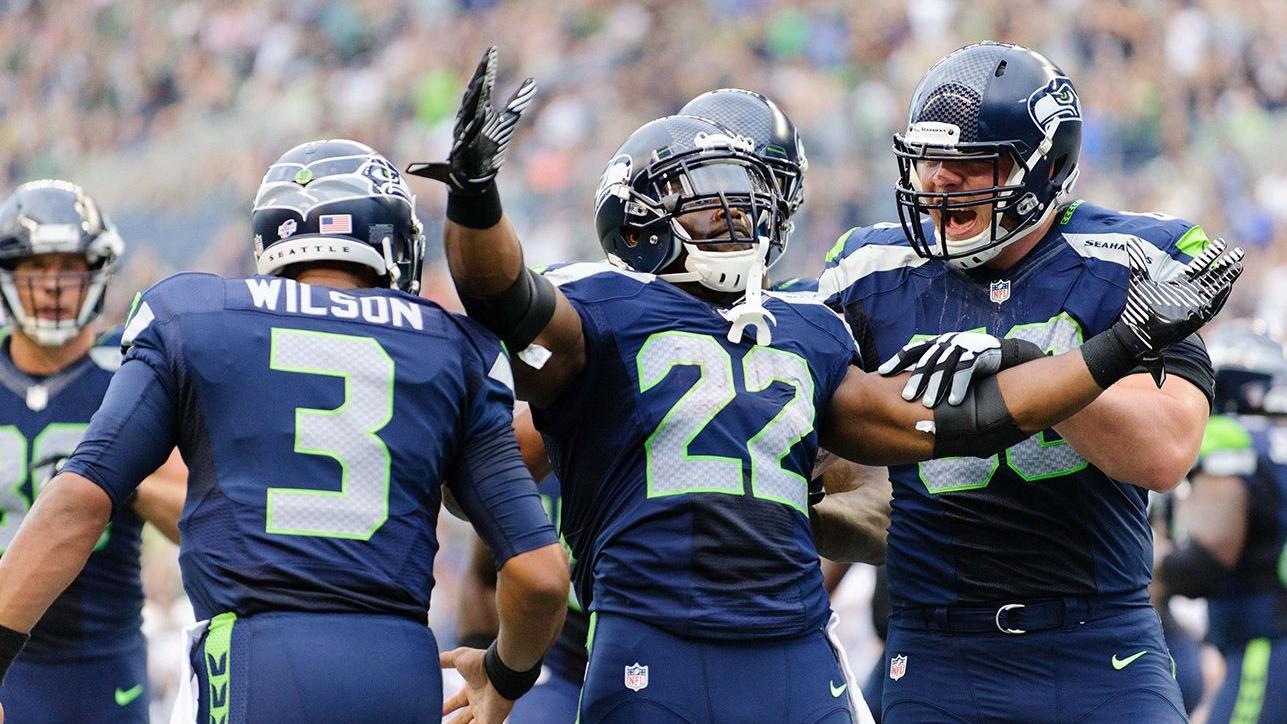 ESPN.com
Seattle Seahawks
reporter Terry Blount makes his game-by-game picks for the 2014 season.
Week 1: Green Bay Packers
All the pregame hype will center around the so-called Inaccurate Reception, the controversial Hail Mary catch by Golden Tate two years ago that won the game over the Packers at Seattle on a Monday night. Tate has moved on to Detroit, but the Seahawks now have too many weapons for the Packers to stop, no Hail Mary required. Prediction: Win
---
Week 2: at San Diego Chargers
The Chargers better hope they play a lot better than they did in the preseason game at Seattle, a 41-14 victory for the Seahawks on Aug. 15. San Diego will play better, but not good enough to beat a much better team. Prediction: Win
---
Week 3: Denver Broncos
The Broncos and their fans got a tiny bit of meaningless Super Bowl revenge in the preseason opener with a 21-16 victory over the Seahawks in Denver. Enjoy it while it lasts, boys. Repeating that outcome in Seattle is not an option. Prediction: Win
---
Week 5: at Washington Redskins
Traveling coast to coast to play on the road for a Monday night game is a tough task against any NFL opponent, and even tougher against quarterback Robert Griffin III. But the Seahawks catch a break in this one by coming off a bye week with plenty of time to prepare and be fresh for the journey. Prediction: Win
---
Week 6: Dallas Cowboys
Cowboys owner Jerry Jones gave Seattle a little bulletin-board material last month when he said the Seahawks were to blame for the increase in penalty flags during the preseason. There won't be near enough flags against Seattle for the Cowboys to win this one. Prediction: Win
---
Week 7: at St. Louis Rams
Any division game in the NFC West is a rugged battle. The Rams have a defensive line that gave the Seahawks problems a year ago. But they aren't strong enough overall to beat Seattle, even at home in their out-of-date dome. Prediction: Win
---
Week 8: at Carolina Panthers
The Seahawks were fortunate to win the season opener at Charlotte a year ago. That Panthers team was better than this one, but back-to-back road games against very physical defensive teams will end the Seattle winning streak. Prediction: Loss
---
Week 9: Oakland Raiders
Coming off their first loss of the season and returning home against an outmanned opponent, is there any doubt? Prediction: Win
---
Week 10: New York Giants
The Seahawks easily defeated the Giants 23-0 last year in New Jersey, a dress rehearsal for their Super Bowl victory at the same location -- MetLife Stadium. The Seahawks won't need a rehearsal to roll past the Giants in this one. Prediction: Win
---
Week 11: at Kansas City Chiefs
This likely will be a low-scoring game between two strong defensive teams. Odds are against any team that has to try to win by matching its defense against the Seahawks' D. Prediction: Win
---
Week 12: Arizona Cardinals
The last time the Cardinals played at CenturyLink Field was last December when they handed the Seahawks a 17-10 loss. That won't happen again unless the Seahawks get caught looking ahead to the 49ers game. The Seahawks don't look ahead. Prediction: Win
---
Week 13: at San Francisco 49ers
It's a Thanksgiving night, national TV game in the 49ers' shiny new stadium against the hated Seahawks. If San Francisco can't win this one, its time as a championship contender is over. Prediction: Loss
---
Week 14: at Philadelphia Eagles
This is the toughest part of the season for the Seahawks with back-to-back road games against likely playoff contenders. But the 10 days between games will help and be enough of a cushion to keep Seattle from losing two in a row. Prediction: Win
---
Week 15: San Francisco 49ers
This is a game that could decide which team wins the NFC West. No way the Seahawks lose to the 49ers twice in three weeks, especially not in front of a rabid full house of 12s. Prediction: Win
---
Week 16: at Arizona Cardinals
The Cardinals probably will be fighting for a playoff spot, and the Seahawks already will be in at 12-2. That difference will be just enough for Arizona to win at home in the same stadium where the Seahawks will win the Super Bowl a few weeks later. Prediction: Loss
---
Week 17: St. Louis Rams
For the second consecutive year, the Rams close the regular season in Seattle. And for the second consecutive year, the Seahawks will beat them without much trouble. Prediction: Win
---
Predicted Record: 13-3
March, 26, 2010
3/26/10
1:00
PM ET
»
NFC Under-The-Radar
:
East
|
West
|
North
|
South
»
AFC
:
East
|
West
|
North
|
South
»
Draft Watch
:
Biggest needs
(2/17) |
Busts/gems
(2/24) |
Schemes, themes
(3/3) |
Recent history
(3/10) |
Needs revisited
(3/17) |
Under-the-radar needs
(3/26) |
History in that spot
(3/31) |
Draft approach
(4/7) |
Decision-makers
(4/14) |
Dream scenario/Plan B
(4/21)
Each week leading up to the NFL draft (April 22-24), the ESPN.com blog network will take a division-by-division look at key aspects of the draft. Today's topic: Under the radar needs.

Arizona Cardinals
The Cardinals haven't had to address the receiver position in years and they're still strong at the top with
Larry Fitzgerald
and
Steve Breaston
. But with
Anquan Boldin
and
Jerheme Urban
elsewhere, the depth isn't what it used to be.
Early Doucet
should continue to develop.
Sean Morey
has yet to re-sign and he doesn't factor into the mix at receiver much anyway.
The special teams could be in transition as well. Morey has been a mainstay, but he has had concussion problems and could be nearing the end, even if he returns. Kicker
Neil Rackers
and safety
Matt Ware
also have yet to re-sign. Both could return, but there are no guarantees. Drafting
LaRod Stephens-Howling
last year gave the Cardinals an elite young special-teamer. Another one wouldn't hurt.
The Cardinals also could use a third-string quarterback in case
Brian St. Pierre
doesn't return or factor into their plans.
San Francisco 49ers

The 49ers never did find a backup blocking tight end last season. They released 2009 sixth-round pick
Bear Pascoe
, then went with only two tight ends on the active roster.
Vernon Davis
always has been an excellent blocker. He has become a dynamic downfield threat in the passing game.
Delanie Walker
fits the H-back mold. Adding another blocking tight end to pair with Davis situationally might help.
The situation at running back should be settled with
Frank Gore
and 2009 third-round choice
Glen Coffee
on the roster, but the 49ers could be in the market for a change-of-pace back with value as a return specialist. This one isn't necessarily under the radar -- the
C.J. Spiller
talk has been in high gear for weeks -- but running back is not a primary need.

Seattle Seahawks
Coach Pete Carroll pointed to
Charlie Whitehurst
's combination of size and athleticism as drawing points after Seattle acquired the quarterback from San Diego.
That could affect third-string quarterback
Mike Teel
, a sixth-round choice of the Seahawks' previous leadership. One
scouting report
on Teel read, "Lacks the mobility to consistently make plays outside the pocket." It's something to keep in mind as the Seahawks fill out their roster at quarterback behind
Matt Hasselbeck
and Whitehurst.
The situation at receiver also bears watching. Adding
Brandon Marshall
by trade would solve the problem. But with
Nate Burleson
leaving for the Lions, Seattle doesn't have much to offer at the position beyond 32-year-old
T.J. Houshmandzadeh
. Overpriced
Deion Branch
and unproven
Deon Butler
are next on the depth chart.

St. Louis Rams
The Rams have needs everywhere and I'm not sure how many are truly under the radar. But here goes.
Safety shouldn't be a serious need with
Oshiomogho Atogwe
around, but the draft could come and go without resolution to Atogwe's status. The Rams must bump their offer to Atogwe from $1.226 million into the $7 million range by June 1 to keep his rights.
Backup running back is another lower-profile area the Rams could stand to address.
Steven Jackson
wore down late last season.