April, 22, 2011
4/22/11
5:50
PM ET
The
San Francisco 49ers
have gone for quality over quantity in trying to build a big, powerful offensive line.
The team has drafted seven offensive linemen since 2005, one below the NFL average. But the 49ers selected a league-high three of the seven in the first round and a league-high five of them in the first two rounds.
That jumped out right away when sizing up NFC West offensive linemen from the 2005-2010 draft classes for the latest "
adventures in drafting
" installment.
The
Arizona Cardinals
have taken a different approach, using a division-low one first-round selection for the offensive line since 2005. Philadelphia, Indianapolis, Oakland, San Diego, Tennessee, Dallas, Minnesota and the
New York Giants
have selected no first-round offensive linemen during that span.
The charts break out NFC West selections by general draft position, with a column showing how many starts each has made for his original team. I am using the term "not active" loosely to describe players who haven't been on rosters during the regular season recently.
Italics reveal what teams might have been thinking as they entered various stages of the draft.
We should find 10-year starters with Pro Bowl potential, most often at tackle ...
Every offensive lineman selected among the top 50 or so choices should contribute and hopefully start ...
The most athletic prospects are gone by now, but tough guys still have value ...
These guys have question marks, obvious limitations or both, but we'll still get some starts from them ...
Anyone seen the Seahawks or 49ers lately?
What are our numbers on the line again? Let's get another one here.
April, 15, 2011
4/15/11
11:29
AM ET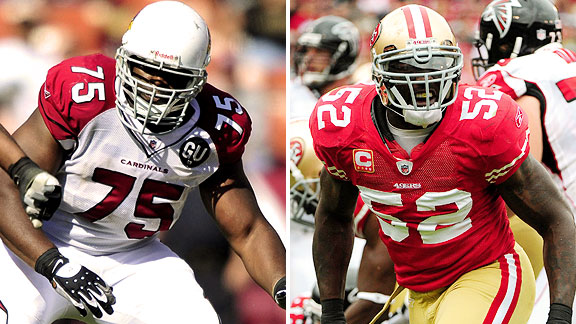 US PresswireOf all the 2007 NFC West draft picks, the Cardinals' Levi Brown and the 49ers' Patrick Willis have started the most games.
JaMarcus Russell
's demise as an NFL player is
back in the news
, shining light upon the perils of investing millions in unproven prospects.
The 2007 NFL draft was about more than Russell, of course.
That draft also produced
Calvin Johnson
,
Joe Thomas
,
Adrian Peterson
,
Patrick Willis
,
Darrelle Revis
and
Lawrence Timmons
among the top 15 choices.
For as much criticism as the
Arizona Cardinals
have taken for selecting tackle
Levi Brown
fifth overall, Brown has started 59 regular-season games, second only to Willis (63) among NFC West draft choices that year. He has also started six playoff games, including a Super Bowl, and coach Ken Whisenhunt
expects good things from him
.
I've put together a couple charts showing what NFC West teams have gotten from their draft choices that year. More on those in a bit.
First, I've taken a team-by-team look at the players selected, whether they remain with their original teams and how many games each has started for his drafted team.
The 49ers had the best draft among NFC West teams. They also had the most draft capital to work with, selecting twice in the first round. The
Seattle Seahawks
had no first-rounder that year thanks to the
Deion Branch
trade, so expectations were lower.
Arizona Cardinals

Total picks:
five
Still with team (4):
Brown (59),
Steve Breaston
(26),
Ben Patrick
(20),
Alan Branch
(3)
No longer with team (1):
Buster Davis
(0)
Comment:
The Cardinals had fewer total selections than any team in the division. Hitting on Breaston in the fifth round was outstanding, but the Cardinals haven't gotten enough from their top three selections that year. Branch never panned out as a second-rounder. Davis, the third-rounder, didn't make it out of camp. Whisenhunt takes pride in making roster decisions with less regard for draft status. He wasn't going to give Davis or anyone a free pass. That's admirable, but in the bigger picture, Arizona still came up short in this draft.
San Francisco 49ers

Total picks:
nine
Still with team (5):
Willis (63),
Joe Staley
(50),
Ray McDonald
(9),
Dashon Goldson
(34),
Tarell Brown
(5)
No longer with team (4):
Jason Hill
(2), Jay Moore (0),
Joe Cohen
(0),
Thomas Clayton
(0)
Comment:
Former general manager Scot McCloughan gets credit for selling former coach Mike Singletary on Willis as an elite prospect. That seems odd given Singletary's background as a Hall of Fame linebacker, but the 49ers got the right guy, so the "how" part matters less. That one selection makes this draft the best in the division for 2007. Staley is the starting left tackle. McDonald has been a solid rotation player. Goldson became a starter. All in all, this was a strong draft.
Seattle Seahawks

Total picks:
eight
Still with team (2):
Brandon Mebane
(53),
Will Herring
(7)
No longer with team (6):
Josh Wilson
(24),
Steve Vallos
(8),
Mansfield Wrotto
(5),
Courtney Taylor
(4),
Jordan Kent
(1),
Baraka Atkins
(0)
Comment:
Not having a first-round selection severely hurt this class' overall potential. Wilson seemed like a solid selection in the second round given the playmaking value he offered, but multiple changes in organizational leadership left him on the outside in terms of fit. Mebane was a solid choice in the third round. Vallos and Wrotto remain in the league elsewhere.
St. Louis Rams

Total picks:
eight
Still with team (1):
Clifton Ryan
(27)
No longer with team (7):
Adam Carriker
(25),
Brian Leonard
(7),
Jonathan Wade
(6),
Dustin Fry
(0), Ken Shackleford (0),
Keith Jackson
(0),
Derek Stanley
(0)
Comment:
This draft was a disaster for the Rams and made worse by massive organizational changes. On the bright side, the Rams might not have been in position to select
Sam Bradford
first overall in 2010 without selecting so many non-contributors in 2007.
Now, on to the charts. The first one takes a round-by-round look at the number of starts each team has gotten from its 2007 selections. I have used dashes instead of zeroes to show when teams did not have a selection in a specific round.
The second chart divides the number of starts by the values of the selections each team held, using the
draft-value chart
.
For example, the value chart said the Seahawks' picks that year were worth 669.2 points, far less than the picks for other NFC West teams were worth. Using this measure, Seattle got more bang for its buck if we valued all starts equally (and we should not value them all equally, but we can still use this as a general guide).
Some of the choices were compensatory and could not be traded, so the chart would not have valued them for trading purposes. I assigned values to them for this exercise, however, because we were not considering the picks for trading purposes.
April, 20, 2010
4/20/10
3:22
PM ET
Adam Carriker
's trade from the Rams to the Redskins -- rumored for weeks and now a done deal, according to ESPN's Adam Schefter -- reflects what happens when teams change coaching staffs. The Rams and Redskins swapped fifth-round choices.

Carriker
The move reunites Carriker with former Rams interim coach and defensive coordinator Jim Haslett, now with the Redskins. I never sensed the Rams' current leadership disliked Carriker, but neither was the leadership ever personally invested in Carriker's career. Haslett has a better feel for what Carriker can become. Perhaps Carriker will fit better at defensive end in the Redskins' 3-4 scheme than at defensive tackle in the Rams' 4-3. A shoulder injury prevented Carriker from playing last season, perhaps hastening his departure.
The Rams made Carriker the 13th player chosen in the 2007 draft. His departure leaves restricted free agent
Clifton Ryan
, a fifth-round choice, as the only 2007 Rams choice still with the team. The current leadership previously traded second-round choice
Brian Leonard
. Other members from that class --
Jonathan Wade
,
Dustin Fry
,
Ken Shackleford
,
Keith Jackson
and
Derek Stanley
-- are also gone.
Victor Adeyanju
and
Mark Setterstrom
are the Rams' only 2006 choices still with the team.
The dismantling continues in St. Louis.
September, 1, 2008
9/01/08
2:15
PM ET
Rams eligible for
practice squad
Pos.
Current Status
Brock Berlin
QB
53-man roster

Chris Long
DE
53-man roster

John Greco
OL
53-man roster

Donnie Avery
WR
53-man roster

Roy Schuening
OL
53-man roster

Chris Chamberlain
LB
53-man roster

David Vobora
LB
53-man roster

Derek Stanley
WR
Practice Squad
C.J. Ah You
DL
Practice Squad

Russ Weil
FB
Practice Squad

Marc Magro
LB
Practice Squad

Lance Ball
RB
Practice Squad

Dustin Fry
OL
Practice Squad

Darius Vinnett

CB

Practice Squad

Mark LeVoir
OL
53-man roster (Pats)

Marques Hagans
WR
Practice Squad (Chiefs)

Julius Wilson
OL
Practice Squad (Bucs)

Cortney Grixby
DB
Waived
Nick Cleaver
TE
Waived
Marcus Riley
LB
Waived
Donovan Raiola
OL
Waived
Henry Smith
DL
Waived
Willie Williams
DL
Waived
Matt Caddell
WR
Waived
Tanard Davis
DB
Waived
Posted by ESPN.com's Mike Sando
The Rams have filled seven of eight spots on their practice squad. Cornerback Darius Vinnett was the notable addition; he previously slipped through the cracks when I listed Rams players with practice-squad eligibility.
Derek Stanley provides needed practice depth at receiver. Injuries continue to affect that position for the Rams.
The Patriots' signing of Mark LeVoir to their active roster surprised me. The Rams lack depth on the offensive line after placing Mark Setterstrom and Brandon Gorin on injured reserve. But the Patriots' might be even more desperate for help at tackle. New England has considered everyone but Bruce Armstrong as potential stopgaps at the position this summer. We'll see how long LeVoir lasts.
Update: The Chiefs signed Marques Hagans to their practice squad. Earlier in camp, a scout for another team asked me if I thought Hagans would earn a roster spot. Hagans' potential as a return specialist had caught his attention.
Julius Wilson obviously has some talent. He went from the Dolphins to the Rams to the Bucs' practice squad in a short time period. Scouts must see potential.
I watched Wilson struggle terribly during the Rams scrimmage.
As noted then: "Defensive end Eric Moore beat [Wilson] for what would have been a sack on Brock Berlin. [Marc] Magro tossed Wilson to the outside and surged forward for what would have been a free shot on Berlin. Shortly thereafter, running back Lance Ball was gliding along for what should have been an easy touchdown, but a linebacker slammed him to the ground in front of Wilson as Ball crossed the goal line.
August, 29, 2008
8/29/08
5:00
PM ET
Posted by ESPN.com's Mike Sando
The Rams' released 10 players in anticipation of the 53-man roster limit, which goes into effect Saturday.
I've singled out eight of them on our chart of Rams players with practice-squad eligibility. The eighth and ninth players released, veteran safety Jerome Carter, and cornerback Tanard Davis, have no such eligibility.
Expect the Rams to make their remaining cuts before the 6 p.m. ET deadline Saturday.
The Rams are carrying 66 players once they move Steven Jackson to the active roster from the exempt list.
Die-hard alert: Updated roided-out NFC West rosters here.
Earlier:
The chart shows each of the Rams' players with practice-squad eligibility, according to the team.
Practice-squad rules can be confusing, and exceptions sometimes apply to relatively experienced players.
I've categorized each player based on his perceived likelihood of earning a spot on the 53-man roster. Those are rough characterizations. Teams still have not made decisions. It's conceivable that a player listed as a "keeper" could face his release.
August, 29, 2008
8/29/08
12:20
PM ET
Rams eligible for
practice squad
Pos.
Probable Status
Brock Berlin
QB
Keeper
Chris Long
DE
Keeper
John Greco
OL
Keeper
Donnie Avery
WR
Keeper
Roy Schuening
OL
Keeper
Chris Chamberlain
LB
Keeper
David Vobora
LB
Bubble
Derek Stanley
WR
Bubble
C.J. Ah You
DL
Bubble
Tanard Davis
DB
Likely cut
Russ Weil
FB
Likely cut
Marc Magro
LB
Likely cut
Cortney Grixby
DB
Likely cut
Lance Ball
RB
Likely cut
Nick Cleaver
TE
Likely cut
Marcus Riley
LB
Likely cut
Donovan Raiola
OL
Likely cut
Dustin Fry
OL
Likely cut
Julius Wilson
OL
Likely cut
Henry Smith
DL
Likely cut
Mark LeVoir
OL
Likely cut
Willie Williams
DL
Likely cut
Matt Caddell
WR
Likely cut
Marques Hagans
WR
Cut
Posted by ESPN.com's Mike Sando
The chart shows each of the Rams' players with practice-squad eligibility, according to the team.
Practice-squad rules can be confusing, and exceptions sometimes apply to relatively experienced players.
I've categorized each player based on his perceived likelihood of earning a spot on the 53-man roster. Those are rough characterizations. Teams still have not made decisions. It's conceivable that a player listed as a "keeper" could face his release.
As noted: Rosters spots are serious business for NFL players lacking job security. For some, the next 30 hours or so will determine whether they'll earn $17,352.94 per week or whatever the real world pays.
The minimum NFL salary is $295,000. Players get paid in 17 installments, one for every week they spend as a paid member of the organization.
NFL teams must trim rosters from 75 players to 53 players by Saturday afternoon. Teams can establish eight-man practice squads beginning Sunday. Practice-squad players earn a minimum of $5,200 per week during the regular season and playoffs.
Once a player signs with a practice squad, he can practice with the team. He becomes eligible to play in games only if a team signs him to its 53-man roster. Practice-squad players are free to sign with any team's active roster at any time during the season.
August, 17, 2008
8/17/08
9:19
PM ET
Posted by ESPN.com's Mike Sando
Season-ending injuries to backup guards Mark Setterstrom (knee) and Brandon Gorin (shoulder) leave the Rams even thinner on their offensive line. The team has no immediate plans to sign a free-agent lineman or two, coach Scott Linehan told reporters Sunday.
The Rams weren't necessarily counting on Setterstrom and Gorin this season, but losing them severely impacts depth. Center Brett Romberg has a broken bone in his snapping hand. He did not play in the exhibition game Saturday night, but he could be ready for the regular season. Nick Leckey is starting in his place.
I've updated the Rams' positional glance for the line. Fifth-round rookie Roy Schuening and veteran Adam Goldberg are probably locks at this point, just given sheer numbers.
Offensive linemen (13)
Average number kept on opening-day roster since 2003: 9.2
Locks: Orlando Pace, Jacob Bell, Brett Romberg, Richie Incognito, Alex Barron, Nick Leckey, John Greco
Looking safe: Roy Schuening, Adam Goldberg
On the bubble: Donovan Raiola, Dustin Fry
Also: Julius Wilson, Mark LeVoir
Comment: The Rams started 18 line combinations last season.
Several other Rams suffered injuries. Running back Brian Leonard sprained a shoulder and might miss the next game. Linebacker David Vobora could miss the rest of the preseason with a severely sprained ankle. Quarterback Marc Bulger has a strained shoulder, but the Rams aren't concerned about it, Linehan said. Linebacker Tim McGarigle suffered a toe injury, but he should be available.
Linehan on Bulger possibly seeing doctors: "No, we are not going to. We are just going to see how he feels throwing tomorrow, if he can. It is really not serious, but it hurt enough that he would not have been able to play that next play, so we just used that situation to put Trent (Green) in and leave him in there because it was a preseason game."
The Rams might add a running back, linebacker or safety to their roster, Linehan said.