July, 25, 2012
7/25/12
2:01
PM ET
Steven Jackson
has reason to expect a full workload in 2012 even though his
St. Louis Rams
used a second-round draft choice for running back
Isaiah Pead
.
Jackson, speaking on
PFT Live
(
via Turf Show Times
), indicated he expects to get "25-30 touches" per game while Pead provides an occasional breather or change of pace.
The figure Jackson cited sounded a little high, and it was, but Jackson already has 47 career games with at least 25 touches. He's had 20-plus touches in 80 of his 116 career games. Set aside Jackson's rookie season, when he was sharing time with Marshall Faulk, and the percentages climb higher: 25-plus touches in 46 of 101 games, with at least 20 in 32 of the 55 remaining games.
The chart compares Jackson's career touches against those for former
Tennessee Titans
running back Eddie George. The comparison seems relevant as George's former coach, Jeff Fisher, takes over the Rams. We should expect the Rams to continue feeding Jackson at a high rate. There should be more carries to go around if the Rams' offense improves.
Jackson is coming off seven consecutive seasons with at least 1,000 yards. He turned 29 this week, sounding the usual alarm bells warning against imminent decline for an NFL running back. He had 260 carries last season, down from 330 in 2010 and 324 the previous year.
History suggests
a runner will break down
if he carries 370-plus times in a season. Jackson has never come close to that number.
I would think Jackson, with two seasons remaining on his contract, should be able to carry a heavy load in 2012. His new offensive coordinator, Brian Schottenheimer, will obviously have a say in the distribution. I'll be interested in getting a better feel for his plans upon visiting Rams camp beginning this weekend.
April, 10, 2012
4/10/12
11:14
AM ET
The
San Francisco 49ers
posted a 5-1 record in the NFC West last season while winning the division by a five-game margin.
Their division rivals did
make up ground
as the season progressed.
The 49ers outscored Arizona, Seattle and St. Louis by a combined seven points in rematches last season, down from a 58-point gap the first time around. The Cardinals defeated the 49ers in Week 14 while winning seven of their final nine games. Two weeks later, Seattle led San Francisco with three minutes remaining in an eventual two-point defeat.
The question this offseason was whether the 49ers' rivals could do enough to close the gap. That quest will continue with the draft, where the 49ers will be picking much later than the rest of the West.
Matt Williamson of Scouts Inc. joined the conversation Tuesday with a look at what NFC West teams have done and the possibilities that await. We begin with the Cardinals.
Arizona Cardinals

Best move:
Using the franchise tag for
Calais Campbell
was smart, but also an easy call once the sides failed to reach agreement on a long-term deal before free agency. Williamson: "After that, picking up
William Gay
was probably their best move. Not that he is great, but he does not embarrass himself, the coordinator is very familiar with him, he can start and he is a solid nickel. I would rather have
Richard Marshall
, but not by leaps and bounds. Both are low-end starters. Signing Gay stops the bleeding a little bit. It means you don't feel the need to take a corner super high in the draft."
Worst move:
Failing to buy insurance at tackle stands out as the obvious one.
Demetress Bell
was one option, but Philadelphia signed him for what amounts to a one-year deal with an option for more.
Levi Brown
's return to a cap-friendlier deal made some sense without upgrading anything. Williamson took issue with the team's decision to sign guard/tackle
Adam Snyder
from San Francisco for a deal including a $5 million signing bonus. Williamson: "The worst move would be an inability to upgrade on the offensive line. I don't like Snyder at all. I watched him and thought, 'Man, he is awful.' I can live with him as maybe the sixth guy because he can play multiple positions, but even then, I'm not thrilled. And the Cardinals played against him twice a year. I'll bet their defensive linemen are rolling their eyes."
Williamson's ideal first-round scenario:
"I don't love where they sit based on their needs. They are a good candidate to trade down, and without a second-round pick, that makes more sense for them. They would jump on
Michael Floyd
, but I think he goes in the top 10. He would fit given their need for a solid receiver opposite
Larry Fitzgerald
, but it almost has to be offensive line. I don't love the tackles who are likely to be available in this spot. I would live with
Riley Reiff
, but he might not be there and he looks like just an average starting offensive tackle. They would be reaching on
Mike Adams
there. He can work out fine.
David DeCastro
would be great, but that is not really the need. They need tackles more than inside guys."
San Francisco 49ers

Best move:
We could single out re-signing
Carlos Rogers
or franchising
Dashon Goldson
or even making sure
Ahmad Brooks
did not reach free agency. Or we could focus on the collective, as Williamson chose to do. Williamson: "I was extremely impressed in their ability to bring back the best defense in the league. They had guys who easily could have left in free agency. You would expect them to take a hit or two. Instead, the 49ers kept their guys. That was the home-run move of the Niners this offseason."
Worst move:
We won't take issue with the 49ers' inability to land
Peyton Manning
. They tried, but in the end, they could not force Manning to make what arguably would have been the best football decision for him. While there was much to like about the 49ers' offseason, Williamson questioned
Brandon Jacobs
' signing: "I just don't think he is all that good of a football player. He needs room to operate and isn't a very good receiver. I would rather use a third-round pick on back than sign Jacobs. He is not consistent. If you just watch his highlights, he's great. But he gets hit in the backfield, it takes him a while to get going and the Giants started using
Ahmad Bradshaw
, a much smaller back, more as the goal-line guy a lot of the time."
Williamson's ideal first-round scenario:
"Addressing the offensive line, I think. They are another team that could trade up or down. I don't see a wonderful fit for them. The guard from Midwestern State,
Amini Silatolu
, might be a really nice player to plug in at right guard. I'll bet
Jim Harbaugh
is high on
Coby Fleener
and I would understand that.
Delanie Walker
is entering the final year of his contract. Fleener would be one more weapon to make
Alex Smith
's life easier. Maybe a
Rueben Randle
type of guy would work, too, but all of a sudden you can't keep all these receivers on the roster."
St. Louis Rams

Best move:
Easy call here. The Rams got good value for the second overall choice, sending it to the
Washington Redskins
for the sixth and 39th choices this year, plus first-round selections in 2013 and 2014. They've got a veteran first-year head coach with the job security to use those selections over the next few seasons. With
Sam Bradford
already in place at quarterback, the Rams were not interested in taking Robert Griffin III second overall, so moving out of that spot made sense.
Worst move:
While the draft choices acquired from Washington help for the long term, the Rams still haven't done much to improve the odds for Bradford in 2012. Williamson and I could not point to any one example of the Rams failing to add a specific player. The team did not have obvious options, in other words. Williamson: "They did not screw up in one instance, but collectively, not doing anything at tight end, receiver or running back beyond signing
Steve Smith
was not good. They will probably use some high picks in the draft on offense, but is that going to help this year? You have to get a guy or two to make Bradford's life a little easier. It wouldn't kill them to get a
Jerricho Cotchery
, a chain-moving veteran. But it is a deep receiver draft and they probably want to go young."
Williamson's ideal first-round scenario:
"
Matt Kalil
will be gone, but I sit there and take
Morris Claiborne
,
Justin Blackmon
or
Trent Richardson
. I probably would take Claiborne first considering their needs, but he is probably not there. Blackmon would be my last choice because he is not as good as those other guys, but he certainly would address the biggest need. Richardson is the best prospect and has the Jeff Fisher mentality. He could be his
Eddie George
for years and years. I love where the Rams sit. I do not want them to trade back. They should not trade to No. 10 and lose one of those stud players. They need studs. They have so many picks in the coming years. They have to stay in the top six and get one of those three players I mentioned. There's a drop after that."
Seattle Seahawks

Best move:
The Seahawks made a few good ones, from keeping
Red Bryant
to re-signing
Marshawn Lynch
before free agency. Adding quarterback
Matt Flynn
at a reasonable price (for a quarterback) stands above the others. Williamson: "I don't love Flynn, but I don't know how you can't commend a team when they get better at quarterback. They are not leaps and bounds better, but they are better and it's such an important position. Of all their moves, I cannot come up with an unimpressive one.
Jason Jones
will be a really good fit as well."
Worst move:
The team did not improve its outside pass rush, watching
Mario Williams
and
Kamerion Wimbley
sign elsewhere. But Williams in particular was not a serious consideration. Williamson pointed to
David Hawthorne
's departure as potentially the worst move. Williamson: "Letting Hawthorne go was probably a mistake. They made a desperation signing with
Barrett Ruud
in the meantime because they need bodies. It is a position you can find in the draft and free agency. It's better than being light at tackle or wideout. Ruud is a very overrated player and I said it a year ago when he left Tampa. He is a decent tackler, but he is not physical, he lacks range and makes a lot of plays chasing guys eight yards downfield. He is a backup now, but people probably look at him as a starter. I just don't agree with that."
Williamson's ideal first-round scenario:
They have to be looking at
Luke Kuechly
. He would be a leader of your defense and a great fit. They have to consider the rush end from USC,
Nick Perry
, if Pete Carroll likes him. He could be the next
Chris Clemons
and line up opposite him on passing downs for now. Carroll would know. You add Jason Jones with a hand on the ground at defensive tackle and
Brandon Mebane
or whoever next to him, and suddenly the front four can get after people. The draft will probably work out well for Seattle. Someone better than Perry will fall to them, whether it's David DeCastro, Kuechly, Michael Floyd or even
Ryan Tannehill
. I think they would jump on Ryan Tannehill if he is there at No. 12 and maybe even consider moving up to seven to get him. To me, he is a franchise quarterback and they do not have one on their roster, even though they got better at the position."
March, 26, 2012
3/26/12
1:59
PM ET
Three-fourths of the NFC West wanted a shot at
Peyton Manning
this offseason.
The
Seattle Seahawks
' Pete Carroll and John Schneider flew to Denver in a failed attempt to catch Manning before the quarterback departed for Arizona.
The Cardinals met with Manning at their facility.
The
San Francisco 49ers
then emerged as a surprise finalist for Manning, with Trent Baalke and Jim Harbaugh flying to watch Manning work out in North Carolina.
Manning was a special case, to be sure, but those teams' interest also reflected on relatively
weak quarterback situations
in Seattle, Arizona and San Francisco. The position has stabilized within the division since Manning signed with Denver, providing an opportunity to bring in Matt Williamson of Scouts Inc. for thoughts on where teams stand.
Mike Sando:
Let's begin with the Seahawks, the only team in the division to bring in a new likely starter from the outside. Does
Matt Flynn
improve the situation?
[+] Enlarge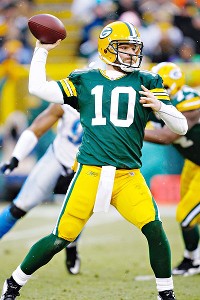 Scott Boehm/Getty ImagesMatt Flynn provides an upgrade for the Seahawks, but isn't a franchise QB, according to Matt Williamson.
Matt Williamson:
Yes, and that is the best word. When free agency hit, I wasn't huge on Flynn. I thought people would be beating down his doors, and he worried me. I think he's good, not great. I would not use the term 'franchise quarterback' for him. But he improves them and I can't be critical of any team that gets better at QB.
Sando:
What limits your enthusiasm on him?
Williamson:
His overall talent, his ability to throw the football, his size and strength -- they're all just a little above average. He was a seventh-round draft choice for a reason. You have to keep him ahead of the chains, you need the running game. He doesn't take the team on its shoulders if things fall apart around him. If you manufacture offense, know what he is capable of doing, minimize turnovers, I think you can win a lot of games that way. In the end, he is an upgrade. And they did not spend a fortune for him.
I look at Seattle like the arrow is going up, they are getting better in all areas and they are young. This is a nice signing.
Tarvaris Jackson
played well and he was injured, and he exceeded my expectations, but that is as good as he is going to play. He is still a liability more than an asset. Flynn can get to a point where he can be more of an asset than a liability.
Sando:
You said we've seen the best from Jackson. A lot of people think we've seen the best from the 49ers'
Alex Smith
as well.
Williamson:
I agree. I really think it's going to be
Colin Kaepernick
's job not far down the line. They are going out and getting vertical guys, guys who can really run. That doesn't fit Alex Smith. Yes, it will open up room for
Frank Gore
and
Vernon Davis
, but after a while, people are going to realize they don't have to take away the deep ball. I think Harbaugh wants Kaepernick out there. He wants a guy to use the whole field.
Sando:
The contract
Smith signed was for three seasons and can max out at $33 million, but the 49ers can easily exit the deal after one or two years and a lot less money.
[+] Enlarge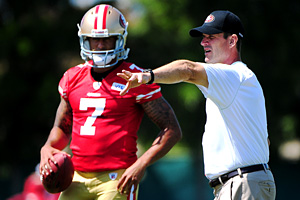 Kyle Terada/US PRESSWIREThe 49ers brought back Alex Smith, but Colin Kaepernick, left, is San Francisco's future at QB.
Williamson:
Everyone realized that offense was easy to play against last year because they had no weapons on the outside to scare you deep. Harbaugh knew that, so he was really creative with his big-body personnel, using a lot of six-man line sets, double tights, heavy formations. They did a lot of odd things and had to coach up points. I think he wants more explosiveness for sure and more verticality, and Kaepernick has those traits much more than Smith. They traded up to get Kaepernick for a reason. You don't use a second-round pick for a quarterback who is very toolsy without looking at him as the starter.
Sando:
Smith did go 13-3 last season. He did make the winning plays against New Orleans in the wild-card round. Is the trajectory pointing up on him?
Williamson:
Smith minimized the negative plays and will never be any better than he was doing that. He may get more confident, may make a few more throws, but what we saw in that one playoff game will be few and far between. He is an OK player, but has a real low ceiling.
Sando:
Cardinals fans are hoping that comment doesn't apply to
Kevin Kolb
as well. Kolb had trouble staying on the field last season, missing extended period with toe and head injuries. He struggled when he was on the field as well.
[+] Enlarge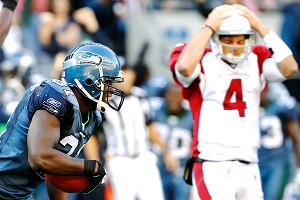 AP Photo/Elaine ThompsonArizona's Kevin Kolb, right, has a lot to prove to season after struggling through an injury-filled 2011.
Williamson:
I look at Kolb like I look at the rookies last year. The lockout, those guys got thrown into the fire in an unfair manner. Any quarterback changing teams, especially a QB with limited experience, never got the minicamps or the things they needed. But man, I didn't like anything I saw from Kolb. I think their quarterback situation is the worst in the league right now, right there with the Browns and the Dolphins and a few other teams.
Sando:
Arizona saw enough to pay a $7 million bonus to Kolb, keeping him on the roster. The alternative was heading toward the draft with
John Skelton
as the only starting prospect. That would have been rough. What about Kolb bothered you the most last season?
Williamson:
I just didn't see anything to get excited about. Didn't see tools or the willingness to hang in the pocket. Maybe he was just uncomfortable. A couple guys who floundered last season could step up big after having a regular offseason. I just did not see anything. Kolb does not stand as firm in the pocket as I would like. I'd like to see him more willing to take hits to deliver the football.
Sando:
Kolb did that well on a deep pass to
Larry Fitzgerald
at Washington early in the season, absorbing a crushing hit to complete a game-changing pass. But that play was an exception. Kolb did bail from pressure too frequently, and he could not stay on the field.
Williamson:
Ken Whisenhunt was used to
Ben Roethlisberger
, who is the opposite.
Kurt Warner
is the opposite, too. He would take a hit, let it go at the absolute last second.
Sando:
Any discussion about quarterbacks getting hit should include the
St. Louis Rams
'
Sam Bradford
. He took 36 sacks in 10 games last season. Bradford has a new offensive coordinator, Brian Schotteneheimer, and a new head coach promising to protect him.
Williamson:
I am a Bradford guy who had no problem with their decision not to take Robert Griffin III. The Rams have had as good an offseason as anyone. The more I look at last season -- mix in Bradford's injuries, the bad line, having no weapons -- it was an impossible endeaver. Throw that away. Jeff Fisher is smart and has a history of bringing along guys slowly, of running Eddie George and playing defense. Schottenheimer did a ton of that with the Jets, maybe even too much, but he had to.
Sando:
Right. Schottenheimer was trying to take off pressure from
Mark Sanchez
, at least until last season.
Williamson:
Sanchez isn't close to Bradford. My concern with the Rams would be two years from now, if Bradford still does look like the first overall pick, will they take the reins off? Harnessing him back now, I have no problem with that. Win some games, lean on others. But will they allow him to be great when he is ready? They are conservative by nature.
Sando:
Shorter term, the Rams haven't done anything to help Bradford in the playmaker department. They've actually gotten worse in that area after losing
Brandon Lloyd
to free agency.
Williamson:
They will end up with Trent Richardson or Justin Blackmon in the draft, but it would have been nice to add some kind of veteran. Maybe
Mario Manningham
. At least a No. 2 type. They do have a lot of young guys from last year and maybe someone steps up, but it's not real exciting. I would not have paid what
Pierre Garcon
got, though.
Robert Meachem
got good money too. St. Louis is not the most attractive free-agent landing spot for a receiver right now. But the team is set up for the long term, at least. They will get a top-10-type stud wideout in the next year or two.
Sando:
Thanks for the conversation, Matt. I'll be on the lookout for you next Football Today podcast, which posts
right here
each week. The next one goes live Monday.
February, 3, 2012
2/03/12
6:50
AM ET
INDIANAPOLIS —
Peyton Manning
's professional future likely does not hinge on the identity of his dinner partners.
Still, if Arizona's
Larry Fitzgerald
is indeed planning on grabbing a bite with the potential free-agent quarterback, Cardinals fans can feel a little better about their team's chances for landing Manning should he become available.

Fitzgerald has friendships with players throughout the league. He also has, at times, hinted that the Cardinals needed to make certain moves to improve their roster. A year ago, the Cardinals were reportedly
consulting Fitzgerald
on their choice of quarterback
Kevin Kolb
.
Kent Somers of the Arizona Republic
offers this on Manning: "The Cardinals likely will be among many teams to express interest should the Colts release Manning some time in the next month or so. But I would think any team interested in paying huge amounts of money to acquire Manning would want to put him through a rigorous throwing session."
Also from Somers
: Fitzgerald denies any plans to have dinner with Manning.
Dan Bickley of the Arizona Republic
says a Fitzgerald-Manning meeting is on the schedule. Bickley also quotes
Kurt Warner
as saying the Cardinals let too many good players get away following their Super Bowl run. Warner: "Any time a team starts to do that, losing pieces they say are replaceable ... you don't replace great players. They don't come around a dime a dozen. You have to hold on to them. If you can't hold on to all of them, you have to make a committed effort to hold on to some of them and build around them. They still have Larry (Fitzgerald), of course, but you need more than that to win in this business. And that's the biggest lesson the Cardinals, and any team, can learn. It's very difficult to replace guys who are integral to a team's success."
Darren Urban of azcardinals.com
checks in with Cardinals players for thoughts on the Super Bowl. Daryn Colledge, formerly of the Packers: "You think about what it was it was like going through media day and training for that extra week and spending the week. You remember what it was like going through it with your guys. I have positive thoughts about it all because I won. It's probably different than guys who did not win."
Also from Urban
: thoughts on Larry Fitzgerald, Peyton Manning and other subjects. Urban: "Tom James of the Terre Haute Tribune-Star, who has covered the Colts for years, reported mid-day that Fitz and Colts quarterback Peyton Manning were expected to have dinner, which obviously caught everyone's eye. Fitzgerald and Manning are friends — Fitz seems to be friends with pretty much every high-profile player there is — and so it could mean nothing about the future. But it's hard to believe, with everything happening, the subject wouldn't come up."

Mathew Hathaway of the St. Louis Post-Dispatch
breaks down the proposal for Edward Jones Dome upgrades delivered to the Rams by the local stadium authority. Hathaway: "The Rams have until March 1 to accept or reject the CVC proposal, and until May 1 to make a counteroffer. The two sides would go into arbitration if a deal isn't struck by June 15. Without an agreement, the Rams would be free to relocate after March 1, 2015."
Noted:
Accepting the offer seems highly unlikely. We should expect the sides to go back and forth over the coming months.
Bernie Miklasz of the St. Louis Post-Dispatch
offers various Rams notes, including one from former Tennessee running back
Eddie George
about the nature of Jeff Fisher's offense. George: "Sure, a lot of what we did was based on the power running game, but
Steve McNair
didn't get to three Pro Bowls or win the league MVP award just by handing the ball off. We did a lot of damage with our passing game. He (Fisher) likes to take shots down the field."
Jim Thomas of the St. Louis Post-Dispatch
says the Falcons' Les Snead interviewed with the Rams for their general manager's job.

Matt Maiocco of CSNBayArea.com
breaks down the 49ers' defensive line, noting that just about every player at the position performed at a high level. Maiocco on
Isaac Sopoaga
: "Sopoaga did an excellent job of clogging the middle and keeping offensive linemen from getting to the second level to block inside linebackers
Patrick Willis
and
NaVorro Bowman
. The 49ers ranked third in the NFL, allowing just 3.2 yards a carry, on run plays up the middle. That is a direct reflection on Sopoaga's ability to hold the point and stand his ground against the power run game."
Ray Ratto of CSNBayArea.com
offers thoughts on the 49ers' and Raiders' stadium situations. Ratto says the 49ers could not count on the Raiders to hold up their end in a joint-usage agreement. Ratto: "So it makes perfect sense that the 49ers are going their own way on a stadium, and that the NFL acknowledged this by freeing up the $200M in loans to help make that happen. Nobody knows what the Raiders are or what they want to be, and waiting around for them to discover that has proven far too expensive for all parties concerned."
Tim Kawakami of the San Jose Mercury News
provides details on the 49ers' new ownership situation. Kawakami: "Yu and Boston Celtics LP Mark Wan were coming on as separate 1 percent investors in the 49ers. I think both are officially co-owners now. According to an NFL source, Yu and Wan purchased the 1 percent shares for $8.5M apiece, putting a value of $850M on the 49ers franchise–interestingly, the same total as the stadium financing project. I also believe that Yu has an option to buy up to 5 percent over a period of time."
Howard Mintz of the San Jose Mercury News
provides details of the 49ers' stadium funding and the reaction from Santa Clara. Mintz: "With the stadium project steamrolling forward, Santa Clara officials did move this week to remove the only potential roadblock, filing a lawsuit to keep stadium opponents from trying to put the project back on the ballot."

Brady Henderson of 710ESPN Seattle
says Seahawks receiver
Mike Williams
plans to cut weight for the 2012 season. Williams: "I've got to get better, I've got to get faster, I've got to get more explosive. I won't be playing at 240 this year. I'm going to go down and go a lot lower than that just to give myself the best chance."
Danny O'Neil of the Seattle Times
says there's a decent chance the Seahawks and other teams with top running backs will use the franchise tag to keep them. He says
DeAngelo Williams
' five-year, $43 million contract could complicate negotiations. The franchise tag could cost about $7.7 million on a one-year basis.
Clare Farnsworth of seahawks.com
, mindful of
Cortez Kennedy
's status as a Hall of Fame finalist, says the voting process forces tough choices.
December, 7, 2011
12/07/11
12:07
PM ET
Passing is generally the key to victory in the NFL.
This helps explain why quarterbacks earn the most money, why teams often draft pass-blocking tackles over top runners and why fullbacks have become endangered.
Teams still value running the ball, of course. Defenses would have an easier time defending quarterbacks if they knew with certainty a run was not coming. And every team seeking support for young or average quarterbacks would be better off with a strong ground game.
NFC West teams fall into this group. Each team in the division is on pace to produce a 1,000-yard runner.
One division has produced four 1,000-yard rushers in a season five times since divisional realignment in 2002. Each NFC West team's leading rusher is on pace for at least 1,100 yards. Only one division, the AFC North in 2010, has produced four players with at least 1,100 yards since realignment.
Frank Gore's yardage production for the 49ers has leveled off in recent weeks. Continued strong defense and
increased production
from quarterback
Alex Smith
have helped the team keep winning. Facing two backup quarterbacks -- Arizona's
John Skelton
and St. Louis'
A.J. Feeley
-- simultaneously lowered the bar for the 49ers in recent weeks.
I would expect the
Seattle Seahawks
' Marshawn Lynch to gain the most rushing yardage in Week 14 among NFC West backs. Seattle wants to field a run-first offense, which makes sense this week.
The Rams rank second in most sacks per pass attempt, a threat now that Seattle's best pass protector,
Russell Okung
, has landed on injured reserve. The Rams are averaging fewer than one offensive touchdown per game. That gives Seattle a good chance to win without taking as many chances through the air. The Rams have allowed more rushing yards than any team in the NFL.
Note:
With an assist from Anicra in the comments, I updated the projected totals for Jackson, Lynch and Wells to reflect their participation in only 11 games this season. I had previously divided their rushing totals by total team games (12 apiece), using the average to project totals for the remaining four games.
April, 11, 2011
4/11/11
11:49
AM ET
Eric Dickerson, Marshall Faulk, Roger Craig, Sean Morey,
Sam Bradford
and
Takeo Spikes
are among the NFC West players and alumni scheduled to appear at the NFL Players Association's draft-related festivities in New York beginning April 28.
Hall of Famer and current
Seattle Seahawks
radio analyst Warren Moon, who played for Seattle before the team's move back to the NFC West in 2002, is also on the guest list revealed Monday.
The NFLPA took criticism when news broke that it
planned to discourage players from attending
the draft itself, but these events have been scheduled to give players flexibility should they choose to attend both.
"The series of events is a celebration of legacy -- of past, present and future football players coming together to honor those making the journey from prospect to professional," the NFLPA said in a news release.
The NFLPA has scheduled a welcome meeting and dinner with families for 4 p.m. ET on Thursday, the first day of the draft, which begins at 8 p.m. ET. Draft prospects attending would then have time to appear at the draft, should they choose to do so, as both will be headquartered in New York.
The NFLPA has scheduled media access for Friday from 8 a.m. to noon, followed by a lunch and dinner with reception at 4:30 p.m. A fitness and skills clinic is set for Saturday from 10 a.m. to noon in Harlem, followed by lunch and a party beginning at 9 p.m.
NFL teams generally fly first-round choices to their facilities in the day or two following the first round. Rules will allow that to happen again, despite the lockout. Players heading to their new teams' facilities for news conferences could miss NFLPA-sponsored events for Friday and/or Saturday.
The initial guest list, subject to change, features the following current and former NFL players:
Charlie Batch
,
Cornelius Bennett
,
Dwayne Bowe
, Bradford,
Ahmad Bradshaw
, Craig,
Zak DeOssie
, Dickerson,
Eddie George
, Faulk,
Felix Jones
,
Maurice Jones-Drew
,
Dustin Keller
,
Brandon Marshall
,
Kevin Mawae
,
Willie McGinest
,
Brian Mitchell
, Moon, Morey,
Shaun O'Hara
,
Ray Rice
,
Tony Richardson
, Spikes and
Mike Vrabel
.
The list of draft prospects includes
Prince Amukamara
,
Marvin Austin
,
Adrian Clayborn
,
Marcell Dareus
,
Nick Fairley
,
Blaine Gabbert
,
A.J. Green
,
Mark Ingram
,
Julio Jones
,
Cameron Jordan
,
Ryan Kerrigan
,
Corey Liuget
,
Von Miller
,
Rahim Moore
,
Cam Newton
,
Patrick Peterson
,
Robert Quinn
,
Aldon Smith
,
Daniel Thomas
and
J.J. Watt
.
August, 23, 2010
8/23/10
10:14
AM ET