NFC West:

Eight in the Box 050313
September, 2, 2014
Sep 2
8:00
AM ET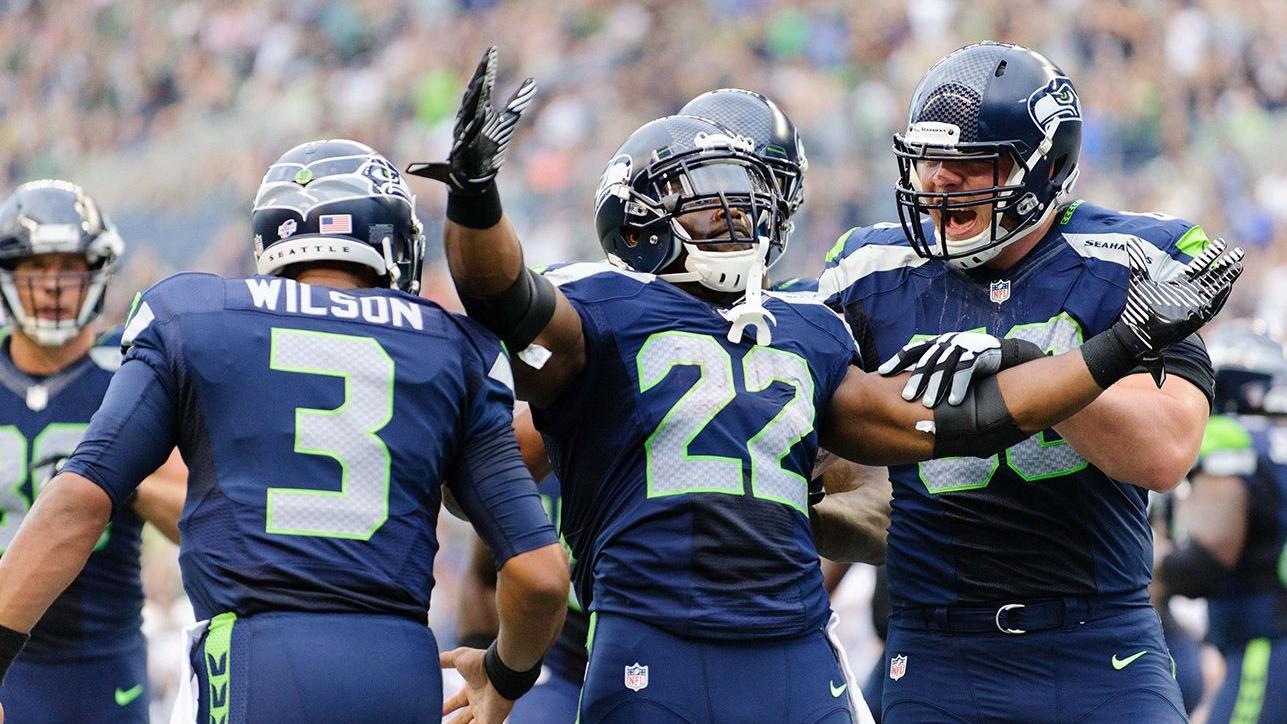 ESPN.com
Seattle Seahawks
reporter Terry Blount makes his game-by-game picks for the 2014 season.
Week 1: Green Bay Packers
All the pregame hype will center around the so-called Inaccurate Reception, the controversial Hail Mary catch by Golden Tate two years ago that won the game over the Packers at Seattle on a Monday night. Tate has moved on to Detroit, but the Seahawks now have too many weapons for the Packers to stop, no Hail Mary required. Prediction: Win
---
Week 2: at San Diego Chargers
The Chargers better hope they play a lot better than they did in the preseason game at Seattle, a 41-14 victory for the Seahawks on Aug. 15. San Diego will play better, but not good enough to beat a much better team. Prediction: Win
---
Week 3: Denver Broncos
The Broncos and their fans got a tiny bit of meaningless Super Bowl revenge in the preseason opener with a 21-16 victory over the Seahawks in Denver. Enjoy it while it lasts, boys. Repeating that outcome in Seattle is not an option. Prediction: Win
---
Week 5: at Washington Redskins
Traveling coast to coast to play on the road for a Monday night game is a tough task against any NFL opponent, and even tougher against quarterback Robert Griffin III. But the Seahawks catch a break in this one by coming off a bye week with plenty of time to prepare and be fresh for the journey. Prediction: Win
---
Week 6: Dallas Cowboys
Cowboys owner Jerry Jones gave Seattle a little bulletin-board material last month when he said the Seahawks were to blame for the increase in penalty flags during the preseason. There won't be near enough flags against Seattle for the Cowboys to win this one. Prediction: Win
---
Week 7: at St. Louis Rams
Any division game in the NFC West is a rugged battle. The Rams have a defensive line that gave the Seahawks problems a year ago. But they aren't strong enough overall to beat Seattle, even at home in their out-of-date dome. Prediction: Win
---
Week 8: at Carolina Panthers
The Seahawks were fortunate to win the season opener at Charlotte a year ago. That Panthers team was better than this one, but back-to-back road games against very physical defensive teams will end the Seattle winning streak. Prediction: Loss
---
Week 9: Oakland Raiders
Coming off their first loss of the season and returning home against an outmanned opponent, is there any doubt? Prediction: Win
---
Week 10: New York Giants
The Seahawks easily defeated the Giants 23-0 last year in New Jersey, a dress rehearsal for their Super Bowl victory at the same location -- MetLife Stadium. The Seahawks won't need a rehearsal to roll past the Giants in this one. Prediction: Win
---
Week 11: at Kansas City Chiefs
This likely will be a low-scoring game between two strong defensive teams. Odds are against any team that has to try to win by matching its defense against the Seahawks' D. Prediction: Win
---
Week 12: Arizona Cardinals
The last time the Cardinals played at CenturyLink Field was last December when they handed the Seahawks a 17-10 loss. That won't happen again unless the Seahawks get caught looking ahead to the 49ers game. The Seahawks don't look ahead. Prediction: Win
---
Week 13: at San Francisco 49ers
It's a Thanksgiving night, national TV game in the 49ers' shiny new stadium against the hated Seahawks. If San Francisco can't win this one, its time as a championship contender is over. Prediction: Loss
---
Week 14: at Philadelphia Eagles
This is the toughest part of the season for the Seahawks with back-to-back road games against likely playoff contenders. But the 10 days between games will help and be enough of a cushion to keep Seattle from losing two in a row. Prediction: Win
---
Week 15: San Francisco 49ers
This is a game that could decide which team wins the NFC West. No way the Seahawks lose to the 49ers twice in three weeks, especially not in front of a rabid full house of 12s. Prediction: Win
---
Week 16: at Arizona Cardinals
The Cardinals probably will be fighting for a playoff spot, and the Seahawks already will be in at 12-2. That difference will be just enough for Arizona to win at home in the same stadium where the Seahawks will win the Super Bowl a few weeks later. Prediction: Loss
---
Week 17: St. Louis Rams
For the second consecutive year, the Rams close the regular season in Seattle. And for the second consecutive year, the Seahawks will beat them without much trouble. Prediction: Win
---
Predicted Record: 13-3
May, 3, 2013
5/03/13
12:00
PM ET
»
NFC Eight in the Box
:
East
|
West
|
North
|
South
»
AFC
:
East
|
West
|
North
|
South
With the draft in the rearview mirror, what's the most pressing issue on each NFC West team's agenda?

Arizona Cardinals:
Figuring out what's up with
Daryl Washington
should rank high on the Cardinals' list. Washington can be one of the most dynamic linebackers in the league. He had nine sacks last season and should be a player for the Cardinals to build around. Recent events have called into question his longer-term standing with the team. First came news that to open the season, Washington would serve a four-game suspension for violating the NFL's substance abuse policy. Now, one month later, authorities are investigating a domestic abuse allegation levied against him. There has been no arrest. The Cardinals already have blown up quite a bit of their roster while making the transition to a new coaching staff. They'll have to decide after the 2013 season whether to exercise a $10 million option bonus for Washington.

St. Louis Rams:
Tweaking the offensive scheme to fit the Rams' new personnel came to mind as one potential priority for the Rams, but the most pressing one? Developing the young unproven talent on the roster has to head the list. The Rams had the youngest roster in the NFL last season. It could be even younger this season. That's invigorating to a certain extent, but also a bit concerning. The situations at running back, receiver and safety come to mind. Top running backs
Daryl Richardson
,
Isaiah Pead
,
Terrance Ganaway
and fifth-round pick
Zac Stacy
have a combined 108 NFL carries. The wide receivers on the roster own a combined 15 starts, 12 of them by
Chris Givens
. At safety, rookie third-round choice
T.J. McDonald
and 2012 backup
Darian Stewart
are the leading candidates to start after the Rams released
Quintin Mikell
and let
Craig Dahl
leave in free agency. McDonald did not enjoy a stellar final season at USC. Is he ready for a Rams schedule featuring
Larry Fitzgerald
,
Julio Jones
,
Dez Bryant
,
Jason Witten
,
Vernon Davis
,
Justin Blackmon
,
Andre Johnson
,
Steve Smith
,
Percy Harvin
,
Vincent Jackson
and other players capable of putting pressure on even veteran safeties?

San Francisco 49ers:
Developing 2012 first-round draft choice
A.J. Jenkins
has to rank high on the list of remaining priorities for the two-time defending NFC West champions. Jenkins made zero receptions during his rookie season. He wasn't a factor, and the 49ers didn't really need him. They ran their passing game through
Michael Crabtree
and still had other weapons such as
Vernon Davis
,
Delanie Walker
,
Randy Moss
and, when healthy,
Mario Manningham
. Crabtree and newcomer
Anquan Boldin
will join Davis in giving the 49ers three legitimate weapons for 2013. While the 49ers' passing game is not hinging on Jenkins' immediate development, the team needs to find out whether Jenkins will factor for the longer term. Crabtree's contract runs through the 2014 season. Re-signing him to a long-term deal is no given for the 49ers, particularly with quarterback
Colin Kaepernick
also in line for a new deal at roughly the same time. Boldin is signed through the upcoming season only. Developing Jenkins would expand the 49ers' options.

Seattle Seahawks:
Getting another starter signed to a contract extension before the 2013 season could make sense. They recently struck a long-term deal with strong safety
Kam Chancellor
. Potential monster deals for
Earl Thomas
and/or
Richard Sherman
await in the not-too-distant future, as both are signed through 2014. In the meantime, Seattle might be wise to work out a more modest extension for cornerback
Brandon Browner
, a player ideally suited for their defensive scheme. Browner is signed through the 2013 season. While this will be only his third season with the Seahawks since leaving the CFL, Browner did get credit for an accrued season when he spent 2005 on injured reserve with the
Denver Broncos
. That makes 2013 Browner's fourth NFL season, enough to qualify as an unrestricted free agent under the collective bargaining agreement.