April, 10, 2014
Apr 10
10:00
AM ET
By
ESPN.com staff
| ESPN.com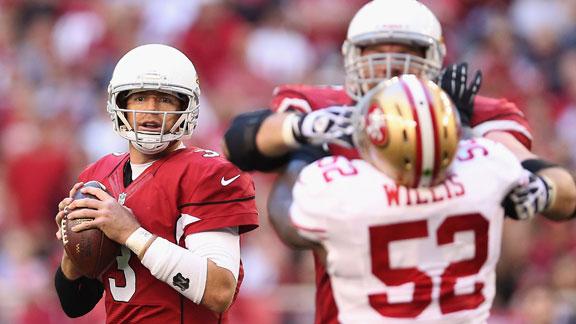 Catch us if you can.
That's a message the
Seattle Seahawks
could send out to the rest of the NFC West.
It is also something the
San Francisco 49ers
might say to the
Arizona Cardinals
and the
St. Louis Rams
. But the Cardinals and Rams might have a statement of their own: We're coming for you.
By almost everyone's estimation, the NFC West is the best division in the NFL. It includes a Super Bowl champion in Seattle along with a team in San Francisco that, arguably, came up one play short of reaching its second consecutive Super Bowl.
It also includes a team in Arizona that won 10 games, one of which was a victory at Seattle -- the Seahawks' only home loss in 2013. And there's a team in St. Louis that won two of its last three games to finish 7-9 while playing most of the season without starting quarterback
Sam Bradford
.
So the question heading into 2014 is whether the Cardinals and Rams are in position to catch the Seahawks and 49ers. Have Arizona and St. Louis closed the gap on what might be the NFL's two best teams?
The Cardinals have been active in free agency, signing cornerback
Antonio Cromartie
, offensive tackle
Jared Veldheer
, tight end
John Carlson
, receiver/kick returner
Ted Ginn
, running back
Jonathan Dwyer
and offensive lineman
Ted Larsen
.
Clearly, the competition in this division keeps getting better.
The four writers who cover the division for ESPN.com's NFL Nation -- Terry Blount in Seattle, Bill Williamson in San Francisco, Josh Weinfuss in Arizona and Nick Wagoner in St. Louis -- take a look at where things stand in the NFC West on four key topics. We also polled our Twitter followers to find how they viewed the issues.

The Cardinals have made significant moves in free agency. The Rams, aside from keeping Rodger Saffold, have mostly stood pat. Which is closer to the playoffs?
Terry Blount: This is a no-brainer for me. The Cardinals are a team on the rise with one of the NFL's best coaches in Bruce Arians. He took a 5-11 team and transformed it to 10-6 in one season. He was 9-3 at Indianapolis in 2012 while filling in for Chuck Pagano. Arizona was 7-2 in its last nine games and won three of the last four, with the only loss being 23-20 to the 49ers in the season finale. The Cardinals could become a serious challenger to the two-team stronghold of Seattle and San Francisco. However, I do believe the Rams will have a winning season if they can hold their own in the division games.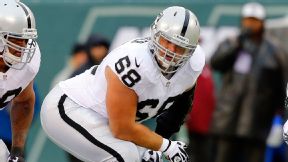 Nick Wagoner: It's hard to evaluate this without seeing what happens in the draft, especially with the Rams having two premium picks. Even then it would be unfair to judge right away. Still, I have to go with the Cardinals. They were trending up at the end of the season and patched a big hole with offensive tackle Jared Veldheer. Losing Karlos Dansby was a blow, but adding cornerback Antonio Cromartie to a talented stable at the position makes them better. The Rams, meanwhile, are clearly counting on a whole lot of in-house improvement and a big draft. Keeping Saffold was important (and lucky), but it seems risky to pin all hopes on a leap to the playoffs on a group of young players all making a jump at the same time.
Josh Weinfuss: Arizona is the easy answer, and that's not because I cover them. The Cardinals were 10-6 last season and the first team kept out of the postseason. All the Cardinals have done this offseason is fix deficiencies and plug holes. Their offensive line got markedly better with the addition of left tackle Jared Veldheer. Their wide receiver corps and kick return game were solidified with Ted Ginn, and they now have one of the best cornerback tandems in the league with Antonio Cromartie coming on board. General manager Steve Keim looked at what went wrong in 2013 and went to work on fixes. It should put the Cardinals over the playoff hump.
Bill Williamson: It has to be Arizona. The Cardinals were so close to making the playoffs last season. They would have likely been dangerous in the postseason too. I like the way this franchise is shaping up. It seems like it is well run and well coached. The roster is also getting deep. Carson Palmer will have to be replaced sooner or later, but the Cardinals are on to something. The Rams certainly have some nice pieces and are probably the best fourth-place team in the NFL, but they aren't close to matching what Arizona has going for it.
@joshweinfuss With the offseason the @AZCardinals have had I'd go with them. The rams are a solid offense away but AZ got the pieces needed.

- Joshua Bodrero (@JBodrero) March 25, 2014
---

The Seahawks and 49ers played for the NFC title in January. Any reason to believe either won't return to the postseason?
Blount: They were the two best teams in the NFL last season, and there's no legitimate reason to think they won't be among the best in 2014. Seattle has lost 10 players who were on the Super Bowl roster, but other than wide receiver Golden Tate, none of them were on the team's priority list to keep. The 49ers move into a shiny new stadium. The only question for San Francisco is the precarious relationship between coach Jim Harbaugh and team executives. Who knows what the future holds there, but it shouldn't matter on game day.
Wagoner: Aside from some debilitating injuries, it's hard to see how either team has taken a major step back. The Seahawks have lost some good players in free agency, but even those players seemingly already had replacements in place. Nobody does a better job of developing talent than Seattle. The Seahawks still have holes to patch on the offensive line and losing receiver Golden Tate is a blow, so there could be some hope the offense will regress. But the defense makes it all go, and it doesn't look like it's going to lose any of its most prized components. As for the Niners, they are the more likely of the two to take a step back, but it's hard to see them taking enough of one to fall out of the postseason. For most of their key free-agent losses they were able to quickly come up with a replacement as good or better than the player lost, and retaining Anquan Boldin says they are looking to make another run at the Super Bowl. Plus, they will have a fully healthy Michael Crabtree ready for the season. Until proven otherwise, these two teams remain the class of the NFC and probably the NFL.
Weinfuss: The only reason either of them won't make the playoffs in 2014 is because the Cardinals or Rams will take their place. The gap between the top and bottom of the NFC West has closed significantly this offseason, making the West much like the Southeastern Conference in college football; everybody will beat up on each other. It's likely the West, if it's anything like last season, can see three teams in the playoffs -- its champion and the two wild cards. If one of the teams between Seattle and San Francisco were not to make it, it's tough, but I think Seattle might slip. The Seahawks lost a significant part of their defensive line and will be going through a Super Bowl hangover. That's risky to deal with and still make the playoffs. On the other hand, San Francisco will be hungry from losing to Seattle in the NFC Championship Game.
Williamson: I believe these are the two best teams in the NFL. So it's difficult to fathom that either team won't find its way into the playoffs, barring major injuries. Arizona, though, could create an issue for the Seahawks and 49ers. The Cardinals are going to win a lot of games, so both Seattle and San Francisco have to be careful or things could get tricky. In the end, I can see all three teams making the playoffs. This is the reason this division is so intriguing and so fun: Every game is critical. There is just not much room for error. Look at the 49ers last year. They went 12-4, but a 1-2 start hamstrung them. They could never fully recover despite having a great overall regular season. The same intensity will be a factor in 2014 in the NFC West.
@TerryBlountESPN The Cards and Rams are pretty good. They'll be fighting for 2nd place behind the Seahawks.

- Danny ®" (@Dah_knee) March 26, 2014
---

Will Rams quarterback Sam Bradford come back strong from an ACL injury, and what effect will he have on St. Louis having its coveted breakthrough year?
Blount: I think Bradford will be fine as far as the ACL goes, but this is a make-or-break year for him in my view. Bradford was playing pretty well before his injury last year, but the verdict still is out whether he can be an elite quarterback. He enters this season with the best supporting cast he's ever had, but playing in this division with teams that emphasize physical defensive play makes it difficult to show improvement.
Wagoner: All indications from the Rams are that Bradford's rehab is coming along well and he's on schedule to make his return in plenty of time for the start of the regular season. He apparently had a clean tear of the ACL, but he has been rehabbing for a handful of months and should resume throwing soon. Bradford's healthy return means everything to the Rams' chances in 2014. Believe it or not, this is his fifth season in the NFL and, much like the team, this is the time to make some noise. The Rams attempted to open up the offense in the first quarter of 2013 with Bradford to miserable results. They switched to a more run-oriented attack in Week 5 and the offense performed better. Bradford also played better as the run game opened up play-action opportunities in the passing game. It will be interesting to see if the Rams choose to go a bit more balanced with Bradford at the controls or if they continue at the same run-heavy pace they played with backup Kellen Clemens. Either way, Bradford's contract has two years left on it. If he wants a lucrative extension, this is the time to prove he's worth it.
Weinfuss: Short answer, yes, Bradford will come back strong. Just look at how he started in 2013. He was on pace for a massive year statistically before he got hurt. If he can pick up where he left off, Bradford will return with a bang and show he's still one of the better quarterbacks in the league. As we've seen, a top-tier quarterback can be the difference between sitting idle in the standings and having a breakthrough year. With the talent that surrounds the Rams, with tight end Jared Cook, running back Zac Stacy and wide receivers Tavon Austin, Chris Givens and Austin Pettis, among others, Bradford may singlehandedly help close the gap between the Rams and the top of the NFC West.
Williamson: I have to be honest: I'm not a big Sam Bradford guy. I think he's just OK. Just OK doesn't cut it in this division, especially considering the defenses he has to play six times a season in the NFC West. He's serviceable, but he's not the answer. Given the state of this division, I cannot envision a scenario where Bradford is the reason the Rams become the class of the NFC West. I think they can get by with Bradford for the short term, but the Rams are going to have to start thinking about the future at this position much earlier than expected when Bradford was the No. 1 overall pick of the 2010 draft.
@nwagoner @Ryan_STL1 he's going to be the reason whether they go to the playoffs or not. If it doesn't happen this year it's time to give up

- Nick Green (@duttynick) March 24, 2014
---

If you had to start a team with either Seahawks QB Russell Wilson or 49ers QB Colin Kaepernick, whom would you choose?
Blount: You must be kidding. Give me Wilson every time, every day in every situation. Yes, Kaepernick is 5 inches taller than Wilson. Is there really anyone left who thinks Wilson's lack of height matters? Wilson also is at his best in pressure situations. He lives for it. And he is a more polished person on the field, and off it, than Kaepernick. That's not an observation. It's a fact. But this isn't a rip on Kaepernick. You would be hard-pressed to find any 25-year-old as polished as Wilson. The 49ers can win a Super Bowl with Kaepernick, and probably will soon. But if I'm starting a team, whether it is in football or almost any other life endeavor, I'll take Wilson without a doubt.
Wagoner: Wilson. For those of us covering other teams in the division, it's hard not to admire what he brings to the table. He presents himself as the consummate professional, and even opponents praise him for his work habits, intelligence and ability. He's already got the Super Bowl ring, and it's easy to see how he could add a few more. He's not all the way there in terms of his potential either, and it's probably safe to assume he's just going to keep getting better as his career goes along. That's nothing against Kaepernick, who is a unique talent in his own right, but there aren't many young quarterbacks in the league worth choosing over Wilson.
Weinfuss: Russell Wilson would be my pick, mainly because of his poise and maturity behind center. Colin Kaepernick is undoubtedly talented, but I get the sense he still has a lot of growing to do as a quarterback. He's tough to bring down, especially in the open field, but when he's pressured in the pocket, Kaepernick seems to panic and I wouldn't want that in a quarterback. I also think Wilson, despite his physical stature, is built to last. He's heady enough to stay out of harm's way, and his poise in the huddle will go a long way in leading a team.
Williamson: I'd take Kaepernick. I know it's a tough sell right now, since Wilson's team has beaten Kaepernick and the 49ers three of the past four times they've met, including the NFC title game, and the fact that Wilson has won a Super Bowl. I respect the value of Super Bowl wins and believe quarterback is the most critical position in sports. I'm sure I will smell like a homer with the Kaepernick pick. But moving forward, I just think Kaepernick has a higher ceiling. I think he can take over games more than Wilson can at a higher rate. Players built like Kaepernick and as athletic as Kaepernick just don't exist. He is special. He works extremely hard at his craft and is well coached. I'd take him, and I wouldn't look back. This isn't a knock on Wilson. He is proven and is going to be great. But if I'm starting a team, I'm taking Kaepernick, and I bet more general managers would agree than would disagree.
@BWilliamsonESPN Wilson. Controls the game & makes all the plays. Kaeps athletic advantage will fade overtime as Wilson's mental edge grows.

- HTB (@HoldenTyler) March 25, 2014
April, 20, 2011
4/20/11
8:00
AM ET

Matt Maiocco of CSNBayArea.com
says former 49ers cornerback Eric Davis sees Prince Amukamara becoming a better, more versatile cornerback than Patrick Peterson. Davis: "Both are can't-miss guys. When you talk about athletic ability, Peterson is the better athlete. He's not a lot better, but he's the better athlete. Now, if you're talking about playing the cornerback position in the NFL, Amukamara has a higher ceiling. He works better in space. His body movement allows him to work better in space and play multiple defenses. Peterson is eventually going to be a safety. He lost weight this year to play at 210. He came into camp smaller. But when you look at two or three years into the league, he'll be a 225-pound guy, easily. He'll be a safety more in the mold of Ed Reed instead of a corner. I don't look at him as (Darrelle) Revis or Nnamdi (Asomugha). He's a lot bigger than those guys." Amukamara's college coach, Bo Pelini, was the 49ers' assistant secondary coach when Davis played for the team.
Also from Maiocco
: The 49ers are scheduled to play on Thanksgiving for the first time since 1972. He also notes the long list of 49ers opponents with unsettled quarterback situations. Matt Hasselbeck, Josh Johnson, Alex Smith, Kevin Kolb, Carson Palmer and Donovan McNabb are in flux. Maiocco: "What color uniform will Alex Smith be wearing? You'd think Alex Smith is only coming back to the 49ers if he can't get a multi-year deal from another team. Might the Cardinals be that team? In his only start against the Cardinals last season, Smith threw for 276 yards with two touchdowns and no interceptions. It was Smith's most passing yards in a victory in his career."
More from Maiocco
: Christian Ponder could be the best fit for San Francisco among quarterbacks in the NFL draft based in part on how his personality could fit with coach Jim Harbaugh.
Matt Barrows of the Sacramento Bee
takes a game-by-game look at the 49ers' schedule for 2011. Will the Oct. 16 game at Detroit feature Smith leading the 49ers against the Shaun Hill-led Lions? As Barrows notes, with Matthew Stafford's injury history, you never know.
Eric Branch of the Santa Rosa Press-Democrat
passes along thoughts from Harbaugh on facing his brother, John, in a Thanksgiving game at Baltimore. Jim Harbaugh on NFL Network: "One thing I can probably can tell you right now is, we're not going to have time to socialize the day of game."
Also from Branch
: For the first time since 2006, the Cardinals and 49ers will not play on Monday night.
Dan Brown of the San Jose Mercury News
offers game-by-game thoughts on the 49ers' schedule, including this one on an Oct. 30 game against Cleveland: "The Browns have won three consecutive games against San Francisco. How long ago was the 49ers' last win? They survived late touchdown catches by Webster Slaughter and Ozzie Newsome and got a late field goal from Mike Cofer to win 20-17 on Oct. 28, 1990." I was surprised to learn that Newsome was still playing in 1990. It was his
last season
.
Taylor Price of 49ers.com
says the team has had success with the seventh overall choice in past drafts.

Danny O'Neil of the Seattle Times
caught up with Hasselbeck at a charity function, asking about the quarterback's contract situation. Hasselbeck: "We talked before the season and we talked about doing a deal before the season. I went to lunch with John Schneider, we had a great lunch. We talked about it. He said, 'Hey, we're trying to do it. If we don't do it, are you going to offended?' No. Never. And then we talked some during. We just talked. But I think that both sides know that without the labor agreement, you would have to take a leap of faith on some stuff."
Also from O'Neil
: thoughts on the Seahawks' 2011 regular-season schedule. On the Seahawks' home opener, set for Sept. 25 against Arizona: "Seahawks have won seven of their past eight regular-season home openers, and they have allowed a total of six points in the past two home openers."

Kent Somers of the Arizona Republic
says the Cardinals face the NFL's easiest 2011 schedule based on 2010 records.
Also from Somers
: The Cardinals play eight games in 2011 against teams currently unsettled at quarterback. Four of those are against NFC West rivals San Francisco and Seattle.
Darren Urban of azcardinals.com
offers Ken Whisenhunt's thoughts on the Cardinals' 2011 schedule. The team has no games in prime time. Urban: "Ken Whisenhunt looked over the 2011 Cardinals' regular-season schedule and was reminded of 2004. That year, when he was offensive coordinator for the Steelers, Pittsburgh went 15-1 with a schedule that featured all Sunday games except one, when the Steelers beat the Ravens on a Saturday."

Bryan Burwell of the St. Louis Post-Dispatch
says the Rams' schedule, complete with two Monday night games. shows the team is heading in the right direction. Also, general manager Billy Devaney feels good enough about the roster to consider trading up in the draft. Devaney: "You know how it was around here. In the past, we had so many needs to fill and had to find a way to put this foundation together. We couldn't afford to trade away any of our picks because we had so many needs, so many holes. Then again, in years past, there also was no need to move up because, unfortunately, we were already at No. 1 or No. 2. But things are a little better now. I'm not saying now we're just one player away from putting this thing together. But on the same token, I feel good about our foundation. So if (a potential trade) was something reasonable -- I'm not saying a high pick -- I would feel more willing to do it than in years past."
Jim Thomas of the St. Louis Post-Dispatch
says during a chat that wide receiver is "easily" the Rams' biggest need heading into the 2011 draft. Thomas: "All you had to do was watch the Seattle game to close the season to see how much trouble Rams wide receivers had consistently beating one-on-one coverage. The Rams were noticeably improved on offense last year, and still scored only 17 points. They need to add another touchdown a game to be truly competitive."
April, 7, 2011
4/07/11
9:53
AM ET

Aaron Wilson of National Football Post
says the Seahawks are holding a private workout with University of Washington quarterback Jake Locker. The team already has an outstanding feel for Locker. Most of Seattle's coaches and top personnel people attended Locker's recent pro day. Coach Pete Carroll and his former USC assistant, Huskies coach Steve Sarkisian, spoke at length during the pro day. Their relationship should help inform Carroll on Locker, a player Carroll already knows well from facing him in the Pac-10.
Doug Farrar of Sports Press Northwest
has a hard time envisioning Ryan Mallett fitting in the Seahawks' offense. Farrar: "The 5.47 40-yard dash Mallett ran at his pro day is a concern to a degree, but it's more about his extremely slow 10-yard splits – quarterbacks don't generally run 40 yards in a straight line, but they are often asked to get outside the pocket and make shorter runs to stay alive and continue to make plays. Because of his height, Mallett takes too long to reset his body after moving in and out of the pocket, and quarterbacks have to have quicker reactions than ever before."
Adam Caplan of Foxsports.com
says the Seahawks' contract with receiver Mike Williams is filled with incentives designed to protect the team.
Earlier:
Williams contract details
. The Seahawks set up the deal so they could get out of it at any time without much complication. I was a little surprised Williams accepted it, but his willingness to do so showed he was serious about holding up his end.

Darren Urban of azcardinals.com
is sticking with LSU cornerback Patrick Peterson as his choice for the Cardinals at No. 5. Urban: "The idea Von Miller will be selected before the Cards pick is gaining steam (at this point, I also tend to believe it). The way things break down, QB Blaine Gabbert has been popular as a remaining candidate -- along with Patrick Peterson -- and guys like Mel Kiper and Todd McShay are saying the Cards will/should take Gabbert. I'll stick with the idea of Peterson in such a scenario."
Also from Urban
: Cardinals quarterbacks coach Chris Miller reflects on how pro days have changed since he entered the NFL in 1987. Urban: "After Miller finished at Oregon, he played in three postseason all-star games – the Blue-Grey, the Senior Bowl and the Hula Bowl. He attended that year's version of the combine. Then he waited. There were no pre-draft visits to take, even though he was one of the elite quarterbacks (Miller was taken 12th, Vinny Testaverde went No. 1 while the Cards, picking sixth, took the infamous Kelly Stouffer). He didn't go to the draft either. Instead, he had about 60 family and friends at a local spot in Oregon, getting up at 4:30 a.m. – the draft was on Saturday at 8 a.m. EST, or 5 a.m. on the West Coast. No prime-time event then."

Kevin Lynch of Niner Insider
has this to say about the 49ers' new radio commentator, Eric Davis: "Davis was greatly influenced by Ronnie Lott and kept Lott's spirit alive in the locker room with his work ethic and the seriousness with the way he went about his task. Davis will likely provide more insights on what it means and what it is like to be a player, something he relayed often in his work at Comcast Sportsnet."
Daniel Brown of the San Jose Mercury News
recalls a couple classic calls from Davis' predecessor, Gary Plummer. Brown: "Plummer irritated the 49ers by admonishing receiver Michael Crabtree for his lackadaisical play. He said on the air that Crabtree ought to be benched for a Week 1 effort that included misplaying two balls into interceptions and drawing two penalty flags. Later in the season, Plummer openly questioned offensive coordinator Jimmy Raye's play-calling against the Raiders. Plummer wondered why the 49ers kept running the ball up the middle against a makeshift defensive line that was vulnerable on the edges. After Bill LaFleur shanked his final punt of a miserable 2003 season, Plummer blared: 'So long, Bill LaFleur. Get back to the sidelines, keep going and don't stop until you're on a plane.' "

Nick Wagoner of stlouisrams.com
checks in with Rams general manager Billy Devaney for thoughts as the team dives into staff meetings to discuss draft prospects. Devaney, coach Steve Spagnuolo, assistants and personnel people are meeting to discuss a different position each day. Devaney: "It's kind of fun because everybody has their say. Nobody is dogmatic. I usually don't say anything and Spags may voice an opinion a little bit here and there but we want coaches and scouts to have the freedom to express themselves without thinking, 'Oh God, the general manager or head coach doesn't like this guy.' We want them to be absolutely comfortable giving their opinions on a player."
Gary Horowitz of the Statesman Journal
catches up with Rams running back Steven Jackson, who attended an Oregon State practice recently while on business for Nike. Jackson addressed the team after practice. Jackson: "I'm not sure how long it's been since I've been on campus, but I did not know there was a weight room right there. These things that you guys have the privilege to have, understand that guys have laid the groundwork for that. And you guys will lay the groundwork for the next generation."
April, 6, 2011
4/06/11
6:42
PM ET
Vishal from parts unknown
stretched the NFC West mailbag at the seams with a two-part, nearly 400-word dispatch critiquing
my ballot ranking the 10 best coaches
in the NFL. I'll break out the main points in bullet items before responding. He wanted to know ...
Why past performance mattered more for head coaches, specifically Mike Shanahan, than it did for players in our previous power rankings;
How I could justify leaving off the Atlanta Falcons' Mike Smith based in part on playoff losses to teams with inferior records, since those teams advanced to the Super Bowl;
Why Tom Coughlin ranked third despite enjoying the organizational support and stability that contributed to a lower ranking for Mike Tomlin.
Mike Sando:
These were difficult decisions. Some of the trade-offs weren't very satisfying. I put together my ballot over the weekend. Upon revisiting it Tuesday morning, I initially thought I'd left off Smith by accident. Then I remembered he was basically just an odd man out. He's a guy I do think of as being one of the best coaches in the league. John Harbaugh is another one. Those guys are deserving of the recognition they received from our voters. I could have felt good about including them as well.
The point you make on Coughlin and Tomlin is compelling. The Giants have strong ownership. They have had only three general managers in the last 30-plus years. I stand by the No. 3 ranking, but acknowledge that I might have considered ranking him lower if this conversation occurred prior to voting.
Coughlin ranked higher than Tomlin on my list for a few reasons I haven't explained:
Coughlin brought quick success and stability to Jacksonville when the Jaguars were an expansion franchise. That was impressive.
The Giants became more productive offensively under his watch, even with a young, inconsistent quarterback. Eli Manning is not the greatest passer. The Giants have ranked among the NFL's top eight in scoring four times under Coughlin after never ranking higher than 12th over a 15-year span under four other coaches.
Coughlin showed a capacity to change during his Giants tenure, becoming more responsive to players.That was important during the Super Bowl season.
Your question about Shanahan is easier to answer. The abilities a coach possesses early in his career do not necessarily deteriorate the way a player's physical skills deteriorate. Shanahan's 152-108 regular-season record, 8-5 postseason record, nine winning seasons and two Super Bowl titles worked in his favor.
---
Doug from Newbury Park, Calif.,
wonders whether I thought the
San Francisco 49ers
replaced
Gary Plummer
because they felt he was too critical as the team's radio color commentatory.
Mike Sando:
Plummer has been outspoken for years. If his outspokenness were a problem, the team presumably would have replaced him years ago. He had handled the job since 1998 and never held back. Fans accustomed to Plummer will be paying close attention to see how his replacement, Eric Davis, couches his criticisms. I expect Davis to speak his mind in his own style -- a style less combative than the one Plummer brought to the job as a former linebacker.
---
Joe from Phoenix
wonders whether the
St. Louis Rams
could trade out of the 14th overall choice with a team looking to draft running back
Mark Ingram
in that spot. He thinks teams are better off with one dominant runner than a committee approach, and he wonders specifically whether New England might be a team to watch from a trade standpoint.
Mike Sando:
The Patriots traded up to get
Daniel Graham
in 2002. They traded up into the 13th spot for
Ty Warren
a year later. New England has been much, much more likely to trade down in the first round over more recent drafts, however.
The Patriots would likely have to part with their third-round choice, 92nd overall, to jump three spots to No. 14. Recent history says that is unlikely.
As for running backs, the trend has been toward having multiple backs share the load. No more than seven backs in one season have reached 300 carries since 2007. There were at least nine backs with 300 or more carries in 10 of the previous 12 seasons, peaking with 13 in 2003.
The Patriots have had only one such player --
Corey Dillon
in 2004 -- since Bill Belichick became head coach.
None of this prevents New England from climbing three spots to nab Ingram. If it happens, however, it'll be a little surprising.
---
Rob from Phoenix
wonders whether the Cardinals would select Auburn defensive tackle Nick Fairley with the fifth overall choice, if available, even though the team doesn't have obvious needs on its defensive line. Texas A&M pass-rusher Von Miller would not be available under this scenario.
Mike Sando:
The scouting reports say Fairley projects better in a 4-3 defense. The same could be said for Cardinals defensive end
Darnell Dockett
, however, and the Cardinals have learned the hard way about favoring need (tackle
Levi Brown
) over value (running back
Adrian Peterson
) when picking fifth.
So, if Fairley is available and clearly the best player, the Cardinals would have to consider him. But I tend to think he projects as a higher-risk prospect based on concerns over his emotional stability and the consistency of his effort. That could scare off Arizona. Throw in other factors -- fit and need specifically -- and I envision the Cardinals going in another direction.
April, 5, 2011
4/05/11
8:37
AM ET

Brock Huard of 710ESPN Seattle
explains why he thinks Ryan Mallett would be a poor fit for the Seahawks. Huard: "You don't have to be a sprinter, you don't have to be Michael Vick, but 5.47 [seconds in the 40-yard dash] is a sitting duck target. With the West Coast system and the play-action passing game, I don't think he's an ideal fit here in Seattle." There remains some mystery as to how much the Seahawks' offense will evolve with Darrell Bevell and Tom Cable in charge, but coach Pete Carroll has indicated the team will still emphasize quarterback mobility.
Danny O'Neil of the Seattle Times
continues his look at Golden Tate's rookie season. O'Neil: "It's not unprecedented for a receiver to take a huge jump in his second season. (Chad) Johnson and (Steve) Smith (of the Giants) are proof of that. In fact, of the 45 receivers chosen in the second round from 2000 to 2009, 11 of them increased their receptions by 20 or more catches in their second season. But that upward progression is hardly a sure thing. Just look at the above list for proof that for some second-round picks, a mediocre rookie season foreshadows an unremarkable sophomore season, too."
Clare Farnsworth of seahawks.com
checks in with former pass-rusher Jacob Green, who landed on the franchise's 35th anniversary team. Joe Nash: "The guy was just amazing. The one thing that stands out the most about Jake in my mind is how he took Henry Lawrence back in one of those playoffs games and just dominated him with his great athleticism."

Rob Rang of NFL Draft Scout
has the Rams selecting Alabama receiver Julio Jones in his latest mock draft. Rang: "The Rams have their young franchise quarterback in Sam Bradford and a workhorse runner in All-Pro Steven Jackson, but desperately need help outside. Jones isn't as fast on the field as he was at the Combine, but his size, strength and three years of consistent standout play in the ultra-competitive SEC make him an ideal candidate to make an immediate impact." Rang has Arizona taking Robert Quinn, San Francisco taking Patrick Peterson and Seattle taking Corey Liuget.

Eric Davis tells Niner Insider
he'll be able to speak his mind as the 49ers' new color commentator for radio. Davis: "I said flat out, 'If I say something negative, will I go to the principal's office?' They said, 'We want you to say what you want.'" Davis says he hasn't spoken with Gary Plummer, his former teammate and the man he'll replace in the booth.
Eric Branch of the Santa Rosa Press-Democrat
looks at potential quarterback candidates for the 49ers. On Matt Hasselbeck: "No other QB on the market is more familiar with the intricacies of the West Coast offense than Hasselbeck, 35, a free agent who has played in a West Coast system since 2001." Hasselbeck's experience in a West Coast system goes back even farther, to his practice-squad days with Green Bay in 1998.
Matt Barrows of the Sacramento Bee
says 49ers coach Jim Harbaugh was there when Iowa quarterback Ricky Stanzi worked out for NFL teams. Barrows: "He's got a quick release and makes good decisions having thrown 25 touchdowns against six interceptions last season. However, he does not have the athleticism -- something Harbaugh covets -- or the arm strength of other prospects. It should be noted that Harbaugh and Stanzi are represented by the same agent, Jack Bechta. (In fact, Harbaugh had two agents when he was hired by the 49ers in January, Bechta and David Dunn, who also represents Jake Locker)."
Matt Maiocco of CSNBayArea.com
ranks the 49ers' 18th in terms of draft classes over the past five years. Maiocco: "The 49ers accumulated more than half of their starters through the draft in the past five years, but that has not reflected improvement on the field. The main reason is because the 49ers did not acquire standouts at impact positions, such as quarterback, cornerback and pass-rusher."

Darren Urban of azcardinals.com
says the Cardinals cannot forget about their offensive line even though quarterback and pass-rusher are positions of more immediate need. Urban: "The Cards aren't going to go offensive lineman with their first pick, but after that, I could see it at any point. Finding someone to begin grooming – a la Keith – now that Herman Johnson has left seems crucial. There seems to be some line depth in the draft, especially at tackle, again with the knowledge decent interior guys can often be found later or undrafted."
Kent Somers of the Arizona Republic
had this to say during a Cardinals chat: "If all reports are true, Von Miller would be a wise choice in the first round. In second round, I'd look hard at the next tier of quarterbacks. I like Andy Dalton." Somers thinks Marc Bulger is the favorite to start at quarterback for Arizona in 2011, and that the team will not draft a quarterback in the first round.
April, 4, 2011
4/04/11
7:23
PM ET
The
San Francisco 49ers
' recently posted
item
on former defensive back Eric Davis joining the
radio broadcast booth
does not mention one detail.
Gary Plummer is
out
.
It's too early to say whether Davis will take on the team as strongly or frequently as Plummer did while in the role from 1998 through last season. If he does, I would expect him to do so with less volume and possibly upon further reflection.
Plummer wasn't afraid to level sharp criticism when he felt it was warranted, and it was warranted quite a bit over the last decade or so. He called
Michael Crabtree
and his advisers "
morons
" for refusing to accept the team's contract offer. When the defense struggled under former coach Mike Nolan, Plummer
called for changes
even while Nolan said there would be none.
Plummer's own experiences as a hard-nosed, undrafted linebacker defined his in-game commentary. He was emotional and wouldn't hesitate to criticize players for poor tackling, blown coverages or what he considered to be substandard effort. He would question coaches' strategies as well. At one point, I recall him saying the 49ers' defensive line got
pushed around
when it ran a 3-4.
Davis' credentials are strong. He was a two-time Pro Bowl cornerback, once with the 49ers and again with Carolina. He played six of his 13 seasons with the 49ers and won a Super Bowl with the team following the 1994 season. He's done postgame analysis and preseason game commentary for 49ers TV broadcasts, in addition to other duties in the market.
Plummer was also part of that 1994 championship team. He spent four of his 12 seasons with the 49ers, retired following the 1997 season and transitioned to the radio booth in 1998. He commuted to games from San Diego, whereas Davis lives in the Bay Area.
June, 24, 2010
6/24/10
9:30
AM ET
Notable players:
QB
Joe Montana
, QB
Steve Young
, WR
Jerry Rice
, WR
John Taylor
, RB
Roger Craig
, FB
Tom Rathman
, TE
Brent Jones
, G
Guy McIntyre
, FS
Ronnie Lott
, OLB
Charles Haley
, DE
Pierce Holt
, DE
Kevin Fagan
, OLB Keena Turner, LB Matt Millen.
[+] Enlarge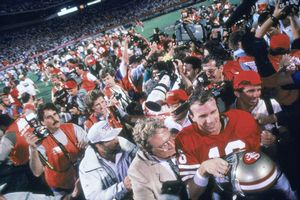 Andy Hayt/Getty ImagesJoe Montana and the 49ers were at the height of their success during the 1989 season.
Analysis:
The
San Francisco 49ers
had multiple teams worthy of consideration as the best in franchise history. I'll take the one that outscored its opponents 126-26 during the postseason, including 55-10 over the
Denver Broncos
in the Super Bowl. Denver led the NFL in scoring defense that season.
The 1989 team featured the 49ers' offense at the peak of its powers.
Joe Montana averaged 9.1 yards per attempt with 13 starts that season. The figure for three-game starter Steve Young -- 10.9 yards per attempt -- was even more ridiculous.
Drew Brees
set a career high at 8.5 yards per attempt last season.
Tom Brady
's average was 8.3 during his historic 2007 season.
Dan Marino
was at 9.0 in his 1984 career season. None could match the 49ers' top two quarterbacks during this special season.
This was the first 49ers team of the 1980s without Bill Walsh, but offensive coordinator Mike Holmgren was still there, as were nearly all of the team's iconic offensive players from the decade. Tight end Brent Jones emerged as a starter. Roger Craig topped 1,000 yards rushing. Fullback Tom Rathman caught 73 passes. Montana set a career high for passer rating at 112.1, completing 70.2 percent with 26 touchdowns and eight interceptions. Rice caught 17 touchdown passes while averaging 18.1 yards per reception.
The defense was typically overlooked except by those forced to play against it.
John Elway
completed only 10 of 26 passes for 108 yards and two interceptions against the 49ers in the Super Bowl.
"Their defense doesn't get enough credit," Broncos coach
Dan Reeves said
afterward. ''I can't say enough about them.''
Walsh later regretted retiring. This team made it easy to see why.
Most impressive win:
Having already touched on the Super Bowl victory, let's focus on the victory that delivered the NFC West title to San Francisco that season. Montana passed for 458 yards, including 286 to receiver John Taylor, and the 49ers twice overcame 17-point deficits to edge the division-rival Rams, 30-27, on the road.
Transcending Walsh:
This 49ers team became the only one in NFL history to win back-to-back Super Bowls with different head coaches. The change from Walsh to George Seifert might have actually helped this team, at least for a season. The offensive-minded Walsh left the defensive-minded Seifert with a veteran offense trained to function at a high level without much big-picture help. Holmgren took the best of what Walsh taught him and made it even better with his own tweaking. In that sense, the 1989 team might have gotten the best of what Walsh and Holmgren had to offer. Montana was also at his best. He never enjoyed a finer season.
Honorable mention
1984:
This was the team that knocked off Marino in the Super Bowl after the quarterback shredded defenses for a then-record 48 touchdown passes. This was a great 49ers team with a franchise-best 15-1 record, but the best group in 49ers history needed to include Rice, I thought. He arrived the next year.
1994:
Proponents of this team will point to a defense featuring
Deion Sanders
,
Rickey Jackson
,
Ken Norton
,
Merton Hanks
,
Eric Davis
,
Tim McDonald
,
Bryant Young
and others. They'll point to Young's record six touchdown passes against the
San Diego Chargers
in the Super Bowl.
1948:
Let's save some recognition for one of the early 49ers teams. This one outscored opponents by more than 17 points per game on its way to a 12-2 record. Frankie Albert put up modern-day numbers with 29 touchdown passes, 10 interceptions and a 102.9 rating.