April, 20, 2013
4/20/13
8:00
AM ET
Adrian Wilson
,
Kerry Rhodes
,
Dashon Goldson
and
Quintin Mikell
were starting NFC West safeties last season. They combined to earn more than $15 million for their contributions in 2012.
Wilson, Rhodes and Mikell were released, and Goldson departed in free agency, reportedly without getting an offer from the
San Francisco 49ers
. Another NFC West safety,
Craig Dahl
, left the
St. Louis Rams
for the 49ers.
One thing hasn't changed at the position:
Seattle
still has the best starters in the division.
Matt Williamson, who scouts the NFL for ESPN.com, had little trouble giving the Seahawks his No. 1 ranking at safety in his continuing look at
where NFC West teams stand
at each position. We pick up the conversation there.
Williamson:
Seattle has the best safeties in the league. St. Louis has the worst. San Francisco's are good. Arizona's are average at best.
Sando:
I'm a little surprised you'd give the 49ers high marks at the position after parting with Goldson.
Donte Whitner
is there and he's good, but what else is there at the position? The Rams didn't seem all that set on keeping Dahl.
Williamson:
I think Dahl is serviceable. I guess they are not all that good, but they are better than
Arizona
at the position right now, and with all those draft picks -- 13 overall and five of the first 93 -- I fully expect them to add
John Cyprien
,
Eric Reid
or
Matt Elam
. The writing is on the wall when you sign Dahl as a placeholder while the rookie comes in and is a lot more talented.
Sando:
We could have three NFC West teams targeting starting safeties in the draft.
Williamson:
St. Louis might have the worst safeties in the league right now. That is a huge need for the Rams. They probably need to draft two safeties in their top four or five picks and one had better be in the first round. Everyone talks about needing receivers for
Sam Bradford
. Really, they need a guard and a safety. Then we can talk about that.
Sando:
Seattle is really the only team in the division appearing set at safety for now. I could still see the Seahawks drafting one for insurance in case they have a hard time re-signing
Kam Chancellor
. In the meantime,
Earl Thomas
might be the best safety in the league. At least I'm assuming you'd agree in saying he's moved past
Troy Polamalu
and
Ed Reed
, who were long considered the standards.
Williamson:
He has passed those guys for sure. They have very much declined. I would probably say
Eric Weddle
is the best safety right now.
Jairus Byrd
is good, too. Thomas is right in the conversation with those guys and he has more ability than either one of them.
March, 1, 2012
3/01/12
9:05
AM ET
Try on this 2012 NFL draft scenario:
Andrew Luck to Indianapolis with the first overall choice;
Robert Griffin III to Washington with the second pick, acquired from St. Louis;
Ryan Tannehill to Cleveland at No. 4;
Miami, the next team with quarterback needs, goes in another direction with the eighth overall choice after signing or otherwise acquiring Matt Flynn from Green Bay, tapping into the relationship between Flynn and new Dolphins coach Joe Philbin.
That would leave Arizona and Seattle as primary suitors for Peyton Manning. The timing would have to be right, and still there would be no guarantees. But it's at least plausible.

Peter King of Sports Illustrated
lists the Seahawks and Cardinals as potential landing spots for Manning, with this to say about Manning and Reggie Wayne coming to Seattle together: "The injury-prone Sidney Rice makes this a tough call. But the Seahawks certainly have the cash to make this happen, and it's exceedingly logical to think they'd be interested in both. With Rice and Mike Williams the current projected starters, you'd think Pete Carroll would use Williams and Golden Tate as swing players and injury insurance, with the heady Doug Baldwin the kind of slot receiver Manning could use as his new Brandon Stokley."
Noted:
Williams is far from assured a starting job or even a roster spot, in my view. He needs to bounce back from a down season. Kris Durham also could factor into the big-receiver role for Seattle.
Dave Boling of the Tacoma News Tribune
sees Leroy Hill's arrest costing the linebacker money, but he does not see it as a deal-breaker for the Seahawks. Boling: "Depending on the evidence in Hill's case, I don't think the current Seahawk front office is going to be too judgmental about a possession charge. They drafted tight end Anthony McCoy after reportedly testing positive for marijuana at the 2010 combine. He was a projected third- or fourth-round pick, so he seemed a bargain worth taking when he was available in the sixth round. So it's logical to speculate that they'll likewise consider keeping Hill if his expected performance warrants the contract investment."
Dave Wyman of 710ESPN Seattle says Hill "has the rare talent and ability to actually stand out in an NFL locker room. He's that good. Since his rookie year in 2005, I've marveled over the plays he makes. He can take on any offensive lineman in the league, drop into coverage as well as any linebacker and rush the passer with the best of them. He's quite possibly the best open-field tackler I've ever seen. I watched him on consecutive plays cover a running back man-to-man 30 yards downfield, blow up a fullback in the backfield -- ruining the timing of a running play -- and hurdle over an offensive guard to make a tackle on a screen play. He could be 'that guy' in the NFL. But instead, he's throwing it all away."

Craig Morgan of Fox Sports Arizona
checks in with Ben Patrick after the former Cardinals tight end helped rescue motorists following a crash. Patrick had run across a similar scene while a college student years earlier. He watched a man die that time. Patrick: "It stuck with me a long time, although I haven't told many people about it. It's hard to watch a man die right in front of you. The other guy was holding his hand as he passed. That's what prompted me to such quick action when I saw the same situation again."
Kent Somers of the Arizona Republic
says Cardinals coach Ken Whisenhunt is happy to play the Hall of Fame Game this year. Somers: "At the combine last week, Whisenhunt expressed considerable enthusiasm for playing in the game. It's not something he would want to do every year, he said, but 2012 is an optimal season for it. NFL teams had no off-season work in 2011. The new CBA allows for fewer off-season practices and conditioning sessions than the previous CBA. No matter which direction the Cardinals go at quarterback, an extra week or so of practice will be a benefit."

Jim Thomas of the St. Louis Post-Dispatch
offers thoughts on which team would be the ideal trading partner with St. Louis for the second overall pick. Thomas: "As for Washington, the relationship between Bruce Allen and Kevin Demoff, and Jeff Fisher and Mike Shanahan might make a deal easier to get done. Because they respect each other and know each other so well, a lot of the gamesmanship would be minimized -- they can get right down to business. The only problem picking sixth is that Justin Blackmon, Matt Kalil and Morris Claiborne could all be gone by then."

Matt Maiocco of CSNBayArea.com
says Dashon Goldson's decision to switch from agent Drew Rosenhaus to CAA could affect negotiations with the 49ers in a positive way. Maiocco: "Goldson was an unrestricted free agent last year, too. Multiple sources told CSNBayArea.com that the 49ers offered a five-year, $25 million deal. But sources say Rosenhaus assured Goldson that he could get him the kind of contract the San Diego Chargers awarded safety Eric Weddle: five years, $40 million. After a couple weeks of free agency, Rosenhaus sent an email to every NFL team to inform them that Goldson's demands had lowered and he would sign a one-year deal for 'approximately $3 million.' Three days later, Goldson returned to the 49ers on a one-year, $2 million contract."
January, 6, 2012
1/06/12
2:23
PM ET
This was indeed a special season for the
San Francisco 49ers
and, by extension, the NFC West overall.
The Associated Press All-Pro Team,
announced Friday
, includes five 49ers, a league high for any team. Arizona's
Patrick Peterson
made the team as the return specialist, joining the 49ers'
David Akers
and
Andy Lee
to give the NFC West all three specialists.
The 49ers'
Patrick Willis
and
NaVorro Bowman
made it as inside linebackers. Teammate
Justin Smith
made it as a defensive tackle. He also got votes at defensive end. Smith moves around the line, playing end in the base 3-4.
Aaron Rodgers
won 47.5 out of 50 votes at quarterback, a strong indication Rodgers will emerge as the leader in MVP balloting. Those results have not yet been revealed, but they draw from the same group of voters.
The chart shows All-Pro counts by division.
Also making the team: fullback
Vonta Leach
, center
Maurkice Pouncey
, guard
Carl Nicks
, guard
Jahri Evans
, running back
Maurice Jones-Drew
, running back
LeSean McCoy
, tackle
Joe Thomas
, tackle
Jason Peters
, tight end
Rob Gronkowski
, receiver
Wes Welker
, receiver
Calvin Johnson
, cornerback
Darrelle Revis
, cornerback
Charles Woodson
, defensive end
Jason Pierre-Paul
, defensive end
Jared Allen
, defensive tackle
Haloti Ngata
, linebacker
Derrick Johnson
, outside linebacker
Terrell Suggs
, outside linebacker
DeMarcus Ware
safety
Troy Polamalu
and safety
Eric Weddle
.
July, 28, 2011
7/28/11
9:18
AM ET

Kent Somers of the Arizona Republic
expects the Cardinals to part with Dominique Rodgers-Cromartie and a 2012 second-round selection for quarterback Kevin Kolb. Somers: "The Cardinals and Eagles have negotiated for the better part of two days, so it's logical to think they have agreed on compensation and that the Cardinals are talking to Kolb's agent, Jeff Nalley, about a new contract. Kolb has a year left on his contract. Nalley did not return phone messages." The price will not matter if Kolb is the right quarterback for the Cardinals. Adding Patrick Peterson in the draft made Rodgers-Cromartie somewhat expendable, particularly with a new scheme emphasizing sound tackling from the position.
Also from Somers
: Daryn Colledge is an option for the Cardinals in free agency.
Bob Young of the Arizona Republic
sizes up quarterback options for the Cardinals. On Kolb: "Big arm, young and very mobile. Still unproven, and he lost his job to Michael Vick. Heck, Kolb might just be an A.J. Feeley redux. Plus, he's expensive. Reportedly, the Cardinals might have to part with cornerback Dominique Rodgers-Cromartie, which is pricey enough. Asking for a draft pick too, let alone a first-rounder, amounts to extortion. If you believe all the pundits, this deal has been done for weeks, but the Cardinals are wise to explore other options for leverage purposes if nothing else. Since Tavaris Jackson is headed to Seattle, according to reports on Tuesday, Philadelphia already has lost some leverage."
Darren Urban of azcardinals.com
will miss Steve Breaston, who has agreed to terms on a deal with Kansas City. Urban: "Personally, he's a guy I would have liked to stick around (and until he signs another deal elsewhere, I guess the hope remains). But if this offseason hasn't driven home the point enough, business is business, and that includes the NFL."
Also from Urban
: a look at the Cardinals' schedule for training camp.

Ben Malcolmson of seahawks.com
passes along photos from Rod Mar showing the Seahawks returning to work.
Danny O'Neil of the Seattle Times
says linebacker Matt McCoy will re-sign with the Seahawks after the team lost Will Herring to New Orleans.
Also from O'Neil
: thoughts on Seattle's contract agreement with Sidney Rice. O'Neil: "It's a big-budget deal, but not all that much bigger than the $40 million deal Seattle gave T.J. Houshmandzadeh in 2009. Of course, Houshmandzadeh was 31 then, Rice is 24. Houshmandzadeh's yards per reception declined in three successive seasons before coming to Seattle while Rice is just two years removed from a Pro Bowl season with more than 1,300 yards receiving."
Jerry Brewer of the Seattle Times
says Rice's addition is consistent with the Seahawks' plans under coach Pete Carroll and general manager John Schneider. Brewer: "Their goal is to build a championship team with mostly young, athletic 20-something players who possess prototypical size. They want to be an attacking defense-centered team with a mobile quarterback guiding an offense that makes opponents choke on the running game. And they want to build from within, using the draft as their primary resource and filling out the roster with smart free-agency moves that help them acquire players who still have an upside. To be certain, it's not a revolutionary plan. But the entire front office's commitment to it, how it permeates every tactic, is special."
Dave Boling of the Tacoma News Tribune
checks in with Seahawks center Max Unger, who is returning from a toe injury.
Jacob Thorpe of 710ESPN Seattle
passes along Brad Childress' thoughts on Tarvaris Jackson. Childress: "He's got plenty of arm, I think he can command a football. I've always believed that an NFL quarterback, it ought to be like a yo-yo on a string. If they say put it on the front shoulder, put it on the front shoulder, if they say put it on the back shoulder, put it on the back shoulder. I wouldn't say anything about his accuracy; I think it's improved over the course of time."
Liz Mathews of 710ESPN Seattle
provides thoughts on Matt Hasselbeck from the quarterback's former Seahawks teammates. John Carlson: "We knew that was a possibility all along. I wish him the best, I wish he was here, because he's a good friend of mine and he's a leader for this team and this organization. He's beloved in this city for what he does on the field but also what he does off the field, so he will be greatly missed. But this is football and there's a business side to football, as we all saw in this lockout, and he's going to be playing football somewhere else. I wish him luck. Wherever he ends up I wish him luck and wish him well except for when he's playing against us. Matt's a great guy and he's such a tremendous asset in the locker room, but there's been a lot of turnover over the last couple of years. I'm going into my fourth year here and I've had three head coaches and four offensive coordinators, and a lot of turnover in the locker room and the front office, so that's just kind of the way football is, at least in my experience. That's just how it works."

Jim Thomas of the St. Louis Post-Dispatch
lists rookie free-agent additions for the Rams.
Also from Thomas
: Josh McDaniels has much work to do as the Rams' new offensive coordinator. McDaniels: "I'm trying to meet as many of the guys as I can, whether they be new to the building, or guys that were here last year. I haven't met every player yet."
More from Thomas
: Jason Snelling and possibly Jerome Harrison are running backs the Rams will consider in free agency.
More yet from Thomas
: a look at the Rams' camp schedule.
Roger Hensley of the St. Louis Post-Dispatch
polls colleagues for thoughts on how the lockout will affect the Rams. Jeff Gordon: "Installing a new offense will be a process. I'm sure quarterback Sam Bradford will adapt easily enough after getting a head start on the playbook, but the the team will add rookies and other newcomers to the personnel mix under a new coordinator. Many teams are in similar situations after missing all the work time, but this training camp will become a crash course in the Air McD scheme."
D'Marco Farr of 101ESPN St. Louis
says Quintin Mikell will impress Rams fans. Farr: "Oshiomogho Atogwe was more than adequate in this role, but I believe Mikell will be an upgrade. His familiarity with the scheme should allow him to have more leeway to become a playmaker once the opposing offense calls an audible when they smell the blitz coming. Last season this was a major flaw in the Rams defense as teams routinely exposed the holes in the secondary when trying to pressure the quarterback. Seattle backup quarterback Charlie Whitehurst had a career day hitting multiple open hot reads in the flats or over the middle once the Rams committed more than four rushers to get after the quarterback. The disguise often worked against the Rams and the Seahawks were able to pick up key first downs that extended drives and bleed valuable clock time."
Nick Wagoner of stlouisrams.com
says the Rams appear mostly healthy heading into camp.

Matt Maiocco of CSNBayArea.com
says the 49ers could levy $30,000 daily fines against Frank Gore if the running back does not report for training camp. Also: "The only veteran quarterback on the roster, David Carr, was informed Wednesday that he would be released. Teams are allowed to release players Thursday, beginning at 1:01 p.m. (PT)."
Also from Maiocco
: The 49ers have signed two draft choices and 18 undrafted free agents.
More from Maiocco
: Ray McDonald is getting "starter money" from the 49ers as the team shuffles its line prior to the expected departure of nose tackle Aubrayo Franklin.
Matt Barrows of the Sacramento Bee
thinks Eric Weddle's deal with San Diego will affect what Dashon Goldson gets in free agency. Barrows: "He is being pursued by multiple teams, including the 49ers. Earlier in the day, the Chargers re-signed one of their safeties, Eric Weddle, to a contract that will pay him $40 million over five years, including $19 million guaranteed. That's the highest contract ever for a safety and one that should serve as a basis for Goldson's deal."
Also from Barrows
: Jim Harbaugh's affinity for the tight end position.
Daniel Brown of the San Jose Mercury News
says Jeremiah Masoli had a feeling the 49ers would sign him.
Kevin Lynch of the San Francisco Chronicle
rounds up 49ers-related news, with notes on Gore, Nnamdi Asomugha and more.
June, 15, 2011
6/15/11
5:42
PM ET
The second in a series of items analyzing one player per NFC West team without a contract for 2011.
Dashon Goldson, FS, San Francisco 49ers
Age:
26
NFL seasons:
four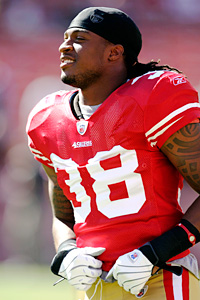 AP Photo/Ben MargotDashon Goldson had 80 tackles and one interception in 16 games for San Francisco last season.
Situation:
Goldson's status for free agency hinges upon the next labor agreement or whatever system goes into effect in the absence of one. Before 2010, players needed only four seasons to become unrestricted free agents. Goldson could revert to restricted free agency if players need more than four seasons. In that case, the 49ers would probably be able to re-sign him on a relatively modest one-year deal.
Matt Williamson of Scouts Inc.:
Goldson is better against the run than against the pass. I don't know that he recognizes things exceptionally well from a deep center-field perspective. But with his size, you want him at free safety, not strong safety. He is not a
Michael Lewis
, not an
Adrian Wilson
. He is good at a few things, but not great at any and I am not really sure what his niche is. He is an upgrade over what they have had in the past. You can win with him. He is a good player, but I don't think he is a featured player. If you had one more top-20 corner to add to that secondary, all of a sudden he might look a little better. But if you are needing him to make up for deficits on the edges, no. There are a ton of safeties on the market who are better than him.
Eric Weddle
,
Michael Huff
, those guys. You might tell him, 'See what you can get, let us know,' and if he can get a big number he goes, but if he comes back, you get him back at your price and everyone is happy.
My thoughts:
The 49ers' pass defense was worse than anticipated in 2010. Goldson went into the season with a chance to prove himself worthy of a lucrative long-term deal. He was definitely ascending coming out of his first season as a full-time starter. Goldson failed to continue on that trajectory. It wasn't all his fault, but the season showed that Goldson, unlike elite safeties, was not going to transcend a bad situation. Williamson's point about Goldson needing help at cornerback is well taken. The 49ers addressed the position in the draft, but not early enough to signal they've solved the problem altogether. Keeping Goldson as a restricted free agent would be ideal for San Francisco. The team's new defensive staff could then evaluate him over a full season. Goldson would also have much to prove.
March, 14, 2010
3/14/10
8:00
AM ET
Tom from Orange County, Calif., writes:
Mike, longtime Rams fan. Thanks for the coverage. Trade question for you: What do you think about Adam Carriker and the 33rd pick to Kansas City for Glenn Dorsey? Both players have not lived up to expectations and are playing out of position. Each could use a change of scenery.
Dorsey gives the Rams the potential game-changing tackle that they need, and justifies the Sam Bradford pick at No. 1. Carriker gives Kansas City the end the Chiefs need in the 3-4, and what is turning out to be a very valuable 33rd pick. Thanks for taking the question.
Mike Sando:
Good thinking, Tom. I don't know if the Rams would value Dorsey high enough to make that move, but if they thought he could basically be close to Ndamukong Suh or Gerald McCoy, why not? The quick reaction would be to dismiss any such comparisons, claiming Suh and McCoy are much better prospects. But a lot of prospects look better before they line up against NFL players week after week. Dorsey was considered a top-five talent when he entered the draft.
Here is what Scouts Inc. said about Dorsey when he was coming out of college:
"A squatty defensive tackle prospect with a thick build and very good quickness. Anticipates the snap well, explodes out of his stance and generally will win one-on-one battles with his initial burst. He plays with a non-stop motor. Stays active, using swim and rip moves to get off of blocks when necessary. Displays good upper-body power and the ability to knock linemen back on their heels with initial pop. Does a fine job of locating the ball once he's in the backfield and flashes good change-of-direction skills for his position. A powerful tackler when he can line up a hit. Also does a better job of taking on blocks in the run game than he gets credit for. He can be washed out by some bigger OL, but generally does a good job of staying low and holding his ground when asked to."
Durability concerns were singled out as the primary weakness. Dorsey has played in 31 of 32 games with the Chiefrs, starting 30 of them. The Scouts Inc. report said Dorsey would fit best in a one-gap scheme that would allow him to get upfield and disrupt offenses. The Rams are running that type of scheme. The Chiefs are not. You're right in suggesting that Carriker could fit better at end in a 3-4 scheme. Durability is a big concern with him, but that 33rd overall choice would have to tempt the Chiefs.
---
Michael From Lynchburg, Va., writes:
Why or what is Seattle waiting on? They need running backs, defensive backs, offensive linemen, a wide receiver, but no movement. Is the draft going to be their best bet?
I have been a fan since 1983, and since then I have seen draft pick after draft pick be a bust. Thomas Jones would have been good for us. Chester Taylor could have helped and Brandon Marshall would definitely be an upgrade from Deion Branch and Nate Burleson. I think Darren Sharper or Antrel Rolle would have been good for us, or Anquan Boldin at wide receiver. I would just be happy with some kind of movement.
Mike Sando:
It's human nature for fans to crave action once the signing period begins, but a lot of money has been spent foolishly in free agency over the years. The Redskins will be paying a $21 million bonus to Albert Hayensworth shortly and he might not even fit the scheme they are implementing.
It's also human nature for general manager and coach to undervalue the players they inherit. The Seahawks' previous leadership might have been more aggressive in keeping Burleson. I also think former general manager Tim Ruskell would have been more aggressive in free agency. That doesn't mean being aggressive in free agency would have necessarily served the team well, however.
This was a very weak free-agent class packed with aging, declining veterans. As I
tweeted
Saturday, there were 156 unrestricted free agents left and 139 would be 30 or older come September.
Seattle did finally add a tight end in Chris Baker (not a UFA, but rather a player whose contract was terminated). I thought the Seahawks might have been a little more aggressive in this signing period, given their needs and coach Pete Carroll's desire to improve quickly. But I also realize Carroll and general manager John Schneider want to go young. That's tough to do through free agency when so many of the younger players failed to hit the market as UFAs thanks to the current labor situation.
The team will probably sign an offensive lineman or two. Ben Hamilton could make sense. He lost his job in Denver largely because the Broncos were changing to a scheme that did not fit him. The Seahawks are adopting the scheme Hamilton ran for years.
The Marshall situation could take time to play out. There's no sense in the Seahawks bidding against themselves. They can afford to wait on that one, probably.
---
Edward from Tempe writes:
Sando, you mentioned in your NFC West Draft Watch that selecting Alan Branch in 2007 was a mistake; he was the first selection in the second round that year. He missed a few games his first year but then played the remainder. He might not be what the Cardinals had hoped, but do you see him more now as a situational position player? I mean, he has shown some signs of life this past year, so maybe not all is lost.
Mike Sando:
Drafting Branch didn't give the Cardinals a reliable nose tackle. The pick was a "mistake" from that standpoint. He did show some promise playing defensive end. All is not lost. And when you look at the players drafted immediately after Branch that year -- Paul Posluszny, Arron Sears, Kevin Kolb, Eric Weddle, Zach Miller, Justin Blalock, John Beck, Chris Houston, Tony Ugoh, Drew Stanton -- it's not like all were home runs.
---
Scott from Maryland writes:
Do you think the Niners could trade away their 17th pick this year and first-rounder next year to the Browns for their first-rounder? If the Rams take Sam Bradford, there could be a good chance that Eric Berry falls to the Browns' pick. However, the Browns have so many holes and Mike Holmgren is familiar with the Niners. I think it could benefit both teams.
Mike Sando:
Would that be the best use of draft capital for the 49ers, though? They would have no first-rounder in 2011, just to move up 10 spots? I wouldn't give away that future pick.
---
Joe stationed in Germany writes:
Sando, love the blog. One of the best sources of info on the net. Please keep up the great work. With the Colts releasing Ryan Lilja, can the 49ers maybe use him? I know we really need an offensive tackle, but seems they are in need of depth and talent on the offensive line over all. I Think Lilja has proved the injury is better after a full season of starting and he has experience. My only concern is that the Colts were not a running team, but he has got to be a good pass protector. That and I was hoping for something better than David Carr for us in the free agency. Just some thoughts. What do you think?
Mike Sando:
Thanks for the support, Joe, and your service. Lilja doesn't fit the 49ers' profile for offensive linemen because he's a smaller guy, listed at about 290 pounds. I just don't see him fitting what they want. At quarterback, the 49ers decided to trade what they knew -- Shaun Hill -- for a bit of a wild card in Carr. I understand their desire to shake up the position. They had tried Hill and decided he wouldn't be the starter. Could they have done better than Carr? I'm with you a little bit. Not expecting very good things from him.
---
Cal from Daly City, Calif., writes:
What are the NFL rules on signing multiple restricted free agents? if a team wanted to, could they sign two RFAs, both with a first-round tender attached? If so, how do they work out the draft picks involved?
Mike Sando:
A team could sign more than one RFA only if it had its own first-round choice and a better first-round choice available as compensation.
---
Blazzinhawk from Spokane, Wash., writes:
Why not trade Deion Branch and the 14th to denver for Brandon Marshall and a third-rounder? Sounds good to me.
Mike Sando:
My initial thoughts also focused on a way for Seattle to recoup a third-round choice, given that the team does not own one. Your proposal would allow the Broncos to get back their own first-rounder as well. Your proposal assumes the Broncos would do such a deal. I think Seattle might be waiting to see if the price is lower.
---
Eri from Los Angeles writes:
What would you say percentage-wise is the Rams' chances of landing Michael Vick? And why do I hear Donovan McNabb as an option for the Rams as well?
Mike Sando:
Looks like the Vick-to-St. Louis chatter has gone away. I wonder if the pending ownership change has diminished the team's interest. On McNabb, I still do not believe Andy Reid wants to trade him.
---
Jerry from Mishawaka, Ind., writes:
Mike, I've read that Denver is not negotiating with any team to trade Brandon Marshall. If that's the case, then Seattle should find a team from the 12 to 23 range to trade the sixth overall pick to for that team's first-round pick and a second- or third-round pick, depending on the value of that team's first-round pick.
Then sign Marshall to an offer sheet. Denver gets the pick it wants for him, Seattle comes out on top with Marshall and the Seahawks don't have to pay the cash for a sixth overall player, plus Seattle still has three picks in the first three rounds , and the team that got that sixth pick could get a player to replace what they lost.
Green Bay comes to mind in this scenario becaause most GMs like to work out trades with their former teams. Also, Green Bay could use the sixth overall pick to draft a defensive end to replace Kampan. What are your thoughts?
Mike Sando:
The effort is appreciated, but there would be a few problems with such a scenario. One, rules require teams to possess their own pick or a better pick in the relevant round before signing a restricted free agent. Two, most teams would rather pick 12th through 23rd instead of sixth. Third, Green Bay in particular wouldn't want to move up that high, in my view. Their general manager, Ted Thompson, seems to prefer moving back to add picks (the Packers have drafted a league-high 51 players since Thompson took over in 2005).
---
Michael from Midland, Texas writes:
Hey Sando, As an avid 49ers fan in the heart of Cowboys country, I just want to thank you for your solid coverage of the 9ers. I just wanted to bounce some ideas off of you in terms of draft/free agent acquisitions.
By my way of thinking, the 49ers have three key needs to make them a playoff contender: right Tackle, inside linebacker to pair with Patrick Willis and a cornerback to start opposite Shawntae Spencer. I know a lot of talking is being made of finding a dynamic return man, but I consider that more of a luxury than an absolute need.
Anyway, enough preamble. My actual question is, what do you think are the chances of the 49ers emerging from the first two rounds of the draft with some combo of Trent Williams/Bruce Campbell/Mike Iupati, Eric Berry/Taylor Mays and Devin McCourty/Kareem Jackson?
Also, do you know if the 49ers are taking any looks at Larry Foote or Pisa Tinoisamoa? Seems like either of those guys would be a good fit at will linebacker for the 49ers and we could probably get them relatively cheap.
Mike Sando:
Thanks for the support. Good questions, too. Would Foote be better than Takeo Spikes at this point? That could be a consideration. Tinoisamoa seems too small to fit in a 3-4 defense. He goes about 230 pounds.
I could see Williams and possibly even Iupati. Berry would seemingly be gone by the time the 49ers selected. Mays could be there, but I'm not sure where teams are going to value him. He seems like a higher-risk player, but the measurables could appeal from a pure personnel standpoint.
The corners you mentioned sound promising. Jackson would be the bigger of the two, and that could be important to the 49ers. San Francisco is past due to draft a cornerback somewhere relatively early. General manager Scot McCloughan's teams haven't drafted a cornerback in the first two rounds since 2003 (Marcus Trufant, when McCloughan was with Seattle).
Don't forget about quarterback as a potential need, too. Alex Smith and David Carr aren't exactly perennial Pro Bowl players.
---
Mike from Seattle writes:
Hey Mike, just wanted to say keep up the good work and I really appreciate on how quickly you update your stuff. Well, I have a quick question that you can clear up for me. I thought Mike Holmgren was hired to be the president of football operations, and he retained the current coaching staff. I was just curious why he made a trade for Seneca Wallace, unless he wants him at Wildcat. I was just wondering why there are articles that was written that Holmgren wanted Seneca because he knows the offense.
Mike Sando:
I keep forgetting that Holmgren isn't coaching the team and I have a feeling I'm not the only one. Holmgren is a coach at heart. I even asked him at the combine how in the world he would be able to watch another coach run practice. He joked about having hired two security guards to restrain him in case his instincts take over and he feels the urge to run out there and blow a whistle.
Holmgren does want the Browns to run his offense. His offensive coordinator in Seattle, Gil Haskell, is already onboard in Cleveland. One of his other trusted offensive coaches, Keith Gilbertson, is also there. None of us should be surprised if Holmgren is coaching the team in another year or two.
---
Ryan from Puyallup, Wash., writes:
Hey Sando, here's a kicker question for ya. Are the Cardinals planning on moving on from Neil Rackers? he's a free agent and I figured the cardinals would have resigned him. Minus the playoffs, where I belive his groin injury was still affecting him, he is a really good, reliable kicker. You think that they are just planning on drafting a kicker in the late rounds?
Mike Sando:
The Cardinals would probably go in another direction if Rackers demanded a lucrative deal. Coach Ken Whisenhunt was clearly not happy with Rackers' injury situation in the playoffs, indicating he thought Rackers was healthier than Rackers wound up being. Re-signing Rackers does not appear to be a priority, although I think he could come back for the right price.
August, 18, 2009
8/18/09
8:45
AM ET
Posted by ESPN.com's Mike Sando

Matt Maiocco of the Santa Rosa Press-Democrat says 49ers linebacker Patrick Willis welcomes the opportunity to wear the radio headset in his helmet after resisting the technology last season. Willis: "It verifies that this is my show to run."
Matt Barrows of the Sacramento Bee says Willis suffered his ankle injury during a nutcracker drill Aug. 3. Offensive lineman David Baas also suffered an injury during the drill. On another front, defensive coordinator Greg Manusky sounded more optimistic than coach Mike Singletary on the 49ers' pass rush against Denver in the exhibition opener.
Taylor Price of 49ers.com says Brit Miller and Reggie Smith appear to be making successful position changes.
Daniel Brown of the San Jose Mercury News
previews the 49ers' upcoming practices with the Raiders in Napa. Raiders coaches are presumably looking forward to fighting with assistants wearing different uniforms.

Kent Somers of the Arizona Republic says Cardinals coach Ken Whisenhunt doesn't want to hear whispers about his team running a soft camp. Whisenhunt: "This system has worked pretty good for the last seven, eight years I've been around. We've been to two Super Bowls -- won one, lost one -- been to three or four [conference] championship games."
Also from Somers: Whisenhunt expects Michael Ray Garvin to miss only a week or two even though the receiver might need surgery to repair a torn meniscus in his left knee.
More from Somers: Jerheme Urban might be the MVP of training camp for the Cardinals.
Darren Urban of azcardinals.com checks in with the Cardinals' offensive line. Guard Reggie Wells: "There aren't many offensive lines called upon to do what we do week in and week out, not just from the scheme aspect but also protecting as many times as we do and not have guys mentioned for Pro Bowl and things like that. It underestimates the abilities of guys on that line."
Also from Urban: Antrel Rolle points to an abundance of Cherry Blossom Lotion on his arms as the reason for a fumble. Seriously.

Gregg Bell of the Associated Press describes Walter Jones' latest apparent back trouble this way: "The 35-year-old linchpin to Seattle's offensive line for the past decade was practicing for the third time since training camp began July 31. He took part in one series with the starting offense, then left the field in pain. He stood and kneeled next to a trainer while wincing and holding his back for a few moments. He eventually summoned the trainer to escort him into team headquarters."
Greg Johns of seattlepi.com says Seahawks cornerback Kevin Hobbs wasn't to blame for a deep pass he appeared to allow in the exhibition opener. Overall, though, coach Jim Mora wasn't very happy with the secondary.
Danny O'Neil of the Seattle Times says Seahawks rookie Deon Butler wasn't returning punts in practice Monday, likely a reflection of his struggles in that area Saturday.
Also from O'Neil: Mora downplays Jones' exit from practice.
Eric D. Williams of the Tacoma News Tribune sizes up Aaron Curry's debut performance for Seattle. Mora might have put it best when he said Curry "didn't stand out negatively."
Also from Williams: None of the Seahawks' young receivers stood out from the others Saturday night.
John Morgan of Field Gulls wonders whether Deion Branch fits in the Seahawks' new offense. Morgan on a play from the Seahawks-Chargers game: "Eric Weddle discarded a blocking Deion Branch on Julius Jones two yard rush. If Branch is traded, it might not be his injuries but his fit within this offense that instigates the move."
Also from Morgan: Brandon Mebane is the key to Seattle's defense. So far, so good.

Jim Thomas of the St. Louis Post-Dispatch checks in with Kyle Boller, the Rams' starting quarterback while Marc Bulger recovers from a finger injury. Boller: "It's not my first rodeo. I've been a starter. I've been out there. So I'm just going to go out there and be myself. Be a leader, and lead this team to hopefully a lot of scoring drives."
Bryan Burwell of the St. Louis Post-Dispatch says Steve Spagnuolo appears to have the "it" factor as the Rams' head coach. Burwell: "On Monday afternoon, as he met with reporters to discuss the news that starting quarterback Marc Bulger would miss at least the next two weeks with a broken finger on his throwing hand, Spags was totally unfazed by the sort of development that might freak out most neophyte NFL coaches."
Bill Coats of the St. Louis Post-Dispatch says the Rams' Adam Goldberg is helping his eventual replacement on the offensive line, Jason Smith. Goldberg: "I take that as part of my role. But I'll tell you what, [Smith] doesn't need too many tips. He's going to be a really good football player."
Turf Show Times' VanRam wonders what happened to Kenneth Darby.
April, 4, 2009
4/04/09
1:35
PM ET
Posted by ESPN.com's Mike Sando
The Seahawks hold the fourth, 37th, 68th, 105th, 137th, 178th, 213th, 245th, 247th and 248th choices in the 2009 draft. For perspective, I've singled out the last four players chosen in those spots.
Seattle drafted one of those players: offensive lineman Ray Willis, taken 105th in 2005, Tim Ruskell's first season as team president.
The Seahawks have four seventh-round choices this year. Ruskell's teams have fared well drafting in the seventh round. The last five players his teams have drafted in the round remain on NFL rosters, all drafted since 2006: Justin Forsett, Brandon Coutu, Steve Vallos, Ryan Plackemeier and Ben Obomanu.
Ninety-five of the 132 seventh-round choices drafted by other teams during the same span remain on NFL rosters.