April, 10, 2014
Apr 10
10:00
AM ET
By
ESPN.com staff
| ESPN.com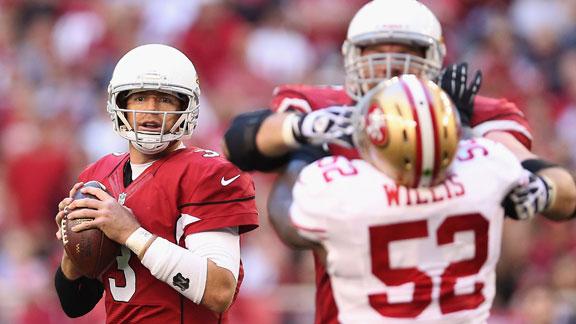 Catch us if you can.
That's a message the
Seattle Seahawks
could send out to the rest of the NFC West.
It is also something the
San Francisco 49ers
might say to the
Arizona Cardinals
and the
St. Louis Rams
. But the Cardinals and Rams might have a statement of their own: We're coming for you.
By almost everyone's estimation, the NFC West is the best division in the NFL. It includes a Super Bowl champion in Seattle along with a team in San Francisco that, arguably, came up one play short of reaching its second consecutive Super Bowl.
It also includes a team in Arizona that won 10 games, one of which was a victory at Seattle -- the Seahawks' only home loss in 2013. And there's a team in St. Louis that won two of its last three games to finish 7-9 while playing most of the season without starting quarterback
Sam Bradford
.
So the question heading into 2014 is whether the Cardinals and Rams are in position to catch the Seahawks and 49ers. Have Arizona and St. Louis closed the gap on what might be the NFL's two best teams?
The Cardinals have been active in free agency, signing cornerback
Antonio Cromartie
, offensive tackle
Jared Veldheer
, tight end
John Carlson
, receiver/kick returner
Ted Ginn
, running back
Jonathan Dwyer
and offensive lineman
Ted Larsen
.
Clearly, the competition in this division keeps getting better.
The four writers who cover the division for ESPN.com's NFL Nation -- Terry Blount in Seattle, Bill Williamson in San Francisco, Josh Weinfuss in Arizona and Nick Wagoner in St. Louis -- take a look at where things stand in the NFC West on four key topics. We also polled our Twitter followers to find how they viewed the issues.

The Cardinals have made significant moves in free agency. The Rams, aside from keeping Rodger Saffold, have mostly stood pat. Which is closer to the playoffs?
Terry Blount: This is a no-brainer for me. The Cardinals are a team on the rise with one of the NFL's best coaches in Bruce Arians. He took a 5-11 team and transformed it to 10-6 in one season. He was 9-3 at Indianapolis in 2012 while filling in for Chuck Pagano. Arizona was 7-2 in its last nine games and won three of the last four, with the only loss being 23-20 to the 49ers in the season finale. The Cardinals could become a serious challenger to the two-team stronghold of Seattle and San Francisco. However, I do believe the Rams will have a winning season if they can hold their own in the division games.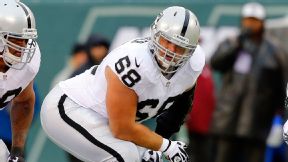 Nick Wagoner: It's hard to evaluate this without seeing what happens in the draft, especially with the Rams having two premium picks. Even then it would be unfair to judge right away. Still, I have to go with the Cardinals. They were trending up at the end of the season and patched a big hole with offensive tackle Jared Veldheer. Losing Karlos Dansby was a blow, but adding cornerback Antonio Cromartie to a talented stable at the position makes them better. The Rams, meanwhile, are clearly counting on a whole lot of in-house improvement and a big draft. Keeping Saffold was important (and lucky), but it seems risky to pin all hopes on a leap to the playoffs on a group of young players all making a jump at the same time.
Josh Weinfuss: Arizona is the easy answer, and that's not because I cover them. The Cardinals were 10-6 last season and the first team kept out of the postseason. All the Cardinals have done this offseason is fix deficiencies and plug holes. Their offensive line got markedly better with the addition of left tackle Jared Veldheer. Their wide receiver corps and kick return game were solidified with Ted Ginn, and they now have one of the best cornerback tandems in the league with Antonio Cromartie coming on board. General manager Steve Keim looked at what went wrong in 2013 and went to work on fixes. It should put the Cardinals over the playoff hump.
Bill Williamson: It has to be Arizona. The Cardinals were so close to making the playoffs last season. They would have likely been dangerous in the postseason too. I like the way this franchise is shaping up. It seems like it is well run and well coached. The roster is also getting deep. Carson Palmer will have to be replaced sooner or later, but the Cardinals are on to something. The Rams certainly have some nice pieces and are probably the best fourth-place team in the NFL, but they aren't close to matching what Arizona has going for it.
@joshweinfuss With the offseason the @AZCardinals have had I'd go with them. The rams are a solid offense away but AZ got the pieces needed.

- Joshua Bodrero (@JBodrero) March 25, 2014
---

The Seahawks and 49ers played for the NFC title in January. Any reason to believe either won't return to the postseason?
Blount: They were the two best teams in the NFL last season, and there's no legitimate reason to think they won't be among the best in 2014. Seattle has lost 10 players who were on the Super Bowl roster, but other than wide receiver Golden Tate, none of them were on the team's priority list to keep. The 49ers move into a shiny new stadium. The only question for San Francisco is the precarious relationship between coach Jim Harbaugh and team executives. Who knows what the future holds there, but it shouldn't matter on game day.
Wagoner: Aside from some debilitating injuries, it's hard to see how either team has taken a major step back. The Seahawks have lost some good players in free agency, but even those players seemingly already had replacements in place. Nobody does a better job of developing talent than Seattle. The Seahawks still have holes to patch on the offensive line and losing receiver Golden Tate is a blow, so there could be some hope the offense will regress. But the defense makes it all go, and it doesn't look like it's going to lose any of its most prized components. As for the Niners, they are the more likely of the two to take a step back, but it's hard to see them taking enough of one to fall out of the postseason. For most of their key free-agent losses they were able to quickly come up with a replacement as good or better than the player lost, and retaining Anquan Boldin says they are looking to make another run at the Super Bowl. Plus, they will have a fully healthy Michael Crabtree ready for the season. Until proven otherwise, these two teams remain the class of the NFC and probably the NFL.
Weinfuss: The only reason either of them won't make the playoffs in 2014 is because the Cardinals or Rams will take their place. The gap between the top and bottom of the NFC West has closed significantly this offseason, making the West much like the Southeastern Conference in college football; everybody will beat up on each other. It's likely the West, if it's anything like last season, can see three teams in the playoffs -- its champion and the two wild cards. If one of the teams between Seattle and San Francisco were not to make it, it's tough, but I think Seattle might slip. The Seahawks lost a significant part of their defensive line and will be going through a Super Bowl hangover. That's risky to deal with and still make the playoffs. On the other hand, San Francisco will be hungry from losing to Seattle in the NFC Championship Game.
Williamson: I believe these are the two best teams in the NFL. So it's difficult to fathom that either team won't find its way into the playoffs, barring major injuries. Arizona, though, could create an issue for the Seahawks and 49ers. The Cardinals are going to win a lot of games, so both Seattle and San Francisco have to be careful or things could get tricky. In the end, I can see all three teams making the playoffs. This is the reason this division is so intriguing and so fun: Every game is critical. There is just not much room for error. Look at the 49ers last year. They went 12-4, but a 1-2 start hamstrung them. They could never fully recover despite having a great overall regular season. The same intensity will be a factor in 2014 in the NFC West.
@TerryBlountESPN The Cards and Rams are pretty good. They'll be fighting for 2nd place behind the Seahawks.

- Danny ®" (@Dah_knee) March 26, 2014
---

Will Rams quarterback Sam Bradford come back strong from an ACL injury, and what effect will he have on St. Louis having its coveted breakthrough year?
Blount: I think Bradford will be fine as far as the ACL goes, but this is a make-or-break year for him in my view. Bradford was playing pretty well before his injury last year, but the verdict still is out whether he can be an elite quarterback. He enters this season with the best supporting cast he's ever had, but playing in this division with teams that emphasize physical defensive play makes it difficult to show improvement.
Wagoner: All indications from the Rams are that Bradford's rehab is coming along well and he's on schedule to make his return in plenty of time for the start of the regular season. He apparently had a clean tear of the ACL, but he has been rehabbing for a handful of months and should resume throwing soon. Bradford's healthy return means everything to the Rams' chances in 2014. Believe it or not, this is his fifth season in the NFL and, much like the team, this is the time to make some noise. The Rams attempted to open up the offense in the first quarter of 2013 with Bradford to miserable results. They switched to a more run-oriented attack in Week 5 and the offense performed better. Bradford also played better as the run game opened up play-action opportunities in the passing game. It will be interesting to see if the Rams choose to go a bit more balanced with Bradford at the controls or if they continue at the same run-heavy pace they played with backup Kellen Clemens. Either way, Bradford's contract has two years left on it. If he wants a lucrative extension, this is the time to prove he's worth it.
Weinfuss: Short answer, yes, Bradford will come back strong. Just look at how he started in 2013. He was on pace for a massive year statistically before he got hurt. If he can pick up where he left off, Bradford will return with a bang and show he's still one of the better quarterbacks in the league. As we've seen, a top-tier quarterback can be the difference between sitting idle in the standings and having a breakthrough year. With the talent that surrounds the Rams, with tight end Jared Cook, running back Zac Stacy and wide receivers Tavon Austin, Chris Givens and Austin Pettis, among others, Bradford may singlehandedly help close the gap between the Rams and the top of the NFC West.
Williamson: I have to be honest: I'm not a big Sam Bradford guy. I think he's just OK. Just OK doesn't cut it in this division, especially considering the defenses he has to play six times a season in the NFC West. He's serviceable, but he's not the answer. Given the state of this division, I cannot envision a scenario where Bradford is the reason the Rams become the class of the NFC West. I think they can get by with Bradford for the short term, but the Rams are going to have to start thinking about the future at this position much earlier than expected when Bradford was the No. 1 overall pick of the 2010 draft.
@nwagoner @Ryan_STL1 he's going to be the reason whether they go to the playoffs or not. If it doesn't happen this year it's time to give up

- Nick Green (@duttynick) March 24, 2014
---

If you had to start a team with either Seahawks QB Russell Wilson or 49ers QB Colin Kaepernick, whom would you choose?
Blount: You must be kidding. Give me Wilson every time, every day in every situation. Yes, Kaepernick is 5 inches taller than Wilson. Is there really anyone left who thinks Wilson's lack of height matters? Wilson also is at his best in pressure situations. He lives for it. And he is a more polished person on the field, and off it, than Kaepernick. That's not an observation. It's a fact. But this isn't a rip on Kaepernick. You would be hard-pressed to find any 25-year-old as polished as Wilson. The 49ers can win a Super Bowl with Kaepernick, and probably will soon. But if I'm starting a team, whether it is in football or almost any other life endeavor, I'll take Wilson without a doubt.
Wagoner: Wilson. For those of us covering other teams in the division, it's hard not to admire what he brings to the table. He presents himself as the consummate professional, and even opponents praise him for his work habits, intelligence and ability. He's already got the Super Bowl ring, and it's easy to see how he could add a few more. He's not all the way there in terms of his potential either, and it's probably safe to assume he's just going to keep getting better as his career goes along. That's nothing against Kaepernick, who is a unique talent in his own right, but there aren't many young quarterbacks in the league worth choosing over Wilson.
Weinfuss: Russell Wilson would be my pick, mainly because of his poise and maturity behind center. Colin Kaepernick is undoubtedly talented, but I get the sense he still has a lot of growing to do as a quarterback. He's tough to bring down, especially in the open field, but when he's pressured in the pocket, Kaepernick seems to panic and I wouldn't want that in a quarterback. I also think Wilson, despite his physical stature, is built to last. He's heady enough to stay out of harm's way, and his poise in the huddle will go a long way in leading a team.
Williamson: I'd take Kaepernick. I know it's a tough sell right now, since Wilson's team has beaten Kaepernick and the 49ers three of the past four times they've met, including the NFC title game, and the fact that Wilson has won a Super Bowl. I respect the value of Super Bowl wins and believe quarterback is the most critical position in sports. I'm sure I will smell like a homer with the Kaepernick pick. But moving forward, I just think Kaepernick has a higher ceiling. I think he can take over games more than Wilson can at a higher rate. Players built like Kaepernick and as athletic as Kaepernick just don't exist. He is special. He works extremely hard at his craft and is well coached. I'd take him, and I wouldn't look back. This isn't a knock on Wilson. He is proven and is going to be great. But if I'm starting a team, I'm taking Kaepernick, and I bet more general managers would agree than would disagree.
@BWilliamsonESPN Wilson. Controls the game & makes all the plays. Kaeps athletic advantage will fade overtime as Wilson's mental edge grows.

- HTB (@HoldenTyler) March 25, 2014
June, 18, 2013
6/18/13
12:47
PM ET
Coach Pete Carroll and general manager John Schneider made headlines in 2010 for their willingness to constantly churn the
Seattle Seahawks
' roster. Three years later, they've built the roster to a point where player retention has become a bigger focus.
As the chart below shows, Seattle has on its 90-man roster players responsible for logging 87.4 percent of offensive and defensive snaps last season. That is the highest percentage in the division.
The chart at right shows the 2012 contributors no longer on the roster. Note that tight end Anthony McCoy landed on injured reserve after suffering a torn Achilles' tendon during organized team activities.
Seattle moved on from defensive tackle Alan Branch, defensive lineman Jason Jones, linebacker Leroy Hill and cornerback Marcus Trufant after those players played fairly meaningful roles in 2012. The draft brought defensive tackles
Jordan Hill
and
Jesse Williams
. Free-agent addition
Cliff Avril
will affect the rotation at linebacker, where Hill's production had waned.
Antoine Winfield
replaced Trufant as Seattle sought to upgrade its nickel corner position.
Note:
The percentages at defensive back changed slightly for Seattle since Monday when I included the 122 snaps safety
Jeron Johnson
played. I had accidentally excluded his snaps from consideration.
November, 4, 2012
11/04/12
10:00
AM ET
Our latest look at playing time in the NFC West, with an eye toward fantasy football and continuing with tight ends:
November, 1, 2012
11/01/12
9:30
AM ET
The
Seattle Seahawks
could use a good second tight end such as
John Carlson
.
The
Minnesota Vikings
could use a receiver with size to threaten opponents downfield the way
Sidney Rice
did for the team a few years back.
Of course, the Seahawks had Carlson on their roster last season. They lost him to Minnesota when the Vikings paid a premium for him in free agency. Carlson has been hurt and unable to help his new team much. Seattle had had trouble finding a reliable second tight end. The Seahawks released
Kellen Winslow
. They watched
Evan Moore
drop what would have been a game-changing reception at San Francisco two weeks ago.
The Vikings had Rice on their roster two seasons ago. They lost him to Seattle when the Seahawks paid a premium for him in free agency. Rice struggled with injuries last season. He remains in the early stages of fulfilling expectations with the Seahawks even while emerging as clearly the team's top receiving threat in 2012.
The lesson here is that free agency can often do more harm than good to teams and careers.
The money can make it all worthwhile for players, of course. Teams likewise have budgets to maintain. And in the cases of Carlson and Rice, there were no guarantees either would have flourished had they remained with their original teams.
But with the Vikings and Seahawks facing one another in Week 9, the stories of Carlson and Rice have come into focus. Both were young players when they left their original teams. Both had been relatively high draft choices. Both were worth keeping, but not at any price. And both are missed.
NFC North blogger Kevin Seifert offers additional thoughts in the video.
October, 23, 2012
10/23/12
6:20
PM ET
Looks like I forgot to run one of the customary post-defeat "Silver linings" files. Thanks for the heads up on my Facebook page, Pete.


The facts:
The
Seattle Seahawks
fell to 4-3 with a 13-6 defeat to the
San Francisco 49ers
in Week 7.
The upside:
Even the worst defeats tend to feature a bright spot or two.
Officials assessed only three penalties against the Seahawks, the third time in four games Seattle had five or fewer in a game. The team had 32 over its first three games.
Marshawn Lynch reached 100 yards rushing for the second time in his past two games against the 49ers.
Seattle allowed 27 percent conversions on third down.
The Seahawks allowed one touchdown in four red zone possessions, picking off 49ers quarterback Alex Smith on one of those possessions.
Jason Jones and Greg Scruggs recorded sacks.
Seattle allowed zero receptions to 49ers tight end Vernon Davis, who had caught at least one pass in 58 consecutive games.
Center Max Unger received high marks for his work against 49ers nose tackle Isaac Sopoaga as Seattle averaged 4.7 yards per carry.
Russell Wilson threw accurately on deep passes for tight end Evan Moore and running back Robert Turbin.
The Seahawks allowed only one offensive touchdown for the fifth time in seven games.
Seattle limited an opponent to three or fewer points in the first quarter for the sixth time in seven games. The team has allowed 16 points in seven first quarters.
Seattle is finished with its divisional road schedule.
Looking ahead:
The Seahawks visit Detroit in Week 8.
October, 23, 2012
10/23/12
9:35
AM ET
FALLING
1. Division QBs.
NFC West quarterbacks tossed three touchdowns with four interceptions and 13 sacks in Week 7. Together, their Total QBR (26.0) was the lowest for quarterbacks from any division. There was a fumbled snap on a third-down play (
Sam Bradford
), an interception in the end zone (
Alex Smith
), a pick returned for a touchdown (
John Skelton
) and a 39.1 percent completion percentage (
Russell Wilson
). Bradford was better than the others. Rams coach Jeff Fisher even singled out Bradford for having perhaps his best game when it came to changing plays at the line of scrimmage. Overall, however, this was a rough week for the position.
2. Rams' pass defense.
The Rams have zero interceptions over their past three games after picking off eight passes in their first four. They have allowed five scoring passes over their past two games after allowing two in the first five games. Fisher singled out rookie
Janoris Jenkins
for another mental lapse, this one for letting a penalty flag distract him during what became a 52-yard pass play for the Packers. Even defensive end
Chris Long
struggled. He finished the game with an assisted tackle and not much else.
3. Seahawks' hands.
Golden Tate
,
Robert Turbin
,
Evan Moore
and
Marshawn Lynch
dropped passes during the Seahawks' 13-6 defeat at San Francisco. It's tough to win when completed passes (nine) roughly double the total for drops.
4. Vernon Davis, 49ers TE.
Consider this a temporary downgrade based solely on Davis' receiving numbers over the past two games. As coach Jim Harbaugh noted, Davis handled his blocking assignments, and there will be games when even the best tight ends don't factor into the passing game as much. It's just strange to see Davis go a full game without the 49ers even targeting him. Davis' 58-game streak with at least one reception ended against the Seahawks.
[+] Enlarge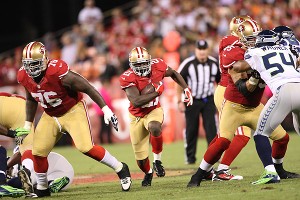 Michael Zagaris/San Francisco 49ers/Getty ImagesFrank Gore found plenty of room to run against the Seahawks.
RISING
1. Frank Gore, 49ers RB.
Gore rushed for 131 yards against a Seattle defense that was the NFL's last to allow a 100-yard rusher this season. The 49ers' guards get plenty of credit, too. They helped execute the trap plays for which Seattle had no answer. Gore played through bruised ribs and helped the 49ers dominate time of possession in the second half.
2. LaRod Stephens-Howling.
The diminutive Stephens-Howling wasn't built to carry the football 20-plus times against NFL defenses. He did it anyway Sunday, rushing 20 times for 104 yards against the
Minnesota Vikings
. This was only the third time Stephens-Howling has had more than 11 carries in the game. It was only the third time he has reached 50 yards rushing in a game. The Cardinals are desperate at the position while playing without
Beanie Wells
and
Ryan Williams
. Stephens-Howling answered the call and ran with disregard for his body.
3. Robert Quinn, Rams DE.
The Rams' pass defense struggled overall, but Quinn was outstanding against the Packers. Rams coaches credited Quinn with six pressures and four quarterback hits. The rest of the team had five pressures and two quarterback hits. That's what the Rams are looking to see from their 2011 first-round draft choices. Quinn has seven sacks in seven games.
4. Rams' roster churn.
The Rams protected the passer quite well and ran the ball effectively (93 first-half yards) despite having a left tackle (
Joe Barksdale
) and left guard (
Shelley Smith
) making their first NFL regular-season starts. Let's flip that around. The Rams fared well on their line because they gave Barksdale and Smith a chance. A year ago, they might have gone with a veteran backup such as
Adam Goldberg
. They would have taken some comfort in the known, with no chance for discovering or developing young talent. Perhaps one or both of these young players will stick around. The team also signed 2008
Chicago Bears
first-round choice
Chris Williams
.
October, 14, 2012
10/14/12
10:00
AM ET
A periodic look at which players are playing and when, concluding with the Seattle Seahawks' offense:
September, 6, 2012
9/06/12
4:10
PM ET
We spent part of Wednesday
discussing
a reported failed physical examination for
Kellen Winslow
in New England.
ESPN's Adam Schefter cites two league sources as saying
Winslow never failed a physical
with the Patriots.
What to make of the situation? As noted Wednesday, Winslow's release from the Seahawks did not carry a "failed physical" designation. He was healthy enough to play.
Winslow has shown an ability to stay on the field during regular-season games. He has shown he can be productive as a receiver. Still, Winslow's chronic knee problems are a leading factor in setting his value, failed physical or not. As discussed Wednesday, it's an upset if another team pays him the more than $3 million that Seattle would have owed Winslow had he remained on the roster for Week 1.
Also, Seahawks coach Pete Carroll left open the door for re-signing Winslow at some point during the season. Winslow would have to be open to that as well. The sides would have to settle on fair value. The market will tell Winslow what he's worth at this point. In the meantime, Seattle will find out whether
Zach Miller
, Evan Moore and Anthony McCoy can provide what the team wants from the position.
September, 4, 2012
9/04/12
8:51
AM ET
The
San Francisco 49ers
made it through last season just fine with only three outside linebackers on their roster.
Whether they can do so as well this season probably won't be known right away.
Replacing the injured
Parys Haralson
with former
Arizona Cardinals
starter
Clark Haggans
was a move that will play out over the season, not over the next couple weeks. That is why the DUI-related suspension Haggans could be facing might not hurt the team all that much if it happens at all. That assumes
Aldon Smith
will be healthy enough to contribute fully.

Matt Barrows of the Sacramento Bee
explains the situation in detail: "The 49ers also will be playing two pass-oriented offenses over the first two weeks: Green Bay and Detroit. That means they likely will be in their nickel formation for much of those games. In those instances,
Demarcus Dobbs
would be able to fill in as an extra pass rusher if there were more injuries at outside linebacker or if the 49ers wanted to give one of their linebackers a rest. The team released four outside linebackers last week, including their preseason sack leader,
Eric Bakhtiari
. The team also was impressed with
Ikaika Alama-Francis
, who joined the team late in the summer but who looked good in the finale Thursday."
Noted:
If Smith misses time and Haggans receives a suspension, the 49ers will find themselves in a tough spot. Smith, Haralson and
Ahmad Brooks
were the outside linebackers last season. Each played in all 16 games.
Taylor Price
of 49ers.com looks at the team's captains for 2012.
Tim Kawakami of the San Jose Mercury News
explains why he's picking someone other than the 49ers for the Super Bowl this year. Kawakami: "The 49ers are just barely out of my Super Bowl consideration because, in retrospect, maybe last year was when it all lined up for them… and they were a close miss. Can everything that went right for Jim Harbaugh's crew in 2011 go so smoothly in 2012? The 49ers are immensely talented, but injuries and bad breaks have a way of evening out from year to year. So I'm going to skip ahead to the 2013 campaign for any 49ers Super Bowl prophesizing."

Jim Thomas of the St. Louis Post-Dispatch
offers a feel for what it's like when little-known players receive their release.
Terrance Ganaway
, one of the newest Rams, on his recent departure from the Jets: "I never go out, and I don't drink, but we went to the bar and we just watched the (Aug. 30) Philadelphia-Jets game, which was on replay. And the bartender asked us: Were we Jets fans?"
Bernie Miklasz of the St. Louis Post-Dispatch
says the Rams resemble an expansion team after gutting the roster under new coach Jeff Fisher and new general manager Les Snead. Miklasz: "That notion will anger and frustrate some, but that's how I see it. And it doesn't bug me, because I've avoided delusional behavior to take the long view since Fisher and Snead set up at Earth City. This disaster wasn't going to be cleaned up in a year, or after one offseason. I'd rather see the new bosses start fresh, start over, and cultivate a roster that can grow. That makes more sense than keeping older, marginal players employed."
Stephen Holder of the Tampa Bay Times
says the Seahawks will not owe a conditional draft choice to the Bucs for
Kellen Winslow
because the teams' trade was contingent on Winslow appearing on the 53-man roster. He says the Bucs would get a pick if Winslow re-signed with the Seahawks.
Noted:
The first part is consistent with what we knew at the time of the trade. I'd be surprised if re-signing Winslow would require Seattle to part with a pick, however. Winslow is a free agent. That would generally nullify any trade parameters.

Danny O'Neil of the Seattle Times
says the Seahaws' offensive options appear more familiar without Winslow or
Terrell Owens
in the picture. O'Neil: "Two weeks ago, you looked on the field and wondered how they were going to shoehorn Winslow and Owens into an offense that already included starters like Miller and
Sidney Rice
. Things aren't so crowded now, and they're a lot more familiar. Of the six receivers and three tight ends currently on the roster, only three are new:
Braylon Edwards
,
Charly Martin
and
Evan Moore
. Edwards could end up starting as split end
Golden Tate
's status is uncertain. He did not practice Monday after suffering a knee injury in the exhibition game last Thursday. Friday, a source indicated the injury was likely to keep Tate out the next two weeks."
Eric D. Williams of the Tacoma News Tribune
says Seahawks offensive lineman
James Carpenter
"feels great" about returning to practice following an extensive knee rehab.
Also from Williams
: a look at the Seahawks' secondary.
Dave Boling of the Tacoma News Tribune
explains how Charly Martin earned a roster spot at receiver for Seattle against what seemed like long odds. Boling: "Martin scored points with the staff with his special teams play, and with his consistency catching the ball and running routes. But he also earned the trust of a very important teammate: rookie quarterback
Russell Wilson
. When Wilson broke free for a 32-yard touchdown in the preseason opener against Tennessee, Martin blocked his man from about the 15-yard line into the end zone to clear the way. Thirteen days later, as Wilson was about to get nailed by Kansas City's
Tamba Hali
, Martin broke free and pulled in a touchdown throw from Wilson. This builds an important rapport."

Paola Boivin of the Arizona Republic
checks in with backup quarterback
Kevin Kolb
. Kolb on why he didn't win the starting job: "I don't think there's one thing. My thinking of the deal is you just work as hard as you can possibly work and put in the time. I know there's still good things to come here. I keep telling y'all that every time something bad happens, and that's the perspective that I'll keep."
Kent Somers of the Arizona Republic
looks at how the Cardinals plan to piece together their offensive line. Somers: "
Rich Ohrnberger
will be the backup guard/center on Sunday, I assume. The backup tackle with be
Pat McQuistan
or
Nate Potter
, depending upon how quickly McQuistan can pick up the offense and game plan."
Darren Urban of azcardinals.com
looks at the Cardinals' offensive lineup.
Larry Fitzgerald
: "We'll go out and play against Seattle, a really good defense last year, and we will know exactly where we are at that opening drive. We'll try to move the football and get things done, and if we're not (settled), it'll show."
September, 2, 2012
9/02/12
11:44
AM ET
The
Seattle Seahawks
hit the 53-man roster deadline as one of 12 NFL teams with only two quarterbacks on their active roster.
They did re-sign third quarterback
Josh Portis
to their practice squad. But with rookie third-round choice
Russell Wilson
starting and backup
Matt Flynn
scheduled to earn $19.5 million over the next three seasons, the team appears set atop its depth chart at the position.
Placing Portis on the practice squad, where he could sign with another team, appealed less when
Tarvaris Jackson
and
Charlie Whitehurst
were the top two quarterbacks last season. Portis was a bigger part of the team's plans for the position at that time.
The Seahawks are carrying one more running back and one more defensive back than they did for Week 1 last season. Seattle is one lighter at quarterback and on the offensive line. The team went into last season with 10 offensive linemen, one more than usual, while left tackle
Russell Okung
was returning from injury.
Seattle announced having added seven players to its practice squad: Portis, safety DeShawn Shead, receiver
Ricardo Lockette
, guard Rishaw Johnson, tight end Sean McGrath and two linebackers, Korey Toomer and Allen Bradford. All were with the team in camp. One spot on the practice squad remains open.
For download:
Seahawks roster
featuring 27 columns of info on the 53 active players, seven practice-squad players and every player on the team since roughly 2007.
This file also includes summary information comparing the Seahawks' roster to league averages in various categories. Note that defensive end
Chris Clemons
, 30, is the only Seattle starter in his 30s. Linebacker
Leroy Hill
will join Clemons on the list Sept. 14.
I do not have a jersey number for new tight end
Evan Moore
. You'll find his name atop the roster for now. Moore began his career with Green Bay in 2008. Seahawks general manager John Schneider was with the Packers then.
September, 1, 2012
9/01/12
8:39
PM ET
Evan Moore
's 3-yard scoring catch from
Trent Edwards
helped Stanford take a halftime lead against Pete Carroll's top-ranked USC Trojans back in 2004.

Moore now has Carroll on his side after
agreeing to terms
with the
Seattle Seahawks
.
The 27-year-old tight end fills the roster spot vacated when Seattle released
Kellen Winslow
earlier Saturday. Moore caught four touchdown passes for the
Cleveland Browns
last season. The Browns released him.
Seattle had been expected to utilize Winslow and
Zach Miller
in tandem this season. Carroll, entering his third season as the Seahawks' head coach, had sounded excited about the possibilities.
The 75 receptions Winslow made with Tampa Bay last season exceed by 13 the three-year career total for Moore. Moore set a career high with 34 receptions last season while playing 31 percent of the offensive snaps. Winslow played 80 percent, but the Seahawks apparently weren't willing to pay his $3 million salary for a player with knee problems.
Moore stands 6-foot-6. He ran a 4.74-second time in the 40-yard dash at the 2008 NFL scouting combine, weighing 233 pounds. Moore is now listed at 250.
"Moore creates mismatches in the passing game with his length, especially in the red zone," Scouts Inc. said as part of
its report

on him.
Note:
Moore began his career with Green Bay in 2008. Seahawks general manager John Schneider was with the Packers at that time.
March, 30, 2011
3/30/11
10:45
AM ET
Our ongoing
discussion on tight ends
raised questions about which ones possess the best -- and worst -- hands.
"Any way you can add in 'thrown to' and 'drops' in this stat?" Furfanam asked in
one comments section
.
Consider it done.
Jason Vida of ESPN Stats & Information produced the information. I've broken it out in four charts. A few notes on the findings:
The first chart ranks NFL tight ends by most receptions. It also shows number of targets, drops and drop percentage. Witten,
Jacob Tamme
and Gates were the only tight ends with at least 50 receptions and no more than two dropped passes.
The second chart shows lowest drop percentages among tight ends targeted at least 20 times last season. Miller's standing atop the list backs up
James Walker's contention
that the Pittsburgh Steelers tight end was underrated in our power rankings.
The third chart ranks NFL tight ends with at least 20 targets by the highest percentage of dropped passes.
ESPN Stats & Information's totals on Bajema matched my charting. I had Bajema dropping passes against Tennessee, Denver and Arizona.
The final chart focuses only on NFC West tight ends, ranking them by lowest percentage of dropped passes.