NFC West:

five things to watch
December, 19, 2011
12/19/11
11:29
AM ET
SAN FRANCISCO -- The
Pittsburgh Steelers
clinched a playoff spot Sunday without even playing. The
San Francisco 49ers
secured one more than two weeks ago.


What these 10-3 teams are fighting for Monday night is less tangible: potential first-round bye weeks and, for San Francisco, some national validation. The 49ers stumbled to a 16-6 defeat at Baltimore in their last appearance on the national stage. They've gone 1-1 since and face a tougher-than-expected trip to Seattle next week.
With 10-3 New Orleans keeping the pressure on for the NFC's second seed, now would be a good time for the 49ers to regain their footing before they find themselves playing in the wild-card round against a hotter opponent.
Five things I'll be watching closely at Candlestick Park on Monday night:
1. The 49ers' pass protection.
San Francisco has taken more sacks in its three defeats (20) than in its 10 victories (19). Football Outsiders' Danny Tuccitto examines the disparity in
his Insider piece
and says the 49ers have been at their worst when their blockers outnumbered pass-rushers by two.
That seemingly illogical stat reflects opponents' ability to fool the 49ers with zone blitzes and other tactics of deception. Baltimore and Arizona succeeded in hurting San Francisco this way in recent weeks, combining for 14 sacks against the 49ers.
The Steelers, even more than the Ravens and Cardinals, have built their defensive reputation on these tactics. How well the 49ers respond will help determine how ready they are to step up their game for the postseason.
2. Ben Roethlisberger's mobility.
Players generally need multiple weeks to recover from high-ankle sprains. The Steelers' quarterback is expected to play only 11 days after suffering one against Cleveland. The injury will surely limit his mobility, providing the 49ers' defense an advantage, but how much of one?
Roethlisberger has made significant improvement as a pocket passer. Teams can no longer beat the Steelers as easily by simply keeping Roethlisberger in the pocket and forcing him to read defenses. That was Seattle's approach against a young Roethlisberger in Super Bowl XL, and it nearly worked. Roethlisberger struggled.
This season, Roethlisberger has averaged 8.5 yards per attempt from inside the pocket and 5.8 yards outside it, according to ESPN Stats & Information. That is the seventh-largest disparity of its kind among the 32 quarterbacks with enough attempts to qualify for consideration.
Keeping Roethlisberger in the pocket makes him more predictable, but not necessarily less effective.
3. Mike Wallace's deep speed.
The 49ers are doing lots of things right on defense. No team in the NFL has allowed fewer points per game this season. Every other team went into Week 15 having allowed at least five rushing touchdowns, but the 49ers had allowed none.
Defending longer passes has become a concern for the 49ers, however.
Tony Romo
,
Eli Manning
and
John Skelton
exploited the 49ers' pass defense on longer throws. Overall, San Francisco has allowed more completions of at least 40 yards (11) than every team but Minnesota, New Orleans, Denver and Philadelphia.
The Steelers have eight such completions this season, tied for 13th-most in the league. Wallace has zero receptions longer than 25 yards over the Steelers' past six games, but he's still averaging 16.7 yards per catch. He beat the Cardinals deep for a 95-yard touchdown. The 49ers must be mindful of him.
4. Ted Ginn Jr. and special teams.
The 49ers have dominated opponents in field position this season. That was the case much of the way, even during their 21-19 defeat at Arizona last week. Ginn's 52-yard punt return to the Arizona 4-yard line was an example.
The Steelers rank 12th in punt coverage and 22nd in kickoff coverage, defined by yards per return allowed. Ginn should have chances to swing field position in the 49ers' favor.
The 49ers have also shown a flair for the surprise. They recovered an unexpected onside kick against the
New York Giants
. Only a disputed replay challenge by the Cardinals could stop the 49ers from converting a fake field goal into a long completion.
What might the 49ers have in store for the Steelers?
5. Alex Smith in the red zone.
We've gone
over
-- and
over
and
over again
-- the 49ers' offensive struggles inside their opponents' 20-yard line. Steve Young made
a compelling point
recently when he said the 49ers needed Alex Smith to create, not just run the offense, when in the red zone.
"Can you make someone take more chances when he's not a risk-taker by nature?" the ESPN analyst and Hall of Famer told KNBR radio in San Francisco recently. "Some of the stuff they were running against Arizona was one read -- he had one option, and if that guy wasn't open, throw it away."
The point, according to Young, was that quarterbacks must throw receivers open in the red zone because defensive backs can play tighter coverage in more confined spaces.
"We know Alex doesn't really like to do that," Young told KNBR. "He's not a gambler by nature. Is that something you can fix, or is that just the way it is?"
The 49ers' offense has had problems elsewhere on the field, but the team's tendency to settle for field goals has proven costly in recent weeks. San Francisco has failed to score a touchdown on all seven red zone possessions over its past three games. Its kicker,
David Akers
, has made four or more field goal attempts in five games, matching
Olindo Mare
's record since the 1970 merger.
The Steelers went through a four-game stretch this season in which opponents scored seven touchdowns on eight red zone possessions. That explains why Pittsburgh now ranks 25th in red zone touchdown percentage allowed.
The 49ers need to prevent that ranking from climbing Monday night. Whether Smith attacks the red zone problems aggressively could become a leading storyline.
December, 10, 2011
12/10/11
3:08
PM ET
There was almost no way,
it seemed
, for the
St. Louis Rams
to be this bad.
The schedule suggested they might struggle early in the season. No one could have known that they would have only 11 offensive touchdowns and two victories through 12 games, or that they would allow more rushing yards than any team in the NFL.
These were the preseason NFC West favorites.
The postmortem on this lost Rams season can wait a little longer. There's football to play in the interim, beginning with the Rams and 5-7
Seattle Seahawks
coming to "Monday Night Football" in Week 14.
[+] Enlarge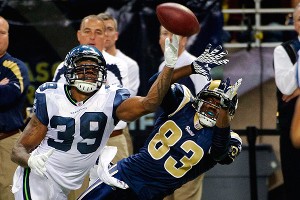 Scott Rovak/US PresswireLook for Rams WR Brandon Lloyd to come away with at least one big catch at Seattle on Monday night.
Five things I'll be watching for from CenturyLink Field in Seattle:
For more, check out
audio
from ESPN's Mike Tirico's conversation with
Brock Huard
and Mike Salk on 710ESPN Seattle. Tirico said he's impressed with the moves Seattle has made, particularly on defense, and he thinks the Seahawks' season would be a success if they could get to 7-9. But one defeat this season could haunt them.
Tirico: "Do I root for teams in the NFL? Yes. I root for teams about a month ahead of Monday Night Football. And so I was one of the 18 people not involved in the game, whether in Seattle or D.C., who was rooting for the Seahawks to beat the Redskins. And that is one you start to look at now and you go, 'You know what, at 6-6, with Chicago all messed up, you could have gone on a run here at the end of the season' -- and (Seattle) still could get to 8-8 or 9-7, so the building blocks are there going forward."
December, 1, 2011
12/01/11
9:30
AM ET
Five things I'll be watching for when the
Seattle Seahawks
face the
Philadelphia Eagles
at CenturyLink Field on Thursday night:
Marshawn Lynch's ongoing revival.
Lynch has 443 yards rushing since Week 9, most in the league. He has topped 100 yards in three of the Seahawks' past four games. Lynch appears to be running with more confidence now that his offensive line is opening holes more consistently. The Eagles' past five opponents have averaged only 85.3 yards per game, down from 140.2 previously this season. Seattle needs a running threat to minimize the Eagles' pass rush. The hard-running Lynch showcased nationally against New Orleans in the playoffs has marked his game recently as well. Lynch has 212 yards rushing after contact since Week 9, most in the NFL, according to ESPN Stats & Information. That's up from 127 yards after contact through Week 8.
[+] Enlarge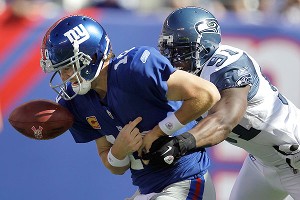 AP Photo/Julio CortezChris Clemons brings a Seattle-leading eight sacks into the meeting with the team that traded him.
Clemons against his former team.
The Eagles generally haven't regretted the higher-profile trades they've made in recent years. Sending quarterback
Donovan McNabb
to a division rival comes to mind. Seattle came out ahead when acquiring
Chris Clemons
from Philadelphia for
Darryl Tapp
and a fourth-round draft choice. This will be Clemons' first game against the Eagles since the trade. He leads the Seahawks in sacks with eight, but Philadelphia has allowed only three in its last four road games. Clemons faces a tough matchup against Eagles left tackle
Jason Peters
.
Size against speed on the outside.
The Seahawks' big cornerbacks,
Brandon Browner
and
Richard Sherman
, each picked off a pass last week. They have the size to throw off bigger receivers. Raw speed can be tougher to handle, as Browner found out against the
Pittsburgh Steelers
'
Mike Wallace
. The Eagles are without starting wideout
Jeremy Maclin
, but they still have
DeSean Jackson
. Jackson hasn't topped 100 yards receiving since an Oct. 2 game against San Francisco. He's averaging 17.0 yards per catch, though. Browner leads the NFL in penalties with 16, including 10 for defensive holding, defensive pass interference or illegal contact. A calf injury limited Sherman in practice this week. The Seahawks listed him as questionable. Eagles quarterback
Vince Young
has three touchdowns with no interceptions on his 40 shorter passes (those traveling 10 or fewer yards past the line of scrimmage). He has no TDs and five picks on his 45 longer throws, according to ESPN Stats & Information.
Breno Giacomini at right tackle.
He faces a difficult matchup against
Jason Babin
, who leads the Eagles in sacks with 10. Giacomini seemed to fare well against
Ryan Kerrigan
and the
Washington Redskins
last week. He's fiery, competitive and likes to hit people. The Seahawks can help him by running the ball at Babin. They might need to help Giacomini in obvious pass-rushing situations, however. Babin spent part of the 2008 season with Seattle. He has 22.5 sacks in his past 27 games after collecting 4.5 over the previous three.
Concerns at linebacker.
Knee problems are again bothering Seahawks middle linebacker
David Hawthorne
. His movement appeared restricted against the Redskins. Hawthorne was limited in practice this week. Seattle's run defense should improve with
Alan Branch
returning from an ankle injury, but Hawthorne's status will be important if the Eagles lean on
LeSean McCoy
. Philadelphia had only 17 rushing plays against New England last week, its lowest total in a game since Week 17 of the 2009 season.
November, 23, 2011
11/23/11
5:31
PM ET
The
San Francisco 49ers
step onto the national stage Thursday, which means it's time to consider five things to watch in the most highly-anticipated game of the season for an NFC West team to this point:
[+] Enlarge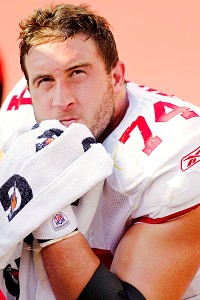 Geoff Burke/US PresswireHow will Joe Staley do against one of the league's best pass rushers in Terrell Suggs?
Special teams must bounce back.
The 49ers' victory over the
Arizona Cardinals
last week looked good from afar, but this was easily the worst special-teams performance of the season for San Francsico.
David Akers
had two field-goal tries blocked. Akers missed another attempt. The 49ers incurred three penalties on their punt-coverage team.
Ted Ginn
Jr. averaged four yards per punt return and 21 yards per kickoff return, pedestrian numbers. All this came one week after coach
Jim Harbaugh
pointed to 49ers special-teams coach Brad Seely as a head-coaching candidate. Harbaugh's brother, John, became the
Baltimore Ravens
' head coach after making a name for himself coaching special teams. Seely will be looking for a bounce-back effort from his unit this week.
49ers left tackle Joe Staley vs. Terrell Suggs.
Suggs has gone three games in a row without a sack for the first time since the 2009 season. Staley has been solid for the 49ers. Durability has been a concern for him the last two seasons, however. He made nine starts in 2009 and nine last season, suffering injuries both seasons. Staley has made all 10 starts this season. He now faces a tough matchup on a short week. I'll be watching to see how he fares and how well he holds up physically.
Patrick Willis on a national stage.
The 49ers are playing in
Ray Lewis
' house. It'll be fitting, in a way, if Lewis' injury situation prevents him from playing. Willis, more than any other inside linebacker, appears positioned to pick up where Lewis eventually leaves off. Lewis has said so. The 49ers haven't gotten to play in many prime-time games since Willis arrived as a first-round pick in 2007. This stage provides an opportunity for Willis to show the nation what he's shown 49ers fans for years, that he's the best inside linebacker around.
Big hits from the safeties.
Donte Whitner
and
Dashon Goldson
have been big hitters for the 49ers all season. The Ravens'
Ed Reed
continues to set a high standard for the position overall. The 49ers need continued feisty play from Whitner and Goldson, plus heightened awareness from them when the Ravens look for receiver
Torrey Smith
on deep passes.
The postgame handshake.
The Harbaugh-against-Harbaugh storyline has already gotten tiring. The matchups on the field are so much more compelling, at least in my view. Still, I'll be interested in seeing the dynamic after the game given the overall competitiveness of the two. This would be an emotional game even without the sibling rivalry element. The sight of Jim Harbaugh untucking his shirt and dancing around the Ravens' field is one John Harbaugh surely wants to avoid.