May, 19, 2011
5/19/11
11:49
AM ET
Examining the most crucial event in the history of every team in the division.
A longtime
Cincinnati Bengals
assistant named Bill Walsh was having a hard time convincing NFL teams to hire him as a head coach.
The Bengals had promoted another assistant, Bill "Tiger" Johnson, when Paul Brown retired after the 1975 season. Walsh spent 1976 as offensive coordinator with the
San Diego Chargers
before leaving the NFL entirely for the best head-coaching job he could get. Years later,
Walsh accused Brown
of conspiring to keep him from advancing.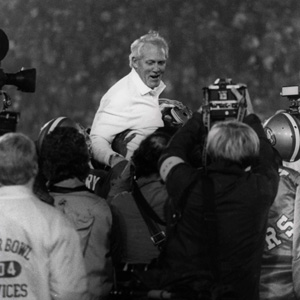 Malcolm Emmons/.US PresswireThe 49ers won three Super Bowls under coach Bill Walsh.
While Walsh was building a winner at Stanford, the sputtering
San Francisco 49ers
were running through four head coaches in less than two calendar years. Young owner Eddie DeBartolo Jr. made Walsh the fifth in 1979.
"Caution should be exercised in proclaiming Bill Walsh the savior of the 49er franchise," Bay Area columnist Ed Jacoubowsky wrote at the time. "But the selection of Walsh as director of the club's football operations probably is the best step the young owner could have taken."
Probably? Let's make that a "definitely" in hindsight.
The organization would never be the same. Offensive football would never be the same. The balance of power in the league itself would shift for a decade, and then some. This was the most crucial event in 49ers history and more significant than any the team's current division rivals have experienced.
That message came through clearly at the SportsNation ballot box, where Walsh's hiring received significantly more votes than any other NFC West Flash Point among the more than 129,000 ballots cast across the division. The 49ers' Flash Points drew more than 44,000 votes, most in the NFC West, and Walsh's hiring commanded better than half of them.
"If the 49ers never hired Bill Walsh, they would not have changed the organizational structure of the team, how players are graded and drafted, how to prepare those players for the season and utilize them on the field of play,"
razzberry80
wrote. "Bill changed EVERYTHING.
Joe Montana
was the best, but without Bill Walsh, Joe is probably not drafted by the 49ers."
Another 49ers fan,
servegmo
, credited Walsh for drawing him in as a fan living in Costa Rica.
"He is the reason people from all over the world started watching football,"
servegmo
wrote. "He put the 49ers in a position where they changed football as a whole -- the offseason preparation, the inclusion of black coaches, the practices, the West Coast offense, how he managed the draft (drafting the best players EVER at quarterback, wide receiver and safety). How many coaches can say that?"
The 49ers won three Super Bowls in 10 seasons under Walsh, who qualified as a football visionary in strategy, philosophy and personnel evaluation. Walsh became famous for scripting plays to separate in-game emotions from the decision-making process. His personnel moves and broader philosophy scripted more lasting success: five Super Bowls, including two won after Walsh retired from the sideline.
With full support from DeBartolo, who had learned from past mistakes, Walsh showed an exceptional eye for talent. Has any coach possessed a superior vision?
"When he drafted
Ronnie Lott
, he thought, 'He's a corner now, but he'll be a longtime All-Pro safety,'" former Walsh assistant and two-time NFL head coach Dennis Green said for this project. "When he drafted
Roger Craig
, he saw him as a fullback now, but a little small for the fullback we really needed, so we would draft a fullback and Craig would make the transition to running back.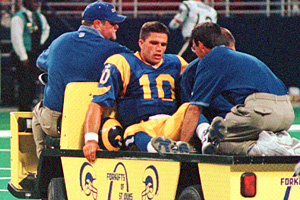 AP Photo/Harold JenkinsTrent Green's knee injury paved the way for Kurt Warner to step in at quarterback.
"Bill did that sort of thing constantly when he thought players could fit in a certain way and be very unique players."
Walsh's hiring commanded 53 percent of votes cast for the 49ers' Flash Points, with "The Catch" ranking second at 37 percent. Of course, there never would have been such a signature play if Walsh hadn't put together a 1979 draft class featuring Montana in the third round and Dwight Clark in the 10th.
RAMS: Trent Green's injury pivotal
The
Kurt Warner
story might never have been told if the San Diego Chargers'
Rodney Harrison
hadn't knocked out Green with a severe knee injury during the 1999 preseason.
Fans voted that moment supreme with 49 percent of more than 28,000 votes. Only
Mike Jones
' Super Bowl-saving tackle against
Kevin Dyson
(36 percent) came close to challenging.
The comments section of the Rams-related item drew barely more than a dozen contributions, however. So much for exit polling.
[+] Enlarge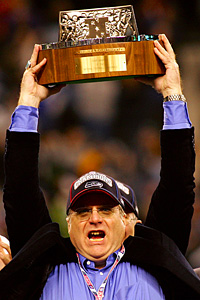 Robert Giroux/Getty ImagesPaul Allen helped bring an NFC title to Seattle.
"The ownership change [in 1972] precipitated everything that has happened to the Rams in 'modern' times,"
patdpenguin
wrote. "The true answer to the question would be the ownership change, but as a lifelong fan, speaking with my heart, I would choose the Trent Green injury. Prior to that, the team had not proven anything, and was spinning its wheels."
SEAHAWKS: Paul Allen trumps all
The Seahawks were planning
a move to Los Angeles
during their darkest days of the 1990s, at one point even conducting free agency from an elementary school parking lot in Southern California.
Allen wasn't much of an NFL fan at the time, but he rallied to the cause of keeping the team in Seattle. Allen led a push to secure a new stadium, contributing $130 million of his own money in exchange for $300 million in public funding, as part of a deal to purchase the team.
Within a couple years, the team had landed Mike Holmgren as coach and general manager. Multiple division titles and the first Super Bowl in franchise history followed.
"I went with Allen buying the team,"
DiLune2
wrote. "It is hard to point to any one of those [other] moments as the one point where it all changed. They were part of a long, ugly slide. Allen buying the team, though, was the one point in time where you can look and say, 'It all changed right there.'"
[+] Enlarge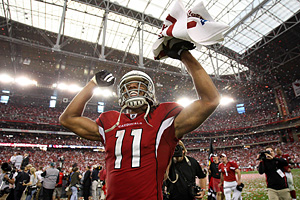 Jed Jacobsohn/Getty Images Larry Fitzgerald caught nine passes for 152 yards and three TDs in the NFC Championship Game.
CARDINALS: Beating Eagles to reach Super Bowl
Sixty-eight percent of more than 26,000 Cardinals voters pointed to the team's victory over Philadelphia in the NFC Championship Game. No option for any team drew a higher percentage.
The runner-up for the Cardinals -- securing a new stadium in 2006 -- lagged with only 16 percent. But some felt strongly it should have prevailed.
"Wow, this is a slam dunk," longtime blog contributor
Leesters
wrote. "The stadium changed this team overnight. It went from the least competitive financial situation in the league to one of the best, in one year. Free agents could be afforded, better coaches, better home-field advantage. If it wasn't for this stadium, there would be no NFC Championship win."
May, 16, 2011
5/16/11
2:05
PM ET
Where the NFC West stands in Flash Points balloting, which continues into Wednesday afternoon and seeks to identify key events in franchise history:
Votes so far:
125,896
Votes by team:
San Francisco 49ers
42,066;
Seattle Seahawks
29,750;
St. Louis Rams
28,232;
Arizona Cardinals
25,848.

Closest race:
Eleven percentage point separate the top three Seahawks moments. Thirty-six percent pointed to Paul Allen purchasing the team and keeping it in Seattle. Twenty-eight percent singled out the victory against Carolina to reach Super Bowl XL. Twenty-five percent pointed to the team's decision to select Dan McGwire in the first round of the 1991 draft, even though coach Chuck Knox preferred
Brett Favre
.
Flashiest Flash Point:
The 49ers' hiring of Bill Walsh has commanded more than 22,000 votes, easily the most among all NFC West options.

Biggest blowout:
The Arizona Cardinals' victory against Philadelphia to reach Super Bowl XLIII has drawn the highest percentage of any team's votes (68 percent). Getting a new stadium in Glendale ranks a distant second with 16 percent. That is easily the widest gap between first- and second-place options.
Weakest Flash Point:
With all due respect to 49ers legend R.C. Owens, his alley-oop reception to beat the
Detroit Lions
in 1957 hasn't measured up among voters, drawing only 1 percent. The top two options -- Walsh's hiring and "The Catch" -- combined for 90 percent, with 6 percent selecting Eddie DeBartolo Jr.'s forced exit as owner.

My favorite suggestions:
For the Rams, their 30-3 defeat to the 49ers in the NFC title game following the 1989 season. EmsDucks offered that one, noting that the Rams went into quick decline and wound up moving the franchise. That game also negatively impacted perceptions of quarterback Jim Everett. ...
For the 49ers, the hit Cardinals cornerback Aeneas Williams put on quarterback Steve Young in 1999, precipitating Young's retirement. ...
For the Seahawks, hiring Mike Holmgren away from Green Bay. We can informally roll this one into Allen's purchasing of the team, which cleared the way for the hiring. ...
For the Cardinals, there were a few, but none more entertaining than visions of coaches past. Buddy Ryan's proclamation about there being a winner in town was up there with Dennis Green's memorable postgame meltdown.
Scheduling note:
NFL West polls close Wednesday at 3 p.m. ET. I'll break out winners and single out one for elaboration in a piece scheduled for Thursday.

Closing question:
What about Walsh's hiring with the 49ers stands out to you all these years later? The success San Francisco enjoyed thereafter speaks for itself. In retrospect, it's easy to say the 49ers made a no-brainer hiring. In truth, however, Walsh was the team's fifth head coach in less than two years, and the organization was floundering at that time.
May, 10, 2011
5/10/11
1:00
PM ET
What key event significantly changed the fortunes of the Rams -- for better or worse? Give us your take and we'll give you our definitive moment on May 19.
Long before
Kurt Warner
was directing the Greatest Show on Turf, Bob Waterfield and Norm Van Brocklin were connecting with Elroy "Crazy Legs" Hirsch and Tom Fears for the Los Angeles Rams of the 1950s. They won a championship, too.
The Rams' 1951 title team sustained an 11-year stretch without a losing season. The Rams would remain successful for years under Sid Gillman, George Allen, Chuck Knox and Ray Malavasi, but none of those teams would win a championship.
The biggest trade in franchise history also earned a spot on the ballot. This swap involved owners, not players. The Rams and Colts traded ownership in 1972. Carroll Rosenbloom's death in 1979 left the Rams to his wife, Georgia Frontiere, who would later move the franchise to her native St. Louis. Her passing in 2008 precipitated the team's latest ownership change.
The Rams' 16 seasons in St. Louis have been eventful. Hiring Dick Vermeil, drafting
Orlando Pace
, acquiring
Marshall Faulk
and turning to Warner could all earn spots on the ballot. These were among the defining moments as the Rams brought a championship to St. Louis.
The drama associated with quarterback
Trent Green
's 1999 preseason injury and
Mike Jones
' Super Bowl tackle conferred special status to those two events. Green's injury was supposed to doom the Rams' season, but Warner intervened. And when Jones brought down
Tennessee Titans
receiver
Kevin Dyson
at the 1-yard line on the final play of Super Bowl XXXIV, the Rams were champions again.
If you vote Other, give us your suggestion in the comments area below.
May, 10, 2011
5/10/11
1:00
PM ET
What key event significantly changed the fortunes of the Cardinals -- for better or worse? Give us your take and we'll give you our definitive moment on May 19.
The Cardinals go back to 1920, further than any other current NFC West franchise. They were the Chicago, St. Louis and Phoenix Cardinals before adopting Arizona. They even combined with the
Pittsburgh Steelers
for the 1944 season when World War II drained rosters.
All that history produced relatively few key moments for a long, long time. The Cardinals' 1947 championship had to make the list. The team did not win another playoff game for 51 years. There were some solid seasons, notably under Don Coryell during the 1970s, but those teams gave up five turnovers and more than 800 yards in their two playoff appearances.
The team finally broke through in 1998. Chris Jacke's 52-yard field goal sailed through as time expired to beat San Diego on Dec. 27 of that year, securing a playoff berth. The Cardinals beat the
Dallas Cowboys
in the wild-card round one week later for their first playoff victory since the 1947 season. That six-day sequence still stands among the most memorable in franchise history. I singled out Jacke's kick as the key to it all.
The two other key events on the ballot are intertwined.
The successful push to get University of Phoenix Stadium built made the Cardinals more viable financially, clearing the way for on-field success culminating with a victory over Philadelphia to reach Super Bowl XLIII. The stadium vote passed two days after Aeneas Williams' 100-yard fumble return delivered an improbable victory over the
Washington Redskins
.
There were other legitimate candidates for inclusion on this ballot, from
Kurt Warner
's signing to Ken Whisenhunt's hiring.
If you vote Other, give us your suggestion in the comments area below.
May, 10, 2011
5/10/11
1:00
PM ET
What key event significantly changed the fortunes of the Seattle Seahawks -- for better or worse? Give us your take and we'll give you our definitive moment on May 19.
The first two decades of Seahawks history had more to do with what could have been than what actually became.
Imagine if Seattle had only firmed up its 1984 offer to
Warren Moon
, who signed a two-year, $5.5 million deal with the Houston Oilers in part because the Seahawks weren't willing to guarantee as much of an otherwise similar deal.
Imagine, seven years later, if ownership hadn't forced then-coach Chuck Knox to draft quarterback
Dan McGwire
with the 16th overall choice when Knox preferred
Brett Favre
.
Such mistakes threatened to drive the Seahawks from Seattle altogether until Microsoft co-founder Paul Allen intervened by purchasing the team in 1997. That moment might stand above all others. Allen made so many other things possible -- landing Mike Holmgren from Green Bay, for starters. With Holmgren on the sideline, the Seahawks advanced further than ever before, defeating Carolina in the NFC Championship Game for a berth in Super Bowl XL.
These were among the moments that stood out to me when putting together this ballot. Quite a few others -- acquiring Steve Largent, hiring Knox, upsetting the
Miami Dolphins
in the playoffs at the Orange Bowl, getting Qwest Field built, hiring Holmgren, losing
Steve Hutchinson
-- also deserve consideration. You'll be the judge ultimately.
If you vote Other, give us your suggestion in the comments area below.
May, 10, 2011
5/10/11
1:00
PM ET
What key event significantly changed the fortunes of the San Francisco 49ers -- for better or worse? Give us your take and we'll give you our definitive moment on May 19.
The 49ers packed more pivotal moments into the 1980s alone than some teams manage over the course of their existence.
They've also got a history dating to 1946 and the All-American Football Conference.
The four key events I singled out spanned the eras.
R.C. Owens' signature alley-oop touchdown grab against Detroit for a 41-yard touchdown in the final 1:20 played a critical role in securing the team's first NFL postseason appearance. Owner Tony Morabito had died of a heart attack during a game one week earlier. Owens' 1957 reception was the difference in a 35-31 victory as San Francisco improved to 5-1.
Having acknowledged the 49ers' more distant history, there was no sense in filling out this list with moments predating Bill Walsh's arrival as head coach for the 1979 season. Walsh revolutionized offensive football while turning the 49ers into one of the model franchises in any professional sport. His hiring was much more than a "key event" in 49ers history. It changed everything.
I had a tough time settling on only two other moments for listing here. "The Catch" had to make the list. There is no more iconic play from the Walsh era.
The 49ers' recent struggles feature a long list of missteps, none more pronounced in retrospect than drafting
Alex Smith
over
Aaron Rodgers
in 2005. Only six seasons have passed since that draft, however, and any young quarterback might have struggled in San Francisco. That's why I singled out Eddie DeBartolo Jr.'s departure as team owner for the fourth and final spot on the list. Consider it a jumping-off point for the subsequent decade of futility.
There were other moments worthy of consideration.
Leonard Marshall's 1991 hit on Joe Montana cleared the way for the trade that sent Montana to Kansas City, but the 49ers won another championship with Steve Young, while Montana lasted only two seasons with the Chiefs.
If you vote Other, give us your suggestion in the comments area below.