January, 20, 2010
1/20/10
2:34
PM ET
RENTON, Wash. -- Thoughts and observations from the Seahawks' news conference to introduce new general manager John Schneider, hired away from the Packers: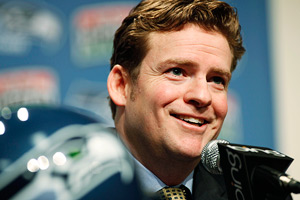 AP Photo/John FroschauerJohn Schneider was introduced as the new Seahawks general manager Wednesday.
This is all about fit. Specifically, it's about Schneider fitting with coach Pete Carroll and helping to find players that fit precisely what Carroll wants. The Seahawks didn't do this as well in recent seasons when former GM Tim Ruskell was identifying players to fit his long-range plans while the team tried to win with Mike Holmgren's offense. Seattle should get more from its personnel this way.
Carroll holds the authority over personnel, CEO Tod Leiweke said, noting that Carroll would win any coin tosses. Schneider then said he would never try to cram a certain player into his head coach's roster, regardless of who had ultimate control of personnel. The structure arguably makes Schneider a better candidate than GM finalist Floyd Reese, who is older and more established in his ways. I got the sense Schneider and Carroll would work well together. It's in Schneider's nature to make this work. I sense he's a pure personnel guy, not someone who cares about getting the credit.
The Seahawks will not be making sweeping changes to their front office or scouting staff. Schneider knows quite a few of the people already in place. Ruston Webster, John Idzik and Will Lewis will remain with the organization, Leiweke indicated. Lewis and Schneider worked together in Seattle previously. The team's salary cap and contract negotiating arm -- headed by Idzik -- will report to Schneider. Carroll wants to pick players, but he doesn't want to be a GM or cap guy.
The Seahawks will become younger not by design but through an effort to encourage competition. The Packers have been one of the NFL's two youngest teams (along with the Colts) in recent seasons. Carroll was opposed to playing rookies during his past incarnation as a head coach. His outlook changed after coaching in college (Carroll compared that experience to being coach and GM, with the GM part changing his view). Personnel guys love to play young players. Seattle was the NFL's eighth-oldest team this week, not counting players signed to future contracts. That ranking will fall, no doubt.
The Seahawks are better off now than they were a few weeks ago. I do think the front office has a better chance to function without the infighting and competing agendas that marked previous regimes in recent seasons. That can help the Seahawks regain credibility lost over the last couple seasons.
Carroll addressed a few hires relating to his coaching staff. Jeremy Bates (offensive coordinator), Alex Gibbs (offensive line), Jedd Fisch (quarterbacks), Pat McPherson (tight ends), Gus Bradley (defensive coordinator), Dan Quinn (defensive line), Jerry Gray (secondary), Ken Norton Jr. (linebackers) and Brian Schneider (special teams) are in place.
The Seahawks are weighing the possibility of trying a 3-4 defensive alignment, but it's early.
Those were a few highlights. Heading home now.
January, 20, 2010
1/20/10
8:45
AM ET

Jim Thomas of the St. Louis Post-Dispatch
says Rams majority owner Chip Rosenbloom and sister Lucia Rodriguez are weighing three offers to buy the team. Thomas: "All three offers, described as "acceptable" by the sources, are comparable to what the Pittsburgh Steelers franchise recently sold for -- which was in the range of total franchise value of $720 million to $800 million. ... The pressure to sell the team comes from estate taxes resulting from the death of
[Georgia]
Frontiere. By 2014, Rosenbloom and Rodriguez must start paying on the principal of those estate taxes rather than the interest, and that increased payment would severely cut into the team's profits."
Also from Thomas
: The Rams have signed defensive tackle Chris Bradwell.
More from Thomas
: a chat transcript featuring thoughts on Donovan McNabb's potential availability via trade. Thomas: "If you trade for McNabb, you're getting him for just one year. His contract expires following the 2010. He's scheduled to make $5 million in base salary, actually a pretty modest amount. But he is due a $6.5 million roster bonus in May. So obviously, a trade would have to take place before then. Anyway, I wonder if McNabb would even want to come here to a 1-15 team with one of the league's worst offenses. He might resist such a trade or threaten to retire."

Clare Farnsworth of seahawks.com
quotes CEO Tod Leiweke this way on what he wants from the team's front office: "Can collaboration work? It does all the time, in all sorts of environments. In fact, it's how I lead. This is the model that makes sense to us -- to get guys to work together, to share opinions. And the coach's opinion is going to matter in who we pick (in the draft). But ultimately, that's the general manager's job: To go out and find those guys. And how can you not ask Pete Carroll what he thinks about the draft? That's exactly what we want here."
Danny O'Neil of the Seattle Times
calls John Schneider a surprise choice as the Seahawks' new general manager. O'Neil: "Schneider doesn't have 20 years of front-office experience like Floyd Reese, the other finalist who many around the league considered the favorite to get the job. Schneider, 38, doesn't have a Super Bowl ring like Marc Ross of the Giants or Omar Khan of the Steelers, who were also interviewed. Schneider didn't even have his own Wikipedia page at the time of his hiring. But what Schneider does possess is a sterling reputation for draft acumen, and after spending the past seven seasons in Green Bay, he's well-schooled in the Packers' approach to steering clear of the league's free-agent spending frenzy."

Darren Urban of azcardinals.com
looks at factors surrounding Kurt Warner's decision on retirement. Urban: "There are his teammates, of course, and any obligation he might feel to them. That would never trump his family, but if you think Larry Fitzgerald is just sitting idly by and not letting Warner know constantly how much he wants Warner to return, that's just being na´ve. There is little question the Cards still have a team that can win the NFC West and conceivably contend for a Super Bowl. It'd be hard to walk away from that -- especially when Warner knows he's a key piece to such an equation."
Aaron Schatz of Football Outsiders
ranks the 49ers' Andy Lee as the NFL's best punter in 2009, with the Cardinals' Ben Graham third. The methodology is interesting. One thing I'd like to see: more specific values assigned to punts downed inside the 20. That was one area where I thought Graham in particular excelled.

Matt Barrows of the Sacramento Bee
does not expect the Saints' Reggie Bush to become available to the 49ers as a return specialist. Barrows: "The Saints definitely could -- and probably will -- ask Bush to restructure his contract. But Bush could command enough interest around the league, especially in a cap-less season, that he could safely decline the Saints' request. For the 49ers, a more likely veteran target would be Cleveland's Joshua Cribbs, who is unhappy with his contract and whose team would be more interested than the Saints in accruing extra draft picks." Advice to the 49ers: Draft a returner who doubles as a third receiver or nickel cornerback.
Matt Maiocco of the Santa Rosa Press-Democrat
says the 49ers' Frank Gore and Justin Smith could land spots in the Pro Bowl if the Vikings advanced to the Super Bowl. Scheduling the Pro Bowl before the Super Bowl should give quite a few Pro Bowl alternates a chance to qualify as Pro Bowl players.
Bruce Jenkins of the San Francisco Chronicle
says the 49ers' fate in 2010 rests more on Warner's decision than anything the 49ers might do.
David Fucillo of Niners Nation
looks at how the 49ers' receivers performed in 2009. Michael Crabtree was consistent, if not spectacular.
January, 19, 2010
1/19/10
1:21
PM ET
That would be Lance Lopes.
In a couple of weeks, the Seahawks' general counsel has gone from little-known planner of the team's new headquarters to little-known architect of the team's evolving football hierarchy.
It's tough to imagine the organization hiring USC's Pete Carroll as head coach and Green Bay's
John Schneider
as general manager without Lopes there to see through both moves. Lopes' brother works in the athletic department at USC, providing a trusted link between the Seahawks and Carroll. Lopes and Schneider worked together in Green Bay from 1993 to 1996 and again with Seattle in 2000, the likely key to Schneider's candidacy with the Seahawks.
The Seahawks' hiring of Carroll and Schneider enhances Lopes' profile on the football side of operations.
The head coach and GM at least partially owe their hiring to a man whose
online job description
says only: "Lopes administers the legal affairs for both the Seahawks and First & Goal Inc. He also handles special projects for the organization, including the construction of VMAC, the club's new headquarters and development of the WaMu Theater in Qwest Field Event Center."
Who is Lopes? He went to college in Oregon, spent seven seasons with the Packers in the 1990s and then returned to the Northwest as general counsel for the Seahawks.
The Milwaukee Journal Sentinel had this to say when Lopes resigned from the Packers in May 2000: "Lopes, who played a major role in the Packers' stock sale in 1997, was hired in 1993 as legal counsel. He was given new and additional roles the last two years, including working on player contract negotiations and helping the front office with salary cap issues."
While with the Packers, Lopes
took over contract negotiations
from Mike Reinfeldt after Reinfeldt followed Mike Holmgren from Green Bay to Seattle in 1999. Lopes then joined Reinfeldt and Holmgren in Seattle, where he has remained. The Seahawks had hired Schneider as player-personnel director in April 2000, a month before Lopes resigned from the Packers, citing an opportunity on the West Coast.
Schneider brings strong personnel bloodlines to the Seahawks. He learned under Ron Wolf and Wolf's protege, current Packers GM Ted Thompson -- another former Seahawks executive. Schneider has also shown he can work with high-profile coaches. He took a job with the Chiefs in 1997, when Marty Schottenheimer was head coach, and he worked with Schottenheimer again in Washington. That suggests Schneider earned Schottenheimer's trust and that Schneider can do the same with Carroll.
The dynamics are critical after CEO Tod Leiweke pointed to "collaboration" and cooperation among leadership as a top priority.
Carroll made it clear during his introductory news conference that
he would be the top football power broker
in the organization. Did that make Schneider a better fit as GM than an older and more established candidate such as Floyd Reese, the other finalist for the job? Schneider, listed at 38 in his Packers bio, is much younger than Reese (61) and Carroll (58). Might he be more willing to take a background role? Might Reese have been more apt to want control over contract negotiations and the other areas he oversaw during a long run as the Titans' GM?
None of it will matter as much if the Seahawks win.
Side note:
The Seahawks hired Lopes months after long-time team executive Randy Mueller left to become GM in New Orleans. Lopes had caught passes from Mueller during Linfield College's
run to the NAIA Division II title
in 1982.
January, 19, 2010
1/19/10
10:16
AM ET
Choosing John Schneider over Floyd Reese
as Seahawks general manager would qualify as a mild upset on the surface.
Reese was the one with known ties to new coach Pete Carroll. Schneider was the one with ties to the previous Seahawks administration, having worked in Seattle under Mike Holmgren.
Seahawks general counsel Lance Lopes would be the common thread through Carroll and Schneider. Lopes' brother worked with Carroll at USC. Lopes and Schneider worked together in Green Bay.
Reese had more experience than Schneider -- he is more than 20 years older -- but Schneider has a strong personnel lineage with roots in the approach Ron Wolf used to remake the Packers. Schneider has worked closely with Packers GM Ted Thompson, Holmgren's former right-hand man in Seattle.
More to come.
January, 18, 2010
1/18/10
5:38
PM ET
We mixed up the regular chat schedule with a bonus session Monday. Transcript
here
. Highlights below:

Griffin (Portland, OR): What is the best option for the 49ers at QB? Stay with Smith, trade for a QB or use the draft to find one?
Mike Sando: The 49ers should be proactive in trying to upgrade the quarterback position. See what's out there in free agency and via the trade route. Check out what is there in draft as well. Don't be afraid to draft a quarterback at any point, even the first round. Then, once the team has done its diligence there, reassess and see if starting Alex Smith still seems like the best option. The 49ers do not absolutely have to find another quarterback this offseason. But if they have an opportunity, by all means do it.

Shephard Hawk (Roseville, CA): Mike, the Seahawks have an interesting choice this week when they chose their GM. First, of the remaining candidates what are the strengths of the remaining two or three candidates and their weaknesses? Second, could they hire two of them? One for president and one for GM? Third, who do you think is a no-brainer? Thanks, I look forward to hearing from you.
Mike Sando: Floyd Reese looked like the most logical choice from my end for a few reasons. He has lots of experience. He has a history with Pete Carroll. He and Carroll are of similar age. Throw those things together and Reese might have the easiest time working with Carroll. He might also have the profile needed to effectively resist Carroll when the coach needs some steering. The other candidates are younger and might have the potential to surpass Reese. Reese just seems like the safer choice. As for hiring more than one candidate in more than one capacity, sure, that could happen. Just depends on what roles the team envisions for each guy. Reese has experience in cap matters and pro personnel and college personnel and everything right on down to coaching. Omar Khan appears to be more of a cap guy. I perceive John Schneider to be more of a personnel guy.

Joe Comeau (Fort Worth, TX): Hey Mike, I follow you on Facebook and ESPN. I really appreciate your fan-friendly approach. How do you think the Cards will and/or should approach the draft? I think they should get a CB and LB in the first two rounds, a QB and OL in the next two, and the final three rounds go for the best defensive player available. Obviously, if a player too good to pass up falls to them, it changes everything.
Mike Sando: Thanks, Joe. I enjoy connecting with people and am glad that comes through. As for the Cardinals, I was really struck by their age at outside linebacker. They were trying to slow Aaron Rodgers and Drew Brees with Bertrand Berry, Clark Haggans and Chike Okeafor. Those guys are up there in age. The Cardinals tried to protect themselves some by drafting Cody Brown, but he was pretty raw and then he suffered that very serious wrist injury. One way or another, Arizona needs to get some new blood at linebacker. Remember, too, that Karlos Dansby's future with the team is in some question. The situation at cornerback becomes easier to live with once you're getting more pressure from the OLB spots. I also think this team could use a better pass-protecting offensive tackle for sure.

Ken (Redondo Bch): Are the Rams going to re-sign Alex Barron?
Mike Sando: They need to upgrade that position, but the labor situation raises an interesting scenario. Barron reverts to being a restricted free agent if there is no labor deal. In that case, the Rams could always take a one-year flier on him by tendering him to a level that would return draft compensation if another team wanted to sign him.
January, 17, 2010
1/17/10
11:00
AM ET
New Seahawks coach Pete Carroll should know by now which candidate he wants for general manager.
How can the team hire anyone else?
The Seahawks want someone to work closely, collaboratively and amicably with Carroll. The personal dynamics between coach and GM are important to Leiweke and owner Paul Allen. They want to avoid the dysfunction that undermined past front-office relationships in Seattle.
It's tough to imagine Carroll sizing up the candidates and reacting with indifference. Carroll will have a favorite. Leiweke might have a favorite. General counsel Lance Lopes might have a favorite. Allen might have a favorite.
It's possible all parties will settle on the same candidate. That would be the best result for the organization. It's also reasonable to think some involved with the search went into the process favoring a candidate.
One candidate, Patriots senior football adviser Floyd Reese, worked with Carroll years ago and, unlike the other known candidates, is of similar age. Another candidate, Packers director of football operations John Schneider, worked with Lopes in Green Bay from 1993 to 1996.
Schneider is one of the finalists, ESPN's John Clayton
reports
. The Green Bay Press-Gazette
lists Schneider and Reese
as finalists.
I'm expecting a decision in the next few days.
January, 14, 2010
1/14/10
10:07
AM ET

Bob McManaman of the Arizona Republic
checks in with Cardinals receiver Early Doucet, who has overcome a rough start to his career. Coach Ken Whisenhunt: "One thing we've been consistent with is we've made our players earn their opportunities on the field," coach Ken Whisenhunt said. "Look at even Kurt (Warner). Kurt had to earn that job, too. I think it builds a hunger and confidence within these players. Early had it tough, but that created a toughness in Early. He understood what it took for him to prepare and get ready to play, and you're seeing it pay off now. His confidence has soared, and (against the Packers) we got a chance to see that really blossom."
Dan Bickley of the Arizona Republic
says the Cardinals' defense has much to prove against the Saints. Antrel Rolle: "People can sleep on us all they want. We know what type of defense we are. We're not always going to play our best game. But we know what we're capable of, and we realize our mistakes when they happen."
John Faherty of the Arizona Republic
says the Phoenix area is home to quite a few Saints fans displaced by Hurricane Katrina.
McManaman and Kent Somers
of the Arizona Republic offer Cardinals-related notes. Darnell Dockett and Gabe Watson want the ball in goal-line situations.
Also from Somers
: Gerald Hayes and Anquan Boldin missed practice again Wednesday. Both could practice Thursday, Whisenhunt said.
Darren Urban of azcardinals.com
says Karlos Dansby is contributing for the Cardinals even though his stats aren't as good this season. Urban: "For the Cardinals, Dansby gives the defense an anchor around which the rest of the pieces can be placed. While the veteran still can step into the spotlight -- witness Sunday's wild-card performance, when he tipped a pass to cause an interception, forced a key fumble and later returned a fumble for the game-winning touchdown -- it's Dansby's reliability that makes him valuable."
Karen Crouse of the New York Times
says Kurt Warner contemplates retirement in part because he wants to spend more time with his kids. Wife Brenda: "He wants to be as good a dad as he is a quarterback. He wants to be there, be in the moment with them, and football takes him away from that."

Jim Thomas of the St. Louis Post-Dispatch
joins colleagues in projecting Marc Bulger's future with the Rams. Thomas: "I still think it's better than 50-50 that Bulger will not be back. And if he's traded to a non-contending team he may pull a Jake Plummer and just retire. But in order to dispose of Bulger, the Rams need two quarterbacks — a veteran and a draft pick. How they fare on those two fronts over the next three months might have a lot to do with whether Bulger returns to St. Louis in 2010." I see no way for the Rams to bring back Bulger under his current contract, which features an $8.5 million salary for 2010. That is far too much money for what Bulger has been able to offer in return.
Turf Show Times' VanRam
says the stats show the Rams' offense to have been worse than its defense, and the team needs playmakers.

Matt Barrows of the Sacramento Bee
checks in with Bobby April, who met with Mike Singletary regarding the 49ers' opening for a special-teams coach. Barrows: "April, 56, said he had a good conversation with Mike Singletary in Orlando on Tuesday. He said that Singletary did not offer him the job, although the two plan to speak by telephone later this week. April also has met with the Steelers about their vacancy at special teams coordinator and that he's heard from other teams as well."
Also from Barrows
: 49ers defensive lineman Ricky Jean-Francois is awaiting word regarding the safety of relatives affected by the earthquake in Haiti. Barrows: "He said he spoke briefly with his brother who said that he had to dodge a falling ceiling fan when the earthquake struck. When he went outside, his bother saw that much of Port-au Prince, a city of 2 million, had been flattened."
Matt Maiocco of the Santa Rosa Press-Democrat
says Nate Clements, Michael Lewis and Brandon Jones need to justify their salaries or take paycuts before returning in 2010. Maiocco: "The question is whether the 49ers are prepared to pay Clements $6 million to play cornerback. That is more than twice Shawntae Spencer's scheduled salary. There is no hurry to get Clements to accept a pay cut, if that's the route the 49ers plan to take. The 49ers can hold onto Clements until the final cuts to determine what a fair price for his services would be for the 2010 season."

Dave Boling of the Tacoma News Tribune
makes the case for the Seahawks to hire Floyd Reese as their general manager. Boling: "Some of the other GM candidates may be young and promising and on the way up. But Reese has actually done this and proven he can do it over the long haul. In his first season as top executive with the franchise that turned into the Tennessee Titans, he hired Jeff Fisher, who has been the head coach ever since. ... The Seahawks have the No. 6 and No. 14 picks in the first round of the upcoming draft, so this will be critical. How has Reese done in such situations? Well, in 1996, he used the No. 14 pick to get running back Eddie George, who was offensive rookie of the year and went to four Pro Bowls. With the No. 16 pick in '99, he added defensive end Jevon Kearse … defensive rookie of the year. His No. 15 pick in 2002 was Albert Haynesworth, a two-time Pro Bowl run-stopping beast. As for that high pick? With the No. 3 selection in '95, he drafted quarterback Steve McNair, a three-time Pro Bowl player who was the NFL co-MVP in '03."
Danny O'Neil of the Seattle Times
says the Seahawks are interested in Jerry Gray as a potential defensive coordinator. O'Neil: "Gray is a candidate as defensive coordinator, and Dan Quinn, Seattle's defensive line coach, is also a consideration to keep on staff. Quinn also is thought to be a potential target of the New York Jets, whom he worked for before coming to the Seahawks. Gus Bradley, the Seahawks defensive coordinator last year, also has a chance to stay on Seattle's staff."
Also from O'Neil
: Pete Carroll's former associate, Daryl Gross, explains why he likes the Seahawks' new coach.
Greg Johns of seattlepi.com
sizes up the Rooney Rule as it applies to the Seahawks' recent coaching search. Johns: "In cases like Seattle's, where a team has already identified its top candidate, the interview becomes a token effort and seems demeaning to candidates who are essentially being used just to fulfill the obligation. Yet there is another way to look at this, even in the awkward case of Leslie Frazier's chat with Seattle. If not for the Rooney Rule, (Tod) Leiweke would have never talked to Frazier. He never would have met with him for four hours, been impressed by what he saw and then spread the word to other NFL execs who might someday be looking for their own coach."
Also from Johns
: Lawyer Milloy says Carroll's training camps were as hard as those run by Bill Parcells. Johns: "Obviously, I think the biggest difference was there wasn't the scare tactics that you had with a Parcells or (Bill) Belichick or someone like that. Does that mean he's a player's coach? I don't know. But when you go to the playoffs two years in a row, I don't think that's being a mediocre coach."