February, 4, 2011
2/04/11
11:15
AM ET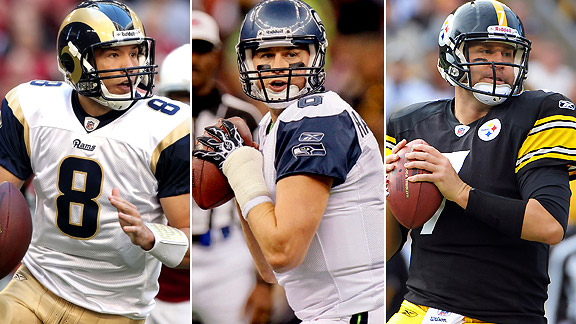 Getty Images/US PresswireHow do Sam Bradford, Matt Hasselbeck and the other NFC West QBs stack up against the Steelers' Ben Roethlisberger?
FORT WORTH, Texas -- Close your eyes for a moment after reading this sentence and imagine your favorite NFC West team lining up against the AFC champion
Pittsburgh Steelers
in the Super Bowl.
How would your team's offense measure up, starter for starter, against the one NFC champion Green Bay will face Sunday?
The chart compares NFC West teams' offensive starting lineups against the one Pittsburgh has listed on the official Super Bowl flip card.
Doug Legursky
will likely replace center
Maurkice Pouncey
, and injury situations could affect projected NFC West lineups.
I've generally recreated NFC West lineups as they were when each team's season concluded, just to see how offenses from the division might stack up against the one NFC champion Green Bay will encounter Sunday. An NFC West all-star team would produce an overall talent upgrade, but no single NFC West offense prevails in a head-to-head comparison, at least in my view.
For additional perspective, check out
how NFC West offenses stacked up
one year ago.
Enjoy the imaginary games.
January, 31, 2011
1/31/11
5:04
PM ET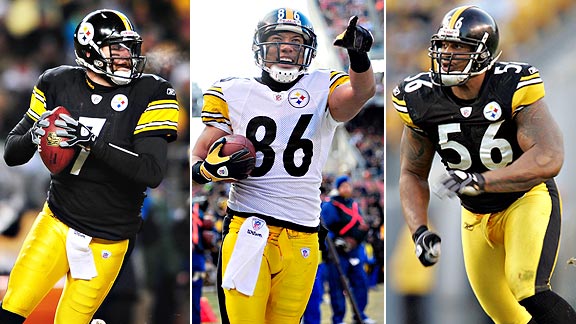 US PresswirePittsburgh's Ben Roethlisberger, Hines Ward and LaMarr Woodley are all playing in Super Bowl XLV, but could they have ended up in the NFC West coming out of college?
FORT WORTH, Texas -- The
Pittsburgh Steelers
appeared loose and comfortable during their first Super Bowl 45 media session.
They've been in big games before, and frequently, thanks largely to shrewd drafting.
This is the Steelers' third Super Bowl appearance in the last six seasons.
The team made available
James Farrior
,
Flozell Adams
,
Hines Ward
,
Brett Keisel
,
Ben Roethlisberger
and
LaMarr Woodley
during its initial media session Monday -- just the opportunity I needed to produce an item corresponding to the one titled, "
Draft hindsight: Aaron Rodgers and beyond
".
The idea: to examine a Super Bowl team's featured players -- in this case, the ones made available Monday -- with an emphasis on draft status and the decisions NFC West teams made in the same rounds. Not every team held a choice in every featured round.
The
Arizona Cardinals
had a shot at Steelers quarterback Ben Roethlisberger, but they came out OK.
Here goes ...
1997 Draft: James Farrior, LB, Virginia
Round:
First (eighth overall, by the
New York Jets
)
NFC West spin:
Farrior is a two-time Pro Bowl choice, but the NFC West offers no apologies for passing over him.
Orlando Pace
and
Walter Jones
became perennial Pro Bowl tackles. Jones became the best player in Seahawks history, in my view.
Shawn Springs
made one Pro Bowl trip and picked off 33 passes during a 13-year career. The Cardinals had no shot at Farrior. They chose Tommy Knight one pick later. He started 54 games in six NFL seasons. Rumor says the 49ers selected a quarterback in the first round of this draft.
First-round selections in the division:
1998 Draft: Flozell Adams, T, Michigan State
Round:
Second (38th overall, by Dallas)
NFC West spin:
Adams became a five-time Pro Bowl choice with Dallas. His career appeared finished, or close to it, until injuries led the Steelers to call on him this season. Arizona passed on Adams twice. Safety
Corey Chavous
, chosen five spots before Adams, went to a Pro Bowl with Minnesota. He was a productive player for roughly a decade. Tackle
Anthony Clement
, chosen two spots before Adams, started more than 100 games for three teams.
Second-round selections in the division:
1998 Draft: Hines Ward, WR, Georgia
Round:
Third (92nd overall, by Pittsburgh)
NFC West spin:
The Rams and Seahawks found Pro Bowl-caliber players when they passed over Ward in the third round. Seattle gave up on
Ahman Green
prematurely, however, after coach Mike Holmgren grew weary of early fumble problems. The 49ers missed on tackle
Chris Ruhman
three choices before Ward went to Pittsburgh. Ruhman played in six games with the 49ers, starting none. He played in 11 NFL games with two starts overall. The 49ers passed on Ward even though
Jerry Rice
had suffered a devastating knee injury in the 1997 opener.
Third-round selections in the division:
2002 Draft: Brett Keisel, DE, BYU
Round:
Seventh (242nd overall, by Pittsburgh)
NFC West spin:
The 49ers drafted longtime starting guard and center
Eric Heitmann
three spots before the Steelers found Keisel. Pittsburgh could use Heitmann this week after the Steelers' starting center,
Maurkice Pouncey
, suffered a severely sprained ankle during the AFC Championship Game. Keisel became a Pro Bowl choice for the first time this season, distinguishing him from 2002 NFC West seventh-rounders. The Rams found their mainstay snapper in this draft. Keisel was gone when the 49ers found guard
Kyle Kosier
, who started 29 games for them and remains a starter with Dallas.
Seventh-round selections in the division:
2004 Draft: Ben Roethlisberger, QB, Miami of Ohio
Round:
First (11th overall, by Pittsburgh)
NFC West spin:
The Cardinals passed over Roethlisberger and came away with a potential Hall of Fame receiver. No complaints there, even though quarterbacks are more valuable than receivers. None of the other NFC West teams had a shot at Roethlisberger. Seattle and St. Louis were set at quarterback, anyway.
First-round selections in the division:
2007 Draft: LaMarr Woodley, OLB, Michigan
Round:
Second (46th overall, by Pittsburgh)
NFC West spin:
The Cardinals could certainly use Woodley now, and badly, but they had already invested millions in the position heading into the 2007 draft. Free-agent additions
Chike Okeafor
and
Bertrand Berry
had combined for 14.5 sacks during the 2006 season. Unfortunately for the Cardinals, they haven't gotten enough from their second-round investment in
Alan Branch
.
Second-round selections in the division:
OK, all done, and just in time. ESPN.com teammates Mike Reiss, Kevin Seifert and I are heading out to the Packers' media session next. Seifert is driving and he doesn't wait for anyone. Gotta jam.
January, 31, 2011
1/31/11
10:24
AM ET
DALLAS -- The NFL's Texas-sized Super Bowl spread looks like this: media center in Dallas,
Pittsburgh Steelers
hotel in Fort Worth,
Green Bay Packers
hotel in Las Colinas (near Irving) and buses shuttling between all three.
The game itself is in Arlington.
Mike Reiss of ESPNBoston.com and I departed ESPN's Super Bowl headquarters in Fort Worth at 6:45 a.m. local time, early enough to be first in line for credentials when the media center opened Monday morning. The early start was key to capturing this
spectacular photograph
of a near-empty media work room.
Side note: We noticed a "Packers" billboard on the drive from Fort Worth to downtown Dallas, but we did not notice one for the Steelers.
Radio Row, set up in its usual spot just outside the media work room, was also mostly quiet, but that is changing quickly. I saw Peter King among a handful of reporters on the air. A producer from
Bernie Miklasz's show
on 101ESPN St. Louis reached out. I'm planning on speaking with Bernie on the air at 12:15 p.m. ET. You're invited to listen live
here
.
As for the teams themselves, we'll have access to head coaches and key players this afternoon.
The Steelers' list features Mike Tomlin,
Ben Roethlisberger
,
Flozell Adams
,
James Farrior
,
Brett Keisel
,
Hines Ward
and
LaMarr Woodley
. They are available at 2:30 p.m. ET. The Packers' list features Mike McCarthy,
Aaron Rodgers
,
Donald Driver
,
A.J. Hawk
,
Greg Jennings
,
Clay Matthews
and
Charles Woodson
. They are available at 6:35 p.m. ET.
All good, you say, but this is still the NFC West blog, right? Right. I'll be back in a bit with an NFC West spin on the first-day proceedings.
April, 10, 2010
4/10/10
10:00
AM ET
S.L. from Tulsa writes:
Your blog item
on Pro Bowl players versus draft position was quite interesting. Because the Pro Bowl selects all 22 positions, I would expect certain positions (kicker, center, guard, safety) to have far fewer very high picks than, say, quarterback, defensive end or cornerback. If you filter for position and apply this standard, it might show that the top choices at each position produce even more Pro Bowlers. I would like to see this extra detail to prove or disprove the apparent value of early picks. It could give you a followup column.
Mike Sando:
Good idea. I did have a positional filter at my disposal. The filter lumped all defensive backs together, and some positional designations changed or could use updating (
Leonard Davis
was listed at tackle coming out of college, for instance, but he has gone to Pro Bowls as a guard).
I toyed with a couple ways to answer your question. In the end, I created categories for players with no Pro Bowls, one to two Pro Bowls and three-plus Pro Bowls. I then set up a table showing average draft positions for these players, sorted from earliest to latest. The chart shows defensive ends were drafted about 120th on average, with punters and kickers drafted in the 160s on average. This information covered the 2000 through 2009 draft classes.
Check out the row for players listed as offensive tackles. They were drafted 126th overall on average from 2000 to 2009, but the averages changed dramatically based on Pro Bowl appearances (134th for tackle with no Pro Bowls, about 39th for tackles with one or two Pro Bowls and about third overall for tackles with three-plus Pro Bowls). The latter group featured Davis,
Joe Thomas
and
Chris Samuels
.
---
Nick from Tampa writes:
Mike, with the state of QBs in this year's draft and the need by the Rams to hit the nail on the head with this pick, how does this senario fare for you:
Pick up Jason Campbell from Washington with possibly a third- or fourth-round pick;
Use your first-rounder on Ndamukong Suh or Gerald McCoy to help give immediate improvement to the defensive line.
I see the QB pool in this year's draft to be extrememly slim, with the top three prospects coming off injuries. Instead of taking a big-money and possibly not fully healed guy in this draft and thowing him head first to be eaten alive, pick up Campbell, who still has gas in the tank, draft your QB in the second round, or wait until the pool inproves. Additionally, there is a large chance that you can get
Colt McCoy
or another project QB at the No. 33 spot, making the No. 1 pick a greater chance of success.
Mike Sando:
It depends wholly on what you think of
Sam Bradford
relative to Jason Campbell. The Rams want a face-of-the-franchise guy, someone to lead the team and rouse the fan base. I don't think Campbell would be that guy. The book on Campbell says he's not much of a leader. That was the read on him coming out of Auburn in 2005. For the Rams, drafting a quarterback first overall would provide some needed sizzle. Now, does that mean Bradford will be any good? Not necessarily.
Your idea has some appeal.
Trent Dilfer
, speaking on 101ESPN St. Louis,
suggested
the Rams go that route. It makes sense if the Rams aren't sold on Bradford. But if they think Bradford is the franchise quarterback they want to build around, picking him is pretty easy to do.
---
Doug from Washington, D.C., writes:
Hey Mike, big fan of the blog and the Seahawks. I was just wondering why no one is talking about the Seahawks being interested in
Jared Gaither
? I understand that he's likely to fetch a high second-rounder, but couldn't the Hawks package their late second-rounder and a fourth- or fifth-round pick to grab a young left tackle with lots of upside?
Mike Sando:
Thanks, Doug. Gaither is 6-foot-9 and 340 pounds. The Seahawks won't want someone that massive for their zone blocking scheme. Also, a young left tackle on the rise should be worth more than the price you outlined. Something isn't right with the Gaither picture. Any young starting tackle available for that price must have some drawbacks.
---
Kenny from Spokane writes:
It doesn't seem like Pete Carroll is making any major moves yet. In fact, it seems like he's getting rid of more players than he's adding. A lot of his deals so far haven't made any sense. One of the theories I have is that Carroll really wants Washington quarterback
Jake Locker
as the future of the Seahawks franchise, even if it means throwing away a season. Do you think this is on the back of Carroll's mind?
Mike Sando:
No. New coaches identify players they do not want before they can add players they do want. Free agency doesn't provide many good opportunities for upgrades. The Seahawks will probably go young and build through the draft. This is a long-term rebuild.
---
Lon from Okanogan, Wash., writes:
Why does it seem like most people don't trust Pete Carroll and (general manager) John Schneider? Why are they so impatient about letting them have a chance to get something done? It seems to me that they deserve a chance to at least put a team on the field before people look to have them canned.
Mike Sando:
Some people want immediate results. They want to feel as though the team is making progress every day of the offseason. It's not realistic. Of course, you can't single out only the fans. The Seahawks themselves fired Jim Mora after only one season.
---
Travis from Socorro, N.M. writes:
I can't help but think that the dethroning of Ndamukong Suh at No. 1 is, in some part, due to the 24/7 sports news cycle. Having the No. 1 pick pegged so early just doesn't build a story. I'm vaguely reminded of the
Mario Williams
/
Reggie Bush
'controversy' -- which surprisingly went the 'safe' route, which would be a case where management diverged from the media as opposed to this draft, where there seems to be convergence between management and media. Thoughts?
Mike Sando:
The Rams have hardly discouraged the Bradford talk. They've made roster moves suggesting they'll add a franchise quarterback. If they wanted to discourage the Bradford talk, they could have floated concerns about Bradford's health.
---
Kevin from Sylmar, Calif., writes:
Hey, Mike, I've seen you say that it is a good possibility that all the top-tier tackle prospects could be gone by the 13th pick. If you're right and C.J Spiller is gone as well, and let's say that the 49ers pick up someone like Joe Haden with the 13th pick and Sergio Kindle with the 17th pick, do you think that they go with a tackle in the second round? Or do you think that's too early for the second-tier of tackles and they should go with someone like
Jahvid Best
from Cal, who would be a change-of-pace that they could really use?
Mike Sando:
I have wondered what would happen if the top four tackles were gone by No. 13. It does seem like a possibility. You're probably right in thinking there might not be a tackle worth the risk in the second round. A general manager I trust told me he thinks Rodger Saffold will also be part of the first-round group. At running back, Best could go in the first round if a team feels OK about his medical. They'll have a value judgment to make at tackle in the first round, I think. Someone will be there for them, but will the value line up?
---
Spenser from Danville, Calif., writes:
Hey Sando, with the release of
Flozell Adams
from the
Dallas Cowboys
, and the growing concern that there won't be a top-tier tackle available at pick No. 13 of the draft, why haven't the 49ers considered signing Flozell Adams? This team seems primed for a playoff run this year, and I think they could benefit from having a proven starter, like Adams. What do you think?
Mike Sando:
That could be a move best left for after the draft. If the 49ers draft a tackle at No. 13 or even No. 17, Adams might not be worth what he would otherwise command.
October, 30, 2009
10/30/09
1:12
PM ET
Posted by ESPN.com's Mike Sando
The Cardinals might have the best receivers in the league, but none has produced at a Pro Bowl level this season.
Larry Fitzgerald
ranks among the leaders in receptions, but he has dropped a couple passes and made few big plays. His per-catch average is 10.8 yards, down from 14.9 last season. That's a huge drop.
A quick look at NFC West players with Pro Bowl credential so far this season, in my view (with Pro Bowl
balloting
now under way):
Vernon Davis, TE, 49ers. Leads the NFL in touchdown receptions with six. Ranks among NFC leaders in receptions by tight ends. Averages 12.2 yards per catch, most among seven NFC tight ends with at least 25 receptions. Ranks second among NFC tight ends with 355 yards receiving. Tied for NFC lead among tight ends with five receptions of at least 20 yards. Strong blocker, but hasn't been used in pass protection much this season.
Steven Jackson, RB, Rams. Ranks second to Adrian Peterson in rushing yards among NFC players. Averages 4.4 yards per carry even though opponents know what's coming. Keeps producing despite the Rams' lack of playmakers in the passing game. Plays with passion and has led by example. Has zero touchdowns, more a reflection of his offense.
Patrick Willis, LB, 49ers. Two interceptions, 2.5 sacks, one touchdown and all the ferocity needed to play the position. Punishes opponents, notably knocking out Seahawks quarterback Matt Hasselbeck.
Adrian Wilson, SS, Cardinals. Defensive player of the week in the NFC for his efforts against the Giants in Week 7. Wilson's production early in the season suffered some in part because his role changed when injuries affected the secondary. Remains one of the most intimidating players in the league. Gaining momentum.
Joe Staley, LT, 49ers. He's a good, young player with toughness and durability. The 49ers' offense might need to produce more for Staley to command stronger consideration. But when you look around the NFC, there aren't many top-flight left tackles. The Seahawks' Walter Jones is on injured reserve. The Redskins' Chris Samuels has been hurt. The Cowboys' Flozell Adams has had penalty problems. By my count, no active offensive lineman in the NFC West has been to a Pro Bowl. Perhaps Staley has a chance.
A few specialists from the NFC West are also enjoying strong seasons. Punters
Donnie Jones
,
Andy Lee
and
Ben Graham
have punted well. Seahawks kicker
Olindo Mare
leads the NFL in touchback percentage, although he hasn't made enough field goals for consideration.
Update:
We've gotten some support for Darnell Dockett. The NFL is listing him as a defensive tackle. Thoughts?
October, 22, 2009
10/22/09
3:04
PM ET

Posted by ESPN.com's Mike Sando
In a mild upset, Cardinals tackle Levi Brown has moved past Rams guard Richie Incognito in the "race" to lead all NFC West players in penalties this season.
While Incognito will be tough to unseat as the
reigning NFC West penalty champion
, Brown has come on strong with six penalties already this season, only two fewer than he had in 2008. Brown is on pace for 19 penalties in 2009, six more than Incognito had last season.
Incognito's famously hot temper
should give him an advantage over the even-keeled, intellectually inclined Brown, who graduated from Penn State in less than four years. Incognito has two penalties for unnecessary roughness and one for tripping this season, although his lone infraction since Week 2 was for a relatively benign false start.
Rams tackle Alex Barron, who tied for third in the division with 11 penalties last season, has matched Incognito so far. Barron has five penalties, including at least one in four of the Rams' first six games. Two penalties for illegal formation, two for holding and a Week 6 flag for a false start are keeping him in contention.
The chart shows NFC West penalty "leaders" through Week 6. The figures count declined penalties.
The Seahawks' Max Unger replaced teammate
Ray Willis
on the list after the NFL shifted blame for a penalty from Willis to Unger. The penalty was for holding with 1:43 left in the second quarter of the Seahawks' game at Indianapolis in Week 4.
Cardinals guard
Deuce Lutui
, who ranked second in the division with 12 penalties last season, has only two in 2009.
The NFL makes available stats for
accepted penalties
(Rams have second-most, Seahawks have second-fewest). ESPN Stats & Information tracks declined penalties as well.
Bills offensive lineman
Demetrius Bell
and Bengals offensive lineman
Andrew Whitworth
lead the NFL with eight total penalties, one more than the Cowboys'
Flozell Adams
. Rams cornerback Ron Bartell ranks second in penalty yardage with 56. The Dolphins'
Will Allen
is first with 69.
July, 30, 2008
7/30/08
3:32
PM ET
Posted by ESPN.com's Mike Sando

Staley
SANTA CLARA, Calif. -- The 49ers are excited about Joe Staley taking over at left tackle. Others are taking notice as well. Former NFL scout Tom Marino, now with Scout.com, ranks Staley among the 10 best left tackles in the NFL, according to the St. Louis Post-Dispatch.
Marino's top five: Buffalo's Jason Peters, St. Louis' Orlando Pace, Seattle's Walter Jones, Dallas' Flozell Adams and Carolina's Jordan Gross. Marino then lists Staley among five players receiving honorable mention.
The other four: New England's Matt Light, Washington's Chris Samuels, Cleveland's Joe Thomas and Philadelphia's Tra Thomas.
Marino's assessment draws three of the 10 left tackles in the league from the NFC West. Pace has hardly played over the last two seasons, however, and Jones has battled through injuries that have prevented him from dominating as thoroughly. Pace and Jones are feeling better this summer. Their teams will improve if they regain top form.