August, 14, 2012
8/14/12
11:55
PM ET
SANTA CLARA, Calif. -- Gordy Soltau was a Navy Seal before the Seals were known by that name, graduating with the first class of frogmen during World War II. He was also one of the
San Francisco 49ers
' finest players during their first years as an NFL franchise, and for that the organization honored him Tuesday.
Soltau, a receiver and kicker who once scored 26 points in a game against the rival Los Angeles Rams, said he was "excited and thrilled and surprised" upon learning the team was enshrining him in the Edward J. DeBartolo, Sr., 49ers Hall of Fame.
Soltau, 87, recounted in detail memorable moments from a playing career that ran from 1950 to 1958. He was a three-time Pro Bowl choice and three-time All-Pro selection back when top players earned $200 a game, with most collecting more like $25 or $40. Some teams were barely surviving financially. There were no lucrative TV contracts.
Soltau recalled playing six or seven exhibition games in a year with no pay. One season, the 49ers traveled four days by train from Oakland to Syracuse for an exhibition against the
Pittsburgh Steelers
, stopping for "a few exercises" along the way. Quarterback Frankie Albert hatched a plan to net $25 per man from owner Tony Morabito.
"During the pregame meal, we're sitting in the hotel," Soltau said. "Frank had a pretty good relationship with the owner and he said, 'Tony, I've decided, the team has decided that we're going to bet you $25 a man that we'll score on the first time we have the ball."
Players looked around at one another, wondering where they'd come up with the money if they failed to score.
"Anyway, they kicked off to us and we had it on the 20-yard line and we ran a sweep to the right and I think we knocked down every Pittsburgh Steeler three or four times and had an 80-yard run for a touchdown," Soltau said. "Frankie Albert stood in front of the press box and said, 'OK, Tony, get the money out.' "
Morabito paid the players.
The game was changing as Soltau's career wound down in the late 1950s. Pete Rozelle took over as commissioner, forging TV contracts that tacked on zeroes to NFL paychecks. Soltau earned the maximum $10,000 in 1958, his final season. He then transitioned into a 45-year career with a printing company, becoming vice president of sales.
"There was not a lot of thought about money," Soltau said. "You played because you wanted to play and make the team. You didn't want to get cut and sent home."
June, 24, 2010
6/24/10
9:30
AM ET
Notable players:
QB
Joe Montana
, QB
Steve Young
, WR
Jerry Rice
, WR
John Taylor
, RB
Roger Craig
, FB
Tom Rathman
, TE
Brent Jones
, G
Guy McIntyre
, FS
Ronnie Lott
, OLB
Charles Haley
, DE
Pierce Holt
, DE
Kevin Fagan
, OLB Keena Turner, LB Matt Millen.
[+] Enlarge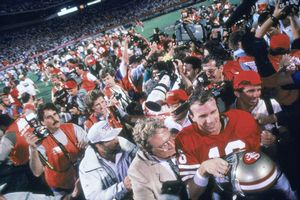 Andy Hayt/Getty ImagesJoe Montana and the 49ers were at the height of their success during the 1989 season.
Analysis:
The
San Francisco 49ers
had multiple teams worthy of consideration as the best in franchise history. I'll take the one that outscored its opponents 126-26 during the postseason, including 55-10 over the
Denver Broncos
in the Super Bowl. Denver led the NFL in scoring defense that season.
The 1989 team featured the 49ers' offense at the peak of its powers.
Joe Montana averaged 9.1 yards per attempt with 13 starts that season. The figure for three-game starter Steve Young -- 10.9 yards per attempt -- was even more ridiculous.
Drew Brees
set a career high at 8.5 yards per attempt last season.
Tom Brady
's average was 8.3 during his historic 2007 season.
Dan Marino
was at 9.0 in his 1984 career season. None could match the 49ers' top two quarterbacks during this special season.
This was the first 49ers team of the 1980s without Bill Walsh, but offensive coordinator Mike Holmgren was still there, as were nearly all of the team's iconic offensive players from the decade. Tight end Brent Jones emerged as a starter. Roger Craig topped 1,000 yards rushing. Fullback Tom Rathman caught 73 passes. Montana set a career high for passer rating at 112.1, completing 70.2 percent with 26 touchdowns and eight interceptions. Rice caught 17 touchdown passes while averaging 18.1 yards per reception.
The defense was typically overlooked except by those forced to play against it.
John Elway
completed only 10 of 26 passes for 108 yards and two interceptions against the 49ers in the Super Bowl.
"Their defense doesn't get enough credit," Broncos coach
Dan Reeves said
afterward. ''I can't say enough about them.''
Walsh later regretted retiring. This team made it easy to see why.
Most impressive win:
Having already touched on the Super Bowl victory, let's focus on the victory that delivered the NFC West title to San Francisco that season. Montana passed for 458 yards, including 286 to receiver John Taylor, and the 49ers twice overcame 17-point deficits to edge the division-rival Rams, 30-27, on the road.
Transcending Walsh:
This 49ers team became the only one in NFL history to win back-to-back Super Bowls with different head coaches. The change from Walsh to George Seifert might have actually helped this team, at least for a season. The offensive-minded Walsh left the defensive-minded Seifert with a veteran offense trained to function at a high level without much big-picture help. Holmgren took the best of what Walsh taught him and made it even better with his own tweaking. In that sense, the 1989 team might have gotten the best of what Walsh and Holmgren had to offer. Montana was also at his best. He never enjoyed a finer season.
Honorable mention
1984:
This was the team that knocked off Marino in the Super Bowl after the quarterback shredded defenses for a then-record 48 touchdown passes. This was a great 49ers team with a franchise-best 15-1 record, but the best group in 49ers history needed to include Rice, I thought. He arrived the next year.
1994:
Proponents of this team will point to a defense featuring
Deion Sanders
,
Rickey Jackson
,
Ken Norton
,
Merton Hanks
,
Eric Davis
,
Tim McDonald
,
Bryant Young
and others. They'll point to Young's record six touchdown passes against the
San Diego Chargers
in the Super Bowl.
1948:
Let's save some recognition for one of the early 49ers teams. This one outscored opponents by more than 17 points per game on its way to a 12-2 record. Frankie Albert put up modern-day numbers with 29 touchdown passes, 10 interceptions and a 102.9 rating.
May, 10, 2010
5/10/10
11:51
AM ET
Ryan from Lakeport, Calif., writes:
Hi Sando, love the blog. All this talk about stripping people of their achievements -- namely Lawrence Taylor and
Brian Cushing
-- got me thinking. If they do make
Jairus Byrd
the rookie of the year, what about
Lofa Tatupu
? Does anyone remember how
Shawne Merriman
got busted for steroids? Lofa should be handed that honor. Granted, it's been five years, but this Seahawk fan wants something from 2005 to not get cheated from us.
Mike Sando:
Good memory, Ryan. Merriman beat out Tatupu for defensive rookie honors after both turned in Pro Bowl rookie seasons in 2005. Merriman then served a four-game suspension during the 2006 season. If they strip Brian Cushing of top rookie honors after his positive test, why not strip Merriman? Sounds reasonable to me, although the timing of Merriman's positive test could be an important factor to consider. The San Diego Union-Tribune said the initial positive test was
during 2006
.
Note:
This answer was updated to reflect the timing of Merriman's suspension, which was served from Weeks 8-11 of the 2006 season, not the first four games.
News of the suspension
broke in October 2006. As former player Eric Allen put it for ESPN.com at the time, "The Rookie of the Year award and Pro Bowl honors we all thought Merriman earned ... have now been sullied completely by his imminent suspension."
---
Mark from Clinton, Utah, writes:
Mr. Sando, First off let me say that you coverage is something I look forward to as a Rams fan and it helps me pass through the downtime while deployed out here in Afghanistan. My question is this: I recently read a post that there hasn't been a successful lefty QB since
Steve Young
. While there have been 'lefty' flashes of brilliance, I do consider this to be pretty valid. The post also went on to say that this is a league for right-handers. Do you think that this is due to so much emphasis going to the left (blind) side of the line? If not, why the left-handed QB drought?
Mike Sando:
Thanks, Mark. There have never been very many left-handed quarterbacks in the NFL to begin with, so the sample size is probably too small for us to make sweeping proclamations about these players' professional fates. It's possibly coincidental that some of the best ones -- Steve Young,
Mark Brunell
and Boomer Esiason -- played in the same general era.
Current NFC West teams found room for some of the better ones, from Young to Jim Zorn to Frankie Albert. Young is
the only left-handed quarterback
in the Pro Football Hall of Fame.
This analysis
posted on the Rutgers University website includes stats for left-handed quarterbacks. Todd Marinovich and
Cade McNown
didn't help the cause as left-handed first-round draft picks during the 1990s.
Your initial thought could be on the right track. Football is traditionally a right-handed game. Offenses are set up to go that way. Left-handed quarterbacks could be at a disadvantage even at the lowest levels of the game, and this could influence how many of them eventually make it in the NFL. Meanwhile, baseball puts a premium on left-handed throwers, so talented lefties are probably funneled toward baseball and away from football as they come up through the ranks.
I like the subject matter. It's something I'd like to ask
Matt Leinart
about at some point. Anyone have any theories?
---
Zachary from San Francisco writes:
Are the 49ers mishandling
Alex Smith
's contract situation? What if he has a breakout season? Even if Alex has a "breakout" season, I can't imagine the 49ers being in a position to place the franchise tag on him this offseason. Have the 49ers burned bridges with Alex? They've kept him on an awfully short leash and signed Davis Carr this offseason while telling him, 'No. It's still your job, Alex.'
Wouldn't Alex rather go and start for Minnesota in 2011? What if
Kevin Kolb
doesn't work out? Maybe he lands a job in Philadelphia. If Alex succeeds this season, he'll have the 49ers on a short leash.
Mike Sando:
Smith made it clear he wanted to stay in San Francisco. He could have gone after more money as a free agent if he had refused to rework his rookie deal. The people most responsible for mishandling Smith early in his career no longer work for the 49ers. If Smith plays well this season, yes, the 49ers will have to step up. But they would welcome such a problem. I also think Smith will have more value to the 49ers than he will to other teams, based on his familiarity with the system.
---
Neil from Jackson, Miss., writes:
Sando,
your article
on the best QB in the NFC West considered Matt Leinart but not
Derek Anderson
. Anderson could easily end up the Cardinal's starter and, for that matter, the best QB in the division. Not at all saying I think he will, but with the QB situation so weak across the division, he deserves to be considered a contender.
Mike Sando:
You're right in that we should at least allow for the possibility. Matt Williamson of Scouts Inc. addressed the Anderson signing in Arizona for a
recent Insider piece
. He thought the Cardinals could have done better than Anderson even in looking only for a backup. I'm interested to see what happens with
Charlie Whitehurst
in Seattle given that Arizona was also trying to acquire him from the Chargers. Which player delivers more value -- Whitehurst or Anderson -- could impact the division this year or next.
January, 25, 2010
1/25/10
7:28
PM ET
Tom Wittum, one of four Pro Bowl punters in 49ers history, has passed away at age 60, the team announced.

Wittum, Tommy Davis and current punter Andy Lee each earned Pro Bowl honors twice as 49ers. Quarterback Frankie Albert, who also punted, was a one-time Pro Bowl choice for the team.

Wittum played for the 49ers under coaches Dick Nolan, Monte Clark and Ken Meyer.

"The San Francisco 49ers family is deeply saddened to announce that former two-time Pro Bowl punter Tom Wittum has passed at the age of 60," the team said. "He is survived by his wife, Cheryl, son, Matt, daughter, Krissy, step-daughter, Michelle, and step-son Michael."