January, 4, 2013
1/04/13
11:44
AM ET
»
NFC Final Word
:
East
|
West
|
North
»
AFC
:
North
|
South
Five nuggets of knowledge about the Seattle Seahawks' wild-card playoff game against the Washington Redskins on Sunday at FedEx Field:
Rookie showcase.
Washington's
Robert Griffin III
(102.4) and Seattle's
Russell Wilson
(100.0) are the only qualifying quarterbacks in NFL history to finish their rookie seasons with NFL passer ratings in triple digits. They also are the first full-time rookie starting quarterbacks to face one another in an NFL playoff game. Houston's
T.J. Yates
was a replacement for
Matt Schaub
when he went against fellow rookie
Andy Dalton
in the playoffs last season.
Wilson and Griffin aren't alone among rookies playing prominent roles for their teams. The Redskins, led by Griffin and 1,600-yard rusher
Alfred Morris
, have a league-high 46 touchdowns passing, rushing or receiving from their rookies this season. The Seahawks and
Indianapolis Colts
are tied for second with 30 apiece.
Seattle also got 12 sacks from its rookies.
Bruce Irvin
had eight of them. Middle linebacker
Bobby Wagner
finished his rookie season with 140 tackles, three interceptions and two sacks as an every-down player.
[+] Enlarge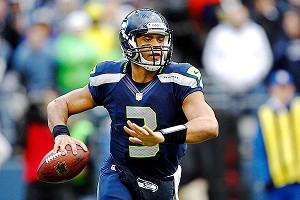 Joe Nicholson/USA TODAY SportsSeattle quarterback Russell Wilson has shown steady improvement when facing heavy defensive pressure this season.
Picking their spots.
Seahawks offensive coordinator Darrell Bevell said he counted nine all-out blitzes for Washington against Dallas in Week 17.
The Redskins collected a league-high 12 interceptions while blitzing during the regular season. Wilson, after struggling against pressure early in the season, has eight touchdown passes with no picks against five or more pass-rushers since Week 8. He has hit on six deep passes against five-plus rushers over that period, third most in the NFL. Deep passes are those traveling more than 20 yards past the line of scrimmage before the reception.
Wilson has eight overall touchdown passes on these deep throws, tied for second most in the NFL. He has thrown none of them on the road, however. His completion rate on these throws drops from 53.3 percent at home (16-of-30) to 28.6 percent on the road (8-of-28).
Pictures of health.
The Seahawks enter the playoffs with zero starters on injured reserve unless you count guard
James Carpenter
as a player Seattle was counting on. Nickel pass-rusher
Jason Jones
and nickel cornerback
Walter Thurmond
are the most prominent Seahawks on IR. The Redskins' IR list features starters
Adam Carriker
,
Brian Orakpo
,
Fred Davis
,
Jammal Brown
and
Brandon Meriweather
. Also, nickel cornerback
Cedric Griffin
missed four games to a suspension and is returning.
Watch that play fake.
The Seahawks have increasingly used play-action to great effect from the shotgun formation. Wilson has completed 14 of 15 such passes over the past five games. Both defenses must be wary. Griffin's average target depth jumps by a league-high 5 yards on play-action throws. His Total QBR score is a 13th-ranked 58.4 without play-action. It jumps to 86.8, fourth best in the league, when using the tactic. Seattle's defense ranks 24th in QBR allowed (74.4) against play-action. Washington's defense ranks third (46.9) by this measure.
Cornerback playmaking.
Griffin, Wilson, Morris and
Marshawn Lynch
will command most of our attention as the most productive offensive players for each team.
There should be some outstanding battles in the secondaries as well. Seahawks cornerback
Richard Sherman
is one of four players over the past 10 seasons with at least eight interceptions and three forced fumbles in one season (
Charles Woodson
and
Ed Reed
are two others to do it).
Sherman and fellow corner
Brandon Browner
tick off opposing receivers with their aggressive, sometimes against-the-rules tactics. The Redskins haven't gotten many calls along those lines. They made only seven first downs this season via penalties for illegal contact, defensive pass interference or defensive holding this season. That is half the NFL average and second fewest in the NFL behind Cleveland (six).
ESPN Stats & Information contributed to this item.
December, 23, 2012
12/23/12
8:00
AM ET
Beanie Wells
and Michael Crabtree ranked among the NFL's top 12 scorers in fantasy points for Week 15.
This might not be a big deal to everyone, but if you had Wilson and Kaepernick starting as lower-priced quarterbacks on
your Gridiron Challenge team
, you might blog about it.
St. Louis Rams
tight end
Lance Kendricks
will be joining them in my Week 16 lineup. He faces a suspect
Tampa Bay Buccaneers
pass defense that ranks 27th in Total QBR allowed. Tight ends
Brandon Myers
(17 points),
Martellus Bennett
(13),
Clay Harbor
(11) and
Antonio Gates
(11) have had double-digit fantasy scoring games against the Bucs.
Greg Olsen
(nine),
Jacob Tamme
(8) and
Fred Davis
(7) came close.
Arian Foster
, Marshawn Lynch,
Andre Johnson
,
Calvin Johnson
(22 points Saturday night) and
Greg Zuerlein
are rounding out my player lineup this week. It was only fitting that I failed to sub out the
Detroit Lions
' defense before their kickoff Saturday night against the high-scoring
Atlanta Falcons
. Call it richly deserved punishment for placing the Falcons only sixth on my most recent
power rankings ballot
.
The chart shows NFC West leaders in fantasy points this season. Not pictured:
Larry Fitzgerald
, with 87 points, down from 151 at this point last season. He trails Michael Crabtree (124), Sidney Rice (110),
Golden Tate
(95) and teammate
Andre Roberts
(95) among NFC West wideouts with two games remaining.
Brandon Gibson
(86),
Danny Amendola
(78) and
Chris Givens
(77) are next.
Russell Wilson, Sam Bradford, Colin Kaepernick,
November, 5, 2012
11/05/12
8:20
PM ET
The
St. Louis Rams
have allowed the 10th-most yards to opposing tight ends through Week 9 this season.
No big deal, right?
Well, it is if you're
@timstantonx
and you're wondering whether this is the week
Vernon Davis
gets back on track as a receiver for the
San Francisco 49ers
.
Davis will be facing a Rams defense that gave up eight catches for 146 yards and two touchdowns to New England tight end
Rob Gronkowski
in St. Louis' most recent game.
The 49ers, like the Rams, are coming off a bye. I suspect the 49ers will want to reintroduce Davis to their stat sheet after spending the last few games explaining how much they value him as blocker. Davis has five catches for 71 yards over the 49ers' last three games. His 58-game streak with at least one reception ended during that time.
The chart from ESPN Stats & Information shows receiving stats for tight ends against the Rams this season. There's a row showing totals for this season and for the Rams' first eight games last season. Tight ends have been piling up more yards against the Rams to this point in 2012 than last season.
The final row shows Davis' stats this season.
The 49ers completed 13 of 16 passes for 150 yards when targeting Davis against the Rams last season. The Rams' other opponents completed 41 of 74 passes for 384 yards to tight ends over the full season.
December, 1, 2011
12/01/11
4:00
PM ET
Five things I noticed while watching the
Seattle Seahawks
' most recent game, a 23-17 home defeat to the
Washington Redskins
:
About those young safeties. The Redskins enjoyed early success against Earl Thomas and Kam Chancellor when Rex Grossman found Fred Davis for a 31-yard gain to the 2-yard line on Washington's first drive. Thomas blitzed and got into the backfield quickly, only to chase a ghost. Grossman faked a handoff inside, then faked one to Jabar Gaffney on an end-around. Thomas followed Gaffney long enough for Grossman to find Davis. Chancellor, having already leveled Santana Moss earlier in the drive, whiffed on Davis when trying to hit him instead of wrapping up. These were errors of aggression.
Competitive battles on the lines. The Seahawks' left tackle, Russell Okung, continues to play better as his ankle injuries fade from memory. He faced difficult matchups against the Redskins' Stephen Bowen and Brian Orakpo. All parties made positive plays. Okung stood out early when the Seahawks got the Redskins' front flowing to the offensive right, setting up Marshawn Lynch's cutback for a big gain. Okung drove Bowen across the formation and landed on him. Okung took an awkward hit from teammate Breno Giacomini late in the game and was limping. Trent Williams, the Redskins' left tackle, was jabbering at various Seahawks throughout the game. He was the aggressor and seemed to get the better of his matchups. Two young Seattle linemen, center Max Unger and defensive tackle Brandon Mebane, looked good.
Guards were hustling. Robert Gallery and Paul McQuistan made excellent blocks well downfield to spring Lynch's 20-yard scoring reception.
Redskins' trippy field-goal team. Red Bryant's power was part of the story behind the field-goal attempt he blocked in the second quarter. The Seahawks bunched defenders over the right side of the Redskins' protection. A twist left the Redskins' Will Montgomery trying to block two players at once, including Bryant. He had no chance. The tighter splits linemen use when blocking for field goals prevents them from moving backward freely without tripping over teammates' legs. Montgomery tumbled over backward as Bryant rushed through.
Sprinting through the whistle can help. The Seahawks allowed their first rushing touchdown since Week 4 when Roy Helu sprinted around the left side for a critical 28-yard run with 9:57 left in the fourth quarter. It's unrealistic to expect every player on defense to run his absolute hardest throughout every moment of every play. The Seahawks would have been better off her if Leroy Hill had done that on this play, however. Hill let up when Chancellor appeared likely to make a tackle near the line of scrimmage (after Helu hurdled Roy Lewis). Hill accelerated when Helu broke free, but he let up again when Helu reached the 10-yard line. Hill was a couple yards behind and to the inside. He wasn't going to catch Helu, most likely. This was the signature play in a poor tackling game for Seattle.
That's it for now. I'm heading to Qwest Field early for the Thursday night game.
September, 23, 2011
9/23/11
3:46
PM ET
Five things I noticed while watching the
Arizona Cardinals
' 22-21 defeat to the
Washington Redskins
in Week 2:
Confusing penalty situation early. Officials flagged Cardinals safety Kerry Rhodes for unnecessary roughness on the Redskins' first possession. I thought officials flagged Rhodes because Rhodes' hand had inadvertently struck an official during a fight involving several players. Looking at replays, the offending hand actually belonged to Redskins tackle Jammal Brown. Rhodes was not fined for the play.
Jeff King gets featured. Todd Heap's signing was supposed to mean more than King's signing for the Cardinals' passing game, but King was the only tight end on the field when he caught a 21-yard touchdown pass in the first quarter. The Cardinals went with base personnel (two backs, one tight end) on this play. Larry Fitzgerald was on the weak side, with King releasing freely. King has two touchdowns in as many games for Arizona. The Cardinals have targeted him five times and Heap three times.
Early Doucet is the second-best WR. Andre Roberts dropped a ball. Chansi Stuckey fumbled. Doucet, who had a 70-yard scoring reception in Week 1, impressed with a short reception over the middle in traffic for a third-down conversion. The Cardinals have targeted Doucet seven times on third down, most on the team. Four of those targets produced first downs, including the 70-yarder. A fifth went for a 12-yard gain on third-and-25.
Beanie Wells blocked Brian Orakpo. It happened midway through the third quarter, but the interception Kevin Kolb threw on the play got all the attention. Wells, who enjoyed a strong second half running the ball, has not been known for his work in pass protection. He walled off Orakpo on this play, giving Kolb time to move from the pocket and reset himself.
No pass-rush when it mattered. Leading 21-19 with less than five minutes to play, the Cardinals blitzed both inside linebackers on first down. Neither came close to getting pressure. Joey Porter dropped into coverage on the play and gave up a reception to tight end Fred Davis. The Redskins beat blitz pressure with quick passes on the next two plays. Then, with three wide receivers still on the field, the Redskins ran up the middle into field-goal range against a smaller defensive front. Arizona could have used some luck, too. The Cardinals tipped but could not intercept passes on consecutive plays before the Redskins made the winning field goal.
And that concludes this tape-delayed version of five observations coming off a short week. NFC West predictions for Week 3 are coming in a bit.
March, 30, 2011
3/30/11
10:45
AM ET
Our ongoing
discussion on tight ends
raised questions about which ones possess the best -- and worst -- hands.
"Any way you can add in 'thrown to' and 'drops' in this stat?" Furfanam asked in
one comments section
.
Consider it done.
Jason Vida of ESPN Stats & Information produced the information. I've broken it out in four charts. A few notes on the findings:
The first chart ranks NFL tight ends by most receptions. It also shows number of targets, drops and drop percentage. Witten,
Jacob Tamme
and Gates were the only tight ends with at least 50 receptions and no more than two dropped passes.
The second chart shows lowest drop percentages among tight ends targeted at least 20 times last season. Miller's standing atop the list backs up
James Walker's contention
that the Pittsburgh Steelers tight end was underrated in our power rankings.
The third chart ranks NFL tight ends with at least 20 targets by the highest percentage of dropped passes.
ESPN Stats & Information's totals on Bajema matched my charting. I had Bajema dropping passes against Tennessee, Denver and Arizona.
The final chart focuses only on NFC West tight ends, ranking them by lowest percentage of dropped passes.
July, 20, 2010
7/20/10
12:48
PM ET
ESPN fantasy guru Matthew Berry is all over
Frank Gore
specifically and the 2010
San Francisco 49ers
in general.
"Gore, (Michael) Crabtree, (Vernon) Davis,
Josh Morgan
and (Alex) Smith are all on my love list this year,"
Berry proclaims
. "I think Davis might regress a little bit, but he'll still be an elite tight end."
Berry ranks Gore fourth overall among all NFL fantasy prospects. He likes the other San Francisco players largely in relation to where he thinks others will value them in fantasy drafts. Berry likes the
Seattle Seahawks
'
Justin Forsett
in the later rounds, but he doesn't like the team in general from a fantasy standpoint because too much remains unknown.
One thing I'm not sure about regarding the 49ers is to what degree Crabtree will get into the touchdown mix. Gore and Davis were the primary scorers for San Francisco last season. Crabtree scored only two receiving touchdowns. That number should climb, but by how much?
I'll be organizing a fantasy league on the blog again this season. It'll likely be a
Gridiron Challenge
league again. We'll have a hard salary cap and the ability to change rosters from week to week, with players' prices changing based on how they perform.
Back to Gore. He was a solid producer last season in terms of final numbers, but his week-to-week production was sporadic. The chart shows the top 30 touchdown scorers in the NFL -- make that the NFC -- last season. Three of the top four were in the
mighty NFC West
.