March, 28, 2012
3/28/12
5:30
PM ET
Roughly 90 percent of currently signed NFL halfbacks are not yet 28 years old.
I'm counting one,
Fred Jackson
, older than 30. (He is 31.)
Willis McGahee
and
Michael Turner
are 30. The rest are younger.
Teams will add a few older backs as the draft and training camps approach, but the NFL is a young man's game, particularly at halfback (as opposed to fullback).
The
San Francisco 49ers
' agreement with
Brandon Jacobs
, 29, gives the NFC West four of the 11 oldest halfbacks in the NFL.
Leon Washington
is also 29.
Frank Gore
and
Steven Jackson
turn 29 this year.
I touched on that issue, the
Arizona Cardinals
' young backs and the 49ers' potential thinking on Jacobs -- all in the video above.
January, 1, 2012
1/01/12
8:30
AM ET
Four of the 13 players with at least 1,000 yards rushing this season call the NFC West home.
All four run with power.
Two in particular -- Arizona's
Beanie Wells
and Seattle's
Marshawn Lynch
-- have racked up yardage after contact. Both rank among the NFL's top four in total yards after contact. And among those players with at least 1,000 yards, Wells and Lynch rank high in percentage of yards gained after contact (see chart, courtesy of ESPN Stats & Information).
Week 17 gives us one last chance to see Wells, Lynch and St. Louis'
Steven Jackson
in action this season. Along with San Francisco's
Frank Gore
, they give the NFC West more 1,000-yard rushers than any division. The AFC North, AFC South and AFC West have two apiece. The AFC East, NFC East and NFC South have one apiece. The NFC North has none after injuries sidelined
Matt Forte
(997 yards) and
Adrian Peterson
(970).
Six other backs are within 150 yards of 1,000 this season:
Shonn Greene
(999),
Chris Johnson
(986),
Fred Jackson
(934),
Michael Bush
(911),
DeMarco Murray
(897) and
Rashard Mendenhall
(890). Murray is sidelined by injury.
.
November, 24, 2011
11/24/11
10:44
AM ET
November, 19, 2011
11/19/11
10:45
AM ET
Frank Gore
had played 92 games for the
San Francisco 49ers
and finished with positive rushing yardage in every one of them.
Gore's 93rd game featured six carries for zero yards and a question: What happened?
"The Giants took extreme measures -- measure that I have rarely seen in the National Football League," 49ers offensive coordinator Greg Roman told reporters. "It was pretty much a numbers situation. Extremely loaded boxes."
A loaded box area features more defenders near the line of scrimmage than the offense has available to block them.
The Giants did pack eight or more defenders into the box on 19.2 percent of plays against the 49ers, up from 9.2 percent against previous opponents, according to Jason Starrett of ESPN Stats & Information.
Gore averages 2.5 fewer yards per carry against eight or more defenders in the box than he averages against standard seven-man boxes. That drop exceeds the 1.4-yard differential for all runners. While Gore averages 3.3 yards per carry against eight or more in the box, right around the 3.2-yard NFL average, teammate Kendall Hunter leads the league with a 6.1-yard average on these runs (min. 20 attempts).
The Giants had good reason for loading up against the 49ers' running game. Their run defense has been much more effective this season -- overall and relative to other teams -- when assigning at least eight defenders to the box.
Opponents have carried 197 times for 997 yards and three touchdowns when the Giants had seven or fewer in the box. That works out to 5.1 yards per carry, which ranks 26th in the league. But the Giants rank sixth in yards per carry allowed (2.3) when committing eight or more to the box. Opponents have carried 42 times for 97 yards and seven touchdowns on these runs, which include carries near the goal line.
Overall, the Giants allow 2.75 fewer yards per rush when committing at least eight defenders to the box. That is the third-largest differential in the league this season behind those for the
Detroit Lions
(minus-3.43) and
New England Patriots
(minus-3.88).
The chart at the bottom ranks NFL teams by fewest yards per carry allowed with no more than seven defenders in the box. I've also included averages with eight or more in the box, plus a column showing differential. I've rounded off figures to the tenth. Rankings reflect more specific calculations, explaining why Indianapolis, Houston and Cleveland have the same averages but different rankings.
Teams with many more plays near the goal line might produce skewed results. That's why I've ranked the chart by fewest yards per carry allowed with seven or fewer in the box. Teams faring better against the run in these situations tend to have greater flexibility in coverage. The 49ers' strength in this area has taken pressure off their secondary, without question.
The 49ers have used more than seven in the box against only nine rushing plays this season, fewest in the NFL. The average is 47.4 for the other 31 teams. The
Seattle Seahawks
and
Arizona Cardinals
have been much more likely than the 49ers or
St. Louis Rams
to use eight-plus defenders in the box on running plays.
.
November, 3, 2011
11/03/11
10:00
AM ET
Not that
Frank Gore
's candidacy for
MVP
needs defending, but just in case: The
San Francisco 49ers
' running back has gained 28.6 percent of his rushing yards against eight or more defenders in the box.
That's the highest percentage among all players with at least 400 yards rushing this season, according to ESPN Stats & Information.
I put together the chart below after
Lotharun2
asked in the comments section of
an earlier item
where Philadelphia's
LeSean McCoy
ranked in yards against these stacked defenses.
McCoy has 17 carries for 72 yards against eight or more defenders in the box. That works out to a healthy 4.2-yard average. But with a dynamic quarterback and playmakers on the perimeter, the Eagles make it tougher for defenses to load up against the run. In my view, that explains why McCoy has gained a relatively low percentage of his runs against eight or more in the box.
The 49ers prefer heavier personnel groupings featuring two tight ends. They have enough speed at tight end to enjoy flexibility from these groupings, but the team has not consistently put an emphasis on downfield strikes.
October, 12, 2011
10/12/11
11:45
AM ET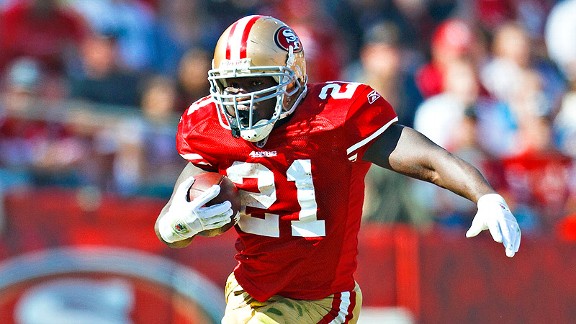 Jason O. Watson/US PresswireSan Francisco's Frank Gore has rushed for at least 125 yards in back-to-back games.
The best running backs are patient when they need to be, waiting for openings to develop before running into the clear.
Frank Gore
waited three weeks for his opening with the
San Francisco 49ers
this season. He's rushed for 252 yards over his past two games, a leading reason the 49ers have improved to 4-1 with victories over Philadelphia and Tampa Bay. The recent surge has landed Gore in the No. 10 spot on the weekly MVP Watch.
"He had his burst back," 49ers coach Jim Harbaugh said after Gore gashed the Bucs for 125 yards on 20 carries. "He looked like Frank. He's having fun out there. That's the thing I see in Frank most of all right now, is that he's enjoying football."
Gore did it all against the Eagles as well. He broke a 40-yard run on his first carry. He added a 25-yarder during the drive to his winning 12-yard scoring run. And when the 49ers needed to run out the clock on their final possession, Gore carried five times in a row, getting at least 4 yards every time, as the Eagles burned through their timeouts.
For the season, Gore's 400 yards and three touchdowns put him on pace for 1,280 and 10, respectively. But if the last two games provide a more meaningful representation of Gore's projected production, the two-time Pro Bowl choice would be on his way to nearly 1,800 yards and 14 touchdowns.
Gore isn't the only newcomer to the MVP Watch list this week. The
New England Patriots
'
Wes Welker
makes a belated 2011 debut, while the
Buffalo Bills
'
Fred Jackson
returns to the list.
Eli Manning
,
Ryan Fitzpatrick
and
Philip Rivers
dropped from the top 10.
Welker's omission a week ago produced quite a few complaints, and justifiably so. He's on pace to finish with 144 receptions for 2,368 yards and 16 touchdowns. I'd left him off previously under the assumption no one but
Tom Brady
would win the award for New England, but if Welker keeps up this pace, he's going to get more votes than some of the other listed players.
Not that it likely matters if the
Green Bay Packers
'
Aaron Rodgers
keeps raising the bar.
October, 5, 2011
10/05/11
12:00
PM ET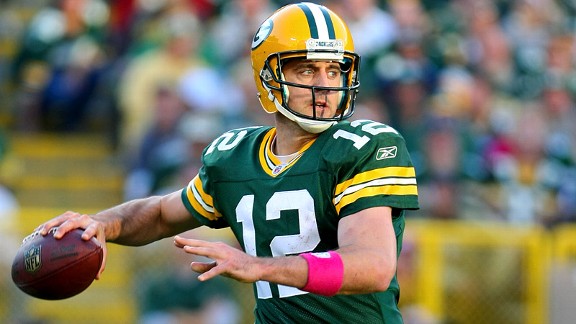 Brace Hemmelgarn/US PresswireAaron Rodgers accounted for six touchdowns in the Packers' Week 4 win over Denver.
Larry Fitzgerald
answered the MVP question before I could finish asking it.
"That's a no-brainer," he said from the
Arizona Cardinals
' locker room this week. "Is it even close right now?"
Not really.
Aaron Rodgers
tightened his grip on the top spot by becoming the first player in NFL history with at least 400 yards passing, four passing touchdowns and two rushing scores in the same game. By comparison, the entire
Jacksonville Jaguars
team has 550 yards passing, two passing touchdowns and one rushing score
in its first four games
.
Tom Brady
remains the biggest threat to Rodgers for the long term, but the
Detroit Lions
'
Matthew Stafford
has gained ground.
"If the Patriots didn't lose one game, you might say Tom, but Aaron is playing lights out," Fitzgerald said. "And they're kind of doing it under the radar, too. It's as under the radar as you can be as a Super Bowl champion. You don't see them all over ESPN. You just see them going about their business."
Fitzgerald pointed to the Lions'
Calvin Johnson
as the wide receiver most likely to break the quarterback-running back stranglehold on MVP honors. And he said the
Baltimore Ravens
'
Ed Reed
and the
Dallas Cowboys
'
DeMarcus Ware
have the potential to make a run at MVP from the defensive side.
"Ed Reed is as important to that Ravens defense as a good quarterback is to any team," Fitzgerald said. "He has been playing great."
There wasn't quite room for defensive representation on the list this week. The Lions' Johnson joined
Eli Manning
and
Philip Rivers
as new from last week, pushing aside Buffalo's
Fred Jackson
, Dallas'
Tony Romo
and Houston's
Matt Schaub
. Jackson has not exceeded 74 yards in his past two games. Schaub's status took a hit with
Andre Johnson
's injury, and it was tougher finding room for teammate
Arian Foster
after the Texans' backup running back,
Ben Tate
, produced so well when Foster was out.
September, 28, 2011
9/28/11
12:00
PM ET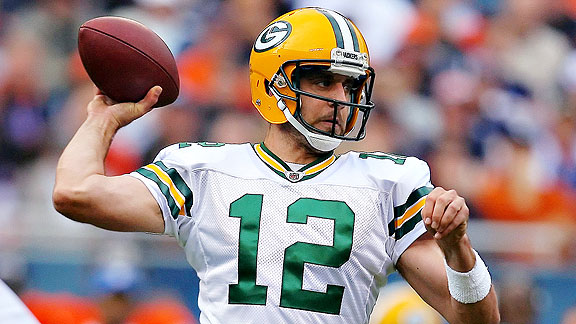 Dennis Wierzbicki/US PresswireAaron Rodgers has thrown eight touchdown passes and just one interception for the 3-0 Packers.
Aaron Rodgers
' ascension to the top spot in the weekly MVP Watch requires no rationalization.
The
Green Bay Packers
are the undefeated reigning Super Bowl champions. Rodgers is their best player, the Super Bowl MVP.
Esquire has
taken note
by declaring, "In fact, what distinguishes Aaron Rodgers is not his decision making, which, though impeccable, is in the mortal realm. It's his sheer giftedness -- his economic brand of elusiveness matched with a talent for throwing the damned ball that is the equal of
Dan Marino
's,
Warren Moon
's, or (hey, why not?)
Brett Favre
's."
That is good enough for us after
Tom Brady
, the MVP Watch leader through Week 2, inexplicably tossed four interceptions in losing to Buffalo. Brady lost ground to Rodgers, who is now on pace for 43 touchdowns with three interceptions, and
Drew Brees
, whose only defeat came against Rodgers' Packers in a memorable season opener.
Seeing some combination of Rodgers, Brees and Brady atop an MVP list comes almost as a matter of course.
Matthew Stafford
's inclusion at No. 4 was at least remotely foreseeable given heightened expectations for the
Detroit Lions
this season. But three names on the list this week -- Buffalo's
Ryan Fitzpatrick
and
Fred Jackson
, plus Tennessee's
Matt Hasselbeck
-- once would have seemed utterly unfathomable as candidates to anyone outside (and probably inside) their immediate families.
There are as many
Buffalo Bills
in the running as Packers, Patriots and Steelers combined. And the best quarterback in the AFC South right now plays in Nashville, not Indy. Hasselbeck, never known for sheer arm strength, is improbably among the NFL leaders (first in QBR, third in NFL passer rating) on throws delivered outside the yard-line numbers.
"It's early, of course, but Hasselbeck's playing like a guy capable of transforming a franchise," AFC South blogger Paul Kuharsky observed.
With Hasselbeck, Fitzpatrick, Dallas'
Tony Romo
and Oakland's
Darren McFadden
emerging as MVP Watch-worthy, there wasn't room for every qualified candidate.
NFC North blogger Kevin Seifert rightfully asks whether any non-quarterback has had a
greater impact on his team
than Detroit's
Calvin Johnson
. Anyone watching the Cowboys knows the same could be said for the incomparable
DeMarcus Ware
. The way
Joe Flacco
lit up the
St. Louis Rams
caught my attention as well.
September, 21, 2011
9/21/11
12:00
PM ET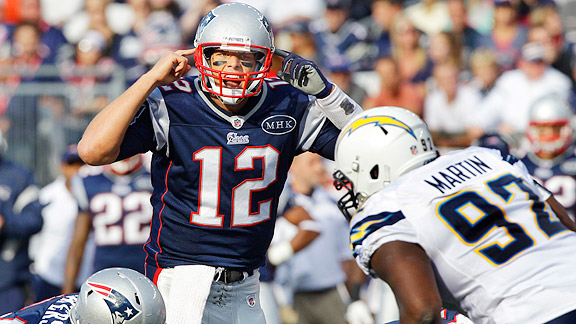 AP Photo/Stephan SavoiaTom Brady has completed 71.6 percent of his passes for 940 yards in the Patriots' first two games.
The MVP race could not be clearer at the top.
The
New England Patriots
'
Tom Brady
leads the league in NFL passer rating,
Total QBR
and many related categories, including passing yards, yards per attempt, completions, attempts (tied), longest pass completion and touchdown passes (tied). His team is 2-0 and among the NFL's very best.
The league has named Brady its top AFC offensive player for each of the first two weeks, the first time one player has won that 28-year-old award twice to open a season. Brady won the AFC's weekly honors twice in 2007 and 2010, winning MVP following both of those seasons.
Finding nine other candidates to consider on the MVP Watch list wasn't all that difficult this week. The tougher part was deciding which players would round out the last few spots. Buffalo's
Ryan Fitzpatrick
, Tennessee's
Matt Hasselbeck
and Dallas'
DeMarcus Ware
were three players who missed only narrowly.
After putting together the list, I went through the QBR season leaders to see how the quarterbacks stacked up by that measure. Fitzpatrick, Hasselbeck and the Cowboys'
Tony Romo
are the only quarterbacks other than Brady with a QBR of at least 80.0. Each has a good shot at moving onto the list with another strong performance in Week 3.
New to the list this week:
Fred Jackson
,
Matt Schaub
,
Adrian Peterson
No longer listed:
Joe Flacco
,
Darren McFadden
,
Terrell Suggs
October, 6, 2010
10/06/10
8:51
AM ET

Kent Somers of the Arizona Republic
says the Cardinals need to resolve their quarterback situation in a positive way if they expect to re-sign Larry Fitzgerald. Somers: "In 2008, Fitzgerald signed a five-year contract that voided to four provided Fitzgerald met minimal performance standards. He's done that, meaning his contract, which averages $10 million a year, will expire after the 2011 season. To avoid reaching that point, the Cardinals are expected to discuss a new contract with Fitzgerald no later than this spring, although a lockout could change the timeline." Fitzgerald had the Cardinals in a tough spot when he signed his current deal. That will be the case again.
Bob McManaman of the Arizona Republic
checks in with former Cardinals coach Joe Bugel, who lives in the Phoenix area and recently participated in Russ Grimm's Hall of Fame induction.
Also from McManaman
: a conversation with Cardinals center Lyle Sendlein, who has this to say about what he enjoys during the offseason: "If my body's feeling all right, I like to play some golf. But a lot of times, my hands, my back and my head hurts. The wife and I sometimes go out to see a movie. But I don't do a whole lot; I guess that's the point. I'm kind of mindless at times."
Darren Urban of azcardinals.com
says playing well is the best kind of "leadership" during the NFL season.

Clare Farnsworth of seahawks.com
says Russell Okung made his first NFL start without many practice reps. Okung's second NFL start will be tougher, most likely, because Julius Peppers will be lining up against him.
Steve Kelley of the Seattle Times
says the Seahawks' latest trade, for Marshawn Lynch, shows the front office never rests and isn't content waiting until next season. Kelley: "They've turned the locker room at VMAC into a pigskin version of Ellis Island, with new players coming in almost daily from all over the NFL. The turnover has been unprecedented. To that point, on Tuesday, they pulled the deal of the season. They got something the Seahawks have been seeking since forever."
Danny O'Neil of the Seattle Times
says Seattle is one of four teams without a 1,000-yard rusher in any of the last four seasons. Buffalo has had three during that time (Lynch twice, Fred Jackson once).

Jim Thomas of the St. Louis Post-Dispatch
says the Rams see no reason they cannot contend within the NFC West. Guard Adam Goldberg, speaking immediately following the team's 20-3 victory Sunday: "I am ready for next Sunday. This winning's addictive and you want to get to the next one."
Also from Thomas
: a chat transcript noting that Larry Grant has played OK for the Rams lately.
More from Thomas
: The Rams brought in cornerback Quincy Butler for a tryout. Kevin Dockery is injured.
Bernie Miklasz of the St. Louis Post-Dispatch
offers an appreciation for Steven Jackson. Miklasz: "He's become a tremendous leader under head coach Steve Spagnuolo. Jax has been a positive influence in his vocal leadership, and in his actions. Though last year's 1-15 record -- and a back injury -- probably had Jackson screaming inside, he never wavered from his commitment to be a forward-thinking Ram who could see daylight ahead. Jackson trained very hard. He's taken care of himself. He's put in extra time. Tuesday morning, on a day off, Jackson was at Rams Park, studying video of Sunday's opponent, Detroit."

Matt Maiocco of CSNBayArea.com
says 49ers president Jed York has incentive to give Mike Singletary every chance for success given that York's first major move in the role was to hire the former linebacker as head coach. The 49ers aren't really in position to hand the job to anyone else during the season. Greg Manusky could take over, but giving him the top job would weaken the 49ers at defensive coordinator.
Matt Barrows of the Sacramento Bee
details a few moves the 49ers made around the fringes of their roster. The Raiders signed Bruce Davis off the 49ers' practice squad.
David White of the San Francisco Chronicle
passes along this quote from Singletary: "It's not like we're puzzled over here, throwing our hands up, saying, 'What the heck do we need to do win?' It's on the wall, it's on the film. We can see it."
Kevin Lynch of the San Francisco Chronicle
says Nate Clements answered reporters' questions about his fateful interception return for the first time. Clements: "It was instinct; it was happening fast. I caught the ball, and I didn't see anybody but the quarterback, and I had three blockers."