March, 11, 2014
Mar 11
9:20
PM ET
TEMPE, Ariz. -- When
Larry Fitzgerald
included
Frostee Rucker
in the list of players that his restructured contract would help sign, a lot of heads were scratched.
Rucker
But it all made sense Tuesday.
The team announced Rucker was one of three Cardinals who agreed to new contracts shortly after free agency kicked off Tuesday afternoon. And with
Karlos Dansby
chasing the money to Cleveland, Rucker now becomes the leader in the locker room. He's a well-respected veteran, and even though he's a back-up, Rucker leads by example as well as with his words.
"Some guys have gaudy numbers," Fitzgerald told ESPN.com earlier this month. "I know his numbers weren't crazy high. In terms of locker room guy, you can't ask for a better teammate. He busts his ass every day.
"He's not cliquey. He has a personality that meshes with everybody. You can't have enough glue guys in the locker room."
Last season, Rucker had 14 tackles, one sack, two tackles for loss, nine quarterback pressures and eight quarterback hits. That earned Rucker, 30, a two-year contract worth up to $2.4 million with $600,000 guaranteed, according to a league source.
When Dansby returned to the Cardinals last offseason, he quickly became the elder statesman of the locker room, a role that'll be inherited by the straight-shooting Rucker.
March, 3, 2014
Mar 3
4:00
PM ET
Frostee Rucker
has been turning heads since he was in high school in Southern California.
Rucker
That's when his unique first name started making waves as he became a high school football star. His name again turned heads in early February.
When
Larry Fitzgerald
was making his rounds through Radio Row at the Super Bowl, he was constantly asked about whether he was open to restructuring his mega contract in order to give the Cardinals breathing room with their cap space -- we all know he restructured two days after the Super Bowl. But what was interesting was that in Fitzgerald's response to those questions, he always mentioned that by restructuring, he would help the Cardinals re-sign veteran linebacker
Karlos Dansby
, young
Patrick Peterson
... and Rucker.
Yes, Fitzgerald believed that by restructuring, the Cardinals could bring back a 30-year-old backup defensive end who had just 14 tackles and an interception in 343 snaps. It clearly wasn't because of his stats.
Indeed, it wasn't.
Fitzgerald has been so adamant about the Cardinals having room to re-sign Rucker because of his reputation and presence in the locker room.
"Some guys have gaudy numbers," Fitzgerald said. "I know his numbers weren't crazy high. In terms of locker room guy, you can't ask for a better teammate. He busts his ass every day.
"He's not cliquey. He has a personality that meshes with everybody. You can't have enough glue guys in the locker room.
"[If there are issues in the locker room] he's a guy that will address it. Those guys are so valuable to your team. He's been great in our locker room. I think he's very important. I don't know what the Cardinals' views are. I'm just speaking of me personally."
December, 27, 2013
12/27/13
12:40
PM ET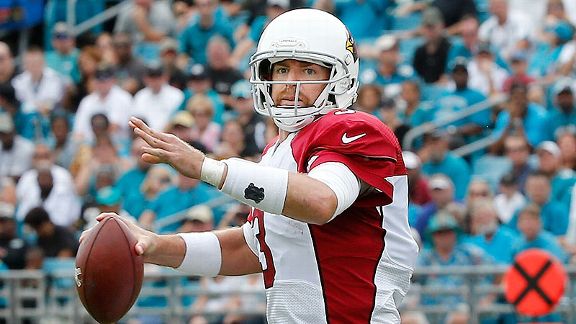 Sam Greenwood/Getty ImagesAn 11-year NFL veteran, Cardinals QB Carson Palmer is on the precipice of his first 11-win season.
TEMPE, Ariz. -- The memory is fragile.
It holds the keys to our lives, what propels us to go on, to take another step, to progress another day. For some, it's gone too soon. For others, it doesn't fade, staying as crisp and clear as the original moment.
Arizona Cardinals
quarterback
Carson Palmer
forgets quite often.
But, at 33, his memory isn't failing him, at least not yet. He forgets on purpose. It's a mechanism Palmer has used since high school as a way to not get bogged down by errant throws, poor decisions and untimely interceptions. He's trained himself to forget the bad plays as soon as they're over with and move on to the next.
"That's what separates you as you go on -- the ability to focus and ability to have your mind in the right place and move on to the next play," Palmer said. "You either learn it and you continue play, or you don't and you struggle and you don't play anymore."
He's had to forget more this season than any in his 10-year career. Despite being 133 yards away from his fourth 4,000-yard season, Palmer has thrown a career-high 21 interceptions -- and he still has one game left. Some of the inaccuracy issues stem from learning a fourth offensive scheme in as many years, with the intellect of this one could running circles around the last three.
Arizona coach Bruce Arians installed his highly complex scheme -- that has won Super Bowls and made a few good quarterbacks great -- and Palmer and the rest of the offense struggled to absorb it. He threw 13 interceptions in his first eight games, with as many being his fault as others because of bad alignment and poor route running. But Palmer has thrown just eight in the last seven games -- four of which came Sunday in a win at Seattle --during which Arizona has gone 7-1. And Palmer was interception-free in four of his last six games.
Palmer has looked like a different quarterback during the second half of the season, one with veteran savvy who still has the big arm at times and can still orchestrate an offense to wins. But he didn't always look like that guy. When Palmer was traded for a seventh-round pick in April, the jury was fairly unanimous: Arizona acquired a washed-up quarterback. But that same washed-up quarterback still threw for more than 4,000 yards with the
Oakland Raiders
in 2012.
"I think that might even been a bigger accomplishment," all-pro wide receiver
Larry Fitzgerald
said jokingly. "He was throwing it to himself a lot of times."
Yet, that was the perception. In Oakland, Palmer didn't have nearly the same talent level at receiver he has in Arizona but he was still able to put the situation behind him and air it out.
Recently, Arians said Palmer has the same memory as a cornerback, a position well known for quickly forgetting bad plays and moving on to the next one. He's never seen a quarterback do that before.
"First one that I've been around that can erase it that fast," Arians said. "Others let it linger too long. I've been around guys that couldn't shake it off. They just couldn't go to the next play and they kept thinking about it and another bad one would happen, and snow ball effect, but he's as good as I've been around as far as being resilient and going onto the next series."
Some say Palmer is "California Cool" but it's not to be mistaken for laziness or an apathetic attitude.
Palmer's career has been defined by his even-keeled demeanor and his ability to hold his ground while weathering less-than-ideal situations.
And his work ethic.
He's among the first at the practice facility every day and among the last to leave, Fitzgerald said.
Defensive end
Frostee Rucker
, who's known Palmer since their high school days in southern California and has been teammates with Palmer at USC and Cincinnati before Arizona, called Palmer a "complete professional." While some teammates are lighthearted on team flights and others are watching movies, Palmer is watching game film on his iPad, Rucker said.
"It matters to him," Fitzgerald said. "He wants to be great. He wants the pressure on his shoulders and he has that look in the huddle every Sunday -- that who's with me look? Who's going to ride with me today? And to have that kind of leadership at that position means a lot to us."
Rucker has known him a long time and has never seen Palmer be a "rah-rah" quarterback. He'll let the positive emotion of a game get the better of him after a big play, but he doesn't get down, especially during the week. He's steady and leads his charges by example, something that hasn't been seen around the Cardinals since
Kurt Warner
.
"Because [when] it gets rough out there, they point the finger at the head dog," Rucker said. "He's never once in his whole career pointed the finger at anyone.
"He's never once gave any reason why it didn't work but [to say] we need to do better."
Palmer's last four years haven't been the type usually associated with former first-overall pick and Heisman Trophy winner. His departure from the Bengals was tenuous and it eventually landed him in Oakland for a season-and-a-half. Before 2013, Palmer had won 12 games total in his last three years.
This season, he has Arizona on the brink of tying the franchise record of 11 wins and has them playing meaningful games in December for the first time since 2009. But despite everything he's accomplished and replanting himself as one of the better quarterbacks in the NFL, this season won't be satisfying unless the Cardinals play a game in January.
Palmer's not used to this type of success. He's won at least 10 games just twice before, in 2005 and 2009, but nothing's changed. He's still making the same throws he's made throughout his career. They're just to a better group of players around them.
"He'd make every throw in the book last year," Arians said. "It was just a situation that was … he was in a bad one but when you turned the tape on, there wasn't a throw he couldn't make."
In a matter of 16 games, he's gone from making interceptions the norm to the exception. If Palmer keeps up his current pace, 4,000-yard seasons will start becoming expected as he enters his mid-30s.
"I think it will mean something later when you think about things like that," Palmer said. "Statistics don't matter right now. Getting a win, and like I said, sending them into the playoffs with a loss, is what matters."
He won't forget that.
November, 6, 2013
11/06/13
7:30
PM ET
TEMPE, Ariz. -- It looks like the time off helped
Larry Fitzgerald
.
Fitzgerald
The
Arizona Cardinals
wide receiver wasn't listed on Wednesday's injury report, but coach Bruce Arians wasn't sure if his star was back to 100 percent. Quarterback
Carson Palmer
said Fitzgerald didn't do much in practice Monday, most likely giving his left hamstring an extra two days to heal before Wednesday's practice.
Before the Cardinals play Houston on Sunday, they will have played just one game in the last 23 days, and that's been the best therapy, Palmer said.
"You can get treatment on a lot of things, but a lot of the time the best remedy is just rest," Palmer said. "For Larry to have a good 10-day period where he really didn't do much and just had a chance to let that thing heal up, that will be really good for us in the second half of the season."
Running back
Rashard Mendenhall
was still on the injury report, however. He was limited with turf toe. Arians said Mendenhall isn't quite healthy just yet.
"It's not completely healed, but it's a lot better," Arians said.
Two Cardinals – right tackle
Bradley Sowell
and linebacker
Daryl Washington
– missed practice because of illness. Wide receiver
Brittan Golden
is still recovering from a pulled hamstring and was on the stationary bike for the open portion of practice.
Linebacker
John Abraham
(shoulder) and defensive tackle
Frostee Rucker
(calf) were both limited. Linebacker
Matt Shaughnessy
(knee) practiced fully.
September, 10, 2013
9/10/13
4:30
PM ET
Every Tuesday afternoon, What's the Fuss with … will feature a unique off-the-field side of an Arizona Cardinal in a Q&A format. If you have an idea for a What's the Fuss with … tweet Josh Weinfuss at @joshweinfuss using the hashtag #WTFwith.
This week, What's the Fuss with … caught up with defensive end Frostee Rucker, who joined the Cardinals as a defensive end during the offseason. It might be pretty obvious what we talked about, so let's get started.
How did you get the name Frostee?
"My pop [Len] was a DJ while he was in the military and they called him DJ Frost because they said he was cold on the spins. [They called him] Frost, Frostee all that. No matter what he named me they were going to call me Little Frost anyway, so they named me Frostee."
Rucker
So Frostee is your given name?
"Yup, that's my given name."
What was it like growing up named Frostee?
"It sucked growing up really because kids at Christmas time and teachers, and me being African American, it just didn't all come together but about [the] time I came to high school it became a household name in Orange County (Calif.).
"It's just benefitted [me] from then. It's always caught peoples' eye in the paper and they wanted to know more. So I don't know if I'll name my kid that if I ever have one but at the same time being unique isn't bad either."
What kind of music did your father spin?
"Everything. I'm sure back then it was Marvin Gaye and all that stuff from the '70s and '80s but he said he had it all.
"I'm real big on music, too. My financial advisor told me I had to stop buying stuff on iTunes. I don't want to illegally download so if I like a song I'm buying it. That's probably one of my worst vices."
How many songs do you have?
"Thousands. I have thousands of songs and that all adds up if each song is a dollar. Yeah, I had to chill out on music for a little while.
What's your favorite type of music?
"Obviously, I like hip-hop. I like all genres of music, really. I really like how a lot of artists have switched over and they found a new avenue in dance music, from Chris Brown and Ne-Yo and all these other guys. They don't just sing love songs. They're doing dance music and it's another genre and opened up the expansion of music a little bit more. It used to be just Techno, that's what the word was, Techno. Now it's dance and house and trance, I like that too. Good vibe music."
How'd you get into the frozen yogurt business?
(Editor's note: Rucker invested in two Orange Leaf Frozen Yogurt franchises while he played in Cincinnati.)
"It was actually during the lockout and I was sitting in my agent's [James Gould] office downtown Cincinnati. And there was a new development in the city of Cincinnati called The Banks. It was a huge project and we're looking outside of his office, and what I really wanted to do was I wanted to do a fast McDonald's -- just sell breakfast all the time. Obviously you couldn't do it. The franchise of McDonald's is so strict on their laws and the guidelines of what you can do. The franchise fee is like $600,000 and I wasn't going to do that either.
"And so we tried to do a Wendy's deal actually in Cincinnati, a regional thing, and I think it fits and actually Wendy's said, 'No, you're not a full-time starter. So after the meeting, when we went to a frozen yogurt play, we went in there and saw how many people are coming in and people really liked it. I said, 'Remember what Wendy's said? We'll open up our own stuff.
"I'm really happy I got into business that way. I didn't go to school for business. I went to school for sociology. It's learning a new language, business talk, and stuff like that, being in meetings and I really like it. It just doesn't limit me to being a football player. I can do other things. And along the way, hopefully I'll be able to open more, and get some of my teammates or friends that I know into business. From my experience I know how to do it and know how to construct a contract. I like it."
What's your favorite frozen yogurt flavor?
"Red velvet."
May, 2, 2013
5/02/13
2:44
PM ET
Our
post-draft amendments
to
pre-draft positional rankings
continue with Matt Williamson, NFL scout for ESPN.com.
Up next: defensive linemen.
NFC West teams drafted four of them if we count the
San Francisco 49ers
'
Corey Lemonier
and the
Arizona Cardinals
'
Alex Okafor
as 3-4 outside linebackers, which we will do for the purposes of this exercise.
The four draftees: Tank Carradine (40th overall choice) and
Quinton Dial
(157th) to the 49ers; and
Jordan Hill
(87th) and
Jesse Williams
(137th) to the
Seattle Seahawks
.
Williamson moved up the 49ers from fourth to second in his defensive line rankings following the draft. Seattle remains No. 1. The
St. Louis Rams
and Cardinals each dropped one spot to accommodate the 49ers' rise.
Then as now, the rankings are close. There's no shame in having the fourth-best line in the NFC West. We pick up the conversation from there.
Williamson:
I love Tank Carradine. Dial, the kid from Alabama, is a worthy addition. Carradine seemed like a really curious fit to me at first because I thought of him more as an outside linebacker, an edge player. But people were calling me out during our draft chat and saying he is going to be a defensive end for them.
Sando:
Yeah, Carradine is in that 275-pound range.
Justin Smith
and
Ray McDonald
were in that range, and they projected to defensive end with the 49ers. All 3-4s are not the same and we know defensive coordinator Vic Fangio likes an active defensive front.
Williamson:
Smith and McDonald are not a whole lot different. The 49ers' defensive ends aren't like
Aaron Smith
was in Pittsburgh. Justin Smith was 4-3 end. I buy that, but I also think
like we talked about
before, it wouldn't blow me away if we saw more 4-3 from them.
Sando:
Yeah, when they added
Glenn Dorsey
, the first thought was that he would be best suited in a 4-3 defense, not a 3-4. And I know the 49ers move around their guys up front. I know they play with a four-man line a decent percentage of the time.
Williamson:
They don't have the pure nose on the team any more. We will see more multiple fronts, which gets more bodies involved. One problem with that defense is they played only 12 guys, 13 guys most of the time. That hurts them late in the season with too many people worn down.
Sando:
That was the case late last season. It's why the 49ers addressed their front seven more than they addressed their cornerback situation. They think the corners can be fine if the front is healthy and deeper. Shifting gears, you left Seattle at No. 1 along the line. The Seahawks also added two defensive linemen in this draft.
Williamson:
Jesse Williams can be a great player. If his knee had checked out better, I had him penciled in for the 49ers in the first round. Hill is a shorter guy, a leverage and quickness player. I'm not sure they really have anyone else like him.
Brandon Mebane
is bigger and stronger. Hill plays the Mebane position or is just an interior pass-rusher. I think Hill is an energy guy. Get him out there 20-30 snaps a game. He is like a curveball. You're used to playing against power with Mebane and then they change it up. Mebane would be much stouter.
Sando:
Hill was drafted before Williams, but he's getting a lot less attention.
Williamson:
Williams is the wild card of this draft. On tape, he is a later first-round player. Big, really strong, moves really well. There have to be legitimate concerns about his health, but we don't always find out the extent of those before the draft. Every year, guys fall two or three rounds further than they should. We sit there saying all these teams should take Jesse Williams, but then after a while, something must be wrong with Jesse Williams.
Sando:
The Seahawks did not sound concerned, but teams don't really express concerns on draft day, either.
Williamson:
Alabama plays a 3-4 and Williams was a defensive end for them when they had
Josh Chapman
. He can play all over the line. He played the nose, but he is not a
Casey Hampton
. He can be
Red Bryant
, but he could also be
Alan Branch
and maybe Mebane, too.
Sando:
The Rams and Cardinals did not draft defensive linemen given that we're counting Okafor at linebacker for now. The Cardinals said they could add a defensive tackle in free agency. Some in the media have linked them to
Sedrick Ellis
.
Williamson:
If they do sign Ellis, that is yet another indication we'll see more 4-3 there as well. The guys they are adding are not true 3-4 guys.
Calais Campbell
can do both.
Darnell Dockett
is better in a 4-3.
Frostee Rucker
and
Matt Shaughnessy
don't really have 3-4 experience. They are better as 4-3 ends. Okafor can be as much 3-4 outside linebacker as 4-3 end if Campbell is your heavier 4-3 end, Dockett is your three-technique and then
Dan Williams
or Ellis would be your one-technique. Okafor would be your open-side guy.
Sando:
The scheme uncertainties in Arizona could lead us to revisit the rankings as we learn more and get a better feel for how specific players fit.
April, 17, 2013
4/17/13
3:00
PM ET
The
San Francisco 49ers
have fielded an effective, sometimes dominant defensive line recently, even without factoring outside linebacker
Aldon Smith
into the line equation.
That's why it was shocking to see ESPN's NFL scout, Matt Williamson, rank the 49ers' defensive line fourth among those in the NFC West.
The No. 4 ranking could be misleading, however. Williamson explained why in kicking off the latest conversation in our series
ranking NFC West teams at each position
.
Williamson:
I could make an argument to put these defensive lines in almost any order.
Sando:
So, you're not necessarily downgrading
Justin Smith
and the rest of that 49ers line.
Williamson:
I still think Smith is the best defensive lineman in the division and that is really saying something. But I wonder if his best days were in 2011. Those were very good days. He was the best defensive player in the league. You wonder if he is 90 percent of his best days, which is still a great player and the best defensive lineman in the division, but he might not be quite the same. I like
Ray McDonald
.
Glenn Dorsey
will be a nose tackle/McDonald type. They will move him around. He'll be a better version of Ricky Jean-Francois. That is who he is replacing, not
Isaac Sopoaga
.
Sando:
The 49ers could have
significant plans
for Dorsey, although those remain a little vague.
Williamson:
Dorsey was my favorite player in the '08 draft as a
Warren Sapp
type and a perfect fit for the scheme the Chiefs had at the time, but then everyone got fired, they turned him into a 3-4 defensive end and it was a totally wasted resource of a high pick. The 49ers will be smarter about how they use him than Kansas City was, but I don't think he is the same player because he has added weight and has been a slight bust.
[+] Enlarge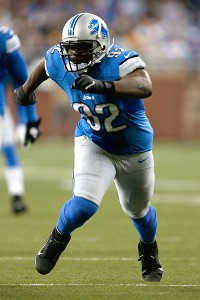 AP Photo/Scott BoehmThe Seahawks added Cliff Avril to an already impressive group of defensive linemen.
Sando:
Looking at the division overall, I might have put the Rams ahead of the Seahawks. For Seattle,
Chris Clemons
is hurt,
Alan Branch
departed,
Tony McDaniel
was arguably a so-so replacement and
Red Bryant
is coming off a tough year.
Michael Brockers
looks like a star in the making for the Rams.
Chris Long
and
Robert Quinn
can easily combine for 20-plus sacks.
William Hayes
is in there too.
Williamson:
I didn't penalize the Seahawks in the rankings for Clemons' injury. He is still a really good player who will factor in at some point. He was really good on last viewing.
Bruce Irvin
will be better.
Michael Bennett
is a great addition.
Cliff Avril
is a phenomenal addition. They will put that NASCAR package out there when Clemons is healthy.
Brandon Mebane
is really good. I believe in Red Bryant. That is six quality defensive linemen and they can add somebody. McDaniel can hold his own. They can go eight deep with quality players and some fringe Pro Bowlers.
Sando:
The depth is impressive. That is one area where I think the 49ers are lacking. They don't need as large of a rotation because Aldon Smith plays in their four-man line packages. Still, the Seahawks are stacked up front to a degree that came into clearer focus the way you spelled it out.
Williamson:
They have a wide skill set, which I like, too. Irvin and Bryant are totally different players at defensive end. Irvin, Clemons, Avril and Bryant give you versatility. For the Rams, Hayes is an important part of that equation. He had seven sacks last year. Quinn and Long are questionable against the run. Hayes can be a base run defensive end. Plus, he moves inside and can be a quality rusher there.
Sando:
I hadn't really thought of Long as a liability against the run.
Williamson:
You can run at Long. Part of that is scheme. Sort of like in the
Dwight Freeney
-
Robert Mathis
days, they play the run on the way to the quarterback. With the Rams, a lot of it is ahead of them. I'd draft Quinn very high if I were building a team, but he is not as good as Cliff Avril right now. Brockers is going to be a total stud. I didn't love him coming out of LSU, but he far exceeded my expectations. I think he'll be a multiple Pro Bowl player.
Sando:
We haven't even mentioned the Cardinals, who have, by the way,
Calais Campbell
-- arguably the best defensive lineman in the division at any given time. There are some unanswered questions about scheme as the team transitions to a new staff, however.
Williamson:
Even though they ran a 3-4 defense under former coordinator Ray Horton, they allowed those defensive ends to penetrate. If they were to go to a 4-3, it would be great for
Darnell Dockett
. He could compete for being the best three-technique in the league. The old scheme hurt Dockett. He is a great player and a better player than people realize because he hasn't been used properly.
Sando:
We'll have a better feel for the Cardinals' line once we learn more about how new coordinator Todd Bowles plans to use everyone.
Dan Williams
is a key variable, too. He was drafted as a 3-4 nose tackle, a position pretty specific to the Horton scheme.
Williamson:
Williams has come along and is an above average 3-4 starting nose tackle.
Sando:
The Cardinals also added
Frostee Rucker
and
Matt Shaughnessy
for depth, but their line's ranking probably hinges on whether the new scheme maximizes Dockett. There are also some questions about the outside pass rush. Some of those questions will arise again when we look at the Cardinals' linebackers.
Williamson:
Overall, I don't love their depth on the line. They don't have that guy off the bench like Hayes or all those defensive ends in Seattle or even Dorsey in San Francisco.
Sando:
Great discussion, Matt. The takeaway is pretty clear to me. This division should be strong along its defensive lines. Keeping a straight face while ranking the 49ers' line fourth drives home the point.
March, 27, 2013
3/27/13
3:05
PM ET
The
Arizona Cardinals
' one-year deal with
Miami Dolphins
safety
Jonathon Amaya
appears designed to help their special teams while providing depth in the secondary.
The deal, announced by the team, brings to 11 the the total of unrestricted free agents to sign or re-sign with Arizona since the signing period opened March 12.
Amaya joins
Lorenzo Alexander
and
Rashad Johnson
as primary special-teams players from the list of 11 signings. Financial details were not yet available, but Amaya surely signed a modest deal. That has been the trend for Arizona, as the chart shows. The team has unloaded several weighty contracts while restocking the roster with lower-priced talent on shorter-term deals. The approach will provide greater flexibility in the future. It also reflects coach Bruce Arians' stated belief that Arizona could be better than advertised at several positions, including the offensive line and at quarterback.
Scouts Inc. ranked Amaya
57th out of 58 potentially available safeties

this offseason, noting that Amaya's contributions would come on special teams.
"He shows great effort and is an excellent open-field tackler on coverage units," Scouts Inc. wrote in part. "He appears to have limitations as a pure defender in the secondary, but brings attitude and consistency on special teams."
Amaya played for the Dolphins in 2010 when Todd Bowles was on the Miami staff. Bowles is the new defensive coordinator for the Cardinals.
The chart shows 2012 playing time on offense or defense for the 11 players Arizona has signed. Those figures are from ESPN Stats & Information. Johnson (66.2 percent), Alexander (63.7) and Amaya (52.9) also logged significant snaps on special teams.
March, 21, 2013
3/21/13
3:45
PM ET
The
Arizona Cardinals
' defensive line depth is taking shape with
Frostee Rucker
joining
Matt Shaughnessy
among free-agent additions this month.
Rucker, 29, agreed to terms on a one-year contract, the team announced.
Rucker, 6-foot-3 and 208 pounds, played 50 percent of the
Cleveland Browns
' defensive snaps across 16 starts last season. He had four sacks.
The chart shows stats for Rucker and Shaugnessy along with those for the Cardinals' defensive linemen last season.
December, 8, 2011
12/08/11
7:55
PM ET
Expanding on
an earlier post
, this one ranks NFL players by most sacks per pass play through Week 13.
The
San Francisco 49ers
'
Aldon Smith
ranks fourth on the list. The
St. Louis Rams
'
Chris Long
is 10th. The
Arizona Cardinals
'
Sam Acho
ranks 19th. Ex-Seattle Seahawk
Lawrence Jackson
is 14th. Ex-Ram
Adam Carriker
ranks 21st.
Smith is keeping impressive company. The next step for him, likely next season, will be to maintain his pass-rush production as an every-down player, when he'll also have to hold up against the run more frequently. So far, so good.
The St. Louis Rams'
Robert Quinn
did not quite make the chart. He has five sacks and a 2.2 percentage. Seattle's
Chris Clemons
has eight sacks and a 2.1 percentage.
Sacks are not the only measure of a player's performance, of course. The best pass-rushers tend to collect a lot of them, however.
.
September, 26, 2011
9/26/11
3:17
PM ET
Five things I noticed while watching the
San Francisco 49ers
during their 13-8 victory over the Cincinnati Bengals in Week 3:
Brooks commanded double-teams. The Bengals funneled significant resources toward blocking 49ers outside linebacker Ahmad Brooks, particularly on passing downs. Brooks made them pay for failing to double him on a first-quarter play deep in 49ers territory. Brooks chased down quarterback Andy Dalton and forced a poor throw that was nearly intercepted. Later, the Bengals paid for leaving running back Bernard Scott alone against Brooks in pass protection. Brooks beat Scott easily and blasted Dalton hard enough to knock off the quarterback's helmet. Brooks was active against the run as well.
Offensive line struggling. Right tackle Anthony Davis and right guard Chilo Rachal were erratic in all phases. Alex Smith and Frank Gore would have been more consistent if the 49ers had even average players on the right side of their line, provided those average players were consistent. Geno Atkins and Frostee Rucker were among the Bengals' defensive linemen feasting on the opportunities. The Bengals also pushed back center Jonathan Goodwin, impinging upon the pocket. Left tackle Joe Staley drew a false-start penalty. He also gave up a critical sack in the red zone, allowing immediate pressure against Smith's blind side. The 49ers have too many early draft choices invested in their line to suffer through these sorts of performances.
Michael Crabtree up and down. The 49ers receiver finished with only three catches for 24 yards. He also dropped a third-down pass while the 49ers were trailing 3-0 in the second half. There was good to go with the bad. Crabtree made difficult catches to sustain drives. I'm still not sure whether he stepped out of bounds on the touchdown reception officials disallowed. The official standing in the back of the end zone did throw his cap right after Crabtree stepped on or near the end line. Replays were inconclusive. Earlier, I noticed Crabtree making an effort as a blocker.
Carlos Rogers very active again. The 49ers have to be happy with Rogers after another solid performance from the veteran corner. Rogers seems to be everywhere. He had two pass breakups and an interception.
Nate Clements should hear from the NFL. The former 49ers cornerback, now with Cincinnati, blasted Smith with a hit that included helmet-to-helmet contact. The only flag on the play was for holding against Rachal. This looked like an illegal hit under current rules. Smith suffered a mild concussion a week earlier. How he avoided one here was a mystery to me.
Having no Monday night game or travel during the day is letting me get to these "five observations" items earlier in the week.

NFC WEST SCOREBOARD
Thursday, 9/4
Sunday, 9/7
Monday, 9/8