August, 27, 2013
8/27/13
1:15
PM ET
The
Arizona Cardinals
hope rookie first-round draft choice
Jonathan Cooper
can recover from a broken leg in time to play the final six or so games in 2013.
The injury was a tough one for the Cardinals. They are rebuilding their long-neglected offensive line around Cooper, the seventh overall pick in the draft. Injuries sidelined multiple starters on the line last season, including left tackle
Levi Brown
and center
Lyle Sendlein
. Losing Cooper before he plays a regular-season game reduces the margin for error even though overall line depth is improved.
There is hope for Cooper. Other highly drafted offensive linemen have bounced back from injury-shortened rookie seasons in recent years.
Russell Okung
, taken sixth overall by the
Seattle Seahawks
in 2010, rebounded to earn Pro Bowl honors in his third season. Cincinnati's
Andre Smith
and Atlanta's
Sam Baker
have been more durable lately after rough early stretches.
The chart below ranks first-round offensive linemen from 2008 through 2012 by most games missed as rookies.
Chris McIntosh
,
Steve Hutchinson
,
James Carpenter
, Okung and
Jason Smith
are five first-round offensive linemen from NFC West teams to miss time early in their careers since the NFL realigned into eight four-team divisions for the 2002 season. All but Hutchinson suffered significant injuries as a rookie. Hutchinson suffered a broken leg four games into his second season.
June, 10, 2013
6/10/13
10:15
AM ET
The trade
sending
Gabe Carimi
from the
Chicago Bears
to the
Tampa Bay Buccaneers
shines light on the 2011 draft for offensive linemen.
I've singled out the first round because that is where the
Seattle Seahawks
selected James Carpenter that year.
Carpenter started immediately, only to suffer a devastating knee injury during his rookie season. He returned to play in seven games last season, but the knee held him back. Carpenter lasted seven games. He underwent arthroscopic surgery on the knee this offseason in another attempt to right the knee.
Coach Pete Carroll called the surgery
a success
and said Carpenter will compete for playing time this season. There are still question marks.
Imagine how different the NFC West might look if the Seahawks had used the 25th overall choice in the 2011 draft for
Colin Kaepernick
instead of Carpenter. Seattle needed a quarterback at the time. Kaepernick was available and would go to the
San Francisco 49ers
with the 36th overall choice.
It's 20-20 hindsight now, of course. Injuries have prevented Carpenter, Carimi and fellow 2011 first-round offensive lineman Derek Sherrod from contributing much. Sherrod suffered a broken leg during his rookie season and is still
fighting his way back
. Carimi appeared to be on a promising path before a knee injury ended his 2011 season. Carimi underwent
multiple surgeries
and hasn't been the same.
Seattle went into the 2011 draft wanting to rebuild its offensive line. Carpenter was supposed to become the team's right tackle opposite 2010 first-round choice
Russell Okung
. Carpenter will project to guard when he returns.
October, 11, 2012
10/11/12
4:18
PM ET
We had a couple penalty-related questions from
the NFC West chat
Thursday. A few notes on those, and on related matters:
March, 5, 2012
3/05/12
12:39
PM ET
The
Seattle Seahawks
have churned their roster at multiple positions over the past couple seasons.
The changes they made on the offensive line proved particularly fruitful, allowing them to build momentum on the ground despite losing starters to injury.
Veteran
Frank Omiyale
could join the mix in 2012. The Seahawks are visiting with the 29-year-old veteran free agent Monday. The
Chicago Bears
replaced Omiyale in their lineup with 2011 first-round pick
Gabe Carimi
, and again with
Lance Louis
after Omiyale filled in for an injured Carimi late in the season.
The Scouts Inc. report on Omiyale heading into the 2011 season read, in part, "Omiyale is big, strong lineman with good short-area quickness and agility. He is a good knee-bender who can roll his hips to unload and leverage run blocks. He has a quick kick step to get out and pick up speed rushers on the edge."
The Bears obviously thought less of him last season. The Seahawks aren't necessarily looking for a starter, however. They could simply be taking a look at veteran depth. The team used seven starting combinations on its line last season.
Breno Giacomini
,
Lemuel Jeanpierre
and
Paul McQuistan
played more extensively than anticipated.
Omiyale has started 32 games over the last four seasons, including all 16 for the Bears in 2010.
August, 29, 2011
8/29/11
1:15
PM ET
Twenty-one 2011 first-round draft picks have started at least one preseason game this summer.
Seattle's
James Carpenter
is the only one from the NFC West to start so far. He has struggled in pass protection while showing promise in the running game. Like some other rookie offensive linemen -- Green Bay's
Derek Sherrod
comes to mind -- Carpenter is facing growing pains in his transition to the NFL.
Arizona's
Patrick Peterson
is the only player drafted among the top six overall picks without a start. He returned an interception 34 yards for a touchdown Saturday night. The Cardinals like their depth at cornerback. Coach Ken Whisenhunt also tends to make rookies earn their starting spots.
Greg Toler
's injury could lead to increased snaps for Peterson.
The two first-round NFC West pass-rushers,
Aldon Smith
(San Francisco) and
Robert Quinn
(St. Louis), are easing into their roles. Smith has at times looked like a favorite to start right away, but he continues working with the backups. The Rams have no plans to push Quinn into the starting lineup right away. They're set at defensive end. Quinn could use seasoning after missing the 2010 season.
Three of the 11 first-rounders without starts this summer have been sidelined by injuries:
Nick Fairley
(Detroit),
Prince Amukamara
(
New York Giants
) and
Jon Baldwin
(Kansas City).
.
May, 17, 2011
5/17/11
10:50
AM ET
The most recent
Football Today podcast
with Ross Tucker and Matt Williamson takes an in-depth, balanced look at the
Seattle Seahawks
' thinking in the 2011 NFL draft.
Tucker and Williamson offer points and counterpoints as to the Seahawks' decision to select Alabama tackle
James Carpenter
with the 25th overall choice. I'll provide a transcript covering this portion of the discussion, followed by some thoughts in conclusion.
[+] Enlarge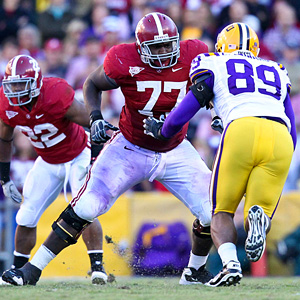 Derick E. Hingle/US PresswireJames Carpenter gives the Seahawks another physical lineman to use in their offensive scheme.
The conversation began with Tucker noting that he had
predicted Carpenter
as a first-round selection based on
what he was hearing
from offensive line coaches.
Ross Tucker: "I talked to two teams that both really, really liked him and both said they would be surprised if he didn't go late first round. ... A lot of people really like him. He is very physical. They think he can play four different positions. Both guards and both tackles. Played at Alabama. High level of competition. Played for Joe Pendry, who was, ironically enough, my offensive line coach my rookie year with the Washington Redskins. And evidently, Joe Pendry really talked him up to people.

"This may surprise you, but I'm not typically a big fan of drafting offensive linemen high. So, I don't love the pick because I think you can get a guy in the third, fourth round that maybe you train him for a year or maybe even not and maybe he goes in there and plays well. Like what Marshal Yanda did with the Ravens when they took him in the third round. I think you can get good offensive linemen in the third and fourth round. And so I'm not enamored with what they did with Carpenter and I'm really not enamored with what they did getting John Moffitt in the third round. I think Moffitt is a tough guy. He looks like he is guy was willing to be physical. But I think they could get comparable players lower."

Matt Williamson: "I am a believer that you can get by with mediocre offensive line talent. They don't have to be Orlando Pace in terms of physical abilities if you are tough and you are smart. You have to have those two attributes. A lot of those guys in turn can play multiple positions. But I can't be real, real critical of this pick, either, because their line was so bad. They used a first-round pick on Russell Okung, who I love, at left tackle last year. Now they have a set of bookends.

"They had so many needs, they could have went in a lot of directions. A guy like Jimmy Smith would have been a really good pick. They need a lot of things in Seattle, but right tackle was certainly one of them. I don't think it was a reach. Obviously, they are trying to get to be very, very physical. Their two offensive line selections suggest they want to run the football, they want to be a more physical football team than who they go up against. I can't be real critical of it, although I think their draft in general was pretty blah."

Ross Tucker: "And that is the one thing I always say about the draft: Why do you think people were appalled by that pick? I'll tell you why. Because none of them had ever seen any mock draft, James Carpenter going in the first round. If they had taken Gabe Carimi, I don't think people would have been that appalled by it. They would go, 'OK, Gabe Carimi from Wisconsin, good player, first-round pick, I'm glad we got him.' Or if James Carpenter had been listed in a bunch of mock drafts as going at going 17 and 19. So much of what people think of your draft is based on their perceptions before the draft, which might be completely wrong."
This conversation captures the debate perfectly. Drafting two offensive linemen made great sense for the Seahawks based on their priorities and needs, but it's fair to ask whether they overvalued right tackle and guard, which qualify as non-premium positions.
The same questions apply to the
San Francisco 49ers
, who used 2010 first-round choices for a right tackle (
Anthony Davis
) and left guard (
Mike Iupati
), and also to the
St. Louis Rams
, who used the second overall choice of the 2009 draft for a right tackle (
Jason Smith
). The
Arizona Cardinals
'
Levi Brown
, chosen fifth overall in 2007, played right tackle until last season.
In the end, teams have no reason to regret selecting such players early if their offensive lines perform at a high level for an extended period.
May, 5, 2011
5/05/11
10:56
AM ET
Highlights and interpretations from
Seattle Seahawks
general manager
John Schneider's recent conversation
with Sports Radio 950 KJR's Mitch Levy (thanks for the
assist
, by the way):
The team plans to find its starting left guard in free agency. Addressing the quarterback situation and the defensive line will also be high priorities. Schneider said the Seahawks have multiple quarterback plans. He said there was a 50-50 chance Charlie Whitehurst would go into training camp as the starter. That was his way of not answering a question that would be difficult to answer.
Tackle Nate Solder was the college offensive lineman Seattle rated highest. James Carpenter, the player Seattle drafted at No. 25, was second on Seattle's list. The team saw him as a guard/tackle that would project at right tackle for Seattle. The first four offensive linemen drafted: Tyron Smith (ninth to Dallas), Mike Pouncey (15th to Miami), Solder (17th to New England), Anthony Castonzo (22nd to Indianapolis) and Danny Watkins (23rd to Philadelphia). Did the Seahawks' reach for Carpenter? Time will tell, but they obviously had him rated higher than Gabe Carimi and Derek Sherrod, who went 29th and 32nd, respectively. No more offensive linemen were selected until the 46th pick.
The Seahawks thought Pittsburgh, Green Bay, Buffalo and Cleveland liked Carpenter enough to take him early. Those teams held picks between Nos. 26 and 34. The Browns traded back to No. 26 and then forward to No. 21, where the team took Phil Taylor. Seattle had an offer for the 25th pick from Pittsburgh and used the full time allotment before staying in the spot. Schneider: "When Cleveland moved back, there were questions regarding Phil Taylor's medical. Cleveland was the other team that was really high on James. When they traded back with Atlanta, I thought they were going to stay put (at No. 26) and take James."
Schneider said the Mushroom Group, a collection of old-school line coaches (is there any other kind?), loved Carpenter. There wasn't much buzz about Carpenter and Schneider said he tried to keep it that way by misleading a national reporter before the draft. The reporter had asked Schneider for surprise first-round selections along the lines of Tyson Alualu, the player Jacksonville picked 10th overall in 2010. Schneider said he thought about Carpenter, but provided another name to the reporter. The Seahawks loved Carpenter's toughness and versatility. Those qualities were at a premium after the team used 11 starting combinations on its line last season.
It sounded like Seattle was never serious about drafting a quarterback early. Schneider: "As much respect as we had for Andy Dalton and everything, it was hard to figure out where to take this guy (Carpenter) and finally I said, 'Let's take him here.' " More on Dalton later.
Seattle did not feel comfortable using choices for players with off-field concerns. Schneider applauded Baltimore for taking cornerback Jimmy Smith, noting that the Ravens' locker room had enough established veterans to handle the situation. He said the Seahawks weren't in position to make such a move at this stage.
Minnesota called the Seahawks about moving up into the 99th slot, where the Seahawks took linebacker K.J. Wright. Schneider: "We almost made a trade with Minnesota. They called. I wanted more picks. We hadn't addressed the defensive side of the ball ... and we decided to sit there and pick K.J. Minnesota called and they were like, 'You guys, that was our guy.' " The Vikings took defensive tackle Christian Ballard at No. 106.
Selecting receiver Kris Durham in the fourth round drew criticism from draft analysts. Schneider differentiated between those analysts and the real ones when answering a question on the matter. Schneider: "I'm pretty sure people in the league were on top of it. A lot of people had him, some in the third, some in the fourth, fifth round, right in that area."
The Seahawks will be targeting 6-8 players as undrafted free agents. The team considered all of them draftable. The list includes a safety, linebacker and quarterback.
Schneider joked about luring Trent Dilfer out of retirement to play quarterback. Dilfer, of course, criticized the Seahawks' draft, specifically the decision to pass over Dalton. Without that pointed criticism, I doubt Schneider would have mentioned Dalton in the above-referenced comment about taking Carpenter.
On Carpenter, the pick would look like a reach if Seattle had taken him just as the run on offensive linemen was ending. But with two more tackles coming off the board right after Seattle picked, it was clear the Seahawks had him rated high enough to take at No. 25.
April, 29, 2011
4/29/11
10:10
AM ET
ESPN's Mel Kiper singled out the
Arizona Cardinals
for praise while raising questions about the
Seattle Seahawks
in the first round of the 2011 draft.
His full
Insider piece
spans more than 1,400 words and touches on multiple teams. I've broken out a couple snippets from his comments on NFC West teams for further analysis.

Peterson
Kiper specifically addressed the Cardinals' selection of LSU cornerback
Patrick Peterson
and the Seahawks' selection of Alabama tackle
James Carpenter
.
Kiper's give:
"In Peterson you have a gifted football player who makes you better immediately, and have made yourself an appealing destination for a quarterback who wants to move."
Sando's take:
Can a rookie cornerback change perceptions about whether a team is ready to contend? If Peterson can do that for Arizona, which finished 5-11 last season, he's even more special than the scouting reports suggest. It could happen if Peterson instantly becomes the sort of dynamic return specialist Percy Harvin became for Minnesota a couple years ago. The Cardinals did emphasize Peterson's return skills in explaining why the LSU corner was so appealing to them at No. 5. I tend to think a quarterback on another team would value an offensive player over a cornerback and specialist, although there's no arguing with the Cardinals' decision on Peterson. It was the obvious choice based on what was known.
Kiper's give:
"The Seahawks are clearly determined to add talent and build continuity. But Carpenter is a guy they could have gotten later, in my opinion.
Gabe Carimi
and
Derek Sherrod
are still on the board, and either could shift to the right side."
Sando's take:
Seattle probably could have gotten Carpenter later. The Seahawks would have lost out on Carimi, Sherrod and possibly Carpenter had they traded out of the first round entirely, however. They considered a couple trade options, but nothing came together. Carimi went 29th to Chicago. Sherrod went 31st to Green Bay. There were conflicting reports on Carpenter. Analysts Mike Mayock and Nolan Nawrocki used the term "finesse" in describing him. Seahawks line coach Tom Cable flatly rejected the characterization. The Seahawks' leadership cast Carpenter as a nasty road grader with the versatility to play four positions on the line. The confusion could stem from the fact that Carpenter was a junior-college transfer who added weight and appeared more physical relatively late in the process, at the Senior Bowl.
April, 28, 2011
4/28/11
10:59
PM ET
RENTON, Wash. -- The
Seattle Seahawks
borrowed from the
St. Louis Rams
and
San Francisco 49ers
in selecting Alabama tackle
James Carpenter
with their first-round pick Thursday night.

Carpenter
The selection gives Seattle bookends on the offensive line with left tackle
Russell Okung
, the sixth player chosen in 2010, already in place. Carpenter presumably steps in at right tackle, although he played the left side in college.
Okung and Carpenter give Seattle tackles to build around. The Rams took a similar route with
Jason Smith
and
Rodger Saffold
in recent drafts. The 49ers have
Joe Staley
and
Anthony Davis
.
There's nothing glitzy about selecting an offensive tackle 25th overall, but Seattle's line struggled badly enough last season to justify the selection.
The Seahawks had other needs and other options. They could have selected defensive end
Da'Quan Bowers
, running back
Mark Ingram
, tackle
Gabe Carimi
or cornerback
Jimmy Smith
. They could have taken a quarterback such as
Andy Dalton
or
Colin Kaepernick
.
Instead, Seattle played it safe, targeting a position likely to produce a long-term starter even if Carpenter never becomes an elite player.
April, 28, 2011
4/28/11
3:00
PM ET
I've gone through several updated mock drafts to put together a chart showing how analysts expect the first round to fall for NFC West teams.
A few notes:
The link to the Scouts Inc. selections take you to a seven-round mock draft. That is Insider content, as are the mocks for Mel Kiper Jr. and Todd McShay. I wanted to include a link to an updated mock from Pro Football Weekly's Nolan Nawrocki; if you find one, please pass it along. Thanks.
April, 25, 2011
4/25/11
8:35
AM ET

Matt Barrows of the Sacramento Bee
looks at 12 players that could make sense for the 49ers with their 12 choices in the upcoming draft. Colin Kaepernick was the choice in the second round. Barrows: "My guess is that Jim Harbaugh thinks Kaepernick has the biggest upside of the remaining quarterbacks and that he'd be the ideal player to mentor and mold. It's been written that Kaepernick is a poor fit for the West Coast because of his long wind up. But Harbaugh isn't running a 'pure' West Coast like Bill Walsh used to run and he's not running a shotgun-heavy system like they do in Philadelphia and Green Bay. That is, a hitch in the delivery won't be as big a deal here as it might be elsewhere." Kaepernick's style defies convention. He's part runner, part passer and more intriguing than the typical quarterback prospect.
Also from Barrows
: a list showing 25 of the 27 college prospects to visit the 49ers this offseason.
Matt Maiocco of CSNBayArea.com
says it's clear Harbaugh will promote competition among players.
Eric Branch of the Santa Rosa Press-Democrat
says Harbaugh's history as a quarterback will not make the 49ers a pass-happy team under him. Branch: "In his four years at Stanford, the Cardinal ran on 58.9 percent of their offensive plays, ranking second behind Oregon (61.0) among Pac-10 teams during his tenure. Harbaugh, of course, is heralded for his work with quarterbacks. But check out how he works his running backs. His first tailback, USD's 220-pound Evan Harney, ranked third in Division I-AA in carries per game (27.5) in 2004. His best running back, Stanford's 235-pound Toby Gerhart, led Division I with 26.4 carries per game in 2009."
David White of the San Francisco Chronicle
assesses quarterback contingencies for the 49ers. White: "Some NFL draft experts think as many as five quarterbacks could go in the first round, which would leave the 49ers with crumbs if they wait until Round 2. So yeah, the timing of all this is kind of a big deal."

Eric D. Williams of the Tacoma News Tribune
sends Illinois defensive tackle Corey Liuget to the Seahawks with the 25th overall choice in a mock draft. Williams: "Gives Seattle depth and insurance up front in case Brandon Mebane leaves in free agency." Jimmy Smith, Gabe Carimi, Danny Watkins, Marvin Austin, Phil Taylor, Aaron Williams and Derek Sherrod were his choices, respectively, beginning with the 26th selection.
Also from Williams
: Draft analyst Rob Rang thinks Christian Ponder could make sense for Seattle if the Seahawks decide to use the 25th choice for a quarterback. Rang: "Entered his senior season ranked with Jake Locker as the top senior QBs, but struggled through injuries. Threw well at the Senior Bowl and combine and is considered by some the most pro-ready QB in the draft."
ESPN's John Clayton tells 710ESPN Seattle
not to expect Carson Palmer in a Seahawks uniform for 2011. Clayton: "If you know Mike Brown, and most people who've been around this league for a long time know Mike Brown from the Bengals, he's not going to cut and he's not going to trade Carson Palmer. Carson Palmer is not an option for any team, even if (it) means sitting out for the season and taking a one-year sabbatical. He is not going to be available."

Kent Somers of the Arizona Republic
sizes up the Cardinals' primary needs and says this about the quarterback situation heading into the draft: "Poor play at this position wasn't the only reason for last year's 5-11 record, but it was the major one. Derek Anderson won't return, and John Skelton, a rookie last year, isn't ready to start. Many mock drafts have the Cardinals taking Missouri quarterback Blaine Gabbert with the fifth overall pick, but look for them instead to address the position via free agency or trade. The guess here is they use their first-round pick on a player they think can help immediately."
Also from Somers
: The NFL lockout has prevented the Cardinals from addressing issues that arose during the 2010 season.
Dan Bickley of the Arizona Republic
offers thoughts on how Ray Horton's long, braided hair affects perceptions of him as an NFL assistant coach.

Tony Softli of 101ESPN St. Louis
does not think the Rams are in position to trade up for a shot at receiver Julio Jones. Softli: "They have too many needs and would have to give up too much. The Redskins can sit and let Jones fall to them, and if he slips past Cleveland Browns at No. 6 the Titans at No. 8 are their only threat. The teams that can blow this draft up on the first day are the New England Patriots. With six picks in the first three rounds and three in the top 33 players, they have the power to jump up and down the draft as if they were playing checkers, and crowning themselves king several times. Despite having the threat to do damage with trades, I think they will sit and pick and add some key pieces to an already championship based foundation at tackle, guard, running back or outside linebacker."
Bill Coats of the St. Louis Post-Dispatch
runs through the 19 players St. Louis has selected in the first round since the Rams arrived for the 1995 season. The team gets an A-minus grade for selecting Kevin Carter. Coats: "Six seasons with the Rams, all as starter, in 14-year career. Recorded league-high 17 sacks in 1999. Pro Bowler in '99 and 2002."
March, 29, 2011
3/29/11
8:45
AM ET

Matt Maiocco of CSNBayArea.com
checks in with former 49ers receiver Dwight Clark for thoughts on how players handled the NFL work stoppage in 1987. Clark: "We had organized practices, 7-on-7, with no pads, of course. We were running to stay in shape and we'd run routes vs. DBs and linebackers." That situation was different from a timing standpoint. Those practices would have taken place in September. Clark cited a fondness for 49ers owner Eddie DeBartolo Jr. in explaining why he joined Joe Montana and Roger Craig in crossing the picket line back then. Clark said he expected 1987 to be his final season, and the decision gave him ulcers.
Matt Barrows of the Sacramento Bee
says the 49ers have a predraft visit set up with LSU cornerback Patrick Peterson.
Also from Barrows
: University of Washington quarterback Jake Locker generally had a tough time against Jim Harbaugh's Stanford team.

Clare Farnsworth of seahawks.com
recalls the late Dave Brown for his latest piece on the 35th anniversary team. Eugene Robinson: "I had some really good role models and mentors in front of him to teach me how to play. ... No one knows, but I was at Dave Brown's house every Wednesday watching film. And that was before it was cut up like it is now into third downs, first downs, mixed downs and all the different ways they prepare film for the players. Guess what? I had to do that by myself, with Dave Brown. Every Wednesday. Without exception. Talk about an education."
Brady Henderson of 710ESPN Seattle
says draft analyst Rob Rang is now projecting Wisconsin tackle Gabe Carimi as the Seahawks' first-round draft choice for 2011. Rang: "Carimi, a four-year starter at left tackle, lacks the elite athleticism to remain there in the NFL, which could push him into the second portion of the round. The 2010 Outland Trophy winner has the bulk, strength and physicality in the running game to star on the right side." Coach Pete Carroll recently said Stacy Andrews would compete for the starting job on the right side. Drafting Carimi would make Andrews' salary pretty much prohibitive. It's on the high side, anyway.

Kent Somers of the Arizona Republic
does not expect Cardinals players to gather for informal practice sessions this offseason. Somers: "The Cardinals seem among the least likely teams to organize such off-season workouts. Many of their key players -- receiver Steve Breaston, center Lyle Sendlein, guards Alan Faneca and Deuce Lutui -- have no contract for 2011. Why would Breaston, Lutui and Sendlein, for instance, risk injury for a team that has not seriously tried yet to sign them to long-term deals? Many Cardinals players are working out under the supervision of personal trainers, or on their own. Some, such as Larry Fitzgerald, have [spent] the off-season traveling."
Darren Urban of azcardinals.com
sent LSU cornerback Patrick Peterson to the Cardinals at No. 5 in a mock draft after Cam Newton, Marcell Dareus, Von Miller and A.J. Green came off the board in the top four spots.

Jim Thomas of the St. Louis Post-Dispatch
sends defensive end Robert Quinn to the Rams with the 14th overall choice in his mock draft. He has Miller going to Arizona at No. 5, Peterson going to San Francisco at No. 7 and quarterback Christian Ponder heading to Seattle at No. 25. Will Quinn be available? He was not on the five other mock drafts listed along with the one Thomas submitted. Not that anyone knows for sure.
Tim Klutsarits of examiner.com
thinks the NFL's new rules for kickoff returns will help the Rams. His reasoning: The Rams do not have a great returner, their kicker hasn't produced many touchbacks and the team should have an easier time avoiding injuries now.