September, 8, 2010
9/08/10
9:20
AM ET

Dan Bickley of the Arizona Republic
checks in with Tom Pestock, an offensive lineman trying to earn a roster spot with Arizona. Pestock landed on the practice squad and strong safety Adrian Wilson said he wouldn't want to tangle with the little-known lineman. Why? Bickley: "Pestock is 6 feet 6 and listed at 318 pounds. He played college football at Division II Northwest Missouri State. He is a three-time Golden Gloves champion, and a former Jiu-Jitsu champion. He trains at the Lion's Den in Scottsdale as a mixed martial arts fighter and has jumped in the ring for a few unsanctioned fights."
Kent Somers of the Arizona Republic
says Deuce Lutui is back in the Cardinals' starting lineup despite weight concerns. Somers: "In training camp, Lutui joked that he was the Cardinals' Lindsay Lohan of the summer because of all the bad publicity he received. A restricted free agent, Lutui chose to wait until mid-June to sign his one-year tender of $1.76 million, which didn't please coach Ken Whisenhunt and team management. They feared that Lutui would gain weight, which he did, and made it clear Lutui's job was not secure. The club signed two guards in free agency this year, Alan Faneca and Rex Hadnot, and Lutui spent the preseason playing behind Reggie Wells. But it was also clear from the beginning of camp that Lutui was better than Wells, and that it would be hard for coaches to keep Lutui out of the lineup."
Bob McManaman of the Arizona Republic
passes along a question-and-answer session with Cardinals defensive end Calais Campbell.
Darren Urban of azcardinals.com
says rookie Daryl Washington will start at linebacker for Arizona in Week 1. The team has a shortage at linebacker and surplus at cornerback. Urban: "The Cards are clearly still looking to find the right combination in the secondary, which is why they have kept six cornerbacks right now. A.J. Jefferson has upside -- I doubt he'll be active on game days at first -- and they aren't sure yet what they have in Brandon McDonald, the newcomer from Cleveland. I am also guessing there will be a lot of nickel and dime looks, like strong safety Adrian Wilson playing in/near the box. That's one way to not worry about needing too many linebackers." The Cardinals will probably need Wilson near the line of scrimmage against Steven Jackson and the Rams.
Also from Urban
: Larry Fitzgerald hopes to ditch his knee brace Sunday, but he might have to wear it.

Ben Malcolmson of seahawks.com
lists daily themes installed by new coach Pete Carroll, from "tell the truth Monday" to game day.
Clare Farnsworth of seahawks.com
checks in with new defensive lineman Junior Siavii, who has this to say about Seahawks practices: "I tell you, they practice hard here. We were really going out there."
Steve Kelley of the Seattle Times
says the Seahawks are making too many moves right before the regular-season opener.
Danny O'Neil of the Seattle Times
compares the Seahawks' roster to past versions, noting that there are 27 new players. Indeed, according to my rosters, Seattle has a league-low 26 players returning from Week 17 last season (counting players who were on injured reserve at that time).
John Morgan of Field Gulls
sizes up Siavii and says the newly signed defensive lineman isn't a two-gapping Colin Cole type. Morgan: "I am not happy about losing (Kevin) Vickerson, and do not think Siavii replaces Vickerson, but I do think Siavii is a good player and can contribute."

Jim Thomas of the St. Louis Post-Dispatch
says the Rams are expecting contributions from their rookies, and not just from quarterback Sam Bradford.
Also from Thomas
: The Rams' regular-season opener is not yet sold out even though Bradford is making his first career start.
More from Thomas
: Keenan Burton was the odd man out after the Rams acquired Mark Gibson. The Rams liked Burton but did not value him as one of the six best wide receivers on the team.
More yet from Thomas
: a chat transcript featuring this thought on whether the Rams already have the best quarterback in the NFC West: "Very interesting question. And I think the fact that the QB situations in SF and Ariz. are still relatively unsettled means the Rams could make a quick advancement in the standings if Bradford comes along and if the front office continues to build a better supporting cast. Let's face it, there are still more than a couple holes on this team. I still have a lot of respect for (Matt) Hasselbeck in Seattle although it looks like he's nearing the end."

Matt Maiocco of CSNBayArea.com
says the 49ers hope to re-sign Nate Davis to their practice squad. Also, Troy Smith will compete with David Carr for the No. 2 job. Singletary on KNBR radio: "Absolutely. I think that's a very safe thing to say. We're always working to get better and I want our guys to know that now that the season's started we're still on the progression of competing. And the toughest competition should be right here, and that's the push to get better each day." Smith's addition affected more than Davis, in other words. It also signaled uncertainty with what Carr might be able to do in relief.
49ers scout Ethan Waugh
explains what the start of the season means to him. Waugh: "I am currently headed to my first game of the season. I'll be watching West Texas A&M play at Grand Valley State in Allendale, Mich. I have done some background work on Grand Valley State but have not yet seen them live. It should be a competitive game because both teams are powerhouses in Division II and have a number of quality players. We are always looking for diamonds in the rough and hopefully we can find one at the game."
Dan Brown of the San Jose Mercury News
compares the 2010 49ers to the 1985 Chicago Bears. Gary Fencik sees similarities but says, "Now I just hope they have a quarterback who can provide as much leadership and as many intangibles as Jim McMahon did for us."
February, 5, 2010
2/05/10
8:00
PM ET
FORT LAUDERDALE, Fla. -- Mike Singletary and some of his old 1985
Chicago Bears
teammates are reenacting the Super Bowl Shuffle video.
"You are going to see a 30-second slot there during the Super Bowl," Singletary told the Joe Rose Show on WQAM radio in Miami. "It was pretty exciting getting all the guys back together."
Rose: Did they get you jumping around a lot in it?
Singletary: Oh Yes, it's kind of scary.
Rose: Did you roll your eyes standing next to Jim McMahon?
Singletary: Rolled my eyes a lot. It's a scary group of guys there.
Sportsradiointerviews.com has
the partial transcript
and
audio link
.
I thought Gary Fencik owned the most embarrassing performance from the original production, just because nothing about his delivery suggested he was actually a tough, hard-hitting safety.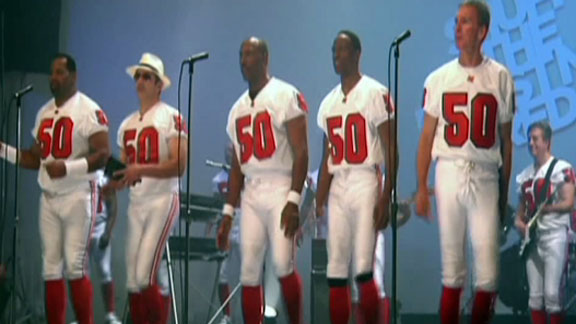 October, 23, 2009
10/23/09
5:26
PM ET
Posted by ESPN.com's Mike Sando
The 49ers hope
Michael Crabtree
's first NFL game goes more smoothly than coach Mike Singletary's debut with the Bears.
Advice to Crabtree: Do not call for a timeout on the first play.
Singletary, speaking to reporters Friday, recalled getting benched after calling timeout on the first defensive play of his first game.
"It was the longest day of my life," Singletary said. "Long day. Very embarrassing."
What happened? Defensive coordinator Buddy Ryan had told Singletary to call whatever defense Ryan sent in from the sideline, no exceptions.
"So, Gary Fencik was the safety, been there for years," Singletary recounted. "Well, I got the call from the sideline, and I called 2Z. Gary Fencik thought it was 3Z, and I said, 'No, it's 2 Z.' So, he and I are arguing, and so I called timeout because I'm doing what Buddy told me to do."
Uh-oh.
"I go to the sideline, he tells me to sit down, curses me out and I didn't get up for the rest of the game.," Singletary said.
The Bears beat the Chargers anyway.
"They had the hottest offense," Singletary said. "To this day, I think it was Dan Fouts' worst game, that day that I didn't play."
Singletary started the next week and was on his way to the Hall of Fame.
NFC WEST SCOREBOARD
Saturday, 12/20
Sunday, 12/21