March, 28, 2012
3/28/12
8:17
PM ET
A confusing judgment call favoring the
New York Giants
enabled their comeback victory over the
Arizona Cardinals
in Week 4.
Was Giants receiver
Victor Cruz
really down when he lost the football late in the game? A fumble in that situation likely would have killed the Giants' chances for a comeback.
Who knows, an Arizona victory might have changed the course of NFL history given that the Giants later sneaked into the playoffs with a 9-7 record, then won a Super Bowl title.
Would they have been a postseason team at all without that victory? Tough to tell, and irrelevant now.
[+] Enlarge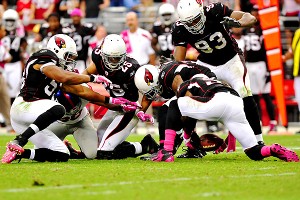 Chris Morrison/US PRESSWIREVictor Cruz was ruled down on this fourth-quarter play, nullifying a recovered fumble by Arizona in a game it lost 31-27.
But the issue relating to the Cruz play lives on. The NFL apparently had that situation and a few others from NFC West teams' games in mind when identifying officiating points of interest for the 2012 season.
Those points, distributed during the recently concluded NFL owners meetings in West Palm Beach, Fla, covered blows to the head, horse-collar tackles, sportsmanship/taunting, pre-snap movement, player alignment, runners declaring themselves down and deceptive substitutions.
I'll single out a few of them in relation to memorable plays from games involving NFC West teams.
Runners declaring themselves down
Memorable plays:
Victor Cruz's non-fumble at Arizona after referee Jerome Boger determined
Cruz had given himself up
, ending the play. Later in the season, the
Seattle Seahawks
'
Adrian Moten
and
Michael Robinson
sandwiched
San Francisco 49ers
returner
Kyle Williams
after Williams went to the ground untouched, then popped up. The league later
fined Moten
for a late hit. Referee Ron Winter penalized Robinson for a helmet-to-helmet hit, but the absence of an accompanying fine indicated the NFL did not fault Robinson for his behavior on the play.
The issue:
Were Cruz and Williams down? When is a runner down, anyway? And if they're obviously down, shouldn't officials blow their whistles?
Point of emphasis, from the NFL:
"Rule 7, Section 1, Article 1 states that the ball is dead and the down ended if, among other items, a runner 'declares himself down by falling to the ground, or kneeling, and making no effort to advance.' This sometimes leads to confusion when a runner goes to the ground and is slow to rise to his feet. Has he 'declared himself down,' in which case the covering official should blow his whistle and further defensive contact is prohibited? Or is he merely slow to get to his feet, for whatever reason, in which case a defender needs to touch him to end the down?
"The Committee does not believe that there should be any change in the rule itself, but believes that education of players, coaches, and officials should eliminate any ambiguity. The proper application of the rule, that a runner who goes to the ground untouched will be considered to have declared himself down if he does not make an immediate attempt to advance, will be emphasized to officials prior to the 2012 season."
Pre-snap movement
Memorable plays:
Referee Gene Steratore and crew flagged 49ers tight end
Justin Peelle
for a false start on a fourth-and-1 play against the
Washington Redskins
. Coach Jim Harbaugh disputed the call. The 49ers periodically used sudden movement by their tight ends, ostensibly to reset the formation. Cardinals defensive coordinator Ray Horton called the tactics "cute" (see final note
here
) after the 49ers drew the New York Giants offside.
The issue:
Were the 49ers simulating a snap or making a legitimate adjustment to their formations?
Point of emphasis, from the NFL:
The Committee reviewed video of pre-snap movement by offensive players and agreed that special emphasis should be devoted to acts that are clearly in violation of the existing rule for false starts. Prior to a snap, any quick, abrupt movement by an offensive player, or several offensive players in unison, which simulates the start of a play, is a foul.
"These acts include (a) a quarterback in shotgun formation thrusting his hands forward in an exaggerated manner when there is not a simultaneous snap, (b) abrupt movement of the ball by the center, (c) abrupt movement of the center's head or other body part, and (d) a quick abrupt shift by two or more players in unison. Non-abrupt movement that is part of normal pre-snap action will not be prohibited, including pointing and signaling among offensive players."
Deceptive substitutions
Memorable plays:
The 49ers tricked the
St. Louis Rams
with a touchdown pass to
Michael Crabtree
on a fake field-goal attempt. Crabtree went toward the sideline as if leaving the field, but he stayed on the field and was uncovered near the sideline. The play was
deemed legal
.
The issue:
Undetermined. I do not know whether the following point of emphasis applies to how the 49ers used Crabtree in this example. This one requires more investigation. I'll include the point of emphasis here, then follow up when I have more information. League officials are returning from the meetings Wednesday.
Update:
This point of emphasis does not affect the 49ers' tactics against St. Louis. That play is still legal.
Point of emphasis, from the NFL:
"The Committee addressed the concern that some teams are abusing established substitution rules in a deliberate attempt to confuse opponents. Rule 12, Section 3, Article 1(k) of the Playing Rules clearly states that 'using entering substitutes, legally returning players, substitutes on sidelines, or withdrawn players to confuse opponents' is unsportsmanlike conduct. The Committee reminds clubs that this practice has no part in our game, and officials will be instructed to closely watch for violations of the rule.
"The Committee also reviewed the procedures for an offensive player who comes into the game wearing a number that does not qualify him for the position he takes. These players must report to the Referee, prior to entering the huddle. The Referee and Umpire will then report the same to the defensive team. This rule prevails whether a player is already in the game or is an entering substitute and whether it is a play from scrimmage, an attempted field goal, or a try after a touchdown. If a player fails to report his change in eligibility, it will result in a five-yard penalty for illegal substitution."