April, 17, 2012
4/17/12
3:49
PM ET
Rich Saul's former Los Angeles Rams teammates recalled his Pro Bowl talent, scary toughness and, humorously, a legendary appetite that waned only in the retired center's final days.
Early in Saul's career, when he was putting on weight to fulfill George Allen's vision for him as a center, the former middle linebacker from Michigan State would slip a bag of coins under his cap for weigh-ins, fearful the team would cut him if the scale revealed his actual poundage.
That was not all.
"When we would go through the [cafeteria] line in camp, most would put a plate on a tray and then food on plate," recalled former Rams defensive tackle Phil Olsen. "Rich had to eat so much, he would load the food on his tray. He would skip the plate. I'll tell you, up until a few days before he died, we were stuffing him full of food in the hospital."
Olsen and Hall of Famer Jack Youngblood joined the Rams in 1971, a year after Saul. The three bonded quickly, as did their families. Olsen and Youngblood shared a few laughs Monday when remembering Saul, who died Sunday from leukemia at age 64. But they kept coming back to the impact Saul made outside football.
[+] Enlarge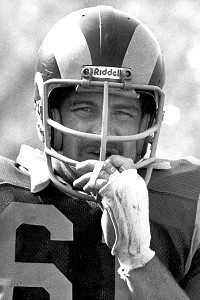 AP Photo/NFL PhotosRich Saul was a six-time Pro Bowler for the Los Angeles Rams.
"I can't express what Richie meant to us," Youngblood said.
Evidence of Saul's impact remains visible in the passages his grown son, Josh, and others shared through a website chronicling the family's recent journey.
"The best was the way he looked at my mom tonight,"
Josh wrote
in an April 6 entry after his father watched the Masters and continued to engage those close to him.
"I have never seen 'I love you' so clearly spoken without words," Josh continued. "Theirs is a bond that will live on forever. I am so thankful to have had such an amazing example of marriage and family leadership to follow."
One of a kind
Saul finished his Rams career with six consecutive trips to the Pro Bowl during a seven-year run as their starting center. That he played mostly special teams for his first five seasons, then emerged as a perennial Pro Bowl choice, seems incomprehensible in a modern context. There was no free agency at the time, however. A team could more easily stockpile and develop talent.
The Rams were stacked on the offensive line under coach Chuck Knox, with Hall of Famer Tom Mack at one guard spot and veterans elsewhere on the line. Saul had never played center in college, putting him at a significant disadvantage. The Rams also made Saul their long-snapper, forcing him to learn another skill that was previously foreign to him. Not that he had much choice in the matter.
And so Saul played special teams with a vengeance, earning the nickname "Super Saul" -- shortened to "
Soup
" with an eye toward his prodigious appetite. His contract was for $12,500, the minimum at the time, but an incentive clause tied to special-teams tackles allowed Saul to collect additional income.
"He made like 100 tackles on special teams that first year," Olsen said. "He just ran down the field and knocked everybody down."
They still called special-teams units "suicide squads" back then, as reflected in
a 1971 Life Magazine
cover story featuring Saul and others around the league.
"The injury rate is eight times higher on suicide squads than for any other position," a caption in the magazine read.
Saul was undaunted. He'd already overcome a catastrophic knee injury at Michigan State, where Saul and his twin brother, Ron, had earned All-America honors, Rich as a linebacker and Ron as an offensive linemen. That the two would combine to play 318 regular-season games came as an upset following Rich's injury.
"The only thing holding the upper leg to the lower leg was the skin," Olsen said. "It is amazing he got to play in the NFL. He would describe that as a miracle surgery performed by
Dr. Lanny Johnson
."
Tough guy
Youngblood went to seven consecutive Pro Bowls and set a standard for grit by playing through the 1979 postseason, including the Super Bowl, with a broken fibula.
Former Rams guard Dennis Harrah aptly called Youngblood the
"John Wayne" of professional football
. Even John Wayne knew to pick his spots in practice.
"I was a defensive end and Richie was a center, and I knew that I should not go in there because Rich Saul will hurt you if you go into his territory," Youngblood said. "There was many a linebacker in the league who did not like to see the schedule knowing they had to go see Rich Saul. That was going to be an all-day affair."
Former Rams video director Mickey Dukich once
recounted for the Los Angeles Times
a story of Saul, a former wrestler, applying a choke hold on teammate Butch Robertson, a six-time Pro Bowl choice at linebacker.
"Butch passed out," Dukich told the Times for the 1987 piece. "Rich thought he had killed Butch."
Youngblood confirmed the basic details.
"Rich, there was a little conflict in the locker room and it resulted in, he didin't hurt the guy, but he did show that you didn't mess with Rich Saul," Youngblood said. "That was the message. Message was well received."
On the line
The Rams led the NFL in rushing with 2,799 yards during the 1980 season, a total surpassed just twice in subsequent years, by the 1984 Chicago Bears and 2006 Atlanta Falcons. The Rams ranked among the league leaders in that category throughout most of the 1970s, before and after Saul succeeded Ken Iman as the full-time center in 1975.
"[Saul] became an extremely proficient blocker on a team that still used primarily man-to-man blocking on defensive line stunts -- you never see this any more! -- and did a multitude of blocking combinations on running plays," Mack, an 11-time Pro Bowl choice with the Rams from 1966-1978, wrote in an email. "We could slip, slide, fold and cut block defenses as effectively as any team in football and we led the league in rushing. That alone proved he was both smart and a great athlete!"
Saul played 176 regular-season games and 12 playoff games, including the Super Bowl against Pittsburgh following the 1979 season, all for the Rams under four head coaches: Allen, Tommy Prothro, Knox and Ray Malavasi. He was one of three NFL players -- Jack Lambert and Robert Brazile were the others -- to earn Pro Bowl honors every season from 1976 through 1981.
Legacy
Olsen recalled the famous quote from Jackie Robinson about a life lacking import except to the extent it has impacted the lives of others. He said Saul, who succeeded in finance and real estate following football, lived that ethic and cared more about what people thought of him off the field than on it.
"We used to talk about that a lot," Olsen said.
"He took great pride in being a father and a husband and a grandfather. ... He was always going to the hospital to talk to kids with cancer or to send a note or a card or a picture or go to speak to a group that needed something done. He was a very strong advocate for abused and battered children, very active with the Cancer Society and all those organizations that needed someone to stand up and speak on their behalf.
"That is how people will remember him, as a humanitarian, a good father, a good friend."
February, 7, 2012
2/07/12
12:55
PM ET
One of our blog regulars,
joe_cool585
, correctly points out an omission from the NFC West blog recently.
Jim Harbaugh's naming as the NFL's top coach, as declared by Associated Press voters, got
insufficient play here
during Pro Football Hall of Fame fallout Saturday night. Time for every coach's favorite, the makeup call.
Harbaugh becomes the first NFC West coach since realignment in 2002 to earn the AP honor. Harbaugh and former
St. Louis Rams
coach Dick Vermeil are the only coaches for current NFC West teams to win the award in the last two decades.
Winning the award requires not only faring well, but also faring better than your peers in a given season, sometimes relative to expectations. The chart does not necessarily rank the best jobs head coaches have done for current NFC West franchises since the AP established the award in 1957. This wouldn't be a bad list to work from, however.
The chart's final column shows the difference between winning percentages from the previous season. For example, the 1999 Rams went 13-3, up from 4-12 the previous season. The difference between those winning percentages -- .813 minus .333, basically -- works out to plus .563.
.
July, 23, 2010
7/23/10
8:04
AM ET

Dan Bickley of the Arizona Republic
says another postseason appearance by the Cardinals could be a sign Ken Whisenhunt is on his way to a Hall of Fame career as a head coach. Whisenhunt: "In my last nine years (coaching) in the league, we've been to two Super Bowls, 5-6 championship games and won the division 6-7 times. That's what drives me. When you get a group of guys to believe in something and actually be successful, when you get a town to respond the way this town has supported us . . . there's nothing else like it. Look at where we were four years ago." Winning Super Bowls, plural, would help the Hall of Fame credentials. Current Hall of Fame coaches: Paul Brown, Jimmy Conzelman, Joe Gibbs, Bud Grant, Curly Lambeau, Tom Landry, John Madden, Bill Walsh, Chuck Noll, Guy Chamberlain, Ray Flaherty, Sid Gillman, Greasy Neale, Steve Owen, Don Shula, Marv Levy, George Halas, Hank Stram, Weeb Ewbank, Vince Lombardi and George Allen.
Darren Urban of azcardinals.com
wonders whether rookie Daryl Washington could get on the field this season while Gerald Hayes recovers from back surgery.
Also from Urban
: Adrian Wilson is replacing Bertrand Berry on the Cardinals' in-house podcast.
Kent Somers of the Arizona Republic
says the Cardinals do not appear close to signing either of their top two draft choices, but there's little reason for alarm. The deals should be relatively straightforward. Somers: "Cardinals General Manager Rod Graves has been traveling and [unavailable] for comment this week, but I'm hearing the Cardinals aren't far along in contract talks with (Dan) Williams or linebacker Daryl (Washington), their second-round pick. That's not unusual, however. Camp is still a week away, and the two deals should not be complicated ones."

Danny O'Neil of the Seattle Times
says Seahawks linebacker Leroy Hill is due in court again Friday. O'Neil: "Hill is in his sixth year with the Seahawks. He was suspended last week for the season-opening game against San Francisco for violating the NFL's policy on substance abuse. Whether he faces additional league punishment for this incident could depend on the outcome."
John Morgan of Field Gulls
says T.J. Houshmandzadeh enjoyed a strong season in 2009. Houshmandzadeh increased his yards per reception, breaking a trend in the other direction. Morgan: "As a player, T.J. was very good in 2009. He is a number one possession receiver, so to speak. He is more of a complementary downfield threat, but so be it. He earns tons of targets and maintains a high catch percentage, and if his stats declined in 2009, I saw no indication that his performance did."

Jim Thomas of the St. Louis Post-Dispatch
provides a Rams overview. Thomas: "Even in this so-called 'baseball' town, and even with all the recent losing by the Rams, the selection of (Sam) Bradford has created a mild buzz in St. Louis. Ticket sales are up over last year, although several games could still be blacked out locally. No one is dreaming of a playoff berth, but improvement is expected."
Also from Thomas
: The Rams could bring in former Missouri receiver Denario Alexander, who was cleared medically this week, according to his agent.
Turf Show Times' Tevin Broner
outlines three keys for the Rams this season: Bradford, the defensive line and the receivers.

Matt Maiocco of CSNBayArea.com
thinks tight end Nate Byham and running back Anthony Dixon could be lesser-known players to watch at 49ers training camp. Maiocco: "Dixon is an impressive-looking player. He has quick feet and nice moves for a big man. But the 49ers want to see less dancing and more north-south running. If he lowers his pads and runs with power, he has a chance to make his way up the depth chart."
Taylor Price of 49ers.com
previews the 49ers' defense heading into camp. Price: "Tthe 49ers' 5-1 record against the NFC West was largely because of a stingy defense which allowed 10.2 points per game against the division, tops by any NFL team against its division in 2009. From top to bottom, the 49ers defense features play-makers and game-changers at all levels of the field."
Dan Brown of the San Jose Mercury News
checks in with 49ers legend Jerry Rice, who spoke with reporters Thursday during a Hall of Fame conference call. Brown: "These days, Rice's preparation involves the speech he'll have to give on induction day, when former 49ers owner Eddie DeBartolo Jr. will present him. Rice was vague about the status of his speech-writing efforts but acknowledged that he's been checking in with other Hall of Famers for advice."