September, 2, 2014
Sep 2
8:00
AM ET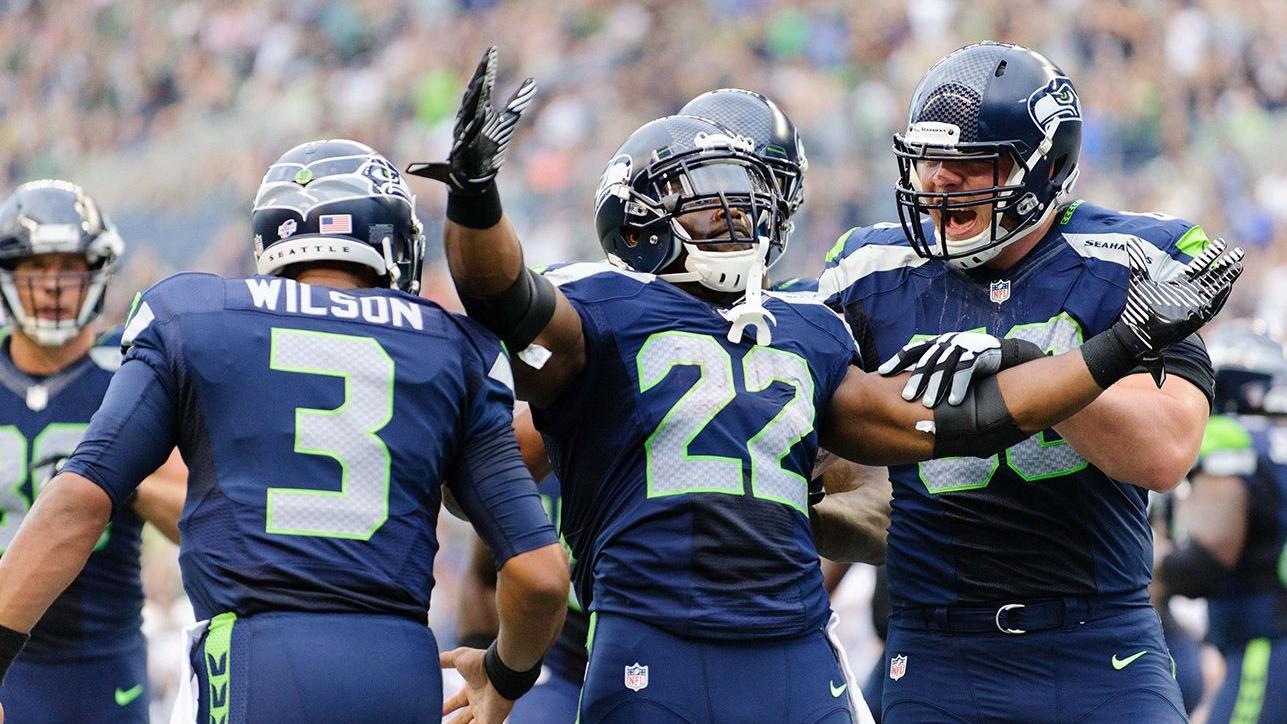 ESPN.com
Seattle Seahawks
reporter Terry Blount makes his game-by-game picks for the 2014 season.
Week 1: Green Bay Packers
All the pregame hype will center around the so-called Inaccurate Reception, the controversial Hail Mary catch by Golden Tate two years ago that won the game over the Packers at Seattle on a Monday night. Tate has moved on to Detroit, but the Seahawks now have too many weapons for the Packers to stop, no Hail Mary required. Prediction: Win
---
Week 2: at San Diego Chargers
The Chargers better hope they play a lot better than they did in the preseason game at Seattle, a 41-14 victory for the Seahawks on Aug. 15. San Diego will play better, but not good enough to beat a much better team. Prediction: Win
---
Week 3: Denver Broncos
The Broncos and their fans got a tiny bit of meaningless Super Bowl revenge in the preseason opener with a 21-16 victory over the Seahawks in Denver. Enjoy it while it lasts, boys. Repeating that outcome in Seattle is not an option. Prediction: Win
---
Week 5: at Washington Redskins
Traveling coast to coast to play on the road for a Monday night game is a tough task against any NFL opponent, and even tougher against quarterback Robert Griffin III. But the Seahawks catch a break in this one by coming off a bye week with plenty of time to prepare and be fresh for the journey. Prediction: Win
---
Week 6: Dallas Cowboys
Cowboys owner Jerry Jones gave Seattle a little bulletin-board material last month when he said the Seahawks were to blame for the increase in penalty flags during the preseason. There won't be near enough flags against Seattle for the Cowboys to win this one. Prediction: Win
---
Week 7: at St. Louis Rams
Any division game in the NFC West is a rugged battle. The Rams have a defensive line that gave the Seahawks problems a year ago. But they aren't strong enough overall to beat Seattle, even at home in their out-of-date dome. Prediction: Win
---
Week 8: at Carolina Panthers
The Seahawks were fortunate to win the season opener at Charlotte a year ago. That Panthers team was better than this one, but back-to-back road games against very physical defensive teams will end the Seattle winning streak. Prediction: Loss
---
Week 9: Oakland Raiders
Coming off their first loss of the season and returning home against an outmanned opponent, is there any doubt? Prediction: Win
---
Week 10: New York Giants
The Seahawks easily defeated the Giants 23-0 last year in New Jersey, a dress rehearsal for their Super Bowl victory at the same location -- MetLife Stadium. The Seahawks won't need a rehearsal to roll past the Giants in this one. Prediction: Win
---
Week 11: at Kansas City Chiefs
This likely will be a low-scoring game between two strong defensive teams. Odds are against any team that has to try to win by matching its defense against the Seahawks' D. Prediction: Win
---
Week 12: Arizona Cardinals
The last time the Cardinals played at CenturyLink Field was last December when they handed the Seahawks a 17-10 loss. That won't happen again unless the Seahawks get caught looking ahead to the 49ers game. The Seahawks don't look ahead. Prediction: Win
---
Week 13: at San Francisco 49ers
It's a Thanksgiving night, national TV game in the 49ers' shiny new stadium against the hated Seahawks. If San Francisco can't win this one, its time as a championship contender is over. Prediction: Loss
---
Week 14: at Philadelphia Eagles
This is the toughest part of the season for the Seahawks with back-to-back road games against likely playoff contenders. But the 10 days between games will help and be enough of a cushion to keep Seattle from losing two in a row. Prediction: Win
---
Week 15: San Francisco 49ers
This is a game that could decide which team wins the NFC West. No way the Seahawks lose to the 49ers twice in three weeks, especially not in front of a rabid full house of 12s. Prediction: Win
---
Week 16: at Arizona Cardinals
The Cardinals probably will be fighting for a playoff spot, and the Seahawks already will be in at 12-2. That difference will be just enough for Arizona to win at home in the same stadium where the Seahawks will win the Super Bowl a few weeks later. Prediction: Loss
---
Week 17: St. Louis Rams
For the second consecutive year, the Rams close the regular season in Seattle. And for the second consecutive year, the Seahawks will beat them without much trouble. Prediction: Win
---
Predicted Record: 13-3
January, 9, 2011
1/09/11
1:50
PM ET
Marshawn Lynch
's 67-yard touchdown run to clinch Seattle's
41-36
wild-card victory against New Orleans is the play NFL fans everywhere are buzzing about. Twenty-four things to know about the run that will give Seattle's No. 24 a special place in NFL playoff lore:
[+] Enlarge

AP Photo/Ted S. WarrenSeattle's Marshawn Lynch breaks away on his 67-yard TD run Saturday against the Saints as QB Matt Hasselbeck celebrates in the background.

There was nothing fancy about the personnel or formation.

Seattle lined up in its base offense with two backs and one tight end, John Carlson. The strong side was to the left, and that is where Lynch ran initially.

Seattle had been favoring zone runs all game, but this play -- "17 Power" -- featured man-on-man blocking. Players said Seattle had not run the play all game.

With this run, the Seahawks averaged 10.5 yards per rush on 10 carries from base personnel against New Orleans, according to my charting.

Lynch might never have escaped the backfield if fullback Michael Robinson, lined up in the offset-I formation, hadn't slammed into linebacker Jonathan Vilma, creating space.

Even so, linebacker Scott Shanle should have made the tackle about two yards into the run. No one blocked him. Count this as missed/broken tackle No. 1.

Receiver Ben Obomanu motioned right to left, sealing safety Roman Harper on the edge.

Right tackle Sean Locklear had the easiest job. He stood up and danced with defensive end Alex Brown.

Right guard Mike Gibson pulled across the formation, helped Carlson turn linebacker Jo-Lonn Dunbar outside and then rocked cornerback Tracy Porter five yards past the line of scrimmage.

It got worse for Porter. Much worse.

Center Chris Spencer and left guard Tyler Polumbus steered defensive tackle Remi Ayodele to the weak side.

Left tackle Russell Okung blocked defensive end Will Smith, but Smith came off the block in time to trail Lynch and get both hands on the running back's hips at the Seattle 35-yard line. This would be missed/broken tackle No. 2.

Spencer blocked Darren Sharper on the second level, but Sharper disengaged in time to make contact with Lynch eight yards downfield. Ayodele also made contact with Lynch at this point. These would be missed/broken tackles Nos. 3 and 4.

Cornerback Jabari Greer caught Lynch at midfield along the right hash, but Lynch ran right out of his grasp. Missed/broken tackle No. 5.

Porter caught up to Lynch at the New Orleans 36, but he made a bad mistake. Porter tried to tackle Lynch high. Lynch, cradling the ball in his right arm, discarded the 186-pound corner with a left hand straight out of a George Foreman fight. Porter tumbled nearly five yards downfield, landing on his right shoulder and rolling on the ground. This was missed/broken tackle No. 6.

Perhaps sensing Lynch could go all the way, multiple teammates rallied to the cause. Polumbus and receiver Mike Williams were first on the scene. Locklear and quarterback Matt Hasselbeck were gaining as Lynch crossed the 30.

Hasselbeck did not really block Brown, but he slightly impeded the big defensive end. Asked later if he were "looking" to block someone, Hasselbeck deadpanned that he was looking, but just looking.

Brown dove at Lynch's feet and just missed along the right sideline at the 16. This was missed/broken tackle No. 7.

Polumbus was at the 12 by now and in perfect position to shield Harper as Lynch cut back toward the middle.

Greer had hustled back into the play by now, but Hasselbeck seemed to know Lynch would score. The quarterback raised his right arm as Lynch crossed the 4-yard line, with Greer a step or so behind.

Harper had ducked under Polumbus at this point, but he dived and missed at the 2. This was missed/broken tackle No. 8. Lynch sidestepped just enough to make sure Harper would not get him.

Carlson, Spencer and Obomanu were also inside the 5 at this point.

Lynch dove onto his back in the end zone and popped to his feet as Carlson, Hasselbeck, Polumbus, Spencer, Williams and Obomanu swarmed him.

This was the longest run of Lynch's career by 11 yards and it gave Seattle its first 100-yard rusher of the season.
Not a bad way to punctuate one of the bigger playoff upsets in NFL history.