December, 14, 2013
Dec 14
5:20
PM ET
ST. LOUIS -- The
St. Louis Rams
made a seemingly innocuous roster move Saturday afternoon, releasing rookie defensive end
Gerald Rivers
and promoting receiver Justin Veltung from the practice squad to the active roster.
Austin
The move won't make a ripple on the NFL scene as the Rams prepare for Sunday's meeting with New Orleans, but it could well provide a clue into the status of injured rookie receiver
Tavon Austin
for that game.
Austin sat out practice all week with an ankle injury and observed practice Thursday and Friday with a walking boot on his left foot. He's officially listed as questionable on the injury report.
The Rams have plenty of other receivers on the roster capable of filling in for Austin in that role, but what they don't have is a proven punt returner.
Austin Pettis
and
Janoris Jenkins
have done it in the past, but Veltung handled those duties after Austin during the preseason and training camp and showed some ability.
Reading between the lines of the move, the Rams are clearly giving themselves some insurance in case Austin is unable to go. Veltung has spent the season on the Rams practice squad.
Rivers was inactive for all but two games, playing a total of 10 snaps in contests against San Francisco and Jacksonville earlier in the season. He made the roster as an undrafted free agent after flashing pass-rush potential during training camp and the preseason. He is still eligible for the practice squad should he go unclaimed on waivers.
September, 8, 2013
Sep 8
3:25
PM ET
September, 8, 2013
Sep 8
8:00
AM ET
EARTH CITY, Mo. -- In retrospect, it's easy for
St. Louis Rams
linebacker
Daren Bates
to call the chance he got from the team the perfect situation.
Little did Bates know that when the Rams were the only team to call and express interest in him after he went undrafted in April's NFL draft that he was walking into a place that actually was the exact fit he'd need to make the team.
"My agent told me this is where I would be at," Bates said. "So I that's all I had and that's what I took. It worked out perfectly."
In St. Louis, your pedigree doesn't matter as much as what happens when you step on the field. To borrow a phrase from Twitter follower @3k_, if you can play, you can stay.
So it is that the current 53-man roster has 18 players that were originally undrafted, 15 of whom were signed by the Rams coming out of college, given an opportunity and earned their way on to the roster.
In this year's undrafted rookie class alone, the Rams kept five players -- linebackers
Ray-Ray Armstrong
,
Jonathan Stewart
and Bates, defensive end
Gerald Rivers
and running back
Benny Cunningham
-- who did not hear their names called in April's draft.
If the draft is the lifeblood of a franchise, undrafted free agency serves as the blood bank. That's why, in the Rams' philosophy, it's not just general manager Les Snead and his group working hard to unearth hidden gems.
"It's something that everybody works at, the coaches. It's a collective effort and it starts well before the draft," coach Jeff Fisher said. "It's basically one of those deals where you get a sense for guys on the board and if they're still left on the board when the draft's over, you basically express interest and show a need and fortunately we got some quality players."
It hasn't always been that way around Rams Park, though. In fact, before the arrival of Fisher, Snead and vice president of football operations Kevin Demoff, the undrafted rookies were generally an afterthought.
Not that the Rams didn't pursue them but they usually didn't even make competitive bonus offers to go after the best options available. That has changed plenty in the past two years, and it's a good reason why the Rams now figure to have undrafted players making major contributions for the first time since
London Fletcher
in the late 90s and early 2000s.
Safety
Rodney McLeod
went unselected in 2012, made the team and led it in special teams tackles as a rookie. Most undrafted players get their start on special teams but work their way up after. McLeod is a good example and likely to start on defense against Arizona on Sunday.
"There are Pro Bowlers that were undrafted college free agents," Fisher said. "So, yeah, basically everybody's doing it. You spend a lot of time on the bottom of those lists. You spend a lot of time in it, so it's worked out good for us so far."
The roster scouring isn't limited to undrafted free agents, either. Offensive lineman
Brandon Washington
was a sixth-round pick by Philadelphia last year, didn't make the roster and spent the 2012 season on the Rams' practice squad.
Washington proved a valuable scout team member. He clearly understood his role and the old idea that the more you can do, the more valuable you become.
"It was definitely one of those things," Washington said. "I learned that last year on the practice squad. I kind of bumped around on practice squad and then coach Bones (special teams coach John Fassel) would come pick me up and say 'Be my gunner or cover this guy on punt return.' I was like, 'What in the world?' Me a gunner?' But I heard that a lot, the more you could do, the better. I just looked at everything as an opportunity."
Washington arrived in this year's training camp hoping to earn a spot at guard but plans changed when injuries hit the Rams at tackle. Without hesitation, Washington returned to his Miami (Ohio) roots and played tackle, again showing the versatility and attitude the Rams seek in young players.
After watching the Rams keep young players around him last year, Washington knew when he was told he'd have a shot to make the roster, it wasn't just lip service.
"All the hard work you put into this thing, you try to come out here and earn a roster spot," Washington said. "That was my No. 1 goal coming in. You can be on practice squad and then get a chance for this."
The amount of players making the roster after going undrafted also can't hurt the Rams in their pursuits of future player in similar predicaments.
Yes, the Rams have been a team reshaping a roster and naturally have more job openings than teams with deeper rosters, but it's been made clear that the philosophy of keeping the best players regardless of resume isn't going to change anytime soon.
"Beforehand, I had no idea," Rivers said. "I just came in hoping for the best and going out there and playing hard. Coach was saying he doesn't care who you are, (if you are) making plays, production, that is all on the field. Production equals power."
August, 30, 2013
Aug 30
12:00
PM ET
A few, quick leftover observations from the
Rams' 24-21 win
against Baltimore in Thursday night's preseason finale:
• Rams coach Jeff Fisher was thoroughly disgusted by the continued mistakes of his team in the first half against the Ravens. They finished with 17 penalties for 123 yards and Fisher voiced his displeasure at halftime. Although the bulk of the penalties were coming from players who likely won't make the final roster, it has to be a concern when you fumble three times in the opening five minutes and each fumble came from a player (receivers
Brian Quick
and
Tavon Austin
and running back
Isaiah Pead
) expected to contribute in the regular season.
[+] Enlarge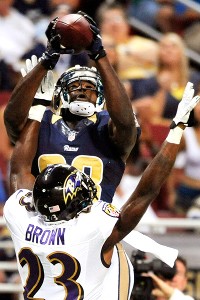 AP Photo/Bill BoyceBrian Quick had a busy night Thursday with five catches on six targets.
• Quick did bounce back with a solid performance in the first half as a repeated target of quarterback
Kellen Clemens
. He finished with five catches for 60 yards while being targeted six times. He probably should have hauled in that sixth catch too as he struggled to drag his feet in bounds and haul it in at the same time. Quick is hopeful that he's done enough to earn a role in the offense when the season starts. I believe he's earned a chance to get worked in but I also believe that Fisher isn't going to put Quick into that role on a more permanent basis until he's convinced that Quick can be consistently successful.
• In the competition for the backup quarterback job, Clemens and
Austin Davis
each probably had his best outing of the preseason though Clemens' effort was probably the best by either during the exhibition slate. He kept plays alive with his legs and was getting the ball downfield on a consistent basis. It still seems logical that the Rams would do what they did last season and release Clemens and bring him back after Week 1 on a nonguaranteed contract but he certainly helped his cause to be the No. 2 guy if the Rams opt to go that route.
• Safety
Matt Daniels
was all over the place in Thursday night's game, coming up with an interception, making tackles on defense and special teams and just being around the ball in general. The competition at safety is an interesting one and Daniels was probably in good shape to make the 53 before last night but Daniels' efforts might have sewed up a spot.
• Competition for a possible sixth receiver spot didn't gain a ton of clarity as
Justin Veltung
and
Nick Johnson
both had their moments. There's still a real chance the Rams will only keep five and Veltung and Johnson could both go to the practice squad.
• Nice night for tight end
Mike McNeill
, who also finds himself in a battle for roster positioning. It's entire possible the Rams keep five tight ends, especially if they only keep five receivers. McNeill would almost certainly be one if they keep five but his two catches for 48 yards probably bolstered his chances to be No. 4 in the pecking order if the Rams opt to keep that many.
• Should the Rams keep nine defensive linemen as they did last season, they have a tough choice between the versatile
Mason Brodine
and rookie
Gerald Rivers
. Brodine scooped up a fumble and generated some pressure against Baltimore. Rivers was active again, coming up with a sack and six tackles. The decision boils down to whether the Rams believe they can sneak Rivers through to the practice squad given the strong film he's put out for other teams to see. If they do, Brodine probably makes it because of his ability to play inside and out. If not, Rivers might make the 53 outright.
• Will the Rams keep four running backs, not including the suspended Pead?
Daryl Richardson
,
Zac Stacy
and
Benny Cunningham
appear locked in for roster spots. I mentioned
Chase Reynolds
as a possibility to make it for at least one week in Pead's absence and he did nothing to hamper that last night. Reynolds had a fumble recovery and scored the winning touchdown on a 17-yard catch and run late. He's been a staple on the first unit special teams throughout preseason and might have earned a job on the initial 53.
August, 30, 2013
Aug 30
11:09
AM ET
As the bulk of their starters sat out Thursday night's preseason finale against Baltimore, it was a busy night for many of the Rams rookies. Here's a look at how much the each member of the draft class played, and how they fared in their opportunities.
WR Tavon Austin, first round, No. 8 overall:
Austin didn't sit out completely like the rest of the projected starters, but made no more than a cameo with eight snaps on offense and one on special teams. He was targeted three times and made three catches for 26 yards. The only punt return he dropped back for was booted out of bounds.
LB Alec Ogletree, first round, No. 30 overall:
One of the busiest rookies, Ogletree played 25 defensive snaps and four on special teams. He finished with two tackles in unofficial pressbox statistics. Ogletree needed all the reps he could get during this preseason and played more snaps than any defender during the exhibition slate.
S T.J. McDonald, third round, No. 71 overall:
McDonald played a dozen snaps and another on special teams as one of the few regulars to make the start. He made one tackle in unofficial pressbox statistics. Progress was evident in McDonald's first preseason, and he nailed down a starting spot.
WR Stedman Bailey, third round, No. 92 overall:
Bailey continued to get steady work, playing 22 snaps on offense and four on special teams. Bailey had three targets and made two catches for 38 yards. He was a bit shaky on the balls he caught, more so than he had been throughout preseason, but still managed to haul in a couple catches. He showed some willingness on special teams, leading the charge on punt coverage once.
OL Barrett Jones, fourth round, No. 113 overall:
Jones continued to get extensive work as the Rams try to get him up to speed, playing 57 snaps on offense and six more on special teams. Jones seemed to be a bit more comfortable than he's been in the previous three games. He's going to make the roster, no doubt about that, but it will be interesting to see if the Rams feel good enough about his state of readiness to part ways with
Tim Barnes
, who plays a similar role.
CB Brandon McGee, fifth round, No. 149 overall:
McGee is nursing some sort of unknown injury and didn't play Thursday night. Last week against Denver, McGee played one play on special teams and none defensively. It doesn't appear that he's got a serious ailment, but until we know the extent of it, his status for Week 1 remains in doubt.
RB Zac Stacy, fifth round, No. 160 overall:
Seemingly healthy and ready to go for the first time in the preseason, Stacy got his first extensive work of the exhibition season. He played 25 snaps on offense, finishing with 37 yards on 11 carries, including a 1-yard touchdown run. There wasn't a ton of room to work, but Stacy's short-yardage and goal-line ability might be enough to garner chances in those situations when the regular season comes.
Undrafted Rookie Roundup:
Two undrafted rookies that have made positive impressions all along showed up again Thursday night -- running back
Benny Cunningham
and linebacker
Ray-Ray Armstrong
. … Cunningham played 18 snaps on offense, 12 on special teams and was the sharpest of the team's backs. He had eight carries for 76 yards and likely solidified a roster spot. … Armstrong was active again at linebacker and on special teams, playing 30 snaps on the former and 20 on the latter. He had another big hit and finished with a tackle and pass defended. … End
Gerald Rivers
made one final push to make the final roster, leading the team in tackles with six and tossing in a sack, three tackles for loss and a hurry in a defense-high 61 snaps. … It remains to be seen whether it will be enough, but cornerback
Darren Woodard
was sticky in coverage again on his 57 snaps before he left the game with an apparent hamstring issue. If nothing else, Woodard showed enough in the final two preseason games to merit practice squad consideration.
August, 18, 2013
Aug 18
12:20
AM ET
ST. LOUIS -- For the second consecutive week, the Rams participated in a sloppy preseason game and walked out with a loss.
This time it was a
19-7 decision to Green Bay
on Saturday night.
Some quick hits and reaction from Saturday night's game:

Quarterback
Sam Bradford
was sharp again but missed chances in the red zone clouded that performance a bit. Bradford finished 8-of-12 for 155 yards with no touchdowns or interceptions and a rating of 109.7. That effort included a picture-perfect strike to receiver
Chris Givens
for a gain of 57 yards. But that work was partially forgotten as the Rams failed to finish the drive with a touchdown after Bradford missed a wide-open
Tavon Austin
in the flat for a would-be score and fumbled the snap on fourth-and-goal at the 1.
Clearly, the Rams would like to put some points on the board, namely in the form of touchdowns. On the bright side, they did create some big plays with the completion to Givens and a 37-yard strike to tight end
Jared Cook
. Those big plays have Bradford excited about the offense's potential.
Tackling was again an issue for the Rams. The hope is that the preseason provides enough opportunities for any tackling rust to get knocked off but there wasn't much progress from Week 1 to 2 in that regard. On Green Bay's first two offensive plays, the Rams had safety
Darian Stewart
and defensive tackle
Michael Brockers
miss tackles. Cornerback
Trumaine Johnson
later got in on the act with two whiffs of his own. The Rams took extra time in practice to work on tackling at "thud" tempo when they had the pads on last week and may have to do so again this week.
Running back
Isaiah Pead
got an extended look, starting the game but also playing into the third quarter. He had some good moments and ball security was not an issue on any of his 12 touches. Running room was hard to come by but Pead was strong in pass protection.
Speaking of the running game and a lack of room to run, the offensive line struggled to get much push at all. While that group did fine in pass protection, there was nowhere for Pead or any of the backs to run with the first group.
Rookie starting linebacker
Alec Ogletree
stayed in the game longer than the rest of the defensive starters and, at first glance, made some strides from last week. He was more reliable tackling and seemed to be better with communication and in his assignments. The Packers did gash the Rams with the tight end in the passing game, an area where Ogletree is supposed to be an asset.
Austin was far more involved this week as Bradford targeted him seven times. Austin came up with four catches for 28 yards and should have had a touchdown. Austin flashed some of the speed and agility that he's shown regularly on the practice field but also spent a bit too long looking to make a move and not running. You don't want him to change his game too much but it's going to be harder for him at this level to take the circuitous routes he sometimes took to the end zone in college.
With Pead taking most of the snaps, presumptive leading running back
Daryl Richardson
didn't get much work. When he came in, he did make a nice catch on a wheel route for a gain of 24 yards. It was a good sign for Richardson, who had a couple of drops last week in Cleveland.
The preseason is usually a time for abundant penalties and the Rams again proved that to be true. They were flagged nine times for 52 yards. That was an area coach Jeff Fisher wanted to see cleaned up after last week but he didn't get his wish. Of particular concern should be the continued illegal formation flags the Rams have drawn. Although only one of those penalties was accepted, the Rams had three flags thrown for that violation.
Competition for the backup quarterback job appears to be gaining little to no clarity.
Kellen Clemens
got the first chance to work with the second team offense and struggled mightily.
Austin Davis
came on in the fourth quarter and was a bit better, getting the Rams on the board with a touchdown pass to
Nick Johnson
.
Looking for a name of a little known player or undrafted rookie who seemed to be pretty active and make a strong impression? Defensive end
Gerald Rivers
got a lot of playing time in the absence of backup
Eugene Sims
and generated fairly consistent pressure in his opportunities. Linebacker
Ray-Ray Armstrong
was also active.
Perhaps most important, the Rams made it out of the game without any serious injuries. The Rams removed Stewart from the lineup as a precaution for some hamstring tightness.