October, 28, 2011
10/28/11
1:30
PM ET
»
NFC Final Word
:
East
|
West
|
North
|
South
»
AFC
:
East
|
West
|
North
|
South
Five nuggets of knowledge for Week 8:
Running into defensive walls:
Every NFC West team but St. Louis faces an AFC North opponent this week. And, wouldn't you know it, this is the first week since the 1970 merger when one division -- the AFC North -- features the four top defenses in fewest yards allowed (thank you, Elias Sports Bureau). Arizona faces Baltimore's top-ranked defense, allowing 272.7 yards per game. Seattle faces second-ranked Cincinnati (278.5), while San Francisco faces fourth-ranked Cleveland (291.0). How has the AFC North done it? Not without five games, including four victories, against NFC West offenses.
One reason the Rams are winless:
Teams from the NFC East and AFC North have played 14 games against the NFC West. The
St. Louis Rams
have played zero games against the NFC West. They are the only team heading into Week 8 without a division game in their rear-view mirror. That will not change until Week 9. Even at their worst, however, the Rams have often played Week 8 opponent New Orleans tough. The Saints needed a return touchdown for a 28-23 victory over the Rams in 2009, when St. Louis finished 1-15. And in 2007, when the Rams were 3-13, one of their victories was over the Saints.
[+] Enlarge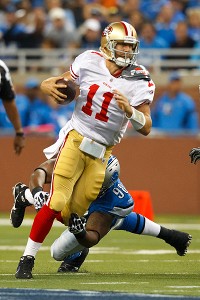 AP Photo/Rick OsentoskiWhen faced with five-plus rushers, 49ers QB Alex Smith has excelled against the pressure this season.
Fraying around the edges:
The 95-yard touchdown pass Arizona allowed to
Mike Wallace
last week followed a pattern for the Cardinals. Wallace caught the ball outside the yard-line numbers, where cornerbacks often find themselves without much help. Arizona is allowing 67.0 percent completions and 9.8 yards per attempt on passes outside the numbers, contributing to a league-worst 95.6 Total QBR on these throws, according to ESPN Stats & Information. The Ravens' offense has struggled on outside throws in recent weeks, but that could be about to change.
Alex Smith beating pressure:
The Browns have sent five or more pass-rushers on better than 46 percent of opponents' dropbacks this season, the fourth-highest rate in the league. Opposing quarterbacks have a 90.9 NFL passer rating when they get rid of the ball against Cleveland in these situations, but 12 sacks in 86 dropbacks have helped the Browns rank ninth in Total QBR allowed (34.9) when they send at least five rushers. The 49ers' Alex Smith trails only
Aaron Rodgers
and
Tom Brady
in completion percentage and NFL passer rating against five-plus rushers, but he has also taken nine sacks, dragging downs his QBR to 52.2, which ranks only 17th.
What's the Bengals' nickel worth?
Something has to give Sunday when the
Seattle Seahawks
flood the field with wide receivers against a Bengals defense that hasn't had its cornerback depth tested much. Seattle ranks 12th in pass plays featuring three or more wide receivers. The Bengals' defense leads the league in fewest yards per pass and carry when opponents use these personnel groupings. However, only four teams have faced fewer dropbacks than the Bengals against three-plus wideouts. That helps explain why
Morgan Trent
(15.5 percent of defensive snaps) and ex-Seahawk
Kelly Jennings
(7.5) are the Bengals' only backup corners to play this season. The Bengals have used three safeties, including backup
Gibril Wilson
, roughly a quarter of the time.
Pacman Jones
' expected activation as the Bengals' third corner adds another dynamic. The Seahawks need to win their matchups when
Sidney Rice
,
Mike Williams
,
Doug Baldwin
,
Ben Obomanu
and/or
Golden Tate
are on the field together. They also need better quarterback play, but that's another conversation.
June, 3, 2010
6/03/10
11:26
AM ET
Matt Williamson of Scouts Inc. thinks
Oshiomogho Atogwe
would be better off taking a modest one-year deal elsewhere than he would be taking a similar deal or a modest multiyear contract to remain with the
St. Louis Rams
.
It's an interesting thought.
"The smart move would be to call Miami or Dallas or one of these contending teams, try a one-year deal, re-market yourself with a better defense, a better pass rush, win some games, maybe get a ring and then go from there," Williamson said during a phone conversation Wednesday.
Cowboys owner Jerry Jones has said his team isn't in the market for Atogwe. The Dolphins haven't put it as strongly.
"Last year, Miami played with two strong safety types, and although they let go of
Gibril Wilson
, they still have a lot of questions at the free safety spot," Williamson said. "You look where they were weak -- nose tackle, inside linebacker, safety -- and he would sure help that."
Re-signing Atogwe would help the Rams, of course, but how much would it help Atogwe under the current circumstances? The Rams aren't a contending team and this is a horrible time for players to maximize their value in the market. Teams have pretty much set their rosters through the draft and free agency, and the Rams' budget appears to be an issue while the team awaits a pending ownership change.
February, 22, 2010
2/22/10
8:00
AM ET

Darren Urban of azcardinals.com
says the next two weeks are big for the Cardinals. He expects the Cardinals to release Antrel Rolle. Urban: "What that means is anyone's guess. The Cardinals believe Rolle would like to come back, but again, it's all relative when it comes to dollars. Could the Dolphins -- and Miami is home for Rolle -- come calling for big bucks given their issues with current free safety Gibril Wilson? Might the Giants, who had all kinds of secondary issues, choose to siphon away the guy who sealed their fate this past season? Someone else?"
Also from Urban
: Cody Brown is looking to bounce back from an injury-shortened rookie season. Urban: "The Cardinals still have veteran Clark Haggans, and Brown's good friend and fellow second-year player Will Davis made surprisingly solid strides in his own transition from college defensive end to linebacker. The Cardinals also signed CFL co-sack leader Stevie Baggs to see if Baggs can transition to the NFL. But it's Brown and another young player -- Mark Washington, who was signed to the practice squad with a month left in the season -- that have made enough of an impression the Cards hope pan out into production." Coach Ken Whisenhunt sounded optimistic about the situation at outside linebacker during a radio interview with KTAR 620 last week.

Danny O'Neil of the Seattle Times
wonders what Walter Jones has planned for the 2010 season. Jones indicated via Twitter on Super Bowl Sunday that he might be retiring, but he hasn't clarified those remarks. O'Neil: "The NFL Players Association Benefits department has received no documentation or any other indication he has officially retired. Jones is signed for next season at a salary of $7.3 million, but Seattle is not obligated to pay that total unless he's on the regular-season roster when the season begins. The fact the NFL's salary cap may disappear in two weeks makes the paper-value of Jones' contract even less relevant because he won't be eating up salary-cap space the Seahawks could otherwise spend."
Greg Johns of seattlepi.com
says there's no guarantee the Seahawks are excited about acquiring Brandon Marshall from the Broncos. Johns: "Should the Seahawks be interested? Marshall has averaged 102 catches for 1,236 yards over the past three seasons. T.J. Houshmandzadeh calls him the best receiver in the NFL. But there also is a big price with Marshall, both in terms of what it would cost to acquire and sign him as well as the difficulties he's caused his team at times. I'd label it a long shot that Marshall winds up in Seattle, but with a new regime and a desire by Pete Carroll to find greatness, never say never." I'd say it's likely the Broncos trade Marshall this offseason and, until we hear otherwise, Seattle would have to rank among the more logical destinations.

Matt Maiocco of the Santa Rosa Press-Democrat
sizes up the 49ers' current quarterbacks, noting that they've had a hard time living up to the team's history at the position. Maiocco: "From my viewpoint, Alex Smith has not convinced anybody he can be a reliable quarterback in the league. But, as he turns 26 in May, he has not proven to be a total lost cause, either. Only people who are biased one way or the other have already made those determinations. There's no question he has progressed when he's been on the field. He improved from his first season to his second. After his third and fourth seasons were virtually wiped out due to injuries, he was better in his fifth year than in his second. It's hard to believe he's reached his potential. But we also do not know how much higher he can go. For the first time, he will not have to spend the offseason learning a new system. He has a better supporting cast than any point in his career. He must take that next step in 2010."

Turf Show Times' VanRam
says it's still possible for Sam Bradford or Jimmy Clausen to improve their draft standing significantly, perhaps enough for the Rams to consider one of them with the No. 1 overall choice. VanRam: "If Bradford looks like he did during his 2008 season when he works out for scouts on March 25 and his health checks out, it's hard not to imagine him as a legitimate first overall pick. If Jimmy Clausen puts to rest questions about his maturity, blows the door off his team interviews and looks sharp at his work out, he'll be in a similar situation as Bradford, solidifying his place in the conversation of potential top picks." The Rams need to draft a quarterback early at some point, but they need to do it for the right reasons. Lots of teams have regretted taking quarterbacks early.
February, 26, 2009
2/26/09
9:25
AM ET
Posted by ESPN.com's Mike Sando

Clare Farnsworth of the Seattle Post-Intelligencer says the Seahawks will not be big players in the early stages of free agency, according to general manager Tim Ruskell. Farnsworth: "[Leroy] Hill was priority No. 1. But the Seahawks won't be as free-spending when it comes to the others -- a group of 16 that includes fullback Leonard Weaver, offensive linemen Floyd Womack and Ray Willis, wide receiver Bobby Engram, linebacker D.D. Lewis and defensive tackle Rocky Bernard." Willis could appeal to the Redskins, who need a physical right tackle to replace Jon Jansen.
Also from Farnsworth: Honesty is the best policy for the Seahawks' new defensive staff.
Rob Staton of Seahawks Draft Blog passes along updated information from the mock drafts of Rob Rang and Chad Reuter. Rang still has the Seahawks taking receiver Michael Crabtree. Reuter has changed his forecast to Virginia tackle Eugene Monroe.
Chris Sullivan of Seahawk Addicts thinks an increased salary cap will help the Seahawks. He also lists Kelly Jennings among players he might consider releasing. Releasing Jennings would actually cost the Seahawks slightly more against the cap than if he were to remain on the roster.
John Morgan of Field Gulls wonders how long Seahawks center Chris Spencer might last in the draft if he were coming out of college in 2009. Seattle selected Spencer in the first round of the 2005 draft, Tim Ruskell's first with the team. Morgan: "Spencer finally showed some life in 2008. He can still be great if injuries haven't taken the edge off his power and athleticism, but the time to prove that in Seattle blue is ending."

Bernie Miklasz of the St. Louis Post-Dispatch holds up Drew Bennett's signing as the signature move for the Rams' previous front-office regime. He questions whether the Rams could quickly replace Orlando Pace and Torry Holt if the team released them. Also: "The old regime made another titanic gaffe by failing to secure a contract extension with the emerging cornerback, Ron Bartell. He will probably command elite (and possibly insane) dollars on the free-agent market, and the Rams could have gotten Bartell for a lower price had they acted sooner."

Revenge of the Birds' Andrew602 says the expected addition of former 49ers special-teamer Keith Lewis is consistent with other mid-level acquisitions in Arizona. The Cardinals have also signed defensive end Jason Banks, running back Chris Vincent and tight end Alex Shor.
Kent Somers of the Arizona Republic says Lewis' expected signing is a surprise because the Cardinals have depth at safety. I would see Lewis as more of a special-teams contributor. Somers also notes that the Cardinals' college scouts are in the final year of their contracts.

Matt Maiocco of the Santa Rosa Press-Democrat expects the 49ers to take things slowly when free agency opens Thursday night at 9 p.m. PT. Maiocco: "The 49ers have compiled a list of 10 to 15 free agents to target, but the club plans to move much slower at the start of free agency to let the market settle down, one league source said." Team president Jed York: "You're always overpaying in free agency when you get that first-day guy. What we want to do is make sure we're building through the draft. And if we're going to spend a lot of money it's going to be on re-signing our own players and getting the right guys, as opposed to big flashy guys."
Alex Marvez of Foxsports.com says the Dolphins have agreed to terms with former Raiders safety Gibril Wilson, a player some NFC West fans -- particularly 49ers fans -- had asked about for their teams.
Kevin Lynch of Niner Insider thinks the 2009 draft sets up nicely for the 49ers because they need outside linebackers, running backs and fast receivers.
February, 25, 2009
2/25/09
1:54
PM ET
Posted by ESPN.com's Mike Sando
NFL teams routinely sign players with ties to their organizations. Those ties become more difficult to track this time of year because so many coaches and personnel people have changed teams recently. But we'll make an initial attempt here.
The Bucs' decision to release Derrick Brooks, Warrick Dunn, Joey Galloway and Cato June raises questions about the Seahawks' potential interest. Seahawks president Tim Ruskell and vice president Ruston Webster were with the Bucs when the team drafted Brooks and Dunn. New Seahawks defensive coordinator Gus Bradley was with all four released players last season.
The Raiders' recent moves -- releasing Gibril Wilson, Kalimba Edwards, Ronald Curry, Justin Griffith and Kwame Harris -- raise questions about the Rams, Seahawks and 49ers. Wilson played for new Rams coach Steve Spagnuolo with the Giants.
The Rams have quite a bit invested in free safety Oshiomogho Atogwe, making it unlikely they would invest heavily in Wilson. But the ties between Spagnuolo and Wilson are still worth mentioning.
Harris played for the 49ers before signing with the Raiders. San Francisco is looking to upgrade its depth on the offensive line. The team also needs a starting right tackle. Harris would not be the answer as a starter.
Curry played for new Seahawks offensive coordinator Greg Knapp in Oakland last season. The Seahawks will be looking to improve their depth at receiver. I do not know what Knapp thinks of Curry, but he would be familiar with him.
The Panthers' decision to release receiver D.J. Hackett makes available a familiar name for the Seahawks. Seattle appeared lukewarm in retaining Hackett last offseason. The interest might be cooler given changes to the Seahawks' staff. Mike Holmgren and his coaches knew Hackett, but the offense will be different under Knapp.
These are a few connections to keep in mind. Please offer up others if you have them.
February, 22, 2009
2/22/09
3:28
PM ET
Posted by ESPN.com's Mike Sando
Brian from St. Louis writes: I know anybody the rams draft at the 2nd spot will have a huge impact on the team with them having so many needs, but do you see Aaron Curry fitting in with the rams?
Mike Sando: Curry has impressed at the combine. I could see him fitting in with the Rams as a player to build around. Curry seems to have the dynamic personality to become a young leader for a team that needs young leaders.
But if the Rams release Orlando Pace, which seems likely, they might have a hard time avoiding one of the offensive tackles. Eugene Monroe or Jason Smith might factor into their thinking with that second choice.
The top of the round remains without clear consensus. We do know the Rams' offensive line is a top priority this offseason. That makes me lean toward tackle if one of the prospects measures up to that No. 2 overall standing.
---
Nedwardo from Las Vegas writes: With the Cards going 4-1 without Boldin and with so many needs at other positions, why wouldn't the Cards trade Boldin for draft picks (say the Eagles w/ a TE to spare and extra draft picks)? Boldin deserves a shot at playing on another team outside of Larry's shadow with a new and bigger contract. And with the extra picks, the Cards could improve their running game and save some wear and tear on Warner by upgrading the O-line.
Mike Sando: Anquan Boldin is close to a sure bet. Draft choices are riskier bets. Also, getting Boldin under contract over the long term would provide protection for when Fitzgerald becomes a free agent. Fitzgerald becomes a free agent after the 2011 season and the Cardinals agreed not to name him their franchise player at that time. Those would be a couple reasons for not trading Boldin.
---
Joe from Davis, Calif., writes: Sando, given the fact that Jim Mora Jr. is a more defensive coach and the lackluster play of the Seattle Defense last season, do you foresee the Seahawks trading down and out of the #4 overall pick in order to gain more picks and add more DBs and D-line help?
Granted, the Seahawks are in need of a WR, but if they take a guy like Crabtree or Maclin, do you really think that solves the Seahawks trouble at WR? Given the injury circumstances last season, I don't think the coaches nor fans really know what type of talent Seattle already has at the WR position.
Mike Sando: Teams have been able to find good defensive linemen between the 11th and 15th overall picks, so your thinking is solid in theory. History says trading down from No. 4 is unlikely, however.
The question at receiver for Seattle would be whether the team could afford to sit back and hope its injured receivers avoid additional injuries in 2009. Adding a high-profile receiver would certainly help set up Seattle for the future.
---
Christoffer from Denmark writes: hey mike, great blog. there has been a lot of talk about drafting/signing new players for the Cardinals O-line, but Russ Grimm and the rest of the staff was very impressed with Brandon Keith in training camp, do you think he could get the chance?
Mike Sando: Brandon Keith will get another chance if the Cardinals' personnel remains the same. The team could stand to add starting-caliber depth at that position, either in free agency or the draft. A new center might help as well.
February, 22, 2009
2/22/09
9:58
AM ET
Posted by ESPN.com's Mike Sando

Jim Thomas of the St. Louis Post-Dispatch says it's increasingly likely the Rams will release Orlando Pace and Torry Holt. Releasing Pace would reinforce the idea that the Rams might draft an offensive tackle with the second overall choice. Also, the Rams are not close to a deal with cornerback Ron Bartell. The Rams are in a bit of a tough spot with Bartell. They would like to retain their best young talent, but how much can they invest in players their coaching staff does not yet know very well?
VanRam of Turf Show Times considers Aaron Curry as a potential Rams draft choice based on the Wake Forest linebacker's versatility.
Also from VanRam: Could Gibril Wilson be the Rams' next strong safety? Money would be the key variable on that one. The Rams have already named Oshiomogho Atogwe their franchise player. That means they'll be less likely to invest significant money in the other safety spot.

Niners scout Todd Brunner says Virginia tackle Eugene Monroe validated his position as one of the top offensive tackles. Brunner: "He moved around well, had a good workout and did well in the position drills."
Matt Barrows of the Sacramento Bee says the 49ers have serious concerns about Shaun Hill's arm strength and they wonder if defenses might be able to stack the line of scrimmage without worrying about Hill beating them with downfield throws.

Kent Somers of the Arizona Republic gives Ken Whisenhunt's explanation for firing defensive coordinator Clancy Pendergast. Whisenhunt talked about holding everyone accountable, including coaches, while pointing to scoring defense and red zone defense as problems.
Also from Somers: Cardinals general manager Rod Graves spoke with running back Edgerrin James this week, but the team has no immediate plans to release James. At this point, the Cardinals are better with James on their roster. They presumably would not release him without adding another back.
Revenge of the Birds' Hawkwind looks at the Cardinals' guard situation.

Eric Williams of the Tacoma News Tribune quotes Seahawks coach Jim Mora as including offensive tackles as "impact" players, citing Walter Jones as an example. Team president Tim Ruskell previously said he was sure this draft would not produce a tackle on Jones' level.
Rick Gosselin of the Dallas Morning News says Texas Tech receiver Michael Crabtree said he would not undergo foot surgery.
February, 21, 2009
2/21/09
5:42
PM ET
Posted by ESPN.com's Mike Sando
Adam from Sherman Oaks, Calif., writes: Hey Mike, A couple questions rolled together here. With Crabtree now needing surgery and Andre Smith possibly opening up his character issues even further by going AWOL at the combine, what are the chances that the Seahawks pick either player up at #4 at this point in time?
Also, what are the chances they move down in the draft from #4 or look at moving up from their 2nd pick to secure a second player late in the 1st Rd?
Lastly, should Seattle go in the direction of a dominant LT for the future with their top pick, how might Seattle utilize the player in the first year barring a Jones or Locklear injury? Thanks! Adam
Mike Sando: I'm not expecting the Seahawks to target an offensive tackle in that spot. Teams running zone blocking schemes don't always need the elite tackles. The situation with Michael Crabtree is a little harder to predict, but I think the Seahawks would probably lean toward a safer pick if they had any reservations about Crabtree or his health. That would seem to fit Tim Ruskell's approach.
No one would have any insight about draft-day trades at this point. Those come together later in most cases, and lots of deals get discussed without getting executed. Impossible question to answer, in other words.
---
Hyman from Rochester, N.Y., writes: Mike, great stuff as usual. Now that Seattle has locked up Leroy Hill and have about $20 Million tied up into their LB's for 2009, doesn't it put more focus on getting a DT that can command a double team to free these guys up to make plays?
Mike Sando: Yes, that makes sense to me. It could depend to a degree upon whether the Seahawks think their new defensive coaches can unleash the existing talent. Another variable could be whether the Seahawks think they can get a franchise quarterback in this draft.
---
Jaysen from Bothell, Wash., writes: hey sando ... so everyone's been talking about seattle taking either crabtree, and OL or a DL with their fourth pick. If crabtree isn't there when it comes time for them to make a pick is there a possibility the seahawks could look at drafting a defensive back? people gotta remember we had one of the worst passing defenses in the league and for the past couple of years have been known for being vulnerable to the big play. what are your thoughts?
Mike Sando: I would think the Seahawks would target the front seven first if they made a selection on defense. That is based on my own perceptions, not what the team might be thinking internally (and their thinking will probably evolve as the new staff meshes). The Seahawks think upgrading their pass rush will solve some of that. They do think their defensive backs failed to make plays despite being in position, so I would not discount a cornerback in that fourth spot -- particularly since corner is an impact position. I just think the front seven could use the most help, all else being equal.
January, 21, 2009
1/21/09
4:59
PM ET
Posted by ESPN.com's Mike Sando
Ken from parts unknown writes: What do you think about this "Steelers West" stuff? It's flattering, but I think the Cardinals instead are the Colts West. Classic pocket QB, deadly passing game, pragmatic regular season approach, fast undersized defense, a great safety, and who do we hand the ball to but Edgerrin James himself?
Mike Sando: I like the comparison. Cris Collinsworth took it another step by comparing the Cardinals' postseason improvement to what the 2006 Colts accomplished when they won the Super Bowl. I would not necessarily say the Cardinals were pragmatic about their regular-season approach, but Arizona would certainly accept the same result in a Super Bowl, minus the rain and Devin Hester's kickoff return.
---
Blake from Moraga, Calif., writes: Do you think that if the 49ers didn't lose by a yard to kurt warner's team (bring back any memories?) that he would even be in this position, much less the playoffs?
Mike Sando: I'm not sure. If the Cardinals had lost that game and gone in the tank, no. If they had lost that game, then bounced back with a vengeance to beat good teams down the stretch, yes. The Cardinals did what they had to do to win the division. And now they have proven they belong in the playoffs. The 49ers haven't even committed to a starting quarterback, so I think they have some ground to make up.
---
Mike from Seattle writes: Mike, Tim Ruskell kind of addressed the wide receiver position. How serious of a run do you think Seattle will make at TJ Houshmandzadeh? And, if not him, who would be other FA candidates at WR? Thanks!
Mike Sando: Ruskell has said the Seahawks will protect themselves from a repeat of what happened to them at receiver in 2008. I do not know how seriously the Seahawks would consider a potentially expensive free agent at the position. Potential free agents include Amani Toomer, Bryant Johnson, Justin McCareins, Jabar Gaffney and a handful of lesser-known players. It's not a position of strength in free agency, for sure.