April, 16, 2010
4/16/10
1:42
PM ET
Just got off the phone with Matt Williamson of Scouts Inc. He also thinks
the 49ers' deal
for Ted Ginn makes sense:
I'm not sure you could find a better kickoff returner in the draft, and he also still has upside as a receiver. They got a returner who can also play receiver. That is how to look at it. Even if he never sees the field on offense, it's probably a good trade. He is very, very talented. At a minimum, he can run around the edges and get deep. That can open up things for Vernon Davis and the other guys.

Giving up a late-round pick, it's a home run even if Ginn does exactly what he did in Miami. A lot of times these kids who are high picks hit bottom. Bill Parcells didn't like him. He didn't play tough. He steps out of bounds. He is not a banger. He's a finesse, speed guy. I'm sure Mike Singletary isn't going to love that, either. But maybe you get a change of scenery and say, 'Yeah, maybe I do need to toughen up, lower my shoulder, do those types of things.'

Ginn is a smart kid. He might realize this is his last chance. You step back, change your ways and there are far less expectations.

In Miami, he was a deep threat with Chad Pennington as his primary passer most of the time. Not that Alex Smith is Jay Cutler or anything (in terms of arm strength), but it's not Ginn's fault the quarterback can't throw the ball 55 yards down the sideline. The 49ers get him for next to nothing and if he is one of the top five returners in the league, which he is, it's a good deal.
Ginn averaged 24.9 yards per kickoff return last season, 13th in the league among players with at least 20 returns. He ranked fifth in kickoff return yards with 1,296. He scored two touchdowns on returns, both against the Jets. Ginn hasn't returned punts regularly since 2007, when he averaged 9.6 yards on 24 returns, with an 87-yarder for a touchdown.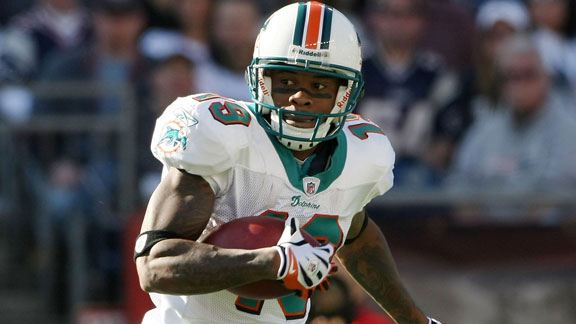 April, 16, 2010
4/16/10
1:15
PM ET
The 49ers' acquisition
of Ted Ginn Jr. from the Dolphins -- a possibility that seemed like
a potentially good idea
-- lets San Francisco enter the draft without looking for a return specialist.

Ginn
This can be a good move for the 49ers.
The 49ers seemed more likely to take their chances on a return specialist in the draft. That was just my feel. Ginn's contract was one potential issue. But this deal makes sense from a personnel standpoint because Ginn has first-round talent. He simply didn't fit into the Dolphins' plans after Bill Parcells took over, and he was expendable once the team added
Brandon Marshall
.
Ginn gives the 49ers a talented complementary receiver -- perhaps in the No. 3 role -- and a potentially explosive returner. His acquisition also shows that the 49ers can make moves without a general manager. Scot McCloughan departed last month, leaving personnel director Trent Baalke in control. Adding Ginn stands as a proactive move. It's a sign the 49ers are operating as usual.
The 49ers haven't had a mercurial receiver with the ability to stretch the field. Ginn has his limitations, obviously, or the Dolphins would have kept him. He needs to become more consistent catching the ball. But he does instantly provide a speed element to the receiver position. The 49ers aren't counting on him to even be the second receiver, but Ginn adds another young player to the offense, and one fitting a profile that differs from what the team already has.
This is a make-or-break year for quarterback
Alex Smith
. Arming Smith with a diversified collection of weapons can only help him. Imagine if the 49ers added Clemson running back C.J. Spiller in the draft.
Note:
Jay Glazer of Fox Sports
tweeted news
of the trade, reporting that the 49ers will send a "late-round pick" to Miami. I have confirmed the trade through a league source.