November, 10, 2013
11/10/13
10:22
PM ET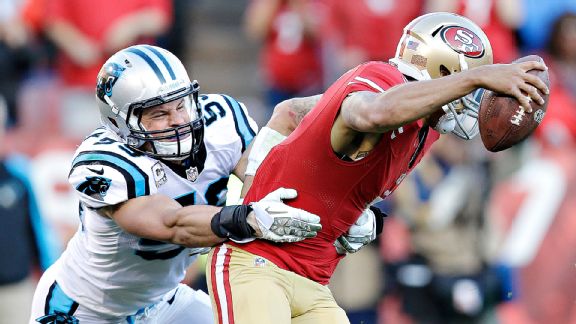 AP Photo/Marcio Jose SanchezColin Kaepernick could not spark the 49ers on offense and was sacked a season-high six times.
SAN FRANCISCO -- The NFL can be fickle both in perception and in reality.
The
San Francisco 49ers
could have easily extended their win streak to six games and gone into New Orleans next Sunday with a hard-earned victory on their resume.
Instead, the 49ers -- who
lost 10-9
to the visiting
Carolina Panthers
in a game that had a January feel -- will enter Week 11 facing questions about whether they can beat a good team and have fallen too far behind the Seattle Seahawks in the NFC West hunt. Both are legitimate questions.
But it was so close to not being the case.
The Panthers twice recovered fumbles in their own territory in the final two minutes. Carolina's only points came on a 27-yard touchdown run by
DeAngelo Williams
late in the first half and a 53-yard field goal in the fourth quarter by
Graham Gano
.
Defensively, the 49ers continued to play winning football. However, the San Francisco offense -- which scored at least 31 points in the five-game winning streak leading into this game -- missed tight end
Vernon Davis
in the second half as he sat out because of a concussion. The 49ers, whose offense mustered three
Phil Dawson
field goals in the first half, showed no life in the second half with just 45 yards.
The result of the close call, puts the 49ers in a tough spot moving forward.
The loss to the Panthers, who have now won five consecutive games, drops the 49ers to 6-3. San Francisco, fell to 3-2 at home and with just its the second loss at home under
Jim Harbaugh
after Nov. 1, and is now 2.5 games behind Seattle. The Seahawks improved to 9-1 with a victory at Atlanta on Sunday. The Seahawks, one of the best home teams in the NFL, have four of their final seven games at home.
Thus, winning the NFC West may be difficult for San Francisco.
If the 49ers, who are 2-3 against teams with winning records, do not win the NFC West, the highest playoff seed it could attain is No. 5. And the only possible home game would be as host to the No. 6 seed in the NFC title game. Thus, there is a good chance the final game at Candlestick Park will be in the regular-season finale Dec. 23 against Atlanta.
So Sunday's loss could have long-lasting effects on the defending NFC champions.
Still, Harbaugh vowed the team will straighten itself out quickly.
"We'll do what we do, we'll bounce back," Harbaugh said. "Regroup."
The 49ers must do so quickly. They have a big game next Sunday at New Orleans that, like the Carolina game, has major playoff implications.
The 49ers must learn they can't win if they are not at their best. The past five games were no contest for the 49ers. They ripped every opponent. Their closest margin of victory was 12 points.
In their past two games, at Tennessee and in London against Jacksonville, the 49ers jumped out to 24-0 and 28-0 leads. Sunday's game against Carolina was close throughout even though the 49ers did lead 9-0 late in the second quarter.
That's the difference between the Seahawks and the 49ers this season. The Seahawks have had several games in which they didn't play well. But they found ways to win. The 49ers couldn't do that Sunday.
Most of the 49ers' woes were on offense, especially after Davis left. San Francisco quarterback
Colin Kaepernick
was under duress all game and had few answers. He was sacked a season-high six times.
According to ESPN Stats & Information, Kaepernick was 0-for-6 on throws deeper than 10 yards downfield Sunday. It was the first time in 19 NFL starts that he failed to complete a deep pass. Kaepernick threw for just 91 yards.
The return of wideout
Mario Manningham
-- he played for the first time this season after suffering a knee injury in December -- did not spark the offense. Manning had three catches for 30 yards, but with Davis out most of the game, the 49ers' offense was out of sync. Mannigham is a complimentary receiver. But
Michael Crabtree
, who is expected back in early December, is an impact player.
Until then, the 49ers have to find some answers.
"It's unacceptable," receiver
Anquan Boldin
said of the team's offensive performance Sunday. "Obviously, we didn't get it done."
And that's the current reality for a team that lost to one of the NFL's hottest teams by one point.
September, 29, 2011
9/29/11
1:30
PM ET
Twelve games in Week 3 were decided by no more than seven points.
That was the highest number in NFL history, matching totals from 2003 (Week 12) and 1993 (Week 15), according to Elias Sports Bureau.
Expansion has increased the chances over the years, but with so many close games in Week 3, I wanted to quickly touch upon kicking dynamics heading into Week 4:
The chart shows field-goal stats for kickers playing for and against NFC West teams in Week 4. The "missed from" column includes abbreviations for field goals missed short, wide right, wide left and blocked. Note: I added the Redskins' kicker to the list; thanks to
Los Angeles Rams of St. Louis
for pointing out the omission.
.
.
September, 15, 2011
9/15/11
7:49
PM ET
There were three kickoff returns of 103 yards or longer in 256 NFL games last season.
There were two during 16 games in Week 1 this season, plus
Ted Ginn
Jr.'s 102-yarder for the
San Francisco 49ers
.
We're seeing far more touchbacks since the NFL moved kickoffs from the 30- to 35-yard line. That was predictable. The kickoffs that get returned for touchdowns will also be longer, but will there be more total return touchdowns despite far fewer return opportunities overall?
There were more of them in Week 1. Consider:
Twenty-three of 2,033 kickoff returns went for touchdowns last season. That is 1.1 percent.
Three of 80 went for touchdowns in Week 1. That is 3.3 percent.
One week does not make a trend, but the results from Week 1 were interesting.
Randall Cobb
,
Percy Harvin
and Ginn accounted for the three kickoff-return touchdowns.
The chart breaks down kickoff return stats for all but onside kicks. The touchback percentage jumped to the highest since at least the 1970 merger, according to Elias Sports Bureau.
A quick look at the returners NFC West teams are facing in Week 2:
The NFC West has multiple dynamic returners, but the Seahawks'
Leon Washington
is coming off a rough week, and the Cardinals'
LaRod Stephens-Howling
has a hand injury. Ginn will be facing a Cowboys coverage team that allowed 19.5 yards per kick return on four returns to the
New York Jets
.