August, 7, 2013
8/07/13
4:00
PM ET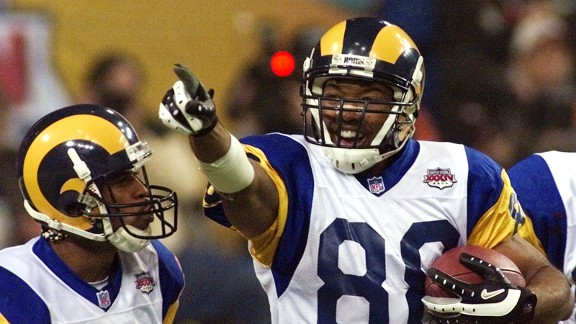 AP Photo/Chuck BurtonAfter years of feeling unwelcome by their old franchise, former Rams greats such as Torry Holt are making their way back to Rams Park at the invitation of St. Louis coach Jeff Fisher.
EARTH CITY, Mo. -- Standing between two fields at Rams Park watching practice on Monday afternoon was a group that might as well have been a part of a reunion for Super Bowl XXXIV.
Former Rams receivers
Torry Holt
and
Isaac Bruce
chatted it up with former Tennessee cornerback
Samari Rolle
, who is working in the team's coaching internship program. That trio was joined at various times by
Lance Schulters
, another former Titans defensive back in the internship program,
La'Roi Glover
, a former Rams defensive tackle and now the team's director of player programs, and former Rams tackle
Grant Williams
.
The sight of former Rams is nothing new around the team's training facility these days. Since Jeff Fisher took over as coach in Jan. 2012, he's made it abundantly clear that he's happy to welcome back former players who might want to offer some advice to his young team or who might just want to watch practice.
In the two weeks since camp started, other former Rams such as defensive back
Aeneas Williams
, safety
Keith Lyle
and linebacker
Chris Draft
have stopped by. It's not limited to Rams alumni, either. In addition to Schulters and Rolle, former Titans linebacker
Keith Bulluck
was also in town for a couple of days.
While it might be nothing new for Fisher to open the doors to past Rams, it does represent something of a departure from how things were in the not-too-distant past.
"This is home," Holt said. "I should feel comfortable and good when I come here. Myself and others, we did a lot for this organization. So it feels good to be able to step back out on this field and not be looking over your shoulder or feel like you're stepping on anybody's toes and then to be able to provide information for guys to improve their game. It's not about us, it's just about sharing what we've learned to make this organization better and try to bring back championships to this organization."
That's a feeling that Holt shared with plenty of other former Rams who didn't feel welcome or comfortable about being at Rams Park on a regular basis.
In 2011, Rams Hall of Famer Jack Youngblood told ESPN's Arash Markazi that he didn't feel like he had any connection to the team he once played Super Bowl XIV with while nursing a broken leg.
"We are their legacy but they forgot us," Youngblood said then. "They don't have anything to do with us, really. I find that unfortunate because you look at other franchises, even those that have moved, and they use their alumni in their marketing and in their organization. They use their Hall of Famers as an example for the players who are there today. They use their alumni, but the Rams have cut us out of the picture."
At the time, the Rams had begun to make inroads in their alumni program, which has taken off in recent years. As part of those efforts, the Rams signed Holt and Bruce to one-day contracts so each could retire as Rams. Most notably they welcomed back 20 prominent players from their past to celebrate the team's 75th anniversary last December.
Included in that group were a number of Los Angeles Rams, including Rosey Grier, Vince Ferragamo, Dennis Harrah,
Jackie Slater
, LeRoy Irvin and Youngblood.
That's just the tip of iceberg. Holt is back in St. Louis this week in preparation for his work as a color analyst on the team's preseason broadcasts. He joins another former Ram, Hall of Fame running back
Marshall Faulk
, in the booth for those duties.
Fisher's open-door policy should come as no surprise given his experience in the league. He's entering his 28th year coaching in the NFL and his 18th as a head coach.
Surrounded by a veteran staff with plenty of experience of its own, Fisher is undeniably comfortable in his own skin. The paranoia that can sometimes accompany first-time head coaches has long since evaporated and Fisher clearly views the opportunity to bring in any former player with wisdom to share as a positive for a team that again figures to be one of the youngest in the league.
"It feels good to be back, it feels good to be welcome and Coach Fisher gets it," Holt said. "He welcomes us. He knows the value and the importance of the guys talking to veteran guys who have been there, done it and done it at a high level because you can gain so much from that as a player. I'm thankful that I'm able to come back and coach Fisher is an excellent coach who understands the game, understands what it takes to improve his roster and he's allowing us to help out."
August, 5, 2013
8/05/13
8:27
PM ET
EARTH CITY, Mo. -- The Rams returned to the practice field Monday afternoon after a day off Sunday.
Unlike last week when they returned to the practice field on the heels of a day off, Rams coach Jeff Fisher was pleased with how his team did in bouncing back from a little down time.

"(It was) better than the last time we had a day off," Fisher said. "Last time it took us awhile to get 'em going. We talked about it and they came out and started making plays to start practice. I was pleased."
The turnaround this week will be short as the Rams prepare to travel to Cleveland for the preseason opener on Thursday night.
As is the norm, there won't be a whole lot of planning or scheming over the next couple of days.
"We are just going to carry some basic things into the game," Fisher said. "We have to prepare for their defensive front out of fairness to our guys and the quarterback so we'll do that and then try to keep things pretty simple."
In other Rams' news:
Safety Matt Daniels came off the physically unable to perform list and returned to practice Monday afternoon for the first time this camp. He's returning from a knee injury suffered against New England on Oct. 28 of last year but is unlikely to play Thursday night.
Receiver Nick Johnson (hamstring) and defensive tackle Al Lapuaho (hand) also returned for Monday's workout.
Isaac Bruce, the team's all time leader in nearly every receiving category, is still in town working with the team's young receivers. Torry Holt, Bruce's long time running mate, is also in town as he prepares to provide analysis for Thursday night's broadcast. Former Rams tackle Grant Williams was also in attendance Monday.
Wideout Brian Quick has been up and down in camp but Monday was one of his up days. He caught a long pass down the middle in team drills in which he elevated over cornerback Quinton Pointer for a big gain and followed with catch deep down the sideline in a soft spot in the zone.
It was running back Isaiah Pead who made the catch of the day, outmuscling linebacker Alec Ogletree for the ball and tapping his feet in the corner of the end zone for a touchdown during red zone work.
Cornerback Janoris Jenkins, who has had some major battles with receiver Chris Givens during camp, came up with an interception after battling Austin Pettis for a pass. Jenkins batted the ball a few times before ultimately hauling it in.
The Rams continue to take precaution with some of their veteran offensive linemen. Center Scott Wells, guard Harvey Dahl and tackles Jake Long and Rodger Saffold get regularly breaks during the course of practice in an effort to keep them fresh.
There will be one more practice Tuesday afternoon before the Rams depart for Cleveland on Wednesday.