September, 3, 2011
9/03/11
9:37
PM ET
The following recently released and waived/injured NFC West players are eligible for practice squads if they clear waivers:
Arizona Cardinals

Jared Campbell, Marshay Green, Sean Jeffcoat, Ricky Lumpkin, Jeremy Navarre, Aaron Nichols, Bryant Nnabuife, Kris O'Dowd, Tom Pestock, William Powell, Steve Skelton, Kendall Smith, Thad Turner, Isaiah Williams, D.J. Young.

St. Louis Rams

Damario Ambrose, Tim Atchison, DeMarco Cosby, Tae Evans, Marlon Favorite, Pete Fleps, Cody Habben, John Henderson, Kevin Hughes, Randall Hunt, Thaddeus Lewis, Greg Mathews, Jeremy McGee, Ryan McKee, Jonathan Nelson, Fendi Onobun, Chase Reynolds, Van Stumon.

San Francisco 49ers

Chase Beeler, McLeod Bethel-Thompson, Brian Bulcke, Jack Corcoran, Phillip Davis, Derek Hall, Joe Hastings, Chris Hogan, Ronald Johnson, Alex Joseph, Chris Maragos, Cory Nelms, Xavier Omon, Konrad Reuland, Kenny Rowe, Sealver Siliga, Monte Simmons, Curtis Taylor, Kenny Wiggins.

Seattle Seahawks

Pierre Allen, Dorson Boyce, Chris Carter, Paul Fanaika, Maurice Fountain, David Howard, Michael Johnson, Jameson Konz, Mark LeGree, Ricardo Lockette, Michael Morgan, Josh Pinkard, William Robinson, Owen Spencer, Vai Taua, Patrick Williams.
A few younger players are not eligible, including former St. Louis Rams receiver
Mardy Gilyard
, who spent 11 games on the game-day roster last season. Players with no accrued seasons or fewer than nine appearances on game-day rosters in their only accrued season are among those eligible. Players can spend a third season on a team's practice squad as long as their team keeps its 53-man roster full at all times.
August, 17, 2011
8/17/11
3:17
PM ET
Ed from Lake Arrowhead, Calif.,
appreciates the
updates
from
St. Louis Rams
camp, but disagrees with my suggestion that the team should have considered adding
Sidney Rice
in free agency. Ed considers the Rams' talent at receiver underrated and points to all the bad money spent on receivers in free agency over the years.

Mike Sando:
I've had a chance to speak with the Rams' decision makers on this subject since arriving for camp. A few factors were at work in steering the team toward essentially standing pat at the position:
The draft: The Rams knew they weren't going to draft one of the first-round talents at the position once the Atlanta Falcons made a huge move up the draft board for Julio Jones. That was fine by the Rams. They were happy to add a pass-rusher.
Josh McDaniels: The Rams' new offensive coordinator has valued versatility over narrowly focused dynamic talent for his system (a speed receiver, for example). Does that mean the Rams wouldn't find a way to use such a player? Of course not. But it does make the team less likely to spend lavishly on one in free agency. McDaniels hasn't been begging the Rams for fresh talent at the position. Like Ed, he thought the existing talent was underrated.
History lesson: Receivers rely heavily on quarterbacks and offensive systems to get the ball in their hands. The right fit can be elusive when bringing in a receiver from a foreign system. That might help explain why receivers have sometimes struggled to meet expectations after signing lucrative deals in free agency. Sidney Rice was a lower-risk gamble for Seattle because his coordinator in Minnesota, Darrell Bevell, was the Seahawks' new coordinator. There would be strong carryover. Had Rice succeeded under McDaniels in Denver, perhaps the Rams would have approached him differently.
Lance Kendricks: The Rams feel as though they found one of the draft's best playmakers for their system when they selected Kendricks from Wisconsin in the second round. So far, the Rams appears to have been right. Kendricks has been the most impressive rookie in camp and an immediate contributor in the preseason. He'll likely rank among the team leaders in receptions.
Hope that helps, Ed. I still think the Rams could have used more talent at the position, but I've also got a better appreciation for your point of view, which the Rams obviously share.
Current Rams receivers:
Mike Sims-Walker
,
Danny Amendola
,
Brandon Gibson
,
Greg Salas
,
Austin Pettis
,
Danario Alexander
,
Donnie Avery
,
Mardy Gilyard
,
Dominique Curry
,
Greg Mathews
,
Joe West
,
Jared Jenkins
.
August, 16, 2011
8/16/11
7:16
PM ET
EARTH CITY, Mo. -- Offensive coordinator Josh McDaniels could see the first question coming from the reporters surrounding him following the
St. Louis Rams
' practice Tuesday.
It had to be about the situation at wide receiver. It was.
Here is what you need to know: The Rams trust McDaniels' system enough to diminish widespread public fears over their injury-riddled, largely unproven group of wideouts. They expect promising rookie tight end
Lance Kendricks
to play a significant role in the offense. And they're also confident quarterback
Sam Bradford
can help maximize their receivers' potential.
[+] Enlarge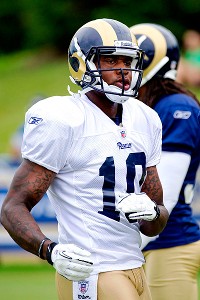 Scott Rovak/US PRESSWIREThe Rams signed former Jaguars reciever Mike Sims-Walker this offseason and will ask him to play multiple receiver positions.
Still thinking the Rams should have made a play for a dynamic talent such as
Sidney Rice
? I tend to think so, but the Rams apparently were not interested in paying a premium for a player without a demonstrated record of consistency from year to year. They picked up
Mike Sims-Walker
at a discount and are asking him to play all three positions, not just the "X" receiver spot he played for Jacksonville in 2010.
"Our philosophy is, we want to do what we should do each week based on the opponent, and that may change," McDaniels said. "We may end up having more guys in the slot from one week and then the next week we don't line up in slot formation at all because that is not really how to beat that team. We have to be flexible so we can attack and put stress on the defense as best we can."
The word "stress" is a McDaniels favorite. He often speaks of stressing defenses, not necessarily stretching them.
Translation: Adding a receiver with track-certified speed isn't a necessity.
Widespread injuries at receiver stressed the Rams last season. The injury report hasn't been very kind to the position during camp, either.
Danny Amendola
projects as the Rams' leader in receptions for another season. Sims-Walker,
Brandon Gibson
,
Greg Salas
and
Austin Pettis
appear likely to earn roster spots.
Alexander would seemingly figure into the mix if his knees hold up well enough.
Donnie Avery
has starting potential when healthy, but he missed another practice Tuesday. He missed all 16 games last season after suffering a torn ACL during preseason.
Second-year pro
Mardy Gilyard
is having a strong camp. He carries value on special teams. But can the Rams trust him to produce consistently while providing the versatility they require?
A few observations on receivers from Tuesday:
Alexander's left leg sports a brace extending from his sock up past the bottom of his practice shorts. He has the athletic ability to make spectacular, leaping grabs. But the day-to-day rigors of the position will be tough to weather over time. Alexander, who turned 23 this month, has undergone five surgeries on the knee.

Dominique Curry made a one-handed catch during drills. Did he have any choice? Curry, a gifted player on special teams before a knee injury ended his 2010 season, is wearing a protective cast/brace on his left hand. He underwent surgery on the hand this month.

Pettis, a third-round choice from Boise State, showed good hands in practice. Salas, a fourth-rounder, was back on the field after resting a knee injury. I didn't notice him as much on this initial visit to Rams camp. My oversight.

Avery watched practice wearing a gold Rams cap and long pants.

Sims-Walker, who caught 14 touchdown passes for Jacksonville over the past two seasons and was the Jaguars' No. 1 wideout in 2010, missed practice with a groin injury. The Rams need him on the field.

Greg Mathews, an undrafted free agent in 2010, caught an intermediate pass, then lost the ball while turning to run.

Bradford connected on a deep pass to Gibson. Cornerback Ron Bartell broke up another Bradford pass for Gibson.
It's still early. The position has yet to shake out. Players could and likely will emerge. And there's no question Kendricks' addition at tight end has given the Rams a welcome option. He caught a touchdown pass in his preseason debut and has impressed veteran teammates.
"We've got a lot of guys moving in and out of different spots right now," McDaniels said. "We still got a long way to go and a lot of things to do and a lot of things to evaluate."
August, 15, 2011
8/15/11
9:55
AM ET
NFC West wide receivers are casting longer shadows these days.
Division teams have added three wideouts standing at least 6-foot-3 this offseason, led by
Sidney Rice
in Seattle and
Braylon Edwards
in San Francisco.
The NFC West now has more receivers listed at 6-5 than it has listed at 5-10.
Seattle is likely to field the tallest starting tandem, with the 6-5
Mike Williams
opposite the 6-3 Rice.
The 49ers are the only team in the division with fewer than four receivers standing taller than 6-1. The
St. Louis Rams
have five. Arizona and Seattle have four apiece.
I've gone through rosters and broken out NFC West receivers by listed heights:
The chart breaks down NFC West teams by receiver height.
The Rams have eight receivers standing at least 6-1, no surprise given offensive coordinator
Josh McDaniels' history
at the position.
October, 30, 2010
10/30/10
4:27
PM ET
The first chart shows NFC West roster counts by position after the
Arizona Cardinals
moved inside linebacker
Gerald Hayes
and outside linebacker O'Brien Schofield onto their active roster Saturday.
Hayes entered the season on the physically unable to perform list. Schofield had been on the non-football injury list.
The team released receiver
Onrea Jones
and linebacker
Alex Hall
. The Cardinals' numbers at receiver are improving with
Steve Breaston
's expected return from knee surgery Sunday.
The second chart shows roster counts for practice squads only. The Rams signed receiver Greg Mathews to their practice squad after placing receiver Brandon McRae on the practiced squad/injured list.
Inflated numbers at positions on the practice squad often reflect depleted numbers and/or injuries at those positions on the 53-man roster.