August, 22, 2012
8/22/12
8:00
PM ET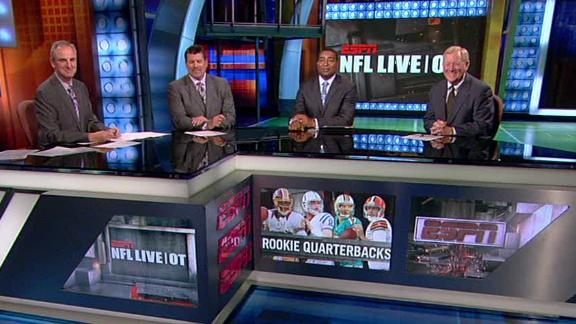 The first four NFL quarterbacks drafted in 2012 have already won starting jobs as rookies.
Seattle's
Russell Wilson
, third-round choice from Wisconsin, has a chance to make it five of the top six. He'll get a chance to work with recently cleared receiver
Sidney Rice
when the Seahawks visit Kansas City for their third exhibition game, set for Friday night.
We can excuse Denver's
Brock Osweiler
, the only second-round quarterback this year, for failing to crack the lineup. He'll get time to develop behind
Peyton Manning
.
"What it tells you that this is probably the most talented class since the '83 Marino-O'Brien-Kelly class," ESPN's Bill Polian said on NFL Live.
But there was also a word of caution from Polian, the former
Indianapolis Colts
exec, regarding the current crop of rookies: "Let's take a look three years from now. Then we'll know."
Recent history backs up the cautionary tone.
Three of the first four quarterbacks from the 2010 class have lost their starting jobs (
Tim Tebow
,
Jimmy Clausen
and
Colt McCoy
). St. Louis'
Sam Bradford
is the exception among the four. The sixth quarterback drafted that year, fifth-rounder
John Skelton
, could start in Arizona. None of the eight quarterbacks drafted later than Skelton holds a starting job.
The first five quarterbacks drafted in 2011 are starters now that
Jake Locker
, chosen eighth overall by Tennessee, has ascended into the Titans' lineup over
Matt Hasselbeck
.
Cam Newton
,
Blaine Gabbert
,
Christian Ponder
and
Andy Dalton
are the others. Locker, Gabbert and Ponder have the most to prove.
San Francisco backup
Colin Kaepernick
was the sixth quarterback drafted in 2011, ahead of
Ryan Mallett
,
Ricky Stanzi
,
T.J. Yates
,
Nathan Enderle
,
Tyrod Taylor
and
Greg McElroy
. Kaepernick might be starting by now if
Alex Smith
hadn't put together a career-best season.
Twenty-three of the named 30 starters for 2012 entered the NFL as first-round draft choices. Dalton and
Drew Brees
were second-rounders.
Matt Schaub
, like Wilson, was a third-round pick.
Tom Brady
(sixth),
Ryan Fitzpatrick
(seventh) and
Matt Cassel
(seventh) were late-round picks.
Tony Romo
was the only one undrafted.
April, 30, 2011
4/30/11
9:37
PM ET
Once the
Arizona Cardinals
selected LSU cornerback
Patrick Peterson
fifth overall in the 2011 NFL draft, there was less chance, in my view, of the team selecting a quarterback this year.
My thinking: If the team could not get a franchise quarterback, why invest a choice in a player unlikely to alter the depth chart in a meaningful way?
The Cardinals apparently agreed. They did not draft a quarterback, instead coming away with a cornerback, running back, fullback, tight end, defensive end, receiver and two linebackers.
"It's a little unrealistic to think that you could address every need in the draft," coach Ken Whisenhunt told reporters Saturday. "The thing that kind of really stood out to me was we had three, that I know of, what we considered the best players at their positions in the draft, and we got them. That's kind of unusual."
Those players: Peterson, second-round running back
Ryan Williams
and fifth-round fullback
Anthony Sherman
. Kansas City traded into the 135th spot to draft quarterback
Ricky Stanzi
right before the Cardinals chose Sherman at No. 136.
Teams selected five quarterbacks between the Cardinals first and second selections, including two --
Andy Dalton
and
Colin Kaepernick
-- within three spots of where Arizona landed Williams.
"If you look at our roster now, we have a lot of young, talented football players," Whisenhunt said. "And when we put this together, when our guys get it, we're going to be a pretty good football team and that's really exciting. We're definitely going to have a chance to make some plays."
The chart shows the players Arizona drafted in relation to where other teams drafted quarterbacks.
April, 30, 2011
4/30/11
9:01
PM ET
RENTON, Wash. -- The
Seattle Seahawks
have yet to draft a college quarterback under Pete Carroll despite saying they'd like to select at least one every year as a matter of philosophy.

Whitehurst
Charlie Whitehurst
, who has started two games in the NFL, is the only quarterback under contract heading toward an as-yet-unscheduled free-agent signing period.
Cause for concern?
"No," general manager John Schneider said following the draft Saturday.
"We don't feel like that," Carroll added.
"We had a plan going in and we still have our plan," Schneider said. "We just can't execute that plan right now."
That plan could include acquiring a quarterback by trade, pursuing one in free agency or re-signing
Matt Hasselbeck
. With none of those options a certainty and with Hasselbeck no longer the definite starter, Carroll is expressing more confidence in Whitehurst.
"The fact that Charlie is here, Charlie is part of this draft class in a sense," Carroll said. "We used a third-round pick to get him (via trade in 2010). We have a young, up-and-coming quarterback. I know you are looking, 'Hey, let's go get another one,' but we are happy with Charlie and hoping he is going to continue to flourish and blossom. I'm not feeling like we missed out on a quarterback opportunity because Charlie is growing with us."
The Seahawks were in a tough spot selecting 25th overall in this draft. They would have been picking eighth had they lost to St. Louis in Week 17 last season. Under those circumstances, I suspect they would have drafted Missouri's
Blaine Gabbert
. That was never a realistic option the way things worked out.
As for Whitehurst, the team had several opportunities to name him the starter last season. Hasselbeck struggled for stretches and was playing through injuries that affected him. I found it telling at the time when Carroll stuck resisted multiple opportunities to get playing time for the quarterback Seattle acquired and needed to see in action.
"That is how you perceived it," Carroll said, "but we had a starting quarterback and we supported our guy throughout his opportunities. When it was time, we got Charlie in there. Charlie had never even played before. He has now started two football games in his career in the NFL. He is just getting started, to me. He is just a young guy proving himself and is going to show us in time where he fits. We thought we had a young guy coming up and we still do."
Schneider said the Seahawks never valued a quarterback in the draft enough to select one over the players they chose.
The chart shows the players Seattle drafted and the quarterbacks other teams selected subsequently.
April, 27, 2011
4/27/11
5:54
PM ET
Mark from Sacramento
wonders why Alabama quarterback
Greg McElroy
isn't rated higher among quarterback prospects based on his college career.
Mike Sando:
Analysts don't see the raw physical talent. That is the main reason. But analysts are wrong sometimes, as are the teams.
How the NFC West proceeds in this draft will tell us plenty about how the league views quarterbacks in the draft overall. Every team in the division but St. Louis needs a quarterback to build around. Yet, every time I talk about these teams, I find myself explaining why each could steer away from the position.
The book on McElroy says he's smart and will work hard to get the most from his abilities. What are those abilities?
Our Scouts Inc. report
breaks it down in detail, but the marks are "below average" under the "release/arm strength" heading, which reads:
"Has a very quick, compact release. However, he shows below average arm strength. Can get adequate zip on intermediate throws. Deep out route velocity is only adequate. Deep ball tends to sail. Does not shows the arm strength to drive the ball vertically in the NFL, especially in windy conditions."
---
Schmidt from Everett, Wash.,
didn't like seeing
Mark Ingram
headed to Seattle in the recent
bloggers' mock draft
. He wondered how running back could be considered a value selection for Seattle given the team's needs on both lines.
Mike Sando:
Ingram was my choice based only on which 24 players were chosen previously. It wasn't a suggestion or even a projection. The way our mock went, Ingram appealed because 11 defensive linemen were off the board. I could have gone with an offensive lineman instead, but several of those were gone, too.
---
Mason from San Diego
thinks the 49ers should consider trading up three spots with Cincinnati to ensure a shot at LSU cornerback
Patrick Peterson
, figuring the team wouldn't value
Robert Quinn
,
Da'Quan Bowers
or
Blaine Gabbert
as much. He thinks the 49ers would lose Peterson to Arizona at No. 5 otherwise. In this deal, the 49ers would send the seventh and 76th choices to the Bengals for the fourth and 101st selections.
Mike Sando:
The old draft-value chart would disapprove. That chart would assign 1,800 points to the fourth choice and 96 points to the 101st choice. The Bengals would be giving up nearly 1,900 points in exchange for picks worth 1,500 (seventh) and 210 (76th) points. The seventh and 76th picks would not even equal the fourth.
In 2003, the
New York Jets
sent the 13th, 22nd and 116th picks to the
Chicago Bears
for the fourth overall pick. That was the year the Jets got
Dewayne Robertson
.
If I were the 49ers, I'd rather stay at No. 7 and take the best available player. The 49ers could wind up getting Peterson anyway. They could get an arguably comparable cornerback in
Prince Amukamara
. They could still wind up with a pass-rusher or even a shot at a quarterback. Those aren't bad options. And they would still pick 76th.
---
Randy from Peoria, Ariz.,
thinks the Cardinals should avoid drafting a quarterback in the first round, instead opting for a veteran later. He thinks
Colin Kaepernick
, then
Andy Dalton
and finally
Ryan Mallett
would make sense for Arizona if the team did decide to draft quarterback this year.
Mike Sando:
People I speak with around the league think the Cardinals' obvious need for a quarterback would force them to take Blaine Gabbert at No. 5, if available. Those of us who follow the team regularly think Arizona is more likely to go another direction -- not only amid question marks about Gabbert, but because there's a chance Gabbert will not be available at that point, anyway.
If the Cardinals take Gabbert, they do so knowing the risks and in response to the obvious need. No one would be shocked, but some of us would be surprised.
---
Paul from Manalapan, N.J.,
lays out a logical case for why
Eli Manning
should have ranked higher than, say,
Josh Freeman
on the ballot I submitted for
our quarterback power rankings
. He points to Manning's status as Super Bowl MVP, near-perennial playoff performer and apparently bright future at age 30.
Mike Sando:
Those are good points. I've never considered Manning to be a particularly consistent passer. People used to point to
Kurt Warner
's time with the Giants as a career low point, and in some ways it was, but Warner's rating that year (86.5) was higher than any single-season rating for Manning outside 2009.
I've also arguably overvalued Freeman's potential. He did have 25 touchdowns with six interceptions for a 10-6 team last season, however. Manning had 25 interceptions. I'd put Manning on the cusp of that Top 10 list and wouldn't laugh at anyone who put him in the Top 10, that's for sure.
---
Arlan from San Francisco
wonders why concerns over a brain tumor and one-year suspension haven't removed Robert Quinn from consideration as a potential pick for the 49ers at No. 7.
Mike Sando:
The NCAA banned Quinn for his involvement with an agent. That is not good, but also not a deal breaker. The benign brain tumor doctors discovered in 2007 could be more problematic to the teams holding high choices. At that level, teams are looking for reasons to exclude prospects, and that could factor.
The 49ers could be looking for a safer prospect to start the Jim Harbaugh era. That is plausible. But Quinn's pure pass-rushing potential puts him on the radar.
---
Alex from Davis, Calif.,
asks why Todd McShay and Mel Kiper Jr. have discussed a possible trade between the Cardinals and Texans in the first round.
Mike Sando:
This one has been discussed informally for a while. John McClain of the Houston Chronicle raised the idea during
a chat back in February
when he wrote, "It would take a first-round pick next year and more to go high enough to get CB Patrick Peterson, I believe. I think trading up with Arizona to get OLB
Von Miller
would be realistic -- if the Cardinals want to trade down."
More recently, Don Banks of SI.com indicated in
his mock draft
that he thought the Texans would try to move up for Peterson or Miller. It's pretty well known the Texans have interest in adding players for their new 3-4 defense. It takes two teams to work out a deal, though, and Arizona needs players, too.
---
Kevin from Sylmar, Calif.,
saw the
blogger mock draft
and wondered two things. First, might the 49ers trade back from No. 7 with a team seeking receiver
Julio Jones
, allowing San Francisco to take
Cameron Jordan
or
J.J. Watt
later in the round. Second, he wonders whether Florida offensive lineman
Mike Pouncey
a strong consideration for the Rams with the 14th selection?
Mike Sando:
Moving back for those purposes does have some appeal from a 49ers perspective, but only if the No. 1 prospects at cornerback and outside linebacker were not available in that spot, and if they weren't interested in a quarterback that early. We could not trade selections for the purposes of this mock, however.
I did consider Pouncey for the Rams but ultimately thought they could use more help along the defensive front. Even then, I did not feel great about my selection in terms of fit and arguably should have leaned toward
Corey Liuget
. The Rams have put so much into their offensive line already -- two highly drafted tackles and millions of free-agent dollars for guard
Jacob Bell
and center
Jason Brown
.
Adding a guard somewhere in the draft would make sense. Adding one in free agency would help as long as the player represented an upgrade over
Adam Goldberg
, a valuable player but somewhat miscast as a starter.
---
Shane from Los Angeles
thinks the absence of free agency helps the Cardinals by preventing them from trading choices to Philadelphia for
Kevin Kolb
. He'd rather see the team draft Von Miller or Patrick Peterson, then offer a 2012 first-round pick with a conditional 2012 third-rounder for Kolb once free agency opens.
Mike Sando:
That's not a bad way to look at things. I'm not sold enough on Kolb to mortgage the future for him, anyway, and I wouldn't want to give up multiple high picks next year without feeling better about his prospects.
---
Rich from San Francisco
thinks the 49ers' new chief strategic officer, Gideon Yu, could emerge as a sports-related owner/investor after helping the team through its ongoing stadium efforts. He also notes that Yu earned his MBA from Harvard after graduating from Stanford.
Mike Sando:
Thanks for the correction on Yu's educational background. I had it the other way around and have
updated the item
.
This hiring fascinates me. The 49ers haven't promoted it much because the draft is approaching and this was not a football-related move -- news came out through the tech world -- but adding someone with Yu's background seems like a strong and unusual "get" for an NFL team. I'd pass along more on his hiring in the future.
---
Jeff from Whitby, Ontario
thinks the Seahawks should focus much more on cornerback and along both lines than on drafting a quarterback early. He wonders whether
Vince Young
could be an intriguing option later, and if it did not work out, the team could go after a quarterback in the draft next year.
Mike Sando:
The Seahawks appear to agree. We'll see if they're bluffing, but right now the feeling is that they aren't bent on any one of these quarterbacks early, and that the needs along the lines are great enough to command their attention.
I'd be reluctant to bring in Young to a locker room without a shrinking cast established leaders. Seattle is remaking the roster. Young would bring along baggage. His approach to the game has come into question. Now, if there wasn't much commitment required, what would Seattle have to lose? The team should have the inside scoop on Young from the Titans' perspective given all the former Seattle staffers working in Tennessee.
March, 17, 2011
3/17/11
11:15
AM ET
There was but one thing to do once ESPN's Chris Mortensen passed along Wonderlic scores for top 2011 NFL draft quarterback prospects.
I wanted to see where these quarterbacks ranked using
the 26-27-60 theory
. The theory says college quarterbacks have a better chance at NFL success if they've scored at least 26 on the Wonderlic, started at least 27 college games and completed at least 60 percent of their passes.
The formula is not air-tight, of course. It's just a general guide.
With that in mind, I've put together a chart showing that information for the prospects Mortensen mentioned. It's tough finding total career starts in one place, but I patched together numbers using information available in college bios and news accounts. Completion percentages were rounded up using information available from the NCAA.
Five of the eight prospects listed met the 26-27-60 criteria. Two falling below the line --
Cam Newton
and
Jake Locker
-- each fell short in two of the three categories.
Blaine Gabbert
was one start shy of the target.
I sorted the chart by Wonderlic scores.
Also: Some interesting stuff
here
.