December, 19, 2013
12/19/13
10:00
AM ET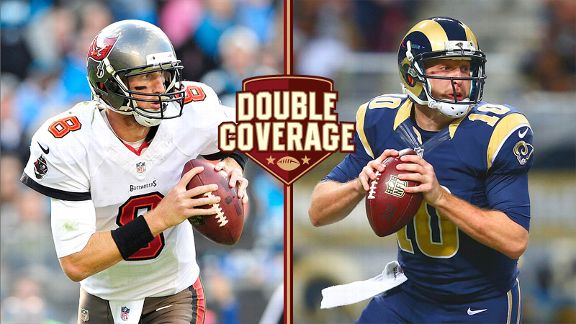 Getty ImagesMike Glennon's Bucs and Kellen Clemens' Rams have remained competitive down the stretch.
The
St. Louis Rams
will wear their throwback uniforms Sunday when they take on the
Tampa Bay Buccaneers
. The old school blue and yellow is intended to spark memories of the famous NFC Championship Game the two sides played after the 1999 season.
It's also going to serve as a reminder of how far both teams have to go to get back to a place where they're competing for Super Bowls. The Rams are 6-8 and Tampa Bay is 4-10, leaving both squads on the outside looking in for the postseason.
Despite the knowledge they'll be home in January, both teams have remained competitive which should make for an interesting matchup when they renew acquaintances at the Edward Jones Dome.
ESPN.com Rams reporter Nick Wagoner and Buccaneers reporter Pat Yasinskas discuss Sunday's game.
Wagoner:
After a rough start, it seems the Bucs have somewhat righted the ship here (pun unmercifully intended) toward the end of the season. How have they been able to do that, and do you think Greg Schiano has made a case to keep his job?
Yasinskas:
The amazing thing is, despite the 0-8 start, the Bucs never stopped playing hard. That's led to wins in four of their last six games. That's happened mostly because the defense has played very well and the offense has played just well enough. Still, it remains to be seen if Schiano has done enough to keep his job after this season. My personal opinion is the ownership likes him and likes how he's cleaned up the locker room, but I think he needs to win these final two games to have any chance of staying.
The Rams obviously aren't going to the playoffs either. What's left for them to play for?
Wagoner:
Nothing particularly tangible is out there save for a chance to finish .500 for the first time since 2006 and only the third time since 2004. In St. Louis, that does represent progress given the last decade has been such a disaster in terms of wins and losses. Since Jeff Fisher and general manager Les Snead arrived, they've quietly targeted 2014 as the breakout season for this young team. Any progress they can make toward that is a good thing. It would serve them well to engender confidence among the fan base that the 2013 team is better at the end of the year than the 2012 team was.
You mentioned the work of the defense in keeping the Bucs competitive this year. It seems linebacker
Lavonte David
is quietly having a huge year and defensive tackle
Gerald McCoy
is also enjoying a second straight big season. You see those guys every day. Are they receiving proper credit for the job they've done or is it lost in the mix of a losing season?
Yasinskas:
McCoy went to the Pro Bowl last year, so he's not a complete unknown. He should go to the Pro Bowl again this season. He already has eight sacks and is shooting for double digits. David isn't nearly as well known outside of Tampa Bay, where fans already are comparing him to
Derrick Brooks
. David is having a phenomenal season. He has six sacks and five interceptions. That makes him just the seventh player in NFL history to have at least five sacks and at least five interceptions in the same season. There even has been talk of David as a defensive player of the year candidate. I think his play makes that a legitimate possibility. But Tampa Bay's losing record probably will work against him.
Speaking of defensive player of the year candidates on non-playoff teams, St. Louis defensive end
Robert Quinn
deserves to be in the conversation. Do you think he's earned a chance?
Wagoner:
With two games to go, I think a legitimate argument can be made that he should not only be in the mix but also win the award. He's become the dominant and disruptive pass-rusher everyone expected him to be and he's drastically improved as a run defender, which allows him to stay on the field for all three downs. And he's not just doing it against bad teams. He is second in the league in sacks, first in forced fumbles and has countless quarterback pressures and hits. He's done a lot of that damage without the benefit of a lead and ample pass rush opportunities to boot. He's also two sacks from tying
Kevin Carter
for the most in a season in the history of the St. Louis version of the Rams.
I'm curious about the guy Quinn and Co. will be chasing Sunday. It looked like the Bucs had quite a quarterback conundrum on their hands earlier this year, but the switch to
Mike Glennon
has calmed things quite a bit. What does Glennon bring to the table and do you believe he's done enough to cement himself as the guy moving forward?
Yasinskas:
Glennon has been a pleasant surprise after the
Josh Freeman
mess early in the season. Glennon brings a big arm and is naturally poised. He's been slowed a bit recently as he ran into some good defenses (Carolina and San Francisco), but the Bucs still think his trajectory is pointing up. As for whether Glennon is the quarterback for the long term, a lot depends on what happens with Schiano. If there's a new coach, he might elect to bring in his own quarterback. But Glennon is Schiano's quarterback. Schiano tried (unsuccessfully) to recruit Glennon to Rutgers and has been infatuated with him ever since.
Speaking of rookies who are having a big impact, tell us what running back
Zac Stacy
has brought to the St. Louis offense.
Wagoner:
Simply put, Stacy's emergence in the run game has been the key to the Rams' turning it around after one of the worst rushing starts to a season in franchise history. He's not going to wow anyone with his speed or flashy moves in the open field. But he's physical, intelligent and extremely patient. When the Rams have success on offense, it's a direct result of the run game working, usually with Stacy as the centerpiece. He opens things up for backup quarterback
Kellen Clemens
in the pass game and helps keep defenses off-balance. He's been a revelation as a fifth-round draft choice.
December, 18, 2013
12/18/13
5:22
PM ET
TAMPA, Fla. -- Buccaneers coach Greg Schiano didn't need a stat sheet to know what St. Louis defensive end
Robert Quinn
has done this season. The numbers already are fixed in Schiano's mind.
Quinn
"He's got 15 sacks and seven forced fumbles, so that tells you something,'' Schiano said. "He's as good as tomahawk chopping the backside of the quarterback as there is. You haven't seen a guy do it with that effectiveness since L.T. (Lawrence Taylor). L.T. used to knock that ball out with a vicious tomahawk chop. He's bringing it that way. I mean, seven forced fumbles? Think about that. That's a lot of forced fumbles in 14 games.''
Quinn and fellow defensive end
Chris Long
present problems for any offense and the Buccaneers, who rank No. 32 in passing, undoubtedly will have their hands full.
"Are you going to stop him? No,'' Schiano said. "But you have to at least don't let him take over the game. He'll make his plays. Our quarterback needs to be aware that when you have a guy that is so adept at sack fumbling that you better have a nice tight grip on that football when you're in the pocket in case the protection does break down.''
Much of the responsibility for slowing Quinn will fall on left tackle
Donald Penn
, although the Bucs are likely to provide plenty of help. Quinn had 10.5 sacks last season, but Penn said the third-year pro has emerged at an elite level this season.
"I think he's become a way smarter player,'' Penn said. "Last year, I think he was just going out and playing. I can tell he's putting in a lot of film work, studying the guy he's going against and using what they do wrong to his advantage. He's playing consistent.''
Penn said he's ready for the challenge.
"It's good to go against this matchup after playing probably one of my worst games of the season last game against the 49ers,'' Penn said. "It's good to bounce back and try to redeem myself against a great pass-rusher.''
November, 1, 2013
11/01/13
12:00
PM ET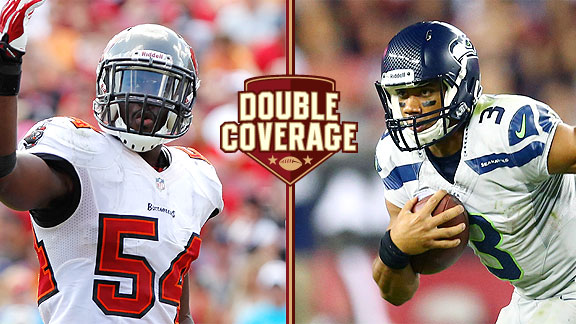 USA Today SportsThe key for Lavonte David and the Bucs is to try to pressure Russell Wilson and to attack a line that gave up seven sacks on Monday.
Despite getting outplayed in almost every statistical category Monday night at St. Louis, the
Seattle Seahawks
defeated the Rams 14-9 and reached the midpoint of the season at 7-1 after a rough stretch of four road games in five weeks.
Now Seattle returns to CenturyLink Field against the winless
Tampa Bay Buccaneers
, hoping to win at home for the 12
th
consecutive time. It looks like a mismatch, but so did the Rams game.
The Seahawks still have backups starting at both offensive tackle spots and now are missing receiver
Sidney Rice
, who tore an ACL on Monday night. Rice is in the last year of his contract with the team and probably has played his last game with Seattle.
Receiver
Percy Harvin
should return soon after undergoing hip surgery three months ago, but it probably won't be this weekend. Nevertheless, the Seahawks should win this game.
Blount:
Pat, a lot of people thought the Bucs would have a new head coach by the time the team got to Seattle, but Greg Schiano is hanging on. If Tampa Bay comes here and loses by a big margin, is that the end for him?
Yasinskas:
Terry, I've been pointing to the Seattle game for several weeks as a possible end for Schiano. I think he's still employed in large part because the Bucs are putting forth an effort. But I could see that changing on a long road trip against a good team and in a hostile environment. The interim route rarely works out well. But if this team lies down in Seattle, I can see ownership pulling the plug on Schiano.
Aside from the loss to Indianapolis, Seattle seems to have been nearly perfect. But there's no such thing as perfect in the NFL. What are the Seahawks' biggest weaknesses?
Blount:
Without question, it's the offensive line. It's not just weak right now. It's awful. Obviously, missing
Russell Okung
and
Breno Giacomini
is a big part of it, but having to go with backups at the tackle spots is not the only issue. Neither starting guard has played well, and center
Max Unger
, who had an arm injury earlier this season, hasn't played up to his Pro Bowl level of last year. It will improve when Okung and Giacomini get back in a few weeks, which will enable the Seahawks to move
Paul McQuistan
back to one of the guard spots instead of being out of position at left tackle. But it has to improve dramatically if Seattle hopes to live up to the Super Bowl expectations.
Pat, speaking of the Seattle line, it's obvious right now that the way to stop the Seattle offense is to load the box and blitz like crazy against the backup tackles, along with the rest of the offensive line that hasn't played well.
Russell Wilson
didn't have time to breathe at St. Louis. Do you see this as Tampa Bay's strategy on Sunday?
Yasinskas:
I think the Bucs will try a similar approach, but I'm not sure they'll have as much success as St. Louis did. The defensive line hasn't been generating much of a pass rush. Linebackers
Lavonte David
and
Mason Foster
have been effective as blitzers, and I think you'll see the Bucs use them as pass-rushers.
Terry, how much does losing Rice hurt the receiving corps?
Blount:
When Harvin gets on the field, assuming he's healthy, the Seahawks won't miss Rice. In fact, they'll be much better with Harvin's speed and versatility. Rice never has lived up to expectations here. He hasn't played nearly as well this season as receivers
Golden Tate
and
Doug Baldwin
. But if Harvin still isn't ready to come back, it hurts Seattle's depth at the receiver spot and enables any defense to use more double coverage on Tate and/or Baldwin. But this also could be an opportunity for
Jermaine Kearse
to shine. He's been a big surprise this season in limited play.
Pat, obviously, the Bucs aren't going anywhere this season. They spent a ton of money to bring in some top players on defense like
Darrelle Revis
and
Dashon Goldson
. What do you see as the team's goal for the rest of the season, and what do the Bucs hope to accomplish going forward in 2013?
Yasinskas:
It's been a hugely disappointing year for a team with eight players on the roster who have been to the Pro Bowl. This team's struggles aren't entirely due to a lack of talent. Schiano prides himself on being a disciplinarian, but this team has struggled with mental mistakes and penalties. The thinking is that playing smarter will translate into some wins. But those might be coming too late to save Schiano's job. There is a segment of the fan base that wouldn't mind seeing the Bucs go winless so that they get the first overall pick in the 2014 draft.
Terry, the Seahawks are third in the league in pass defense, and we've heard a lot about their secondary. Is rookie quarterback
Mike Glennon
walking into the ultimate ambush?
Blount:
That's what everyone thought Monday night for Rams backup quarterback
Kellen Clemens
, but he played pretty well most of the game. Clemens made two overthrows that became interceptions but came within one goal-line play of upsetting the Seahawks at the end of the game. The Seahawks do a great job of mixing things up and disguising coverages, but they do take chances to come up with turnovers. If Glennon doesn't recognize things quickly, they will make him pay.
September, 27, 2013
9/27/13
9:30
AM ET
SARASOTA, Fla. –
Arizona Cardinals
tight end
D.C. Jefferson
has read about the displeasure with Greg Schiano's coaching style from afar, and he knows exactly what the
Tampa Bay Buccaneers
are going through.
Jefferson played for Schiano for three years at Rutgers.
Jefferson
"I'm not surprised that the guys wouldn't be able to handle it, not being acclimated to that kind of coaching," Jefferson said. "Not from Coach Schiano but from themselves."
Jefferson said Schiano is a stickler for the details, well above and beyond what NFL players are accustomed to.
Well, "stickler" might be an understatement. And if a player isn't focused on doing things Schiano's way, Jefferson said it won't be pretty.
"It's a detail-oriented team in every aspect, every single detail matters, and a lot of guys ain't used to that," Jefferson said. "A lot of guys are used to being real loose and free.
"There's a lot of little stuff that Coach Schiano focused a lot of emphasis on. It'll be a little tough for some guys from different college[s] who didn't have that kind of coaching."
After practice at Rutgers, it wasn't a surprise if Schiano called for cross-field sprints. It was grueling but it helped Jefferson develop. A few months into his NFL career Jefferson has noticed he's better prepared for the NFL than some of his teammates, thanks to Schiano.
"It has made me a lot better person as far as on the field and off the field," Jefferson said.
This weekend in Tampa will be a homecoming and a reunion for Jefferson. He grew up an hour from Raymond James Stadium in Winter Haven, Fla., and he'll be lining up across from the man who recruited him to the Northeast.
"I'll be comfortable with seeing him," Jefferson said. "It's Coach Schiano. I have a strong relationship with him. I'm excited."
September, 26, 2013
9/26/13
12:00
PM ET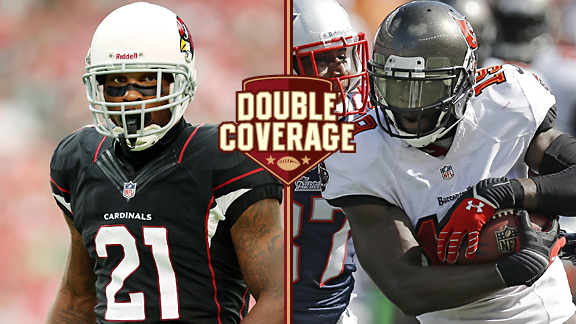 Getty ImagesMike Williams will be called on to help jump-start Tampa Bay's offense, while Patrick Peterson will be charged with helping to keep him in check.
The
Tampa Bay Buccaneers
aren't the only NFL team practicing in the Tampa Bay area this week.
The
Arizona Cardinals
are practicing at IMG Academy in Bradenton, Fla., as they get ready for Sunday's game.
Cardinals reporter Josh Weinfuss and Buccaneers reporter Pat Yasinskas talk about Sunday's game.
Yasinskas:
Josh, I know IMG has great facilities. The Buccaneers used them during the lockout, and the
Carolina Panthers
worked out there last year to avoid the congestion from the Democratic National Convention before playing the Bucs. But why did the Cardinals elect to come east early?
Weinfuss:
Having just adjusted to the two-hour time difference in New Orleans, Bruce Arians didn't want his players' bodies to get totally out of whack going back to Pacific time (technically, Arizona is on Mountain time, but the state doesn't change its clocks when the rest of the country does) and then five days later fly cross-country to the East Coast, another three hours ahead. I'm tired from thinking about it. This way, the Cardinals can adjust their body clocks to playing what would be a 10 a.m. home game in Arizona. We'll see whether it works. There's a pretty significant contingent inside the locker room that's not a fan of this, but those players might be after they realize what their bodies would have gone through. And then there's playing in the Florida humidity, which takes more than a day or two to adapt to. In Arizona, it's a dry heat (yeah, I know, everyone doubts it, but it really is), and the Cards neither practice nor play outside, so the added time in the elements could help.
Speaking of elements, is the Bucs' locker room in as much disarray right now as the perception makes people believe?
Yasinskas:
It might be in even more disarray than people realize.
Wednesday's news
that the Bucs are benching quarterback
Josh Freeman
in favor of rookie
Mike Glennon
was just more evidence of how much dysfunction is going on with this team. Freeman and coach Greg Schiano never were firmly on the same page, and Freeman's fate was sealed the moment Schiano used a third-round draft pick on Glennon in April. But the fact that Schiano now is going with "his guy" isn't going to instantly solve all the problems. Freeman is a popular figure in the locker room, and some teammates might not agree with his benching. There also have been multiple reports about players not liking Schiano's militaristic style. The Bucs have denied those reports, but I think there's something to them. I believe that where there's smoke, there's fire.
Speaking of coaching styles, it's early in the Arians era, but what is his persona and how has he been received by the players?
Weinfuss:
He's a no-nonsense type of guy, and the players love it. Well, maybe they loved it. Having a lackluster offense and starting 1-2 wasn't what this team projected out of Arians. There haven't been any signs of the players losing faith in their coach. They all raved about him during organized team activities, minicamp and training camp. The players appreciated his candidness with them. If they ever want to know where they stand, he'll tell them the truth, the whole truth and nothing but the truth. Whether they like it or not.
He has been there for only three games, but is the
Darrelle Revis
acquisition working out and how has he changed the Bucs' defense?
Yasinskas:
Revis has been everything the Bucs hoped for. They brought him in to fix a defense that led the league in passing yards allowed last season, and the early results have been good. Revis is the kind of player who makes those around him better, and his arrival really has helped strong safety
Mark Barron
. I'd imagine the Bucs will put Revis on
Larry Fitzgerald
for most -- or all -- of this game.
If Revis can neutralize Fitzgerald, do the Cardinals have enough other offensive weapons to win?
Weinfuss:
That's the $10,000 question. The short answer is yes, they do. The long answer is only if the other weapons -- most notably receivers
Michael Floyd
and
Andre Roberts
-- are not double-teamed. If they are and Revis can shut down Fitzgerald, it could be a long day for Arizona's offense. But Arians is a smart enough offensive mind, so I'm sure he has accounted for this. Expect tight end
Rob Housler
to play an integral role Sunday, and look for the Cardinals' stable of running backs --
Rashard Mendenhall
,
Alfonso Smith
,
Andre Ellington
and
Stepfan Taylor
-- to come out of the backfield for passes and to create mismatches.
Aside from Revis, how has the rest of Tampa Bay's defense looked?
Yasinskas:
The defense has been a bright spot for Tampa Bay. In addition to the secondary, linebackers
Mason Foster
and
Lavonte David
, defensive end
Adrian Clayborn
, and defensive tackle
Gerald McCoy
are off to very good starts. But the Patriots were able to run the ball against the Bucs, and Tampa Bay had trouble with the tight ends against the Jets and the Saints. The Bucs could be susceptible if Arizona can get some production from the running game or its tight ends.
January, 31, 2012
1/31/12
2:47
PM ET
INDIANAPOLIS -- The Arizona Cardinals already denied the Tampa Bay Buccaneers' request to interview their receivers coach, John McNulty, for the position of offensive coordinator.

The Bucs are still pushing behind the scenes and could appeal directly to Cardinals ownership, according to
Rick Stroud's report
in the Tampa Bay Times.
The Cardinals have nothing tangible to gain from letting McNulty leave.
Rules prevent teams from seeking compensation such as draft choices or cash in exchange for all but the highest-level staffers, defined as head coaches and "high-level club exmployees" with general manager-type powers.
Preventing McNulty from joining his longtime friend, new Bucs coach Greg Schiano, risks creating ill will between the Cardinals and McNulty. The alternative, however, requires losing a valued staff member.
Neither alternative carries much appeal for the Cardinals. One does beat the other, however.

NFC WEST SCOREBOARD
Thursday, 9/4
Sunday, 9/7
Monday, 9/8