NFC West:

Ha Ha Clinton-Dix
September, 2, 2014
Sep 2
8:00
AM ET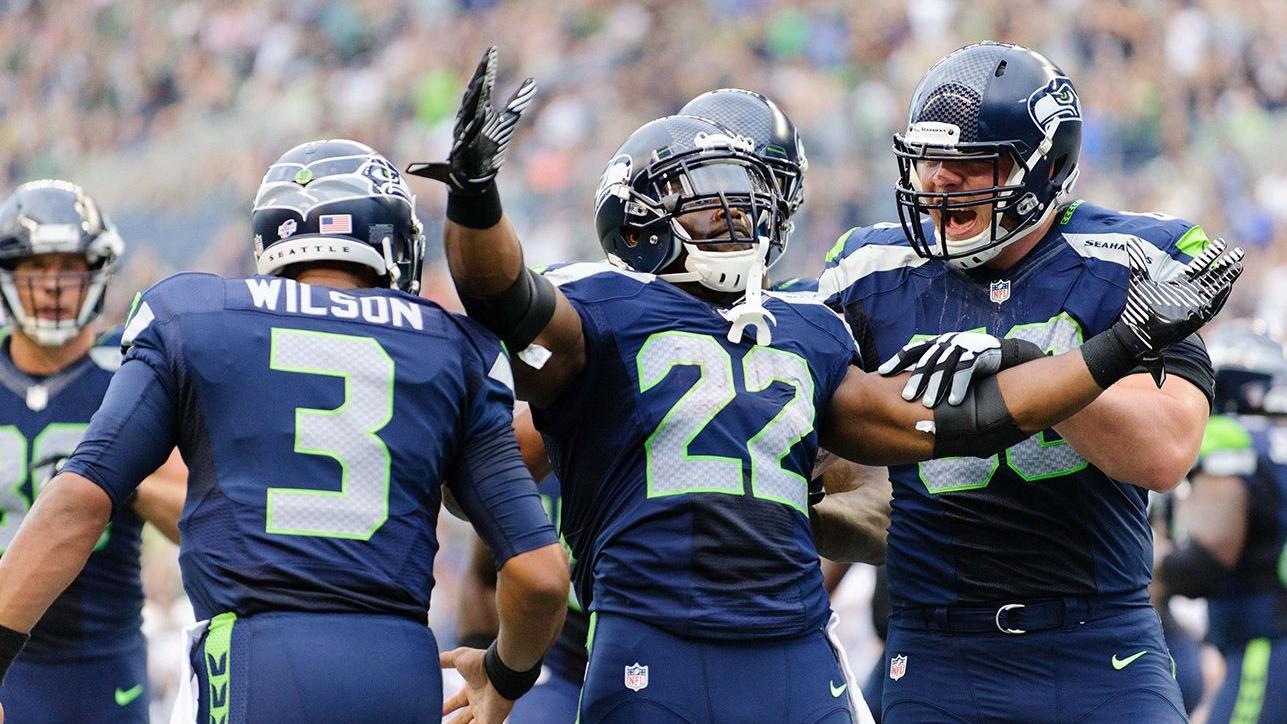 ESPN.com
Seattle Seahawks
reporter Terry Blount makes his game-by-game picks for the 2014 season.
Week 1: Green Bay Packers
All the pregame hype will center around the so-called Inaccurate Reception, the controversial Hail Mary catch by Golden Tate two years ago that won the game over the Packers at Seattle on a Monday night. Tate has moved on to Detroit, but the Seahawks now have too many weapons for the Packers to stop, no Hail Mary required. Prediction: Win
---
Week 2: at San Diego Chargers
The Chargers better hope they play a lot better than they did in the preseason game at Seattle, a 41-14 victory for the Seahawks on Aug. 15. San Diego will play better, but not good enough to beat a much better team. Prediction: Win
---
Week 3: Denver Broncos
The Broncos and their fans got a tiny bit of meaningless Super Bowl revenge in the preseason opener with a 21-16 victory over the Seahawks in Denver. Enjoy it while it lasts, boys. Repeating that outcome in Seattle is not an option. Prediction: Win
---
Week 5: at Washington Redskins
Traveling coast to coast to play on the road for a Monday night game is a tough task against any NFL opponent, and even tougher against quarterback Robert Griffin III. But the Seahawks catch a break in this one by coming off a bye week with plenty of time to prepare and be fresh for the journey. Prediction: Win
---
Week 6: Dallas Cowboys
Cowboys owner Jerry Jones gave Seattle a little bulletin-board material last month when he said the Seahawks were to blame for the increase in penalty flags during the preseason. There won't be near enough flags against Seattle for the Cowboys to win this one. Prediction: Win
---
Week 7: at St. Louis Rams
Any division game in the NFC West is a rugged battle. The Rams have a defensive line that gave the Seahawks problems a year ago. But they aren't strong enough overall to beat Seattle, even at home in their out-of-date dome. Prediction: Win
---
Week 8: at Carolina Panthers
The Seahawks were fortunate to win the season opener at Charlotte a year ago. That Panthers team was better than this one, but back-to-back road games against very physical defensive teams will end the Seattle winning streak. Prediction: Loss
---
Week 9: Oakland Raiders
Coming off their first loss of the season and returning home against an outmanned opponent, is there any doubt? Prediction: Win
---
Week 10: New York Giants
The Seahawks easily defeated the Giants 23-0 last year in New Jersey, a dress rehearsal for their Super Bowl victory at the same location -- MetLife Stadium. The Seahawks won't need a rehearsal to roll past the Giants in this one. Prediction: Win
---
Week 11: at Kansas City Chiefs
This likely will be a low-scoring game between two strong defensive teams. Odds are against any team that has to try to win by matching its defense against the Seahawks' D. Prediction: Win
---
Week 12: Arizona Cardinals
The last time the Cardinals played at CenturyLink Field was last December when they handed the Seahawks a 17-10 loss. That won't happen again unless the Seahawks get caught looking ahead to the 49ers game. The Seahawks don't look ahead. Prediction: Win
---
Week 13: at San Francisco 49ers
It's a Thanksgiving night, national TV game in the 49ers' shiny new stadium against the hated Seahawks. If San Francisco can't win this one, its time as a championship contender is over. Prediction: Loss
---
Week 14: at Philadelphia Eagles
This is the toughest part of the season for the Seahawks with back-to-back road games against likely playoff contenders. But the 10 days between games will help and be enough of a cushion to keep Seattle from losing two in a row. Prediction: Win
---
Week 15: San Francisco 49ers
This is a game that could decide which team wins the NFC West. No way the Seahawks lose to the 49ers twice in three weeks, especially not in front of a rabid full house of 12s. Prediction: Win
---
Week 16: at Arizona Cardinals
The Cardinals probably will be fighting for a playoff spot, and the Seahawks already will be in at 12-2. That difference will be just enough for Arizona to win at home in the same stadium where the Seahawks will win the Super Bowl a few weeks later. Prediction: Loss
---
Week 17: St. Louis Rams
For the second consecutive year, the Rams close the regular season in Seattle. And for the second consecutive year, the Seahawks will beat them without much trouble. Prediction: Win
---
Predicted Record: 13-3
May, 8, 2014
May 8
12:45
PM ET
Football has always been a reactionary sport.
What offenses do dictates how the defense responds.
In recent years, as tight ends morphed from hulking, blocking behemoths who were anchored to the line of scrimmage into athletic, basketball-playing route runners, teams have scrambled to figure out ways to defend them.
[+] Enlarge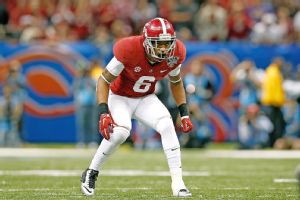 AP Photo/Aaron M. SprecherRangy safeties like Alabama's Ha Ha Clinton-Dix are coveted in today's NFL.
The answer, as defenses quickly discovered, wasn't in their secondaries.
As the first round of the NFL draft kicks off Thursday, safety will again be a position that teams gravitate to throughout the next three days. In 2011, just one safety was drafted in the first two rounds. A year later, three were. In 2013, there were five.
That is not a coincidence. As teams continue to make athletic tight ends part of their multiple receiver packages by flexing them outside alongside bigger receivers, the demand to stop them has increased, ESPN NFL Draft Insider Todd McShay said.
But it's not just simply drafting more safeties that is becoming a trend. Teams are looking for a different type of safety than the prototypical smash-mouth hitter.
"You add those things up and it creates a demand for defensive backs," McShay said. "At safety it creates a demand for a guy who is athletic and fast enough to cover, but yet is still big enough that he can go up and compete and contest throws against bigger receivers and taller tight ends."
The
Arizona Cardinals
know how important a safety who can defend tight ends can be.
Last season, the Cardinals allowed 29 passing touchdowns, of which 17 went to tight ends. To make it worse, of those 17, eight were caught by tight ends in the NFC West. It was a major reason the Cardinals watched the playoffs from home.
It was also a major reason why Arizona didn't bring back strong safety
Yeremiah Bell
, who was a big hitter, but wasn't tall or fast enough to stick with tight ends like San Francisco's
Vernon Davis
or St. Louis'
Jared Cook
.
Among the Cards' needs in this draft is a tall, long safety with speed and range, and there are enough in this class that fit what Arizona is looking for.
"With the emergence of tight ends, especially the basketball-playing tight ends, the traditional, hard-hitting box safety (who) goes around 5-foot-9 and he struggles covering those guys," Cardinals head coach Bruce Arians said. "The taller, rangier safeties have become (more of a) premium.
"When you see guys making $10 million a year now at safety, that tells you it changed. (Seattle safety)
Earl Thomas
is a good reason for it, as is (New Orleans safety Jairus) Byrd. Those guys are game-changing players now. The emergence of tight ends and backs as mismatches in the passing game, you have to have a more versatile player there."
Teams haven't always placed a premium on safeties like they've done in the past few years. Arians remembered when safeties were lumped in with tackles as positions people generally discarded.
"Safeties and tackles," Arians started, "everybody used to have a low opinion (of)."
The past couple of drafts are evidence of that changing.
Cardinals general manager Steve Keim believes there are four or five "really good" safeties in this draft -- of which
Ha Ha Clinton-Dix
,
Calvin Pryor
and
Deone Bucannon
are likely first-round selections. McShay listed about seven more safeties that could be drafted anywhere from the second to the fifth rounds.
Keim sees those safeties as potential starters later in their careers after spending time developing on a roster while contributing on special teams.
But football has always been a reactionary sport, and teams tend to follow the latest trends. A run of safeties will be seen this year, whether it's on the first or second day of the draft. There is a demand and throughout this draft class, there is a supply.
"It'll be interesting to see how it plays out, but I do think we're gonna see more safeties go than probably in your average year in the last few years in the first few rounds," McShay said. "It is not a great class necessarily, but I do think there are enough athletic guys and enough of a demand that we'll see some guys come off the board maybe even earlier than they would in previous years."
December, 19, 2013
12/19/13
1:00
PM ET
EARTH CITY, Mo. -- ESPN draft analyst Todd McShay released his newest
mock draft

Wednesday and it generated plenty of discussion when it comes to the
St. Louis Rams
and the second overall pick they own courtesy of the
Washington Redskins
.
Lost in the mix of McShay's projection of the Rams taking Texas A&M offensive tackle
Jake Matthews
at No. 2 was the fact that the Rams hold another pick, currently No. 14 overall, in the first round. McShay's projection there was no laughing matter.
OK, sorry, had to get that first bad pun out of the way now because I have a feeling McShay's choice of Alabama safety
Ha Ha Clinton-Dix
to the Rams with their second first-round pick is one that's going to be quite popular in the buildup to the draft.
Here's what McShay had to say about the free safety and the Rams:
"This might be something of a reach, but I actually think that safety has taken on more importance with the increasing number of slot receivers and pass-catching tight ends. Clinton-Dix doesn't have elite man-to-man cover skills, but he has good range when asked to cover the middle of the field and very good closing burst. He comes in hard, blows up plays and isn't afraid to mix things up. He's exactly what you're looking for in terms of a complete safety, and he fills another need for the Rams."
The safety position has generally been the biggest weakness of the Rams defense in 2013. They believe they have one piece locked in for the future in
T.J. McDonald
, who has started every game in which he's been healthy. McDonald is more of a box safety, capable of coming up and helping in run support. What the Rams need next to him is a ball hawking type to patrol the middle of the field.
Rodney McLeod
has improved as the season has gone on but is probably best suited as a backup and special teamer. If Clinton-Dix fits the play making mode, he would make sense for St. Louis.
Of course, there are other directions the Rams could go here if, as McShay says, the team considers Clinton-Dix a bit of a "reach" at this point in the draft. A top receiver such as Clemson's
Sammy Watkins
, Texas A&M's
Mike Evans
or USC's
Marqise Lee
would also have to be intriguing for an offense still in need of a true No. 1 type wideout. If the Rams felt one of those guys was capable of being that, it's something they'd have to consider.
But at the end of the day, the Rams' biggest need heading into the offseason is help in the secondary. Cornerback
Cortland Finnegan
may not be back and if he is, it would almost certainly be under a drastically altered contract. That leaves
Janoris Jenkins
and
Trumaine Johnson
as the top two corners. Even if the Rams believe that's their starting duo moving forward, another top corner would remain a necessity with the need for at least three in today's NFL.
Although plenty can change in the next five months, there doesn't appear to be a defensive back worth taking in the top 10. Thus, going with the best secondary piece available, be it a safety or a corner, would make a lot of sense for the Rams' second first-round choice.