September, 6, 2013
9/06/13
11:30
PM ET
TEMPE, Ariz. – A lot has been made about the
Arizona Cardinals
spending all offseason learning a new offensive scheme.
Offensive coordinator Harold Goodwin can relate.
Since he was hired in early February, Goodwin has been learning how to direct an entire offense, from the run to the pass, from the first string to the practice squad. Until this year, Goodwin had only been an offensive-line coach. He knew two things: pass protection and run blocking.
When new head coach Bruce Arians brought him on board in Arizona, he entrusted Goodwin with the keys to the Cardinals' new offense, one that featured All-Everything receiver
Larry Fitzgerald
and would soon have a name quarterback in
Carson Palmer
. But there was one caveat. Goodwin wouldn't be calling the plays.
"It's still a work in progress for me as being the O-line coach trying to grasp that kind of stuff," Goodwin said. "Every day I get more and more apt at being able to do it, and being able to see it and tell you what those guys are doing."
[+] Enlarge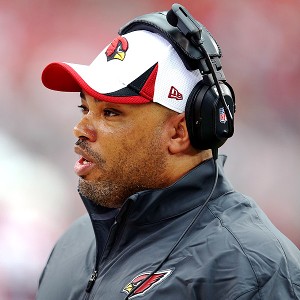 AP Photo/Paul SpinelliHarold Goodwin, in his first stint as an offensive coordinator, relies on the experience of fellow coaches Bruce Arians and Tom Moore.
For now, Goodwin is content being a sponge, watching and learning from two football geniuses. Arians was the mastermind behind a Super Bowl victory with the
Pittsburgh Steelers
and is known for his vertical passing game. Tom Moore, the assistant head coach, made
Peyton Manning
into who he is today.
"At the end of the (day), he's still a great mind as far as the passing game," Goodwin said of Arians. "I just throw in my two cents every now and then for the most part.
"Those guys are doing it because they've been doing it for along time."
But Goodwin still gets his chance to mold the offense in his image. He said the majority of the work during the week is on his shoulders.
For now, however, Goodwin will continue to learn from two of the brightest minds in the game.
"At the end of the day," Goodwin said, "in my belly, I'm still a line coach."
"I can't tell you that," Goodwin said with a smile. "He's going to be in there some. Who knows? That's up to coach (Arians) and what he calls. Obviously they've seen some stuff in the preseason, but they haven't seen it all."
"Nate's a good athlete," Goodwin said. "It's still a little bit of an adjustment to him, but I think he's capable."
"I haven't talked to him," Harold Goodwin said. "He's the enemy now."
"He knows the system because he was in it last year," Goodwin said. "It's still a little bit of a learning curve because he forgot a little bit, but for the most part you see him out there getting reps, so he knows most of it."
June, 5, 2013
6/05/13
4:35
PM ET
Recently hired Arizona Cardinals assistants Tom Pratt, 77, and Tom Moore, 74, stand out for their age in a young man's game.
Moore has given assurances that
age will not hold him back
, particularly after knee replacement surgeries restored his energy. Pratt has explained how
focusing on the present
makes the distant past less relevant.
The idea that age is only a number works both ways. How else to explain the news that Freddie Kitchens, the Cardinals' quarterbacks coach and one of the team's youngest assistants on staff, required heart surgery Tuesday?
Kitchens, 38, sat up in bed and showed a sense of humor hours after undergoing the surgery for a defective aorta,
coach Bruce Arians told reporters
Wednesday.
That seems like a positive sign for Kitchens, who was stricken by dizziness during organized team activities Tuesday. It's too early to know a longer-term prognosis. For now,
Moore will coach quarterbacks
as well.
Moore's status as a long-time NFL offensive coordinator and Arians' background as a quarterbacks coach puts the Cardinals in position to carry on from a coaching standpoint. Supporting Kitchens and his family through a difficult time is the immediate focus, of course.
May, 15, 2013
5/15/13
8:00
AM ET
Reports from the
Arizona Cardinals
' organized team activities point to an expanded coaching staff as one difference from the recent past.
"Bruce Arians has 21 coaches on his staff, so it makes sense to put them to work,"
Kent Somers writes
. "In full-team drills, the 90-man squad was divided into two. Part of the staff, including Arians, stayed with the first- and second-team players. Other coaches went to the other field with the other group."
If and when the Cardinals enjoy sustained on-field success, they probably will point to quarterback play, not staff size, as the primary reason. But with every head coach seeking even the slightest advantage wherever he can get it, staff size is worth some consideration.
The Cardinals and
St. Louis Rams
each have 19 assistants, plus two coaches assigned to strength and conditioning. The
San Francisco 49ers
have 17 assistants and two strength coaches. The
Seattle Seahawks
have 20 assistants and three strength coaches.
With Arians directing the offense and calling plays, offensive coordinator Harold Goodwin coaches the offensive line. Larry Zierlein serves as assistant line coach, giving Arizona two coaches for the line, a change from last season. Every other team in the division has two coaches assigned to handle the offensive line.
The Cardinals under Arians have closed the numbers gap with other staffs in the division. We'll take a closer look at other staff considerations another time.
February, 7, 2013
2/07/13
9:30
AM ET
The
Arizona Cardinals
have made available
a Bruce Arians interview
shot while the team's new head coach unpacked boxes in his office.
There's a comfortable feel to Arians even with a large photo of a serious looking Bear Bryant perched over Arians' shoulder all the while. A former player's father gave the photo to Arians years ago. Arians worked on Bryant's staff at Alabama during the 1981 and 1982 seasons.
"The one thing Coach Bryant left me with when I went away to be a head coach at 30 was [to] coach them hard and hug them later," Arians says on the video. "I've never forgotten that. We like to be up-tempo at practice, coach them extremely hard and then [have] a great relationship. We want the players to want to be around the coaches, and vice versa. That is something that is extremely important to me."
Arians provides a quick overview of his new coaching staff, pointing out connections among them. His offensive coordinator, Harold Goodwin, came to the Cardinals after the
Indianapolis Colts
allowed Goodwin out of his contract. Teams regularly block such moves.
Last offseason, the Cardinals prevented their quarterbacks coach at the time, John McNulty, from interviewing to become the
Tampa Bay Buccaneers
' offensive coordinator. That was bad for McNulty, who remained saddled with a rough quarterback situation in Arizona -- one that would get worse through injuries. McNulty is now the Bucs' quarterbacks coach.
More recently, the San Francisco 49ers reportedly prevented secondary coach Ed Donatell from interviewing with the
New Orleans Saints
(Donatell has
defended the system
that prevented him from seeking a promotion).
Back to the Cardinals. Arians seems to have secured the coaching staff he wanted to assemble, for the most part. That can be tough to accomplish for a coach hired relatively late in the process. At the very least, Arians has put together a staff featuring coaches he knows well from working with many of them in the past.
February, 5, 2013
2/05/13
4:45
PM ET
A few thoughts after the Arizona Cardinals announced Bruce Arians' initial coaching staff for the 2013 season:

More resources: Former head coach Ken Whisenhunt had 16 assistants last season, three or four fewer than the NFC West norm. The number wasn't alarmingly low; New England has had the same number at various points. Arians has 20 assistants, counting four holdovers whose names I've bolded in the chart below.
OL committee: The Cardinals do not have an offensive line coach by title. With Arians calling offensive plays, coordinator Harold Goodwin will take the lead with the line. Larry Zierlein, the Pittsburgh Steelers' line coach for three seasons ending in 2009, is the assistant O-line coach.
Familiar name: Former Cardinals running back and return specialist Stump Mitchell will coach running backs. He spent nearly a decade on Mike Holmgren's staff in Seattle before following Jim Zorn to the Washington Redskins. He was then head coach at Southern University. Mitchell still holds the Cardinals franchise record for all-purpose yards (11,988).
Experience rules: Arians is a first-time NFL head coach, but his staff has veteran seasoning. Tom Moore, Tom Pratt, Zierlein, Rick Christophel and Nick Rapone each have more than 30 years of NFL and/or college coaching experience.
The chart compares the Cardinals' final staff under Whisenhunt to their current one under Arians.
January, 24, 2013
1/24/13
7:05
PM ET
We interrupt our steady diet of
San Francisco 49ers
Super Bowl coverage to check out where the
Arizona Cardinals
stand in filling vacancies on their coaching staff.

The chart lists the team's coaches from last season and those the team announced as having joined Bruce Arians' new staff. Reports have listed other coaches expected to join the staff, but sometimes plans change. Those hires are not yet official. Mike Caldwell (
linebackers
) and Amos Jones (
special teams
) are two potential candidates.
Bold lettering in the chart shows which 2012 Cardinals assistants remain with the team until further notice. Some could remain as part of Arians' staff. None has been released from his contract.
General manager Steve Keim has said he expects the new staff to place heavy emphasis on the offensive and defensive lines. I'll be watching to see whether the Cardinals give Arians additional resources. Arizona had
fewer assistants
than other NFC West teams employed last season.