October, 23, 2013
Oct 23
8:15
PM ET
TEMPE, Ariz. – Last week,
Atlanta Falcons
receiver
Harry Douglas
caught seven passes for a career-high 149 yards. The week before that he had two catches, one for 7 yards and the other for minus-1 yard.
That's just how Douglas' career has gone. One game he can blow up, the next he's barely a glimmer in quarterback
Matt Ryan
's progressions. That's what happens when you're the fourth option behind two of the game's best in wide receiver
Julio Jones
and tight end
Tony Gonzalez
and another top receiver in
Roddy White
.
[+] Enlarge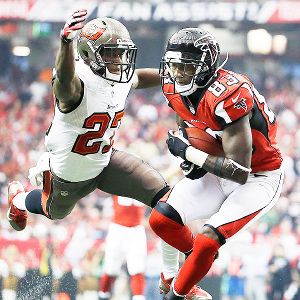 AP Photo/David GoldmanWith their top receivers injured, the Falcons have turned to Harry Douglas as their go-to option.
But that's all about to change for Douglas. Jones is out for the season, and White's status for Sunday's game is uncertain as he recovers from hamstring and ankle injuries. Douglas was Ryan's primary option last week without White, and that title will most likely carry over to this weekend.
And the
Arizona Cardinals
are preparing as such.
"Harry Douglas is, I think, one of the most underrated receivers in the league," Cardinals coach Bruce Arians said.
Falcons coach Mike Smith said Douglas is a product of an overcrowded situation. There are only so many passes to go around, and those are typically earmarked for Jones, White and Gonzalez. But Atlanta's staff was confident he'd respond if ever needed, Smith said.
Sure, Douglas, who's had 31 and 48 yards receiving in his two games against the Cardinals, has been overshadowed by his talented peers, but he proved he was capable of being a reliable threat last weekend. And t
hat didn't surprise Cardinals cornerback
Jerraud Powers
.
"He's definitely Ryan's No. 1 target and Ryan gave him the ball," Powers said. "He's been doing what he's always done and he's caught the ball well and gets a lot of yards-after-catch, so he's definitely a dependable receiver. I think Matt knew he was very dependable and what he was capable of.
So I don't think it was surprising to anybody."
Last weekend was Douglas' second career game of more than 100 yards, and he has three others with more than 90. This season, Arizona has allowed four players to get at least 100 receiving yards, and three were tight ends.
To avoid another 100-yard day by an opponent, Powers said there's no special formula to stopping Douglas. If White doesn't play, the passing game will be funneled through Douglas again, making the Cardinals' focus obvious.
But that doesn't mean Douglas will go down without a fight.
"Just know that he's going to try all the savvy vet moves to get open," Powers said. "You just got to retaliate and make sure you do your job better than he does his."
May, 27, 2013
May 27
12:50
PM ET
The
target percentages
posted earlier are open to interpretation. Drop percentages are a little more straightforward.
Six current or former NFC West players ranked among the NFL's top 20 qualifying wide receivers and tight ends last season in lowest drop percentage, defined as drops divided by targets.
Percy Harvin
and
Mario Manningham
went without a drop. Neither played a full season, but each had enough targets to qualify for inclusion in the chart below.
You might recall some of these players suffering more drops than we've listed in the chart. ESPN's standard for drops could be stricter than the ones our uncles apply when deciding which objects to throw at the television following frustrating plays. Our game charters count drops as "incomplete passes where the receiver SHOULD have caught the pass with ORDINARY effort" and only when the receiver is "100 percent at fault" for the incompletion.
The first chart shows where NFC West teams' wide receivers and tight ends ranked in the league in drop rate. The
Seattle Seahawks
ranked third. However, their running backs ranked only 29th in drop rate (9.3 percent), one spot ahead of running backs for the
San Francisco 49ers
(9.4 percent). The
Arizona Cardinals
' backs were fourth at 2.7 percent. The totals for running backs affected the overall team percentages, which we can check out separately another time.
I've singled out wide receivers and tight ends because we've been looking at players from those positions while discussing potential changes to the 49ers following
Michael Crabtree
's recent injury. Getting Manningham back to health could help the 49ers.
January, 8, 2013
Jan 8
12:00
PM ET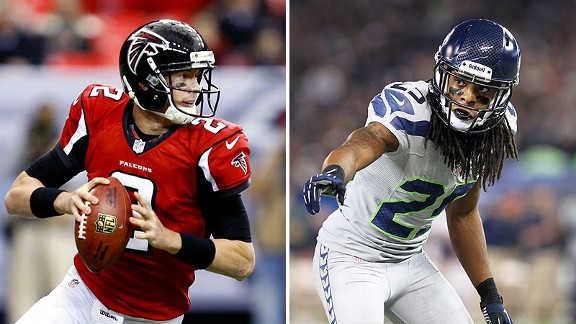 USA TODAY SportsIf Matt Ryan and the Falcons come out throwing, Seattle CB Richard Sherman stands ready.
Northwest meets Southeast when the
Seattle Seahawks
visit the
Atlanta Falcons
in an NFC divisional playoff game Sunday.
Seattle is fresh off its first road playoff victory since 1983, having won 24-14 at Washington in the wild-card round. The Seahawks are now 2-1 in postseason play during Pete Carroll's first three seasons as head coach.
As for the Falcons, well, you know the story. They're the No. 1 seed in the NFC and they'll be playing at home. But as NFC South blogger Pat Yasinskas can attest, they haven't accomplished anything yet.
That's where we pick up the conversation.
Yasinskas:
The world knows the Falcons have yet to win a playoff game in the Mike Smith-
Matt Ryan
era. That places enormous pressure on the Falcons, and the Seahawks look a little reminiscent of Atlanta's past two playoff opponents -- the Packers and Giants, who each went on to win the Super Bowl. The Seahawks won their last five regular-season games and seven of their past eight. Throw in their playoff victory against Washington on Sunday and you've got a team that's red hot. Atlanta has the better record and home-field advantage, but the playoff drought brings tremendous pressure. If the Falcons don't win this time around, the patience of owner Arthur Blank will become very thin.
Sando:
The Falcons' past struggles in playoff games have invited skepticism from a lot of us. I've taken heat from some Falcons fans this season for allegedly underrating Atlanta in the power rankings. How good is this team right now and how much confidence should Falcons fans have in this team against Seattle?
Yasinskas:
Yes, Atlanta fans have shared their opinions with me about where you ranked the Falcons on your ballot. But you might not have been that far off. The Falcons were a bit of an enigma much of the season. They were winning a lot of games, but weren't winning them impressively. They did come on late in the season, aside from a meaningless loss to Tampa Bay in the season finale. This is a team with a tremendous amount of individual talent, and the Falcons are very good at home. But they can't afford to revert back to their early-season ways of playing just well enough to win, because that might get them beat.
Sando:
The Seahawks are playing without the burden of expectations. They are very good at quarterback, running back and in the secondary. The read option has added an unconventional element to their offense. Still, winning a 10 a.m. PT game on the road against a very good offensive team will be tough. The Seahawks have started slowly in their past two games. I think they'll have a harder time if that happens again. Along those lines, have the Falcons been able to jump on teams early at home and finish them off? One memory I have is watching Arizona pick off Ryan five times.
Yasinskas:
The Arizona game was the only time in Ryan's life (including college, high school and youth league) when he's thrown five interceptions in a game. That was a fluke. Some of those balls were tipped. Ryan generally is very efficient. And starting fast is one of the trademarks of Ryan and the Falcons. Since Ryan entered the league in 2008, the Falcons have scored more points on their first offensive drives than any team in the NFL. They pride themselves on starting fast, and they're particularly good at that in the Georgia Dome.
Sando:
The Seahawks fell behind St. Louis and Washington early. They have shown an ability to come back. They were down by 13 to New England and won. They trailed Washington by 14 points and won. They're not slow starters by rule. Seattle was tied with Atlanta for seventh in first-quarter touchdown drives (11) during the regular season. It has been in only the past couple weeks that teams have thrown off the Seahawks early with their blitzes. Seattle came out passing against the Redskins. We'll see heavier early doses of
Marshawn Lynch
on Sunday.
Yasinskas:
I'm certain we will see heavier doses of Lynch. Stopping the run is not Atlanta's strength. The Falcons ranked 21st against the run in the regular season and they've been known to have problems with power runners. That's why it's crucial for the Falcons to get an early lead and force the Seahawks to pass. The other thing I think you'll see is a lot of middle linebacker
Akeem Dent
. The Falcons used a lot of the nickel package in the regular season, and that kept Dent on the sidelines. But against the Seahawks, I think it's more important for the Falcons to focus on stopping the run, and they'll want Dent on the field for that.
Sando:
Interesting. Seattle could counter by shifting into its three-receiver offense and then going with its read-option package. Lynch scored the winning 27-yard touchdown against the Redskins on an option run from three-receiver personnel against Washington's nickel defense. The option has become a reliable tactic for Seattle. Opponents have a tough time determining whether Lynch or
Russell Wilson
is going to run with the ball. They also must respect the play-action passing game. The Seahawks had 11 rushes for 110 yards on option runs on Sunday. They had 224 yards rushing overall. I noticed
Cam Newton
had 202 yards rushing in two games against the Falcons this season. What was the nature of those rushes and do you see anything Seattle can cull from that?
Yasinskas:
Newton did have success against Atlanta, but the Falcons still were able to split with the Panthers. They also held
Robert Griffin III
to one carry for 7 yards in an early victory at Washington. They won against another mobile quarterback in
Michael Vick
. So the Falcons have some experience in facing mobile quarterbacks and the read option. I'm sure they used the bye week to prepare to see it again because they knew they'd be facing Wilson or Griffin. Outside linebacker
Sean Weatherspoon
is the key player against the read option. He's the leader of the defense and probably the best player on the unit.
Sando:
The Panthers had 21 carries for 120 yards and a touchdown using the option against Atlanta in Week 4. There will be other keys to this game. Wilson's ability to deal with the Falcons' blitzes could be one of them. Wilson had seven touchdowns, no picks, three sacks and the NFL's third-best Total QBR score (87.2) against five-plus pass-rushers from Week 8 through Week 16. That included going 6-of-6 for 91 yards and a score with a perfect 100.0 QBR against the 49ers' blitzes during a 42-13 victory in Week 16. Wilson wasn't quite as good in this regard against the Rams in Week 17, taking three sacks against their pressure. The Redskins held Wilson to a season-low 9.7 QBR against the blitz. Wilson has taken eight sacks against the blitz over the past two games after taking eight total over the previous 15 games.
Yasinskas:
Wilson is incredibly poised. But he still is a rookie coming into a tough venue in a playoff game, so I'm pretty sure defensive coordinator Mike Nolan will try every way possible to pressure him.
Drew Brees
and
Matthew Stafford
were the only quarterbacks all season to have much success against Atlanta's blitzes. Nolan likes to mix things up. The Atlanta pass rush starts with defensive end
John Abraham
, but Nolan has found ways to complement him. Nolan's not afraid to drop defensive end
Kroy Biermann
into pass coverage and let a linebacker or a defensive back blitz. The Falcons often talk about "disguising" their pass rush, and I'm sure they'll try to do lots of that against a rookie quarterback.
Sando:
Wilson has generally improved as the season has progressed, but he has been hit-and-miss all season against DB pressure. Wilson has three touchdowns, two picks, four sacks and a 17.9 QBR score when opponents rush a member of the secondary. He did make Minnesota, Miami and San Francisco (twice) pay for the tactic, however.
There's so much to consider in this matchup, Pat, that we haven't even gotten to one of the most crucial ones. Seattle's 6-foot-4
Brandon Browner
and 6-3
Richard Sherman
can be dominant cornerbacks. They disrupt receivers' timing and generally get under their skin. You might recall Carolina's
Steve Smith
just about losing it against Sherman earlier this season. Even the Redskins' left tackle went after him Sunday. If the Falcons win this game, Ryan is going to be the reason, I think. Should the Falcons' receivers like their chances? Or could we see Ryan becoming a bit tentative against big, physical, ball-hawking corners?
Yasinskas:
I think the Falcons have to come out and be very aggressive with their passing game. It's the strength of their offense. This is a different team from those of the past.
Michael Turner
is at the end of his career and this is not a running team any longer.
Roddy White
and
Julio Jones
are big, physical receivers, so I say let's see strength on strength with Seattle's corners. I think White and Jones can get open against anyone, so the Falcons need to take their chances. Plus, this passing game is about more than just Jones and White. They command so much attention that tight end
Tony Gonzalez
and slot receiver
Harry Douglas
could be forgotten. I think Douglas and/or Gonzalez could end up being key players in this game.
Sando:
Seattle has been very good against tight ends for the most part. I'd be surprised if Gonzalez factored in a big way. Seattle has allowed three touchdown passes to tight ends this season, tied for second-fewest in the NFL. The Seahawks have allowed 10 scoring passes to wide receivers, the fifth-fewest in the league. Sherman had eight picks and three forced fumbles this season, joining
Ed Reed
,
Charles Woodson
and
Walt Harris
as the only players to reach those totals in a season over the past decade. The Seahawks are not as strong at nickel corner, however. And with leading sacker
Chris Clemons
likely out with a knee injury, life could get tougher for Seattle in the secondary.
Yasinskas:
Mike, like just about everyone in the media, I'm skeptical of the Falcons because of their recent playoff losses. But I think this is the year they finally get a victory in the postseason. This is a different team from past years. I think the Falcons will put the game in Ryan's hands and I think they'll win 28-20.
Sando:
I think the Falcons are finally ready to break through and win in the postseason. I'm just not sure they've drawn the right opponent to make that happen. Seattle is the more physical team. The Seahawks have beaten seven teams that finished the regular season with a winning record (the number is two for Atlanta). While Seattle was posting the NFL's best strength-of-victory percentage, the Falcons were fattening up on the NFL's easiest schedule. Atlanta is at once the No. 1 seed and the team stepping up in class. Ryan's going to need a great game to prove wrong my 27-20 prediction for another Seahawks victory.
December, 8, 2012
12/08/12
12:00
PM ET
Our Friday look
at the
St. Louis Rams
' deep passing game required sorting quarterback production by how far passes traveled past the line of scrimmage.
The Rams'
Sam Bradford
was more effective than most on passes traveling more than 35 yards past the line, for example.
In filtering passes by distance, I noticed a sweet spot for Seattle's
Russell Wilson
between 16 and 25 yards downfield.
Wilson leads the NFL in passer rating and Total QBR on passes traveling that distance. He attempted only one of them against Arizona in Week 1, completing it for a 27-yard gain while going into two-minute mode shortly before halftime. The Seahawks were conservative in
their handling of the rookie quarterback
in that game. They're giving him more of the playbook heading into a Week 14 rematch with Arizona.
Arizona's defense ranks second in passer rating allowed and fourth in QBR allowed. The team Wilson dissected last week, Chicago, ranks higher in both. And as the chart shows, the Cardinals' defense has had problems defending passes thrown in the 16-25 range where Wilson has flourished. Arizona has allowed pass plays of 25-plus yards on these throws to
Tom Crabtree
,
Roddy White
,
Lance Kendricks
,
Wes Welker
,
Brent Celek
,
James Jones
,
Zach Miller
,
Harry Douglas
and
Vernon Davis
.
Sidney Rice
leads the Seahawks with 10 receptions for 222 yards and a touchdown on these throws. Miller has seven catches for 165 yards on them, followed by
Golden Tate
with three for 93 yards,
Doug Baldwin
with three for 62 yards,
Ben Obomanu
with two for 52 yards and
Anthony McCoy
with two for 42.
Rice had four catches for 36 yards and a touchdown against Arizona in Week 1.
March, 15, 2012
3/15/12
11:43
PM ET
Wide receivers
Vincent Jackson
,
Pierre Garcon
,
Reggie Wayne
,
Robert Meachem
,
Eddie Royal
,
Laurent Robinson
,
Josh Morgan
,
Eric Weems
and
Harry Douglas
have found new homes after hitting the NFL's free-agent market.
Franchise tags essentially removed from consideration
Dwayne Bowe
,
Wes Welker
and
DeSean Jackson
.
Others, such as
Marques Colston
, re-signed before free agency.
Teams still searching for help at the position -- that would be pretty much everyone but Seattle in the NFC West -- are left with a picked-over group of free agents.
Jerome Simpson
,
Plaxico Burress
,
Brandon Lloyd
,
Legedu Naanee
,
Devin Aromashodu
,
Roy Williams
,
Mario Manningham
and
Early Doucet
are the only ones remaining to have played at least half of their team's offensive snaps during the 2011 season.
As the chart shows, Burress was particularly effective in the red zone for the
New York Jets
. He converted first downs 38 times in 45 receptions for the third-highest percentage among wide receivers with at least 40 receptions, according to ESPN Stats & Information.
Burress is also up there in age. He's among 12 available wideouts already in their 30s:
Hines Ward
(36), Burress (34),
T.J. Houshmandzadeh
(34),
Kevin Curtis
(33),
Patrick Crayton
(32),
Deion Branch
(32),
Rashied Davis
(32), Donte Stallworth (31),
Jerheme Urban
(31),
Bryant Johnson
(31), Lloyd (30) and Williams (30).
Of them, Lloyd has visited the
San Francisco 49ers
.
Nine more are 29 years old:
Greg Camarillo
,
Keary Colbert
,
Mark Clayton
,
Jerricho Cotchery
,
Roscoe Parrish
,
Michael Clayton
,
Courtney Roby
, Michael Spurlock and
Braylon Edwards
.
Still interested?
OK, let's check out 18 others, all younger than 29:
David Anderson
, Legedu Naanee, Devin Aroshamodu,
Donnie Avery
,
Anthony Gonzalez
,
Maurice Stovall
,
Derek Hagan
,
Mike Sims-Walker
,
Ted Ginn
Jr.,
Andre Caldwell
,
Steve Smith
, Doucet,
Brett Swain
,
Chaz Schilens
, Simpson, Manningham,
Devin Thomas
and
Kevin Ogletree
.
Schilens visited Arizona and San Francisco. Manningham visited the 49ers and the
St. Louis Rams
.
I've also broken down the available wideouts by drafted round:
First: Williams, Burress, Ginn, Stallworth, both Claytons, Johnson, Gonzalez and Edwards
Second: Avery, Thomas, Simpson, Smith, Parrish, Branch, Colbert
Third: Roby, Doucet, Hagan, Stovall, Manningham, Caldwell, Curtis, Sims-Walker, Ward
Fourth: Cotchery, Lloyd
Fifth: Legedu Naanee
Sixth: none
Seventh: Houshmandzadeh, Crayton, Schilens, Aromashodu, Anderson, Swain
Undrafted: Davis, Urban, Camarillo, Spurlock, Ogletree
Only a handful of the available receivers project as starters. None would qualify as an outright game-breaker.
The Rams in particular need playmakers, but in looking at what is available, how many would qualify as dramatically better than what they already have?
Austin Pettis
,
Brandon Gibson
,
Danario Alexander
,
Dominique Curry
,
Greg Salas
and restricted free agent Danny Amendola are their current wideouts.
March, 15, 2012
3/15/12
10:40
AM ET
NFC West subtractions trumped additions on the second day of NFL free agency.
Robert Gallery's release from the Seattle Seahawks and Richard Marshall's departure from the Arizona Cardinals were the big stories. Quarterbacks should come into focus soon. Peyton Manning's long-awaited decision, Kevin Kolb's scheduled bonus, Matt Flynn's visit to Seattle, and Alex Smith's as-yet-unsigned contract come to mind.
One lingering question is whether the St. Louis Rams can find an impact wide receiver in free agency or by trade.

Jim Thomas of the St. Louis Post-Dispatch
has the latest: "They were involved with Robert Meachem, and as surprised as anyone when he ended up signing with San Diego and not Buffalo. They were in on the Pierre Garcon sweepstakes, but bowed out when the price topped $8 million a year. Garcon ended up with Washington in a five-year deal that averaged $8.5 million a year. They also were in the mix with Josh Morgan (who signed with Washington), and apparently Harry Douglas (who re-signed with Atlanta) as well. By Wednesday evening, the shelves were basically picked clean with Brandon Lloyd, Mario Manningham, Eddie Royal and a couple of older wideouts (such as Deion Branch) the only notable remaining wide receivers."
Noted:
Using the franchise tag for Lloyd would have set his value at around $9.5 million, higher than the annual average the team declined to pay Garcon.
Bernie Miklasz of the St. Louis Post-Dispatch
takes a deeper look at the wideout situation. Miklasz: "The Rams have pretty much neglected the position since Holt and Bruce began to fade. ... The new regime at Rams Park shouldn't be blamed for the mistakes made in the past. Fisher and GM Les Snead have to be given time to set a course, and the trade with Washington was a great start. The Finnegan signing made perfect sense. But if the organization remains ambivalent over the WR position, it wouldn't make sense, given the $50 million in guaranteed money the Rams have invested in Bradford. At some point, you have to get him a couple of wide receivers that can consistently outrun defenders, get open, and catch the ball. An impact player."

Danny O'Neil of the Seattle Times
sets modest expectations for Flynn's visit Thursday. O'Neil: "He's still a largely inexperienced quarterback, and there's a very real question of just how much the Seahawks will offer a quarterback with two career starts. Is Seattle convinced enough of Flynn's potential to offer a deal that is significantly more than the two-year, $8 million contract that Seattle has used as its baseline for a quarterback it sees as a potential starter down the road? ... A year ago, Seattle wasn't willing to make the kind of financial commitment that Kevin Kolb got from Arizona or part with the draft picks it would have taken to acquire him, and Kolb had more experience than Flynn."
Steve Wyche of NFL.com
expects Vikings tight end Visanthe Shiancoe to visit the Seahawks after Seattle lost tight end John Carlson to the Vikings.
Noted:
Shiancoe's former offensive coordinator, Darrell Bevell, has the same job in Seattle now. The fit could be right.

Kent Somers of the Arizona Republic
has this to say about the Cardinals' deal with 49ers offensive lineman Adam Snyder: "The Cardinals talked to Snyder about playing right guard, but his position will be determined later. ... The 6-foot-6-inch, 325-pound Snyder was drafted in the third round by the 49ers in 2005. He played in 107 games, started 69, including at both tackle positions and both guard positions. Snyder, 30, played a few snaps at center this season."
Also from Somers
: Arizona will miss Marshall. Somers: "Marshall would have competed with Greg Toler, A.J. Jefferson and perhaps others for a starting job. He would have been an integral part of passing packages, either as a nickel corner or safety. His ability to play safety in the absence of Kerry Rhodes was a key factor in the Cardinals' success over the second half of the season. For that, coordinator Ray Horton called Marshall his most valuable player."

Clark Judge of CBSSports.com
says 49ers coach Jim Harbaugh has shown no fear this offseason by signing Randy Moss and Perrish Cox. Judge: "Both are talented, and both have histories that back off teams that could be ... should be ... interested, which means both have warnings attached. But that's where Harbaugh comes in. He's as confident as he is competent, never shrinking from a test as a player or coach. So he takes over a Stanford program when people said it was destined for mediocrity ... and he takes it to the Top 10. And he takes over the 49ers when Miami seemed a better -- and more lucrative -- option, and takes them to the NFC Championship Game. Harbaugh knows what he wants, and what he wants now is someone, anyone, to help a group of wide receivers who combined for one catch and 3 yards in the conference title contest. So he takes on Moss when critics say it won't work, and asks why not."
Eric Branch of the San Francisco Chronicle
looks at contract lengths for the 49ers' defensive starters. Branch: "It's not hard to see them keeping one of the league's most dominant defenses intact again in 2013. Of this season's 11 projected starters, nine are under contract for the next two seasons. The exceptions: nose tackle Isaac Sopoaga and franchise-tagged safety Dashon Goldson, who has until July 16 to work out a long-term deal."
August, 22, 2008
8/22/08
2:09
PM ET
Posted by ESPN.com's Mike Sando
Thanks to those of you who dropped by the chat earlier today. I've been going through the mailbag, so let's get right to what's on your minds.
Juice from Colma, Calif., writes: Why isn't anybody making a play for Kurt Warner? He obviously wants another shot to start for at least two more years or at least compete for that spot. Not only can he mentor Smith, the learning curve w/ Martz system is minimal at best since his "salad days' with the greatest show on turf. The organization (49ERS) has invested time & monies in Smith if we get rid of him now it would set back the 49ers between 7 to 10 years to un-due selecting him the #1 overall pick. Heck, we have enough linebackers (which Arizona needs) to put together a trade package for Warner. This team needs a leader on offense to elevate to the next level. Your thoughts.
Mike Sando: I've got a different read. One, Warner might start for the Cardinals this season. They aren't going to donate him to a division rival. Two, the Cardinals like their depth at outside linebacker/defensive end after adding Travis LaBoy and Clark Haggans in free agency. Trades have to make sense for both sides. Getting rid of Warner makes no sense for the Cardinals. They still have to find out if they can win with Matt Leinart. An injury forced Leinart to miss much of last season. Warner filled in and put up big numbers. The Cardinals need Warner.
---
David from Manalapan, N.J., writes: Hey mike, a rams fan from NJ here. I haven't gotten a good look at the team yet this year because of where i live but based on the preseason games its going to be the same old story on defense. I know the overall depth on the team is poor which skews some of the preseason numbers. My question is: barring a bunch of injuries of course, do you think this team can finish any better than 7-9? A .500 season is a fair goal considering last year's 3-13 train wreck. Obviously, winning the division should always be the goal for every team but just based on what the box scores are telling me this team will be hard pressed to win 7 games this season. Any insight to how you think the rams will fare this season? thanks -Dave
Mike Sando: First, a confession. I went into last season looking to identify a potential playoff team coming off a nonplayoff season. I narrowed my choices to the Packers and Rams. I went with the Rams. Injuries blew up their roster beyond recognition.
The thought entering this offseason was that a healthy Rams team might have a chance to contend. Then Steven Jackson held out. Injuries depleted depth on both lines, at receiver, tight end and in the secondary.
I'm reassessing the Rams at this point. I do think the Rams have a chance to field a good pass-rushing defensive line. Depth in the back seven is a big concern. The Rams probably need one of their young receivers, Donnie Avery or Keenan Burton, to emerge this season. And of course they need that offensive line to avoid what happened in 2007.