February, 22, 2013
2/22/13
6:00
PM ET
Steve from Palisades Park, N.J., used the most recent
NFC West chat
to say the
San Francisco 49ers
should add to their receiving corps "a big guy who can go up and get jump balls" -- perhaps someone such as
Ramses Barden
.
"The 49ers have
Vernon Davis
," I replied. "He should be able to do those things."
Paul from San Francisco wasn't having it.
"Davis has never been that guy," Paul wrote to the NFC West mailbag. "Have you ever noticed that he's always jumping in the air when he catches a pass? Not the same as the high, contested end zone passes mentioned above.
"It's like he can't stay on his feet, catch a ball, and continue up the field without breaking stride. He needs his body to remain relatively stationary (in the air) while he concentrates on the ball because he can't do too many things at once while focusing on the ball.
"Watch the tape, you'll see!"
I've seen Davis catch touchdowns passes in stride. It's tough to quantify passes caught high in the air, away from the body and the like. With Davis, the big plays probably overshadow the routine ones in our minds. As the chart shows, Davis has averaged 18.9 yards per touchdown reception over the past five seasons, second only to Seattle's Zach Miller among qualifying tight ends.
Davis has 33 touchdown receptions over the past five seasons. Davis was already in the end zone when he caught 19 of them.
I did think there were times last season when Davis should have factored more prominently in the red zone.
Forty NFL tight ends ran at least 20 pass routes in the red zone last season, according to ESPN Stats & Information. Of those 40 players, Davis ranked 35th in percentage of targets per route (14.8). The average was 24.2 percent for the others and more than 30 percent for
Clay Harbor
,
Heath Miller
, Rob Gronkowski, Owen Daniels,
Aaron Hernandez
,
Joel Dreessen
,
Tony Moeaki
,
Anthony Fasano
and
Benjamin Watson
.
Davis' average was around 20 percent over the previous four seasons. The 49ers' offense is changing.
Michael Crabtree
is playing a more prominent role in the receiving game. That has affected Davis. It isn't necessarily bad for the team, either.
Let's count this as an initial look into a subject that could use additional exploration.
December, 29, 2011
12/29/11
6:00
PM ET
The
New England Patriots
'
Aaron Hernandez
and the
San Francisco 49ers
'
Delanie Walker
top an unusual list of NFL tight ends.
Both have played more than half their teams' offensive snaps, but neither is the featured tight end on his team. The Patriots and 49ers are the only NFL teams with one tight end playing at least 90 percent of the snaps and another playing at least half of them (thank you, Hank Gargiulo of ESPN Stats & Information, for digging up the numbers).
The point is not to go overboard in stressing how much the 49ers might miss Walker while he recovers from a broken jaw suffered in Week 16. We have
covered that ground
. The 49ers do not have a player similar to Walker on their roster, so they will have to adjust. That is life in the NFL.
The New England comparison interested me for how much the Patriots rely on
Rob Gronkowski
(96.2 percent of snaps) and Hernandez (73.1) in the passing game. With those two combining for 154 receptions and 1,991 yards this season, the totals for
Vernon Davis
and Walker (78 catches for 872 yards) reflect a different approach and, to a degree, untapped potential.
The 49ers do not feature their tight ends the same way, obviously, and coach
Jim Harbaugh
wants to be more run-oriented by design. There is only one
Tom Brady
, anyway, and the Patriots lack the strong defense that allows the 49ers to win playing the 49ers' way. But with Davis (95.9 percent of snaps) and Walker (56.1) spending so much time on the field, one might reasonably expect them to combine for more production than Davis managed by himself only two seasons ago (78 catches, 965 yards).
Receiving numbers aren't everything, of course. Davis and Walker have contributed in other ways. Their presence on the field forces teams to account for the running game while still having to worry about a speedy tight end getting open as a receiver. Walker's replacement, veteran
Justin Peelle
, has averaged a modest 8.2 yards per catch for his career. Blocking is his strength.
The chart ranks second tight ends by most playing time for the teams whose primary tight ends have played at least 90 percent of the snaps. The five primary tight ends: Dallas'
Jason Witten
(99.2 percent), Gronkowski (96.2), Davis (95.9), Pittsburgh's
Heath Miller
(95.3) and Detroit's
Brandon Pettigrew
(94.1).
.
March, 30, 2011
3/30/11
10:45
AM ET
Our ongoing
discussion on tight ends
raised questions about which ones possess the best -- and worst -- hands.
"Any way you can add in 'thrown to' and 'drops' in this stat?" Furfanam asked in
one comments section
.
Consider it done.
Jason Vida of ESPN Stats & Information produced the information. I've broken it out in four charts. A few notes on the findings:
The first chart ranks NFL tight ends by most receptions. It also shows number of targets, drops and drop percentage. Witten,
Jacob Tamme
and Gates were the only tight ends with at least 50 receptions and no more than two dropped passes.
The second chart shows lowest drop percentages among tight ends targeted at least 20 times last season. Miller's standing atop the list backs up
James Walker's contention
that the Pittsburgh Steelers tight end was underrated in our power rankings.
The third chart ranks NFL tight ends with at least 20 targets by the highest percentage of dropped passes.
ESPN Stats & Information's totals on Bajema matched my charting. I had Bajema dropping passes against Tennessee, Denver and Arizona.
The final chart focuses only on NFC West tight ends, ranking them by lowest percentage of dropped passes.
February, 4, 2011
2/04/11
11:15
AM ET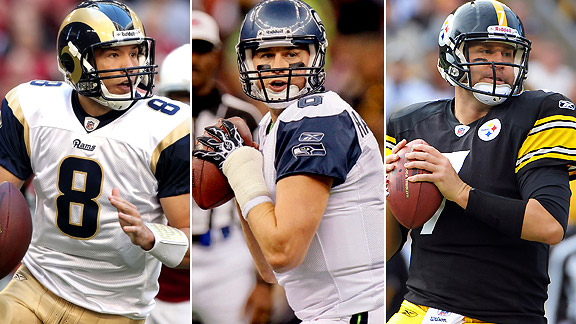 Getty Images/US PresswireHow do Sam Bradford, Matt Hasselbeck and the other NFC West QBs stack up against the Steelers' Ben Roethlisberger?
FORT WORTH, Texas -- Close your eyes for a moment after reading this sentence and imagine your favorite NFC West team lining up against the AFC champion
Pittsburgh Steelers
in the Super Bowl.
How would your team's offense measure up, starter for starter, against the one NFC champion Green Bay will face Sunday?
The chart compares NFC West teams' offensive starting lineups against the one Pittsburgh has listed on the official Super Bowl flip card.
Doug Legursky
will likely replace center
Maurkice Pouncey
, and injury situations could affect projected NFC West lineups.
I've generally recreated NFC West lineups as they were when each team's season concluded, just to see how offenses from the division might stack up against the one NFC champion Green Bay will encounter Sunday. An NFC West all-star team would produce an overall talent upgrade, but no single NFC West offense prevails in a head-to-head comparison, at least in my view.
For additional perspective, check out
how NFC West offenses stacked up
one year ago.
Enjoy the imaginary games.
March, 12, 2010
3/12/10
12:32
PM ET
Despite having little talent at tight end, the Patriots
seemed to shrug
while tight end
Ben Watson
signed with the Browns, a move of some interest in the NFC West after Watson visited Seattle.
What should this tell us?
One, Watson had great appeal relative to a weak crop of free-agent tight ends, but otherwise not so much. Two, the upcoming draft appears deep at quite a few positions, including tight end.
The chart shows where teams have found Pro Bowl tight ends in the draft since 2000. Eleven of them earned Pro Bowl recognition. Seven were first-round choices and three of those seven --
Kellen Winslow
,
Bubba Franks
and
Jeremy Shockey
-- went to Miami. An eighth,
Alge Crumpler
, was an early second-round choice (35th overall).
Note:
I added the Redskins'
Chris Cooley
to the list. He wasn't on the list initially because fullback was his listed position coming out of college. Thank you,
Facebook friend Ben
.
December, 14, 2009
12/14/09
7:15
PM ET
SAN FRANCISCO --
Vernon Davis
has more touchdown receptions than fellow NFC tight ends
Tony Gonzalez
and
Jason Witten
combined.
Davis averages 12.4 yards per catch, about 2 yards more than Gonzalez or Witten.
Davis has the yardage and touchdown numbers to merit Pro Bowl honors. Pumping up his catch numbers would help Davis' cause.
Gonzalez, Witten and the Saints'
Jeremy Shockey
enjoy advantages over Davis in name recognition, but Davis has arguably been a more dynamic downfield weapon than any of them. The Monday night stage affords him an ideal opportunity to state his case.
Pro Bowl balloting for coaches and players begins next week.