August, 17, 2012
8/17/12
9:00
AM ET
San Francisco 49ers coaches know they can trust Alex Smith to execute their game plan and lead the offense.
They appreciate the quarterback's temperament, too.
Greg Roman, the 49ers' offensive coordinator, explained the appeal during a conversation Wednesday.
"Extremely even-keeled," Roman said of Smith. "That was evidenced last year in a lot of the games when we needed to make some fourth-quarter comebacks to win. As a team and a coach, you can certainly draw on that because you know what you're getting every day and you can plan accordingly."

Matt Maiocco of CSNBayArea.com
says Jim Harbaugh held up Smith as having become an "expert" in the 49ers' offense about a year ahead of schedule. Harbaugh: "He's very smart. He already has great ideas. He already is very creative. He already is knowledgeable in how to use everything in the system. ... He's way ahead of the curve. I think after a year, you really know it. It takes about two years in the system to be a real expert at it. He's cut that in half."
Noted:
It's pretty clear the 49ers are expecting good things from Smith this season. San Francisco faces most of the top quarterbacks in the NFL this season. How will Smith measure up?
Also from Maiocco
: The 49ers' offense put together another strong day in camp.
Matt Barrows of the Sacramento Bee
says 49ers cornerback Perrish Cox will not face an NFL suspension this season after missing 2011 during legal proceedings associated with a sexual-assault case. Cox was acquitted.
Also from Barrows
: Alex Boone has worked to overcome alcohol-related troubles.
Cam Inman of the San Jose Mercury News
says Randy Moss appears to be having fun and working hard, according to Smith.
Eric Branch of the San Francisco Chronicle
profiles 49ers receiver Brian Tyms, who has overcome much during his journey to the NFL. Branch: "He was physically abused by both biological parents, and each incident prompted the Department of Children and Families to intercede. At 7, his mother, Jada Tyms, who had split with his biological father, hit him in a store and the incident was reported. His half-sister, Alysha Bernett, went to live with a grandfather and Tyms began his odyssey in group homes and foster care. After three years in group homes, his biological dad, Kenneth Stephens, was granted custody, but the arrangement in Seattle lasted less than two years. Deep into alcoholism, Stephens and Brian, then about 11, got into a physical altercation and his dad began choking him."

Jim Thomas of the St. Louis Post-Dispatch
says the Rams' new leadership welcomes back former players, a change from recent seasons. Torry Holt and Aeneas Williams have been at camp this week, offering tips to players. Holt: "It's good for guys to see the history of our organization because we've got a lot of history in this organization. I've talked about it before. When I was a rookie and a couple years in the league, Deacon Jones and Jack Youngblood, they'd come back and talk to us and just talk about the pride and the tradition of Rams football. And I mentioned that to the receivers in the (meeting) room. I said, 'There's a standard here in regards to the receiving position, all the way back to Henry Ellard, Crazylegs (Hirsch), Flipper Anderson, myself, Isaac (Bruce), Ricky (Proehl) -- the list goes on and on of guys that played the position at a high level. So keeping that standard, keeping that tradition alive, I think it's huge."
Also from Thomas
: Sam Bradford downplays concerns over his ankle.
Nick Wagoner of stlouisrams.com
sees progress from rookie receiver Brian Quick: "Quick is getting reps with the first team this week and he's now put together perhaps his two best practices of his young career. He skied for a ball from Kellen Clemens in 7 on 7s and brought it down in the end zone then proceeded to catch everything thrown his way during the workout. Jeff Fisher said Quick looked like he did at his now famous workout at Appalachian State and said maybe Quick just likes the indoors. That could bode well since the Rams play indoors."

Clare Farnsworth of seahawks.com
says Terrell Owens enjoyed another strong practice: "Owens caught a half dozen passes today, including one where he got behind Pro Bowl cornerback Brandon Browner and another where he fought his way through being jammed by rookie cornerback Jeremy Lane. Owens is playing flanker, although Pete Carroll has said he'd also like to look at the 6-foot-3, 224-pound Owens as a possible replacement Mike Williams at split end."
Also from Farnsworth
: camp awards featuring Marshawn Lynch (offense), Richard Sherman (defense) and Robert Turbin (rookie) as top players.
Danny O'Neil of the Seattle Times
sees good things from Seahawks left tackle Russell Okung. Line coach Tom Cable: "The thing that's changed for him is how detailed he has become. I thought before, he was a really talented guy who knew he was talented. In this league, there's so much more to it. And I think with great respect to him, he has really succumbed to that. That it's not about where they picked me. It's not about what my talent is. It's about what I put into it. He has done a marvelous job."

Kent Somers of the Arizona Republic
says coach Ken Whisenhunt put the Cardinals on alert this week. Also, receiver Larry Fitzgerald addressed the team about stepping up its game. Somers on the QB situation: "John Skelton has been adept at avoiding pressure and buying himself time. But he missed a lot of open receivers in practice this week. Improving accuracy remains his priority. Kevin Kolb, in contrast, looks uncomfortable in the pocket, as if he doesn't trust his protection, or that a receiver is going to come open."
Darren Urban of azcardinals.com
is watching to see which cornerbacks step up over the remaining exhibition games. Urban: "Interesting that DC Ray Horton mentioned to Kent Somers no cornerback has really challenged William Gay for the starting spot opposite Patrick Peterson. I didn't get the impression that was because Gay has been flawless either. It's one of the reasons this game means a lot to the defense too -- where is that unit with the 2011 closing kick?"
Josh Weinfuss of azcardinals.com
passes along thoughts from center Lyle Sendlein on the Cardinals' preseason struggles. Sendlein: "For whatever reason we're locking up mentally when we're getting out there. It's things our coaches go over with us the day before and that's why they're so disappointed in us because they know we can do it. There's a fine line of being relaxed and being uptight and I don't think we're uptight. I think we're just trying to do too much. I know we are good and we will be good but the problem is we're just trying to do more than (our) job and when you do that, you make mistakes and things aren't executed the way they should be."
March, 21, 2012
3/21/12
11:52
AM ET
The
San Francisco 49ers
cannot be sure what they'll get from
Randy Moss
in 2012.
Expectations are
naturally low
after Moss, 35, produced sparingly for three teams in 2010 before sitting out the 2011 season.
But what does history tell us?
With
an assist
from Pro Football Reference, I've put together a list of 20 productive seasons from receivers age 35 or older, ranked by most receiving yardage.
Jerry Rice
was 35 when he suffered a career-threatening knee injury early in the 1997 season. He returned to catch 82 passes for 1,157 yards and nine touchdowns the following season.
Rice shows up on the chart three times, most recently in 2002, when he had 92 receptions for 1,211 yards at age 40.
Rice is a special case, obviously. He was also less dependent than Moss on raw speed, which tends to be fleeting as players get older.
The odds are stacked against Moss, but other 35-and-up receivers have occasionally produced at a high level.
December, 13, 2011
12/13/11
8:33
PM ET
The facts:
The
St. Louis Rams
fell to 2-11 with a 30-13 road defeat to the
Seattle Seahawks
in Week 14.

The upside:
Even the worst defeats tend to feature a bright spot or two.
Steven Jackson scored his 52nd career rushing touchdown, leaving him four shy of Eric Dickerson's franchise record. Jackson also moved past Henry Ellard on the Rams' career list for all-purpose yardage. His 50-yard reception was a career long.
Brandon Lloyd averaged 16.4 yards per reception. His longest gain covered 37 yards.
Rookie tight end Lance Kendricks had a 26-yard reception early in the game.
Jerious Norwood's 47-yard kickoff return was a season long for the Rams.
Gary Gibson and C.J. Ah You recorded sacks, while Brady Poppinga recovered a fumble.
Quarterback Sam Bradford, though sore afterward, did not appear to aggravate his ankle injury. Chris Long also made it through the game despite an ankle injury.
The Rams' defense kept the team in the game through three quarters.
Looking ahead
: The Rams return home to face the
Cincinnati Bengals
in Week 15.
December, 5, 2011
12/05/11
10:56
AM ET
The facts:
The
St. Louis Rams
fell to 2-10 with a 26-0 road defeat to the
San Francisco 49ers
in Week 13.

The upside:
Even the worst defeats tend to feature a bright spot or two.
Chris Long collected two more sacks, giving him 12 for the season. Long has the most sacks by a Rams player since Leonard Little had 13 in 2006. Kevin Carter had 17 in 1999, the most for a Rams player since the NFL began tracking sacks officially during the 1982 season. Kevin Greene twice had 16.5-sack season with the team. Pro Football Reference shows all Rams players with at least 12 sacks during the sack era. Long joins a list featuring Carter, Little, Greene and Mike Wilcher. Long has at least one sack in each of the Rams' last six games. He added two tackles for loss and three quarterback hits Sunday.
Steven Jackson moved within 16 yards of Henry Ellard for third place on the Rams' all-time list for all-purpose yardage. Jackson has 11,691 all-purpose yards.
Quarterback Sam Bradford gained a week to get his high-ankle sprain healthier. Bradford aggravated the injury during practice.
Brandon Lloyd made another improbable catch, this one for a 34-yard gain along the sideline.
The Rams' defense held the 49ers to field goals on all four San Francisco possessions in the red zone.
Looking ahead
: The Rams visit the
Seattle Seahawks
on "Monday Night Football" in Week 14.
May, 19, 2011
5/19/11
4:55
PM ET
Ciscokid
questioned during
the latest NFC West chat
whether or not
Michael Crabtree
would fit in the
San Francisco 49ers
' new offense. I promised to investigate.
"I do like how his skill set translates to the new offense," Matt Williamson of Scouts Inc. said. "They'll run a lot of quick-hitting routes where he can be big and physical, fight for the football and run after the catch with power."
Crabtree is coming off a 55-catch second season in which his numbers almost exactly matched established averages for wideouts in Jimmy Raye-coordinated offenses. The 49ers fired Raye after three games, but they ran essentially the same offense. San Francisco, like some of Raye's teams in Kansas City, had a prolific receiving tight end, which affected opportunities for wide receivers.
But there's still an expectation, I would think, for Crabtree's production to improve under new coach Jim Harbaugh. Crabtree has at times looked like a season pro, but I emerged from last season wondering what to expect from him.
"It will be a test for Harbaugh for sure from a coaching standpoint," Williamson said, "but besides developing a quarterback --
Colin Kaepernick
will be great, by the way -- getting the most out of Crabtree has to be extremely high on Harbaugh's to-do list. I would like to see them add one more speed guy to the receiving corps."
March, 20, 2011
3/20/11
8:30
AM ET
Of all the compliments Drew Hill earned from his 14-year NFL career -- he was productive, explosive, cool under pressure -- the one from Mike Munchak should mean the most.
"I played with Drew for a number of years, and he was one of the toughest players I ever played with," Munchak said.
[+] Enlarge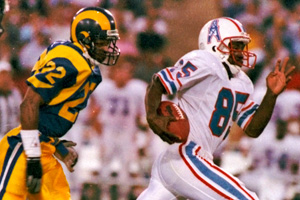 AP Photo/Red SaxonOver a 14-season career with the Rams, Oilers and Falcons, Drew Hill (right) amassed 634 catches, 9,831 receiving yards and 60 touchdowns.
You know a wide receiver was tough when a Hall of Fame offensive lineman such as Munchak describes him that way. Unfortunately, Munchak's respects appeared in
Hill's obituary
. Hill passed away unexpectedly Friday following two strokes. He was 54.
Hill made his name professionally with the Houston Oilers after beginning his career in the NFC West with the Los Angeles Rams. Hill was a rookie in early 1980 when he accounted for the Rams' second-longest reception, good for 28 yards, during the team's Super Bowl defeat to the
Pittsburgh Steelers
.
The Rams traded Hill to Houston following the 1984 season. They already had Henry Ellard and speedster Ron Brown, and the offense ran through Eric Dickerson until the team traded him, too, a couple of years later.
Hill caught 60 passes for 1,347 yards and 10 touchdowns in five seasons with the Rams. His seven-year totals with the run-and-shoot Oilers: 480 catches for 7,477 yards and 46 touchdowns. Not even Ellard could match those numbers for the Rams during the same span (1985-91, when Ellard caught
435 passes for 7,199 yards and 37 touchdowns
).
"Drew meant so much to us as a player and as a person," former Oilers quarterback Warren Moon told the Houston Chronicle. "I counted on him so much. He was the consummate professional. It's just so sad."
October, 29, 2010
10/29/10
9:55
AM ET
Facebook friend Scott writes:
"Mike, I love Ike Bruce and hated it when we let him go, especially to the 49ers. But I have a question about retiring his number. Is anyone talking about
Henry Ellard
? Remember, he wore No. 80 before Ike and was the Rams' leading receiver before being passed by Ike."
Mike Sando:
Isaac Bruce
has earned his day in the spotlight, but it is unfortunate, I think, that Ellard also wore No. 80. Both were terrific players for the Rams. I think Ellard could be the more dangerous receiver. Bruce played in a more pass-happy era. He also played in the most pass-happy offense of his time.
Ellard averaged 16.9 yards per reception. Bruce averaged a still-healthy 14.9 yards per catch. Ellard played during a time when defensive backs could be more aggressive in coverage. This probably made it tougher to make as many catches, but it also might have opened up more big-play opportunities against tight coverage.
Ellard was also a dynamic punt returner. He averaged 11.3 yards per return on 135 chances, scoring four touchdowns. The great
Deion Sanders
averaged 10.4 yards per punt return with six touchdowns. Ellard's contributions in this area should not go unnoticed (Bruce was never a returner). Ellard averaged between 13.4 and 13.6 yards per punt return during his first three seasons in the league. Sanders averaged more than 12.3 yards per return only once (excluding the 1995 season, when Sanders' lone return covered 54 yards).
The first chart compares career receiving stats for
Ellard
and
Bruce
based on information from Pro Football Reference.
The second chart breaks down their receiving stats while with the Rams only.
June, 10, 2010
6/10/10
9:46
AM ET

Bernie Miklasz of the St. Louis Post-Dispatch
says words from Isaac Bruce moved the Rams' current players and leadership. Bruce: "We came to this organization that was bottom of the barrel. And at that moment, I knew this was where I was supposed to be. I chose to continue to walk by faith. I chose to speak life to what seemed like a lifeless situation. The moment I got here, I claimed ownership to this organization. I will never be too big not to clean up around this place, pick up a piece of trash, or I would never be too big or small to do anything else needed by this organization. I've always thought it was the greatest organization in the league, and I would never do anything or say anything to tear down my own house with my words or with my hands." Miklasz shares a story about the time Bruce knocked down 16 Saints players during a game while throwing blocks for Marshall Faulk.
Bill Coats of the St. Louis Post-Dispatch
had this to say during a Rams chat: "I liked the trade for Bobby Carpenter. I think he was a fish out of water in the Dallas 3-4. He might turn out to be a pretty good 4-3 LB. I think the Rams have been shrewd in their dealings with Oshiomogho Atogwe. I expect him to re-sign here eventually. I really liked picking Sam Bradford No. 1 overall. This team desperately needed an infusion of energy, and a good, young QB should provide that. He could be the face of the franchise for the next decade."
Alvin Reid of the St. Louis Globe-Democrat
says Bruce tipped his cap to Tom Fears and Henry Ellard during his retirement news conference.

Lowell Cohn of the Santa Rosa Press-Democrat
wonders, among other things, whether the 49ers will be able to raise money through selling naming rights to a new stadium. Cohn: "The Giants and Jets co-own that new football palace in that marshland in New Jersey. The Giants are a big deal and being located in the New York area -- I wouldn't deign to call the Meadowlands New York for real -- well, being in the vicinity of New York is worth a lot. So how much have the Giants/Jets been able to sell naming rights for? Nothing. Nada. Zero. Zilch. This is greater New York we're talking about. OK, that's an aberration. How about Dallas, Big D, America's team? Surely, the Cowboys scored big with naming rights on their new pleasure dome. How much did Jerry Jones sell naming rights for? Nothing. Nada. Zero. Zilch. The Chiefs wanted to sell naming rights for Arrowhead stadium but couldn't."
Mark Purdy of the San Jose Mercury News
says the 49ers' grass-roots approach, led by team president Jed York, paid off at the polls. Purdy: "He and his father, John York, literally went block to block and sold the stadium idea in a series of neighborhood meetings at which they took on all questions and worked for votes on the retail level. One campaign consultant estimated that the Yorks made as many as 70 visits to homes all over Santa Clara. It must have been a humbling experience for both men -- but they realized in a smaller city, getting to know people individually would pay off."
Matt Barrows of the Sacramento Bee
takes a look at the site where the 49ers might build their new stadium.
Also from Barrows
: a visit with former Stanford offensive lineman Matt Kopa, now with the 49ers.
Phil Barber of the Santa Rosa Press-Democrat
offers comments from Jed York regarding the team's stadium plans. York: "We're able to drop our upper deck by 30 to 40 feet and bring it closer to the field, and that's just the geometry of building a football stadium. When you look at what are some of the amenities for the non-suite fans, you've got much bigger concourses where you don't have to worry about walking ... where you can't get into a suite corridor. You've got open concourses, you've got open views and beer gardens and those types of things. But for the suite patrons, it's a lot easier to get them food, get them service, because all of your suites are centralized in one area. ... If all that is comprised in about one-third of your building, you're able to get a much more sustainable building, but you're also able to make sure that you service your patrons, so you don't have to build two or three or four kitchens. You can build one kitchen and get food directly to those patrons."

Clare Farnsworth of seahawks.com
rounds up the team's latest roster moves while checking in with newly signed defensive end Will Tukuafu. Farnsworth: "Tukuafu is just happy to be part of the figure-it-out process. After not being selected in the draft, he attended minicamps with the San Francisco 49ers and Washington Redskins on a tryout basis without getting a contract. That changed Tuesday. Tukuafu, along with (Barrett) Moen, was signed after working out for the Seahawks. He then took part in the offseason conditioning program Wednesday morning, before putting in some extra work with line coach Dan Quinn to get him ready for Thursday's OTA practice."

Kent Somers of the Arizona Republic
expects Cardinals coach Ken Whisenhunt to call off the final day of organized team activities, as usual. Whisenhunt on predictions suggesting the Cardinals will not win another division title this year: "That's not different; that's the way it's been ever since I've been here. I'm fine with that."
Darren Urban of azcardinals.com
reports from a road trip with Cardinals safety Adrian Wilson, who is in North Carolina for a ceremony retiring his high school jersey. Urban: "It's a huge deal to A-Dub, who has always felt legacy -- in the NFL, and even from his high school days -- is so important. Wilson wants to make his mark in this world -- 'a good mark' as he told me -- and this is part of that."
Also from Urban
: Whisenhunt likes what he's seen so far this offseason, summing it up this way: "We've gotten a lot more accomplished this offseason than I think any of us thought back on the first day of free agency or even when Kurt [Warner] retired. Where we go as a team will be determined in training camp. But I am pleased with the effort, attention to detail and the consistent attendance our players have given us. I am excited to see where we go as a team."
September, 10, 2009
9/10/09
4:07
PM ET

Posted by ESPN.com's Mike Sando
Questions, answers and observations as the 49ers prepare for their 2009 regular-season opener without first-round draft choice
Michael Crabtree
:
1. Is an agreement in sight?
The evidence suggests not. Players tend to sign before missing regular-season game checks, but by now we would have seen more signs of movement. None is apparent. Crabtree's throwing session with
Trent Dilfer
took place three weeks ago, so I wouldn't read much into that. If Crabtree lets one game slip past without signing, we'll know he's as serious as he appears.
2. What is the holdup?
It's impossible to know without trusting sources with a vested interest in how the arguments are framed. The cliche says the devil is in the details, and that is probably the case here. High-stakes negotiations for drafted rookies are about identifying which incentive terms will allow the player to maximize total value. What if Crabtree fears he could not hit those incentives in the 49ers' conservative offense? More on that in a bit.
3. Does Crabtree want to play for the 49ers?
I'm starting to have doubts. The other first-round picks in this division had a hard time missing training camp practices, let alone exhibition games or the regular season.
Beanie Wells
traveled overnight to reach Cardinals camp without missing any more practices than necessary.
Aaron Curry
told reporters he had reached a breaking point after missing one week of camp. Crabtree? Not so much.
4. Why wouldn't Crabtree want to play for the 49ers?
Perhaps he's been listening to Mike Singletary and Jimmy Raye talking about how they want to run the ball 60 percent of the time, more than any NFL offense ran the ball last season. The way quarterbacks
Shaun Hill
and
Alex Smith
performed during the exhibition season probably didn't help. And if you look at Raye's history as a coordinator -- see the chart below -- he's clearly serious about running the football.
March, 10, 2009
3/10/09
10:39
AM ET
Posted by ESPN.com's Mike Sando

Bill Coats of the St. Louis Post-Dispatch says James Butler is six years younger than Corey Chavous and ready to replace him in the lineup at strong safety.
Also from Coats: Mike Karney could fit as the blocking fullback St. Louis wants for its offense. No mention of Leonard Weaver as a potential candidate.
Rich Cimini of the New York Daily News expects the Jets to show interest in receiver Torry Holt once the Rams release him, as expected. Cimini: "Henry Ellard is the Jets' new receivers coach, the same Ellard who served as Holt's position coach for seven consecutive 1,000-yard seasons. If that doesn't give the Jets an advantage in terms of recruiting and insider knowledge, what does?"
VanRam of Turf Show Times links to a radio show in which Jim Thomas of the St. Louis Post-Dispatch suggests the Rams could try to rework Randy McMichael's contract.

John Morgan of Field Gulls says the Seahawks are "very interested" in Clemson safety Michael Hamlin, who spoke with three members of the organization in one day.
Also from Morgan: He thinks the Seahawks should re-sign Weaver. The price apparently hasn't been right to this point.
More from Morgan: Seven players for the Seahawks to draft. Quarterback Matt Stafford, offensive lineman Max Unger, safety Michael Hamlin, receiver Mike Thomas. defensive tackle Terrance Taylor and snapper Jake Ingram get the call.
NFL.com carries a transcript of T.J. Houshmandzadeh's recent chat. He says the Bengals weren't as serious about re-signing as it appeared. Houshmandzadeh: "They were persistent, but it wasn't persistent with good intentions, in my opinion. They weren't as persistent as it has been reported that they were."

Matt Barrows of the Sacramento Bee says the 49ers could have a hard time finding an offensive tackle with the 10th overall choice. Barrows: "The Raiders have pick No. 7 and they definitely could use a tackle. Theoretically, so could Detroit, St. Louis, Kansas City and Cincinnati." The Seahawks could consider one as well.
Also from Barrows: Expect cornerback Karl Paymah to visit the 49ers on Wednesday.
Clark Judge of CBSSports.com lists the 49ers among three teams that need to "stay after school" for their efforts in free agency. Judge: "I don't mean to pick on the 49ers, but they have a nasty habit of spending a lot of money on marginal talent. This year's winner is wide receiver Brandon Jones, who picked up a $5.4 million signing bonus. I don't know much about Jones, other than when I watched the Titans, I never had a feeling he was a guy who could beat you." Judge also thinks the Rams paid a premium for Jason Brown.

Jim Corbett of USA Today quotes Kurt Warner as saying he's still willing to take a pay cut to help the team sign Anquan Boldin. Do players really think that's how it works?
Revenge of the Birds' Hawkwind checks in with Cardinals offensive lineman Elliot Vallejo.
Kent Somers of the Arizona Republic says the Cardinals won't be spending big except to keep their own players.
Darren Urban of azcardinals.com says the Cardinals want Bertrand Berry to return and a deal appears likely at some point.
Also from Urban: He thinks the Cardinals will not trade Boldin.
July, 24, 2008
7/24/08
11:25
AM ET
Posted by ESPN.com's Mike Sando
| | |
| --- | --- |
| | |
| | Andy Lyons/ALLSPORT |
| | Ricky Watters rushed for 10,643 yards and caught 467 passes. |
Former 49ers and Seahawks running back Ricky Watters made NFL Network's list of the 10 best players not enshrined in the Pro Football Hall of Fame. The list includes only players who have been retired long enough to become eligible. Roger Craig didn't make the cut. Would you rank him ahead of Watters among all-time backs?
Watters was a terrific every-down player. He played and practiced with emotion and energy. He was exceptionally durable, at one point starting 116 consecutive games -- the longest streak for any running back who was active at the time (LaDainian Tomlinson leads current running backs with 48 consecutive regular-season starts).
Watters rushed for 10,643 yards and caught 467 passes. He ranks 14th in NFL history for yards from scrimmage. He respected the players who came before him and earned the respect of his peers. In 2000, his Seattle teammates named Watters the Steve Largent Award winner, presented to the Seattle player who best illustrates the spirit, dedication and integrity of the team.
NFL Network's list also includes Ken Anderson, Cris Carter, Bob Hayes, Alex Karras, Jerry Kramer, Jim Marshall, Ken Stabler, Steve Tasker and Derrick Thomas. Carter will almost surely enter the Hall of Fame in the near future. Hayes' supporters point to how he forced defenses to change their approach entirely to account for his speed.
I can think of a few Hall-eligible players from NFC West teams -- Craig among them -- who deserve strong consideration for enshrinement:
Seahawks: Cortez Kennedy was defensive player of the year on a 2-14 team that featured one of the worst offenses in NFL history. He was an eight-time Pro Bowl player. At his best, Kennedy could not be blocked.
Rams: Henry Ellard averaged nearly 17 yards per reception on 814 catches. He averaged 19.5 yards per catch while putting up more than 1,000 yards with Washington at age 35.
49ers: Craig topped 1,000 yards rushing and 1,000 yards receiving in the same season. He caught more than 566 passes and topped 8,000 yards rushing. The numbers only begin to explain how he played. The high-kneed running style helped him bull over defenders.
Cardinals: Help me out here. Larry Centers caught all those passes out of the backfield. Roy Green? There has to be someone I'm missing. Perhaps on defense.