August, 2, 2013
8/02/13
6:10
PM ET
San Francisco 49ers
coach Jim Harbaugh is going to l-l-love the NFC West video preview featuring ESPN's Merril Hoge and Herm Edwards. Both picked a team other than the 49ers to win the division in 2013, giving Harbaugh the type of we-get-no-respect ammunition a coach covets (particularly coming off back-to-back division titles and a Super Bowl appearance).
Hoge also pointed to the
Arizona Cardinals
as a sleeper team in the NFC, contending that coach Bruce Arians and top offensive assistant Tom Moore will marry their disparate views regarding offense to produce an "explosive balance" to complement their defense. That is an interesting pick. The
St. Louis Rams
would seem to qualify as well, although they might not be a true sleeper after producing a respectable 7-8-1 record last season, including 4-1-1 within the division.
While down in Arizona, I didn't hear much about plans for blending what Hoge described as Arians' aggressive downfield approach with Moore's preference for focusing more on protecting the quarterback. To my knowledge, this is going to be Arians' offense and it's going to be aggressive in taking deep strikes in the passing game.
June, 19, 2013
6/19/13
3:55
PM ET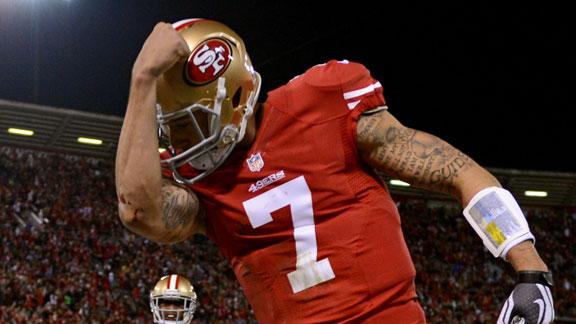 ESPN's Herm Edwards and Field Yates explain in the video above why the
San Francisco 49ers
rank No. 1 in our
Future Power Rankings

projecting ahead to 2016.
"Their only problem is this: Long term, there is a team up north built similar to the San Francisco 49ers," Edwards said. "That is the Seahawks. They are really a carbon copy of the San Francisco 49ers. They run the ball very well, they are physical on defense, they have big players. You look at these two rosters, you notice they have big people who can run."
Both appear stable in key areas: head coach, general manager and starting quarterback. The
St. Louis Rams
can make some of those claims, albeit with less certainty and less on-field evidence collected to this point. Those three NFC West teams are either on the rise or perceived to be that way.
The chart below shows how perceptions about the future differ from what has actually happened in the recent past.
For example, the Rams finished 32nd in 2009, 19th in 2010, 31st in 2011 and 17th in 2012, defined by their position in the following year's draft order (the team first in draft order finished 32nd the season before, and so on). The Rams ranked 24.8 on average over those seasons. We project them to rank eighth in 2016, a gain of 16.8 spots, largest in the NFL.
The Rams, Seahawks (plus-13) and 49ers (plus-11.8) top the list. The
Arizona Cardinals
rank quite a bit lower, but perceptions change quickly. The Cardinals are just starting out under new leadership. They do not appear to have a long-term solution at quarterback. There isn't as much to analyze at this point.
Edwards and Yates speak at length about the Rams in the video above, citing some of the data I've reference on the blog.
May, 28, 2013
5/28/13
1:40
PM ET

I'll be heading over to the Seattle Seahawks' organized team activity (OTA) session Tuesday for a look at the team on the field.

Meanwhile, back at the ESPN ranch, analyst Herm Edwards is offering a coach's perspective on that other Seahawks-related story, the one about Bruce Irvin becoming the most recent player suspended for violating the NFL's policy on anabolic steroids and related substances.

Cue the video if interested.
January, 30, 2013
1/30/13
9:15
AM ET
Randy Moss
' contention that he's the greatest wide receiver in NFL history. Check out the video above for the full rundown.
I also wanted to point out
some advanced statistical analysis
from Nik Bonaddio of numberFire. Nik has used net expected points to analyze the best seasons for each receiver. Moss owns two of the top three among the two wideouts, but Rice owns six of the top eight. The chart shows the top five. Nik has published more detailed charts covering additional seasons.
"Jerry is more consistent, covering an entire decade where Moss has a few years lost in the ether after his breakout 2003 season," Nik writes. "Jerry also has longer longevity, doing it over a much wider range than Randy, while also keeping up a higher pace. ... It seems pretty clear from the data:
Jerry Rice
is the best receiver of all-time."
ESPN's Trey Wingo and Herm Edwards brought strong, measured points to the discussion over
January, 10, 2013
1/10/13
9:00
PM ET
ESPN's Tedy Brucshi and Herm Edwards differ in predicting a winner for the
Seattle Seahawks
' divisional playoff game at Atlanta. They offer thoughts in the video above.
There's an
8-4 split favoring the Falcons
among ESPN's analysts.
My prediction appeared during our recent "
Double Coverage
" item. An excerpt:
"I think the Falcons are finally ready to break through and win in the postseason. I'm just not sure they've drawn the right opponent to make that happen. Seattle is the more physical team. The Seahawks have beaten seven teams that finished the regular season with a winning record (the number is two for Atlanta). While Seattle was posting the NFL's best strength-of-victory percentage, the Falcons were fattening up on the NFL's easiest schedule. Atlanta is at once the No. 1 seed and the team stepping up in class. Matt Ryan's going to need a great game to prove wrong my 27-20 prediction for another Seahawks victory."
January, 10, 2013
1/10/13
8:00
PM ET
Merril Hoge, Chris Mortensen, Mark Schlereth, Seth Wickersham and Keyshawn Johnson are
picking the Green Bay Packers
to defeat the San Francisco 49ers in the teams' divisional playoff game Saturday.
K.C. Joyner is calling the 49ers' offense
overrated

while pointing to diminished run blocking, the absence of a downfield passing threat and questions on special teams in explaining why San Francisco is vulnerable.
What kind of respect is this for the team that stood No. 1 in
ESPN's NFL Power Rankings
three weeks ago?
ESPN's Tedy Bruschi and Herm Edwards made their Packers-49ers picks in the video above. One of them did pick the 49ers. I'll make my guesses Friday, as usual.
November, 16, 2012
11/16/12
10:15
AM ET
It's refreshing and a little unsettling to see national NFL analysts agreeing with confidence that the
St. Louis Rams
should defeat an opponent.
As a bonus, the analysts mentioned several Rams players by name.
This has to be progress.
Eleven of 11 other ESPN analysts are also
taking the Rams
to defeat the
New York Jets
in Week 11, although AccuScore gives the Jets
a slight edge
.
May, 11, 2012
5/11/12
1:00
PM ET
Count ESPN's Herm Edwards among those expecting a career revival from
Randy Moss
in San Francisco.
Edwards envisions an "energetic" Moss making a push to get the 49ers over the top following a run to the NFC Championship Game.
Cue the video.
April, 30, 2012
4/30/12
7:37
PM ET
Russell Wilson
, the quarterback the
Seattle Seahawks
drafted in the third round Friday, probably lost millions of dollars when he stopped growing.
His height, measured by NFL scouting combine officials at 5-foot-10 and five-eighths of an inch, doesn't measure up to long-established league standards. That is why the Seahawks were able to draft the Wisconsin quarterback with only the 75th overall choice even though Wilson appears dynamic by other measures, including his arm, athleticism and leadership.
ESPN's Herm Edwards liked the selection and explains why in the video above.
History discounts the chances for a shorter quarterback. Wilson is not small, however. He had the fourth-largest hands of any quarterback at the combine: 10 1/4 inches, tied with defensive lineman
Quinton Coples
, guard
Kevin Zeitler
and 21 others for the 24th-biggest hands at the combine.
Brock Osweiler
, the tallest combine quarterback at 6-foot-7, had smaller hands than Wilson.
Ryan Tannehill
, drafted eighth overall, had substantially smaller hands: 9 inches, tied with Yale's Patrick Witt for smallest at the combine.
Wilson, who finished second to
Robert Griffin III
among combine quarterbacks with a 4.55-second time in the 40-yard dash, did have the third-shortest arm length for any quarterback at the combine.
Nick Foles
, Osweiler and
Andrew Luck
ranked among the top five. The difference between Luck's arm length (32 5/8 inches) and that of Wilson (31) means what, exactly? I'm not sure.
Some of these measurement differentials might not mean much. Height would matter more to teams as they assess whether a quarterback can see the field well enough from inside the pocket. Edwards' feeling is that Wilson should be a good backup, with a chance to become more.
May, 27, 2011
5/27/11
4:12
PM ET
ESPN's Tedy Bruschi and Herm Edwards recently discussed which teams with losing records in 2010 might break through and reach the playoffs in 2011.

Bruschi singled out the St. Louis Rams. I'll expand on his thoughts in our next "Hot Button" discussion.

Edwards went with the San Francisco 49ers. I also could make the case for San Francisco, but the statute of limitations for overrating the 49ers expired around here. If the 49ers are going to finally break through, they'll have to do it on their own.

I'll wait until at least training camp before anointing the 49ers as favorites. The Rams get my vote now based on their quarterback situation and defensive improvement.


September, 22, 2008
9/22/08
11:45
AM ET
Posted by ESPN.com's Mike Sando
The Rams are averaging 9.7 points per game.
| | | | | | |
| --- | --- | --- | --- | --- | --- |
| Head Coach | Hired | Team | Record | New OC | PPG |
| Sean Payton | 2006 | NO | 1-2 | No | 24.0 |
| Dick Jauron | 2006 | BUF | 3-0 | Yes | 23.6 |
| Mike McCarthy | 2006 | GB | 2-1 | No | 22.3 |
| Rod Marinelli | 2006 | DET | 0-3 | Yes | 19.7 |
| Brad Childress | 2006 | MIN | 1-2 | No | 16.0 |
| Eric Mangini | 2006 | NYJ | 1-1 | No | 15.0 |
| Gary Kubiak | 2006 | HOU | 0-2 | Yes | 14.5 |
| Herm Edwards | 2006 | KC | 0-3 | Yes | 10.7 |
| Scott Linehan | 2006 | STL | 0-3 | Yes | 9.7 |
My first thought upon seeing that figure was that a decent NBA player would average as much. For some reason, A.C. Green came to mind. Sure enough, it's close.
Green averaged 9.6 points per game. Unlike the Rams, who have lost 16 of their last 19 games, Green also knew how to rebound.
On to the broader point: The Rams are one of nine teams featuring a head coach in his third season with his current team.
Five of the nine teams, including the Rams, are breaking in a new offensive coordinator this season. Those teams have a combined record of 3-11. Two are failing to score even 11 points per game. Buffalo, which promoted Turk Schonert from quarterbacks coach to offensive coordinator, is the only team of the nine averaging 20 points per game.
The Rams' most pronounced problems are probably on defense. They simply are not competitive. But the offense ranks 31st in yards per game. Other teams with third-year head coaches and first-year offensive coordinators are also lagging. Kansas City ranks 28th in yards per game. Detroit ranks 22nd in yards per game.
The Rams rank last in third-down conversion rate. The Lions rank 28th. The Chiefs and Rams rank near the bottom in points per game.
The chart ranks third-year head coaches by how many points per game their offenses have scored. Averages do not reflect points scored on returns. I've highlighted the five teams with new offensive coordinators. It's not a pretty picture.