NFC West:

High Energy Player of the Week
December, 28, 2010
12/28/10
3:00
PM ET
»
NFC High Energy
:
East
|
West
|
North
|
South
»
AFC
:
East
|
West
|
North
|
South
A look at a player who gave his team a significant boost in Week 16:
Danario Alexander
had 11 receptions, one knee surgery and a diminishing role in the
St. Louis Rams
' offense heading into Week 16.
[+] Enlarge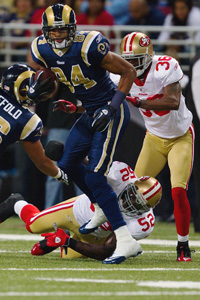 Dilip Vishwanat/Getty ImagesDanario Alexander had a breakout game against the 49ers, catching six passes for 99 yards.
The rookie hadn't caught a pass in two games.
Alexander's unexpected re-emergence Sunday proved pivotal for the Rams in a 25-17 victory over the 49ers at the Edward Jones Dome. Alexander caught six passes for 99 yards. He caught passes for gains of 2, 17 and 46 yards on consecutive plays as the Rams drove toward the touchdown that gave them a 22-14 lead with 9:36 remaining in the fourth quarter.
The 46-yarder was initially ruled to be a 49-yard touchdown, but Alexander stepped on the sideline during a strange sequence. Cornerback
Shawntae Spencer
walked away from Alexander under the mistaken assumption Alexander had been ruled down. Officials hadn't blown the whistle, however, and no one had touched down Alexander, so the receiver popped up and headed for the end zone. Replays showed his foot touching the sideline.
"It was an awesome catch by Danario," quarterback
Sam Bradford
said. "We were trying to get the ball to [Danny] Amendola on that play. Their safety hung in the middle a little bit, and I think they were actually both open, but I looked down and saw Danario just running away from his guy and he made a great catch and then made a heads-up play by getting up and getting into the end zone."
Alexander has undergone five surgeries on his left knee, including the procedure in late October to repair a torn meniscus. The knee troubles helped explain why the 6-foot-5, 220-pound Alexander went undrafted out of Missouri. The Rams found a spot for him on their 53-man roster only after
Donnie Avery
and
Mark Clayton
suffered season-ending injuries.
Alexander caught a 38-yard scoring pass in his first NFL game, helping the Rams beat San Diego in Week 6. Knee soreness after that game affected Alexander against Tampa Bay the next week. He underwent surgery and missed three games, plus a bye week. The Rams are 4-0 this season when Alexander catches more than one pass (he had one catch for 6 yards in a loss to the Bucs).
December, 21, 2010
12/21/10
3:00
PM ET
»
NFC High Energy
:
East
|
West
|
North
|
South
»
AFC
:
East
|
West
|
North
|
South
A look at a player who gave his team a significant boost in Week 15.
Pickings were slim in the NFC West this week. Real slim. Oh-and-four slim.
[+] Enlarge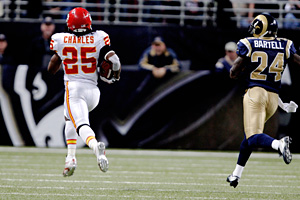 AP Photo/Tom GannamRon Bartell of the Rams eventually caught up with the Chiefs' Jamaal Charles
This will be brief.
The
St. Louis Rams
'
Ron Bartell
gets the call after tracking down the
Kansas City Chiefs
'
Jamaal Charles
following an 80-yard run Sunday.
Charles is fast. The Chiefs were already on their way to a likely victory when Charles broke through the Rams' defense with 4 minutes remaining. Bartell was coming off a shoulder injury that had sidelined him the previous week. He easily could have conceded the run out of self-preservation, but how a team loses can matter. The Rams did not quit. Bartell tracked down Charles and tackled him at the 2-yard line.
Kansas City scored on its next play to put away the game, 27-13.
Bartell finished with eight tackles. He brought down Chiefs running back
Thomas Jones
after gains of 1 and 3 yards. He tackled the Chiefs'
Dexter McCluster
for a 4-yard loss. He took down Chiefs quarterback
Matt Cassel
after a 3-yard gain on first-and-10.
December, 14, 2010
12/14/10
3:00
PM ET
»
NFC High Energy
:
East
|
West
|
North
|
South
»
AFC
:
East
|
West
|
North
|
South
A look at a player who gave his team a significant boost in Week 14.
[+] Enlarge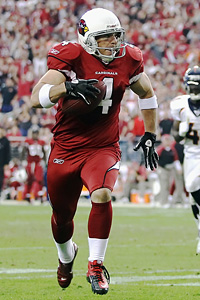 Christian Petersen/Getty ImagesJay Feely outraced the Broncos' field goal coverage unit to score a touchdown.
Arizona Cardinals
holder
Ben Graham
placed the football on the ground with 4:08 showing on the game clock in the first half.
Kicker
Jay Feely
stepped once toward the ball as if intending to kick it, then darted around to his right and took the pitch from Graham near the left hash at the
Denver Broncos
' 15-yard line.
The race was on.
Jason Hunter
, a 270-pound outside linebacker, picked up the chase from between the hashes at the 9-yard line. An NFL scout I know listed Hunter's 40-yard time at 4.52 seconds when the linebacker was a 250-pounder coming out of Appalachian State five years ago.
Feely, speaking by phone Tuesday, said he ran the 40 in about 4.6 seconds as a soccer forward in college. That was more than a decade ago, but no matter. Feely, 34, outran Hunter to the pylon and was pulling away as he
crossed the goal line
.
"It's fun as a kicker to get a chance to show off your athleticism a little bit," Feely said.
The highlight for Feely: sharing the moment with his 7-year-old son, Jace, who accompanied him onto the field after the game and at a postgame interview session.
"It was one of the coolest moments of my career," Feely said. "I have been wanting and hoping to play long enough for him to be old enough to truly appreciate it. It was special for Dad and for son."
Feely scored 25 points in the Cardinals' 43-13 victory. That included the only 22 points scored in the game across two-plus quarters, making Feely the first player since Paul Hornung in 1961 to accomplish the feat.
Feely also made a tackle during a kickoff return. All that was missing, at least from a kicker's perspective, was a game-winning kick at the end. Given the Cardinals' recent struggles, however, Feely said he preferred seeing his team play well enough to put away the game more comfortably.
The rushing touchdown alone separated Feely as I considered several worthy candidates -- notably
Brian Westbrook
,
Alex Smith
,
Dashon Goldson
,
Adrian Wilson
and
Tim Hightower
-- for the weekly High Energy award. How many times does a kicker qualify, anyway?
"We had been waiting for a long time to run that fake," Feely said. "We had wanted to run it 3-4 times in the season, but something would always happen."
Several factors go into the decision to run a fake. Once the head coach decides to consider the call, the kicker must alert teammates already on the field without tipping off the defense. The kicker then must make sure the defense is aligned in a manner conducive to the fake.
All factors came together Sunday.
Feely's first career rushing touchdown gave him as many this season as established NFL backs
DeAngelo Williams
,
Donald Brown
and
Pierre Thomas
.
"For me, getting the tackle is the cherry on top of it," Feely said.
November, 30, 2010
11/30/10
3:00
PM ET
»
NFC High Energy
:
East
|
West
|
North
|
South
»
AFC
:
East
|
West
|
North
|
South
A look at a player who gave his team a significant boost in Week 12.
Setting aside this space for
St. Louis Rams
quarterback
Sam Bradford
seemed like a sure bet before
Brian Westbrook
's surprise 136-yard rushing performance for the
San Francisco 49ers
.
[+] Enlarge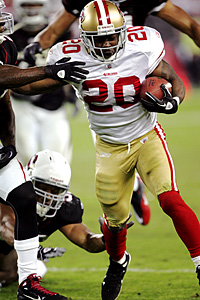 AP Photo/Paul JasienskiBrian Westbrook rushed 23 times for 136 yards and one touchdown Monday night.
Bradford still
came out OK
.
Westbrook provided the more significant boost relative to expectations.
The 31-year-old running back had carried only five times for 9 yards this season before
Frank Gore
's hip injury forced the 49ers to alter course during the first quarter of their 27-6 victory over Arizona on Monday night. Westbrook posted the third-highest single-game rushing total of his career as the 49ers gained 261 yards on the ground.
"I felt good, I felt very young, I was fresh," Westbrook said.
Maintaining a similar level of performance across multiple games seems unrealistic. The 49ers will face tougher defenses. Teams will prepare for Westbrook's style. Westbrook won't be as fresh after taking punishment each week.
For one game, at least, Westbrook provided the boost his team needed.
November, 23, 2010
11/23/10
3:00
PM ET
»
NFC High Energy
:
East
|
West
|
North
|
South
»
AFC
:
East
|
West
|
North
|
South
A look at a player who gave his team a significant boost in Week 11:
A fat stat line isn't necessarily a requirement for this weekly award.
[+] Enlarge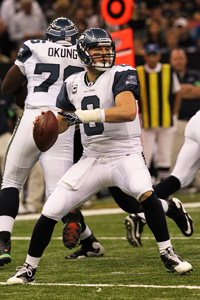 AP Photo/ Bill NicholsMatt Hasselbeck did his part in Seattle's Week 11 loss to the Saints.
It certainly helps.
The
Seattle Seahawks
'
Matt Hasselbeck
is the first two-time winner in the NFC West after passing for 366 yards against New Orleans while playing with an edge that gave his team at least a fighting chance.
"Matt's our leader, especially on that side of the ball," veteran strong safety
Lawyer Milloy
said. "We have to match his intensity."
Hasselbeck completed 72.7 percent of his passes with one touchdown, no interceptions and a 104.9 rating.
He completed seven third-down passes for first-down yardage, once for a 2-yard touchdown to
Ben Obomanu
and later on his final three attempts from third-and-7 or longer. He shoved Saints safety
Usama Young
while players fought to recover a fumble. He made unconventional handoffs to protect the cracked bones in his left wrist.
In short, Hasselbeck did just about everything he could to help his team. It wasn't enough to beat the Saints, but it stood out on a day when every NFC West team came up short on the scoreboard.
October, 5, 2010
10/05/10
3:00
PM ET
»
NFC High Energy
:
East
|
West
|
North
|
South
»
AFC
:
East
|
West
|
North
|
South
A look at a player who gave his team a significant boost in Week 4.
[+] Enlarge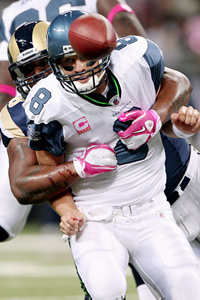 Elsa/Getty ImagesSt. Louis' Fred Robbins was a regular in Seattle's offensive backfield on Sunday.
Sam Bradford
's two touchdown passes and
Steven Jackson
's gritty play became dominant storylines following the
St. Louis Rams
' 20-3 victory over the
Seattle Seahawks
.
How about a little recognition for the defense?
Defensive tackle
Fred Robbins
edges out equally deserving defensive end
James Hall
as my choice for NFC West High Energy Player of the Week.
Robbins disrupted the Seahawks' running game, which averaged only 2.7 yards per attempt. He tackled
Leon Washington
for a 1-yard loss on third-and-1. He stopped Washington for no gain another time. Robbins tipped two passes, knocked down Seattle quarterback
Matt Hasselbeck
once and made the game-clinching fumble recovery.
Overall, Robbins gave the Rams exactly what they wanted from him when St. Louis signed the veteran as a free agent from the
New York Giants
.
Hall was also impressive. He capitalized on the Seahawks' problems at offensive tackle, collecting 2.0 sacks and forcing the fumble Robbins recovered.
September, 28, 2010
9/28/10
3:00
PM ET
»
NFC High Energy
:
East
|
West
|
North
|
South
»
AFC
:
East
|
West
|
North
|
South
A look at a player who gave his team a significant boost in Week 3.
The
Seattle Seahawks
saw little risk in sending the 139th choice in the 2010 NFL draft to the
New York Jets
for injured running back
Leon Washington
.
[+] Enlarge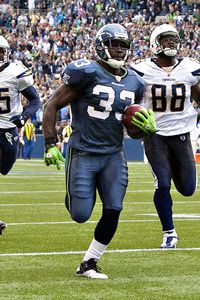 Jason O. Watson/US PresswireSeattle running back Leon Washington had two kickoff returns for touchdowns last Sunday.
They could have drafted a running back -- the Jets used the choice in question for fullback
John Conner
-- or they could take their chances on Washington's recovery from career-threatening compound leg fractures.
They took their chances and Washington rewarded them with 101- and 99-yard kickoff returns for touchdowns during a 27-20 victory over the
San Diego Chargers
in Week 3.
Washington needed only three games to rank first in Seahawks history for most touchdowns on kickoff returns (
Josh Wilson
,
Nate Burleson
,
Maurice Morris
,
Charlie Rogers
,
Steve Broussard
,
Jon Vaughn
,
James Jefferson
and Zachary Dixon had one apiece). Washington already owned the Jets' record for most kickoffs returned for touchdowns. He's the only player to hold that record for two franchises, according to Elias Sports Bureau.
The Seahawks have made more roster moves than any NFL team since last season. Coach Pete Carroll reflected on this one Monday.
"The obvious guy that shows up as a touchdown maker is Leon coming on board through the trade," he said.
September, 21, 2010
9/21/10
3:00
PM ET
»
NFC High Energy
:
East
|
West
|
North
|
South
»
AFC
:
East
|
West
|
North
|
South
A look at a player who gave his team a significant boost in Week 2.
Frank Gore
did it all for the
San Francisco 49ers
on Monday night.
[+] Enlarge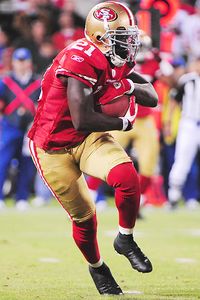 Kyle Terada/US PresswireFrank Gore found the end zone twice on Monday night.
The Pro Bowl running back picked up the tough yards on the ground, running lower and more powerfully than just about anyone could -- as when he bulled forward for a 4-yard gain on second-and-4. He flashed speed as a receiver in the open field, as when he caught a pass in stride and outraced the defense for a 12-yard touchdown. He picked up the blitz when needed as a blocker, helping
Alex Smith
make plays with his arm. And when the 49ers needed a touchdown and two-point conversion to tie the game late, Gore took the handoff and scored the TD on second-and-goal from the New Orleans 7.
The threat of Gore's running was everything for Smith and the 49ers' offense during their last-second 25-22 defeat at Candlestick Park. Gore finished with 20 carries for 112 yards. He also led the 49ers with seven receptions.
Running behind a powerful offensive line, Gore sometimes found huge openings in the Saints' defense. But he also gained tough yardage when there wasn't much room at all. His tough running gave the 49ers an edge on offense.
Gore broke Joe Perry's franchise record with his 21st 100-yard rushing game.
"There's an energy in the huddle when we're getting back and we're rolling, and we're running the ball like that," Smith said. "We're making throws. It's just a different energy, a different tempo."
September, 14, 2010
9/14/10
3:00
PM ET
»
NFC High Energy
:
East
|
West
|
North
|
South
»
AFC
:
East
|
West
|
North
|
South
Receiver
Steve Breaston
was the difference for Arizona in Week 1, even on a day when safety
Adrian Wilson
became the first player in franchise history with two interceptions, a sack and a blocked field goal in one game.
[+] Enlarge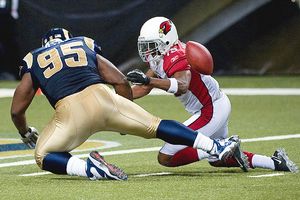 Scott Rovak/US PresswireSteve Breaston's forced fumble prevented a Rams touchdown by Clifton Ryan.
Breaston was everywhere for the Cardinals during their 17-13 victory over the
St. Louis Rams
. He hustled downfield to force a fumble just as Rams defensive tackle
Clifton Ryan
was about to score a touchdown on a fumble return. The Cardinals trailed by three at the time and they were struggling to get much going offensively. A Rams touchdown in that situation might have won the game for St. Louis. Breaston made another touchdown-saving tackle earlier in the game, bringing down Rams cornerback
Bradley Fletcher
after a 43-yard fumble return.
When the Cardinals needed Breaston on offense, he was catching each of the seven passes thrown his way, good for 132 yards. Six of the seven receptions produced first downs. Breaston had a 16-yarder on third-and-6, a 22-yarder on third-and-16 and a 35-yarder on third-and-10.
"The one that really stands out for me was the forced fumble on the turnover because that's a game-changing play for us," Cardinals coach Ken Whisenhunt told reporters Monday. "When you talk about kids watching this game and how it should be played, if you want to point to one thing, that play is what you point to. ... He had a very good game as an offensive player, but that play really distinguished who Steve is and what he means to our team."