NFC West:

Isaiah Kacyvenski
July, 2, 2010
7/02/10
10:34
AM ET
By
ESPN.com staff
| ESPN.com
March, 15, 2010
3/15/10
8:03
AM ET

Terry Foster of the Detroit News
says free-agent linebacker Larry Foote could be close to signing with the Steelers after visiting Arizona. Foster: "Foote said there was a slight chance he could still sign with Arizona."
Gerry Dulac of the Pittsburgh Post-Gazette
says he expects Foote to sign with the Steelers if he passes a physical examination. Dulac: "Foote met last week with the Washington Redskins, where former Steelers defensive assistant Lou Spanos is the new linebacker coach; and also with the Arizona Cardinals, where he would be reunited with several former Steelers coaches and players, including head coach Ken Whisenhunt and former linebacker mate Clark Haggans. But, in each instance, Foote was allowed to leave without signing a contract, something that is not expected to happen with the Steelers, pending a physical."
Darren Urban of azcardinals.com
says adding Charlie Whitehurst wouldn't necessarily prevent the Cardinals from also adding Derek Anderson. Urban: "I can see a scenario where the Cards bring in both Whitehurst and Anderson with Matt Leinart — especially if they aren't thrilled with the aside-from-Sam-Bradford QBs in this draft. Anderson would almost certainly come in on a short-term deal in that regard. Now, you still have to convince the free agents that it's a place to be despite other guys who are trying hard to find a place to play. Leinart, Anderson and Whitehurst are all desperately trying to get and stay on the field."
Also from Urban
: He wonders whether there might be a medical issue with Foote.

Jim Thomas of the St. Louis Post-Dispatch
expects newly signed backup center Hank Fraley to compete for a starting job at guard for the Rams.
Also from Thomas
: a look at how the Rams might upgrade at receiver. Thomas: "The Rams are in a tough spot when it comes to upgrading at wide receiver. With the limited unrestricted free agent pool due to the uncapped year, there was very little available. Nate Burleson and Antonio Bryant got nice contracts, but they're not No. 1 receivers or difference makers. Terrell Owens is still out there -- never mind his antics, he's on the decline and no longer an elite player. Denver's Brandon Marshall is a restricted free agent, but comes with tons of baggage, and right now the Broncos want a first-round draft pick as compensation. As far as the draft, there are a lot of good receivers, but don't seem to be many great ones. Finding one that can be a clear upgrade is the challenge."
Mike Berardino of the South Florida Sun-Sentinel
says former Rams guard Richie Incognito has a visit lined up with the Dolphins.
Howard Balzer of the St. Louis Globe-Democrat
passes along LeCharles Bentley's take on Fraley, noting that the Browns acquired Fraley from Philadelphia after Bentley suffered a serious knee injury. Bentley: "He didn't look the part, and you wondered how this guy could play at a high level. But he came in just before the season and took command. He's a hard-working guy, a blue-collar guy. He adds value to a team on the field and in the locker room."
Also from Balzer
: NFL owners might have no plans to specifically address the Rams' pending sale at the league meetings beginning March 21.
Turf Show Times' VanRam
catches up with Rams defensive end Chris Long, who sums up his progress this way: "The big difference was the just the sacks. I was playing the run well most of the season. I had to pick up my pass rushing a little bit, and there were some things I did getting more comfortable with the scheme, adjusting my game a litle bit and just kind of let it fly once I felt comfortbale with the scheme. I'm not the only one who had the burden of learning a new scheme. But once you master that scheme it was just a great scheme. I feel like a lot of guys improved. I was certainly one of those guys, but there's a long way to go. I think the biggest thing is that I was getting to the quarterback more."

Matt Maiocco of the Santa Rosa Press-Democrat
says the 49ers' trade with Detroit involving Shaun Hill was contingent on Hill passing a physical and the 49ers receiving David Carr's signed contract. Maiocco: "Carr received the original contract while on vacation in Cabo San Lucas last week. He is expected to deliver the document when he arrives today in the Bay Area for the 49ers' offseason conditioning program, which begins Monday."
Also from Maiocco
: a chat transcript with thoughts on left guard David Baas, among others. Maiocco: "I don't think anyone with the 49ers is sold on David Baas as a long-term answer. And they don't want to give him any kind of lucrative extension. Therefore, they are not averse to having a veteran guard to play a couple years before finding a new guy to plug in there."
Matt Barrows of the Sacramento Bee
suggests the Hill trade might have come together when executives for the Lions and 49ers met at Oklahoma State's recent pro day.
Daniel Brown of the San Jose Mercury News
quotes a USC marketing expert as saying 49ers fans should understand recent price hikes on some tickets. Said the expert: "The reality is that some of these fans have had premier seats on the cheap for a long time. That's a very cynical way to say it. But can a fan really be mad that they've had their seats under market value for a number of years?"

Mason Kelly of the Seattle Times
says former Seahawks coach Jim Mora plans to help out at Bellevue High School in the Seattle area. Says Bellevue coach Butch Goncharoff: "Jim will be involved. I don't know in what capacity yet. It's great. He's an outstanding guy in whatever capacity we get him, even if it's only for spring ball or summer. It's great to have him around. He's a great resource for us."
Greg Johns of seattlepi.com
wonders why the Whitehurst is drawing interest from the Seahawks, among other teams. Johns: "Having never seen Whitehurst throw a pass in the NFL regular season, that's going to be hard for anyone to judge. But it's worth noting that Whitehurst hasn't been able to beat out seven-year NFL backup Volek for the No. 2 job in San Diego, so how he's suddenly become a hot property as a restricted free agent seems a bit curious. Keep it in perspective, though. The debate is whether Whitehurst would be a better addition than a third-round draft pick this April, when the possible mid-round candidates will include the likes of Tony Pike of Cincinnati, Dan LeFevour of Central Michigan or Jonathan Crompton of Tennessee."
Nancy Dooling of the Great Binghamton Press & Sun Bulletin
says former Seahawks and Rams linebacker Isaiah Kacyvenski was charged for his role in a large brawl at a casino in Connecticut. Dooling: "Kacyvenski and four others were involved in a large altercation in the retail area of the Mohegan Sun Casino in Uncasville, Conn., southeast of Hartford, according to state police. He has a court hearing on April 1 in Norwich, Conn."
November, 27, 2009
11/27/09
4:00
PM ET
»
NFC Final Word
:
East
|
West
|
North
|
South
»
AFC
:
East
|
West
|
North
|
South
Five nuggets of knowledge about Week 12:
[+] Enlarge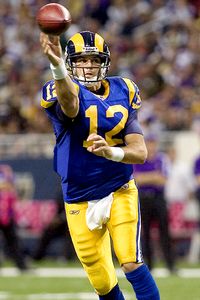 Icon SMIKyle Boller will fill in once again for an injured Marc Bulger.
Alex Smith still needs to step up.
The conversation seems to be
the same
every week for the 49ers' would-be franchise quarterback. I thought
Steve Young
put it best during his
recent radio interview
: "He is a people-pleaser. He wants the coach to think that he is a great player and, 'I read the route and I did the right thing and we punted.' At some level, it's, 'You know what? I read the route, I read the play, I went through my reads and it didn't work out, but I'm not going to punt, all right? We're going to do something else that is going to make it so I'm going to will this thing so that it gets done.' And I think that is what I want and I said the same thing about
Matt Schaub
last week. At some level, Matt Schaub has the same issue. Very proficient quarterback. Leading the league in a lot of different areas and the bottom line is, you've got to grab it at the end. You've got to take this team, you've got to be the guy, the reason why this is happening. The guys that play a while -- five, six, seven, eight, 10, 15 years -- they become the reason. It's just the nature of the position at quarterback."
Rams approaching breaking point?
The team has shown signs of progress over most of the season, but the first half against Arizona last week qualified as a setback. Mounting injuries could make it harder for the Rams to continue making strides over the remaining games. Their brutally difficult schedule provides a respite with the 3-7 Seahawks visiting Sunday, but Seattle is healthier and playing with a better quarterback than the Rams will have under center. The challenge facing first-year coach Steve Spagnuolo appears to be getting tougher, not easier, thanks to the injuries. How long can the Rams hang tough?
Warner's health on the line.
Kurt Warner
generally gets away with holding the football and maneuvering within the pocket as his receivers search for openings in a defense. I'm not sure he can afford to take those chances against Tennessee after suffering a head injury on a hard hit against the Rams in Week 11. This Cardinals-Titans matchup recalls the adage, "It's not who you play, it's when you play them." The Cardinals might have been better off facing the Titans earlier in the season, before Tennessee went from 0-6 to 4-6. The Titans have 14 sacks in their last four games after collecting only 11 in their first six. Warner figures to get hit over the next couple of weeks (
Jared Allen
and the Vikings await in Week 13). His ability to hold up physically will be tested.
Cracks in the 49ers' defense.
The 49ers' defense has never recovered from the 477-yard whipping Atlanta applied during a 45-10 victory at Candlestick Park in Week 5. San Francisco's per-game average for yards allowed was 284 before that game and 395 starting with that game. The Jaguars have topped 400 yards in three of their last seven games. They have handed the ball to Bay Area native
Maurice Jones-Drew
between 24 and 33 times in four of their last five games, usually with excellent results. The 49ers were pretty much helpless against Titans running back
Chris Johnson
a few weeks back. They need to contain Jones-Drew if they're serious about establishing the hard-nosed identity coach Mike Singletary covets.
Panic button in sight for Seattle.
The last time Seattle lost to the Rams, the Seahawks followed by overhauling their front office. That was nearly five years ago. Quite a bit has changed in the subsequent years -- Isaiah Kacyvenski, Niko Koutouvides and Chad Brown are no longer the starting linebackers, for instance -- but losing to the Rams on Sunday could have long-term ramifications. Losing to the red-hot Vikings last week was one thing. Losing to an injury-depleted Rams team with a 1-9 record would be quite another. It would cement perceptions that the Seahawks are heading nowhere this season and possibly beyond.
November, 13, 2009
11/13/09
12:10
PM ET
The Seahawks, seeking to salvage their season at Arizona in Week 10, last won a road game against the Cardinals on Nov. 6, 2005.
Shaun Alexander carried 23 times for 173 yards and two touchdowns during a 33-19 Seattle victory at Sun Devil Stadium. The Seahawks, headed to Super Bowl XL after that season, picked off Kurt Warner three times and sacked him four times.
A couple things about these teams have changed since that game. I had some fun sifting through those 2005 rosters.

Players no longer with Seattle
Offense (20): Bobby Engram, Steve Hutchinson, Robbie Tobeck, Chris Gray, Joe Jurevicius, Jerheme Urban, Mack Strong, Shaun Alexander, D.J. Hackett, Maurice Morris, Leonard Weaver, Floyd Womack, Ryan Hannam, Jerramy Stevens, Peter Warrick, David Greene, Wayne Hunter, Darrell Jackson, Itula Mili, Josh Scobey.
Defense (18): Bryce Fisher, Chuck Darby, Marcus Tubbs, Grant Wistrom, Jamie Sharper, Kelly Herndon, Michael Boulware, Marquand Manual, Jimmy Williams, John Howell, Niko Koutouvides, Kevin Bentley, Isaiah Kacyvenski, Joe Tafoya, Rocky Bernard, Etric Pruitt, Rodney Bailey, Andre Dyson.
Specialists (3): Josh Brown, Tom Rouen, J.P. Darche.
Players still with Seattle
Offense (6): Walter Jones (injured reserve), Sean Locklear, Matt Hasselbeck, Seneca Wallace, Chris Spencer, Ray Willis.
Defense (6): Jordan Babineaux, Craig Terrill, D.D. Lewis, Lofa Tatupu (IR), Leroy Hill, Marcus Trufant.
---

Players no longer with Arizona
Offense (23): Bryant Johnson, Leonard Davis, Nick Leckey, Alex Stepanovich, Oliver Ross, Eric Edwards, Marcel Shipp, Adam Bergen, J.J. Arrington, Josh McCown, John Navarre, Reggie Newhouse, LeRon McCoy, Fred Wakefield, James Jackson, Obafemi Ayanbadejo, Harold Morrow, Jarrod Baxter, Adam Haayer, J.J. Moses, Elton Brown, Teyo Johnson, Reggie Swinton.
Defense (16): Langston Moore, Ross Kolodziej, James Darling, Robert Tate, Robert Griffith, David Macklin, Antonio Cochran, Darryl Blackstock, Orlando Huff, Eric Green, Antonio Smith, Lamont Reid, Quentin Harris, Isaac Keys, Lance Mitchell, Aaron Francisco.
Specialists (2): Scott Player, Nathan Hodel.
Players still with Arizona
Offense (5): Reggie Wells, Larry Fitzgerald, Kurt Warner, Jeremy Bridges, Anquan Boldin.
Defense (6): Chike Okeafor, Darnell Dockett, Bernard Berry, Karlos Dansby, Adrian Wilson, Antrel Rolle.
Specialists (1): Neil Rackers.
Note:
Thanks to spaumi10 for noticing that Aaron Francisco and Lance Mitchell were initially listed on offense. There was a little cutting and pasting involved with this entry. Missed those two. Thanks!
June, 15, 2009
6/15/09
4:54
PM ET
Posted by ESPN.com's Mike Sando
Matt McMahon from San Francisco writes: I have a question for you on scheduling. I have always thought the end of the regular season is anticlimactic. Whereas in other sports the tension increases as the regular season draws to a close, in the NFL, more often than not everything is locked in by the time the 15th and 16th games are played.
What are your thoughts on ending the season with head-to-head division games like baseball? Wouldn't teams playing their last three games of the season against division opponents increase league-wide tension and excitement at the end of the season, not to mention ensure that the division winner is always validated?
For 2009, here are the last five opponents for each NFC West team (with number of division games in parenthesis):
49ers (3): Seahawks, Cardinals, Eagles, Lions, Rams

Cardinals (2): Vikings, 49ers, Lions, Rams, Packers

Rams (2): Bears, Titans, Texans, Cardinals, 49ers

Seahawks (1): 49ers, Texans, Bucs, Packers, Titans
As a result of the scheduling, aren't the Seahawks in an interesting position to either have a serious run or flop at the end of the season -- based on events completely out of the control of their division opponents?
Wouldn't this be better for the last four games (one geographically close rival three division opponents):
49ers: Raiders, Cardinals, Seahawks, Rams

Cardinals: Chargers, 49ers, Rams, Seahawks

Rams: Chiefs, Seahawks, Cardinals, 49ers

Seahawks: Broncos, Rams, 49ers, Cardinals
Mike Sando: There are only 12 division games in a season (per division). That's one product of having four-team divisions. There simply aren't enough of these games to go around. I like having some division games early in the season. We get 49ers-Cardinals and Rams-Seahawks in Week 1 this season. I'm looking forward to those games. At the same time, sure, I'd like to see more division games at the end of the season.
Last season, NFC West teams played one NFC West-only game per week over the first three weeks of the season, then none until Week 8. Week 11 was the only week with more than one NFC West-only game (Rams at 49ers, Cardinals at Seahawks). The schedule featured one such game per week in Weeks 14, 15, 16 and 17 to close the season.
Even those late-season division games wound up being largely meaningless: Rams at Cardinals in Week 14, Seahawks at Rams in Week 15, 49ers at Rams in Week 16 and Seahawks at Cardinals in Week 17.
I think it's important to distribute these division games throughout the season. In some ways, they have a higher chance of feeling relevant if they're played earlier in the season.
December, 10, 2008
12/10/08
11:22
AM ET
Posted by ESPN.com's Mike Sando
Seattle takes a seven-game winning streak over the Rams to St. Louis for a Week 15 game that will again demonstrate how far these teams have fallen.
The last time the Rams defeated the Seahawks was also the last time the Rams won a playoff game. The date was Jan. 8, 2005. Qwest Field was the setting. Bobby Engram's inability to catch a fourth-down pass from Matt Hasselbeck in the final minute stands as the enduring memory from the Rams' 27-20 victory.
Almost four years seems like forever given how quickly things change in the NFL. When the teams met in that January 2005 playoff game:
The Seahawks had yet to hire Tim Ruskell as team president.
Mike Martz was the Rams' head coach.
The Rams' offensive starters included Tom Nutten, Andy McCollum, Adam Timmerman, Blaine Saipaia, Brandon Manumaleuna, Isaac Bruce, Kevin Curtis and Marshall Faulk.
The Rams' defensive starters included Bryce Fisher, Ryan Pickett, Jimmy Kennedy, Tony Hargrove, Randy Thomas, Tommy Polley, Jerametrius Butler, Travis Fisher, Adam Archuleta and Antuan Edwards.
Jerry Rice started at receiver for the Seahawks.
The Seahawks' defensive starters included Chike Okeafor, Cedric Woodard, Brandon Mitchell, Isaiah Kacyvenski, Niko Koutouvides, Chad Brown, Ken Lucas, Michael Boulware and Ken Hamlin.
The only current starters for either team who started that game were Torry Holt, Marc Bulger and Pisa Tinoisamoa for the Rams, and Hasselbeck, Engram, Walter Jones, Rocky Bernard and Marcus Trufant for the Seahawks.
The teams combined for 809 total yards and 46 first downs
So, Rams and Seahawks fans: Are you better off than you were four years ago? It's a fun question but not necessarily a fair one. The Seahawks, though 2-11 this season, have won three division titles and enjoyed their finest season since that game.
September, 24, 2008
9/24/08
11:17
PM ET
Posted by ESPN.com's Mike Sando
Daniel Brown of the San Jose Mercury News says the 49ers are on the lookout for Saints running back Reggie Bush. I think Bush would fit very well in a Mike Martz offense because he's one of the few running backs with the ability to line up as a true receiver. As for the Saints, they are banged up. The 49ers have a better-than-anticipated shot at winning this game, at least in my view.
Howard Ulman of the Associated Press spoke with former Seahawks and Rams linebacker Isaiah Kacyvenski for a story about concussions. Kacyvenski, a special-teams standout with a history of concussions, has agreed to donate his brain to science upon his passing.
Darren Urban of azcardinals.com sets the scene at Cardinals practice in Washington, D.C. The team is working to eliminate a recent run of special-teams penalties.
Kent Somers of the Arizona Republic quotes Kurt Warner as saying the decision to stay on the East Coast all week will pay benefits Friday through Sunday.
Matt Barrows of the Sacramento Bee has an interesting (to me) note about Ahmad Brooks getting work at the "Ted" linebacker spot in practice after the 49ers targeted him for the "Mike" spot behind Patrick Willis. Brooks' body type made me think of him as a "Ted" candidate when the 49ers signed him.
Chrissy Mauck of 49ers.com says J.T. O'Sullivan and Vernon Davis stayed after 49ers practice to work on their timing after a couple of near-misses against Detroit.