NFC West:

Isaiah Stanback
January, 29, 2012
1/29/12
11:37
AM ET
Good afternoon. NFC West blog headquarters will be relocating from the Northwest to Indianapolis for Super Bowl week.
The plane I'm riding in, a Boeing 757, is traveling 565 mph at 35,637 feet, according to tracking software. I'll be connecting through Atlanta, so this will be a full travel day.
Once situated in Indy, I'll be helping with our Super Bowl coverage, with an eye toward this division. Josh McDaniels,
David Baas
,
Bear Pascoe
,
David Carr
,
Rocky Bernard
,
Jimmy Kennedy
,
Deon Grant
,
Antrel Rolle
,
Isaiah Stanback
,
Deion Branch
,
Niko Koutouvides
,
Tracy White
and
Andre Carter
are among the NFC West alumni currently with the Super Bowl participants.
Quite a few current NFC West players will be filtering through Indianapolis for various events during the week. I'll be catching up with some of them.
The week will conclude with Hall of Fame voting, followed by the Super Bowl itself. I don't have a strong feeling as to which team will win the game. Both should like their chances. I did pick New England to win it all before the season -- one of the few predictions that remains on track -- so I'll likely stick with the Patriots when ESPN solicits staffers' predictions later in the week.
Here's hoping this Sunday treats you well.
Update:
Yes, I made it to Indy. Grabbed a sandwich tonight with AFC North blogger Jamison Hensley. Will be heading over to ESPN's Super Bowl headquarters downtown on Monday morning.
August, 31, 2011
8/31/11
7:33
PM ET
RENTON, Wash. -- Thoughts and observations after watching the
Seattle Seahawks
practice Wednesday:


Marshawn Lynch jogged on his sore ankle without much trouble. He did not practice, but the injury does not appear serious. Reports of the Seahawks' expected visit with veteran free-agent running back Clinton Portis appear unrelated to Lynch's health. Portis, whose cousin Josh is Seattle's No. 3 quarterback, has been trying to line up visits with teams in an effort to revive his career. The Seahawks appear set at the position for now with Lynch, Justin Forsett and Leon Washington.
Washington has embraced the way assistant head coach/offensive line Tom Cable instructs running backs to read their keys, which includes making cuts properly in relation to defenders' alignment. It's pretty clear Washington will command additional touches on offense this season. He's healthier and more confident.
Rookie receiver Ricardo Lockette made one of the more spectacular leaping catches I've seen, snatching the ball for a touchdown while intertwined with safety Earl Thomas. Lockette has phenomenal athleticism, but he's raw and struggling with the things rookie receivers tend to struggle with: mastering the playbook, running crisp routes, catching the ball consistently, etc. Lockette dropped a routine pass after making the spectacular grab.
Right tackle Breno Giacomini continues to split first-team reps with rookie first-round choice James Carpenter. Giacomini looks the part at 6-foot-7 and 315 pounds. He also plays with toughness. Giacomini's aggressive tactics incited strong reaction from defensive end Chris Clemons during practice. The two battled hard during and after plays. Giacomini more than held his own. Carpenter continued to have some problems with speed rushers, notably Raheem Brock. The Seahawks will decide by Week 1 whether or not Carpenter is ready for regular-season action right away. He'll be the starter sooner or later. It's just a matter of when. Getting left tackle Russell Okung back from injury would give the team greater flexibility in helping out Carpenter in difficult situations.
Okung saw limited work in practice with the second team. The Seahawks hope to have him back from an ankle injury in Week 1.
Receivers Isaiah Stanback, Ben Obomanu, Sidney Rice and Mike Williams missed practice. Williams participated in individual drills before resting a sore toe. With so many receivers resting injuries, second-year pro Golden Tate figures to get additional opportunities in the final preseason game Friday. Tate's roster spot appears secure, but he could use a strong performance after a rough preseason.
Tight end John Carlson watched practice wearing shorts and his uniform top. He has not yet undergone the shoulder surgery that will end his season. Losing Carlson diminishes the Seahawks' options. Cable likes to use an H-back type, and Carlson was a candidate to fill that role.
Receiver Deon Butler did some running and cutting after practice. He remains on the physically unable to perform list and could stay there to open the season.
I'll be heading home here shortly, then heading to CenturyLink Field on Friday night for the Seahawks' game against Oakland.
August, 30, 2011
8/30/11
6:52
PM ET
Looming roster cuts have spurred discussions on the blog regarding which players should stick past the reduction to 53 players Saturday.
Regular contributor
Redzone59
wondered
whether 2010 second-round choice
Golden Tate
had done enough to earn a roster spot in Seattle. He pointed to
Doug Baldwin
's emergence as one reason to question Tate's status following a disappointing preseason.
Tate
I'll offer a few thoughts for consideration.
Why to keep Tate:
The Seahawks said they had a first-round grade on Tate in the draft. That was only 16 months ago. As recently as June, Carroll said he anticipated a "
huge role
" for Tate this season. Receivers often need time to grasp nuances of the pro game. Seattle has changed offensive coordinators, changed starting quarterbacks and endured a lockout that set back everyone.
Sidney Rice
,
Mike Williams
,
Ben Obomanu
, Tate,
Kris Durham
and Baldwin would give the team six receivers. That is one more than the Seahawks kept on each of their last two Week 1 rosters, but six is a manageable number.
Deon Butler
could remain on the physically unable to perform list entering the season if the team wanted to give his leg additional healing time. Tate can return punts if needed. There would be room for
Ricardo Lockette
on the practice squad.
Isaiah Stanback
hasn't been healthy enough.
Why to move on:
Tate flashed ability during rookie camps with the team, but he has made more waves
hawking donuts
and
stirring up NASCAR fans
than catching passes. The Seahawks have had little trouble cutting their losses when appropriate. They weren't going to prop up
Charlie Whitehurst
just because they traded for him. Why ignore the obvious here? Tate hasn't produced, and Baldwin has looked like the superior option from the slot, where Tate was supposed to flourish. Rice, Williams, Obomanu, Durham and Baldwin give the team five promising options. Even without Tate, the Seahawks would lead the NFC West in 2010 draft choices projected to start this season (
Russell Okung
,
Earl Thomas
,
Kam Chancellor
and
Walter Thurmond
). Swallowing a little pride wouldn't hurt too bad.
What I would do:
Keep Tate and put him on notice. It's early to give up on a second-round pick who has flashed potential (52-yard catch at Denver last season). Tate has barely had one month in a new offense. Situations at quarterback and along the offensive line haven't been ideal, either. A year ago, the
Arizona Cardinals
weren't sure
what to make
of third-round rookie receiver
Andre Roberts
. Now, Roberts starts opposite
Larry Fitzgerald
.
August, 15, 2011
8/15/11
9:55
AM ET
NFC West wide receivers are casting longer shadows these days.
Division teams have added three wideouts standing at least 6-foot-3 this offseason, led by
Sidney Rice
in Seattle and
Braylon Edwards
in San Francisco.
The NFC West now has more receivers listed at 6-5 than it has listed at 5-10.
Seattle is likely to field the tallest starting tandem, with the 6-5
Mike Williams
opposite the 6-3 Rice.
The 49ers are the only team in the division with fewer than four receivers standing taller than 6-1. The
St. Louis Rams
have five. Arizona and Seattle have four apiece.
I've gone through rosters and broken out NFC West receivers by listed heights:
The chart breaks down NFC West teams by receiver height.
The Rams have eight receivers standing at least 6-1, no surprise given offensive coordinator
Josh McDaniels' history
at the position.
August, 6, 2011
8/06/11
3:43
PM ET
RENTON, Wash. -- The 6:10 a.m. PT flight from Phoenix to Seattle has its advantages: arriving in time to catch the Seahawks' first fully padded practice of the summer.
A few thoughts and observations:
Catching on: This team is catching the ball well throughout the roster. Coach Pete Carroll alluded to at least a half-dozen "circus" catches already from Sidney Rice. Guys fighting for playing time and roster spots are also making the impressive appear routine. Isaiah Stanback, Golden Tate, Doug Baldwin and Pat Williams were among those catching my attention Saturday. Williams stole the ball from safety Josh Pinkard after Pinkard undercut the route. I'm still not sure how Williams caught the ball. Stanback made a leaping grab in the end zone. Tate seized possession of a pass to the flat that cornerback Marcus Trufant contested closely.
The more you can do: Stanback, former quarterback at the University of Washington, could have additional value as teams transition to 46-man rosters on game days. Fullback Michael Robinson also would qualify as an emergency quarterback for a team keeping only two on its 53-man roster. Stanback and Robinson are both strong special-teams players.
Whitehurst watch: Third-string quarterback Josh Portis stood out Saturday. He's having a strong camp and the team plans to keep him around in some capacity. Carroll heaped praise upon Portis after practice: "He is in command of the offense as much as he could be at this time. He is handling the huddle well and he's very confident. He has a great delivery and a very strong arm and he is very poised. He has just been a real pleasant surprise. We're real excited about him being the third guy right now and knowing that in time he is going to gain knowledge of the offense, get settled in and let that ability come to the front. This is an extremely big get for us in free agency." Carroll offered no specifics when I asked whether Portis could realistically compete for the No. 2 job, which Charlie Whitehurst currently holds. Pushing an undrafted rookie into the No. 2 role sounds ambitious and could be a long shot. The footing beneath Whitehurst has softened since Carroll committed to Tarvaris Jackson as the starter, however.
Legging it out: Offensive linemen must run laps around the field immediately after committing false-start penalties. I wasn't sure right tackle James Carpenter was going to make it through practice. He's a huge man built to maul other huge men at the line of scrimmage. He's not a candidate for the cross-country team. Of all the offensive linemen guilty of false starts Saturday, left tackle Russell Okung appeared most comfortable taking his laps. Carpenter is having a strong camp, by the way.
Injury watch: Receiver Mike Williams is practicing again after sitting out with an unspecified leg injury. I was watching to see if he opened up and ran full speed. If he did, I missed it.
One last note: More than 2,100 fans packed the hill overlooking practice. The Seahawks have limited space for fans at practices because Lake Washington and Interstate 405 frame the facility narrowly. Fans park off-site and then ride buses a short distance to the facility.
I'll be heading to
San Francisco 49ers
camp beginning Monday, with an extended trip to St. Louis from Rams camp scheduled the following week. It's great having football back.
July, 28, 2011
7/28/11
5:51
PM ET
Keith Hawkins of ESPN Stats & Information passes along this: Ten of the 11 quarterbacks drafted in 2007 have changed teams now that
Kevin Kolb
is heading to Arizona.
This doesn't reflect poorly on Kolb, who has sat behind quarterbacks with multiple Pro Bowls on their resumes, so much as it does on that quarterback class in general.
JaMarcus Russell
and
Brady Quinn
were the only first-round quarterbacks that year. Kolb, chosen 36th overall and with the fourth pick of the second round, was the third quarterback drafted.
John Beck
and
Drew Stanton
joined Kolb as second-rounders that year. Stanton is the only one still with his original team, provided he re-signs, as expected.
A few other notes from Hawkins:
None of the 11 quarterbacks from the 2007 class has a winning record as a starter.
Trent Edwards is the only one with to hit double figures in victories as a starter (14-19 record).
Stanton (2-2) and Troy Smith (4-4) are the only ones without losing records as a starter. Kolb is 3-4.
Eight of the 11 have started at least one game. Isaiah Stanback, Jeff Rowe and Jordan Palmer have not.
Among those with starts, Beck is the only one without a victory as a starter (0-4).
Russell (7-18) and Quinn (3-9) have a combined 10-27 record as starters.
Check out
the full list
if you've got a strong stomach.
As the Cardinals pointed out in their news release Thursday, Kolb is the only quarterback in Eagles history to pass for at least 300 yards in each of his first two starts. He has been named offensive player of the week in the NFC and has an 81.2 career rating.
June, 23, 2011
6/23/11
1:00
PM ET
Scouts Inc.'s Matt Williamson breaks down the wide receivers of each NFC West team. Today: Seattle Seahawks.
You have to give Pete Carroll a lot of credit for taking a chance on
Mike Williams
, and you have to give Williams a lot of credit for taking full advantage of that opportunity. Williams is the Seahawks' best weapon. He isn't super-fast or explosive, but he builds up speed. He uses his huge frame to compete well for the football with his excellent body control, long arms and huge hands.
[+] Enlarge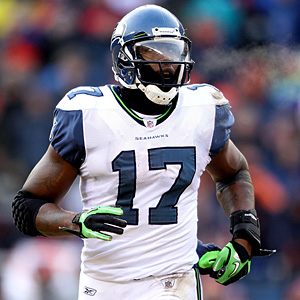 Andy Lyons/Getty ImagesMike Williams caught 65 passes for 751 yards and two scores last season.
But Williams did have too many drops last season. He caught only two touchdowns last year, and Seattle wasn't bashful about throwing his way near the stripe. He does have the makeup of an excellent red zone artist. Still, I have my doubts about this guy -- especially as a top receiving option. He just doesn't run that well for such a featured role.
Ben Obomanu
is most likely to get the starting nod opposite Williams as it stands pre-free agency. He doesn't get a lot of attention, but I contend that Obomanu is Seattle's second-best receiver and can be a solid-yet-unspectacular starting wide receiver in this league. He takes a while to get going, but Obomanu can go up and snatch the football at its highest point.
Golden Tate
was Seattle's second-round draft pick one year ago, but his rookie season was less than spectacular. He appeared in only 11 games. He really needs a lot of work refining the nuances of the position, including his route consistency and recognition of defenses on the fly. Still, he is excellent after the catch and plays physical for his size. He could step up in 2011.
Deon Butler
began the season as a starter, but broke his leg late in the season and really wasn't all that impressive when he was healthy. It is unclear how the injury will affect him for the 2011 season, but Butler is a diminutive receiver who isn't ideally built to handle the pounding at this level.
Brandon Stokley
will hit the open market in free agency after contributing-- as he always does, no matter where he goes -- as a consistent, reliable option in the short and intermediate zones. He could be back and could tutor Tate and Butler.
Surprisingly, the Seahawks used a fourth-round selection on
Kris Durham
. Durham isn't a quick-twitch guy, but he does have build-up speed. Very tall, Durham should continue to fill out and bring some of the same things Williams does to the table, although to a lesser degree.
Isaiah Stanback
and
Ruvell Martin
also are guys to consider. Stanback could become a free agent, and Martin will be an unrestricted free agent. Martin is the more intriguing of the two, and did a few good things on limited views in a Seahawks uniform. He also stood out from time to time while in Green Bay.
Scouts Inc. watches games, breaks down film and studies football from all angles for ESPN.com. Follow Matt Williamson on Twitter @WilliamsonNFL.
February, 23, 2011
2/23/11
9:12
AM ET
By
ESPN.com staff
| ESPN.com
Arizona Cardinals
Darren Urban
sets the table
for the Cardinals as they prepare for this week's scouting combine.
The Cardinals' staff
has a mixture
of coaches who played in the NFL and some who didn't.
St. Louis Rams
Former Rams safety Oshiomogho Atogwe visited with Washington Redskins officials on Tuesday but
left without a contract
.
Tim Klutsarits puts together a "
shopping list
" for the Rams as they prepare for the combine.
San Francisco 49ers
Linebacker Takeo Spikes stops by SportsNation at 2 p.m. ET Wednesday for a
live chat with fans
.
49ers.com talked with several current players about what it was like for them to
go through combine workouts
.
Seattle Seahawks
A quarterback of the future, line depth and help at corner and receiver is what
Seattle will be particularly focused on
during the combine and the upcoming NFL draft.
The
Seahawks announced Tuesday
that they have signed defensive back Roy Lewis and receiver Isaiah Stanback to contracts for the 2011 season.
November, 3, 2010
11/03/10
9:18
AM ET
Injury trends are following a familiar pattern in the NFC West.
Whether by luck or superior training or whatever the reason might be, the
Arizona Cardinals
continue to suffer fewer season-ending injuries than other NFC West teams.
Arizona finished the 2008 season with three players on IR. The number was four last season. The team has a division-low two players on IR heading into Week 9 this season. That's nine players in two-plus seasons.
The
Seattle Seahawks
have eight already this season, including three offensive linemen. The number is seven for the
St. Louis Rams
, including three wide receivers.
Seattle placed defensive end
Red Bryant
and left guard
Ben Hamilton
, both starters, on IR this week.
The first chart shows NFC West IR counts after the 2008 and 2009 seasons, and heading into Week 9 this season.
The 2008 totals
reflect numbers heading into the divisional playoffs following that season. The 2009 totals reflect numbers when the regular season ended. Teams sometimes remove players from IR through injury settlements and other means.
The second chart breaks down 2010 IR counts by position heading into Week 9.
The third chart takes a team-by-team, player-by-player look at NFC West IR lists heading into Week 9. Asterisks identify projected, potential or actual starters.
September, 18, 2010
9/18/10
4:54
PM ET
The latest comprehensive NFC West rosters are updated and, as usual, complete with 26 columns of information on any player associated with the teams over the past few seasons.
Download here
.
Column Z features information for players who finished the 2009 season on NFC West teams' 53-man rosters, or on injured reserve. That information allowed me to filter for players new to NFC West teams since last season. I was then able to produce the following chart, which shows college conference affiliation for those newcomers.
Seattle, led by former USC coach Pete Carroll, was indeed heavy on players from the West, notably the Pac-10. The Seahawks have 14 total players from the Pac-10 (the NFL average is 5.7). That includes six players added since last season.
The totals in the chart do not count NFC West newcomers currently on injured reserve. Those players are:
Keilen Dykes
(Big East),
Nehemiah Broughton
(Southern) and
Chris Johnson
(Missouri Valley) of the
Arizona Cardinals
;
Anthony Heygood
(Big Ten),
Jameson Konz
(MAC) and
Isaiah Stanback
(Pac-10) of the Seahawks; and
Chris Hovan
(ACC) and
Josh Hull
(Big Ten) of the
St. Louis Rams
.
Information reflects current college conference affiliations.
June, 1, 2010
6/01/10
6:08
PM ET
Pete Carroll's Pac-10 reunion added another headliner Tuesday when the
Seattle Seahawks
claimed former University of Washington quarterback
Isaiah Stanback
off waivers from the Patriots.
Stanback, a receiver in the NFL, gives the Seahawks 27 former Pac-10 players, easily an NFL high.
The move, reported by
Mike Reiss of ESPNBoston.com
, marks the second time in a week the Seahawks and Patriots have claimed one another's players. New England claimed quarterback
Mike Teel
off waivers from the Seahawks last week.
Stanback adds to a large group of receivers for Seattle as the team tries to hit on players at the position. One of his former UW teammates,
Reggie Williams
, has yet to make an impact at the position in offseason practices for Seattle.
April, 4, 2009
4/04/09
11:29
AM ET
Posted by ESPN.com's Mike Sando
The Rams hold the second, 35th, 66th, 103rd, 138th, 176th and 211th choices in the 2009 draft. For perspective, I've singled out the last four players chosen in those spots.
Two of those players play for the Rams now: defensive end Chris Long, chosen second overall by the Rams last year, and free safety Oshiomogho Atogwe, chosen 66th overall by the Rams in 2005.
Going back one additional year would have shown Rams guard Jacob Bell as the 138th player chosen in 2004, by Tennessee.