NFC West:

Jabara Williams
August, 27, 2013
8/27/13
4:45
PM ET
EARTH CITY, Mo. -- The Rams reached the league-mandated 75-player roster limit as they announced the final two moves needed Tuesday afternoon.

Offensive lineman
Ryan Lee
and linebacker
Jabara Williams
were the final two cuts to reduce the roster from 77 players to 75. Lee was let go with the designation of waived/injured after he suffered an undisclosed injury late in last week's game against Denver.
Neither move comes as a surprise, but Williams' release is indicative of the progress made by a trio of undrafted rookie linebackers in camp. Williams was a former seventh-round pick of the Rams in 2011 and showed enough promise in that preseason that a segment of fans were outraged when he was released after two regular-season games to make room for offensive lineman
Mark LeVoir
.
Chicago claimed Williams and he appeared in five more games before returning to the Rams' practice squad on Nov. 21 of last year.
Williams battled some injuries during this camp but he'd been surpassed by the intriguing trio of
Ray Ray Armstrong
,
Daren Bates
and
Jonathan Stewart
around the same time of his injury.
As it stands, the Rams have eight linebackers on the roster, including
Jo-Lonn Dunbar
, who will not play in the first four games because of a violation of the league's performance-enhancing substance policy. Given the exemption the Rams have for Dunbar in the first four weeks, they could theoretically carry all eight of the remaining linebackers, but it seems more likely that they'll opt to trim at least one more in the final round of cuts.
Armstrong has been one of the team's most pleasant surprises and is a near lock to make the roster at this point. Bates would seem to have the inside track on the final linebacker job because of his special-teams ability.
The final round of cuts is scheduled for Saturday when every team must trim to 53 players by 6 p.m. ET.
August, 14, 2013
8/14/13
7:56
PM ET
EARTH CITY, Mo. -- Although nobody came out and said it outright Wednesday, including
Will Witherspoon
himself, it's the 12th-year veteran that seems most likely to replace suspended starter
Jo-Lonn Dunbar
in the Rams' lineup.
Coach Jeff Fisher did not comment on Dunbar's suspension for violation of the league's policy on performance-enhancing drugs, but given the team's lack of experience behind Dunbar, Witherspoon is the most logical option to fill the void.
Following a special-teams practice Wednesday afternoon, Witherspoon did speak to the media about his potential new role.
"I don't make those assumptions and those are decisions way out of my pay grade," Witherspoon said, laughing.
[+] Enlarge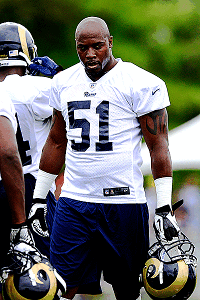 Jeff Curry/USA TODAY SportsThe Rams will be counting on LB Will Witherspoon for being more than just a veteran presence.
Considering that Witherspoon is the only backup linebacker on the depth chart with any meaningful playing experience in the league, he's the guy many expect to start on the right side opposite
Alec Ogletree
. Witherspoon has started 150 games and played in 173 in his 11-year career.
Josh Hull
, who is entering his fourth year, is the only other linebacker to make a start in the NFL and he has just one to his credit. Second-year LB
Jabara Williams
has appeared in seven games with no starts. The four other linebackers on the depth chart are undrafted rookies.
"With everything that is going on, it really comes down to the simple fact that we've all got to step up so no matter where you are asked to do it, what you are asked to do, we've all got to pick up our game, we've all got to make sure that we fill that hole when it happens," Witherspoon said. "If I'm asked to step in and start, that's what I'll do. And if not, then I'm still going to be the same veteran leader that I've always wanted to be."
The Rams signed Witherspoon on July 22, just three days before the veterans were to report for training camp. That he was brought in more than three weeks ago was not a coincidence given the nature of how suspension information flows in the NFL.
More often than not, teams are informed of suspensions long before they become public. Further, players often go through an appeals process should they opt to go that route before a suspension is announced.
This case was no different, as the Rams knew Dunbar's suspension was coming before signing Witherspoon.
The Rams needed some veteran depth at linebacker anyway and they opted to add someone who is familiar with the defense and the franchise in Witherspoon.
Witherspoon played for Fisher when the two were in Tennessee in 2010. There, Witherspoon started all 16 games on the outside, finishing with 99 tackles and a pair of interceptions.
Before his time with the Titans, Witherspoon played for the Rams from 2006-09.
Upon arrival in St. Louis, Witherspoon said his familiarity with the defense has made for an easy transition though some of the terminology, positioning and the way certain calls are played out have changed.
"What's required of me, that's what I'm willing to do," Witherspoon said. "Step in. I'm very familiar with the defense in a lot of its aspects and some of the little nuances and changes that have happened, those are things that are readily adaptable."
In the Rams' defensive scheme the outside linebacker positions are essentially interchangeable, so the loss of Dunbar likely won't require any more shuffling than simply bumping someone up the depth chart to take his place.
Witherspoon has played all three linebacker positions at various points in his career, but he's played outside exclusively since his first stint with the Rams in 2008.
"Left and right side really doesn't make that big of a difference to you," Witherspoon said. "We'll just take everything in stride and keep going with it."
Witherspoon's 33rd birthday is Sunday but he's remained productive in recent seasons though his role was diminished for the first time in 2012 with the Titans.
For the first time since his rookie season with Carolina in 2002, Witherspoon didn't start the majority of his team's games last year. He played in 14 with five starts in posting 47 tackles, a sack and an interception.
Despite the opportunity that looms, Witherspoon said he feels bad for Dunbar regardless of the circumstances of the suspension.
"You always feel bad any time a guy is going to miss any particular part of the season, no matter what," Witherspoon said. "But we are all going to support him and say, 'Hey, as soon as you get back, let's get back to rolling and going forward with what we know we can do.'"
August, 14, 2013
8/14/13
5:09
PM ET
EARTH CITY, Mo. – The news that starting outside linebacker
Jo-Lonn Dunbar
is suspended for the first four games of the season because of a violation of the NFL's performance-enhancing substance policy leaves plenty of questions for the Rams' depth at that position as well as Dunbar's long-term future with the team.
Dunbar is not eligible to return until Sept. 27, the day after the Rams play San Francisco at the Edward Jones Dome. That means he'll miss games against Arizona, at Atlanta, at Dallas and against San Francisco. Dunbar's suspension is the third of the offseason for the Rams. Running back
Isaiah Pead
and guard
Rokevious Watkins
, who has since been released, were suspended for a game each earlier this year.
From a defensive perspective, the loss of Dunbar is a big one for the Rams. He was something of a revelation in 2012 for a team that had been in dire need of linebacker help alongside
James Laurinaitis
.
[+] Enlarge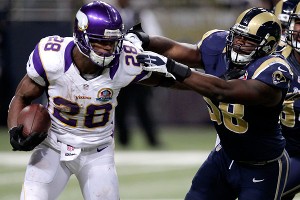 AP Photo/Tom GannamJo-Lonn Dunbar was coming off a breakout 2012, but his four-game suspension to start this season is a major setback.
However, the security of having signed veteran linebacker
Will Witherspoon
on July 22 does soften this blow a bit. He's the most likely in-house candidate to step in for Dunbar.
In what was perhaps a bit of foreshadowing by the Rams -- teams often know of possible suspensions long before they become public -- they signed the 11-year veteran just before training camp began.
Although Witherspoon has experience with the defense from his time with Rams coach Jeff Fisher in Tennessee, the Rams are now painfully young and thin behind the starting group.
Aside from Laurinaitis and Witherspoon, only fourth-year linebacker
Josh Hull
has any game experience, and he has made only one start. In fact, that lone start is the only one made by any of the team's backup linebackers.
The rest of the group includes
Jabara Williams
, who is entering his second season, and four undrafted rookies --
Daren Bates
,
Jonathan Stewart
, Ray-Ray Armstrong and
Joseph LeBeau
.
The early read on that group is that Armstrong and Bates could bring some special teams value, but should an injury occur to Witherspoon or Laurinaitis, the Rams have no options with any meaningful experience in the NFL.
The Rams signed the little-known Dunbar to a two-year, $3.55 million contract contract on April 2, 2012. He finished second on the team in tackles (115) and posted 4.5 sacks, 13 tackles for loss and a pair of interceptions in his first year with the Rams.
Save for Laurinaitis, Dunbar played more snaps than any Rams defender in 2012. In addition to the base defense, Dunbar stayed on the field in nickel situations as he played 1,088 snaps or 98.6 percent of the team's total defensive snaps for the year.
Despite Dunbar's emergence as a productive defender after four relatively nondescript years with the Saints, the Rams spent the 30th overall pick in this year's draft on Georgia outside linebacker
Alec Ogletree
.
This offseason, Ogletree has been working with the first-team defense opposite Dunbar. However, Ogletree had been getting most of the work in nickel situations, indicating that Dunbar would have taken on more of a two-down role this year.
This year also figured to be important for Dunbar's future prospects. On the heels of his most productive NFL season, another solid season would have positioned him for a big payday as an unrestricted free agent after the season.
Dunbar recently said that his focus wasn't on cashing in but acknowledged that the thought had crossed his mind.
"We are all human, so we all have those thoughts," Dunbar said. "We all think about the future, but you don't control what happens in front of you, you can only control what you are going through at that time. So good, bad or indifferent, I just want to show people I play hard and play tough. Then I'll let everything else figure itself out."
Dunbar could still be in line to land a new contract with the Rams or even get a deal elsewhere, but with only 12 games to impress and a suspension on his record, that prospect just became a bit more tenuous.
June, 11, 2013
6/11/13
8:52
PM ET
ST. LOUIS -- The
St. Louis Rams
own the NFL's youngest roster by average age. They could be interested in adding some veteran seasoning at linebacker, it appears.
Takeo Spikes
, 36, was seen at Rams headquarters Tuesday night and was reportedly
there for a free-agent visit
.
Spikes started all 32 games for the
San Diego Chargers
over the past two seasons. Before that, he started 44 of 48 games during a three-year run with the
San Francisco 49ers
. He would presumably play middle linebacker in the Rams' 4-3 scheme, backing up James Laurinaitis, if St. Louis were to sign him.
Spikes has been a starter every season since entering the NFL with Cincinnati in 1998. He has started 215 games overall, averaging 14.3 starts per season during a 15-year career. He missed 13 games in 2005 while with Buffalo, but otherwise he has been remarkably durable and consistent at a physically demanding position.
Spikes played 66.9 percent of the defensive snaps for San Diego last season. He was the starter in San Francisco previously until the team decided
NaVorro Bowman
was ready to take the job. Bowman became an Associated Press All-Pro selection. Spikes signed with the Chargers after San Diego hired the 49ers' former defensive coordinator, Greg Manusky.
Jo-Lonn Dunbar, Laurinaitis and rookie first-round choice Alec Ogletree are expected to start for the Rams at linebacker. The team is remarkably young and inexperienced at the position beyond Dunbar and Laurinaitis, however. Spikes' 215 starts are about double the combined total for the Rams' current linebackers (108).
June, 28, 2012
6/28/12
10:00
AM ET
The
St. Louis Rams
have been hurting at outside linebacker for some time.
One obvious reason: The team hasn't used higher than a seventh-round choice for an outside linebacker since using a 2006 third-rounder for
Jon Alston
, who played three games for the team and was gone after one season.
The trend continued this year when the Rams used a seventh-round choice, 209th overall, for Hawaii outside linebacker
Aaron Brown
.
The Rams are set at middle linebacker after using a 2009 second-round choice for James Laurinaitis, who has started all 48 games over three seasons.
The chart shows the Rams' starting linebackers over the past three seasons,
according to Pro Football Reference
. Of those listed, only Laurinaitis remains with the team. No other linebacker on the roster has started a game for the Rams. Some players listed in the chart started additional games for the team before 2009.
The Rams could not realistically address all their needs with the available resources this offseason. Outside linebacker remains a position they'll have to address in the future, presumably with something more valuable than the seventh-round choices they used for Brown (2012),
Jabara Williams
(2011), inside linebacker
Josh Hull
(2010), Chris Chamberlain (2008) and David Vobora (2008).
St. Louis is the only team to use no picks in the third through sixth rounds for a linebacker since 2007. The team has used a league-high five seventh-rounders for the position over that span. Free-agent additions
Jo-Lonn Dunbar
,
Rocky McIntosh
and
Mario Haggan
are among the leading candidates to start at outside linebacker.
December, 22, 2011
12/22/11
10:43
AM ET
Rookie draft choices are making strong contributions throughout the NFC West, but less so in St. Louis after the NFL suspended receiver
Austin Pettis
.
More on the Rams' rookie class below. First, a look at how other teams' rookies have fared:
Seattle: Fourth-round linebacker K.J. Wright and fifth-round cornerback Richard Sherman are flourishing as starters for Seattle. First-rounder James Carpenter and third-rounder John Moffitt were starting for the Seahawks until injuries ended their season.
San Francisco: First-rounder Aldon Smith has become a candidate for defensive rookie of the year with 13 sacks in 14 games. Third-rounder Chris Culliver and fourth-rounder Kendall Hunter have become key role players on an 11-3 team. Seventh-rounder Bruce Miller has developed into the starting fullback. The team asked nothing right away from second-round choice Colin Kaepernick, the backup quarterback.
Arizona: The Cardinals' first-round choice, Patrick Peterson, has set records as a return specialist, returning four punts for touchdowns. He has started all season at cornerback and has increasingly made positive contributions to an improving defense. Fourth-round outside linebacker Sam Acho and fifth-round fullback Anthony Sherman have become solid starters. Acho has five sacks. Sixth-rounder David Carter has contributed as part of the rotation on the defensive line.
Back to the Rams. As the chart shows, first-rounder
Robert Quinn
and second-rounder
Lance Kendricks
remain on the 53-man roster. Pettis, a third-round choice, and fourth-rounder
Greg Salas
are out for the season. The Rams drafted four additional players, three in the seventh round, and none remains with the team.
St. Louis had no 2011 sixth-rounder after sending it to Baltimore in the
Mark Clayton
trade. Clayton made an immediate impact last season, but injuries have forced him to miss 24 of 30 games.
.
December, 22, 2011
12/22/11
10:08
AM ET
News that rookie receiver Austin Pettis had been suspended for using performance-enhancing drugs delivered more bad news for the St. Louis Rams' 2011 draft class.
With Pettis out through the first two games in 2011, the Rams have only two of their own rookie draft choice on their 53-man roster.

First-round choice Robert Quinn and second-rounder Lance Kendricks remain active for the Rams from a group that included Pettis (suspended), Greg Salas (injured reserve), Jermale Hines (released, now with Indianapolis), Mikhail Baker (released), Jabara Williams (released, now with Chicago) and Jonathan Nelson (released, now with Carolina).
Jim Thomas of the St. Louis Post-Dispatch
offered details on what the suspension means for Pettis. Thomas: "Pettis is eligible to participate in all offseason and preseason practices and games following the conclusion of this season. But regardless of whether there's a head-coaching change or not, missing the first two contests of the 2012 season will put him behind the other wideouts on the depth chart and in his quest for playing time."
Bernie Miklasz of the St. Louis Post-Dispatch
said Rams coach Steve Spagnuolo and general manager Billy Devaney do not deserve much sympathy. Miklasz: "In a league of parity and close games, the Rams have been outscored 1,110 to 630 overall in Spags' time as head coach, with an average loss of 16 points. This team isn't competitive. Here's the odd thing: The more the Rams lose, the more we seem inclined to make excuses on their behalf or attempt to rationalize their failures. We've become enablers. And I'm not bashing the fans; the media is at fault as much as anyone. ... This isn't high school football. Spagnuolo was hired to win football games. If a coach can't win games, he's fired. He could be a saint or a sinner, but he needs to be a winner. Besides, Spagnuolo has fired trainers, an equipment manager and other employees at Rams Park. A big part of his job is terminating players. It's nothing personal. So why are we so sensitive about Spagnuolo's future?"

Clare Farnsworth of seahawks.com
says Paul McQuistan's use across the Seahawks' offensive line tells a story. Farnsworth: "The trials and tribulations of the Seahawks' injury-ravaged offensive line can he traced by following McQuistan's progression from being a backup; to starting at left guard; to returning to his backup role; to starting at right guard; to starting at left tackle. McQuistan stepped in at left guard because Robert Gallery was out with a groin injury. He moved in at right guard after rookie John Moffitt went down with a season-ending knee injury. He slid over to left tackle when Russell Okung needed season-ending surgery to repair a torn pectoral."
Also from Farnsworth
: Tarvaris Jackson has stepped up his game in second halves recently.
Danny O'Neil of the Seattle Times
says injuries haven't stopped the Seahawks' offensive line from succeeding.
Eric D. Williams of the Tacoma News Tribune
checks in with 49ers coach Jim Harbaugh, who laments not drafting receiver Doug Baldwin. Baldwin and cornerback Richard Sherman are two Seattle players with roots on Harbaugh's former Stanford teams. Harbaugh: "Yeah, I'm kicking myself for not doing that. And at the same time I'm really, really happy for Doug. I've watched him this whole year whenever we're watching crossover tape. Or I've sometimes put on the tape, just to watch him and Richard. And I've seen him really grow the whole season."
Also from Williams
: Marshawn Lynch has become the Seahawks' face.

Kent Somers of the Arizona Republic
updates the Cardinals' quarterback situation heading into Week 16. Sounds like John Skelton might get another start over Kevin Kolb, who remains limited following a concussion. Somers: "On Monday, Whisenhunt said the fairest way to prepare one of the quarterbacks was to give him most of the work in practice. Judging by Wednesday's events, that appears to be Skelton. Kolb was listed as limited in practice, while Skelton is healthy. The Cardinals are 5-1 in games Skelton has either started or taken the majority of the snaps. Skelton has a tendency to start slowly and finish strongly. In four of Skelton's past eight games, the Cardinals have made game-winning drives in the fourth quarter."
Also from Somers, with Jim Gintonio
: Deuce Lutui professes to be a changed man after nearly landing with the Cincinnati Bengals during the offseason. Lutui: "Where I was and where I'm at now, I could have seen it as frustration or I could have seen it as a problem or stated it as an opportunity. I've taken it as an opportunity. I've taken all the help that I can get. I've stuck in with John Lott (strength and conditioning coach), really a credit to him in helping me get in the best shape that I can. ... I also worked with my head, off the field, and went in with a mental coach. I've got a mental coach that's helped me elevate my game and alter the way I think for the next offseason, and so I've put a lot in my mind and body this year.""
Darren Urban of azcardinals.com
has this to say about the quarterback situation in Arizona: "The way the defense has been performing for the Cards would help any quarterback. Skelton has had plenty of rough patches, but Whisenhunt acknowledged he'd rather have a quarterback that can finish than one who starts fast and fades. Skelton, whose beginnings to games have been almost as unimpressive as his finishes impressive, certainly falls into that category."

Matt Barrows of the Sacramento Bee
says Braylon Edwards is anxious to get back on the field for the 49ers. Tight end Vernon Davis tweeted words of support to Edwards, who has struggled and was not active Monday night. Davis: "Just the look on his face is he wants to be out there bad. But I don't know the reason he's not. That's up to the coaches and him and Ferg (head trainer Jeff Ferguson) and the trainers. ... Just saying kind words like that keeps a guy like that level-headed and keeps him hungry and keeps him ready to go at any time. And I just felt that upon my spirit to lay that out there. And he is -- he's a guy that I'm grateful to have on the team. He's a true playmaker, and if given the opportunity I'm sure he'll take advantage of it."
Matt Maiocco of CSNBayArea.com
has this to say about Justin Smith in his defensive player review from Week 15: "Started at right defensive end and had an outstanding all-around game. He had three tackles, a quarterback hurry and a fumble recovery, but he also set up Aldon Smith for a couple of sacks ... Left guard Trai Essex held him for a 10-yard penalty to wipe out a 6-yard gain in the second quarter ... Fought through left side of Steelers line and Rashard Mendenhall to pressure Ben Roethlisberger into second-quarter incompletion. ... Recovered fourth-quarter fumble that directly led to 49ers touchdown ... Generously gave himself up to tie up Essex so that Aldon Smith could record a 6-yard sack ... Justin Smith did the same thing on the next series, resulting in another Aldon Smith sack."
Also from Maiocco
: an offensive player review. On Frank Gore: "Dropped a pass out of the backfield on the first drive ... Missed Cameron Heyward in blitz pickup as Smith was rushed into incompletion on first drive ... Dropped another pass on third-and-7, though it was unlikely he would've picked up first down with defensive lineman Brett Keisel standing between him and the sticks ... Called for chop block on defensive lineman Ziggy Hood, as center Jonathan Goodwin had his left hand on Hood as Gore went low to block Hood. Did not play the final nine minutes after scoring on 5-yard TD."
Grant Cohn of the Santa Rosa Press-Democrat
passes along Steve Young's thoughts on Aldon Smith, expressed recently on KNBR radio. Young compared Smith to a young Charles Haley. Young: "I've got to be honest with you. I've got to apologize to Aldon Smith because I hadn't really seen him in person all year. And I apologize, because I had no idea how great he really was until I saw him in person. And that's what matters. Hearing about it, watching it on TV and then seeing in person -- all different visceral relationships you have with something, and it matters. So around the league when everyone watched the 49ers kind of beat up on Ben Roethlisberger, don't let him score, call a couple big touchdown drives, and they hear about the defense, they've watched Aldon Smith play and (laughs) whoever doesn't think these guys are for real is kidding themselves."
Cam Inman of the San Jose Mercury News
examines Andy Lee's contributions to the 49ers. Lee was the NFC's player of the week for special teams.
September, 19, 2011
9/19/11
7:20
PM ET
EAST RUTHERFORD, N.J. -- The
St. Louis Rams
and
New York Giants
have submitted their inactive lists for their Monday night matchup.
Rams: receiver Danny Amendola, running back Steven Jackson, receiver Austin Pettis, safety Jermale Hines, linebacker Jabara Williams, tight end Stephen Spach and defensive end C.J. Ah You. Jackson tested his strained quadriceps during warmups, but was never expected to play. Amendola is recovering from a dislocated elbow. Rookie defensive end Robert Quinn is active after sitting out the opener. Ah You underwent wrist surgery recently. Right tackle Jason Smith, who suffered an ankle injury in the opener, is active.
Giants: receiver Jerrel Jernigan, cornerback Prince Amukamara, running back Da'Rel Scott, tight end Travis Beckum, guard Mitch Petrus, defensive end Osi Umenyiora and tackle James Brewer. Umenyiora and fellow Pro Bowl defensive end Justin Tuck missed the opener with injuries. Tuck is active and, if sufficiently healthy, will likely present matchup problems for the Rams, particularly when lined up against Smith.
We're about an hour from kickoff. I'm seeing Rams fans wearing
Eric Dickerson
and Jack Youngblood jerseys, and another with a
Sam Bradford
jersey. The stadium remains mostly empty at this time, however.
May, 11, 2011
5/11/11
12:30
PM ET
The
Seattle Seahawks
were on the clock with the 99th overall choice in the 2011 NFL draft when the
Minnesota Vikings
called to inquire about a trade.
Coach Pete Carroll and general manager John Schneider had a decision to make. The team wanted to add more picks, so sliding back into the Vikings' spot at No. 106 carried some appeal. But the Seahawks had not addressed defense to that point in the draft, and Mississippi State outside linebacker
K.J. Wright
was a player they had been targeting.
Seattle decided to
stand pat at No. 99
.
"It is rare that you would find a linebacker with that much length (6-foot-4) and 4.6 speed,"
Carroll said after the draft
. "We need that flexibility."
[+] Enlarge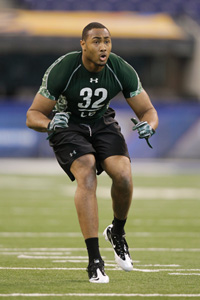 AP Photo/Michael ConroyK.J. Wright, who was drafted by the Seahawks with the No. 99 pick, was the last 4-3 strongside linebacker drafted.
This seemed a bit improbable. After all, teams selected 24 more linebackers over the remaining 155 selections. Surely one of them could have provided what the Seahawks wanted from Wright, right? Not necessarily. The more I studied those selections, the more I understood what Carroll was talking about. Wright was the fourth and final 4-3 strongside linebacker selected in the draft. All were gone among the top 100 selections.
The NFL has become so specialized, particularly on defense, that players are increasingly difficult to categorize. Seeking fresh perspective on the 2011 draft, I reclassified the 254 players chosen into 20 positional categories, based largely on how teams plan to use them. The process was imperfect because teams view players differently, and some players transcend easy categorization. But patterns that emerged were helpful in bringing the big picture into clearer focus.
Breaking down linebackers into five categories across 3-4 and 4-3 schemes was particularly helpful.
Teams selected one 4-3 strongside linebacker in each of the first four rounds, but none thereafter. They selected 12 4-3 weakside linebackers -- none in the first two rounds, five in the sixth and three in the seventh. That position carried less value relative to others based on when the players came off the board.
Nine of 11 4-3 defensive tackles went in the first three rounds, affirming how much teams value that position. Teams selected five 4-3 defensive ends in the first two rounds, then none until taking one in the fifth and four more in the seventh. Teams selected four five-technique defensive ends in the first round and one in the second, but none over the next four rounds.
I ultimately divided players into percentiles based on where they were selected in relation to other players from the same positional categories. Three NFC West players were the first players chosen at their specific positions. They were in the top percentile for their positions. Three, including Wright, were the last players chosen at their specific positions. They were in the bottom percentile.
The percentiles say nothing about whether individual players will succeed in the NFL. In some cases, players with lower percentiles probably carried more value at that moment in the draft based on how few prospects remained available at their positions.
Without categorizing players more specifically, we might not have any idea.
Overall, this draft featured 37 cornerbacks; 28 wide receivers; 24 running backs; 21 interior offensive linemen; 20 offensive tackles; 16 safeties; 13 tight ends; 12 quarterbacks; 12 4-3 weakside linebackers; 11 4-3 defensive tackles; 10 4-3 defensive ends; 10 3-4 outside linebackers; eight five-technique defensive ends; seven 3-4 inside linebackers; seven fullbacks; six 4-3 middle linebackers; four 4-3 strongside linebackers; four nose tackles; and two specialists. Two defensive linemen -- Kansas City's
Allen Bailey
and Baltimore's
Pernell McPhee
-- qualified as nickel pass-rushers.
And now, a look at all 35 NFC West draft choices, listed by how early they were drafted in relation to other players at their specific positions:
First quarter: 75th percentile and higher
Patrick Peterson
, CB,
Arizona Cardinals
: First of 37 cornerbacks selected
Aldon Smith
, OLB,
San Francisco 49ers
: First of 10 3-4 outside linebackers
Robert Quinn
, DE,
St. Louis Rams
: First of 10 4-3 defensive ends
Ryan Williams
, RB, Cardinals: Second of 24 running backs, putting him in the 91.7 percentile for the position (FBs excluded)
Lance Kendricks
, TE, Rams: Second of 13 tight ends (84.6)
James Carpenter
, T, Seattle Seahawks: Fourth of 20 offensive tackles (80.0)
Chris Culliver
, CB, 49ers: Eighth of 37 cornerbacks (78.4)
Rob Housler
, TE, Cardinals: Third of 13 tight ends (76.9)
John Moffitt
, G, Seahawks: Fifth of 21 interior offensive linemen (76.2)
Second quarter: 50th to 74th percentile
Anthony Sherman
, FB, Cardinals: Second of seven fullbacks (71.4)
Austin Pettis
, WR, Rams: Eighth of 28 wide receivers (71.4)
Kendall Hunter
, RB, 49ers: Tenth of 24 running backs (58.3)
Bruce Miller
, FB, 49ers: Third of seven fullbacks (57.1)
Kris Durham
, WR, Seahawks: 12th of 28 wide receivers (57.1)
Daniel Kilgore
, C, 49ers: 10th of 21 interior offensive linemen (52.4)
Sam Acho
, OLB, Cardinals: Fifth of 10 3-4 outside linebackers (50.0)
Colin Kaepernick
, QB, 49ers: Sixth of 12 quarterbacks (50.0)
Greg Salas
, WR, Rams: 14th of 28 wide receivers (50.0)
Third quarter: 25th to 49th percentile
Richard Sherman
, CB, Seahawks: 24th of 37 cornerbacks (35.1)
Mark LeGree
, S, Seahawks: 11th of 16 safeties (31.3)
Quan Sturdivant
, ILB, Cardinals: Fifth of seven 3-4 inside linebackers (28.6)
Byron Maxwell
, CB, Seahawks: 27th of 37 cornerbacks (27.0)
David Carter
, DE, Cardinals: Sixth of eight five-technique defensive ends (25.0)
Jermale Hines
, S, Rams: 12th of 16 safeties (25.0)
Fourth quarter: Zero to 24th percentile
Colin Jones
, S, 49ers: 13th of 16 safeties (18.8)
Jabara Williams
, LB, Rams: 10th of 12 4-3 weakside linebackers (16.7 )
Ronald Johnson
, WR, 49ers: 24th of 28 wide receivers (14.3)
Mikail Baker
, CB, Rams: 32nd of 37 cornerbacks (13.5)
Pep Levingston, DE, Seahawks: Seventh of eight five-technique defensive ends (12.5)
Mike Person
, C, 49ers: 19th of 21 interior offensive linemen (9.5)
Malcolm Smith
, LB, Seahawks. Eleventh of 12 4-3 weakside linebackers (8.3)
Jonathan Nelson
, S, Rams: 15th of 16 safeties (6.3)
K.J. Wright, LB, Seahawks: Fourth of four 4-3 strongside linebackers (0.0)
DeMarco Sampson
, WR, Cardinals: 28th of 28 wide receivers(0.0)
Curtis Holcomb
, CB, 49ers: 37th of 37 cornerbacks (0.0)
May, 1, 2011
5/01/11
4:09
PM ET
Mel Kiper Jr. gave the
St. Louis Rams
a
B grade
for their efforts in the 2011 NFL draft.

Everything looks better with a young, ascending quarterback in place.
The Rams used three of their first four picks on weapons for
Sam Bradford
. All three fit the mold for new coordinator Josh McDaniels, who
prefers big receivers
. All three should help the Rams
improve in the red zone
, where they struggled badly last season.
First-round choice
Robert Quinn
added pass-rush help to a defense that wasn't hurting in that area, but still had longer-term concerns. Kiper thought Quinn could have been a No. 1 overall selection on raw talent. Quinn went later after serving a one-year suspension in 2010. A benign brain tumor was another potential concern.
The Rams' calculated gambles went beyond Quinn. Receivers
Austin Pettis
and Greg Salas do not seem to add the speed element the Rams could use on the outside. General manager Billy Devaney cautioned against overvaluing speed at the expense of finding good players. Those warnings are fair. Also, the most dynamically talented receivers tend to go earlier in the draft. Receivers available after the first round tend to have holes in their games. The Rams went for bigger, physical, more reliable targets. They weren't going to get
A.J. Green
or
Julio Jones
.
Later in the draft, the Rams took chances with players carrying injury histories. Seventh-rounders Mikail Baker and
Jonathan Nelson
come to mind. There are no perfect prospects in the seventh round, of course. Teams are making educated guesses and hoping for some luck.
The Rams still have work to do, but it's low-pressure work. While division rivals search for quarterbacks, the Rams can target free agents at defensive tackle, guard and possibly linebacker. Oh, and there's always the now-annual search for a complementary running back. They took tight end
Lance Kendricks
at No. 47, nine spots before McDaniels' former team, New England, took running back
Shane Vereen
. They took Pettis, the receiver, five spots after New England selected another running back,
Stevan Ridley
.
Eleven running backs came off the board between the Rams' fourth- and fifth-round selections.
"It was probably close a couple of times and we didn't force it," Devaney told reporters. "There were running backs that we were thinking about taking and they went before our next pick came up. But we didn't react by saying, 'OK, we lost the back, now we've got to drop down in value in this round and take a back no matter what [even] if he doesn't warrant going there.' It didn't work out."
That was true for teams across the league. The Rams weren't going to fill every need.