August, 4, 2012
8/04/12
8:09
PM ET
CANTON, Ohio -- Former
Pittsburgh Steelers
cornerback Jack Butler had us worried for a moment when he stared into the Fawcett Stadium crowd without saying anything for several seconds.
Stage fright? Hardly.
Butler, 84, soon made it clear he was on his game for the 2012 Pro Football Hall of Fame enshrinement.
"OK," he said while Pittsburgh Steelers fans cheered, "that's enough."
Butler rose to the occasion. He was poised and measured. He spoke with purpose. His son, John, spoke of Jack Butler's discipline and work ethic. It was clear Butler was in control.
Butler finished his speech with panache when he thanked various family members for attending, then, in a nod to his age, rejoined with, "Heck, I'm thankful I'm here."
August, 4, 2012
8/04/12
8:02
PM ET
CANTON, Ohio --
New Orleans Saints
players gave Cortez Kennedy a standing ovation early in the Pro Football Hall of Fame enshrinement program Saturday.
They won't be sticking around for Kennedy's speech, however.
The Saints, scheduled to open their exhibition season against the
Arizona Cardinals
in the same Fawcett Stadium on Sunday, left their seats and disappeared behind the end-zone grandstands once former New Orleans tackle Willie Roaf finished his acceptance speech.
Roaf led off the Hall program. Jack Butler's time is now, followed by Chris Doleman and then Kennedy. Dermontti Dawson and Curtis Martin round out the proceedings.
Kennedy played for the
Seattle Seahawks
, but he works as an adviser to the Saints. He collected a Super Bowl ring with the Saints following the 2009 season.
August, 4, 2012
8/04/12
7:39
PM ET
CANTON, Ohio -- Jack Butler stood and waved to the crowd while hundreds of fans wearing the Pittsburgh Steelers' throwback jerseys rose and cheered. The big screens at Fawcett Stadium showed Butler, 84, rising and soaking in their adulation.

That brought the first goosebumps of the 2012 Pro Football Hall of Fame enshrinement ceremony, at least for me.

Butler waited 50 years for his enshrinement. He and his oldest son, John, have been quite visible in Canton over the past few days. They've been so appreciative, so gracious, so humbled.

In speaking with John Butler at a reception Friday night, he said something about getting a couple of football cards featuring his father and giving them to my young sons. A couple of hours passed and that part of our conversation had faded from my mind. It was the sort of thing a lot of people would have said without really meaning it.

Our family left the reception, returning only briefly a couple of hours later in hopes of seeing a couple more Hall of Famers. The younger Butler found us and presented the two football cards -- both signed by Jack Butler, with "2012 HOF" written on them.
August, 4, 2012
8/04/12
6:48
PM ET
CANTON, Ohio -- Welcome to Fawcett Stadium for the 2012 Pro Football Hall of Fame enshrinement ceremony.
I'll be blogging throughout the proceedings, as you might have noticed when this post went live
a bit earlier
. First, a look at the order for enshrinement and speeches for the program, which begins at 7 p.m. ET:
Willie Roaf: This one promises to be emotional, as anyone who witness the way Roaf's father, Clifton, hugged him during the Gold Jacket Dinner presentation Friday night. Clifton Roaf is presenting his son. The Hall encourages presenters to limit their comments to eight minutes in duration. That could be tough for the elder Roaf.
Jack Butler: Butler had to wait a record 50 years for enshrinement. He won't have to wait long Saturday night. The Hall has him going second.
Chris Doleman: The former Minnesota, Atlanta and San Francisco defensive end offered some thoughts Friday on the state of the game. I hope to share those a bit later.
Cortez Kennedy: The second career Seahawk to earn enshrinement will have some time to gather his thoughts. He's fourth in the order.
Dermontti Dawson: One of the greatest interior offensive linemen follows one of the greatest interior defensive linemen.
Curtis Martin: Bill Parcells is presenting Martin. Parcells could be back as an enshrinee before long. Parcells does have some star power. Having him go last wasn't a bad idea.
Should be a memorable night.
August, 4, 2012
8/04/12
6:31
PM ET
CANTON, Ohio -- Ninety-degree heat and 57 percent humidity could not stop
Seattle Seahawks
fan Jeff Evert from taking his seat at Fawcett Stadium two-plus hours before the Pro Football Hall of Fame enshrinement ceremony.
[+] Enlarge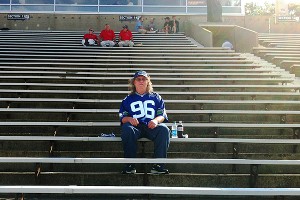 Mike Sando/ESPN.comJeff Evert of Richland, Wash., wearing a Cortez Kennedy jersey, sits alone in the heat awaiting the Hall of Fame enshrinement ceremonies.
Evert, visiting from Richland, Wash., regretting missing Steve Largent's enshrinement in 1995. He wasn't going to miss Cortez Kennedy's enshrinement with the 2012 class. Evert, wearing a newly purchased "Vintage" series jersey with Kennedy's name and No. 96, sat nearly alone in the stands for hours.
Evert toured the Hall of Fame and overdosed on
Pittsburgh Steelers
stuff. By the time he encountered the giant mural showing Steelers players dousing then-coach Bill Cowher with Gatorade, he'd had enough.
"I know I shouldn't be that way," Evert said, "but Seahawk fans have always felt like they got screwed over in that one Super Bowl."
They don't have to worry about it Saturday night, although the Steelers do hold a 2-1 edge over the Seahawks in 2012 enshrinees. Dermontti Dawson and Jack Butler are joining Kennedy on the dais.
Update:
As I'm looking down on Evert's seat, I notice two Steelers fans occupying the seats next to him.
August, 4, 2012
8/04/12
10:00
AM ET
CANTON, Ohio -- Sights and sounds from a magical first 30 hours in Canton for festivities relating to the upcoming 2012 Pro Football Hall of Fame enshrinement ceremony:
Batting 1.000

[+] Enlarge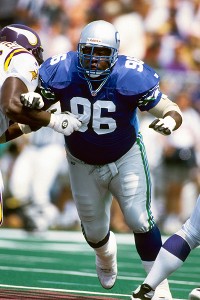 US PresswireNo doubt, Seattle's Cortez Kennedy was one of the most dominant defensive players of his era.
Cortez Kennedy was the person I hoped to see first Thursday night after unloading bags for check-in at the McKinley Grand Hotel. He was the 2012 enshrinee I'd covered years ago and gotten to know while presenting his case to the other Hall selectors. Having the retired Seattle Seahawks great step out from the hotel's entrance before I could get my bags to the curb foreshadowed good fortune.
A trip to the hotel bar a couple of hours later found the place mostly empty except for a couple of reporters from Minnesota. I sat down with them and soon discovered Hall of Famer John Randle, Kennedy's teammate on the 1990s All-Decade team, seated across the way. Two-for-two and three full days in Canton still to come.
I'm not much of a drinker -- a six-pack lasts a year in our house -- so when tequila shots appeared unexpectedly on our side of the bar, visions of "
Frank the Tank
" from Old School came to mind.
My hesitance must have been easy to spot. Randle rose from his chair and looked my way.
"Hey, you in?"
Enjoying the ride(s)
Trip 1 to the elevator produces a five-story ride with Thurman Thomas and his wife, Patti.
Leroy Kelly, Elvin Bethea and Roger Wehrli are along for the ride on a subsequent trip.
By then, my wife, Kim, and our two sons, Derek (10) and Cade (7), have arrived via red-eye flight from Seattle to Cleveland. We'd decided to make this a family trip, a mini-vacation for them, upon learning months earlier that Kennedy had earned enshrinement.
"We were just in the elevator with Gale Sayers!" Derek announced upon entering our room.
Heading to the Hall
The lobby was packed with Hall of Famers, most wearing their gold jackets, as they assemble for bus rides (police escorts included) to the Hall for a dedication ceremony. Buffalo Bills owner Ralph Wilson Jr. will be there when NFL commissioner Roger Goodell and Hall officials cut red ribbon for the new Pro Football Research and Preservation Center in Wilson's name.
Another chance meeting with Kennedy produces a lucky break. He graciously invites me to ride along in his car, along with Mark, an off-duty police officer from Las Vegas and Kennedy's friend since 1994.
The weather is already sizzling when we arrive, but it doesn't get much cooler than this: Hall of Fame corner Lem Barney, who averaged five picks per season for 11 years with the Detroit Lions, practically intercepts us as we get out of the car. He shakes Kennedy's hand. Mark and I get handshakes, too. Kennedy follows the red carpet to the special seating area for Hall of Famers.
All in the family
Mark and I wind up sitting next to Patti Thomas, Thurman's wife, in the front row of the general-seating area. Sayers and Joe Greene sit across the rope divider about 6 feet away. She's moved when Wilson, 93 and a World War II veteran, delivers a speech marked by self-deprecating humor after initially needing assistance to stand.
The Hall experience can be as much for the families as for the enshrinees themselves.
"I'm his wife and I'm blown away," Patti Thomas said. "These guys that you grow up watching ... my brothers come. They are huge sports fans. They're like kids in a candy shop. They've met 'em all and they're still like that, over and over again. Ninety-five percent of the guys are very outgoing. It's been an amazing thing. What a huge blessing."
Ray Nitschke Luncheon
From the Hall, it's off to the annual initiation luncheon, a chance for the new class to socialize with existing Hall of Famers in a private setting. Goodell is there, as are Hall officials, Class of 2012 presenters and some selection committee members. There are no wives or family members. And when lunch is served, enshrinees head into their own private room. No one else is allowed inside.
A microphone gets passed around, but the current class only listens. What happens beyond that, no one can say for certain.
"Thurman has so much fun when we come," Patti Thomas said. "He tells me his favorite thing of all is the Ray Nitschke Luncheon because it's only Hall of Famers, just the guys in there. And he said that is the coolest event because 'it's just us.' Nobody else is allowed to come in there and he loves it."
A Butler and a dentist
Former Pittsburgh Steelers cornerback Jack Butler waited 50 years for enshrinement, a record. His son and presenter, John, would give a guy the shirt off his back. John Butler did just that Friday. When one of the Hall of Famers showed up with the wrong shirt -- all were supposed to wear official blue Hall polos -- the younger Butler gave up his.
While the Hall of Famers were enjoying their privacy and camaraderie at the Nitschke luncheon, John Butler and Willie Roaf's father, Clifton, a retired dentist, sat down at the table I'd chosen in our less exclusive luncheon room.
What an honor it was for me, a first-time visitor to Canton, and the two other Hall selectors seated at our table.
I'd approached Jack Butler in the hotel lobby earlier in the day, congratulating him on his enshrinement. With Ted Hendricks, James Lofton and several other Hall of Famers gathering nearby, the elder Butler said, "it's starting to have a meaning to it all."
"It's amazing, just incredible," John Butler said. "You think about it in the past, we would look at his numbers, ever since I was a kid, and say, 'Wow, his numbers match up.' But it's not like an expectation he'll get in. When it happens, it's overwhelming."
Gold Jacket Dinner
[+] Enlarge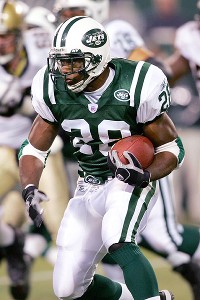 Linda Cataffo/NY Daily News Archive/Getty ImagesBeing steady in his career and patient with his rushing attack earned Curtis Martin a Hall of Fame induction.
Kennedy, Roaf, Butler, Dermontti Dawson, Chris Doleman and Curtis Martin received their gold jackets during an emotional ceremony at the local civic center Friday night.
Our family purchased tickets and arrived with a group featuring Greene, Dave Casper, Tom Mack and others.
"Is that the ghost-to-the-post guy?" Cade, our youngest, asked later.
That was him. Of course, Casper accomplished much more for the Oakland Raiders than his famed overhead grab for a 42-yard gain against Baltimore on Christmas Eve 1977. A 7-year-old raised on NFL Films drama might not know that yet.
Dozens of previously enshrined Hall of Famers took their turn walking an aisle through guest tables before greeting the 2012 class on stage. My wife heard our oldest, Derek, gasp when Marshall Faulk's name was called.
The boys craned to see Warren Moon make his entrance.
The video highlight packages are what got me.
Dawson pulling from his center position and flattening the same defender twice on one play. Doleman forcing fumble after fumble with blind-side hits on quarterbacks. Kennedy beating the center and then dragging the guard into the backfield to stop a runner in his tracks. Roaf collapsing one side of the formation with devastating power. Martin setting up his runs with patience and accelerating away from trouble. Butler picking off passes, scoring as a receiver and lighting up opponents (I feared Goodell might fine him retroactively).
There were poignant moments, too. The elder Roaf hugged his son and wouldn't let go. When he finally walked away, leaving his son to sport his new jacket alone on the stage, Clifton Roaf squeezed the bridge of his nose between finger and thumb, as if to stop the tears.
The after party
Once the Gold Jacket Dinner broke, Hall of Famers and their families returned to the hotel for a reception.
My kids headed straight for the ice cream sundae bar, of course.
Not to worry, a nearby bartender offered. Bill Parcells, presenter for Martin, had done the same thing. A weekend such as this one makes all of us feel like kids.
August, 3, 2012
8/03/12
10:55
AM ET
CANTON, Ohio --
Cortez Kennedy
's private car joined the police escort from the McKinley Grand Hotel and headed for one of his new homes, the Pro Football Hall of Fame.
What a ride it was Friday, and what a ride it's been for all the Hall of Famers selected to the Class of 2012.
"It's so cool to put that 'HOF 2012' on it," Kennedy said while putting his autograph on a piece of memorabilia for a friend.
Kennedy and the other 2012 enshrinees -- Jack Butler,
Chris Doleman
,
Dermontti Dawson
,
Curtis Martin
and
Willie Roaf
-- have arrived at the Hall and are seated outside among dozens of enshrinees.
Buffalo Bills
owner Ralph Wilson is speaking now at the dedication for the Hall's latest addition, the Ralph Wilson Jr. Pro Football Research and Preservation Center.
It's an awesome sight.
I'm seated in the first row of the spectator section, about six feet away from Gale Sayers and Joe Greene.
Warren Moon
, John Hannah,
James Lofton
, Lynn Swann and Willie Roaf are clearly recognizable across the way.
Wilson has just finished speaking. Commissioner Roger Goodell is succeeding him at the podium. We're about to head inside for a look at the new expansion. My notepad is quickly filling with material. Can't wait to share more of it on the blog.
I've got a couple other posts scheduled to run while I continue to gather. There's a luncheon to attend after this visit to the Hall, followed perhaps an hour later by media availability to the Class of 2012.
Greene,
Thurman Thomas
and other Hall of Famers are snapping photos while Wilson, Goodell, Moon and others cut the red ribbons.
Back as time permits.
August, 3, 2012
8/03/12
10:30
AM ET
CANTON, Ohio -- One second you're driving along Interstate 77 from Cleveland to Canton. The next second you're face to face with the Pro Football Hall of Fame's Class of 2012.
It's a sight for any football fan to behold.
Football's hallowed Hall sits closer to the interstate than I would have imagined. Exterior lighting illuminates the colorful posters featuring each new enshrinee's mugshot. Jack Butler, Dermontti Dawson, Chris Doleman, Cortez Kennedy, Curtis Martin and Willie Roaf on public display.
[+] Enlarge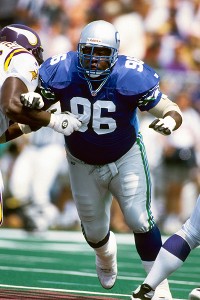 US PresswireNo doubt, Seattle's Cortez Kennedy was one of the most dominant defensive players of his era.
The enshrinement ceremony isn't til Saturday, but each new Hall of Famer has been building to this moment since his selection in early February.
A glance at the rear-view mirror while approaching the Hall late Thursday night revealed no cars in sight. I touched the brakes on my rental car to process the visual.
From there it was on the McKinley Grand Hotel, where the Hall of Famers are staying.
Security officials have limited access to guests only. At least one Hall of Famer was sitting on a bench out front when I arrived, a gold jacket revealing his status as one of the very best to ever play the game. Darkness had fallen and I couldn't positively identify him.
A familiar face awaited near the hotel entrance. Kennedy has cut so much weight, he looks more like a big linebacker than the defensive tackle with the most Pro Bowls during the 1990s (eight). I'd guess he's in the low 260s, down from the 300- to 320-pound range during his playing days.
"Kennedy!" shouted a fan standing down on the corner, behind the security line.
My role as the Hall selector for the Seattle market included the honor of presenting Kennedy's credentials to the other selectors during our annual meeting one day before the Super Bowl.
The process had provided an opportunity to speak with Kennedy regularly and know him better. He was always grateful for any efforts on his behalf, but he never campaigned for support. That wouldn't be his style.
I'd gotten to know Kennedy a little while covering the Seahawks for the Tacoma News Tribune during his final three seasons, ending in 2000. Polite and reserved, Kennedy wasn't much use for reporters. He wouldn't speak off the record, said little on it and seemed determined to keep a low profile. His play would do his talking.
I've found Kennedy to be much more engaging outside the player-reporter context. He's got a sense of humor and the cackle to go with it. Kennedy has been a happy man during the six months since learning this would be his year, but he's continued to lay low. There has been no media tour.
Kennedy and the other new Hall of Famers are scheduled to give nationally televised speeches at the enshrinement ceremony Saturday. Kennedy doesn't like to talk about himself, but I'm thinking he'll enjoy the moment.
It's not every day your face flies on a banner atop the Pro Football Hall of Fame.
February, 4, 2012
2/04/12
8:16
PM ET
INDIANAPOLIS -- Thirteen modern-era NFL players were finalists for enshrinement Saturday in the Pro Football Hall of Fame.
Only one was named offensive or defensive player of the year during his career.
That was the Seattle Seahawks' Cortez Kennedy. His eight Pro Bowls, all-1990s selection and
overall dominance
made my job as his presenter quite simple. State the facts and let Kennedy's career do the talking. Picking the final five out of 15 modern-era finalists is always tough, however, because it usually requires leaving off worthy candidates.
[+] Enlarge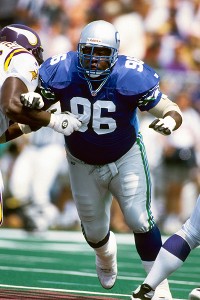 US PresswireNo doubt, Seattle's Cortez Kennedy was one of the most dominant defensive players of his era.
The 43 other selectors and I met for more than seven hours before identifying Kennedy, Chris Doleman, Dermontti Dawson, Curtis Martin and Willie Roaf as the class of 2012. Jack Butler made it as a seniors candidate.
A few thoughts on the process and the results:
This class made it through at a good time. Larry Allen, Michael Strahan, Jonathan Ogden, Warren Sapp, Bryant Young, John Lynch and Steve McNair become eligible for the first time in 2013. Shaun Alexander, Derrick Brooks, Marvin Harrison, Rodney Harrison, Tony Dungy and Mike Holmgren join the list in 2014. Isaac Bruce, Edgerrin James, Walter Jones, Junior Seau, Chris Samuels, Kurt Warner, Ty Law and Orlando Pace are among those eligible beginning in 2015.

Former St. Louis Rams
and Arizona Cardinals
cornerback Aeneas Williams should feel great about cracking the final 10 in his first year as a finalist. Williams had 55 career interceptions and scored nine touchdowns. He was a big-time playmaker for bad and good teams alike.

The situation at receiver remains a mess and it's not going to get easier with Harrison becoming eligible in a couple years. Voters are having a tough time deciding between Cris Carter and Andre Reed. Both made the final 10 this year. Reed made the final 10 last year as well. Having both crack the final 10 this year made it harder for one of them to break through. Voters were more likely to choose one wideout when forced to pick only five players.

Former San Francisco 49ers owner Eddie DeBartolo Jr. did not make the reduction from 15 to 10. I think it's tougher for voters to quantify how owners and even coaches -- think Bill Parcells, who missed the cut from 10 to five -- contributed to their teams' success. The discussions for Parcells (55-plus minutes) and DeBartolo (42-plus minutes) were more than twice as long as the discussions for other candidates. Hall bylaws prevented voters from considering the legal troubles and suspension that preceded DeBartolo's exit from the game.

DeBartolo was a finalist in part because he hired Bill Walsh, promoted a winning culture, cared tremendously for his players and helped win five Super Bowls. He spent this weekend with former 49ers player Freddie Solomon, who is in the final days of a battle with cancer. The 49ers' renewed success this past season also reflected well on DeBartolo, who has become a tremendous resource for current team president Jed York, his nephew.

Electing one pass-rusher (Doleman, who spent part of his career with the 49ers) to the Hall could give former 49ers and Dallas Cowboys pass-rusher Charles Haley an easier time in the future. But with Strahan joining the conversation in 2013, Haley faces stiff competition again. Former Rams pass-rusher Kevin Greene did not make the final 10 despite 160 career sacks.
It's been a whirlwind day. Hall bylaws prevent me from sharing specifics about what was said in the room during the proceedings. The Hall also asked voters not to reveal their votes outright. I voted for five of the six players enshrined on the final cut and supported others. As always, however, reducing to only five in the end required leaving off candidates I hope will make it in the future.
January, 7, 2012
1/07/12
3:27
PM ET
The
San Francisco 49ers
' resurgence this season recalls the team's greatest years.
How appropriate, then, that Eddie DeBartolo Jr. has emerged as a Pro Football Hall of Fame finalist for the first time. DeBartolo and former St. Louis/Arizona defensive back
Aeneas Williams
add NFC West flavor to the proceedings as first-time finalists for the Hall. I'll be among those casting votes when the selection committee gathers during Super Bowl week.
No more than five of the maximum
15 modern-era finalists
can qualify for enshrinement in a given year. That makes handicapping a candidate's chances difficult. Worthy finalists miss the cut every year, in my view. They must wait their turn while other worthy finalists gain enshrinement.
Without slam-dunk candidates such as
Emmitt Smith
or
Jerry Rice
on the ballot this year, the door could open for some who have waited their turn recently.
Cortez Kennedy
,
Charles Haley
,
Jerome Bettis
,
Chris Doleman
and
Kevin Greene
are among the finalists with ties to franchises currently in the NFC West. Kennedy made the final 10 last year.
Also among the modern-era finalists:
Tim Brown
,
Cris Carter
,
Dermontti Dawson
,
Curtis Martin
, Bill Parcells,
Andre Reed
,
Willie Roaf
and
Will Shields
. Jack Butler and Dick Stanfel are eligible as seniors nominees. Their enshrinement would not come at the expense of the maximum five slots for modern-era finalists.