November, 29, 2011
11/29/11
11:22
AM ET
Jack Del Rio's firing in Jacksonville and news of ownership's intention to sell the team should register strongly in other organizations facing uncertain futures.
The
St. Louis Rams
are one such organization.
Their owner, Stan Kroenke, isn't expected to sell the team, of course. He only recently became majority owner. But the Rams' struggles raise obvious questions about potential changes involving the head coach and/or general manager.
I've put together a chart comparing a few offensive stats for the Jaguars and Rams this season. Some of the numbers actually favor Jacksonville.
There are obvious differences, too. Del Rio had been the Jaguars' head coach for nine seasons. Steve Spagnuolo is in only his third season with the Rams. But the Rams' inability to get more from their offense in
Sam Bradford
's second season works against Spagnuolo, as does a defense that has collapsed against the run.
April, 27, 2011
4/27/11
1:45
PM ET
Colleague Kevin Seifert showed
some daring
by sending TCU quarterback
Andy Dalton
to the
Minnesota Vikings
at No. 12 in a recent
ESPN.com mock draft
.
He wasn't arguing for Dalton's value so much as saying the Vikings' need for a quarterback might compel them to take one there.
[+] Enlarge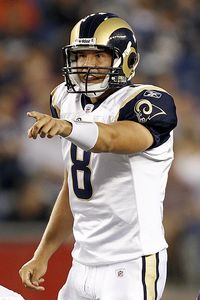 AP Photo/Winslow TownsonDid the Rams "reach" to get quarterback Sam Bradford in the first round last year?
"To me,"
Seifert later wrote
with first-year Vikings coach Leslie Frazier in mind, "there is no better time to jump to the other side than in a coach's first year, giving him a building block for the rest of his program."
The key, of course, is not mistaking anchors for building blocks.
Steve Mariucci was the
San Francisco 49ers
' first-year coach when the team used a 1997 first-rounder for
Jim Druckenmiller
, a blunder softened only by
Steve Young
's presence on the roster. That experience should not directly influence the 49ers' thinking as they consider first-round quarterbacks for new coach Jim Harbaugh, but it's a reference point.
With Harbaugh and the 49ers in mind, I went through recent drafts to see which teams with first-year head coaches used first-round selections for quarterbacks. More precisely, I looked at all first-round quarterbacks since 2000 to see which ones had first-year head coaches.
Six of the last eight first-round quarterbacks --
Matthew Stafford
,
Mark Sanchez
,
Josh Freeman
,
Matt Ryan
,
Joe Flacco
and
JaMarcus Russell
-- joined teams with first-year head coaches. All but Russell remain franchise quarterbacks in their teams' eyes. All but Russell are still playing for their original head coaches. Four of the six had winning records in 2010.
For most of those franchises, value and need lined up pretty well, and first-year coaches benefited.
"If you don't have a quarterback, you're drafting maybe a different kind of running back, maybe a different kind of offensive lineman, than if you have somebody," Lions coach Jim Schwartz told reporters at the scouting combine. "We had
Calvin Johnson
, but our ability to get
Jahvid Best
,
Nate Burleson
in free agency, to draft
Brandon Pettigrew
-- those pieces were because of the quarterback that we have."
We could also argue that the
St. Louis Rams
were better off building their offensive line and other areas of their roster before making
Sam Bradford
the first overall choice in 2010. They could have drafted Sanchez or Freeman instead of defensive end
Chris Long
in 2009, then spent subsequent selections on players to build around one of those quarterbacks.
Bradford and Denver's
Tim Tebow
were the "other" first-round quarterbacks in the eight-man group featuring Stafford, Sanchez, Freeman, Ryan, Flacco and Russell.
In general, getting the right quarterback for a first-year head coach puts a franchise in strong position for the long term. There's no sense forcing the issue, however, because the wrong quarterback can drag down any coach, regardless of tenure.
A coach such as the Vikings' Frazier might have a harder time waiting. His contract runs only three seasons and ownership expects quick results. Harbaugh has a five-year deal with the 49ers. Expectations are high, but there's less urgency for immediate results.
The first chart shows the 14 first-round quarterbacks since 2000 that landed with returning head coaches.
The second chart shows the 14 first-round quarterbacks since 2000 that landed with first-year head coaches.
February, 14, 2011
2/14/11
11:06
AM ET
The
Seattle Seahawks
' upset playoff victory over New Orleans let Pete Carroll join the club of NFL head coaches with at least one playoff victory in their current roles.
Jim Harbaugh will be looking to match the feat in his first season with the
San Francisco 49ers
.
The chart breaks down current NFL head coaches by playoff victories with their current teams.
January, 26, 2011
1/26/11
9:19
AM ET


Matt Barrows of the Sacramento Bee
checks in with Seahawks coach Pete Carroll, who says he has no beef with new 49ers coach Jim Harbaugh, counter to perceptions lingering from their time together in the Pac-10. Specifically, Harbaugh's Stanford team went for a two-point conversion while blowing out Carroll's USC team, leading to a postgame exchange in which Carroll was heard to ask, "What's your deal?" Harbaugh supposedly threw the question right back at Carroll. Carroll: "You'll have to talk to Jim about that. I don't know anything about it. I don't care about it. It means nothing to me. That meant nothing to me. The other coaches get to do whatever they want, and I don't hold anything against them. I'm not one of those guys who is looking for issues with guys. They can do whatever they want to. I don't even remember the circumstances other than we were getting our butts kicked. Other than that, I don't know."
Also from Barrows
: Mike Singletary's thoughts on the importance of head coaches having first served as coordinators. Singletary: "I'd be willing to sit down with anybody and talk X's and O's on both sides of the ball. As a matter of fact, I've talked to a number of coordinators, and kind of helped them in some areas. In terms of criticisms and all those other things, it doesn't matter. People can say what they want to say. I just think it's important to move forward in the journey that I'm on. And in the meantime, someone should study the coaches in the league that aren't coordinators, haven't been coordinators. I think some of them have done pretty well." Andy Reid and Tom Coughlin never served as coordinators at the NFL level. Coughlin was a coordinator at Syracuse. Jack Del Rio was an NFL coordinator for one season.
Matt Maiocco of CSNBayArea.com
checks in with Singletary, who agrees with Jed York's comments about Singletary and top personnel man Trent Baalke not meshing very well. Singletary: "I will take credit for all of that. That's something that's on me. He's exactly right. And that's something that Jed knew last year. But Trent did a good job and for me it's just a matter of some people you mesh with, and others you don't. I just look at it as one of those things that sometimes it's there, sometimes it's not."
Danny O'Neil of the Seattle Times
says the Seahawks' late push knocked down their draft stock enough to possibly prevent them from targeting a top pass-rusher in the first round of the 2011 NFL draft. O'Neil: "The good news? This is a draft where there are a number of players Seattle may be able to find to plug into that five-technique spot now designated for big-bodied run-stuffers in the mold of Red Bryant. Jarvis Jenkins of Clemson could fit that mold. He's 6-4, 309 pounds and here at the Senior Bowl."
Also from O'Neil
: Carroll points to the "balanced" offense Darrell Bevell called for Minnesota as one reason he's excited to have Bevell as his offensive coordinator. Of course, balance is a little easier to come by when Adrian Peterson is your running back and your offensive line features more than two legitimate NFL starters. Carroll on the fit between Bevell and new line coach Tom Cable: "The scheme that he has been in is one that connects perfectly with Tom. They have the same background, schematically and all that, so they'll have harmony from the beginning, communications and terminology and all that kind of stuff. He's aggressive, his mentality about how he likes to go after it and call plays. I think he's a great fit for us."

Bob McManaman of the Arizona Republic
checks in with former Cardinals quarterback Neil Lomax, who says he's enjoying life despite continuing trouble with the hip he injured badly. Lomax on the Jay Cutler situation: "Knowing what I know about Jay Cutler, he would have played if they had given him clearance and he was healthy enough to play. Who's in his shoes? Nobody can say. He took that team to the NFC Championship Game -- he did -- and now he's going to turn his back on those guys? No. His own coach, Lovie Smith, said he was hurt. That's good enough for me."
Darren Urban of azcardinals.com
notes that before this postseason, Arizona was the last team Pittsburgh and Green Bay played during the playoffs.
The Phoenix Business Journal
says Larry Fitzgerald gave away Pro Bowl travel packages to lucky fans.
Aaron Wilson of National Football Post
says Dolphins assistant Todd Bowles impressed Cardinals coach Ken Whisenhunt during an interview for the vacant defensive coordinator position.

Jim Thomas of the St. Louis Post-Dispatch
says during a chat that he thinks the Rams will work out something with safety Oshiomogho Atogwe. Thomas: "Atogwe's bonus actually is due on Feb. 21, so it's coming up quickly. Maybe the Rams can renegotiate how the $8 million is paid, or even ask Atogwe to take less than the $8 million. But with several holes elsewhere, it's hard to imagine the team creating another one by releasing Atogwe unless they're confident they can re-sign him anyway." The Rams have been through this before. The last time Atogwe hit the market, he didn't have many options. No teams brought him in for a visit, to my knowledge. I would think the Rams would be able to work out something amenable to both sides.
Nick Wagoner of stlouisrams.com
revisits the first four games of the Rams' 2010 season.
January, 6, 2011
1/06/11
2:21
PM ET
The
Seattle Seahawks
are the ones preparing for a playoff game this week, but
San Francisco 49ers
fans are the ones making the most noise in the days before Seattle's wild-card kickoff against New Orleans. Niners fans' concerns about the team's coaching search dominated the latest NFC West chat. Transcript
here
. Highlights below:
Brad (Visalia, Calif.): Mike, please find a way to end my suffering. How did the Niners blow this Harbaugh deal? Do you think they low-balled him? Sounds like they came in at somewhere between $4.5 and $5M where as Carroll got about $6.5. Do you think if they had come in at the Carroll number that we'd be listening to a press conference right now announcing Harbaugh as HC? I just feel completely betrayed by Jed York.

Mike Sando: You are not the only one. First, it's not over til it's over, so let's not react prematurely. But at this point, I would be quite surprised if the 49ers landed Harbaugh. And if he does get away, your complaints regarding York appear justified. He did say money would be no object, yet all the reports suggest the 49ers came in at a figure well beneath what the Miami Dolphins appear willing to pay. I do not know whether a better offer would have stopped Harbaugh from at least talking to other people, though. He had to know the 49ers would wait for him. What other options were they going to pursue that would trump him? None.

Ben (Portland): Do you think Vince Young is a possibility in Seattle? He seems like a good fit for Bates' offense and I have to think that Young would appreciate Uncle Pete's approach more than Fisher's "My way or the highway".

Mike Sando: A fresh start would serve Young well, and we know Carroll gives fresh starts. The key would be whether the Seahawks or any team could land Young on favorable terms. Young cannot have the power he attempted to wield in Tennessee. He would need to be humbled and grateful for the chance. I question whether he would have that state of mind. He is accustomed to "The Man" status. Let's see how the market responds. I'd applaud a team for signing Young to the right kind of deal. The signing team could not offer too many promises.

Tevin T. Broner (NLR): Do you think the Rams will make some noise in free agency?

Mike Sando: They do have a new owner and they do have a quarterback to build around. They are definitely more likely to make some sort of splash in free agency this offseason than in past offseasons -- provided we have free agency.

Bryan (Houston): What are your thoughts on the Cards coaching and GM situations? Do you see some major changes? Hire a new DC? Will Whiz give up play calling to an OC?

Mike Sando: In a normal year, yes, I think the Cardinals would overhaul the defensive staff. I am a little less sure about that in the current climate. We are seeing some teams make decisions with the bottom line in mind. Marvin Lewis stays in Cincy. Jack Del Rio stays in Jacksonville. Jerry Jones sticks with Jason Garrett. Carolina parts with John Fox (and will hire more cheaply, for sure). The Cardinals will have to think hard about whether to change over their coaching staff. Now, they could always write into contracts lockout clauses protecting themselves against having no football, but that process adds another layer of uncertainty, too.
October, 8, 2009
10/08/09
12:36
PM ET

Posted by ESPN.com's Mike Sando
| | | |
| --- | --- | --- |
| Referee | 2009 Coach-Initiated Challenges | Per Game |
| Don Carey | 8 | 2.0 |
| Ron Winter | 8 | 2.0 |
| Al Riveron | 7 | 1.8 |
| John Parry | 5 | 1.7 |
| Gene Steratore | 4 | 1.0 |
| Jeff Triplette | 3 | 1.0 |
| Jerome Boger | 3 | 0.8 |
| Mike Carey | 3 | 0.8 |
| Walt Coleman | 3 | 0.8 |
| Scott Green | 3 | 0.8 |
| Carl Cheffers | 2 | 0.7 |
| Terry McAulay | 2 | 0.7 |
| Ed Hochuli | 2 | 0.5 |
| Peter Morelli | 1 | 0.3 |
| Tony Corrente | 1 | 0.3 |
| Bill Leavy | 1 | 0.3 |
| Walt Anderson | 0 | 0.0 |
The angry coach is a staple of sports with an entire line of Coors Light commercials to prove it.
Someone should market a Coaches Gone Wild video.
Coaches' cardiologists might disagree, but there's something utterly amusing about a grown man spewing steam toward an unsympathetic referee.
With those visuals in mind, I made an initial stab at putting together a referee satisfaction index for this season. The chart shows how many times head coaches have challenged each NFL referee through Week 4.
Challenges are subjective. Most are futile. Some seem to represent emotional, even petty overreactions by teed off coaches. It's interesting to me that coaches issue more wasted challenges during home games, when throwing the red flag can appease the locals, if only temporarily.
The Vikings' Brad Childress, for example, has a 9-8 challenge record on the road and a 5-14 challenge record at home, based on my records. His predecessor, Mike Tice, was even worse (5-7 road, 1-10 home). The Jaguars' Jack Del Rio (8-13 road, 8-20 home), the Titans' Jeff Fisher (7-6 road, 6-13 home) and the Bears' Lovie Smith (11-14 road, 5-17 home) are similarly futile home challenges. Former 49ers coach Mike Nolan (6-4 road, 6-13 home) was another futile home challenger.
Coaches have focused their challenges disproportionately.
Four of 17 NFL referees account for half of the 56 coach-initiated replay challenges through Week 4. Head coaches have challenged three refs -- Don Carey, Ron Winter and Al Riveron -- 23 times already. Carey is a first-year ref. Riveron is a second-year ref. Winter denied four challenges in Week 4, including two raised by the Ravens. Winter's
satisfaction rating
among the Ravens could use a little restoration.
September, 20, 2009
9/20/09
10:00
AM ET

Posted by ESPN.com's Mike Sando

Dave Boling of the Tacoma News Tribune
frames the Seahawks' trip to San Francisco this way: "Do you have what it takes to go to Mike Singletary's house and try to take something from him?"
Brock Huard of 710ESPN.com
offers keys to the game for the Seahawks, starting with turnovers.
Also from Huard
: key matchups, including one between Seattle's guards and the 49ers' tough inside linebackers. Huard: This is a difficult matchup as [Takeo] Spikes is savvy and physical and [Patrick] Willis is explosive, violent and one of the top LBs in the game; however, the 49ers like to play a base 3-4 defense and that scheme can allow space for offensive guards to get on linebackers. When Sims and Unger get those shots, they must connect and get Spikes and Willis to the ground."
Danny O'Neil of the Seattle Times
puts defense in the spotlight while previewing the Seahawks-49ers game.
Brian McIntyre of Scout.com
thinks the Seahawks might be wise to call a couple more screen passes against the 49ers' active front seven.
Adam Caplan of Scout.com
expects the Seahawks to bring in tackle Chris Patrick for a follow-up visit Monday.

John Crumpacker of the San Francisco Chronicle
says the 49ers' victory over the Cardinals hardly registered nationally. Cornerback Tarell Brown: "We haven't arrived yet. We haven't done anything yet and we understand that. We try not to read the papers or follow the news. We want to keep up that intensity. It's a long season ahead of us. We play some great teams. We have to keep on pushing."
Also from Crumpacker
: Brian Billick offers thoughts on Singletary. Billick: "I had good luck bringing former players [such as Jack Del Rio, Mike Tice and Dennis Thurman] into the profession. Mike [Singletary] had to learn what it was to become a coach. He'd been away from the game for 10 years. He had to know what it meant to commit to the profession."
Matt Barrows of the Sacramento Bee
says the 49ers need to exploit the Seahawks' run blitzes by throwing to the perimeter. Also: "The Seahawks registered 13 sacks against the 49ers in their two meetings last year. Most came with Seattle rushing just four defenders. Harassing Shaun Hill today will be a priority for the defense."
Also from Barrows
: The 49ers' rush offense went from being top-ranked through the preseason to last-ranked after Week 1. Offensive coordinator Jimmy Raye: "We're going to run the ball 60 percent of the time -- that's not going to change. We're looking for that balance of run to pass and, to me, that balance isn't 50-50, it's 60-40, and it's toward the run."
Kevin Lynch of Niner Insider
is impressed by what he sees from the Seahawks. Lynch: "These Seahawks have so much depth, particularly in their receiving corps and on their defensive line, and it also looks like they've had a whale of a draft."
Matt Maiocco of the Santa Rosa Press-Democrat
says the 49ers' ground game must improve. Seahawks coach Jim Mora: "It's more of a mindset than scheme. Our guys understand the challenge. They've played Frank Gore many, many times, and they know what he's all about and they have tremendous respect for him."
Also from Maiocco
: The 49ers will win if they consistently get 5 yards on first down.
Brad Biggs of National Football Post
expects Tony Pashos to become the 49ers' starter at right tackle before long.
Steve Korte of the Belleville News-Democrat
says the Rams are "putting on blinders" heading into their game against the Redskins.
Also from Korte
: Albert Haynesworth presents a tough matchup for the Rams.

Jim Thomas of the St. Louis Post-Dispatch
gives the Rams' running game an edge against the Redskins' defense.
Also from Thomas
: Rams center Jason Brown's comments about Haynesworth made it back to the Redskins this week. Brown in August: "I'm so glad we're playing Washington early in the year because it's going to be hot out there, we're going to be running hurry-up offense and he's going to get fatigued. And I'm not sure if you have watched film before, but when he gets fatigued, he taps out. He just falls down to the ground, and you're like, 'Oh my gosh, is he hurt? Is something wrong with him?' No, he's just giving the guy on the sidelines enough time to mosey on out there so he can get up, go to the sidelines, catch a breather, get something to drink and then he comes right back out."
More from Thomas
: The Rams are still looking for ways to get Steven Jackson and the running game going.
More yet from Thomas
: Staying upbeat is a priority for the Rams.
Turf Show Times' VanRam
says the Rams face another tough tight end. After having problems with Seattle's John Carlson, the Rams face the Redskins' Chris Cooley in Week 2.

Kent Somers of the Arizona Republic
says Cardinals linebacker Gerald Hayes keeps a low profile. Hayes: "I play the game because I love it. If they want to give me accolades and all that stuff and recognize me, then they do it. If they don't, I know what I can do and that's all I'm worried about."
Also from Somers
: one way the Cardinals stopped the run in Week 1.
Darren Urban of azcardinals.com
expects more from Anquan Boldin this week.
Also from Urban
: The Cardinals' success last season set high expectations for 2009, making their Week 1 defeat hurt a little more.
More from Urban
: Arizona could be "dangerously thin" at outside linebacker if Chike Okeafor cannot play.
Michael C. Wright of the Florida Times-Union
looks at the Cardinals' efforts to avoid what has awaited so many other Super Bowl losers. Wright: "[Ken] Whisenhunt points to turnover on the coaching staff as potentially being one of the biggest obstacles Arizona faces in avoiding a Super Bowl hangover."
Sara Cardace of the New York Post
reviews John Krakauer's book about former Cardinals safety Pat Tillman. Cardace: "Although the book's narrative culminates with the exploitation of Tillman's death by a government desperate for good will in wartime, the tragic elements of Tillman's story were in place well before then."
April, 4, 2009
4/04/09
12:30
PM ET
Posted by ESPN.com's Mike Sando
K.C. from Wenatchee, Wash., writes: Hi Mike. I have a research question for you =)
With everything that went on with Jay Cutler in Denver it got me thinking … Bill Belicheck's former assistants haven't been faring too well out there.
Romeo Crennel was fired from Cleveland. Eric Mangini was fired from the Jets (and picked up by Cleveland). Charlie Weiss has been on the hot seat at Notre Dame since he got there. And now Josh McDaniels is losing his star QB because he was too eager to get his former star QB.
So what I'm wondering: Is there a Head Coaching family tree out there somewhere that would show us which coaches came from which coaches? Which of the current Head coaches has had the most success in developing other head coaches?
I'm measuring success by longevity in job, W-L record, and playoff experience, but feel free to throw in anything else that makes sense. Thanks in advance as always!
Oh, and Corey Redding's new deal only means one thing to me. The Hawks are playing to win this year and are looking to rebuild next year. New QB, new LT, new RB, new DL, and new DBs.
Mike Sando: This will come as a great shock to the regulars here, but my roster database does include 30 columns of information for each head coach. I added the 30th column under the heading "coaching tree" in response to your question. Thanks for the idea.
In some cases it's hard to tell which branches lead to which trees. It's not like every head coach owes his advancement to a single mentor. Some coaches spent one or more seasons under multiple head coaches early in their NFL careers.
That said, I went through and assigned mentors to every head coach, based on my judgment.
In keeping with the tree analogy, Bill Parcells leads the way with five branches: Bill Belichick, Sean Payton, Tony Sparano, Todd Haley and Tom Coughlin.
Brian Billick has four: Jack Del Rio, Mike Smith, Mike Singletary and Rex Ryan.
Tony Dungy has three: Lovie Smith, Mike Tomlin and Jim Caldwell.
Mike Holmgren has three: Andy Reid, Dick Jauron and Jim Zorn (although Jauron worked with both of Holmgren's predecessors in Green Bay, and he was with Tom Coughlin in Jacksonville).
Reid has three: Brad Childress, John Harbaugh and Steve Spagnuolo.
Bill Cowher has two: Marvin Lewis and Ken Whisenhunt (although Whisenhunt spent four years as an NFL assistant to three head coaches before joining Cowher's staff).
Belichick has two: Eric Mangini and Josh McDaniels.
The Parcells tree is holding up quite well. Six current coaches led their current teams to a combined nine Super Bowls. Belichick went to four of them. Coughlin went to a fifth. That gives the Parcells tree five of the nine Super Bowl appearances by coaches with their current teams. Belichick and Coughlin are the only current coaches to have led their current teams to Super Bowl victories.
As for your thought about the Seahawks rebuilding in 2010, that might happen, but the deal with Cory Redding wouldn't necessarily be an indication, in my view. The Seahawks saved only $1.55 million on the new deal. Redding's salary in 2010 would have been manageable.
Note: I'll be responding to mailbag submissions throughout the weekend. Thanks much for getting in touch through the comments, the mailbag, our Facebook profile and Twitter account.
August, 17, 2008
8/17/08
11:38
AM ET
Posted by ESPN.com's Mike Sando
Kyle from St. Louis writes: I have to disagree with you on the Rams not having the offensive personnel to move the ball down the field. Granted, my biased opinion is factoring in health and Jackson being there. Still, Holt's knee is better, and at 32, he still gets it done. With protection, Bulger is as accurate a QB as there is. Jackson in a beast. Bennett is serviceable at WR, but Avery and Burton should provide explosiveness. They also have Brian Leonard at fullback/running back, and Randy McMichael at tight end, and Al Saunders knows how to utilize that position. Please don't tell me you think Seattle, for example, does have the weapons to score more so than StL.
Mike Sando: I think we're on the same page here, Kyle. I meant the Rams lacked the firepower to move the ball consistently in this second exhibition game because Steven Jackson and Torry Holt were not playing. I also agree about McMichael. However, I'm less impressed by the Rams now than I was a month ago. This team lacks depth. Dante Hall is the third receiver. Can Holt's knee hold up for a season? What about Orlando Pace? Bringing back Jackson will help a great deal, but Marc Bulger already looks like a guy worried about getting hit.