June, 4, 2013
6/04/13
12:06
PM ET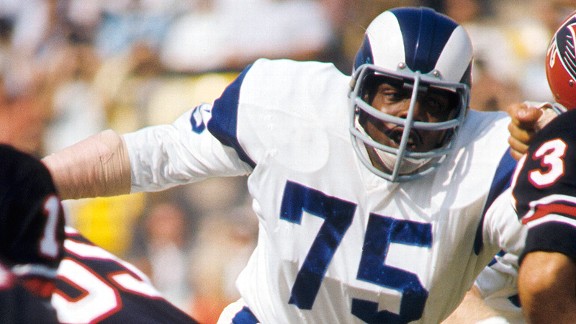 Long Photography/USA TODAY SportsDeacon Jones, a Hall of Fame defensive end, was the leader of the L.A. Rams' left side from 1961-71.
Quarterback Johnny Unitas and receiver Raymond Berry had been tormenting NFL Western Conference defenses with the deep ball when along came David "Deacon" Jones and a new wave of defensive linemen to spoil the fun.
"The main pattern we were using took three and a half seconds to throw it," Berry recalled during a 2008 interview. "I could run down 10 yards and break square in and three steps and I'd plant and take off back to the corner."
Unitas-to-Berry had set apart the Baltimore Colts for years. But life was changing for them in the early 1960s. Vince Lombardi began assembling the
Green Bay Packers
' championship defense. Jones,
who died Monday at age 74
, combined with Merlin Olsen to give the Los Angeles Rams arguably the most dominant left side in NFL history. In Detroit, meanwhile, the Lions had the great Alex Karras.
"What happened in our division is those three-and-a-half-second routes became history," Berry said. "In order to get the ball off when we played those people, and it represented six games, we would throw the ball in 1.8, 1.9 or 2.1 seconds at the most. Get it out of there. Because you couldn't keep people out of there."
At the time, rules governing holding prevented offensive linemen from slowing the rush by grabbing onto opponents' jerseys. Defensive linemen could slap offensive linemen on the side of the helmet to facilitate their rushes.
Jones, at 6-foot-5 and 272 pounds, refined the head-slap to a martial art.
"The head-slap was not my invention, but Rembrandt, of course, did not invent painting,"
Jones once said
.
The NFL would eventually legislate some of Jones' preferred tactics out of the game to promote passing and spare quarterbacks.
"

"Deacon Jones was a game changer."

"

-- Rams DE Chris Long
"The league has legalized what was considered holding when we played," Berry said. "I did a several-years study on how much time you had against a great pass-rush team. You had to get that ball out of there. Today, that has totally changed, giving quarterbacks one or two seconds of additional time."
Jack Patera played on the Baltimore Colts' defense with Hall of Fame defensive end Gino Marchetti before serving as a defensive line coach for the Rams beginning in 1963, Jones' second season. Patera coached the Rams' famed "Fearsome Foursome" line for five seasons. He later coached the "Purple People Eaters" line under Bud Grant in Minnesota.
Patera, now 79, knows defensive linemen, in other words. He's also honest and direct in his assessments. Carl Eller was as talented as they came, but didn't apply himself consistently. Jim Marshall was stronger, pound for pound, than just about anyone, and more consistent, too. Olsen was nearly perfect in everything he did -- an "A" student at his craft.
Then there was Deacon Jones.
"Gino Marchetti was the superb defensive end of my playing time and for David Jones, he was probably the best I had ever seen, consistently," Patera said Tuesday. "Jim Marshall was the most consistent player, but Deacon had him by a step or two in his overall performance."
Patera recalled Jones as a raw 14th-round draft choice and a player the Rams had initially considered at offensive tackle.
"He had all the speed and strength, but he had a stance like those 1920 pictures you see, guys squatting like a frog with their hand between their legs," Patera recalled with a laugh. "He didn't know anything about playing defense, but all he had to do was get his butt up in the air and let him take off. Once we got him in a stance where he could get off the ball, there wasn't a whole lot to teach him. Everything was very simple to him."
Jones played a great game and talked one, too. Former
Dallas Cowboys
tackle Rayfield Wright, a Hall of Famer, shared
a classic story
with Sports Illustrated about a 1969 matchup against Jones.
"As an offensive lineman, you're taught only to hear the quarterback's voice, nothing else," Wright told the magazine. "I'm listening in case there's an audible, and in the pause between 'Huts!' I hear a deep, heavy voice say, 'Does yo' mama know you're out here?' It was Deacon Jones."
Jones, an eight-time Pro Bowl choice, coined and popularized the term "sack" before the NFL tracked the stat officially. He laid the foundation for a rich tradition of Los Angeles and
St. Louis Rams
defensive ends and outside pass-rushers. Jack Youngblood,
Kevin Greene
,
Kevin Carter
,
Leonard Little
,
Chris Long
and all the others know the history and know Jones' founding role in it.
"Yes, there is a fairly strong brotherhood, especially Deacon and I and when Merlin was still with us -- a real strong bond," Youngblood said in an interview last year.
Youngblood and Jones were on the Rams together before the team traded Jones, clearing the way for Youngblood.
"Those were awfully big shoes to fill," Youngblood said. "Deacon had been All-Pro and the sack leader and the whole nine yards for so many years. I'm thinking, this is going to be a leap here."
Chuck Knox, the Rams' steely head coach, called Youngblood into his office.
"He looked me down and gave me that Chuck Knox look and said, 'All right, it's your job, don't let me down.' It's my second year in the business and he's going, 'Don't let me down.' That was significant for me. That said he thought enough of my ability that I was going to be able to do the job for him."
Jones went into the Hall of Fame with the 1980 class. Youngblood followed in 2001.
"All those guys are awesome," Long said last season. "I was lucky enough to play with Leonard Little, who was just a great player. And when I changed my number to 91, I told him I was just renting the number. Greene was a 100-plus sack guy, Kevin Carter a 100-plus sack guy. Jack Youngblood and his legacy is his toughness along with his skill. I mean, it's just legendary. And Deacon Jones was a game changer.
"All those guys, just to be playing left end for the St. Louis Rams is a pretty cool history, especially when you put all the names together. It's impressive."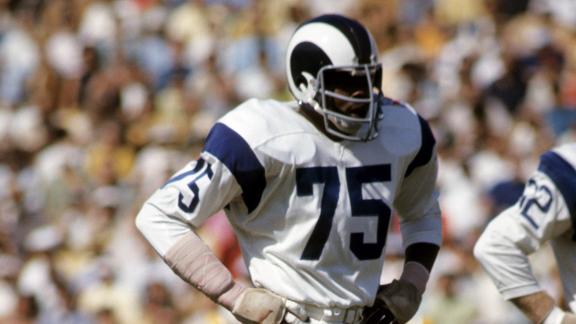 February, 7, 2012
2/07/12
12:55
PM ET
One of our blog regulars,
joe_cool585
, correctly points out an omission from the NFC West blog recently.
Jim Harbaugh's naming as the NFL's top coach, as declared by Associated Press voters, got
insufficient play here
during Pro Football Hall of Fame fallout Saturday night. Time for every coach's favorite, the makeup call.
Harbaugh becomes the first NFC West coach since realignment in 2002 to earn the AP honor. Harbaugh and former
St. Louis Rams
coach Dick Vermeil are the only coaches for current NFC West teams to win the award in the last two decades.
Winning the award requires not only faring well, but also faring better than your peers in a given season, sometimes relative to expectations. The chart does not necessarily rank the best jobs head coaches have done for current NFC West franchises since the AP established the award in 1957. This wouldn't be a bad list to work from, however.
The chart's final column shows the difference between winning percentages from the previous season. For example, the 1999 Rams went 13-3, up from 4-12 the previous season. The difference between those winning percentages -- .813 minus .333, basically -- works out to plus .563.
.
July, 25, 2011
7/25/11
7:47
AM ET

Danny O'Neil of the Seattle Times
says Seahawks rookie Mark LeGree worked manual labor during the lockout to help make ends meet. O'Neil: "LeGree did what he had done between his junior and senior seasons in college: He got a job working for a general contractor in Boone, N.C. He put up awnings and spread gravel and mulch. He knocked down a rock wall and built another one."
Also from O'Neil
: He has a hard time believing the Seahawks have moved on from Matt Hasselbeck. O'Neil: "It's hard for me to believe that Seattle will not offer Hasselbeck the chance to re-sign. Now, it's possible the Seahawks won't increase their offer for Hasselbeck to re-sign, but that's something very different from stating Seattle won't even make a final offer to Hasselbeck. That would truly be a remarkable turn of events considering this offseason began with coach Pete Carroll's statement he considered Hasselbeck the team's starting quarterback and that re-signing him was the top priority. That was January. A lot of time has passed since then, and the two sides failed to reach an agreement in March. Seattle must prepare for the possibility Hasselbeck won't be back. After all, he's not under contract and he's going to be the top free-agent quarterback available. He very well may not be back. It's just hard for me to believe the door has been closed."
Bucky Brooks of NFL.com
touches on several free agents from NFC West teams, suggesting where they would and would not fit in 2011. He likes Sidney Rice's prospects in St. Louis, but has this to say about Hasselbeck possibly returning to Seattle: "Hasselbeck has repeatedly stated his desire to return to Seattle, but the team is poised to transition at the position. The Seahawks paid a hefty sum to acquire Charlie Whitehurst a season ago, and they need to see if he has the goods to become a franchise quarterback. Also, the team's reluctance to get a deal done prior to the lockout suggests the front office isn't completely sold on Hasselbeck as their starter in 2011. Without a strong commitment from the team to remain on board, Hasselbeck would be better served to look for greener pastures."
Clare Farnsworth of seahawks.com
revisits Jack Patera's final season coaching the team (1982). The strike made this a strange season. Patera was fishing during the strike when he received word of his firing. Patera later said he expected to coach the team for years to come. He never coached again. Patera: "Who in the hell would get a hold of me with a truck parked in the woods on the river? They had to come about 16 miles and up the road another four or five, and at the time I thought, you know, there's something wrong with my family, or my child, or whatever."

Kent Somers of the Arizona Republic
looks at the role Larry Fitzgerald will play in the Cardinals' coming quarterback acquisition. He points to Kevin Kolb as the leading candidate. Somers: "The Cardinals must be concerned about what impact signing a veteran such as Hasselbeck or the Ravens' Marc Bulger would have on their effort to re-sign Fitzgerald this fall. Will Fitzgerald be as anxious to sign another multi-year contract if the guy throwing him the ball has only a couple of years left, at most? The Cardinals have asked themselves that question. Their answer is one reason they will pursue Kolb." Adding Kolb would make the Cardinals more intriguing heading into the season. How well would he fit their offense? Would he succeed right away? Would he make the Cardinals more competitive right away? Would he justify whatever price Kolb would command for the Eagles?
Also from Somers
: He has a hard time seeing how Arizona could open training camp at Northern Arizona University before Aug. 1 or Aug. 2.

Matt Maiocco of CSNBayArea.com
offers thoughts on what 46-man rosters could mean for the 49ers on game days. The expansion by one roster spot wipes out previous rules making it tougher for teams to use third-string quarterbacks. Maiocco: "Alex Smith is the clear favorite to win the starting job. I thought all along that Colin Kaepernick would be active as the No. 2 quarterback. That way, he could be used in specialty packages throughout a game to utilize his unique running and throwing skills. Veteran David Carr is the only other quarterback on the 49ers' roster, but his roster spot is not a sure thing. The 49ers could still add a veteran quarterback through free agency or a trade. They might also sign an undrafted rookie. If the 49ers go with another veteran quarterback on the roster, which seems likely, the 49ers might believe a player with experience would be in a better position than Kaepernick to play for long stretches." That thinking could come into play more strongly if Smith became unavailable early in the season. The team would have to think hard about turning over the job to Kaepernick for most of the season. Coach Jim Harbaugh has said the position will be competitive. I wouldn't rule out Kaepernick exceeding expectations in practice or exhibition games, based on his athletic ability.
Ray Ratto of CSNBayArea.com
raises questions about the 49ers and Raiders possibly sharing a new stadium. Ratto: "For one, where does the stadium go? The 49ers would want it in Santa Clara, where they keep saying they are prepared to start construction. The Raiders would want it closer to Oakland, if not Oakland proper. Reason: The team that has to leave its fan base becomes a de facto tenant of the other, no matter how you draw up the partnership. In fact, the side that gave in would surely want monetary compensation for moving away from its fan base, and negotiation increases the possibility of impasse, rather than the other way around. For two, the NFL would have to solidly commit to the Bay Area as the next place for a league stadium loan, and there is no sense that the league is prepared to do that."
Matt Barrows of the Sacramento Bee
says Boston College's Mark Herzlich could be a consideration for the 49ers as an undrafted free agent.
Also from Barrows
: Justin Smith isn't worried about going through the offseason without the 49ers' defensive playbook. Players without much NFL experience are more vulnerable. Smith is right about team changing up game plans from week to week during the season, but younger players will need help with technique and broader concepts. They'll need to learn their coaches' language.
Daniel Brown of the San Jose Mercury News
says the 49ers' rookies face challenges.
The San Francisco Chronicle
has this to say about 49ers linebacker Takeo Spikes: "Spikes has the full confidence of 49ers players as their union representative, and he keeps in touch with them through a steady stream of e-mails. He's also a free agent, and once this lockout is over, he might not be their teammate anymore. Spikes played well last year and said Friday he'd like to return, but with young players such as NaVorro Bowman and Scott McKillop behind him, he probably will not be a high priority for the 49ers when players can be signed."
Grant Cohn of the Santa Rosa Press-Democrat
offers five 49ers storylines for training camp, including this one about the quarterbacks: "Can Alex Smith beat out rookie Colin Kaepernick for the starting quarterback job? Smith has never won a quarterback competition in his professional career -- he lost out to Shaun Hill in 2009 and J.T. O'Sullivan in 2008. Will Alex Smith actually win for once this August? Will he look better than mediocre in the process?"
Also from Cohn
: A look at sure bets for the 49ers and an opinion suggesting Spikes is likely to re-sign.
Tony Softli of 101ESPN St. Louis
offers thoughts on free agency and says the 49ers' Aubrayo Franklin could appeal to teams running 4-3 schemes, not just 3-4 schemes. Softli: "This big man takes up a ton of space on the interior. His size, athletic ability and production to consistently command a double team and create plays inside make him a force to be dealt with and a valuable commodity. While several 3-4 teams will be fighting over his services, don't be surprised if a 4-3 defensive team doesn't snap him up; he is athletic enough to play in a 3-technique and beat up offensive guards on the pass rush, and moves well laterally vs. the run to flatten down the line of scrimmage with production."

Jim Thomas of the St. Louis Post-Dispatch
checks in with agents for the Rams and other players regarding what awaits in free agency following the lockout. Thomas: "This year, teams won't necessarily be able to 'ice' lesser free agents for a couple of months, waiting for the price to go down. If they do, the player won't be ready to play at the start of the regular season. On the other hand, agents won't be able to shop players as much as usual. With such a highly condensed time frame this year, if an agent says "give me a day to decide on your offer, he may not find the offer there in a day or two. The team may have gone on to the next guy on their list."
Bernie Miklasz of the St. Louis Post-Dispatch
says the Rams need to target a receiver in free agency to help out quarterback Sam Bradford. Miklasz: "If you need more convincing, all you have to do is go back to the final game of the 2010 regular season, when the Rams could have won the NFC West with a victory in Seattle. The Seahawks won by 10. The Rams scored six points and were held to 184 yards. The receivers couldn't get open. Jackson was often smothered. Bradford had nowhere to go with the football. It was an abysmal, futile performance. Do not forget that game. Get Sam some help."
June, 13, 2011
6/13/11
8:00
AM ET

Bernie Miklasz of the St. Louis Post-Dispatch
thinks Rams owner Stan Kroenke will keep the team in St. Louis even though a group from Los Angeles wants to bring a team to Southern California. Miklasz: "Kroenke is a buyer and a collector, not a seller. Just look at all of the sports properties he's purchased or developed: the NFL Rams, the NBA Denver Nuggets, the NHL Colorado Avalanche, the Pepsi Center in Denver, the MLS Colorado Rapids, a soccer stadium in Colorado, a pro lacrosse team in Colorado, and the Arsenal soccer club in the English Premier League. Sure, Kroenke could try to move the team without selling it. But in my conversations with Kroenke, he has consistently and repeatedly stated his desire to keep the Rams in St. Louis. He points to his Missouri roots, his Missouri family ties, his Missouri business interests, his key role in bringing the Rams to St. Louis." Moving the team becomes more likely if Kroenke cannot get a suitable stadium agreement in St. Louis once the Rams likely qualify for breaking their lease at the Edward Jones Dome following the 2014 season. As Miklasz notes, that is a ways off.

Matt Maiocco of CSNBayArea.com
passes along quotes from
San Francisco 49ers
coach Jim Harbaugh regarding quarterback
Alex Smith
. Harbaugh was speaking to Dick Enberg during a baseball broadcast. Harbaugh: "He's a neat guy. I'm really interested in him, in just the character of Alex Smith. He's been maligned by the hometown fans there. And his family's had to read a lot of that on the internet. And he's really even been thrown under the bus by his own team more than once. And the kind of character of a guy that would want to come back, prove himself with that same football team, that's rare kind of character. (It) probably falls somewhere in the endangered and extinct range. So we can win with that." Smith is also convenient. The shortened offseason and uncertain labor situation make it tough for the 49ers to count on acquiring another veteran quarterback. Trading for a long-term solution at the position would not make sense after the team used a second-round choice on
Colin Kaepernick
in April. Targeting another veteran in free agency would risk having to settle for a prospect less suitable than Smith. Bringing back Smith for a season just makes sense under the circumstances.
Lowell Cohn of the Santa Rosa Press-Democrat
questions Smith's ability to lead the 49ers when it matters. Cohn: "There are worlds of difference between being an offseason leader on a balmy, casual June day and an in-season leader with the clock ticking and the universe of a football stadium depending on Alex Smith to make the right decision in the blink of an eye and then throw a good pass. When the season starts, his skill at organizing the players' training camp won't matter anymore. Can the guy play quarterback?"
Gwen Knapp of the San Francisco Chronicle
also has doubts about how Smith's offseason leadership applies to on-field results.
Matt Barrows of the Sacramento Bee
offers a player-by-player review from the 49ers' recent practices. On
Michael Crabtree
: "Crabtree, of course, practiced on Monday but only took part in the classroom session Tuesday-Thursday because of sore feet. The problem didn't appear to be serious. Crabtree was walking around without a limp on Tuesday and Wednesday. While he defended Crabtree, Alex Smith also acknowledged having on-field chemistry issues with the receiver. Those issues have not been addressed so far this offseason despite the fact that Crabtree has been training only a short distance from where Smith and others have been working out. Crabtree said he would head back to Texas shortly."
Jared Muela of 49ers.com
checks in from a recent 49ers clinic for high school coaches.

Kent Somers of the Arizona Republic
says the Cardinals still hope to hold training camp at Northern Arizona University in Flagstaff, a site that has grown on coach Ken Whisenhunt. Somers: "If the Cardinals have to conduct camp in the Valley, Whisenhunt will be creative with his practice schedule and meeting schedule. A typical day could include a very early start. Night practices are a possibility, as is practicing at University of Phoenix Stadium. Whisenhunt and his coaching staff are taking their vacations now, with the understanding they could be asked to return quickly. Some coaches like to travel abroad, but that's been discouraged this year. Coaches normally would leave for vacations now, but they left earlier this season because of the work stoppage."

Clare Farnsworth of seahawks.com
revisits the team's early days under coach Jack Patera. Former running back Sherman Smith, who coaches the position for the team now: "Right before the final cut, guys would come to Jack and say, 'Hey Jack, I'd like to bring my family to town. Can I go ahead and do it?' Sometimes, Jack would say, 'Yeah, go ahead.' But there were times Jack would say, 'Nah, I think you'd better wait. We're not sure yet.' Guys really appreciated that."
Also from Farnsworth
: a look back at the Seahawks' 1977 season. That was the year Seattle traded an early pick, which Dallas used for Tony Dorsett, on the theory that a second-year expansion team needed quantity over quality. Farnsworth: "The Seahawks got the Cowboys' first-round pick and three second-round choices -- which were used to draft Steve August, who would start 91 games at right tackle over the next six seasons; Tom Lynch, who sat as a rookie but then started at left guard for three seasons; and middle linebacker Terry Beeson, who would lead the team in tackles as a rookie and for the next two seasons; as well as add Ferguson, who was obtained from the Cowboys as the Seahawks traded a second-round pick back to Dallas."
More from Farnsworth
: a heads up on Pete Carroll's coaching clinic, set for Friday in Seattle.
January, 8, 2010
1/08/10
2:09
PM ET
[+] Enlarge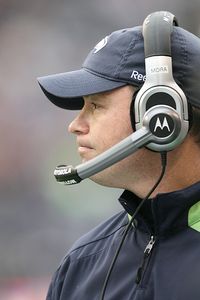 Otto Greule Jr/Getty ImagesJim Mora is the first Seattle coach to last only one season.
Following a legend can be rough.
Ray Rhodes found out when he tried to replace Mike Holmgren with the Packers. Rhodes lasted one season. The team managed to finish 8-8, but quarterback Brett Favre was floundering and Rhodes' leadership style came into question.
Jim Mora became the next Rhodes when the Seattle Seahawks, fresh off a 10-year run with Holmgren,
fired him Friday
after one season.
The organization is making a statement that the Seahawks need a complete makeover after putting together 4-12 and 5-11 seasons, the latter under Mora. A franchise that valued continuity in naming Mora to the job ahead of time has now decided a complete makeover is in order. There's no use in sticking with the wrong plan, the organization seems to be saying.
The Seahawks are a little tough to figure right now. That is understandable to a degree. Owner Paul Allen has been undergoing cancer treatments recently. He certainly has more important things on his mind. His top Seahawks executive, CEO Tod Leiweke, had advocated Mora's continued employment during the early December news conference to announce Tim Ruskell's resignation as general manager. What was Leiweke supposed to say in that situation? Exactly.
Ruskell was the one primarily responsible for landing Mora and installing him as coach-in-waiting. Ruskell's resignation foreshadowed potential trouble for Mora, although the general feeling was that every head coach should have more than one year to establish his program.
Allen, famous for co-founding Microsoft, is basically hitting control-alt-delete to trigger a forced system restart. The move makes Mora the first coach in Seahawks history to last only one season. Tom Flores lasted three. Dennis Erickson lasted four. Jack Patera lasted six and change. Chuck Knox led the team for nine seasons.
Did Mora deserve to be fired? We could make that case after a 5-11 season that saw the team getting worse in some areas. Was firing him fair? Not really. Most head coaches should get more than one season.
Those are not necessarily the most important questions here.
The key question is whether the Seahawks can hire someone demonstrably better, and whether the next coach can field a superior staff.
Finding the next GM should become easier now that it's clear the next GM will have input in hiring the head coach. The Seahawks can now move forward with their front office and coaching staff in chronological alignment for the first time in the better part of a decade. That is important as long as the Seahawks hire the right people.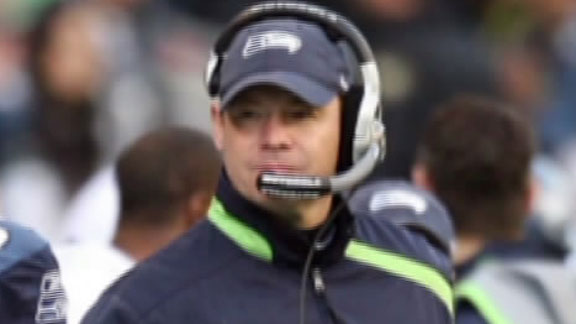 July, 23, 2008
7/23/08
4:52
PM ET
Posted by ESPN.com's Mike Sando
There it is, smack in the middle of Sal Paolantonio's latest column: a reference to Jack Patera, the colorful first coach of the Seahawks. The column notes that Patera and quarterback Jim Zorn spent 85 games together without winning a Super Bowl, the fifth-longest streak of its kind. To leave it at that would be wasting an opportunity to share a colorful character with a new generation of fans.
You might remember Patera as the former Bud Grant assistant in Minnesota who played in the NFL after a Hall of Fame career at Oregon. He turns 75 on Aug. 1, having retreated to the Washington woods after leaving the NFL with a sense of bitterness that still lingered when I last saw him in 2004. Luckily, the Seattle Post-Intelligencer's free archives allow for revisiting Jim Moore's terrific 1999 profile, You don't know Jack. An excerpt:
Realizing that opponents would be more gifted, Patera implemented strategies rarely seen in the NFL now. Trick plays were a Seahawks staple. ... Patera had Herman Weaver throwing out of punt formation or (Efren) Herrera on-side kicking at the unlikeliest of times. Patera's Seahawks preferred catching a rival off guard to running off guard. ... The Seahawks were the daring darlings of the 'Monday Night Football' highlights, becoming Howard Cosell's team of choice.
Former Seahawks receiver Steve Raible shared a funny Patera story when we collaborated on a book several years ago. Patera convinced an unwitting equipment staffer named Harry to track down a left-handed football for the southpaw Zorn.
"Harry, do you have the left-handed balls?" the imposing Patera barked as practice was starting.
Harry, apparently unsure if such footballs existed and not about to challenge Patera, said he thought he had brought them. Harry even ordered an underling to find them. Patera never told him there was no such thing.
NFC WEST SCOREBOARD
Thursday, 9/4
Sunday, 9/7
Monday, 9/8