August, 13, 2013
8/13/13
2:30
PM ET
EARTH CITY, Mo. -- Upon completion of his second NFL season,
St. Louis Rams
offensive tackle
Joe Barksdale
went looking for someone who could provide him guidance to build off what he'd learned from line coach Paul Boudreau in his first year with the team.
Barksdale stayed in the Rams family and turned to Hall of Fame offensive tackle Jackie Slater, whom he'd met in December when Slater was in St. Louis for the team's 75th anniversary celebration.
Barksdale and Slater had hit it off that weekend, and Barksdale figured who better to provide some wisdom than Slater, and flew to California to spend a week working with Slater.
"Jackie played for 20 years so he has a plethora of knowledge and information to bestow upon somebody," Barksdale said. "So I pretty much was out there 24/7 picking his brain kind of like the Karate Kid and Mr. Miyagi."
[+] Enlarge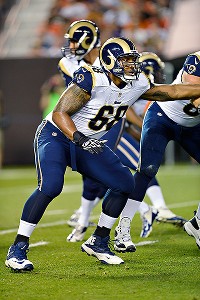 AP Photo/G. Newman LowranceJoe Barksdale started two games for the Rams a year ago.
Although Barksdale didn't disclose the full itinerary of events from his time with Slater, it's probably safe to assume that he didn't sand any floors, paint any fences or catch any flies with chopsticks. And Barksdale will probably have to wait until next year to enter the All Valley tournament.
Instead, Slater spent the week offering Barksdale tips on technique, hand placement, footwork and all the things necessary to help Barksdale become a more efficient blocker in 2013.
The results of that offseason work combined with what Barksdale did during the team's offseason program were on display a bit sooner than anyone expected last week in the preseason opener against Cleveland.
When starting right tackle
Rodger Saffold
left after two plays with a dislocated left shoulder, Barksdale got the call to step in. He played 40 offensive snaps, moving over to left tackle after the first team offense called it a night.
"Anytime you can get reps in a game it is valuable," Barksdale said. "You don't get better until you start taking live reps so I'm going to take it practice by practice and then even game by game. I'm just going to do my best to do whatever I can to help the team."
This week, there will be no wondering when Barksdale will step in as Saffold is expected to miss a week or two with the shoulder injury. That figures to make Barksdale's life a bit easier after spending most of the first two weeks bouncing back and forth from the left side to the right.
Barksdale claims that he's equally comfortable on both sides but given his track record, size (6-foot-5, 326 pounds) and playing style, he's probably better suited to the right side.
In fact, Barksdale spent three of his four seasons at LSU playing on the right side so his opportunity to fill in for Saffold should come a bit easier than it would when he spent time on the left side last year.
Barksdale started two games as a fill in for Saffold last year, though both of those starts came on the left side. He comes back this year with much deeper knowledge of the Rams offense after coming in part way through last season when the Rams claimed him off waivers from Oakland.
According to Pro Football Focus, he played 126 snaps in those two games against Green Bay and New England, allowing two sacks, three quarterback hits and two quarterback hurries. He was a plus run blocker against the Packers but struggled against the Patriots.
Still, Rams coach Jeff Fisher said he believes Barksdale can fill the void for the time being.
"Joe is lining up against some good defensive ends here in practice every day and he got on the field and did well, knew what to do," Fisher said. "So we are totally comfortable with Joe doing that."
While Barksdale's opportunity to play might not mean much on the surface, it could play a small part in larger roster implications down the road.
Saffold is scheduled to become an unrestricted free agent and every chance Barksdale gets between now and then -- preseason or otherwise -- is a chance to prove he could have a long-term future.
The Rams again have two first-round picks in next year's NFL draft and getting a handle on what they have at the spot opposite
Jake Long
could determine whether tackle is a pressing need next offseason.
For now, Barksdale isn't concerned with any of that so much as the chance to continue to improve daily against ends like
Chris Long
,
Robert Quinn
and
William Hayes
as he attempts to make sensei Slater proud.
"I'm a big proponent of hard work and getting reps," Barksdale said. "You are not going to win every one but the more you work at it, the higher your winning percentage goes. So the more I can get work against quality pass rushers and this team has a lot of quality pass rushers, the more prepared I'll feel for the game and being able to protect Sam [Bradford]."
August, 7, 2013
8/07/13
4:00
PM ET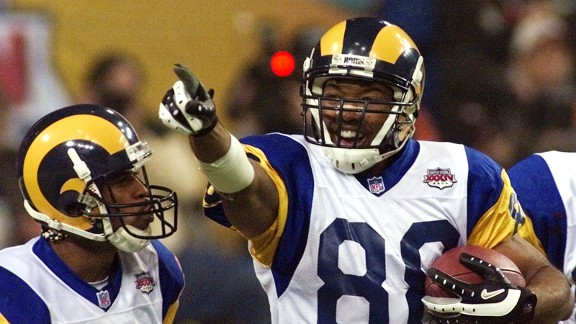 AP Photo/Chuck BurtonAfter years of feeling unwelcome by their old franchise, former Rams greats such as Torry Holt are making their way back to Rams Park at the invitation of St. Louis coach Jeff Fisher.
EARTH CITY, Mo. -- Standing between two fields at Rams Park watching practice on Monday afternoon was a group that might as well have been a part of a reunion for Super Bowl XXXIV.
Former Rams receivers
Torry Holt
and
Isaac Bruce
chatted it up with former Tennessee cornerback
Samari Rolle
, who is working in the team's coaching internship program. That trio was joined at various times by
Lance Schulters
, another former Titans defensive back in the internship program,
La'Roi Glover
, a former Rams defensive tackle and now the team's director of player programs, and former Rams tackle
Grant Williams
.
The sight of former Rams is nothing new around the team's training facility these days. Since Jeff Fisher took over as coach in Jan. 2012, he's made it abundantly clear that he's happy to welcome back former players who might want to offer some advice to his young team or who might just want to watch practice.
In the two weeks since camp started, other former Rams such as defensive back
Aeneas Williams
, safety
Keith Lyle
and linebacker
Chris Draft
have stopped by. It's not limited to Rams alumni, either. In addition to Schulters and Rolle, former Titans linebacker
Keith Bulluck
was also in town for a couple of days.
While it might be nothing new for Fisher to open the doors to past Rams, it does represent something of a departure from how things were in the not-too-distant past.
"This is home," Holt said. "I should feel comfortable and good when I come here. Myself and others, we did a lot for this organization. So it feels good to be able to step back out on this field and not be looking over your shoulder or feel like you're stepping on anybody's toes and then to be able to provide information for guys to improve their game. It's not about us, it's just about sharing what we've learned to make this organization better and try to bring back championships to this organization."
That's a feeling that Holt shared with plenty of other former Rams who didn't feel welcome or comfortable about being at Rams Park on a regular basis.
In 2011, Rams Hall of Famer Jack Youngblood told ESPN's Arash Markazi that he didn't feel like he had any connection to the team he once played Super Bowl XIV with while nursing a broken leg.
"We are their legacy but they forgot us," Youngblood said then. "They don't have anything to do with us, really. I find that unfortunate because you look at other franchises, even those that have moved, and they use their alumni in their marketing and in their organization. They use their Hall of Famers as an example for the players who are there today. They use their alumni, but the Rams have cut us out of the picture."
At the time, the Rams had begun to make inroads in their alumni program, which has taken off in recent years. As part of those efforts, the Rams signed Holt and Bruce to one-day contracts so each could retire as Rams. Most notably they welcomed back 20 prominent players from their past to celebrate the team's 75th anniversary last December.
Included in that group were a number of Los Angeles Rams, including Rosey Grier, Vince Ferragamo, Dennis Harrah,
Jackie Slater
, LeRoy Irvin and Youngblood.
That's just the tip of iceberg. Holt is back in St. Louis this week in preparation for his work as a color analyst on the team's preseason broadcasts. He joins another former Ram, Hall of Fame running back
Marshall Faulk
, in the booth for those duties.
Fisher's open-door policy should come as no surprise given his experience in the league. He's entering his 28th year coaching in the NFL and his 18th as a head coach.
Surrounded by a veteran staff with plenty of experience of its own, Fisher is undeniably comfortable in his own skin. The paranoia that can sometimes accompany first-time head coaches has long since evaporated and Fisher clearly views the opportunity to bring in any former player with wisdom to share as a positive for a team that again figures to be one of the youngest in the league.
"It feels good to be back, it feels good to be welcome and Coach Fisher gets it," Holt said. "He welcomes us. He knows the value and the importance of the guys talking to veteran guys who have been there, done it and done it at a high level because you can gain so much from that as a player. I'm thankful that I'm able to come back and coach Fisher is an excellent coach who understands the game, understands what it takes to improve his roster and he's allowing us to help out."
February, 24, 2010
2/24/10
2:00
PM ET
»
NFC Busts/Gems
:
East
|
West
|
North
|
South
»
AFC
:
East
|
West
|
North
|
South
»
Draft Watch
:
Biggest needs
(2/17) |
Busts/gems
(2/24) |
Schemes, themes
(3/3) |
Recent history
(3/10) |
Needs revisited
(3/17) |
Under-the-radar needs
(3/26) |
History in that spot
(3/31) |
Draft approach
(4/7) |
Decision-makers
(4/14) |
Dream scenario/Plan B
(4/21)
Each Wednesday leading up to the NFL draft (April 22-24), the ESPN.com blog network will take a division-by-division look at key aspects of the draft. Today's topic: Busts and late-round gems.
Arizona Cardinals

Gems:
With the 129th choice of the 1963 NFL draft, the Cardinals selected ... Jackie Smith, tight end, Northwestern State. Smith spent 15 seasons with the organization during a Hall of Fame career, earning him high standing on any list of Cardinals draft gems. Hall of Famer Larry Wilson, chosen 74th overall in 1960, also belongs in the conversation. More recently, the team found
Anquan Boldin
,
Aeneas Williams
,
Adrian Wilson
and
Darnell Dockett
outside the top 50 overall choices.
Busts:
Quarterbacks George Izo and Kelly Stouffer combined to play two games for the Cardinals, both by Izo, despite joining the team as top-five overall selections. Izo, the second player chosen in the 1960 draft, tossed 12 career touchdown passes with 32 interceptions, most for the Redskins. Stouffer, picked sixth in 1987, never signed with the Cardinals, missing his rookie season before landing in Seattle via trade. The Cardinals have whiffed on quite a few other players, but these two stand out.
San Francisco 49ers

Gems:
Jesse Sapolu
, Tommy Hart, Dwight Clark and Jerry Mertens earned Pro Bowl berths as position players despite being selected between the 239th and 289th overall choices in their draft classes.
Charles Haley
,
Terrell Owens
and
Joe Montana
were chosen between the 82nd and 96th choices.
Busts:
Quarterback
Alex Smith
(2005) and receiver Harry Babcock (1953) are the only players drafted first overall by the 49ers. Smith still has a chance to change his legacy, but so far it's not looking good. The 49ers whiffed on Steve Spurrier with the third overall choice in 1967.
Jim Druckenmiller
stands out as a memorable first-round disappointment in more recent years.
Seattle Seahawks

Gems:
Michael Sinclair
and
Michael McCrary
became Pro Bowl defensive ends after Seattle made them seventh-round choices in the early 1990s. Running back
Chris Warren
was a fourth-round find in 1990. Overall, though, the Seahawks haven't unearthed a long list of draft gems. Trading up in the second round to select three-time Pro Bowl linebacker
Lofa Tatupu
was an impressive move.
Busts:
Rick Mirer
(1993) and Steve Niehaus (1976) never lived up to expectations as the second overall choices in their draft classes. Ownership's decision to select quarterback
Dan McGwire
with the 16th pick in 1991 looks even worse when one considers that coach Chuck Knox wanted
Brett Favre
instead.
St. Louis Rams

Gems:
Finding defensive end Andy Robustelli with the 228th choice of the 1951 draft stands out as significant even though Robustelli spent much of his Hall of Fame career with the Giants. Larry Brooks, Harold Jackson and Drew Hill all went to Pro Bowls after the Rams drafted them 323rd overall or later. Pass-rusher
Kevin Greene
was a fifth-round find in 1985. The Rams found Hall of Famer
Jackie Slater
in the third round (1976).
Busts:
Terry Baker won the Heisman Trophy and played in the Final Four while at Oregon State, but that didn't do the Rams much good after they drafted the quarterback first overall in 1963. Baker played three NFL seasons without completing a touchdown pass. The selection of
Lawrence Phillips
with the sixth choice of the 1996 draft stands out as one of the team's worst draft decisions in more recent memory. As of 2009, Phillips was serving a 31-year prison sentence.
January, 3, 2010
1/03/10
2:47
PM ET
The Rams have managed to take a 3-0 halftime lead over the 49ers even though St. Louis is within an injury or two from calling Jackie Slater out of retirement to finish the game.
Last I saw, the Rams had
Phil Trautwein
at right tackle and
John Greco
at right guard. No matter how prepared the Rams were for this season, they probably never envisioned it coming to this.
Adam Goldberg
was at left guard. Center
Jason Brown
and left tackle
Alex Barron
are the only starters lining up in their projected places.
The Rams' offense is naturally struggling.
The 49ers don't really have an excuse for their problems on that side of the ball. They're' trying to go into the offseason feeling good about
Alex Smith
as their starting quarterback. Smith has completed 5 of 10 passes for 23 yards so far.
October, 9, 2009
10/09/09
9:57
AM ET

Posted by ESPN.com's Mike Sando

Paola Boivin of the Arizona Republic
explains why Cardinals receiver Larry Fitzgerald is an NFL spokesman for Breast Cancer Awareness Month. His mother, Carol, died from the condition. Boivin: "When she discovered a lump in her breast when Larry was 13, the subsequent diagnosis of cancer that had spread to her lymph nodes was upsetting, but the family, thanks to Carol, was equipped to handle the tough conversations. ... Every discussion was frank. When she shared her options for treatment, they supported her decision against a mastectomy. ... She fought hard and for several of Larry's high school years, the family believed she had won the battle. The cancer came back with a vengeance. The family was crushed."
Bob McManaman of the Arizona Republic
says Texans coach Gary Kubiak has high praise for Cardinals defensive lineman Darnell Dockett. Kubiak: "I tell you what, Dockett's the best player I've seen on film this year. You know as a coach, every year you start studying teams and preparing for teams and he's the best individual player I've seen. I mean, he's something for us to deal with coming this weekend."
Kent Somers of the Arizona Republic
checks in with Dominique Rodgers-Cromartie, who says he can catch a football despite a broken finger. Coach Ken Whisenhunt: "He hasn't been able to catch, it didn't seem like, the first couple games anyway. I mean that in a positive way. Maybe this will help him."
Darren Urban of azcardinals.com
says it's tough to evaluate an offensive line.
Also from Urban
: The Cardinals and Texans are dealing with the weight of added expectations.

Jim Moore of seattlepi.com
checks in with Seahawks defensive end Lawrence Jackson, whose courteous and thoughtful nature made for an interesting interview. Jackson: "I can't get mad if a coach is yelling at me. He's not yelling at Lawrence, he's yelling at No. 95."
Greg Johns of seattlepi.com
says Seahawks linebacker Lofa Tatupu will match the first $10,000 donated to tsunami relief in American Samoa. Tatupu: "My dad was born in America Samoa and I still have family there. Every donation will help provide relief to those affected by the disaster."
Danny O'Neil of the Seattle Times
says the Seahawks' season is either half full or half empty. I think it's half empty pending the outcome of the next two games.
Eric D. Williams of the Tacoma News Tribune
explores links between Seahawks running back Justin Forsett and Jaguars running back Maurice Jones-Drew. Williams: "The two forged a relationship when Forsett was a sophomore at the University of California-Berkeley. Jones-Drew's strength and conditioning coach in high school when he attended De La Salle High in the Bay Area, Mike Blasquez, is the head strength and conditioning coach for the athletics program at Cal, so the two running backs have worked out together for the past four years during the offseason at the East Bay college."

John Crumpacker of the San Francisco Chronicle
says 49ers left tackle Joe Staley is looking forward to facing Falcons pass-rusher John Abraham. Staley: "He's been in the league for a long time and put up really big numbers. I really like going against guys that are considered the best pass-rushers in the league. It gives me a chance to showcase what I can do."
Also from Crumpacker
: Newly signed receiver Michael Crabtree worked with the scout team in practice.
Matt Maiocco of the Santa Rosa Press-Democrat
fills in blanks on MC Hammer's role in the Crabtree saga. 49ers president Jed York: "We have a mutual friend who introduced us. Hammer has a good relationship with Deion Sanders. Eugene (Parker) was his agent. And he (Hammer) has a good relationship with Eugene. And I think it was a good conduit to get everybody together."
Lowell Cohn of the Santa Rosa Press-Democrat
says Crabtree's refusal to sign the 49ers' previous offer was an exercise in futility. Cohn: "Crabtree refused to say the holdout was worth it because it wasn't worth it. It was worthless and he lost face big time. He said he looks at the world in a different way. He sure does. He realizes he's not the center of the universe, just another player who has to prove himself in the NFL -- he hasn't even begun to do that."

Bill Coats of the St. Louis Post-Dispatch
says Rams running back Steven Jackson is looking forward to wearing a Rams throwback jersey Sunday. If only Jackie Slater could block for him and Preston Dennard could line up at receiver.
Also from Coats
: Nate Jones is the Rams' only healthy receiver.
Jim Thomas of the St. Louis Post-Dispatch
says Rams coach Steve Spagnuolo and Vikings coach Brad Childress became good friends and confidants working together under Andy Reid in Philadelphia. Childress: "The thing that I know about Spags and that staff down there, and having been involved in a couple turnarounds, I know that he's going to do it the right way. He's got younger, hungry guys. I know he's going to be positive with 'em. And I think you have to be positive with 'em. He's got a tremendous, tremendous (defensive) scheme. You see him putting people in positions to make plays. All you've got to do is look at a little bit of that tape, and it'll get your attention in a hurry. Because what they're doing is extremely sound. It's just a matter of time before they get it right."
January, 30, 2009
1/30/09
7:15
AM ET
Posted by ESPN.com's Mike Sando

Paola Boivin of the Arizona Republic visits Anquan Boldin's hardscrabble hometown about 170 miles from Tampa. Boldin's old coach says chasing rabbits through sugarcane fields helped make the young receiver more agile.
Dan Bickley of the Arizona Republic says farewell to Cardinals running back Edgerrin James, who is likely playing his final game for Arizona.
Mark Faller of the Arizona Republic checks in with Phoenix-area products Lyle Sendlein and Deuce Lutui. Both are starting on the Cardinals' offensive line.
Bob McManaman of the Arizona Republic says Cardinals linebacker Karlos Dansby has stepped up his game for the playoffs.
Kent Somers of the Arizona Republic quotes Karlos Dansby as saying the Cardinals need to step up and pay their top players, including Dansby himself. Dansby: "The world is watching right now, man. Everything has to change. If you want to commit to changing and to winning and being a winning organization, you have to do the right things. It's a test."
Also from Somers: The Cardinals face a tough obstacle in Steelers defensive coordinator Dick LeBeau.
Darren Urban of azcardinals.com says the Cardinals are looking inward as they prepare for the Steelers' defense.
Also from Urban: The Cardinals are guarding against getting stale with so much time between games.
More from Urban: Safety Adrian Wilson represents the Cardinals' tough road to the Super Bowl.
Scott Bordow of the East Valley Tribune says the 20-point barrier is key for Arizona. The Cardinals are 0-4 this season when they fail to exceed 20 points. The Steelers are 12-1 when they hold opponents to 20 points or fewer.
Mike Tulumello of the East Valley Tribune examines the Cardinals' appetite for trick plays.
Also from Bordow: He checks in with Cardinals backup quarterback Matt Leinart.
Revenge of the Birds' Hawkwind cites a report suggesting the Steelers might use the Wildcat offense against Arizona.

Danny O'Neil of the Seattle Times lists the Seahawks' franchise players. The list includes Marcus Trufant, Josh Brown, Shaun Alexander, Walter Jones and Joey Galloway. He also lists former transition player Steve Hutchinson.
Eric Williams of the Tacoma News Tribune says Jaguars receiver Reggie Williams wouldn't mind signing with the Seahawks this offseason.
Also from Williams: Seahawks quarterback Matt Hasselbeck thinks Seattle has enough talent to contend for the Super Bowl next season.
John Morgan of Field Gulls continues his look at potential free agents of interest for the Seahawks. Albert Haynesworth takes his turn.

Jim Thomas of the St. Louis Post-Dispatch updates the situation with Steve Spagnuolo's first Rams staff. Sylvester Croom, Rock Gullickson and Matt House are coming to St. Louis.
Judd Zulgad of Access Vikings says the Rams have hired Minnesota assistant defensive line coach Brendan Daly.
VanRam of Turf Show Times looks at some of the names associated with the Rams on various mock drafts.

Matt Barrows of the Sacramento Bee checks in with new 49ers offensive coordinator Jimmy Raye, who confirms he has accepted the job. Raye says the 49ers need to find a fullback. He also expects to install an offense similar to the one Norv Turner ran in San Francisco.
Dan Brown of the San Jose Mercury News provides testimonials from Jackie Slater and Tony Richardson. Both speak out in favor of Raye.
Matt Maiocco of the Santa Rosa Press-Democrat says 49ers defensive coordinator Greg Manusky has signed a contract extension through the 2010 season, as expected.
August, 18, 2008
8/18/08
1:00
PM ET
Posted by ESPN.com's Mike Sando
| | |
| --- | --- |
| | |
| | Jeff Gross/Getty Images |
| | Marshall Faulk rushed for more than 12,000 yards and recorded more than 6,800 yards receiving during his career. |
Readers' choice: Marshall Faulk, RB
Faulk was the most dynamic offensive player on the best offense in team history. He really could have played wide receiver, and sometimes he did. Faulk was the perfect player in the perfect system with the perfect personnel in the perfect pass-happy era, and he made the most of it. Charley Taylor and Paul Warfield should have been so blessed.
Editors asked me to take a look at the ballot before they solicited votes. Right away I noticed what seemed to be a significant omission. Jack Youngblood wasn't on the ballot. Editors limited the list to 10 players per team. That was the explanation.
Youngblood might not have been the best player in Rams history, but he was among them and I wanted to recognize him here. He missed one game in 14 seasons. His teams played in five NFC Championship games, reaching the Super Bowl once. Youngblood is best known for playing every snap of the NFC title game and Super Bowl XIV after suffering a broken left fibula. From his Hall of Fame bio:
One of his most outstanding single-game performances came against the St. Louis Cardinals in a 1975 playoff game. Youngblood recorded one sack, one forced fumble, one blocked extra-point attempt and returned an interception 47 yards for a touchdown.
Another Hall of Famer, defensive tackle Merlin Olsen, won my vote as the Rams' all-time best player. He was 6-foot-5 and 270 pounds, a giant for his era, and he went to 14 consecutive Pro Bowls during a 15-year career in the 1960s and 1970s. Think about that for a minute. Imagine if Chris Long went to the Pro Bowl for the 2008, 2009, 2010, 2011, 2012, 2013, 2014, 2015, 2016, 2017, 2018, 2019, 2020 and 2021 seasons, then retired after the 2022 season. Listing the years separately drives home the enormity of the accomplishment.
It's tough to overlook Norm Van Brocklin, Elroy Hirsch, Tom Mack, Jackie Slater, Eric Dickerson, Isaac Bruce or Bob Waterfield. Each deserves consideration.