November, 25, 2011
11/25/11
1:30
PM ET
»
NFC Final Word
:
East
|
West
|
North
|
South
»
AFC
:
East
|
West
|
North
|
South
Five nuggets of knowledge about Week 12:
The NFC West "race" continues.
The
San Francisco 49ers
were in position to clinch the division title with a victory against Baltimore and a Seattle defeat at home to Washington. But with the 49ers losing to the Ravens on Thursday night, it is still technically possible for the Seahawks or
Arizona Cardinals
to match San Francisco's victory total this season. The 49ers play three of their final four on the road. The home game is against Pittsburgh. The Seahawks play their next three at home against losing teams, followed by a road game against the quarterback-challenged Bears. If the 49ers beat St. Louis in Week 13 and win at Arizona in Week 14, they'll win the NFC West. If they were to drop that Arizona game and then lose to the Steelers, a four-game winning streak by Seattle would make the Week 16 game between the Seahawks and 49ers meaningful. The 49ers have two games remaining against the Rams, making it nearly impossible for them to do anything but win the West.
[+] Enlarge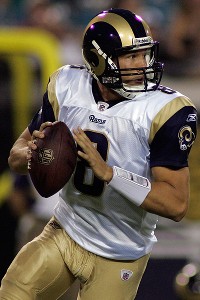 Phil Sears/US PresswireRams quarterback Sam Bradford is throwing down the field more this season, but that hasn't translated into success for St. Louis' offense.
Airing it out, or erring it out?
The Rams have followed through on their pledge to seek bigger pass plays down the field. Quarterback
Sam Bradford
averaged 6.4 air yards per pass attempt last season, the lowest figure in the league among 43 players with at least 100 attempts. Bradford ranks ninth this season. On average, his passes have traveled 8.9 yards past the line of scrimmage before reaching their targets. The longer passes have not paid off, however. Bradford's completion percentage has dropped, as would be expected for a quarterback attempting longer passes, but his average for yards per attempt has remained flat at a mediocre 6.0. The Rams have taken sacks on 10 percent of pass attempts, up from 5.8 percent in Bradford's rookie season.
Defending the run.
Arizona (11), St. Louis (nine) and Seattle (five) have allowed 25 individual 100-yard rushing performances since the 49ers last allowed one 34 games ago. The Seahawks' best run defender,
Red Bryant
, missed three of those five games and most of a fourth.
About those dynamic tight ends.
The NFC West loaded up on tight ends in the offseason. Seattle signed
Zach Miller
. Arizona signed
Todd Heap
and
Jeff King
. St. Louis drafted
Lance Kendricks
in the second round. The results have been underwhelming. Heading into Week 12, the NFC West featured no players among the 15 most-targeted tight ends in the league, according to ESPN Stats & Information. The 49ers'
Vernon Davis
ranked 16th with 51 targets. Davis, teammate
Delanie Walker
and the Cardinals' King are the only NFC West tight ends with touchdown receptions so far this season. Six NFC West tight ends had scoring catches last season.
Uncomfortable fan dynamics.
Franchise relocation can create strained relationships between teams and their former players, to say nothing of fans caught in the middle. We've seen Rams great Jack Youngblood complain about the organization's efforts to embrace players from its time in Los Angeles. This week, the Cardinals return to St. Louis, the city they left after the 1987 season. They are seeking their seventh consecutive victory at the Edward Jones Dome, which would represent the longest road winning streak against a single opponent in franchise history. The Cardinals are planning alumni events for a long list of St. Louis-era players, including Mel Gray, Jackie Smith, Roger Wehrli and Larry Wilson.
December, 12, 2010
12/12/10
8:20
PM ET
Thoughts on the
Arizona Cardinals
' victory over the
Denver Broncos
at University of Phoenix Stadium:


What it means:
The Cardinals finally ended their losing streak
, which had run to seven games. They can exhale. This performance qualified as an ugly one most of the way, but Arizona needed a victory any way it could get one. Breaking it open in the fourth quarter had to feel good. The Broncos came along at right time. They fired coach Josh McDaniels days earlier and continued to flounder.
What I liked:
Arizona's defense played a strong game for the second week in a row, allowing the Cardinals to unleash kicker
Jay Feely
upon the Broncos. Feely kicked four field goals and scored on a 5-yard run as the Cardinals converted four Denver turnovers into a 19-3 lead through three quarters. Feely made five field goals overall. Arizona blew open the game with 24 fourth-quarter points, including two touchdown runs from
Tim Hightower
.
Daryl Washington
's 40-yard interception return for a touchdown provided a fitting end to a game Arizona's defense dominated.
What I didn't like:
Arizona had trouble getting into the end zone through three quarters. Rookie quarterback
John Skelton
completed only 14 of his first 35 passes for 141 yards -- 4.0 yards per attempt -- without a touchdown. The Cardinals had to figure they could play it safe given the Broncos' problems on offense. But a little more production early in the game would have been nice.
For the record:
Larry Fitzgerald
moved past former teammate
Anquan Boldin
to become the Cardinals' career leader for receptions. He moved past Jackie Smith to rank second behind Boldin on the career receiving yardage list.
Pounding away:
Hightower carried 18 times for 148 yards and two scores. That gives him the clear upper hand over second-year back
Beanie Wells
, who carried six times for 16 yards, with no run longer than six yards. Wells did not return after becoming ill.
What's next:
The Cardinals visit the
Carolina Panthers
.
November, 7, 2010
11/07/10
4:25
PM ET
Thoughts on the
Arizona Cardinals
' overtime loss to the
Minnesota Vikings
in Week 9:


What it means:
The Cardinals fell to 3-5 and blew another prime opportunity to assert themselves in the NFC West. This one had to hurt badly. Arizona can still get to 8-8 by winning its five remaining home games (against Seattle, San Francisco, St. Louis, Denver and Dallas). But losing fourth-quarter leads in back-to-back weeks has to shake the Cardinals' confidence. At least there's a fat margin for error in the NFC West.
What I liked:
The Cardinals' defense and special teams showed up in a big way (even if the defense didn't stick around for a full game).
LaRod Stephens-Howling
scored on a kickoff return. Cornerback
Michael Adams
scored on a fumble return collected during a Vikings kickoff return. Safety
Kerry Rhodes
missed an interception return for a touchdown only when the Vikings forced him to fumble near the goal line, resulting in a touchback. Arizona's goal-line stand in the fourth quarter prevented the Vikings from pulling within a touchdown. Rookie
Andre Roberts
' weaving run-after-catch for a 30-yard touchdown was another impressive play. These were precisely the types of plays Arizona needed to claim an upset victory on the road.
What I didn't like:
The Cardinals have lost a few late leads over the last few seasons, from the Super Bowl to the defeat against Tampa Bay last week. It happened again Sunday when
Brett Favre
led two touchdown drives in the fourth quarter, tying the game 24-24 through regulation. Favre finished with 446 yards passing. The late defensive letdown wasted the impressive goal-line stand. Another downer:
Ben Patrick
's holding penalty on the Cardinals' first offensive play wiped out a 7-yard gain and put Arizona at risk deep in its own end. I didn't see the play well enough to know whether Patrick committed a blatant penalty. The result, however, could have cost the Cardinals early momentum on the road.
For the records:
Larry Fitzgerald
moved past
Anquan Boldin
into third place on the Cardinals' all-time receiving yardage list behind Roy Green and Jackie Smith. Fitzgerald also reached 100 yards receiving in a game for the 24th time. Boldin holds the team record (27).
Wells, Wells, Wells:
Running back
Beanie Wells
carried only once after entering the game listed as questionable on the injury report.
Tim Hightower
carried 13 times for 39 yards. The Cardinals did not have a run longer than 11 yards, however.
Big Revelation:
A Cardinals quarterback could make it through an NFL game without throwing an interception. It hadn't happened since Week 1, but
Derek Anderson
completed 15 of 26 passes for 179 yards, one touchdown and a 91.7 rating against the Vikings. Minnesota nearly picked off a couple passes, but the interception-free performance was critical for the Cardinals' chances. It's tough to blame the Cardinals' quarterback situation for this defeat.
What's next:
The Cardinals return home to face the
Seattle Seahawks
in Week 10.
February, 24, 2010
2/24/10
2:00
PM ET
»
NFC Busts/Gems
:
East
|
West
|
North
|
South
»
AFC
:
East
|
West
|
North
|
South
»
Draft Watch
:
Biggest needs
(2/17) |
Busts/gems
(2/24) |
Schemes, themes
(3/3) |
Recent history
(3/10) |
Needs revisited
(3/17) |
Under-the-radar needs
(3/26) |
History in that spot
(3/31) |
Draft approach
(4/7) |
Decision-makers
(4/14) |
Dream scenario/Plan B
(4/21)
Each Wednesday leading up to the NFL draft (April 22-24), the ESPN.com blog network will take a division-by-division look at key aspects of the draft. Today's topic: Busts and late-round gems.
Arizona Cardinals

Gems:
With the 129th choice of the 1963 NFL draft, the Cardinals selected ... Jackie Smith, tight end, Northwestern State. Smith spent 15 seasons with the organization during a Hall of Fame career, earning him high standing on any list of Cardinals draft gems. Hall of Famer Larry Wilson, chosen 74th overall in 1960, also belongs in the conversation. More recently, the team found
Anquan Boldin
,
Aeneas Williams
,
Adrian Wilson
and
Darnell Dockett
outside the top 50 overall choices.
Busts:
Quarterbacks George Izo and Kelly Stouffer combined to play two games for the Cardinals, both by Izo, despite joining the team as top-five overall selections. Izo, the second player chosen in the 1960 draft, tossed 12 career touchdown passes with 32 interceptions, most for the Redskins. Stouffer, picked sixth in 1987, never signed with the Cardinals, missing his rookie season before landing in Seattle via trade. The Cardinals have whiffed on quite a few other players, but these two stand out.
San Francisco 49ers

Gems:
Jesse Sapolu
, Tommy Hart, Dwight Clark and Jerry Mertens earned Pro Bowl berths as position players despite being selected between the 239th and 289th overall choices in their draft classes.
Charles Haley
,
Terrell Owens
and
Joe Montana
were chosen between the 82nd and 96th choices.
Busts:
Quarterback
Alex Smith
(2005) and receiver Harry Babcock (1953) are the only players drafted first overall by the 49ers. Smith still has a chance to change his legacy, but so far it's not looking good. The 49ers whiffed on Steve Spurrier with the third overall choice in 1967.
Jim Druckenmiller
stands out as a memorable first-round disappointment in more recent years.
Seattle Seahawks

Gems:
Michael Sinclair
and
Michael McCrary
became Pro Bowl defensive ends after Seattle made them seventh-round choices in the early 1990s. Running back
Chris Warren
was a fourth-round find in 1990. Overall, though, the Seahawks haven't unearthed a long list of draft gems. Trading up in the second round to select three-time Pro Bowl linebacker
Lofa Tatupu
was an impressive move.
Busts:
Rick Mirer
(1993) and Steve Niehaus (1976) never lived up to expectations as the second overall choices in their draft classes. Ownership's decision to select quarterback
Dan McGwire
with the 16th pick in 1991 looks even worse when one considers that coach Chuck Knox wanted
Brett Favre
instead.
St. Louis Rams

Gems:
Finding defensive end Andy Robustelli with the 228th choice of the 1951 draft stands out as significant even though Robustelli spent much of his Hall of Fame career with the Giants. Larry Brooks, Harold Jackson and Drew Hill all went to Pro Bowls after the Rams drafted them 323rd overall or later. Pass-rusher
Kevin Greene
was a fifth-round find in 1985. The Rams found Hall of Famer
Jackie Slater
in the third round (1976).
Busts:
Terry Baker won the Heisman Trophy and played in the Final Four while at Oregon State, but that didn't do the Rams much good after they drafted the quarterback first overall in 1963. Baker played three NFL seasons without completing a touchdown pass. The selection of
Lawrence Phillips
with the sixth choice of the 1996 draft stands out as one of the team's worst draft decisions in more recent memory. As of 2009, Phillips was serving a 31-year prison sentence.
November, 9, 2009
11/09/09
8:09
AM ET
Posted by ESPN.com's Mike Sando

Kent Somers of the Arizona Republic
adds details to Anquan Boldin's unhappiness after the Cardinals named him inactive Sunday. Somers: "Two witnesses to Whisenhunt's conversation with Boldin said the receiver would not look at the coach during the conversation. One Cardinals veteran expressed surprise that Boldin would complain about the issue after a victory."
Also from Somers
: "The subject will be explored again this week, but I don't see how this poisonous relationship can be fixed after this year. Boldin has a year left on his contract, and I would be surprised if he returned in 2010. The Cardinals have to again seriously consider trading him." How much will another team give up for a receiver who will be 30 years old and coming off an injury-affected season? Any team trading for Boldin would also have to pay him.
More from Somers
: This was the first week all season Arizona was able to "click on all cylinders" offensively, according to center Lyle Sendlein.
Dan Bickley of the Arizona Republic
says Kurt Warner gave the Bears a lesson in quarterbacking Sunday. Bickley: "In a game book-ended by costly temper tantrums, where one Pro Bowl player was ejected [Tommie Harris] and another sealed his fate in Arizona [Anquan Boldin], Warner stood way above the fray, miles above the next-best player on the field."
Also from Bickley
: Harris' ejection hurt Chicago.
Darren Urban of azcardinals.com
says Larry Fitzgerald dropped 76 cents in his pocket before the game and two touchdowns on the Bears' secondary during it. Urban: "Fitzgerald now has 482 career receptions, passing Jackie Smith (480) for fifth in franchise history right behind Frank Sanders (493). His 100-yard game was his 22nd, three behind Boldin for most all-time in franchise history. And his 6,607 receiving yards sixth all-time, passing Sanders Sunday and leaving him behind Mel Gray's 6,644."
Also from Urban
: Kurt Warner never expected to throw five touchdown passes, but he'll take 'em after throwing five picks a week earlier.
Scott Bordow of the East Valley Tribune
says the Cardinals have officially put behind them the 2006 meltdown defeat to the Bears on "Monday Night Football." Bordow: "It was nearly a perfect afternoon for Arizona. The only sour note was wide receiver Anquan Boldin moaning and groaning about the Cardinals' decision to inactivate him and that no one was "man enough" to tell him to his face. (Note to Anquan: Your team just won by 20 points. You want to preserve what's left of your reputation? Then stifle yourself)."
Alex Marvez of FoxSports.com
isn't sure what to make of the Cardinals and Bears after this one.
Jarrett Bell of USA Today
says Warner completed four passes of at least 17 yards against the Bears. Hitting Steve Breaston for 23 yards on the first drive was huge.

NFC WEST SCOREBOARD
Thursday, 9/4
Sunday, 9/7
Monday, 9/8